Without any coding expertise, creating a website can be a mammoth task, no doubt. But nowadays thousands of AI website builders have emerged, making creating websites easy and faster. And recently with ChatGPT, interest in AI is at its peak. No matter which field you're working on – design, marketing, or creating a website without coding skills, artificial intelligence is everywhere now. Using artificial intelligence, website builders can swiftly create personalized web pages, removing the necessity for technical expertise.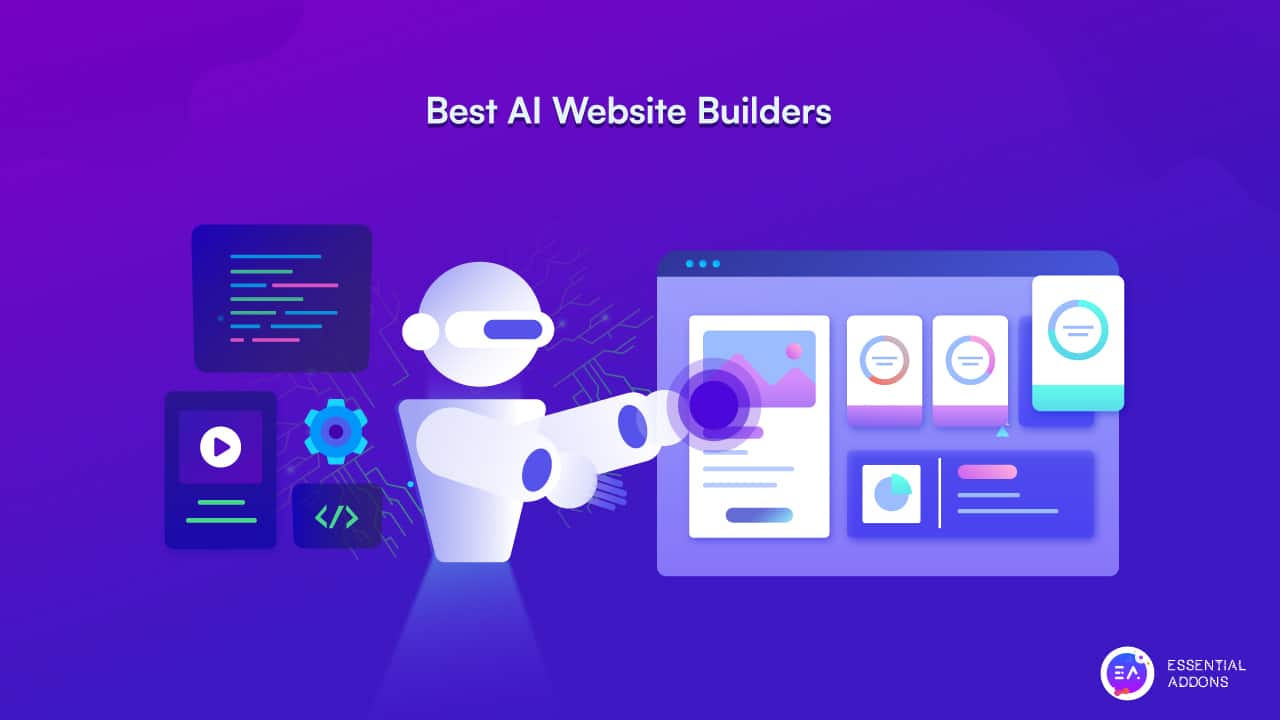 In this blog, we'll walk you through the 10 best AI website builders that you need to check. To create websites without any coding or design skills, these AI-powered website builders can make your journey easier than ever. Before going to the list, let's figure out what are AI website builders along with their advantages.
AI Website Builder & Its Advantages: A Quick Summary
AI website builders simplify website design, development, and optimization with minimal effort. By utilizing machine learning algorithms, these builders comprehend user preferences and needs, offering ready-made templates, designs, and copywriting tailored to their requirements.
Working with an AI website builder doesn't require extensive coding or technical skills. Nowadays, you can easily create websites using no-code tools like Webflow. In this list, we'll focus primarily on CMS software and landing page builders, with a few generative AI copywriting tools included.
However, the key advantage of AI website builders is the time saved during development. Instead of investing hours or days in constructing a complex webpage from scratch, users can launch an AI site builder and have a functional website ready within minutes.
Due to their reliance on templates supported by extensive reinforcement learning, these sites tend to be visually appealing, surpassing traditional websites built entirely from the ground up. This enables small businesses and entrepreneurs to craft attractive sites without the need for expensive designers or developers.
An often overlooked benefit is that AI-powered site builders can continually enhance their capabilities based on user behavior signals, eliminating the need for constant A/B testing. Regular updates, feature enhancements, bug fixes, and security patches can be expected without requiring manual site management.
10 Best AI Websites Builders To Look For 2023
In 2023, you can't ignore the impact of AI on website design, development, & marketing. If you want to stay in the competition, you need to adopt AI with all its pros and cons. As we already said, website building is becoming much easier and faster nowadays & the reasons are the below-mentioned AI website builders. Let's explore them one by one.
#1 Elementor AI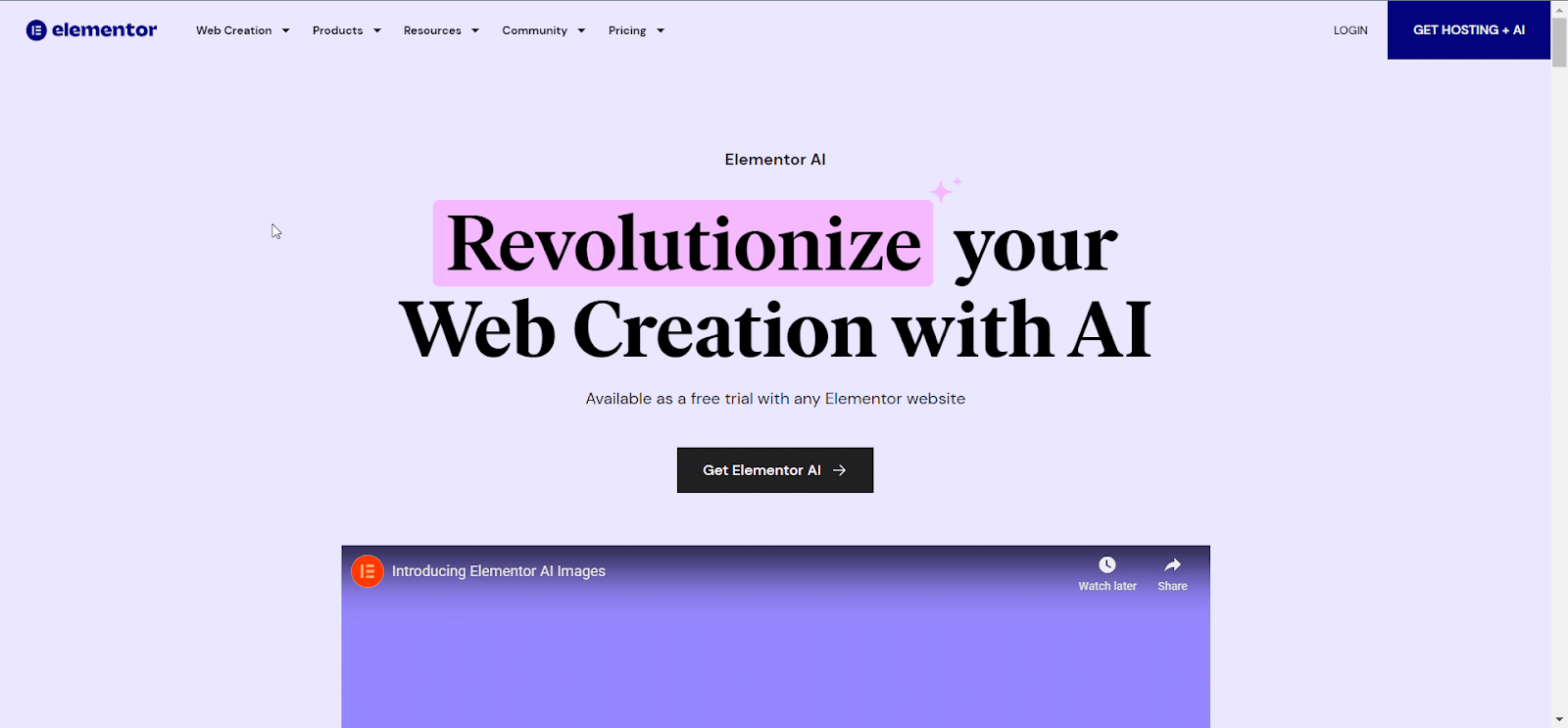 Elementor AI is an AI-powered website builder that enables users to create visually appealing and responsive websites without the need for coding skills. It utilizes artificial intelligence technology to provide smart design suggestions, streamline the web development process, and offer personalized recommendations based on user preferences. The AI website builder do-
✅ Generate Text & Modify Tone
✅ Translate
✅ Fix Spelling, Grammar & Adjust
✅ Write Custom CSS
✅ Add HTML Anywhere
With its intuitive drag-and-drop interface and advanced AI capabilities, Elementor AI empowers users to build professional websites efficiently, making it a valuable tool for both beginners and experienced web developers.
#2 Hostinger Website Builder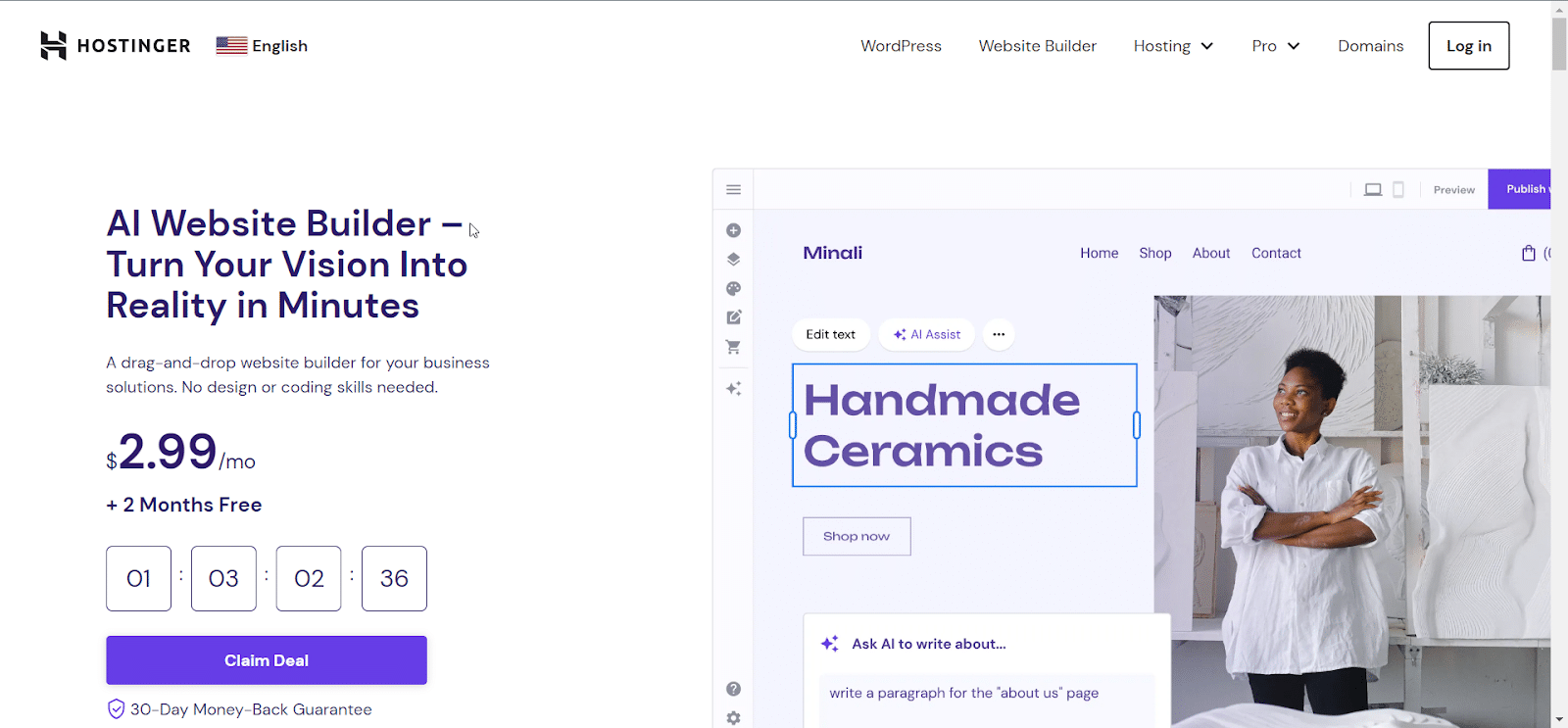 To make personal and professional websites with ease in no time, Hostinger Website Builder can be an easy-to-go choice on an affordable budget. It includes free hosting, domain name, and email account. Users can easily manage their sites using the Hostinger dashboard and make changes effortlessly.
This website builder is perfect for creating online stores as it has many eCommerce features like inventory management, discounts, and shipping calculations. It also offers AI tools for content writing, logo creation, and heatmap analysis.
#3 10Web AI Website Builder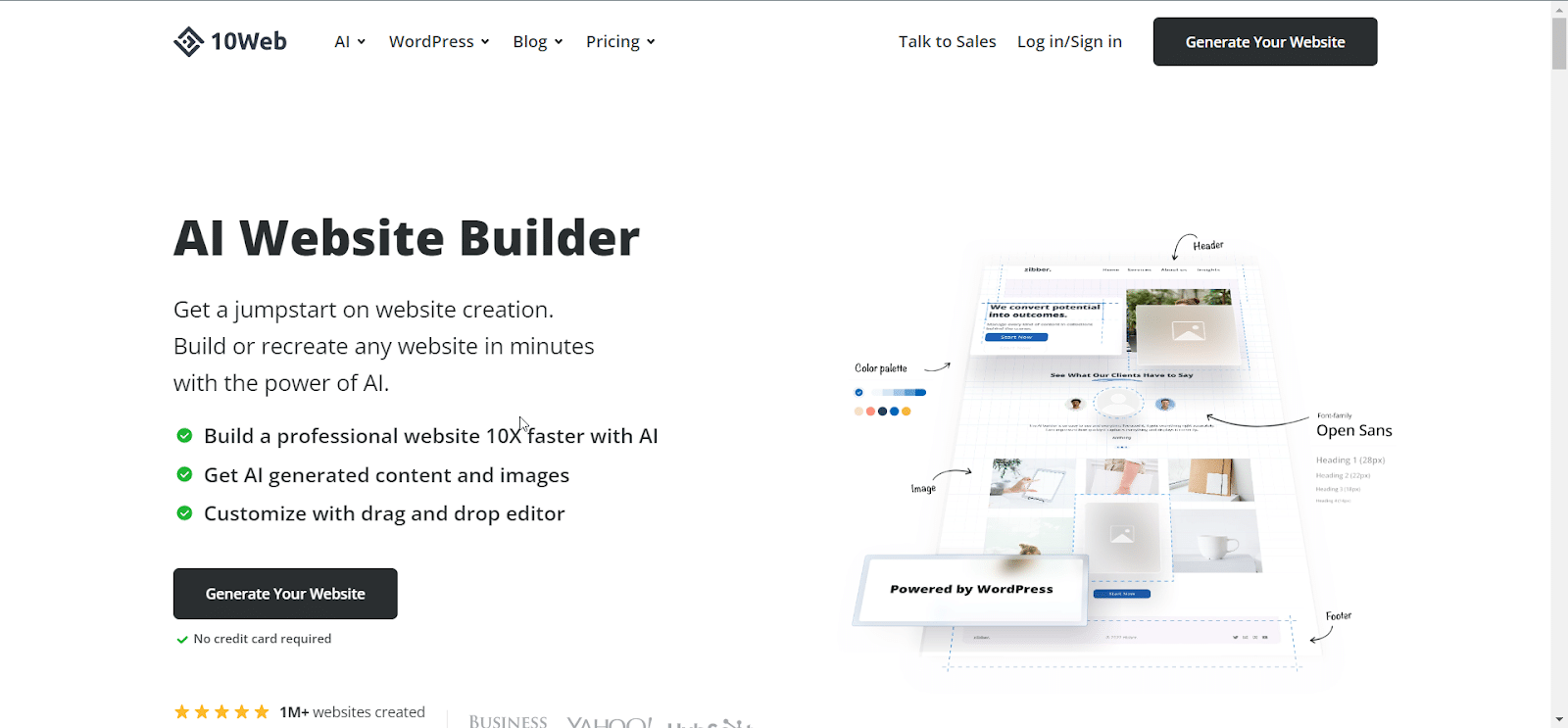 10Web AI Builder is one of the most extensive website builders with AI capabilities in this collection. It not only offers the essential benefit of creating a professional website within minutes but also provides AI writing and image-generation tools to populate the website with content.
With their custom editor, which is built upon the well-known landing page builder Elementor, you can easily develop relevant pages. Additionally, they offer hosting features and convenient 1-click migrations, although a free domain is not included. While a free account allows you to begin building your website, upgrading is necessary to access advanced features.
#4 Durable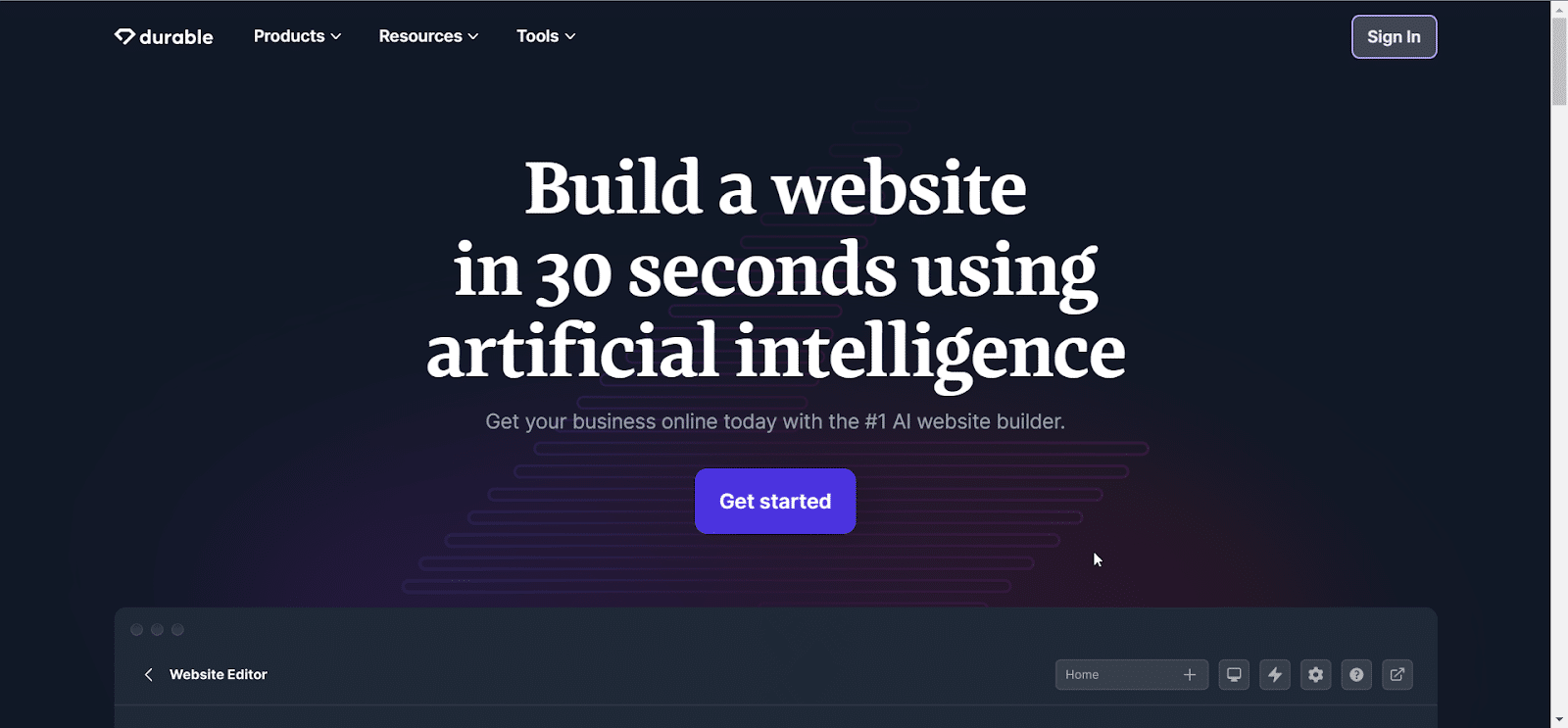 Dedicated to service businesses- Durable is a perfect AI website builder. Creating a professional website within a minute is a breeze with this super simple AI website generator. By following only two steps, you can easily set up a complete website with Durable.
Though you can have a website in no time using this AI website builder, you need to definitely add human touch as well. Durable is able to kickstart your website with a basic website, but it'll not be as great as a perfect-looking website.
#5 Get Response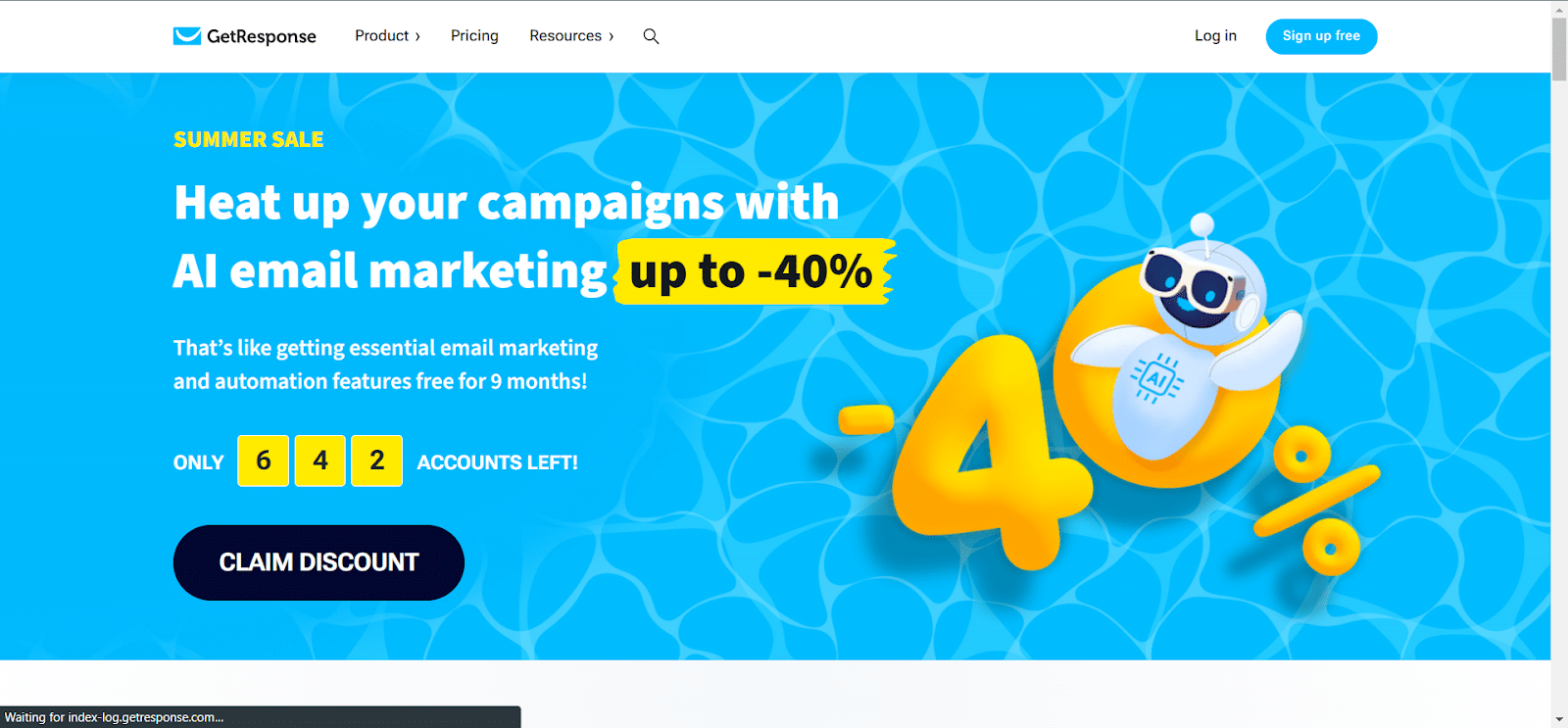 A one-stop marketing software platform, GetResponse offers a range of tools for web forms, landing pages, email marketing, automation, and even a free website builder. The website builder is powered by AI and doesn't require any coding, making it accessible to marketers and non-technical individuals. It enables users to create high-converting websites using pre-built templates and workflows or starting from scratch.
One noteworthy aspect is that you can test out the website builder without having to create a free plan account, which sets it apart from other website builders. It guides you through a simple process where you provide basic information, resulting in a professional-looking website that exudes quality.
#6 Unbounce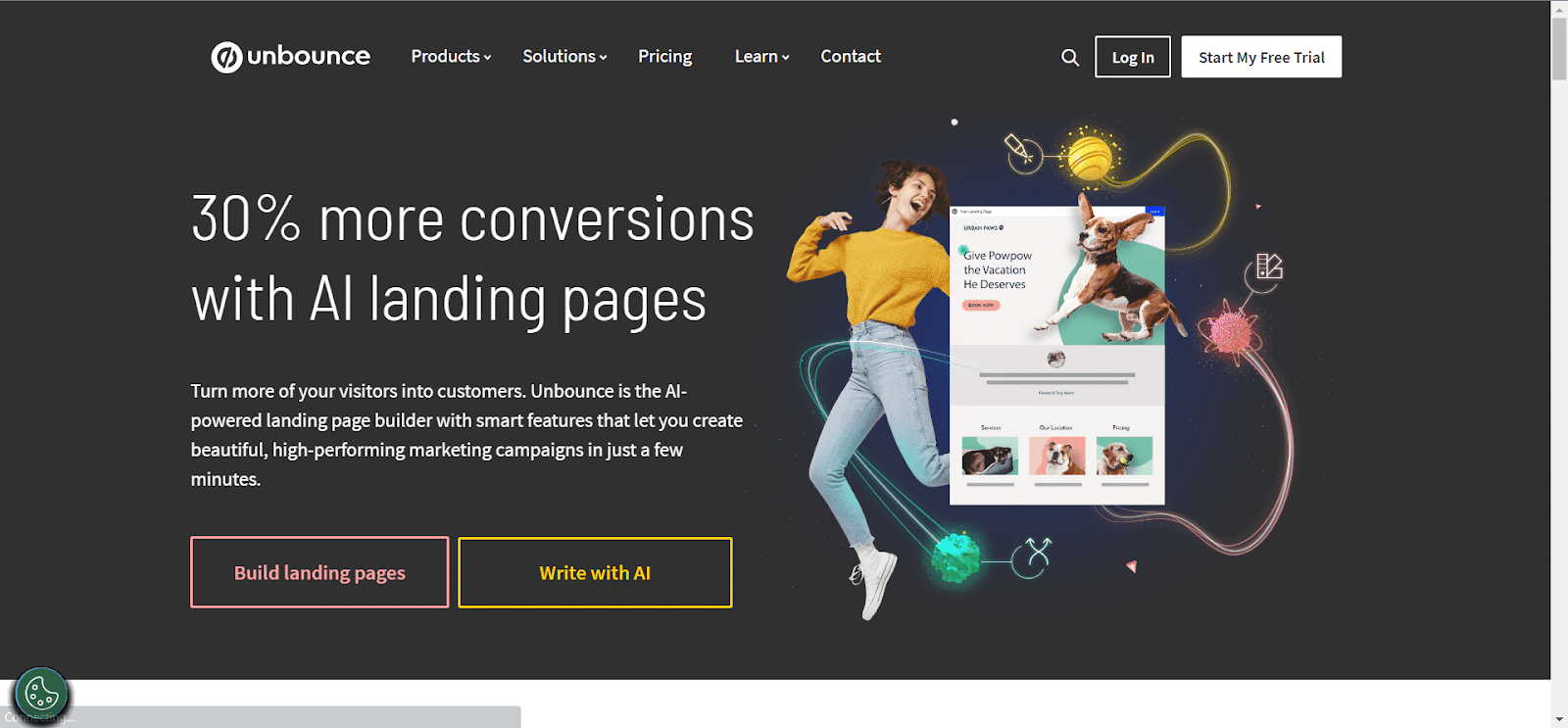 Unbounce isn't a complete website builder, but it stands out as one of the top landing page tools available. We included Unbounce in this list due to its transformation into an AI-driven company. They acquired an AI copywriting tool (not named Smart Copy), introduced AI traffic optimization, and developed a 'smart builder' AI landing page creator. Artificial intelligence powers every aspect of their platform.
With AI tools at your disposal right from the beginning, you can effortlessly create the most effective and conversion-oriented user experience. It only takes a few clicks to get started, and their AI writer is quite impressive. While not on par with Jasper or Writesonic, it delivers solid results.
#7 B12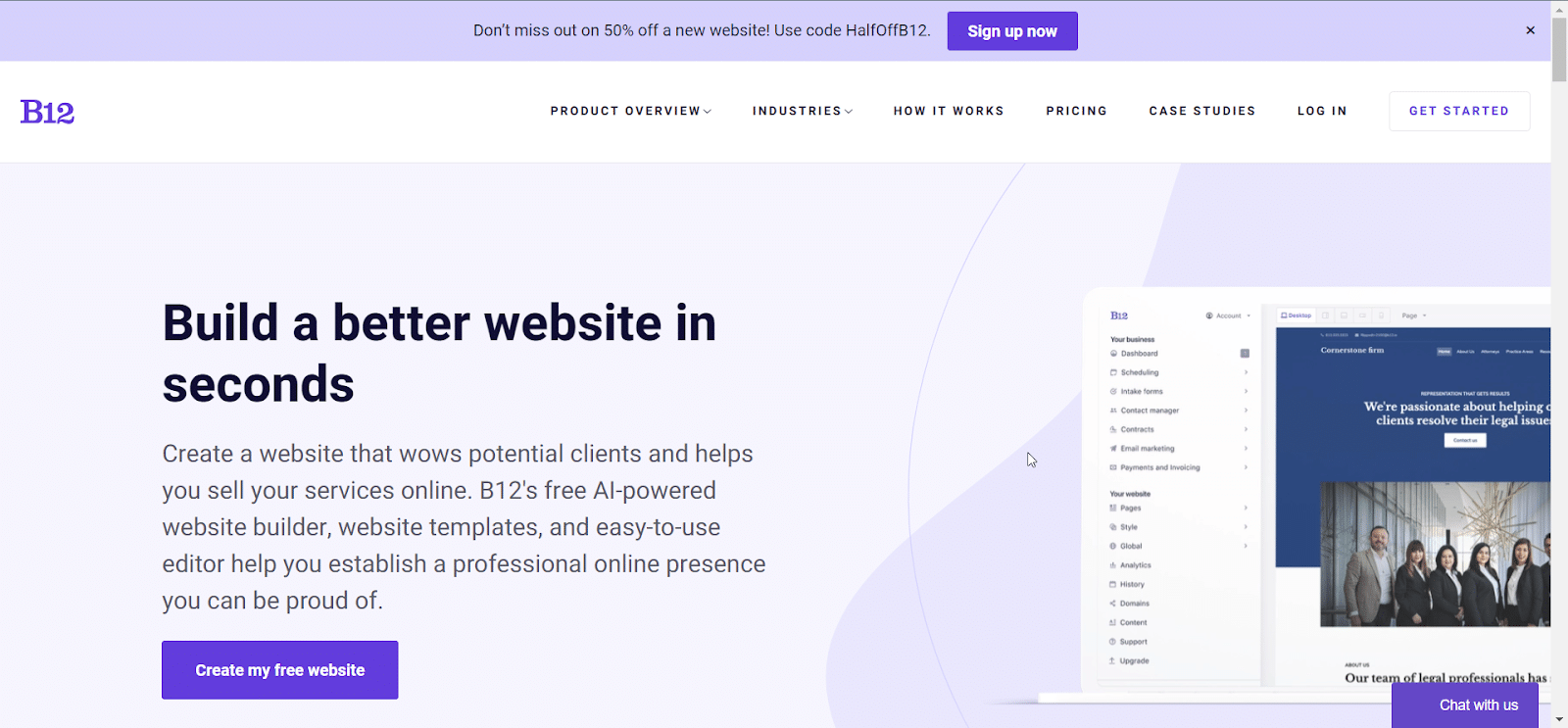 B12 stands out as an exceptional website builder tailored exclusively for professional service providers. With the power of AI, B12 empowers users to effortlessly create a distinctive website that perfectly aligns with their industry and niche. B12's feature-rich platform goes beyond the ordinary, enabling users to captivate customers, seal deals, and streamline their corporate processes effortlessly.
What truly sets B12 apart is its lightning-fast website creation process, a mere matter of minutes. The AI swiftly generates an initial draft of the website, which then undergoes careful refinement by the skilled B12 design team, guaranteeing that it surpasses the user's specific requirements.
Not stopping there, B12's platform goes the extra mile with its search engine optimization prowess, ensuring maximum visibility and responsiveness. Integrated eCommerce tools and seamless email marketing capabilities further augment the user experience. Additionally, B12 extends unlimited email and chat support, always ready to assist with any inquiries or concerns.
#8 Jimdo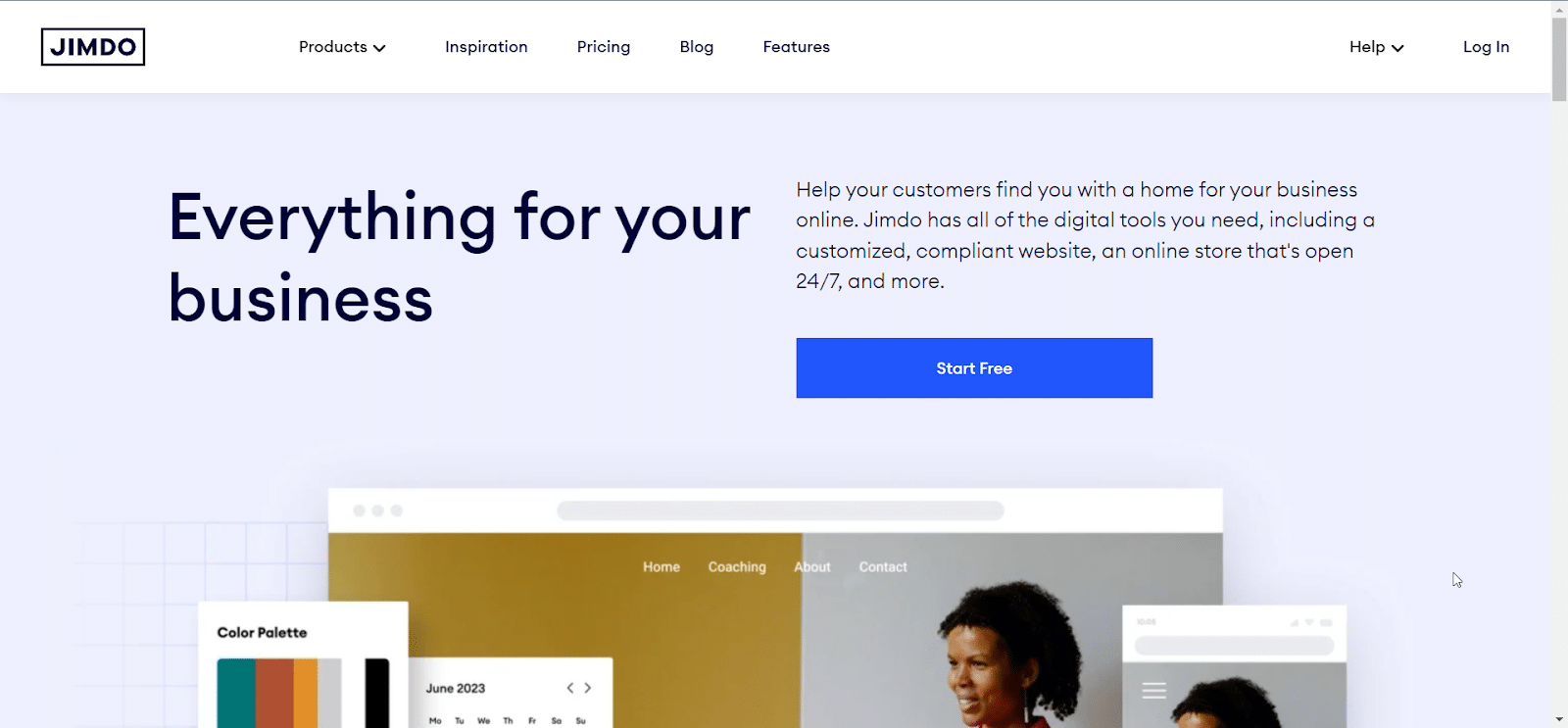 Jimbdo presents comprehensive tools that encompass 'all-in-one' solutions for your business. From a fundamental website and an online store to a complimentary custom domain and free hosting for a year, Jimbdo goes above and beyond by including a logo designer and seamless integration with social media platforms.
While it's worth considering that your business might benefit from additional tools, let's dive into what Jimbdo offers. Their AI website builder, known as Jimbdo Dolphin, is seamlessly integrated into the platform, much like Wix and other notable contenders on this list.
Focusing primarily on small businesses, Jimbdo places great emphasis on ease of use. Their AI-powered website generator empowers users to effortlessly create professional websites, and as an added bonus, they also provide an AI logo maker alongside their suite of website creation tools.
#9 Appy Pie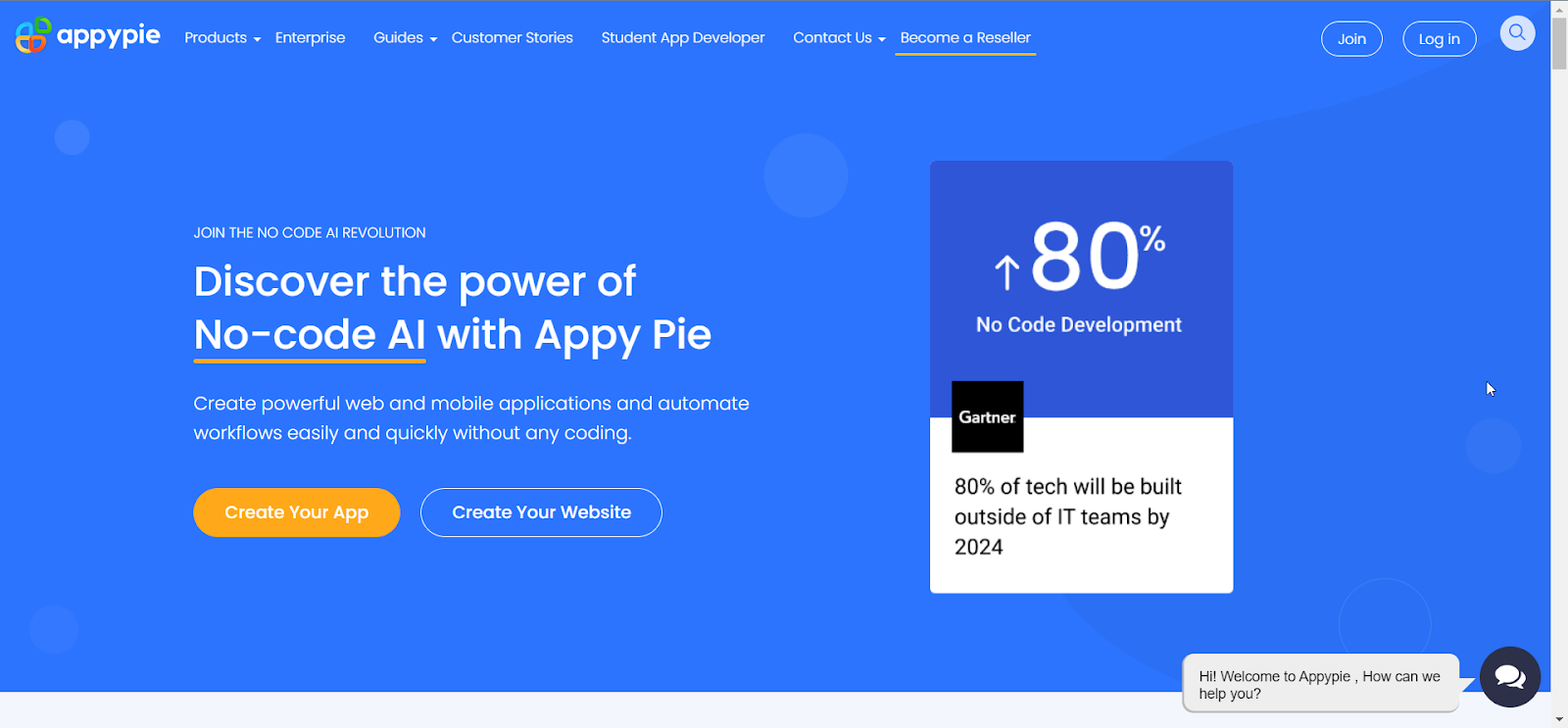 Appy Pie is a complete no-code platform with many tools to help marketers, product managers, and business owners go live without needing a lot of development resources. They have tools for web and mobile apps, as well as workflows and business automation.
Their AI website builder lets you try it for free on their website. Just input a few sentences, and their AI engine creates a functional website for you (you can add more pages later). It's a reliable platform with a great AI website builder.
#10 TeleportHQ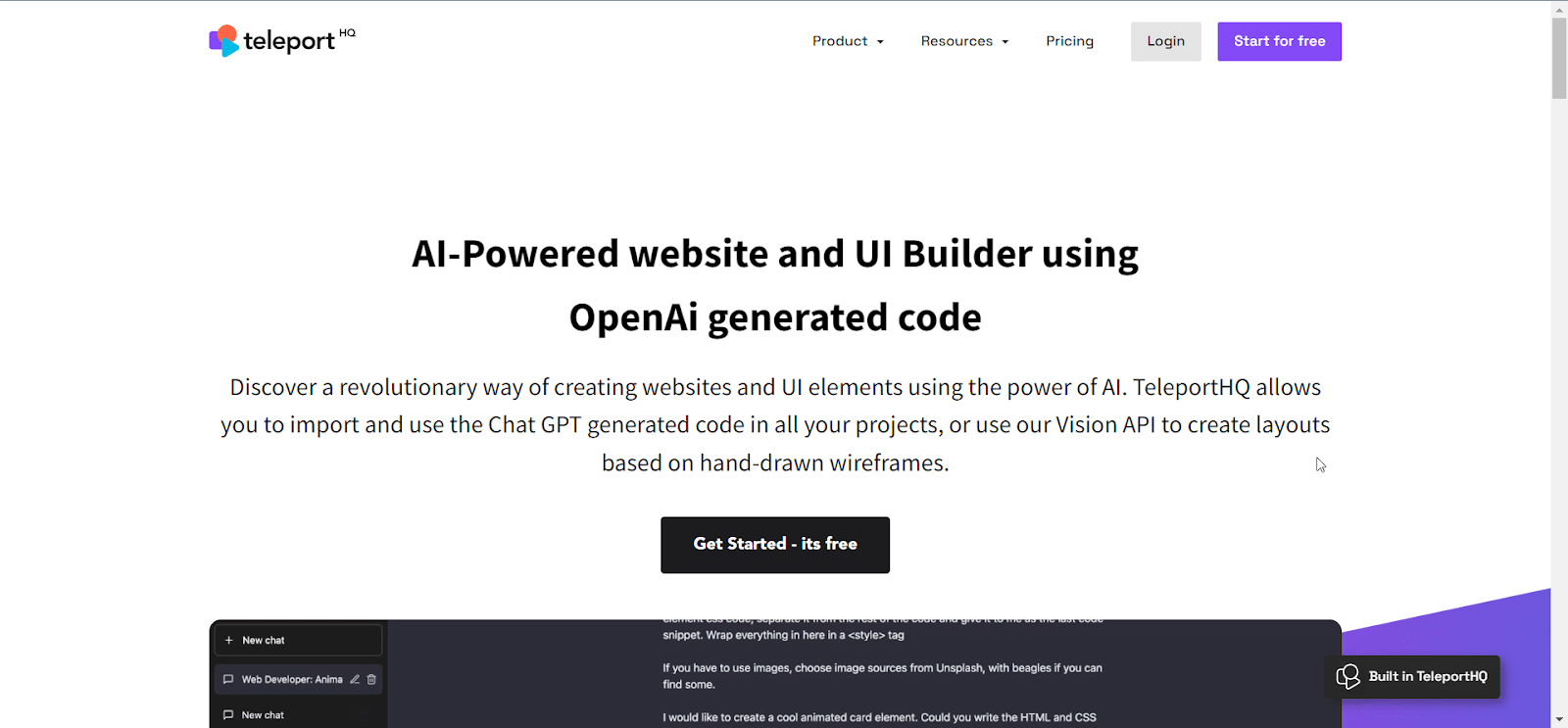 TeleportHQ is one of the well-known and widely used website and UI builders by OpenAI. It helps web designers create websites and components quickly and accurately using code generated by OpenAI. It's perfect for developers who want flexibility and customization, offering AI tools like ChatGPT and Vision API.
With TeleportHQ, you can build entire websites or specific components using pre-made templates. You can also customize your website by adding your own HTML and CSS code. The website editor allows multiple users to collaborate on the same project at the same time.
One standout feature of TeleportHQ is its Vision API, which transforms hand-drawn wireframes into digital designs. However, it's important to note that some coding skills are necessary to make the most of this tool.
Potential Downsides Of AI Website Builders
AI-generated websites provide a convenient and speedy solution for individuals and businesses seeking an online presence. But, they also have some limitations that you must need to consider. For example-
Lack Of Unique Design
One major concern is the lack of unique designs on these websites. Since AI operates on predefined templates and algorithms, customization options may be limited. Consequently, AI-generated websites can appear similar to one another, hampering a brand's ability to differentiate and leave a lasting impact on visitors.
Doesn't Meet Expectations Fully
Another issue with AI-generated websites is their potential to fall short of expectations and match a brand's style perfectly. Despite efforts to emulate human decision-making, AI lacks the intuition and creativity possessed by humans. As a result, users may find their website doesn't fully align with their vision or business objectives. This can be frustrating and require extra time and effort to make necessary adjustments.
Launch Your Website Using AI Website Builders Right Away
To sum up, AI-generated websites do offer notable advantages in terms of convenience, speed, and affordability. But you should carefully evaluate your needs and goals before deciding whether to utilize an AI-generated website builder or opt for a more traditional approach.
However, to kickstart a website – personal & professional, within a short period of time, you can definitely check the above-mentioned AI website builders as per your requirements. Did you find this blog helpful? If you do, please subscribe to our blog & join our Facebook community for the latest updates, tips, tricks, and more.