Welcome to the world of sweet indulgence! If you're passionate about ice cream and want to share your love for frozen treats with the world, creating a fun ice cream website is the perfect way to do it. Whether you're an ice cream parlor owner, a dessert enthusiast, or simply someone who wants to spread happiness through the magic of ice cream, this guide will show you how to create an enticing online presence.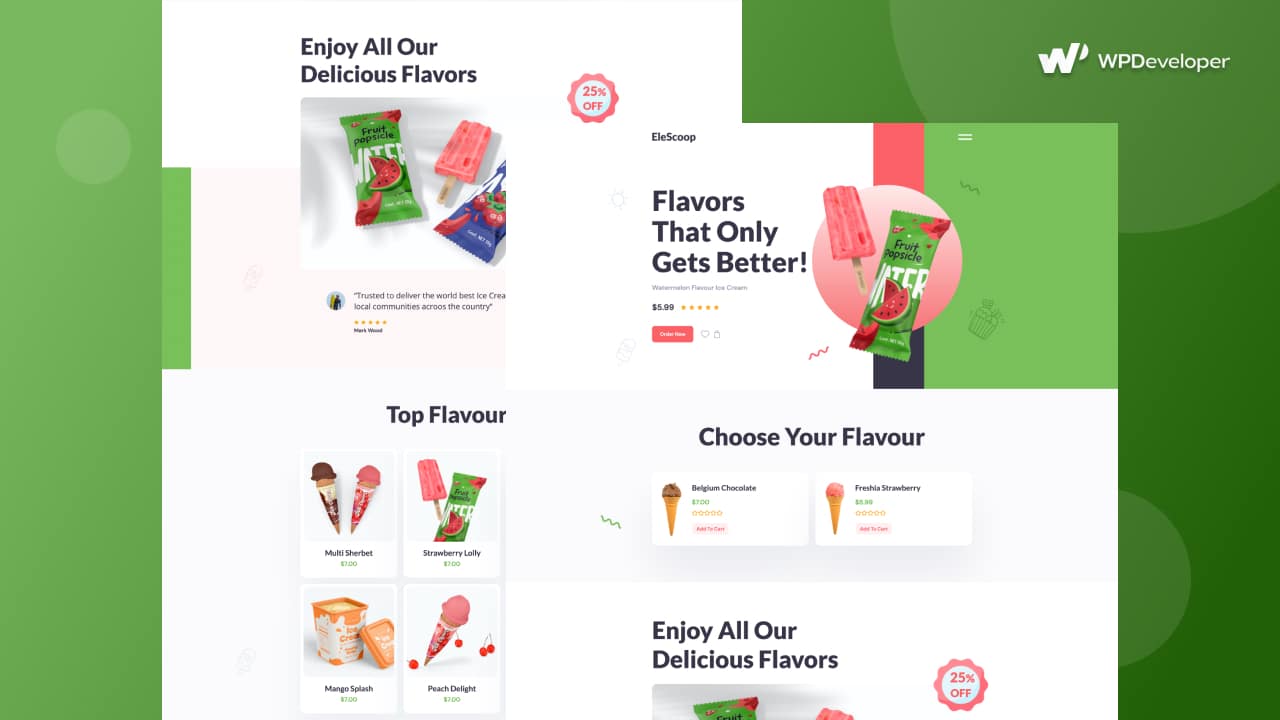 Reasons Why Creating An Engaging Ice Cream Website Is Important?
In today's digital age, a compelling online presence is crucial for success in any industry, including the ice cream business. By creating an ice cream website, you can effectively attract, engage, and convert visitors into loyal customers, ultimately contributing to the growth and success of your ice cream venture.
⭐ An engaging website captivates visitors and entices them to explore your ice cream offerings. A visually appealing design, interactive elements, and enticing content help create a memorable experience, keeping visitors hooked and encouraging them to stay longer on your website.
⭐ An engaging website helps establish and reinforce your brand identity. Through consistent design elements, captivating storytelling, and a distinct personality, you can create a memorable brand image that resonates with your target audience and sets you apart from competitors.
​​⭐ A well-designed website improves the overall customer experience. Easy navigation, intuitive user interface, and interactive features make it effortless for customers to explore your ice cream menu, find information about your business, and even place online orders. Providing a seamless and enjoyable experience increases customer satisfaction and encourages repeat visits.
Things To Keep In Mind While Creating An Ice Cream Website On WordPress
A fun and engaging ice cream website will not only attract customers but also create a delightful online experience that aligns with the joy and indulgence of enjoying a scoop of ice cream. Let's have a look below to know about things you need to keep in mind while creating an ice cream website.
Attractive Visual Design: Vibrant colors, playful illustrations, and high-quality images of delicious ice cream treats can create an inviting and appetizing visual experience. You need to consider incorporating a cohesive theme that reflects the joy and indulgence associated with ice cream.
User-Friendly Navigation: The website should be easy to navigate, with clear menus and intuitive navigation elements. You should make it simple for visitors to find information about your ice cream flavors, toppings, locations, and any special promotions or events.
Interactive Fun Features: It is important to engage visitors with interactive features such as useful buttons, CTAs, exciting galleries, etc so that you can enhance user engagement.
Mouth-Watering Content: Create enticing content that showcases the uniqueness and flavors of your ice cream. Use descriptive and captivating language to highlight the taste, ingredients, and stories behind your ice cream creations. Include visually appealing images and videos that showcase your products and create a desire to indulge.
Pages That You Can Include In Your Ice Cream Website
When creating an ice cream website, there are several essential pages you should consider including to provide a comprehensive and informative experience for your visitors. Here are some key pages to consider in your fun ice cream website.
✨ A Beautifully Designed Landing Home Page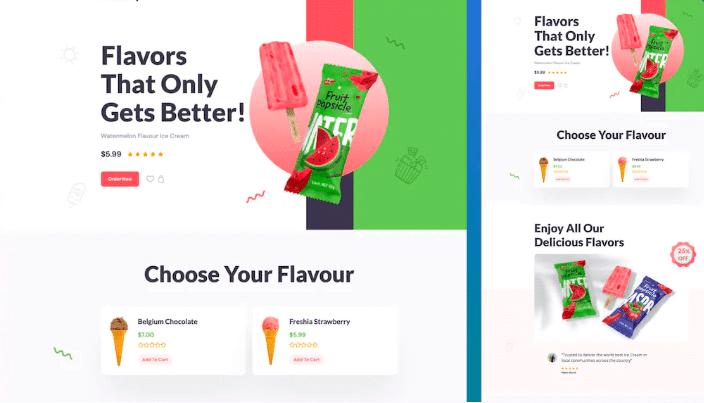 Your website's home page is the stage for a delightful ice cream experience. This page should be welcoming for visitors with an enchanting design that reflects the joy and indulgence they can expect from your brand.
✨ Product Page To Display Ice Creams Beautifully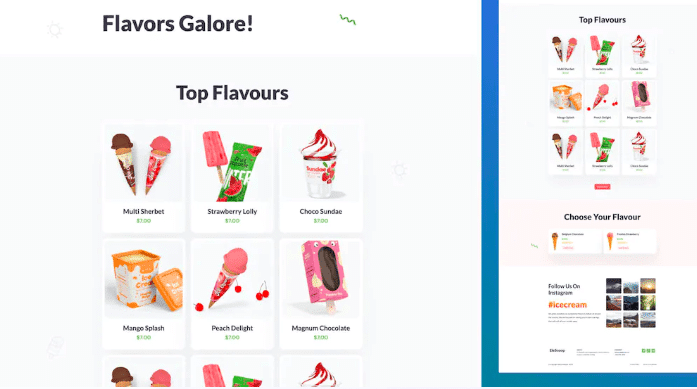 You need to showcase the mouthwatering ice cream creations on a dedicated product page. This page allows visitors to explore the enticing visuals and detailed descriptions that ignite their taste buds and entice them to make a purchase.
✨ A Deliciously Descriptive Ice Cream Details Page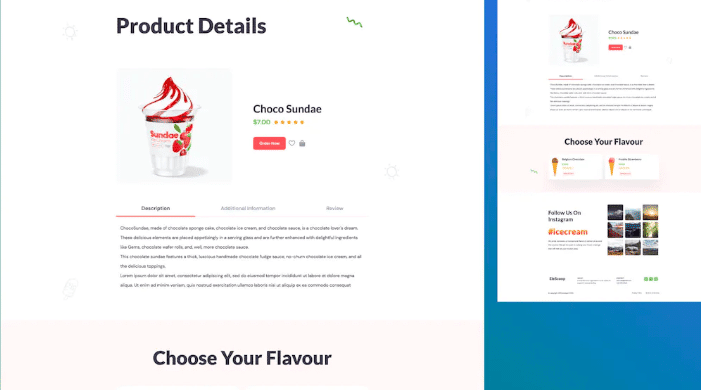 A descriptive details page can take your customers on a flavor journey. By providing a dedicated page for each ice cream flavor, the customers can delve into mouth-watering descriptions that capture the essence and uniqueness of each treat.
✨ Cart Page For Showcasing Users' Selected Items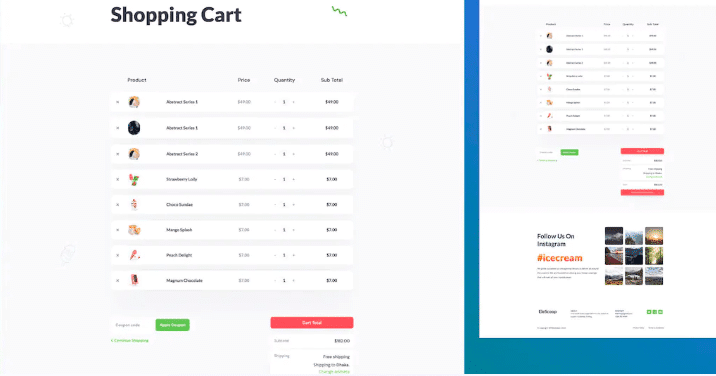 You can create a seamless shopping experience with a visually appealing cart page. This page can display users' selected ice cream flavors, allowing them to review and modify their choices before proceeding to checkout.
✨ Checkout Page For An Efficiency Purchase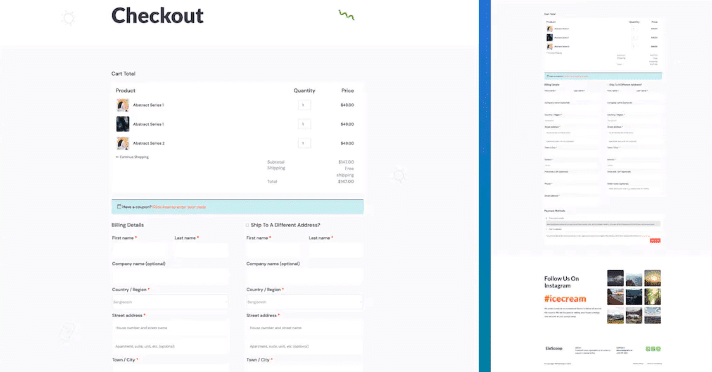 By streamlining the purchasing process with a user-friendly checkout page, you can ensure a convenient and efficient transaction for customers as they eagerly await the arrival of their delectable ice cream treats.
How Can You Build A Website Without Any Coding?
Building a website without any coding has become accessible to everyone now. Thanks to the availability of ready-made templates. These templates offer pre-designed layouts and structures that can be easily customized and tailored to suit your needs. Here, in this blog, we will explore how to create a fun ice cream website in Elementor using a free template.
Meet Templately: The Most Popular Template Library For WordPress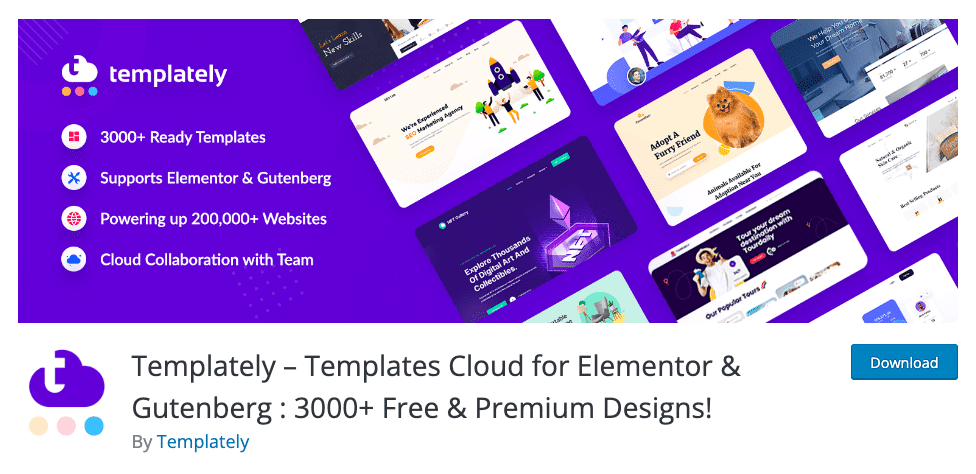 Templately is a freemium plugin for WordPress that offers a vast collection of approximately 4K+ pre-designed templates that can be effortlessly imported into your website. These templates cover a wide range of industries and purposes, including business, portfolio, e-commerce, blog, and more. Using templates on Elementor and Gutenberg is incredibly user-friendly with Templately.
With this plugin, you can quickly build a stunning website without starting from scratch. The templates are fully customizable, allowing you to tweak the design, layout, and content to align with your brand and vision. Whether you need a landing page, shop page, about page, or any other essential page, Templately has an extensive library of templates to choose from.
Things You Need To Create A Website In Elementor With Templately
Templately allows using templates in both Elementor and Gutenberg. Here, in this blog, we will explore the way of creating a website in Elementor. To create a website in Elementor using Templately templates, you need to have some necessary plugins installed and activated on your site. Have a look at the below.
Elementor: The most popular WordPress website builder with 6M+ active users.
Templately: The ultimate template cloud for WordPress with 200,000+ active users.
Essential Addons for Elementor: The most popular Elements library with 1M+ active users.
WooCommerce: The eCommerce platform for WordPress that allows you to manage online stores.
Step-By-Step Guide To Create A Stunning Ice Cream Website
Once you are done installing and activating all the above-mentioned plugins, you are all set to start creating a fun and engaging ice cream website. Here are the steps by step guide for you to create a delightful ice cream website with Elementor.
Step 1: Create A New Page In Your WordPress Website
To create a new page from your WordPress dashboard, log in to your WordPress dashboard first and navigate to the Pages → Add New. You will find yourself in the default editing panel of WordPress. Now click on the 'Edit with Elementor'appearing at the top. You will be instantly directed to the Elementor editing panel.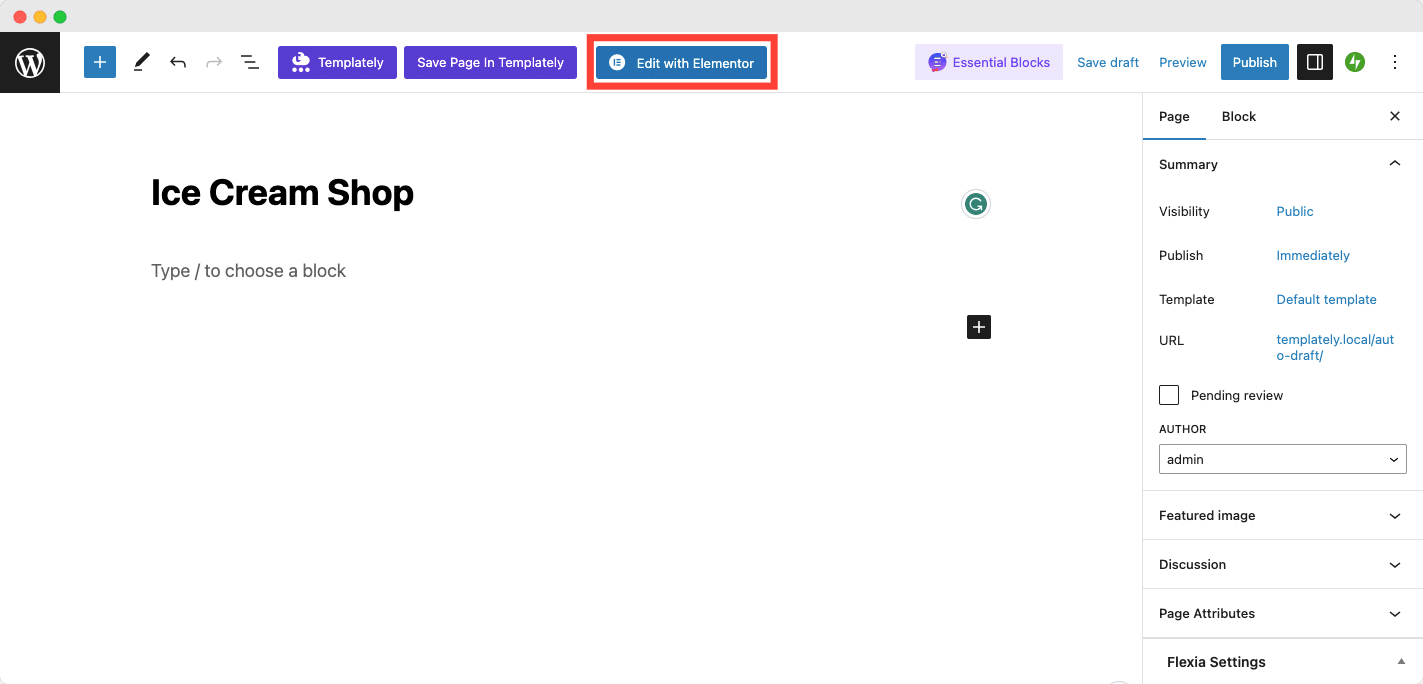 Step 2: Insert Templately Template For Ice Cream Website
You will find the 'Templately' blue icon in the middle of the page you created. Click on it to get access to the Templately template library.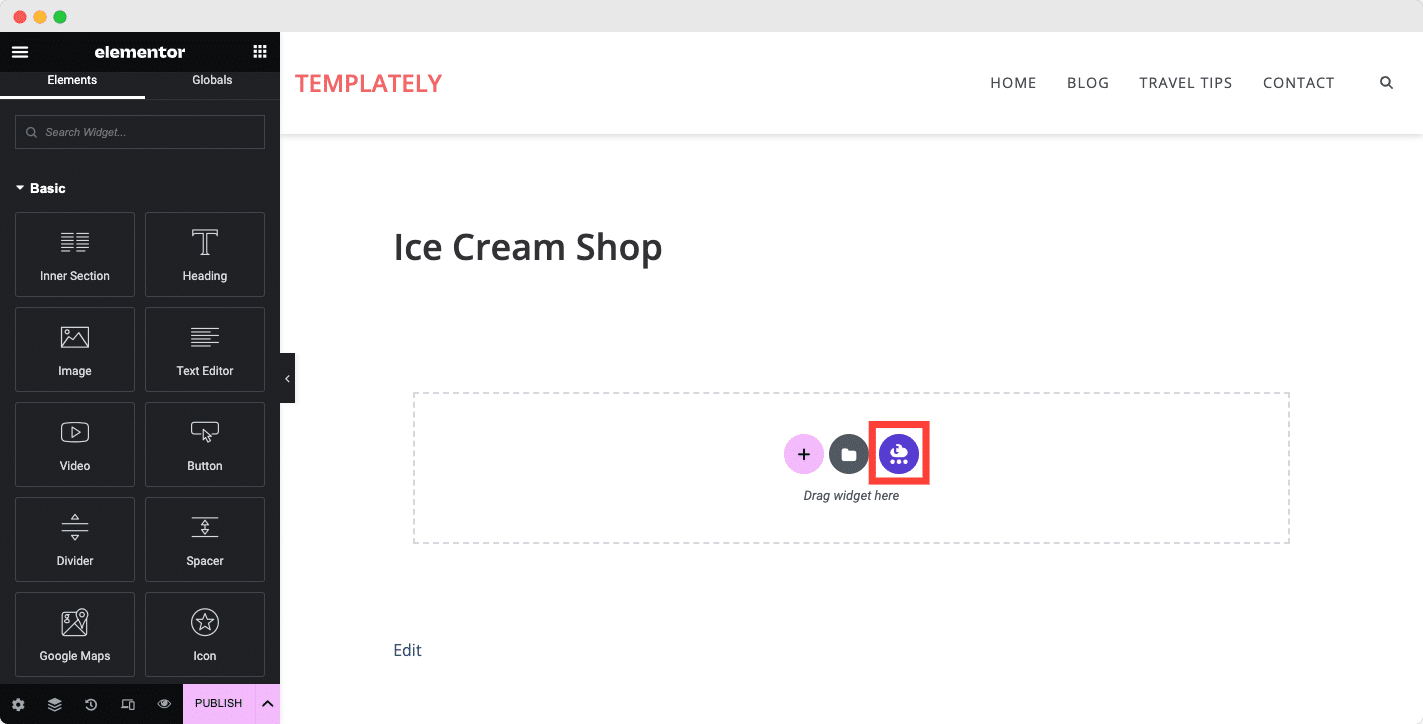 In the tutorial, we have chosen EleScoop – Ice Cream Website Template Pack to create the ice cream store website. From the search bar, search "EleScoop" and find a stunning ready template pack for your online ice cream shop.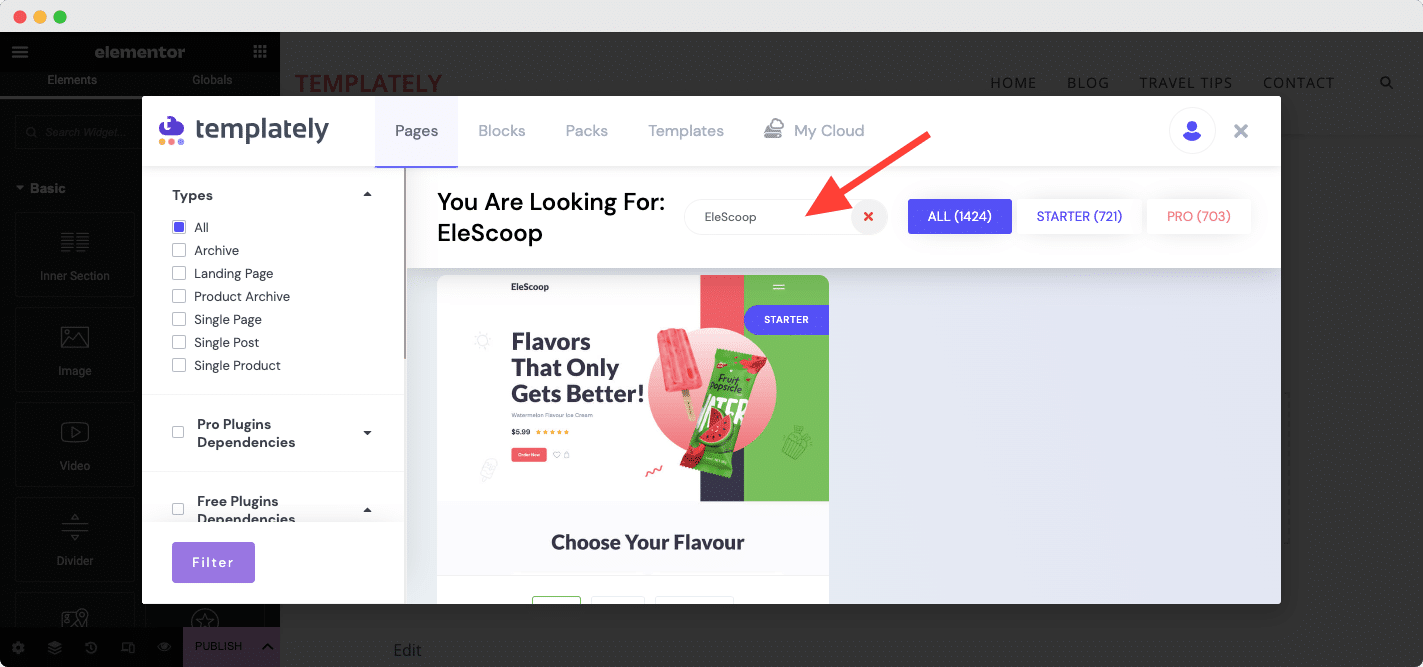 Insert it into your page by clicking on the 'Insert' icon. In just one click, you will get the ice cream shop template. The landing page of the website is being designed here in this tutorial. After inserting the Home Page, the template will appear on your page.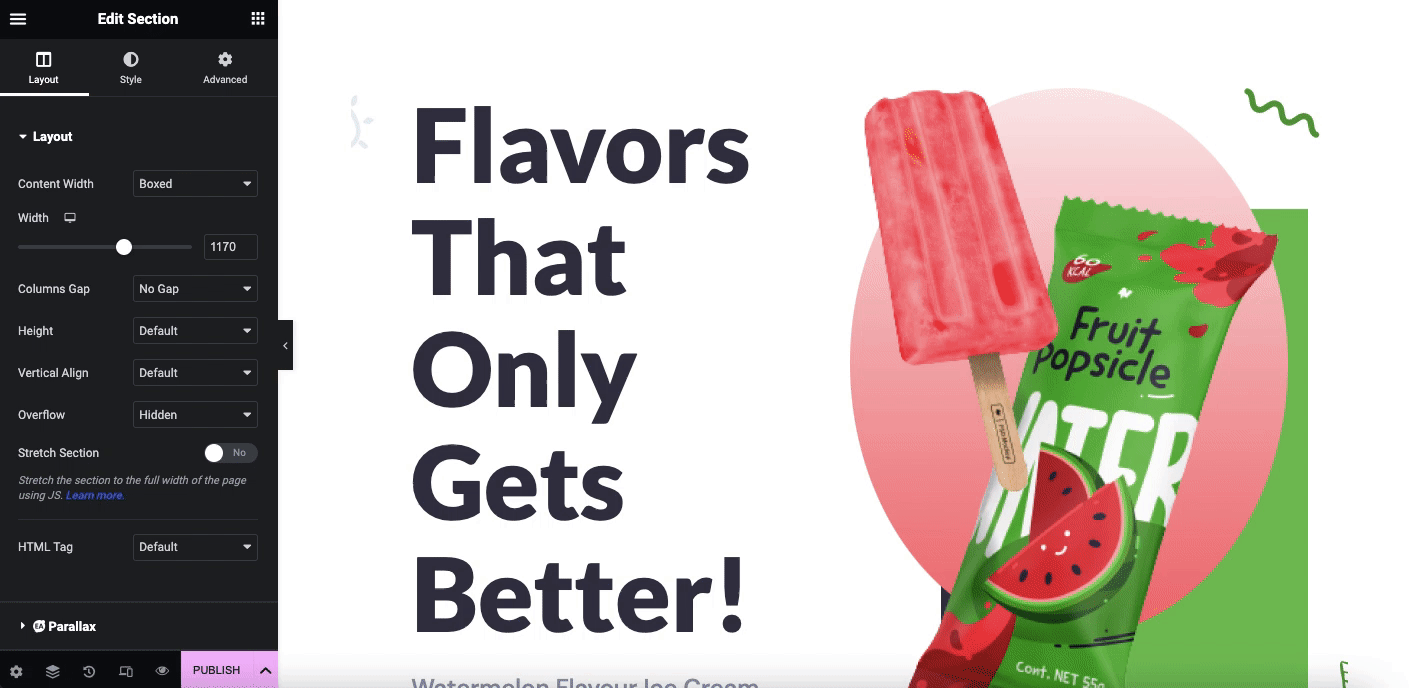 Step 3: Customize The Template To Design Your Website
Click on the section of the home page template you want to customize, and the editing panel will be opened instantly. You can now make the necessary changes to your website and make it more eye-catching.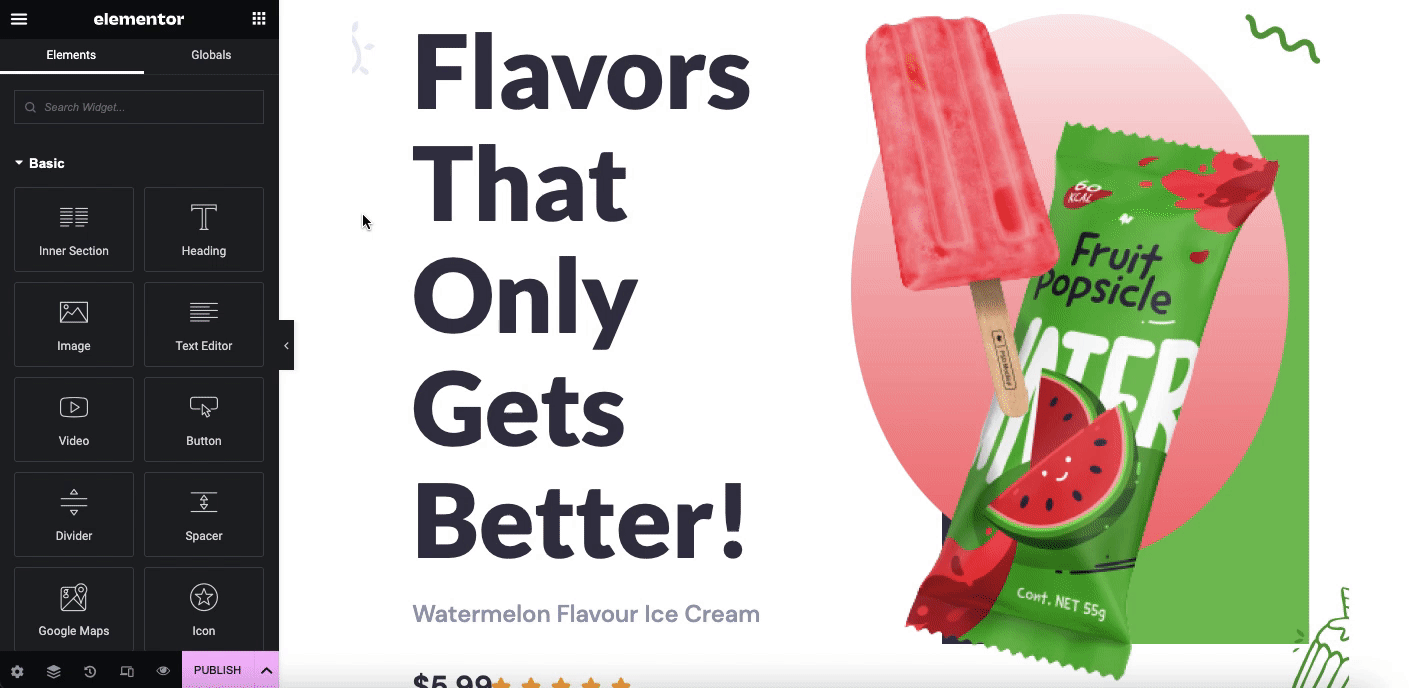 Step 4: Store Your Customized Designs In Templately MyCloud
Templately's 'My Cloud' cloud storage feature offers a convenient option to save your personalized templates. With this exclusive feature, you can store customized templates in cloud storage for future use. To save a customized template, simply right-click on the desired section and select 'Save Page To Template' from the drop-down menu.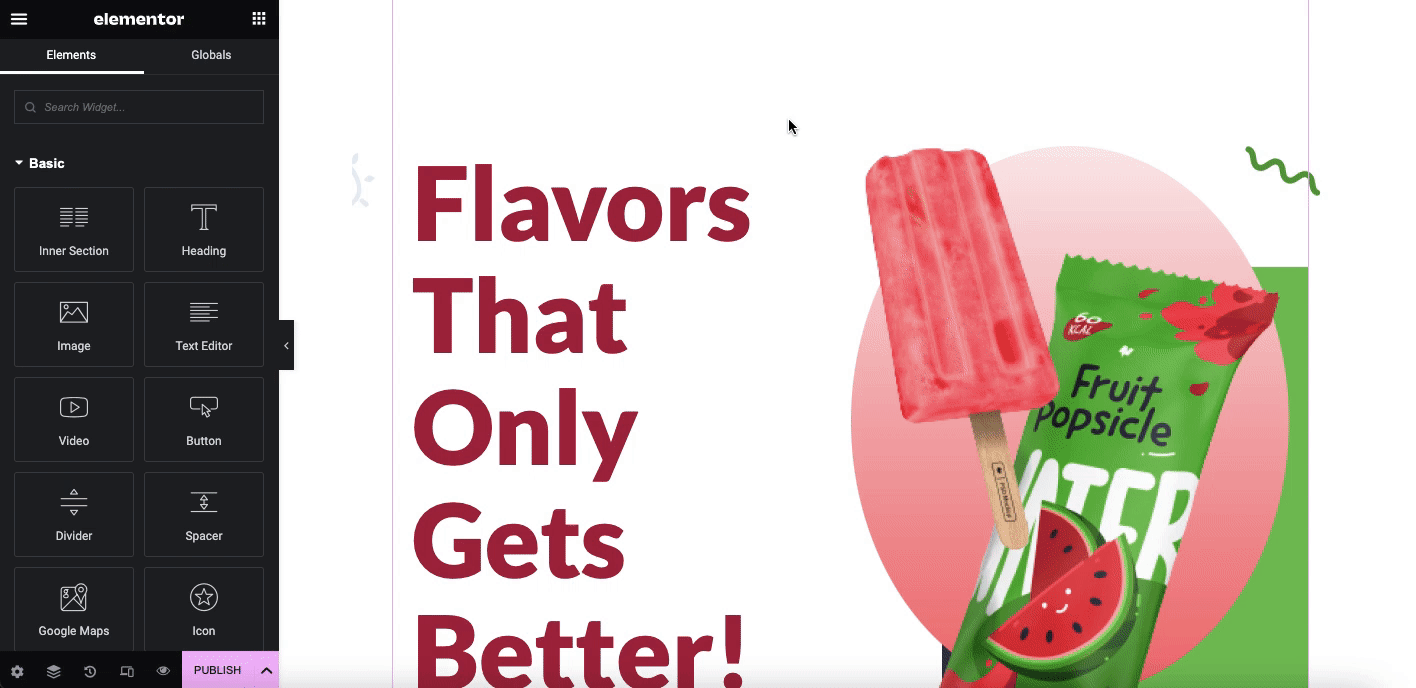 In addition, Templately provides a valuable feature called 'My WorkSpace' that allows you to share your saved items with others. This feature enables direct collaboration, saving you significant time and effort. With My WorkSpace, you can easily collaborate with others and streamline your work processes.
A Final Look At The Newly Designed Ice Cream Website
Once you have finished customizing your landing page, it's time to share the captivating design with the world. Simply click on the 'Publish' button, and your newly created ice cream website landing page will be live for everyone to see.
Using the same effortless process described above, you can now design the Product Page, Product Details Page, Cart Page, Checkout Page, and other essential pages for your ice cream online store website with just a single click. The EleScoop template pack offers an array of impressive designs for all the necessary pages of a complete ice cream website. Creating a stunning website for your fun ice cream website store has never been this easy.
Create A Delightful Ice Cream Website With Templately
Get ready to embark on a journey to create a delightful ice cream website that will leave visitors craving more scoops of joy. So, grab your favorite flavor, put on your creative hat, and let's get started on crafting a website that captures the essence of pure frozen delight!
Do you think this article is helpful? If you like this, then subscribe to our blog for more articles. Also, join us on our Facebook community to interact with more people.