You don't have to roam around everywhere to find the perfect solution to create your creative agency website without any coding anymore. Now just by using WordPress's most popular page builder – Elementor, which comes with a complete ready template pack to make your website impressive, informative, and fully functional within a few clicks, and Yes, it's free. Find out in detail about it in this blog below!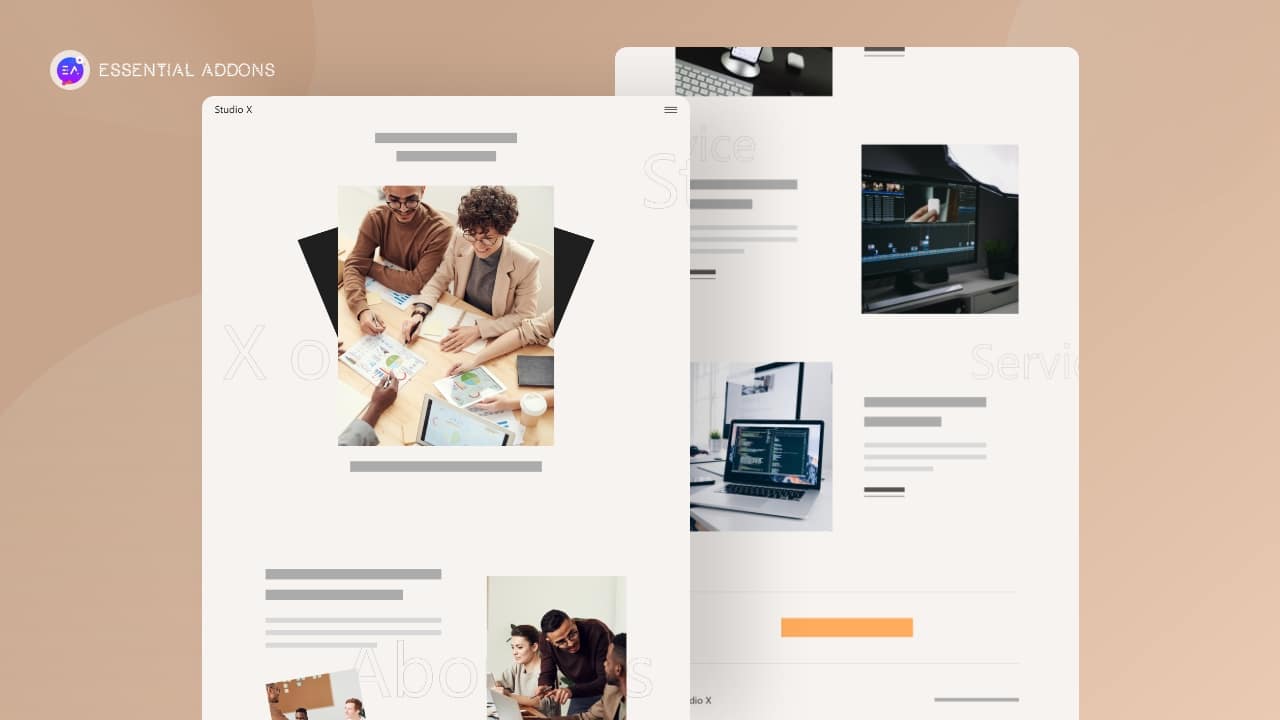 ✨Why Should You Create A Creative Agency Website?
As you know, creative agencies have specialized in more than one field. For instance, web design, development, digital marketing, or all sorts of services provided by one organization. Customers are mostly looking for one service provider who can give all support without roaming around for many. 
👉That's why your creative agency website has to be interactive, interconnecting, and beautifully designed. Except for this, you may not be able to impress your targeted customers to be your permanent clients in this online business world.    
👉An impressive design of your creative agency website can make your customers be attached to your work on the first visit. You have to build that impression on your website to draw their attention to boost sales. 
👉Besides, getting an informative, responsive website can make your client happy to rely on you. In the meantime, you can create brand value as a startup very quickly without any extra effort. 
👉So to make your creative agency business successful, you should get an impactful website to attract your potential clients, engage them, and convert them to your customer forever. 
⌨️How To Build A Creative Agency Website Using EA Elementor?
Ready designs have always been highly recommended to create any website with ease. Because predesigned templates are SEO friendly, ensure responsiveness, are fully functional, easy to use, and come with a complete package to build an entire website without codings. 
WordPress's most popular page builder – Elementor, and its best elements library EA Elementor come to serve this purpose beautifully to create a stunning creative agency website. You have to add your content in the predesigned template and customize it without adding any single line of code and make it publish right away.  
Let us introduce to you the 'StudioX' Elementor template pack by Templately to create a creative agency website without any costs and codes just with a couple of clicks.  
💜 Highlights of StudioX Templates Pack:
StudioX comes with five creative-ready pages and four stunning blocks to build your creative agency website in Elementor without any hassle. You just have to insert each of its ready designs and with a bit of modification, you will be ready to make it publish. Let's dig in-depth below:
👉Home Page
Get a complete, beautifully designed StudioX Home Page to create your creative agency website landing page appealing to the site visitors that they feel encouraged to give a click at the very first look.  
👉About Us Page
Showcase your goal, inspiration, full team, and other essential information interactive on StudioX About Us page to impress your visitors. 
👉Services Page
Beautifully display your creative agency services to your potential clients using the StudioX ready Services Page design. 
👉Work Page
Attract your site visitors by visualizing your creative works using StudioX's fully-functional Work Page template that consists of animated widgets.  
👉Contact Us Page
You can influence your potential customers to create direct communication with them by providing an interactive form layout with other creative sections in your Contact Us Page template. 
🔰Things You Must Have To Get Before Creating A Creative Agency Website
Before creating your creative agency website with this 'StudioX' free template pack of Templately, you must have to get some necessary plugins that will require below: 
✅ Elementor: Get Elementor has been considered one of the best page builders for WordPress. 
✅ Essential Addons: Afterward, install & activate Essential Addons the best elements library for Elementor with 1million+ happy clients and 100+ fully-functional widgets.
✅ Templately: Now to use the 'StudioX' template from Templately, you have to sign up for an account first and then get installed with 'Templately' on your WordPress website to complete the setup. 
🚀Get Started With Templately To Create An Compelling Creative Agency Website 
Let us assume that you have installed & activated all the mentioned plugins above. So now to use the StudioX Elementor templates pack in your Elementor site by following the step by step guidelines below:
Step 1: Insert 'StudioX' Homepage Design
Let's click on Edit with Elementor to create a new page on the WordPress dashboard, and you will get a new page in the editor just within a moment.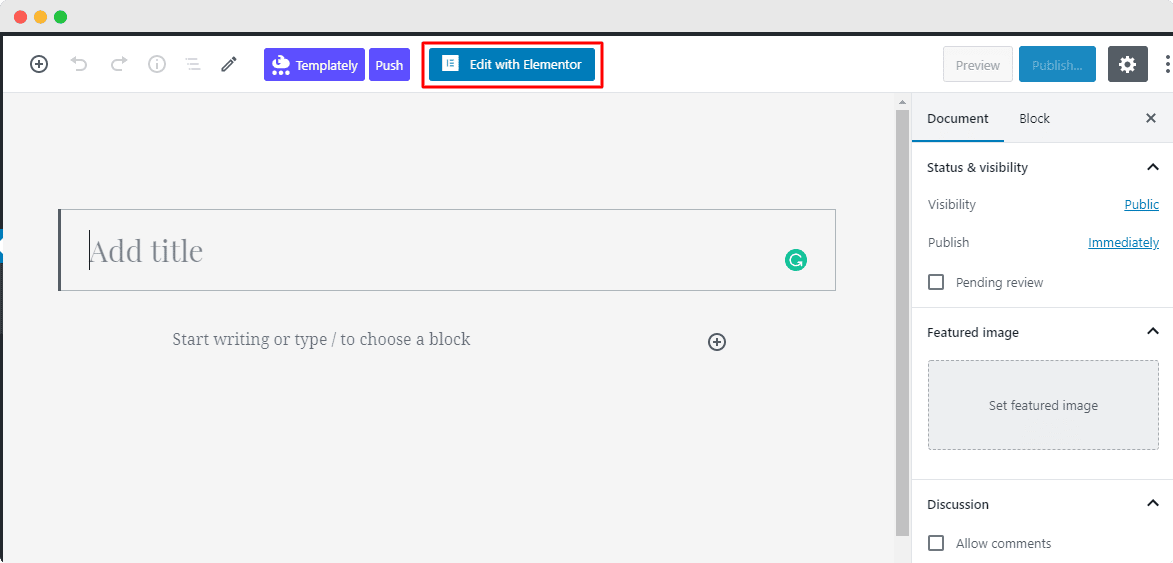 You need to click on the center Icon of the page that comes with the 'Templately'. It will beautifully showcase all ready collections of Templately. You have to search for 'StudioX' or can type 'Creative Agency'. It will automatically provide all the ready pages & blocks related to it in just a blink of an eye.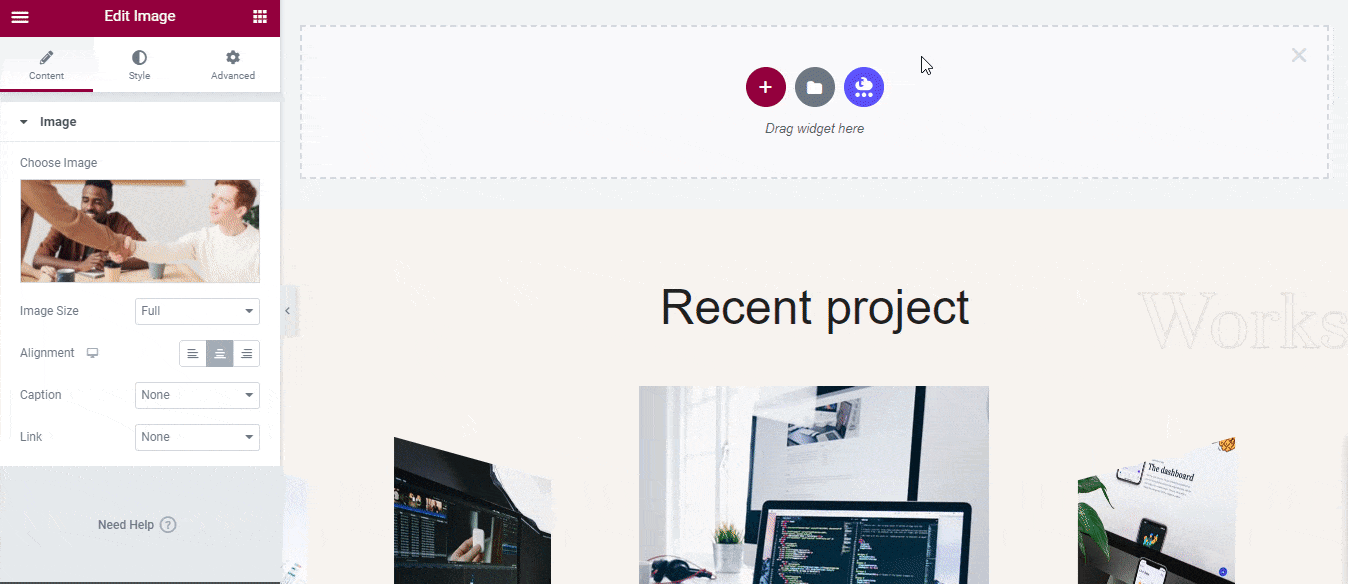 Afterward, pick the 'StudioX' responsive homepage design, hits the 'Insert' button, and start modifying it as per your preference.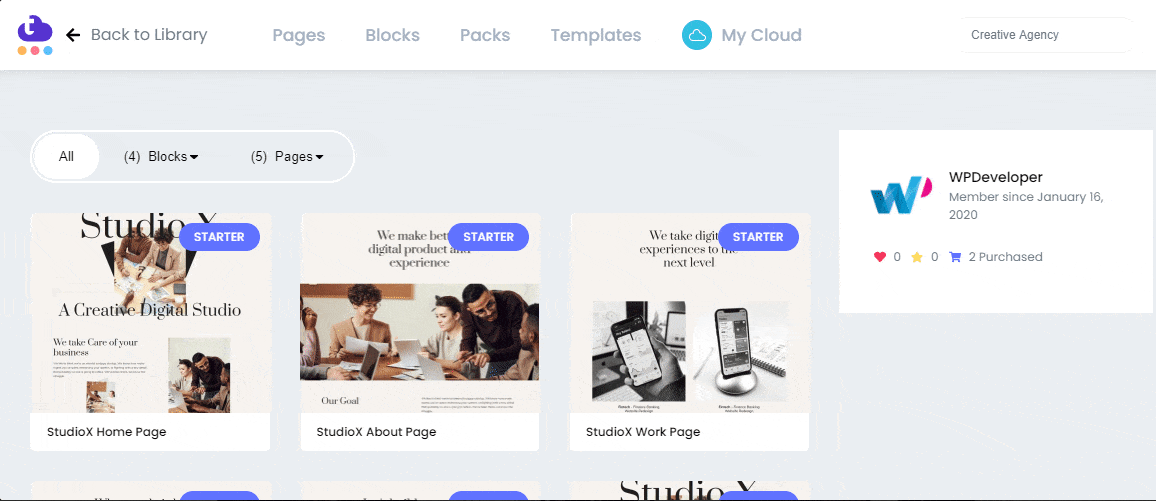 Step 2: Get Ready To Modify Design
You can now use the responsive, fully-functional ready template to publish your creative agency website in Elementor. You can add your own content in each creative section, drag & drop each if needed, do a bit of modification, and Yes, now you are fully ready to make your design live.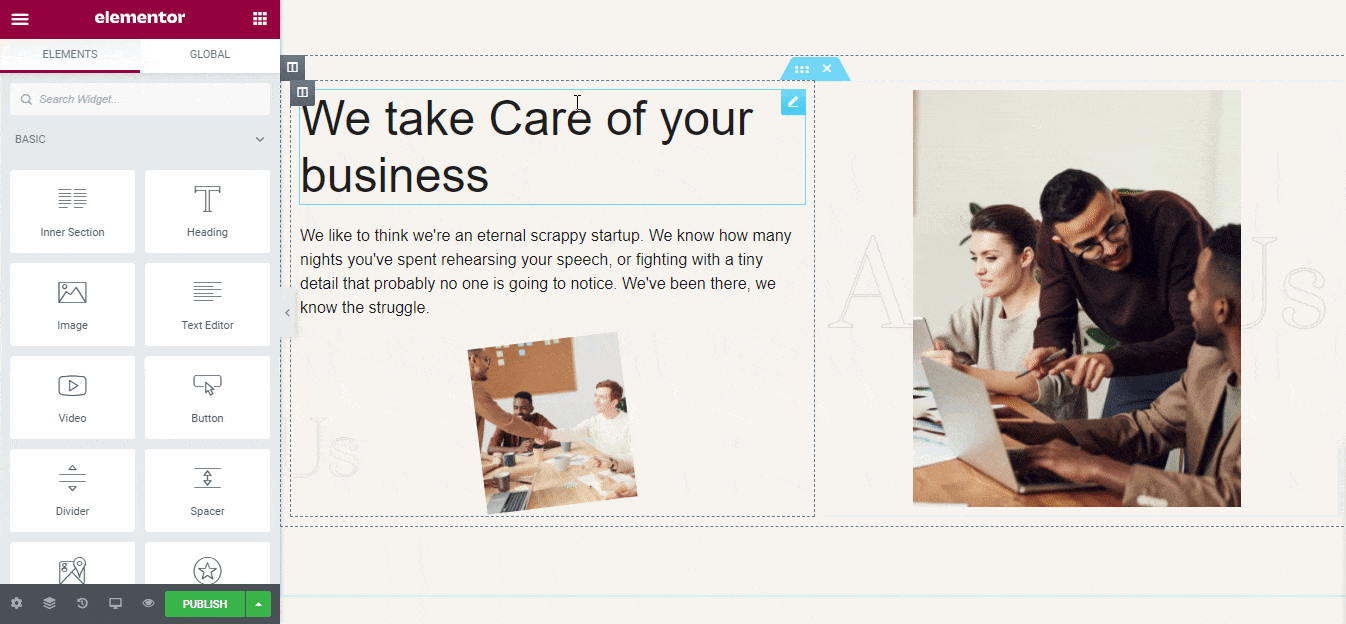 Step 3: Save Your 'StudioX' Ready Template Design On Cloud
You can now save and secure your ready template designs in the 'MyCloud' storage of Templately. To do that, you have to right-click on any of its sections and hits the Save Page to Templately option to get it on cloud space.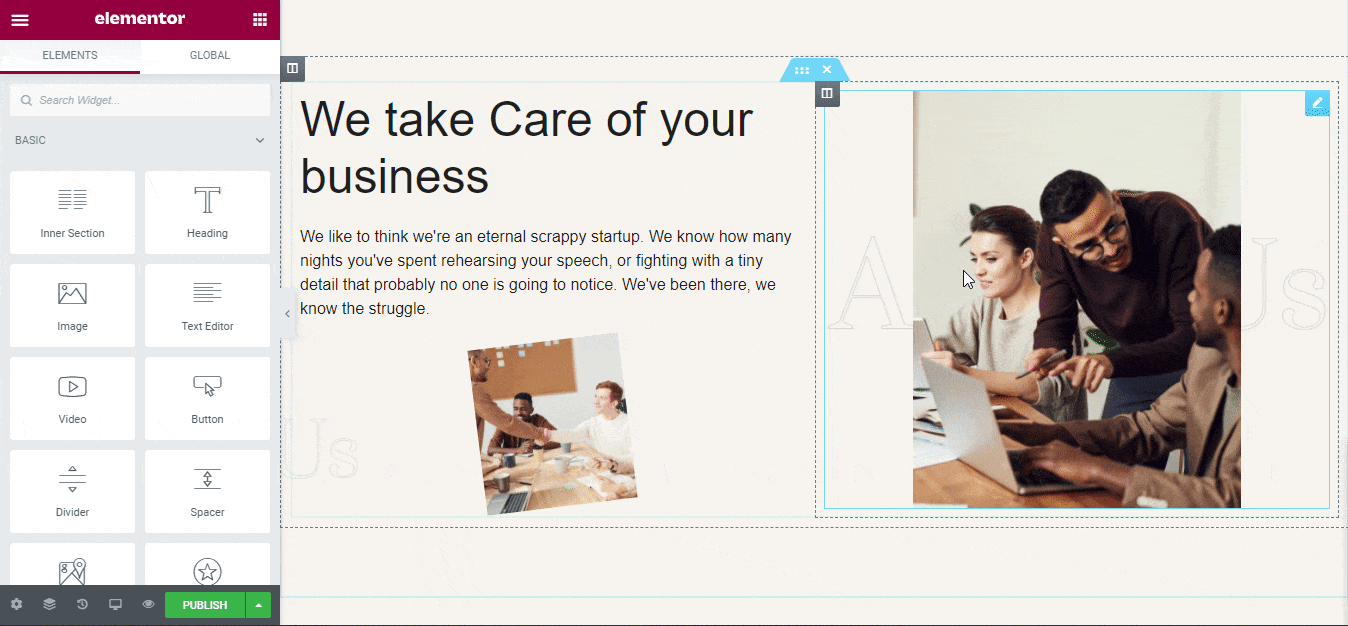 Even if you want, you can reuse your template designs anytime you want on multiple sites as many times you want. Besides, you can create a seamless collaboration in Templately WorkSpace by sharing your exclusive designs with other team members using the cloud space.
🔥Final Outcome: Take A Look At Your Creative Agency Website 
Wonderful! You have successfully used the ready Elementor templates pack 'StudioX' by Templately to create your creative agency website in Elementor without adding any single line of code for free.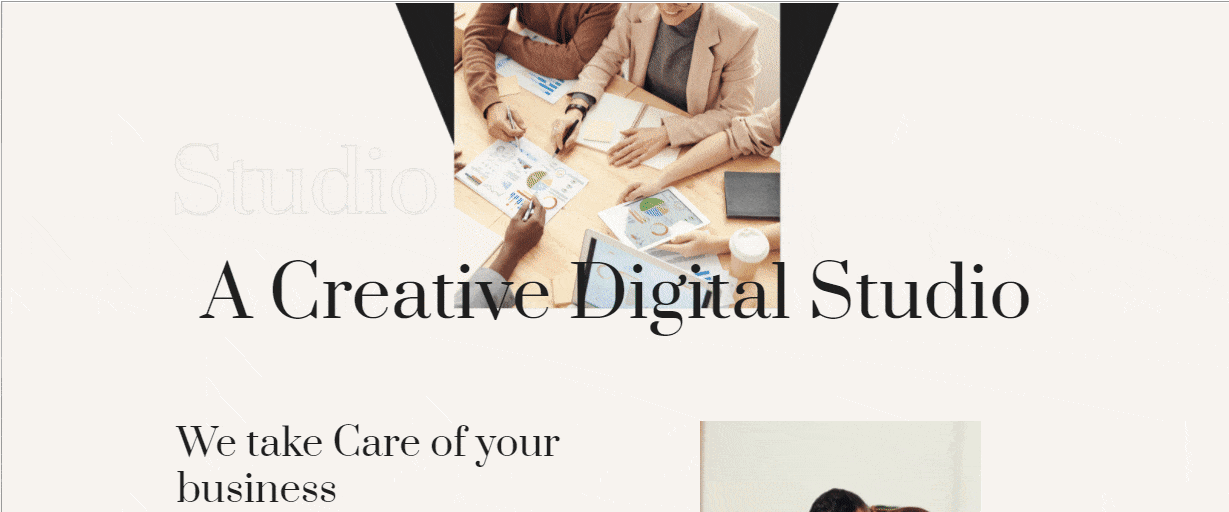 Get ready to explore Templately ready exclusive designs if you have never used them and let us know your experience by commenting below. If you face any problems or need any further assistance, feel free to contact our support team whenever you want.