When you are all set to create website for your business, Elementor agency templates are the most convenient to go for. Selecting a suitable website template with a simple WordPress theme accelerates your website's speed and helps it rank higher in search engines. The following top Elementor agency templates will enhance the appearance of any business website.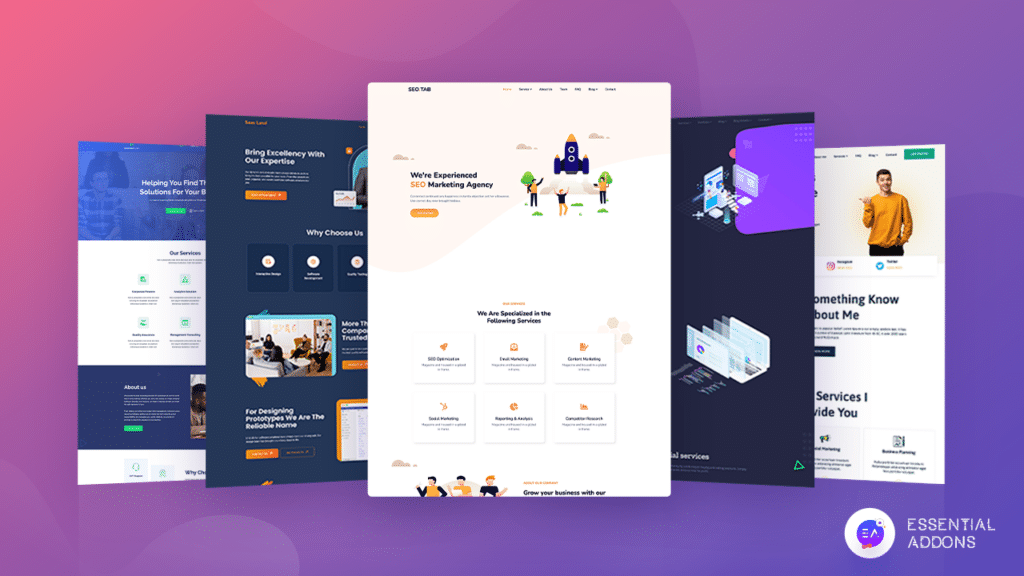 Importance Of Having A Website To Start Your Own Business
Given how much time people spend online, company website owners have begun to move their products and services online as a result of realizing the value of being present online. Being in the digital age, a website is absolutely essential for any organization. A company that does not have a website is losing out on several business chances and clientele.
A website is crucial for your company for a number of reasons; let's examine some of the most crucial ones.
Improves your business credibility
Enhance brand recognition and promote your business
Generate leads that drive an increase in sales
Improve your business's customer experience
Help to share updates, and announcements seamlessly
Why Should You Create Agency Website With Elementor Website Builder?
One of the most widely used website builders for WordPress, Elementor has more than 5 million active installs. This is due to its adaptability, no-code approaches, and ready-made templates that allow for the quick creation of any type of website. You can publish your website without adding any code; simply install the necessary category templates, start editing the content, and then finish.
Additionally, Templately, the best library of Elementor templates with 3000+ ready templates and the best cloud facility, makes it easier to construct websites using Elementor. Simply enable Templately on WordPress to begin using its ready-made templates from the Elementor Editor without having to know any code.
With the aid of Elementor and Essential Addons, the best elements library that provides 90+ amazing widgets for Elementor, these ready-made Elementor templates were imaginatively created by Templately. With Elementor & Templately, you can instantly start building a distinctive digital marketing firm website without any coding knowledge.
Top 5 Elementor Agency Templates To Start Your Own Business In 2023
Given what you already know about Templately, you will find in this area the best 5 Elementor agency website templates or templates pack to launch your company in just five minutes. Find out everything below:
1. Unigency WordPress Agency Template
A versatile Elementor agency template is Unigency. It has a simple design and is fully responsive. With this fantastic theme, you can use it to promote a variety of services, including freelance, web design, SEO & digital marketing, marketing, content marketing services, blogging, startups, photography, and more. With its innovative parts and cutting-edge style, you can make your website live even at night without touching a single line of code.
2. SEO Tab Digital Marketing Agency Template
The SEO Tab digital marketing agency template for WordPress is stunning, contemporary, and fully responsive. It was created exclusively for SEO firms, SEO marketing firms, digital agencies, marketing firms, and other businesses offering comparable services. SEO Tab may be entirely changed without using any code because it was created with Elementor and Essential Addons. It includes 9 lovely pages that are ready for usage.
3. WiseTrips – Travel Agency Template For Elementor
WiseTrips is an incredibly quick, dynamic, and completely responsive Elementor agency template. It will enable you to give your visitors the best possible user experience. This template is simple to customize with your preferred website builder. This premium travel agency template has 8 gorgeous landing pages that may draw in website visitors as soon as they arrive. You may simply persuade people to choose your travel agency by using compelling call-to-actions, simple layouts, and a testimonials section.
4. Candybox – Advertising Agency Template
Candybox is a magnificent Elementor agency template, especially for websites for advertising agencies of all kinds. This template set is editable without any code thanks to Elementor and Essential Addons. On any device, every page loads swiftly and is fully responsive.
You may develop websites for any ad agency, corporate or creative, websites for digital marketing agencies, or even websites for web design firms, using this advertising agency template. Anyone who works in the media, advertising, or other creative industries can utilize this template. It includes 7 various professionally designed, completely editable ready pages.
5. RareNFT – NFT Agency Website Template
In order to assist you in building a responsive and appealing website for any NFT marketplace, agency, or business, RareNFT is a strong, contemporary template pack for WordPress. The template's dynamic patterns and tranquil color scheme make it easy for site visitors to see your distinctive NFT products.
RareNFT is a website template set with 7 eye-catching landing pages that you can easily use without any coding and is built with Fluent Forms & Elementor and Essential Addons.
Skyrocket Your Agency Business Sales With An Outstanding Website
A website can benefit your business, even if you solely operate a brick and mortar store serving neighborhood clients. Any company looking to stand out in the contemporary marketplace needs to monitor its rivals and have a website. Hopefully, your agency website will look outstanding and get a spike in revenue using these Elementor agency templates.
Tell us which one grabs your attention. Do subscribe our blog to keep getting these kinds of helpful content in the future.