Are you looking for the best free Elementor Halloween templates to build a campaign landing page? Then this blog is only for you to know all about free Elementor Halloween templates to build landing pages just with 1 click. Take a deep dive into this blog!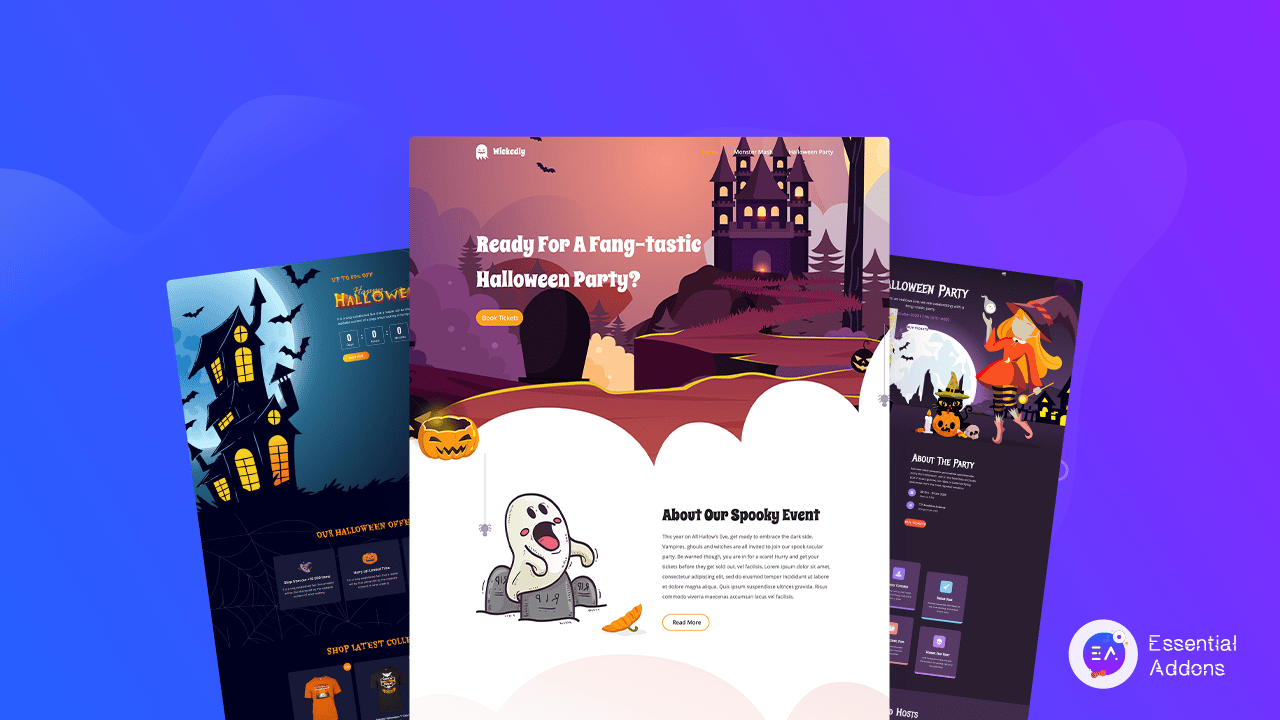 Why Should You Create A Halloween Campaign Landing Page?
Halloween is the next big event that is near your door side. As globally, many people celebrate this day and get into the spooky spirit. So Halloween is always the right time for your online businesses to make promotional activities, provide discounts, special sale offers, and boost sales. 
Also, it will help you draw your potential buyer's attention and turn them into your permanent customers with effective Halloween marketing strategies. That is why all kinds of businesses focus on creating a separate interactive landing page to celebrate this event and grandly promote the campaign. 
SimilarWeb research mentioned from Amazon showed a "peak in traffic to the website around Halloween". 
Free Elementor Halloween Templates To Build Campaign Landing Page With 1 Click
In this section, you will get the best, free Elementor Halloween templates for WordPress users. As you know, Elementor is the most popular drag & drop website builder that helps you to create any type of website without coding. 
This is why to facilitate your Elementor website building experience, Templately comes with 2500+ ready template designs for Elementor. Among them are three impressive ready Halloween templates you can look at. And except this, you will also get separate templates for Cyber Monday, Black Friday, Christmas, and more. 
The amazing part is, that you don't have to put any extra effort, just choose, insert and customize the template design with your required free Halloween templates by Templately without coding. 
Monster Mash Halloween Template For Elementor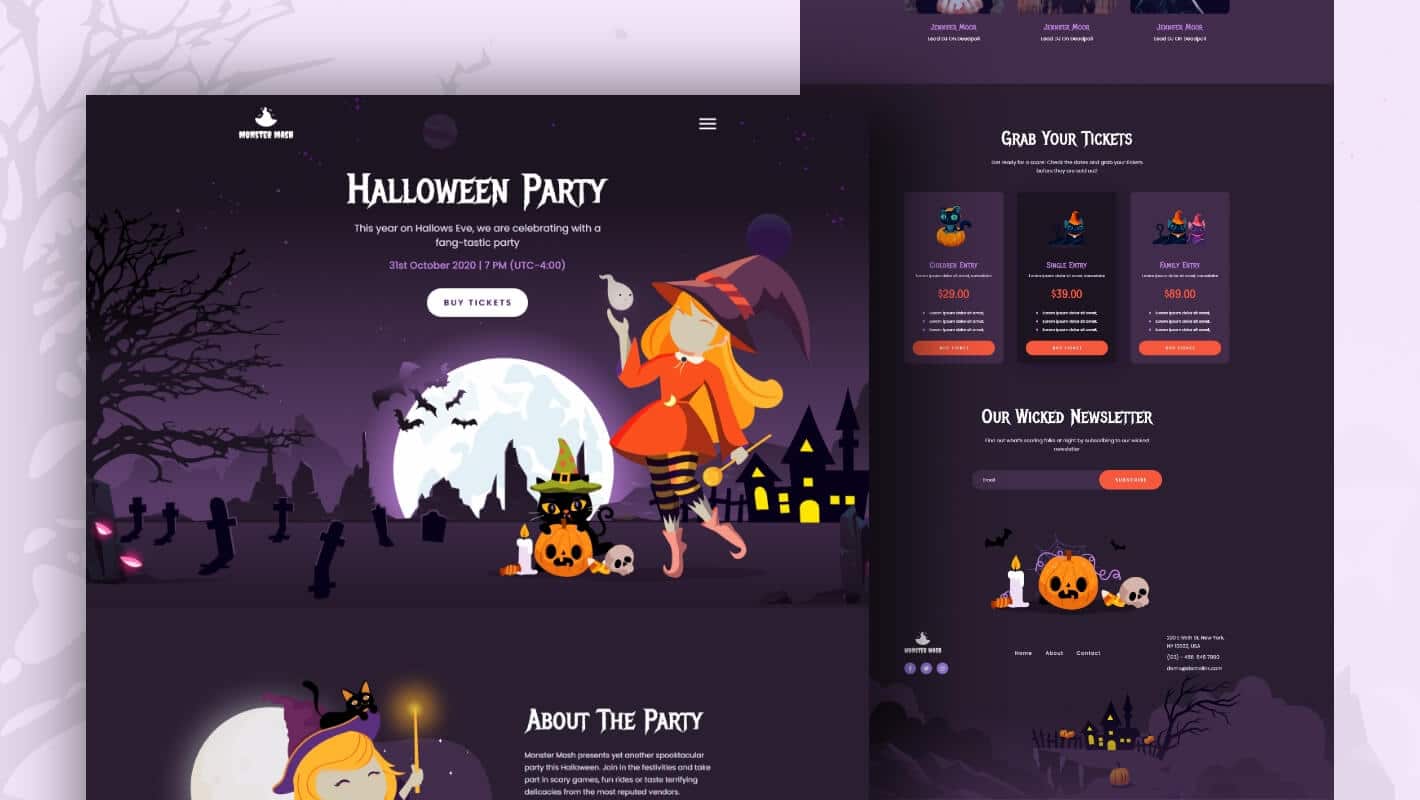 Monster Mash's free Elementor Halloween template can help you create a splendid Halloween website without coding. This Halloween template color combination is based on the dark color theme with gorgeous illustrations, responsiveness, and attractive Call To Action buttons. If you want to make your Halloween landing page dark-themed, then this could be one of the best choices. 
Wickedly Elementor Template For Halloween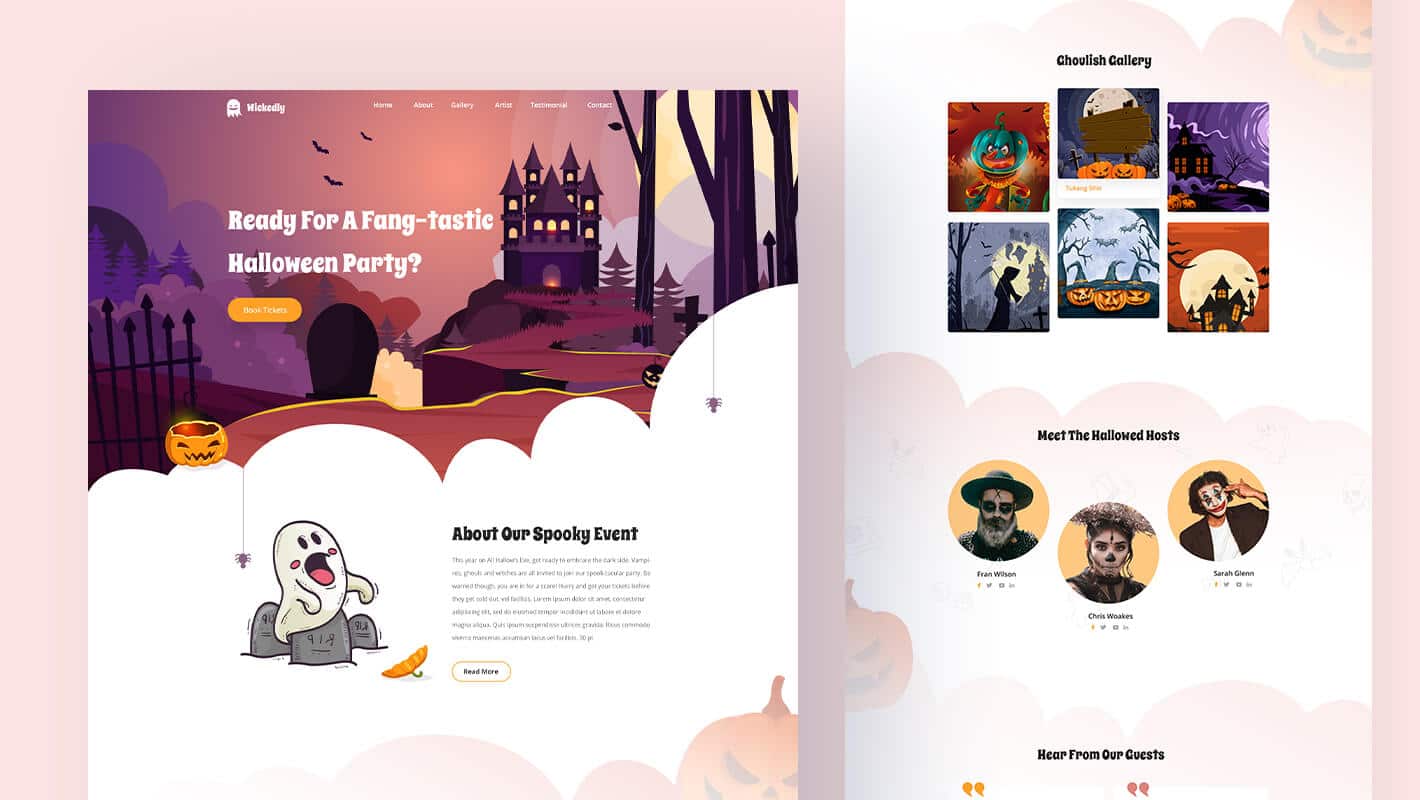 Wickedly is mainly developed based on a light theme concept. You can take a peek at this exclusive light-themed free Halloween template if you want something simple and attractive. This template is completely responsive, mobile-friendly, cross-browser compatible, and more. 
ScareScream Halloween Website Template 
ScareScream free Elementor Halloween template is built with a concept of haunted houses and creepy spiders. It comes with animated countdowns, scary illustrations, complete responsiveness, and more.
Bonus: Halloween Party Template Pack For Elementor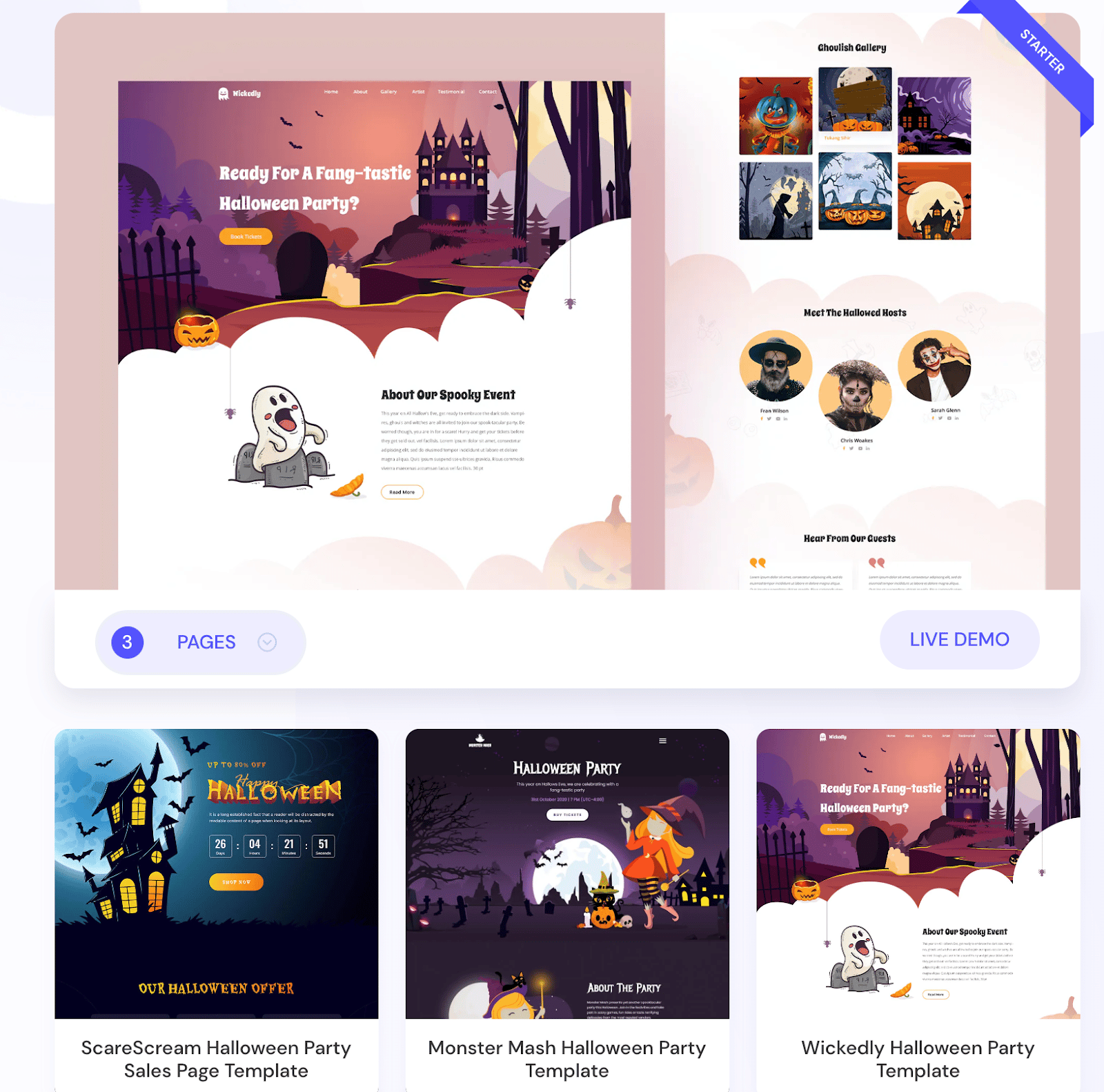 If you want to get all these above template designs combinedly in one template pack, you can check out this Templately Halloween Party template for Elementor. That helps you to design your Halloween website in Elementor without coding just 1 click and boost sales.
Tips: Boost Sales With An Stunning Halloween Landing Page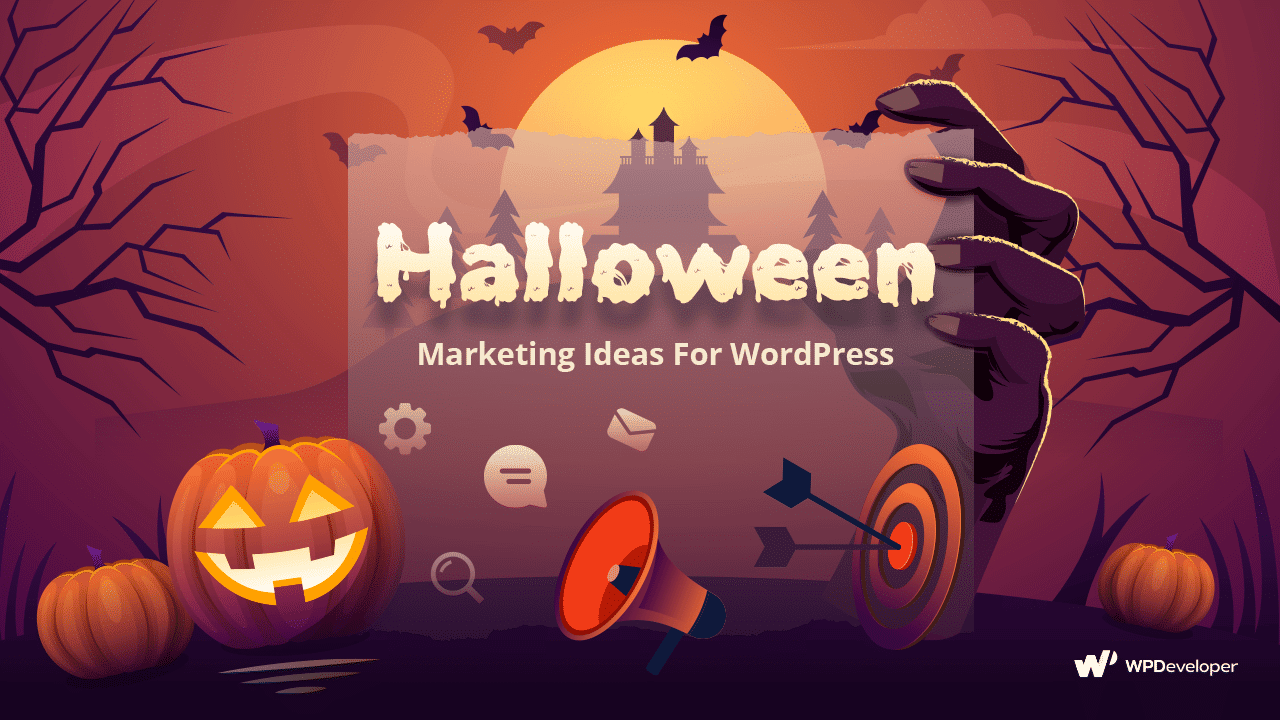 If you want to target your audience with the right marketing tactics you have to focus on different angles of sales. One of the major things you should focus on is the times you have to offer sales and offers to celebrate particular events. Halloween is kind of the starter of events before year-end that help you earn a maximum profit if you go with the right flow. 
As per National Retail Federation's annual survey, "Consumer spending on Halloween-related items is expected to reach an all-time high of $10.14 billion, up from $8.05 billion in 2020."
⭐For that, an interactive Halloween landing page can help you run email campaigns, ad campaigns, or any type of paid campaign with ease. 
​​⭐In this way, you can promote and boost your products or services. Also, your website traffic will increase and that will be beneficial for boosting your site SEO. 
⭐So anyone who will look for Halloween offers can get your landing page at their fingertips without any hassles. 
⭐You can easily check how your audience is doing and where you should focus more to boost sales. 
⭐If you create a Halloween landing page, you can easily drag your customer's attention with an interactive call to action, optin popups, separate sales section, and more. 
⭐This can help in the long run and make you more detail-oriented before running the next campaign. 
⭐Besides, with a beautiful-looking Halloween landing page design you can promote campaigns on social media channels and with email marketing all-inclusive. 
HubSpot mentioned, "more than 80% of business professionals believe that email marketing increases their customer retention." So an effective Halloween marketing campaign can easily help you escalate sales by planning your Halloween email campaigns.
Learn More: How To Create A WordPress Deal Page That Converts [Using FREE Elementor Template] 
Now It's Your Turn To Explore!
Now that you know all the free Elementor Halloween templates build a campaign landing page just within a minute. Explore Templately ready, free Elementor Halloween templates collections and others, if you haven't tried it out yet. And let us know your experience by commenting below.
If you face any problem or need any quick help, you can freely contact our support team anytime or join our friendly Facebook Community. 
Read More Exciting Blogs Below: