With ever-growing global spending on AI (Artificial Intelligence), right now, AI startup can make enormous contributions to the tech industry. However, to introduce your AI startup to the tech world, you must build a website first. Today, we will talk about how to create a website for your AI startup, without breaking the bank. So, let's dive in and find out how to do so.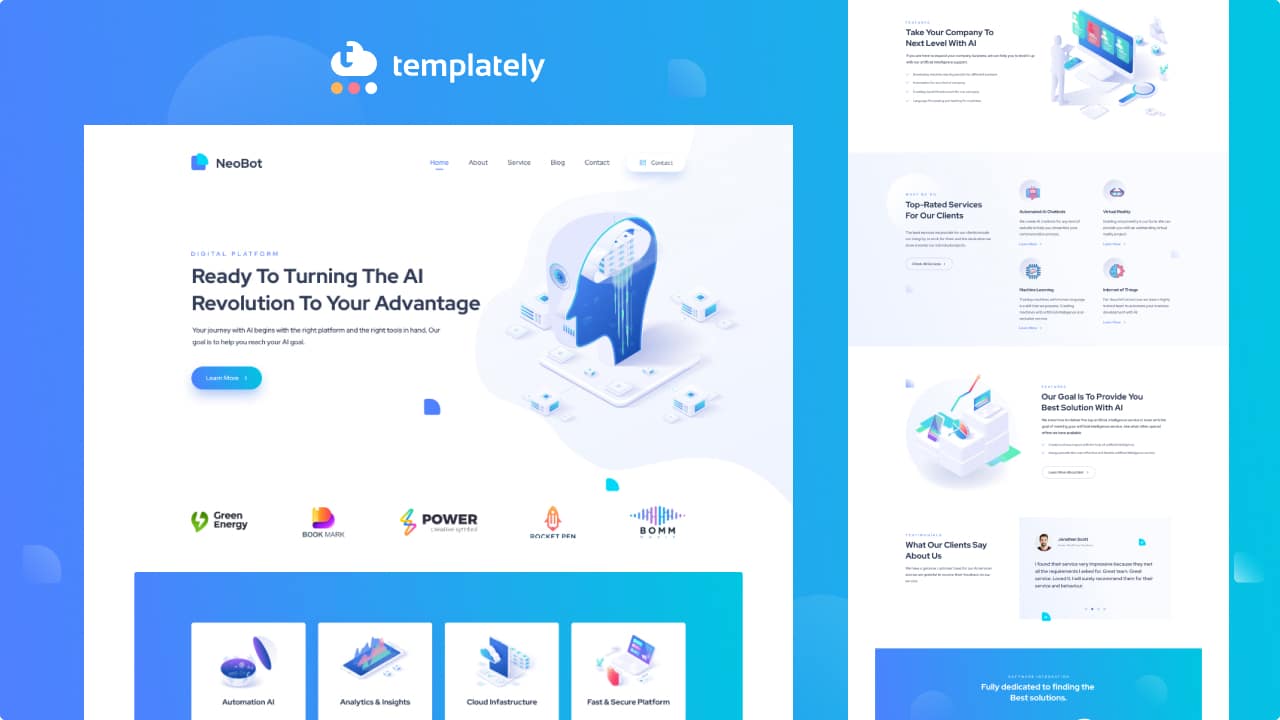 3 Most Important Tips To Build A Successful AI Startup
Nowadays, everyone believes artificial intelligence is the future of the planet earth. According to a recent survey, 37% of businesses have already employed artificial intelligence in their company. Nobody can deny the fact that in the future everything will be controlled by AI. At this moment, creating an Artificial Intelligence startup could be a great idea for sure. Let's have a glimpse at some useful tips on how to become a successful AI startup owner. 
⚙️ Give Solution For Real-life Problems
The AI startup should solve real-life problems. Before bringing your product into the market you should have a clear idea of what problem you are solving. While you are solving real-life problems people will get interested in your startup and you can have a strong grip on the market.
⚙️ Develop & Maintain Proprietary Data
One crucial thing you should ideally set up before starting your AI startup is what will be your data strategy or how you will maintain your proprietary data. These two things will determine your success in the long run. Thus, you should have a proper data strategy before starting your startup. 
⚙️ Make Your Product Visible To The World
Once you have successfully built your product, now is the time to bring it onto the market. You should invest in marketing your product to get the right value for it. While there are so many marketing initiatives you can take, by creating a website, you could let the world know about your product in a cost-effective manner. 
💡
Top Benefits Of Creating A Website For AI Startup
We have already told you that a website for artificial intelligence startups can move up your game. With a minimum effort, you can get a return on your investment. Now, read on to find out why you must have a website for your Artificial Intelligence startup below. 
✅
Showcase Your Service & Benefits
First of all, to get clients for your AI startup, you need to tell the world what you are offering them. There is no better option than creating a website for your Artificial Intelligence startup to showcase your service and benefits. Besides, having a website will help you to convince your visitors to become your client without one-to-one conversation. 
✅
Display Your Technology & Company Details 
For an AI startup, you must tell your potential customers about your technology. You need to tell your visitors how you have built your AI and gain their trust to make them your paid customers. Having a website will help you to easily showcase your growth and how you have built your project from scratch. In addition, you can display your company details as well.
✅
Build Credibility & Brand Awareness
In this modern era, you should have a website to gain the trust of potential customers. If you have a professional website, customers will take your business seriously. In addition, having a website will help you to showcase your brand in front of the whole world. 
✅
Showcase Updates & Announcement
Having a website will help you to let the world know what you are up to. You can simply put a banner or write a blog post about anything new that you are coming up with. So, your customers will easily get updates from you without any difficulties. 
🚀 Complete Guide To Create Website For AI Startup In 5 Minutes
We believe you are already convinced to create your website in WordPress.  Now, follow this step-by-step guide below to create a website for AI startups without any hassle. 
⭐ Pick Your Domain Name & Managed Hosting Provider
Now, to create your AI startup website in WordPress, you need to pick a domain name and hosting provider. Your domain name should be the same as your brand name which will help your customers to find your website easily. However, you can make an exception and pick any impressive domain name related to your project. 
After getting the domain name, you should select a managed hosting to acquire space for your AI website in the virtual world. Having the best-managed hosting could be a great choice if you want to have a quick-loading website within a short period of time. Moreover, with managed hosting, you don't have to be concerned about any installation or updates. You will get instant support if you face any difficulties while using these hosting services.
⚡ Build Your Dream AI Startup Website Using Ready Templates
Once you have the domain and hosting, now you need to build your website and bring the customers to get your breakthrough. Thanks to the ready website templates from Templately, you don't have to hire a developer to create a stunning website for your Artificial Intelligence startup. With a few clicks, you can create amazing web pages without any codes.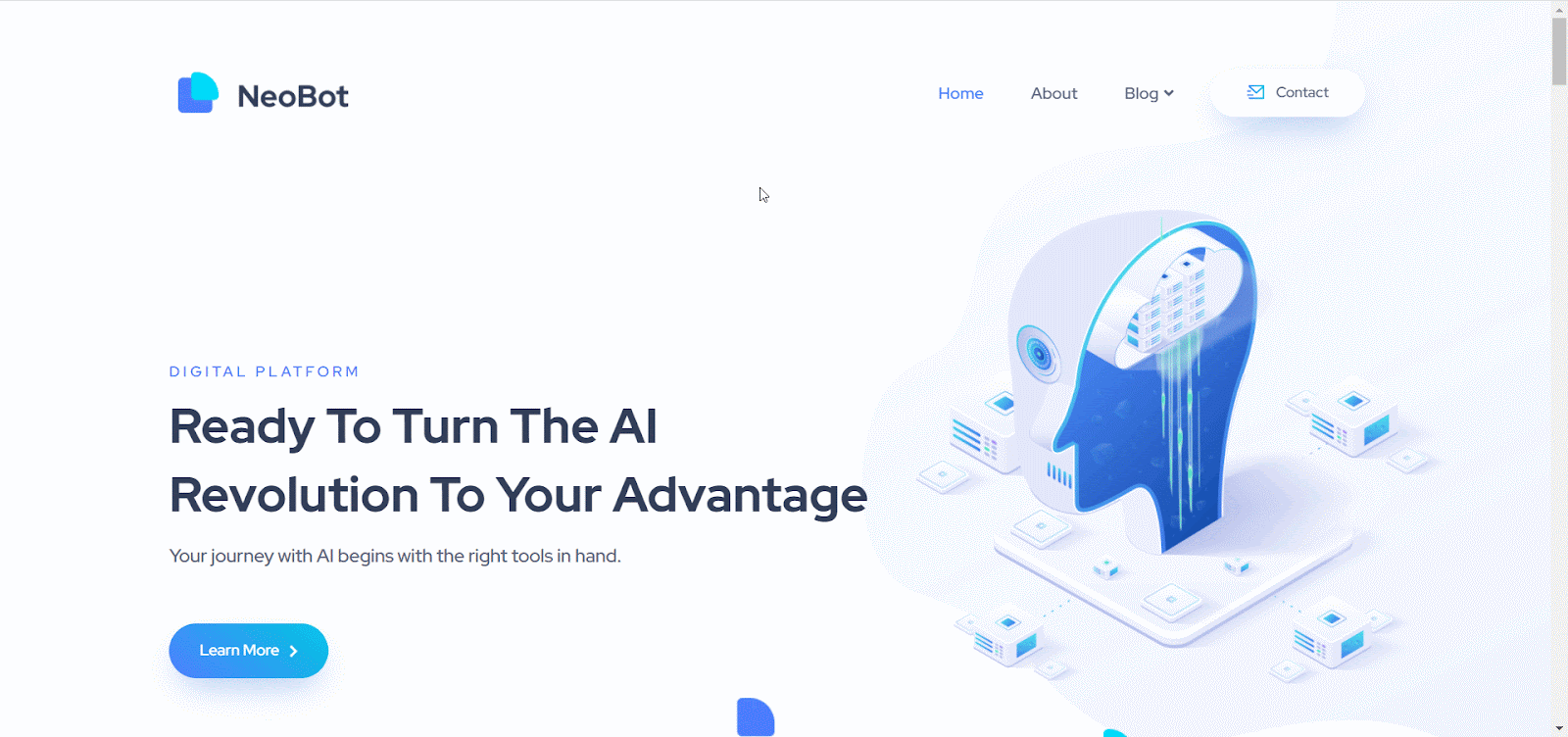 To create a WordPress AI website in 5 minutes, you need to use the 'NeoBot – AI Startup Website Template' on your WordPress setup. This free Elementor website template comes with a modern eye-catchy design that will keep your visitors engaged with your website. 
In addition, it has a fully responsive design which means your website will be suitable for any device. Also, it offers interactive Call-To-Action buttons and fully customizable interactive pages. Thus, you can grab your visitor's attention right after they land on your website. 
This stunning Elementor website template comes with the following 5 different web pages and several blocks to offer you a fully functional AI website in no time:
➡ Eye-Catchy Home Page Design
With NeoBot AI Startup template, you will find a stunning home page with interactive designs. Also, it offers eye-catchy call-to-action buttons that will attract your visitors at ease.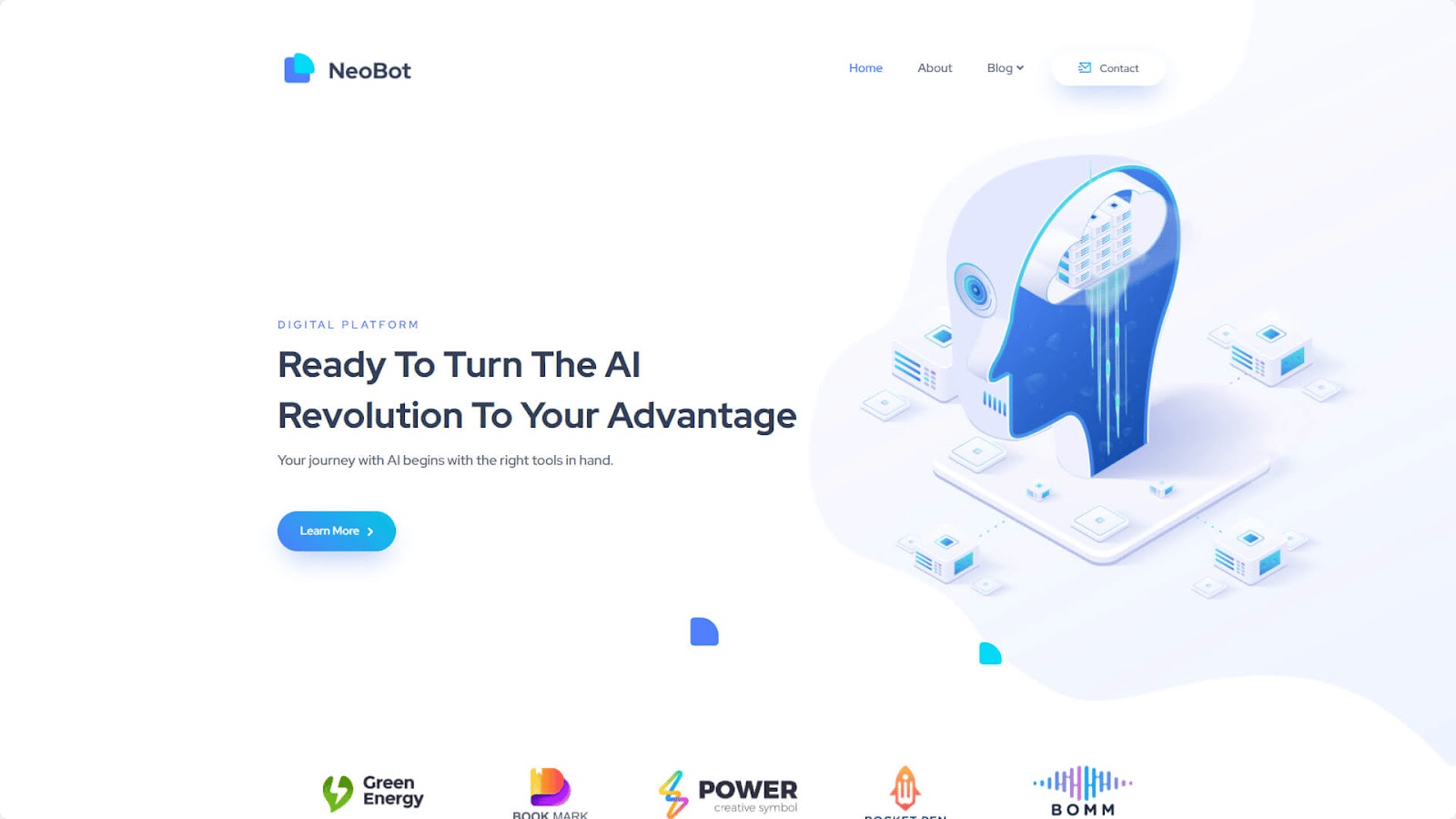 ➡ Detail Oriented About Page
 This Elementor website template comes with a clean about page where you can share your company details like missions, goals, and background in a stunning way.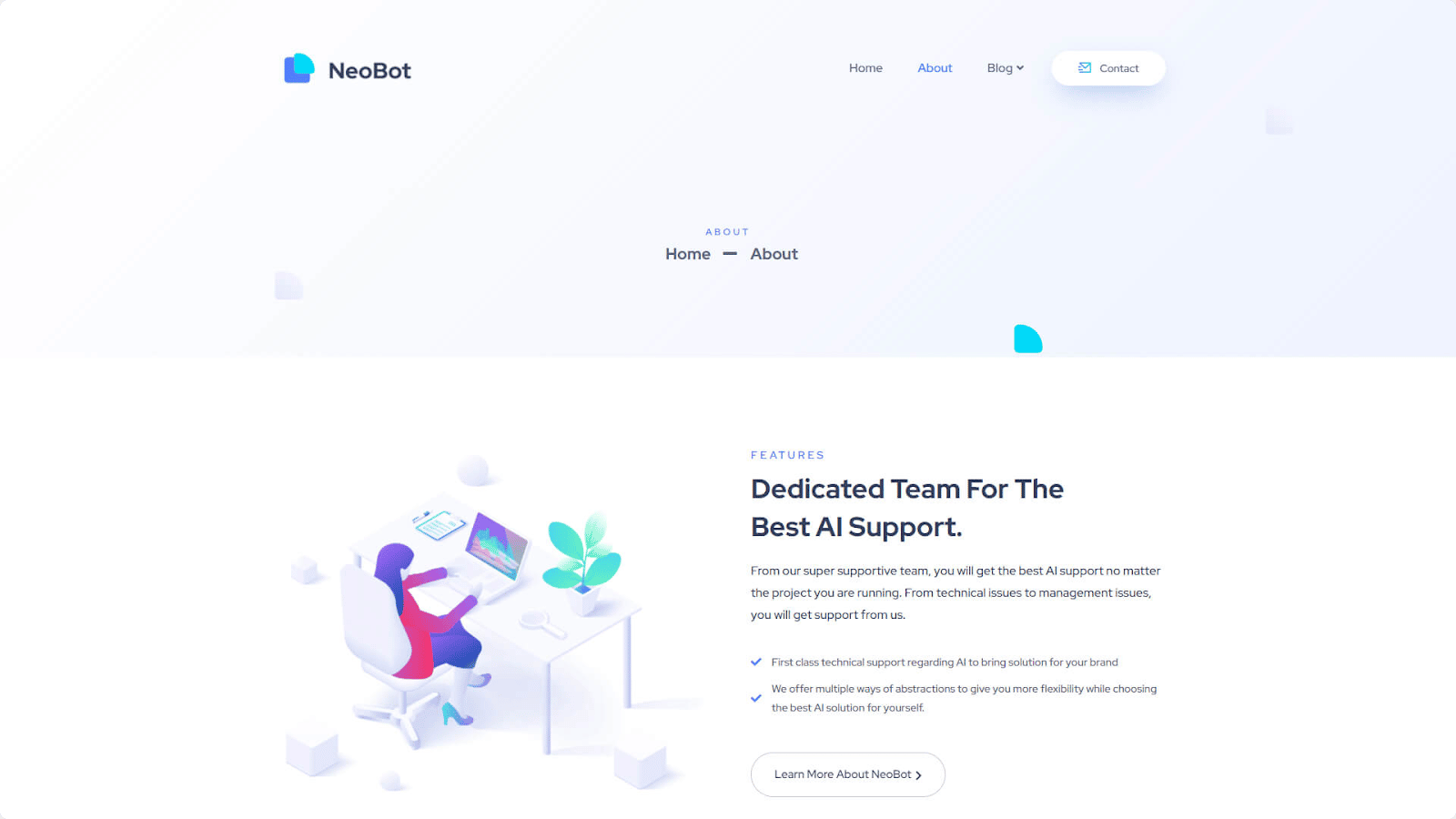 ➡ Highly Engaging Blog Page
This Elementor website template also offers a stunning single page for publishing your blog post. Using this page, you can showcase your blog post in a user-friendly manner. With an amazing design, this AI website template will impress your visitors easily.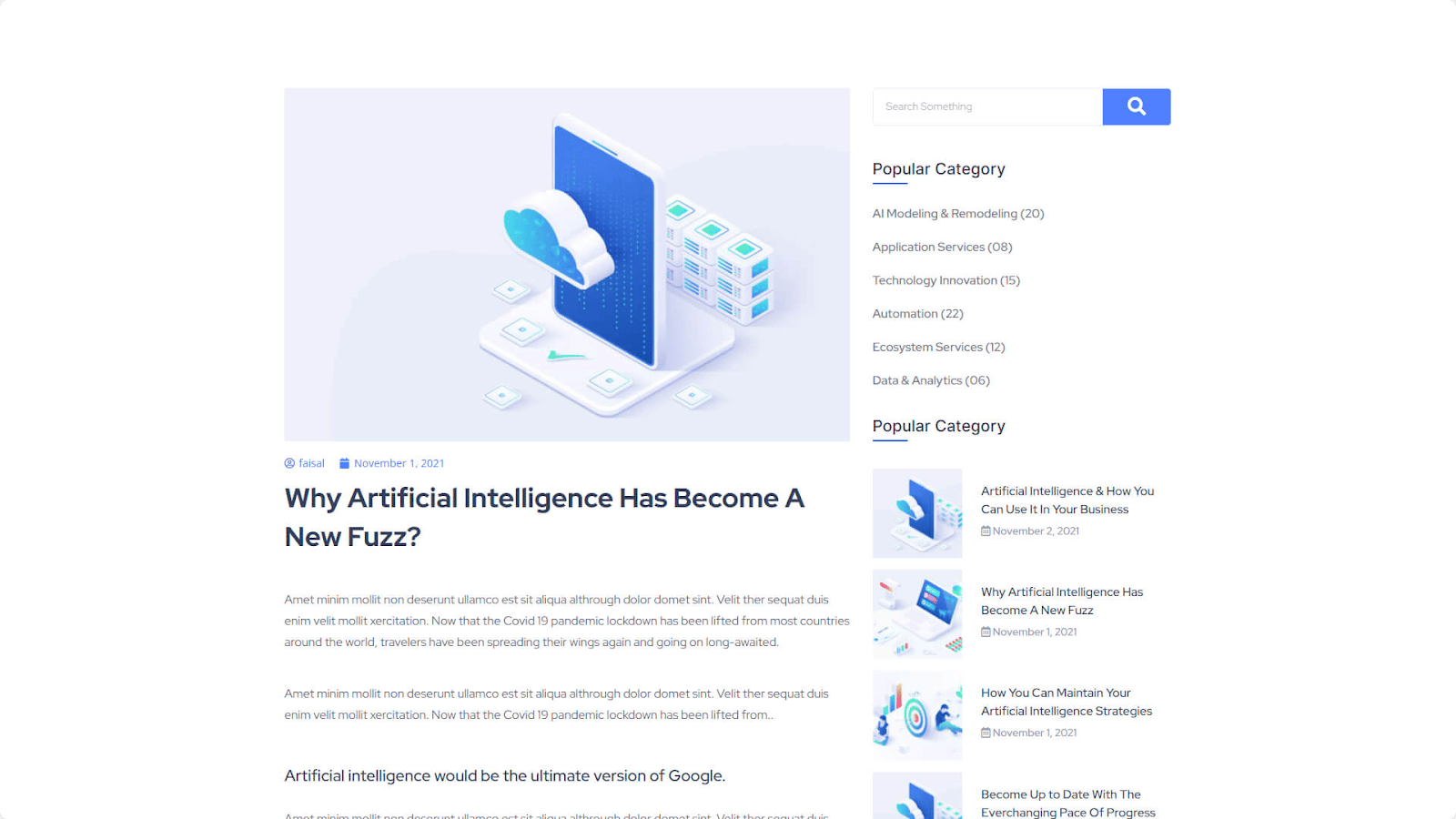 ➡ ️Crystal Clear Contact Page
 To create a contact page on your AI website, NeoBot comes with a modern contact page. Using this page, your visitors can easily reach out to you.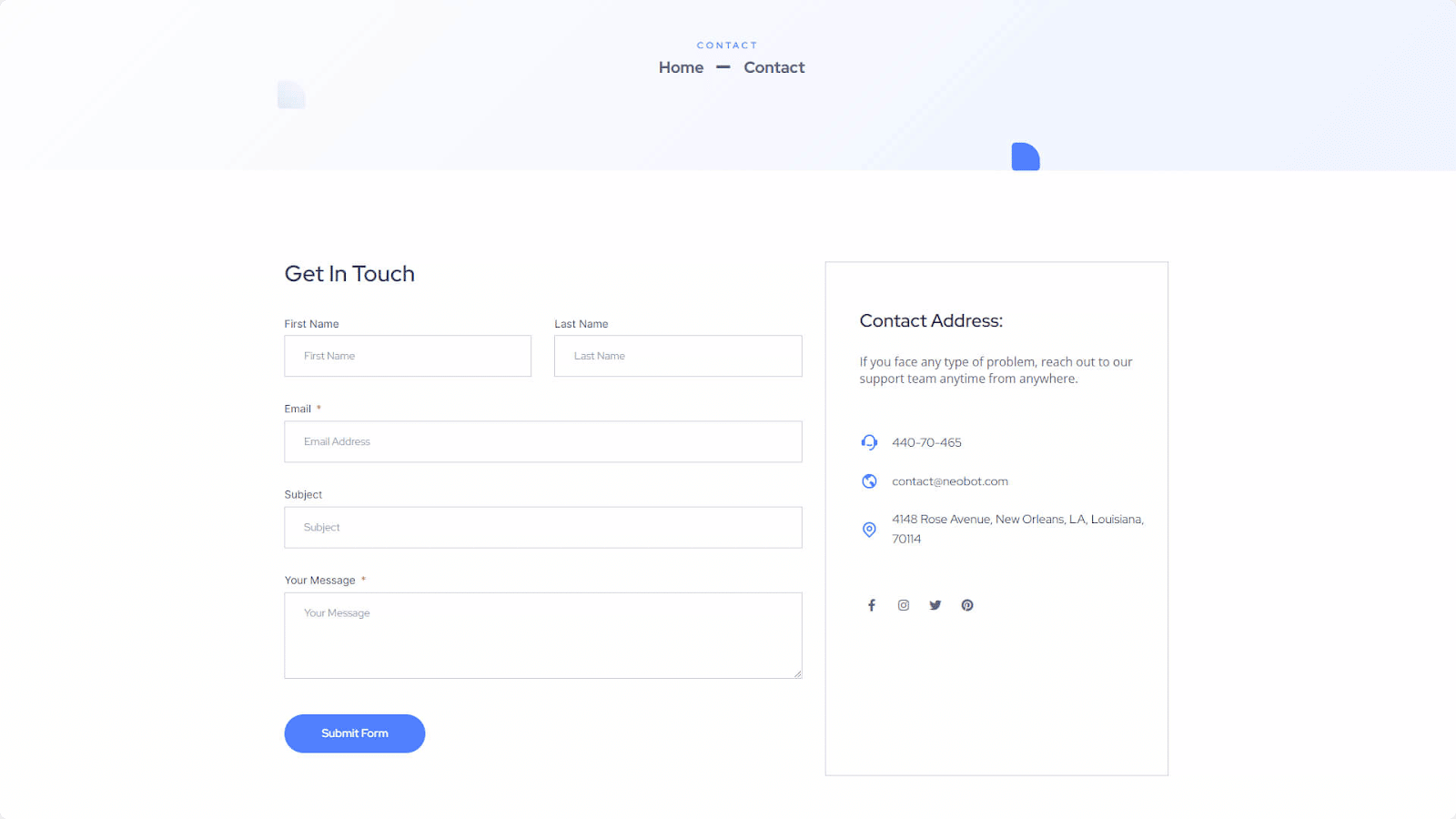 Now, you can either insert the entire template pack on your WordPress website or you can add any page that you feel necessary for your business. After inserting the web templates all you need to do is add your content and publish it to your website. But before going to insert this website template, you need to install and activate the following WordPress plugins first.
🔰
Checklist To Use NeoBot – AI Startup Website Template
👉 Elementor: To create a website for AI startups without coding, you can use Elementor Website Builder. With the Elementor website template, you can create an artificial intelligence website without any codes. Before jumping on the tutorial, you have to install and activate the Elementor website builder on your website. 
👉 Essential Addons for Elementor: After installing Elementor you need to install and activate the most popular widget library named 'Essential Addons for Elementor' on your website. This widget library has 80+ interactive elements and more than 1 million happy users. 
👉 Fluent Form: Fluent From is a Contact Form Builder Plugin. It comes with user-friendly, customizable drag-and-drop features that will help you to create WordPress Contact Form without any hassle.
👉 Templately: As the 'NeoBot – AI Startup Website Template' is only available on Templately. This platform offers more than 1000 free website templates to build stunning websites within a single click. To create your artificial intelligence website you need to install the Templately plugin on your WordPress website and create an account there.

Step 1: Insert NeoBot AI Startup Template From Templately
Now, go to the WordPress dashboard and then click 'Edit with Elementor' to create a new page on your website. After that your page will be opened on Elementor, now you have to click on the 'Templately' icon to find your AI website template.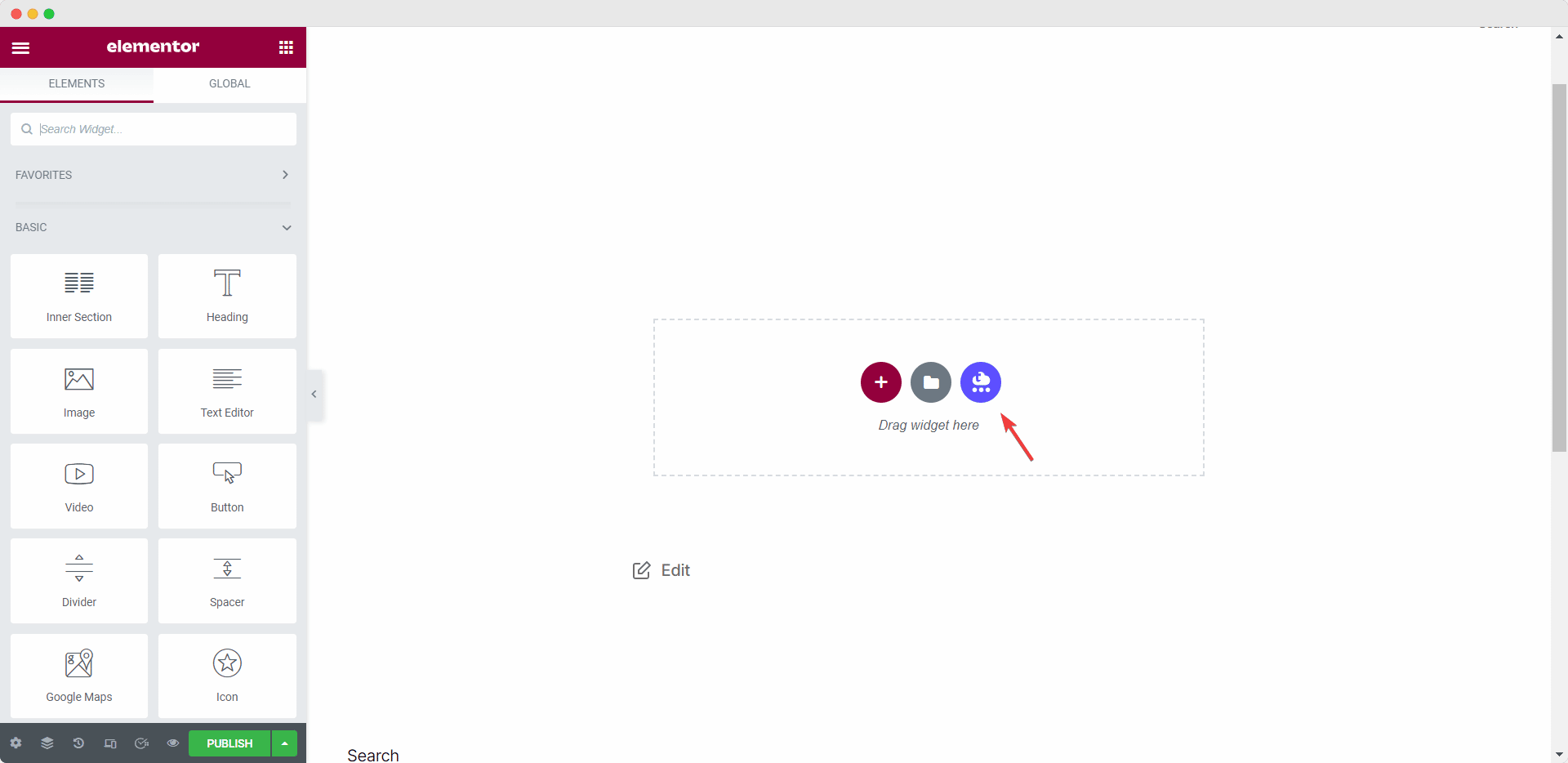 After opening the Templately window, you need to search for 'AI Startup'. First of all, you have to add a header to your website. So, click on the 'NeoBot Header' and insert it on your website.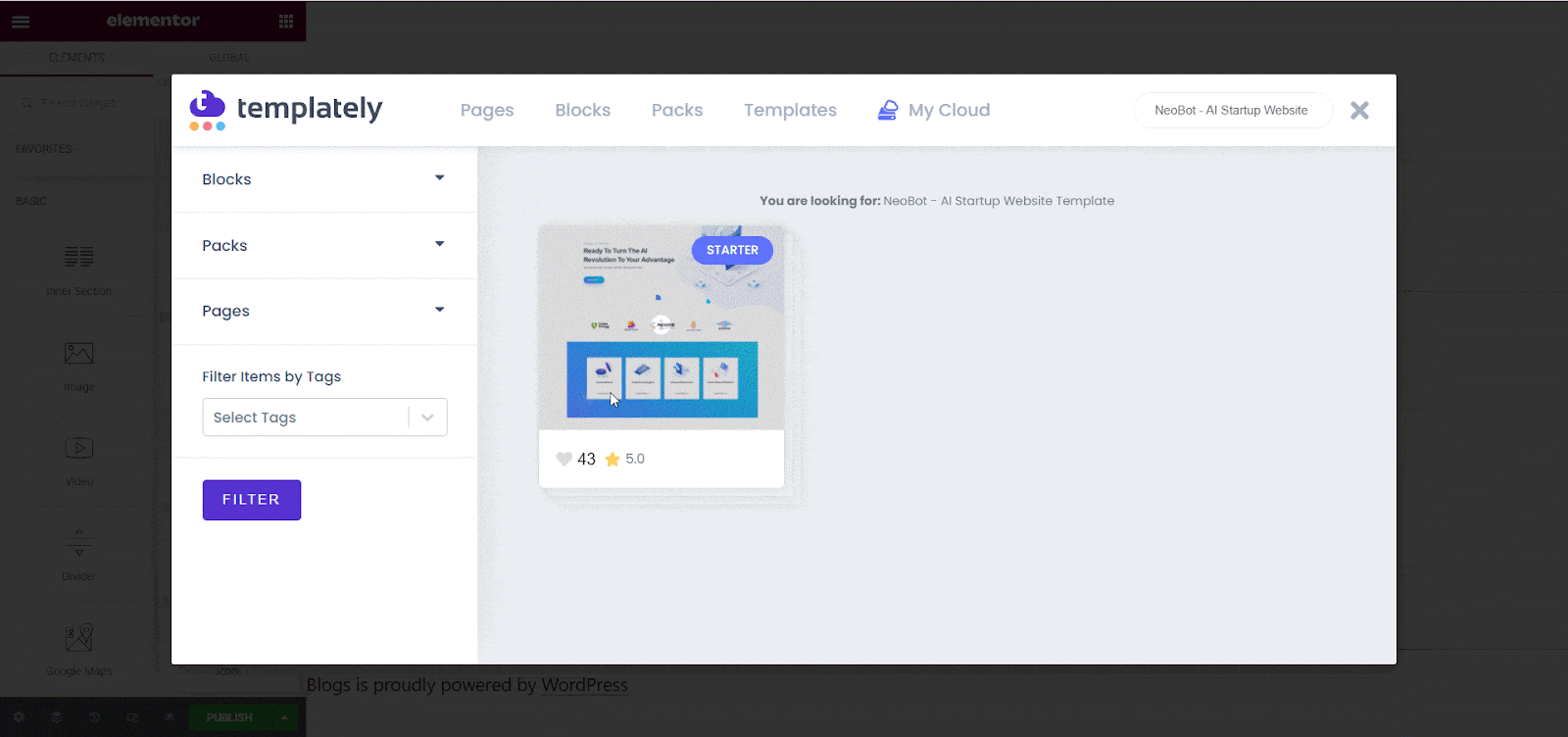 Now, after adding the header open Templatetly again and then click on the insert the 'NeoBot Home page' by simply clicking on the 'Insert' Button.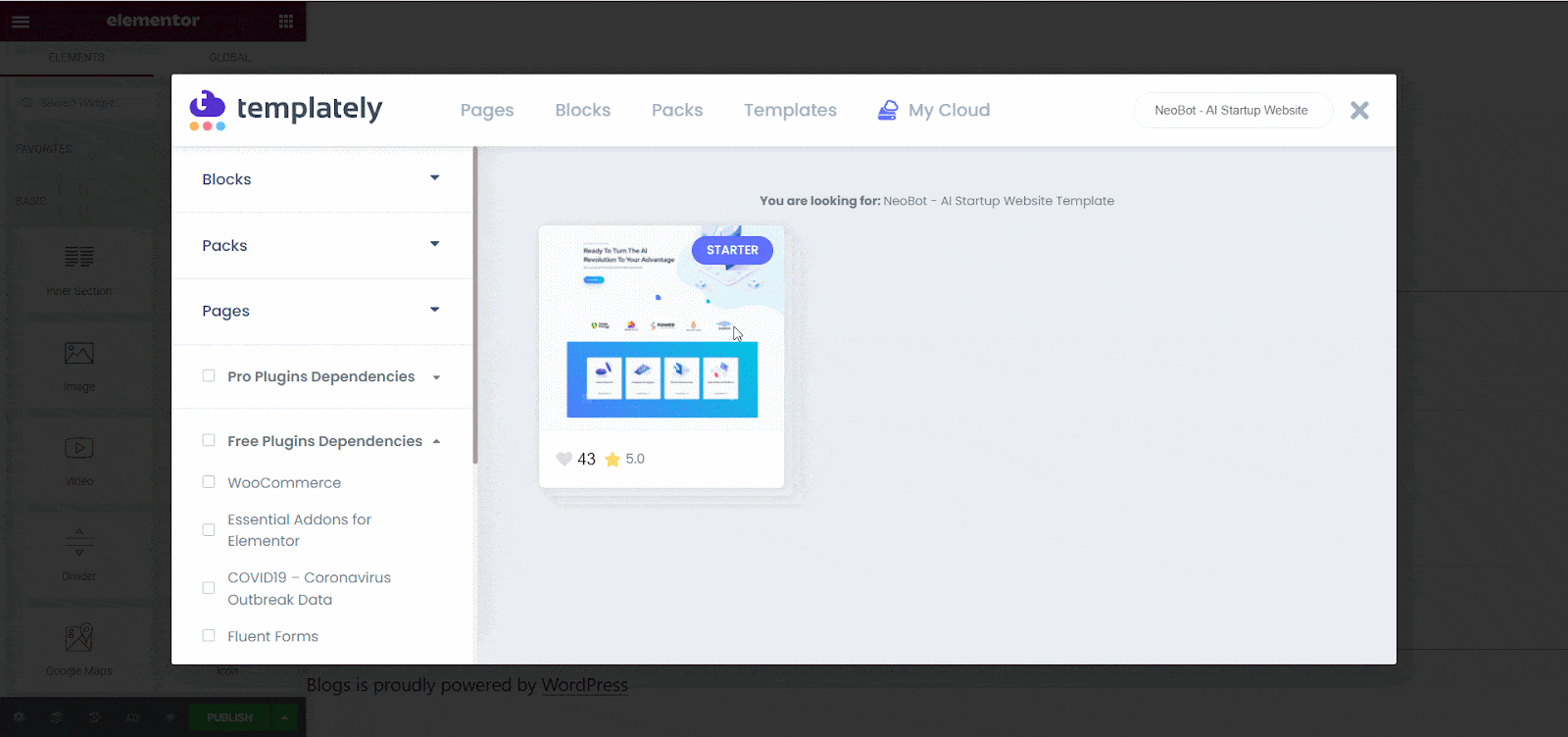 After adding this Elementor website template to your website, now you can add the 'NeoBot Footer' as well. Just simply click on the 'Insert' button to add the footer to your website.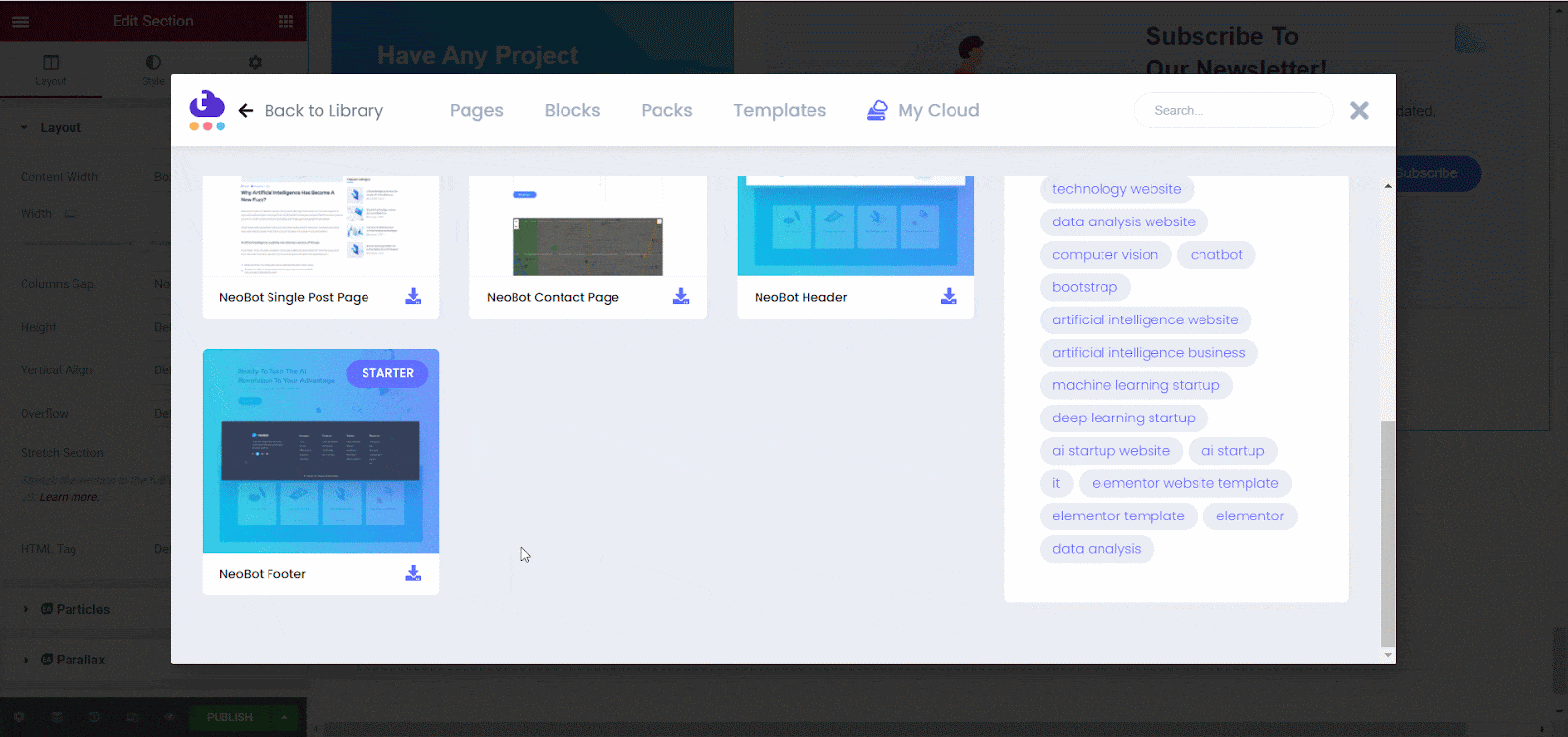 Step 2: Customize Your AI Website Ready Page Designs
Now, you can tweak any of the sections and your own information on the web page on this Elementor website template without any hassle. In addition, you can also add or delete any section from the home page as it suits you. Simply click on any section, it will be activated for customization.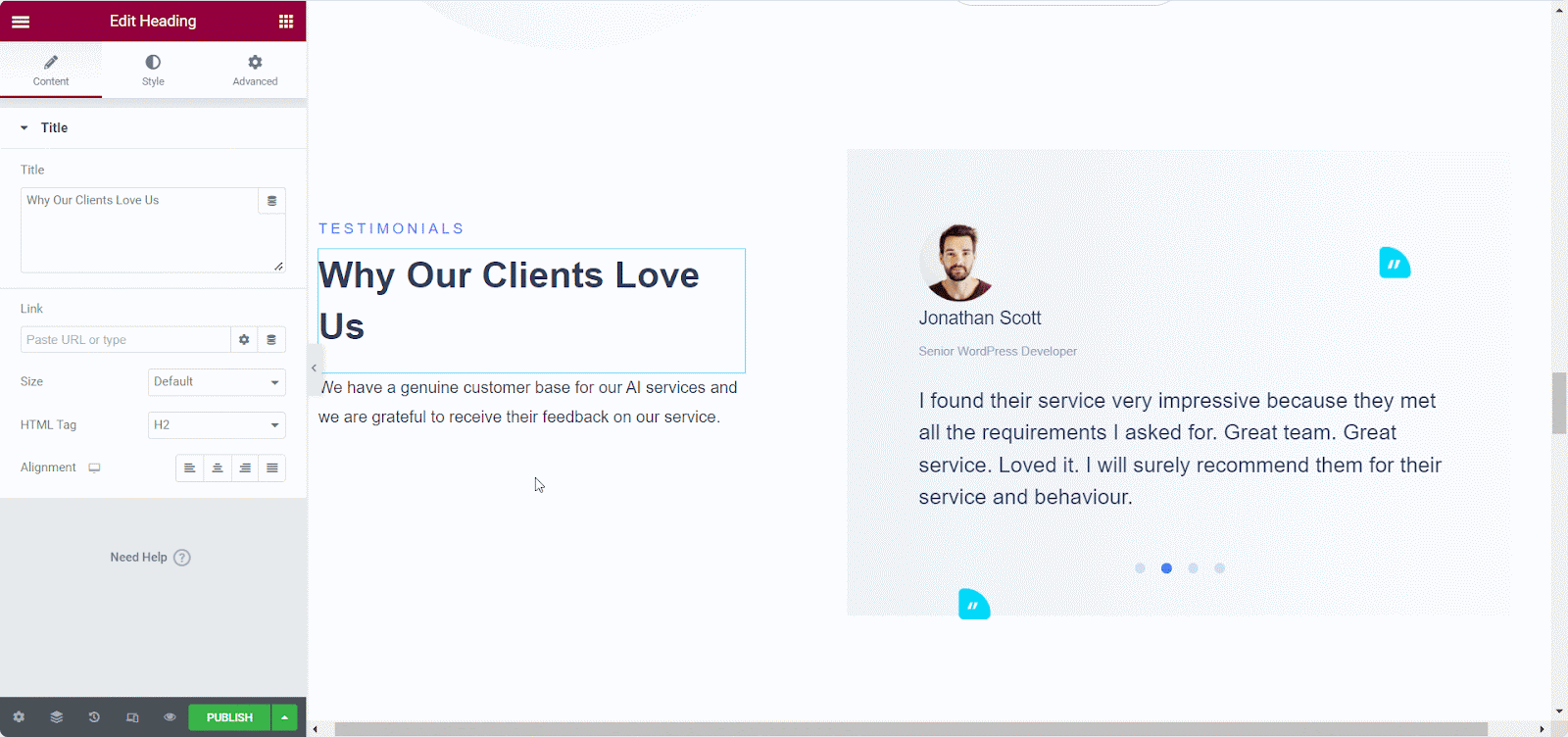 Step 3: Time To Publish Your AI Startup WordPress Website
Once you are done with customizing the home page your AI startup website is now ready to publish on your website. Just click on the 'Publish' button to make it live. Congratulations! Now you have a website for your Artificial Intelligence startup.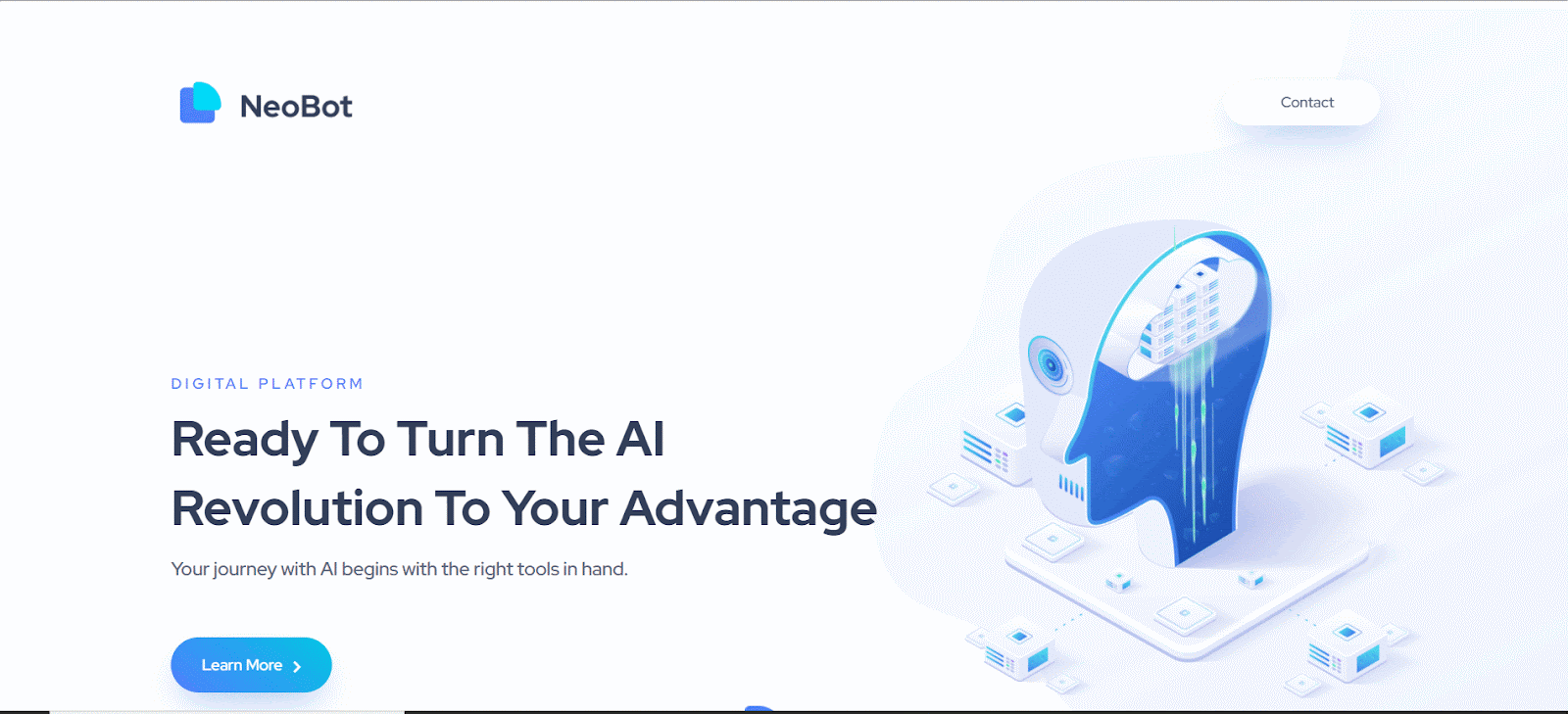 Build A Stunning Website For Your AI Startup Today
This is how you can create a website for AI Startup within 5 minutes. The good thing is, you don't have to be an expert to create your own website using Templately. If you find any difficulties while creating your website on your own, you can contact Templately dedicated support team. 
Do you want to learn more tips and tricks about website creation? If you do then you can subscribe to our blog and get more tutorials and updates for creating stunning websites. Also, you can join our Facebook community and connect with other Templately users.