Are you interested in sharing your cookbooks or unique recipes with the world? Finding the best WordPress food blog templates and themes might be the first step towards it. To spice up your first food blogging website, you need more than just a food blog template or theme. Let's take a look at some outstanding food blogger website themes and templates below.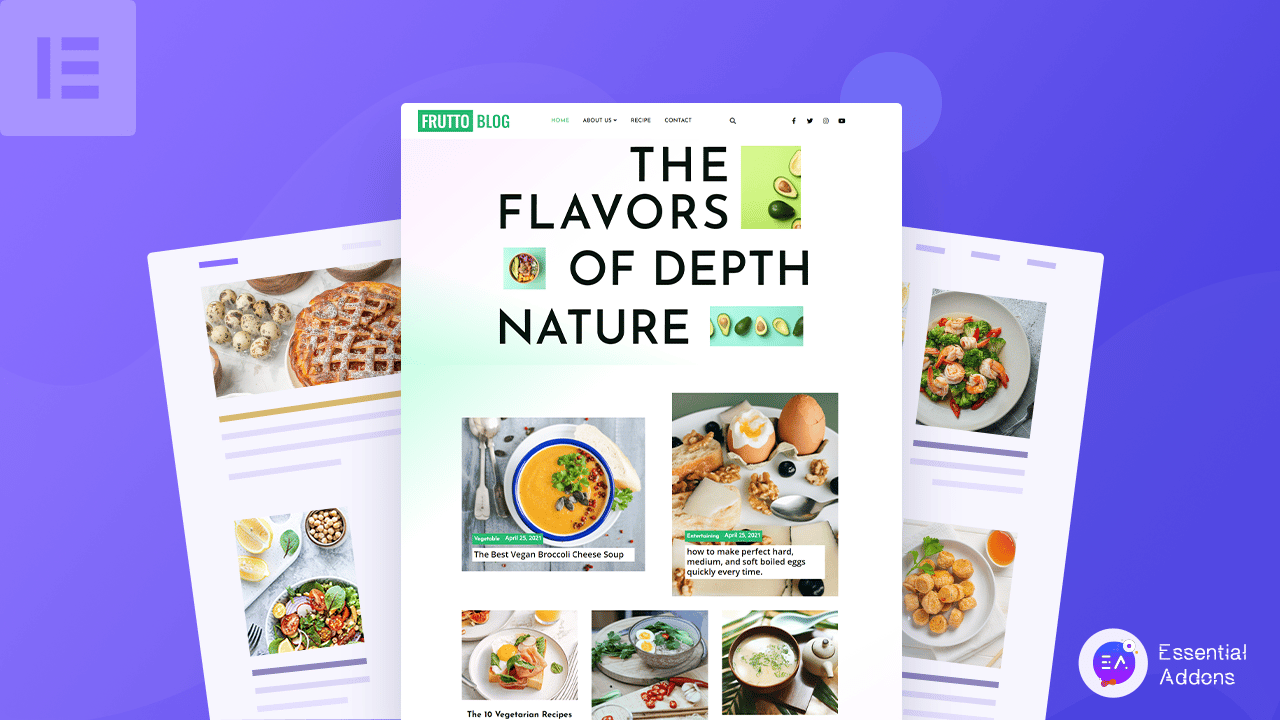 When it comes to building a food blog website from scratch, you need to check if the food blog templates or themes are responsive enough. Your website traffic will increase if your users can access your website from any device. Besides responsiveness, you need to see how much alteration or customization you can do with your food blog templates or themes. We have gathered the top 5 best food blog templates and themes that are highly responsive and customizable in WordPress.
What Makes WordPress So Great for Food Blogging?
If you are interested in sharing your food recipes and making some money through them, WordPress is the best platform to start with it. WordPress gives you access to tons of beautiful themes and templates to create your food blogging website from the ground up. WordPress powers up more than 35% of the website from the entire internet. Let's see what advantages you might get while creating a food blogger website on WordPress. 
🍕 WordPress gives you access to free and premium food templates and themes. This makes your food blogger website have endless customization options.
🔌 You can install free plugins to add more functionality to your website. WordPress makes it easier for you to create a blog website even if you do not have knowledge about coding. 
💫 WordPress is a relatively easier platform to use. When you get comfortable using WordPress, installing plugins, setting up themes and templates, and publishing your content becomes simpler.
Why Use WordPress Food Blog Templates & Themes?
A basic theme is required if you want to change the design of your WordPress website. If your website appears sloppy to your visitors before they even begin to look at it, it will be harmful to your food blogging career. 
You can't make your website look smooth and lively for your customers unless you choose a complete, suitable, adjustable, lightweight best food blogging theme and template. 
👉 As people say that the first impression is the last impression, it is also applicable to any WordPress website. If your food blogger website does not look appealing and attractive at the first glance, your website will lose visitors immediately. 
👉 Your food blogger website must have an image gallery, recipe page, or contact page. Every single page must be designed in a manner to gather more visitors. Best food blog templates and themes can help you to stand out in this matter. 
👉 Food blogging industry is driven by user experience and how they find out your food recipes easily. To solve their food-related problems and inquiries, you need to have an easy-to-navigate food blogger website. That's when WordPress food blog templates and themes can come to your handy.
Top 5 Best Food Blog Templates & Themes For WordPress 
Now that we have discussed the usefulness of food blog templates and themes in detail, it is high time we present our best 5 food blog templates and theme list to you. Find out all the unique and highly compatible food blog themes and templates below to choose the right one for your niche.
🥐Bready Bake – WooCommerce Bakery Website Template
Bready Bake is an eye-catching WooCommerce compatible bakery template for WordPress users by Templately. This template is fully responsive. If you want to create a bakery-related food blog website that loads faster, you can choose the Bready Bake template without any second thought. This Elementor template comes with lots of options for you. With 2 blocks and 10 individual pages, you can create an entire food blog website from the ground up. This food blog template gives you the option to display your food pictures in a beautiful grid pattern.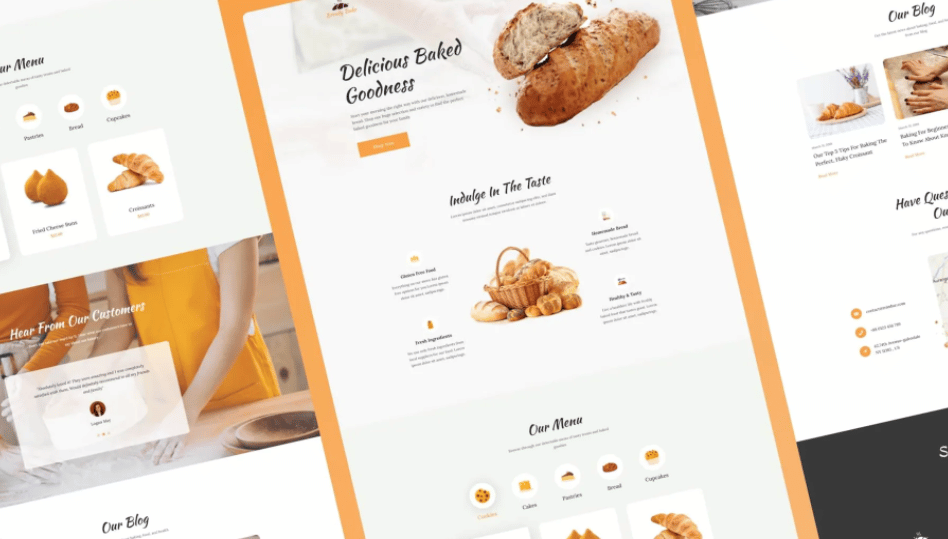 You can even create different pages for selling your food items. Besides blog page, gallery page, or product page, this template also brings you attractive-looking reservations and contact pages to drive more visitors to your website. If you want a complete package of food blog website templates, Bready Bake can be the best choice for you. 
🥑Frutto – Online Food Blog Template
Without any doubt, Frutto is an ideal template for all the WordPress food bloggers out there. This Templately template is professionally designed for home cooks and chefs to portray their culinary skills and share their recipes through engaging blogs. A food blog website must have all the qualities to attract food enthusiasts and the Frutto template is able to do it right away. With 2 blocks and 5 amazing pages, you can create your own food blog website from scratch. All you need to do is, insert the Frutto template in your WordPress website and start customizing the content to publish it.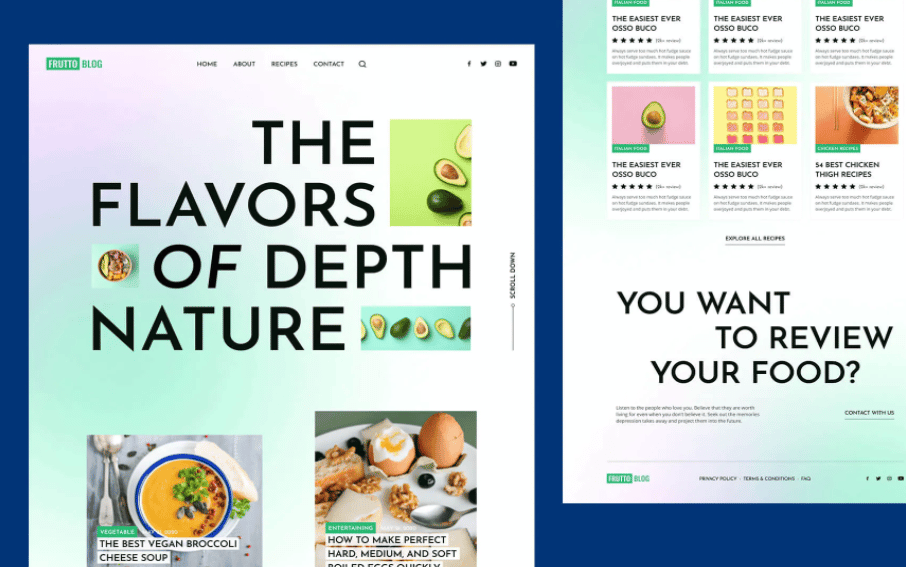 Frutto is a highly interactive template with lots of easy navigation and call-to-action buttons. You can guide your users easily to find your interesting recipe book using this template. This template also comes with a single blog page that is perfect for creating food magazines. If you are considering using the Frutto template already, keep reading this blog until it ends. 
🍲Chow – Recipe & Food Theme 
If you want to bring diversity and spice up your food blog website on WordPress, Chow – food and recipe theme can be the ideal choice for you. It brings you different unique layouts with WooCommerce integration. It also comes with a stunning user dashboard where your visitors can also submit their own recipes. This theme is lightweight and will not make your food blog website slow down. On the other hand, this theme gives you the option to install the FoodiePress plugin to organize your food blogs and processes.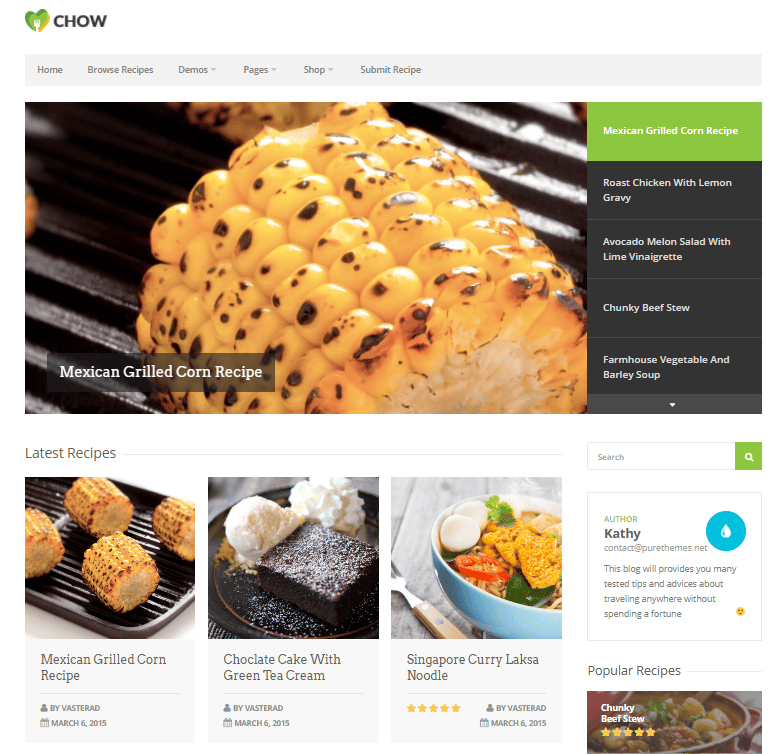 🍰Bitesize – Cooking Class Website Template
Suppose you want to spread your cooking knowledge through your outstanding food recipes online. Bitesize,  a stunning cooking class website template from Templately, can be your best option for this. This template is useful if you want to have a separate schedule and contact pages on your website. With this Elementor template, you can easily customize the content and change the appearance using the Elementor editor. This template is best if you want to have an online cooking school.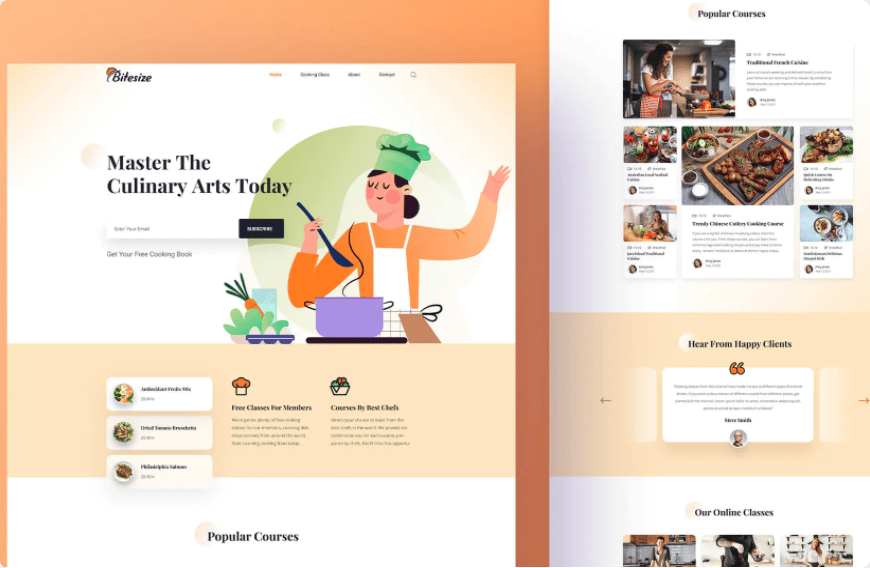 🍴Foodica Lite – WordPress Food Theme
If you are new to food blogging and want to stand out with a much simpler and minimalistic website, Foodica Lite is the one you are looking for. This WordPress theme has blocks that can be customized to display your food blogs in a pleasing manner. This theme is unique in that it is retina-ready and has a lot of white space for easier reading. Your mobile visitors will see your website as simple as you want it to be. This theme can make your first food blog website look interesting and stylish, thanks to its lightweight design quality.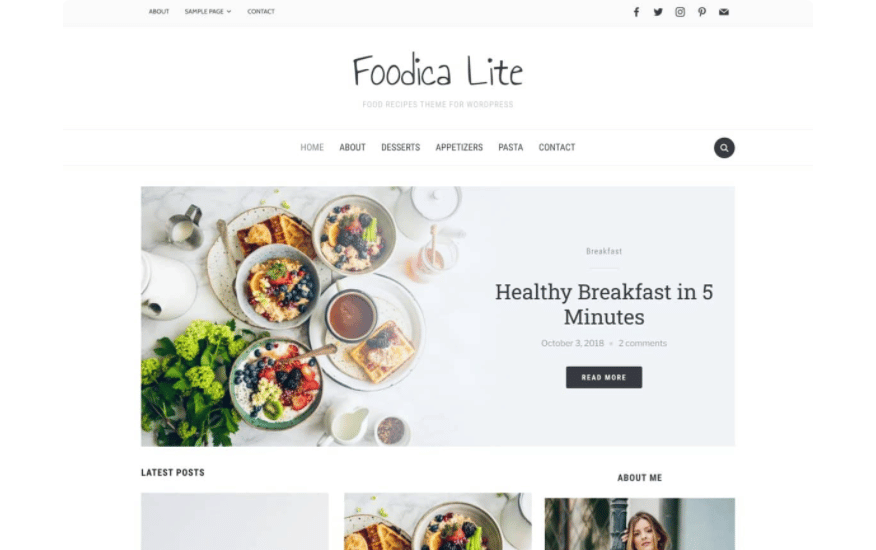 How To Create A Food Blog On WordPress Without Coding
As mentioned earlier, WordPress is the best platform to start your food blogging right away. All you need to do before starting your food blog is, sign up for a WordPress account and get a suitable domain. 
Once it's done, you need to step up and choose a popular page builder like Elementor. You do not need any coding experience while using Elementor. You can instantly create a whole food blog website from scratch and save your time and money. Elementor comes with lots of ready templates that you can customize to your heart's content.
Introducing Frutto template pack by Templately to create your food blog website from the ground up. Let's have a look at some of the features you can receive with this template pack and how they can help you create a fully functional food blog website on WordPress before we get started with our lesson.
Things You Will Need To Create Food Blog Website Using Elementor
Let's get started designing your website now that you know why Frutto is the finest pick for an Elementor template for a food blog website. Make sure you have the following things on hand:
How To Create Food Blog Website With Elementor In Less Than 5 Minutes
If you have successfully installed and activated the above-mentioned plugins already, it's time to create your food blog website with Elementor. Follow this step-by-step guide to set it up using Elementor. 
Step 1: Create A New Page & Select Elementor To Edit It
The first step in using Elementor to design your food blog website is to create a new page. You can do this by heading to Pages -> Add New in your WordPress dashboard. 
The next step is to use Elementor to modify your page. To do so, go to the top of the page and click the 'Edit with Elementor' button. The Elementor will open up automatically as a result of this.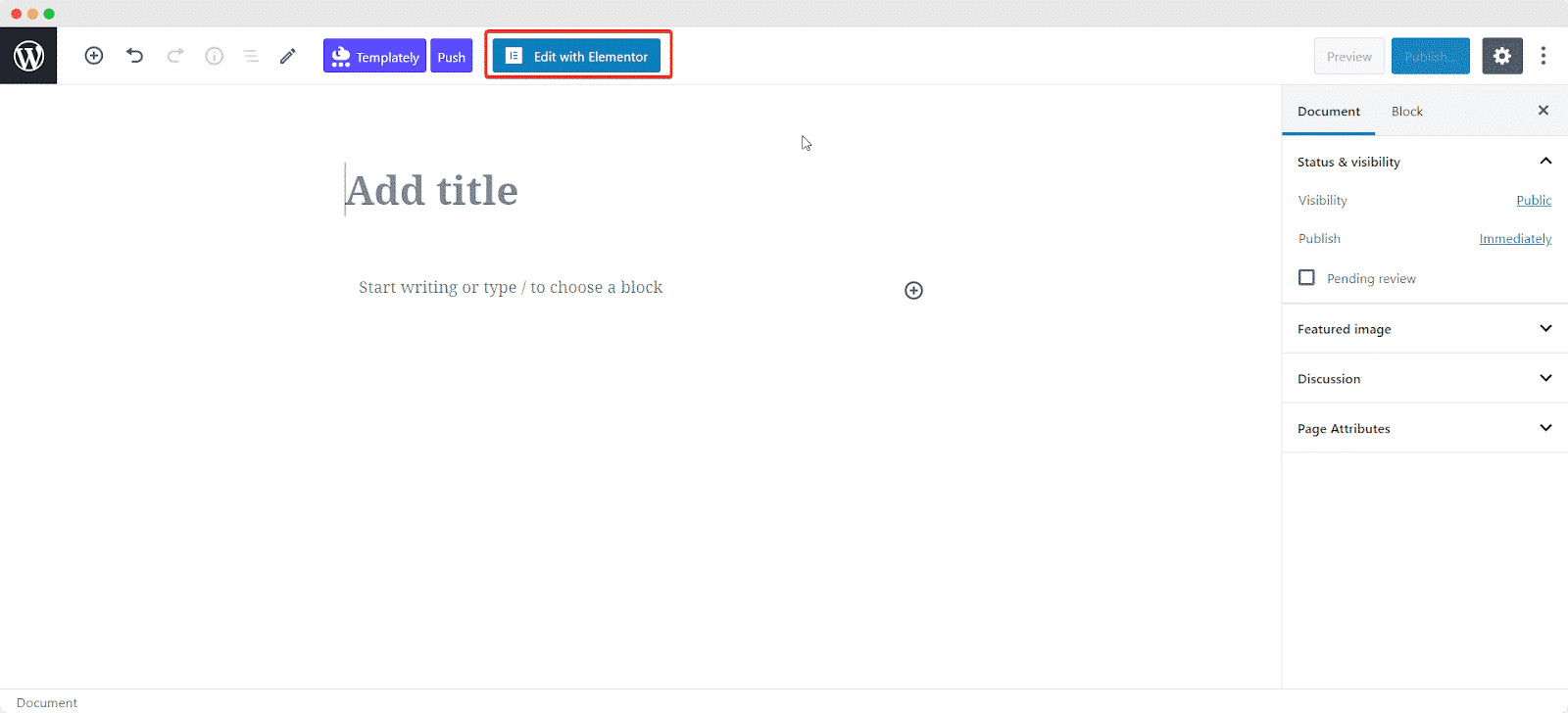 Step 2: Add The Frutto Home Page Into Your Site
A blue Templately icon should appear once the Elementor Editor has finished loading. When you click it, a popup window will appear, displaying various template designs. Search for the "Frutto" template from the search bar.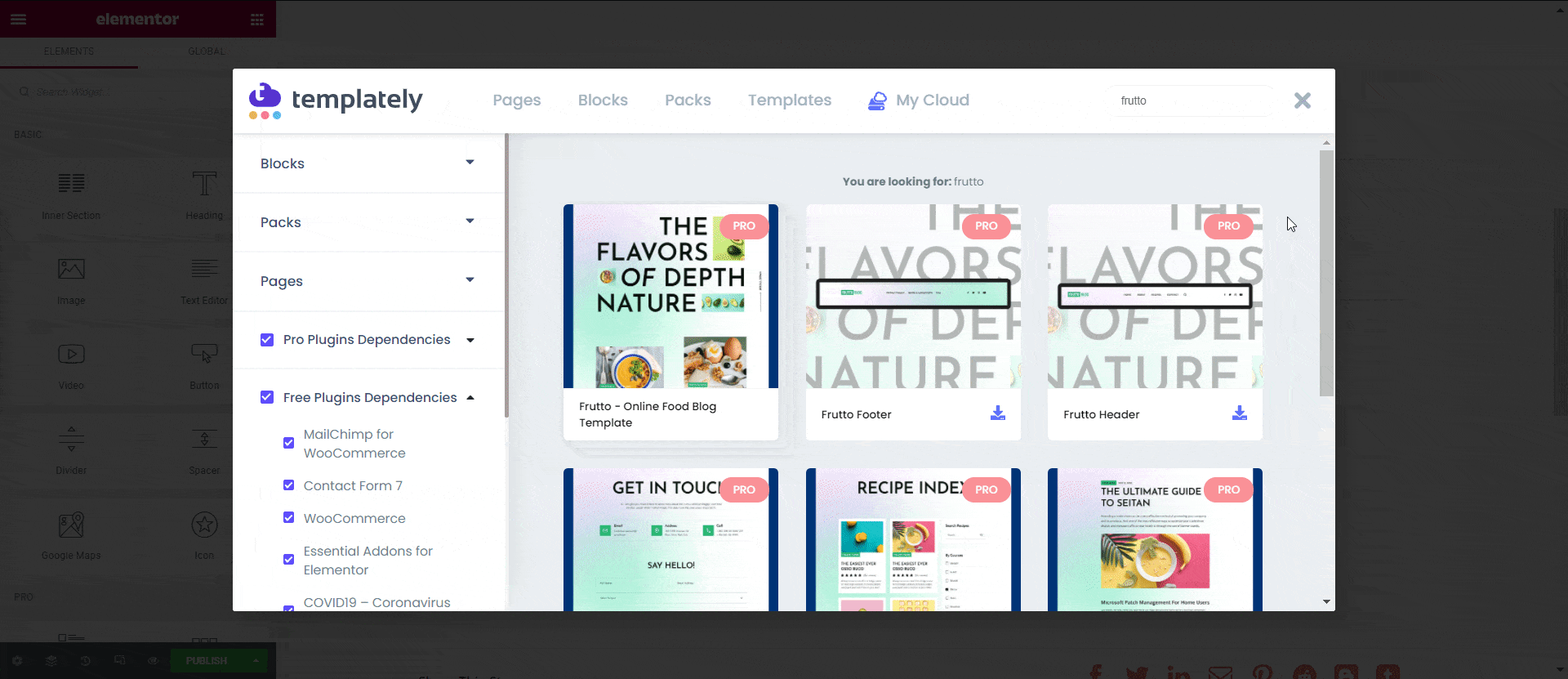 For your food blog website, you have finally created a Home Page. Now continue to add as many pages as you like to your food blog website till you're satisfied. 
Step 3: Customize Food Blog Website Content With Elementor
After you've added all of your desired pages and blocks, you can use Elementor's simple drag-and-drop feature to swiftly edit the template in any manner you like. Use Elementor editor to tweak and change the content background, color, typography, and many more.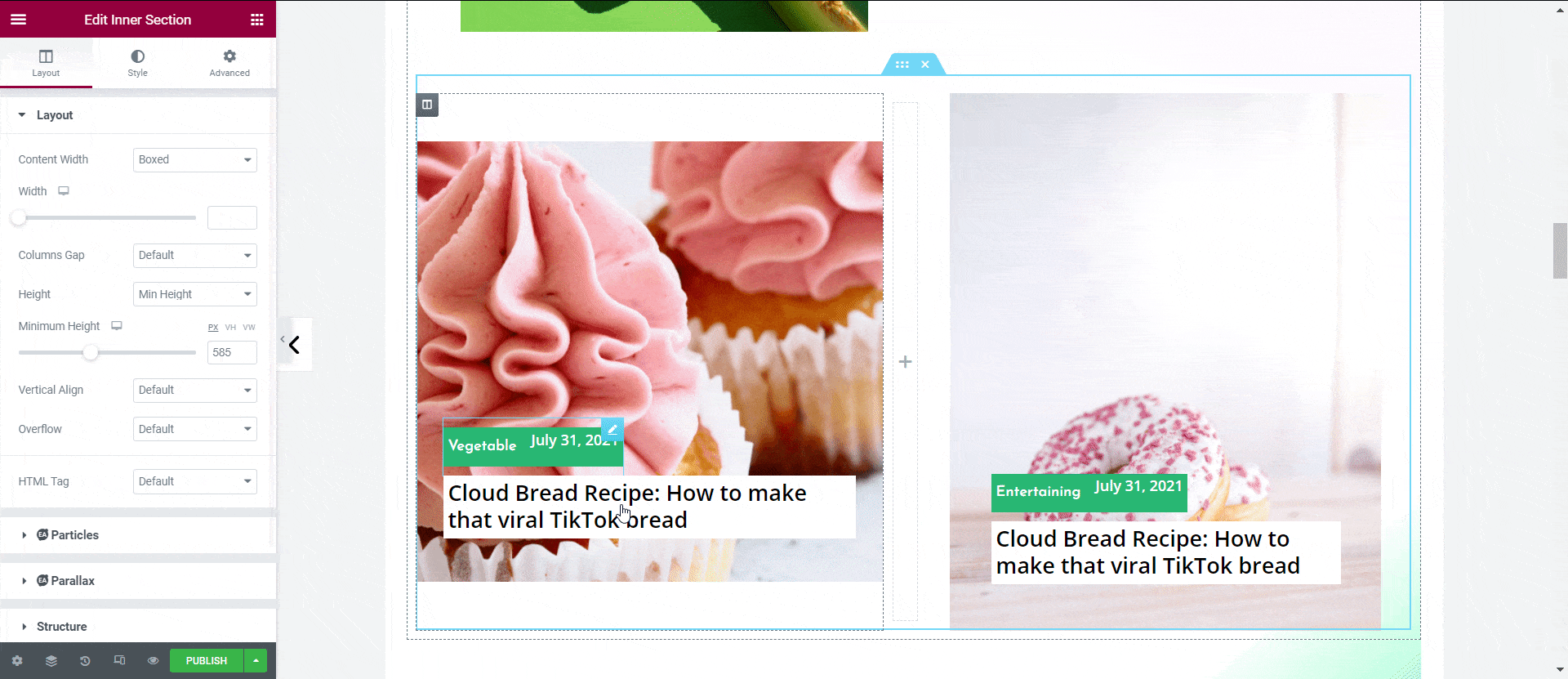 You can change the content and add your own pictures or videos to personalize it. Give it a new look so that it appears different from the template. For better understanding, play around with the settings options and see which one suits your website layout the best. 
Step 4: Back Up Your Food blog Website Design
One of the amazon features of Templately is it comes with Cloud Storage to save and secure your designed templates. Suppose you want to reuse your food blog website template, Template will provide you MyCloud feature to instantly save the design. Right-click on the Frutto template and click on "Save Page To Templately".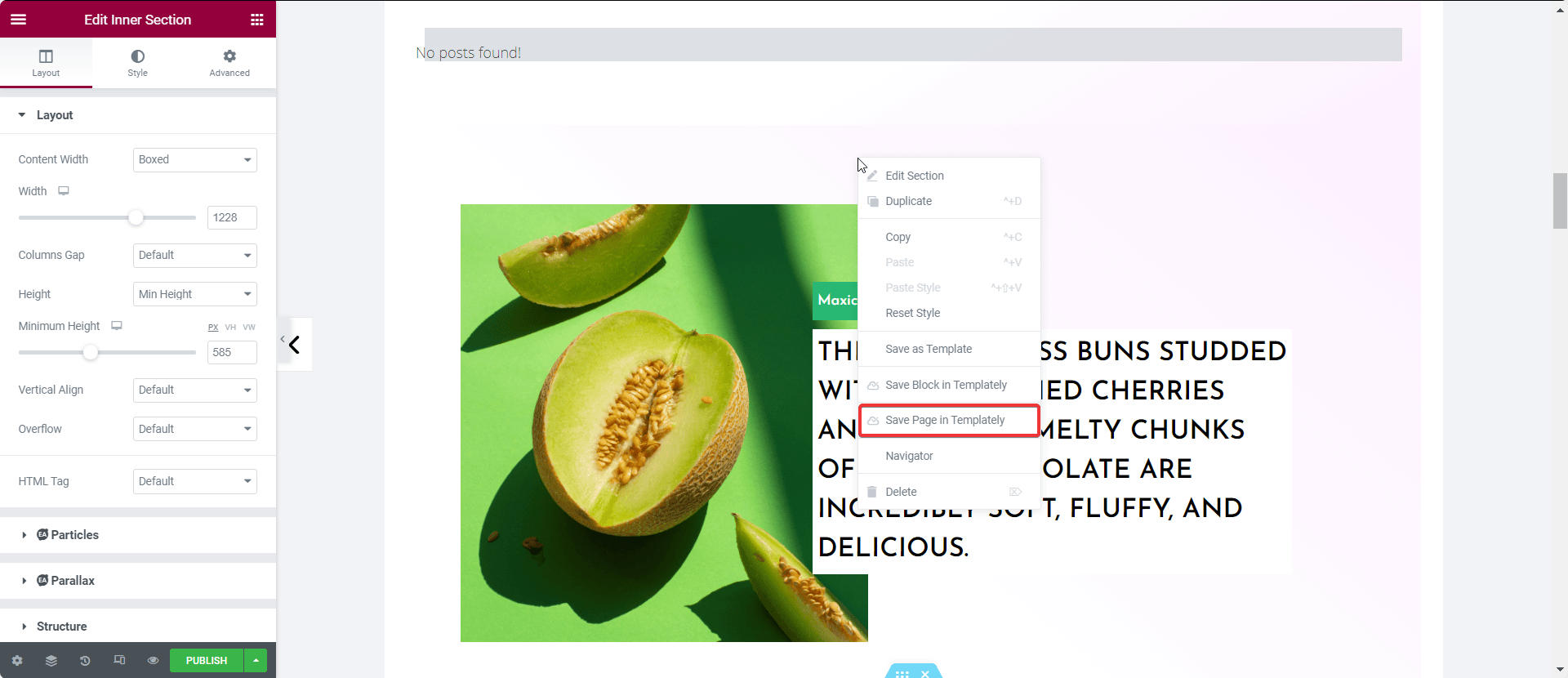 You've just finished building your own food blogger website using an Elementor template. You didn't have to write a single line of code or employ a web designer to accomplish it for you. Isn't that incredible?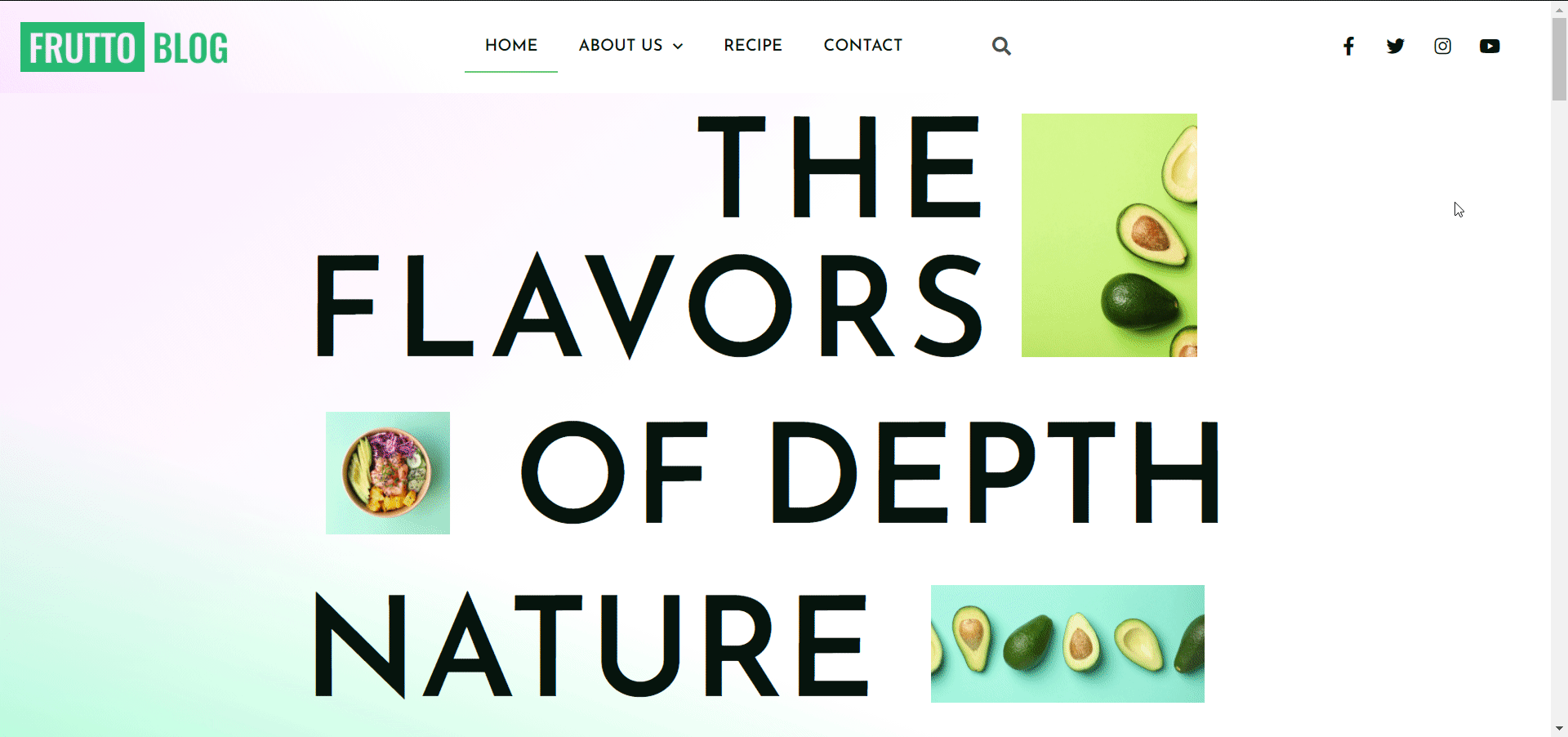 Choose The Best Food Blog Templates & Themes
We have presented you a compact list of the best food blogger website themes and templates with a thorough setup guide. Sign up for Templately for free if you want free access to 1400+ ready Elementor templates at once. If you have found the blog useful enough, subscribe to our blog to read more informative blogs like this. Share your thoughts with other WordPress users on the Facebook group.