Are you interested in graphics designing? Whether you want to learn as a hobby or for professional purposes, first you need to know about the software people use for graphic design.
There is plenty of graphic design software and each of them has its own specialty. Designers use different tools for different projects. So in terms of which software to use, it depends on what type of design you want.
Get To Know The Right Tools For The Job
When creating visuals for your blog or editing product photos for your brand, you need to select the best graphic design software that will get the job done. The best way to understand which software you should use is to get hands-on experience with most of the popular software and explore it yourself. But if you would rather not waste time with trial-and-error, you can check our recommended list of the top 5 graphic design software that are beginner-friendly. Let's dive in.
Top 5 Graphic Design Software For Beginners
There are countless options for graphic design software. Professionals use the ones that can make their work more efficient without compromising the quality. Don't worry, we did our research and brought you the top 5 must-have graphic design software on the market today. Hopefully, at the end of this blog, you'll know which ones are perfect for you. 
1. Adobe Photoshop: Perfect Tool For Photo Editing & Manipulation
Adobe Photoshop was launched in 1988, over the years it has become the most popular tool for graphic designing and also for editing images. It is one of the best photo editor software for beginners on the market. And it rightfully deserves all the respect, it is an extremely powerful software for bringing your artistic style out from your imagination to a digital world.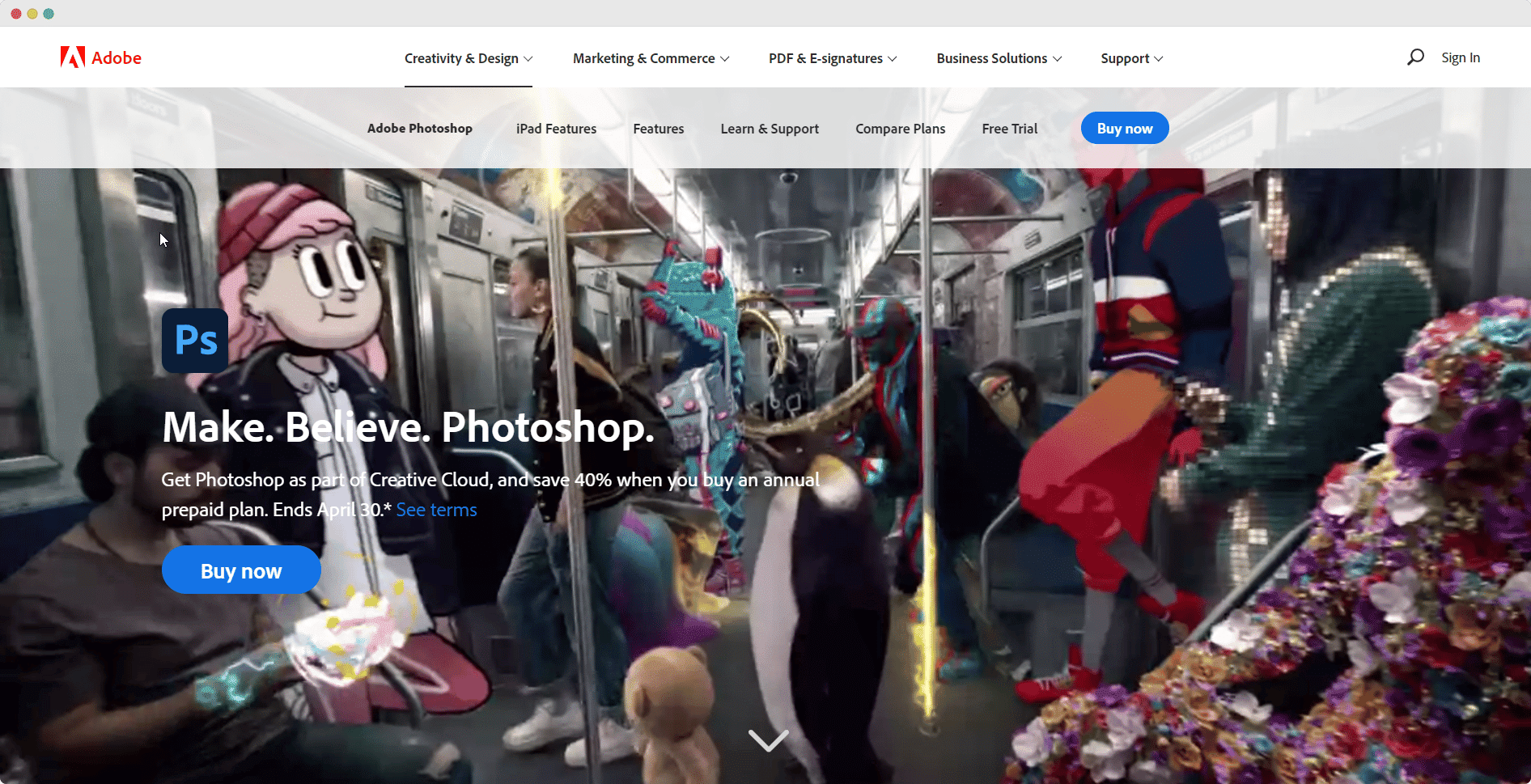 Key Features Of Adobe Photoshop:
Bring your creative ideas to life with numerous tools.

Get advanced collaboration features with Adobe Creative Cloud.

Design effortlessly with a customizable user interface.
Now that you know the most important features of Adobe Photoshop, let's take a quick look at some of the benefits you get with this graphic design software.
Pros & Cons Of Adobe Photoshop:

First, let's talk about the advantages of using Adobe Photoshop. It has seamless integration with other Adobe applications so you can transfer files faster between them. This software comes with a 3D design feature and an easy-to-use interface. It also has the capabilities to edit the video layers and it gives a rich library of typography. 
This software is no doubt one of the best ones out there, but the features may seem a bit overwhelming at first. And it has less support for raster and vector images.
Adobe Photoshop is used by millions of people, it is arguably the most popular software for graphic designing and the best photo editor software for beginners. People use it for creating banners, posters, from small edits to sophisticated designs, this software is great for any entry-level designer. 
2. Sketch: A Vector-Based Tool For Designing Digital Products
Sketch is one of the vector-based graphic design software that people use to create prototypes for UI/UX designing purposes. Sketch has become so famous that it is considered an industry-standard software. Even though it is one of the best software for designing digital products, it is user-friendly and you can learn it fast.
Key Features Of Sketch:
Reusable elements

Comes with a collaborative platform with teammates

Provides easy to find custom plugins
Pros & Cons Of Sketch:
It is easy to learn and the pricing is affordable. This software has the ability to export layers or groups in a PNG format. And it provides features to mirror designs on larger devices. It also provides a library full of artboard templates for devices running on iOS.
There are limitations with this software. It is only available in Mac and while accessing from the cloud your screens cannot render in high resolution. The fact that it doesn't have an automatic layout flowing option, can be a problem for some people.
Sketch is mainly focused on making screen designs and creating the icons and the interface elements for the applications and websites. The designers who work on macOS are going to find this graphic design software useful as it is only available on Mac. This tool's strength is in creating a slick user interface.
3. Adobe InDesign: Software For Creating Layout & Page Design
InDesign by Adobe is also considered one of the best graphic design software. It is dedicated to the publishing industry. With it, you can design magazines, books, posters, info sheets, brochures, etc. It is a must-have for the publishing designer community.
Key Features Of Adobe Indesign:
Editing multiple pages using a single edit 

Resize content frames

Numerous integrations with different systems
Pros & Cons Of Adobe Indesign:
It is clearly the best software and champ of the publishing industry. The intuitive resizing and cropping ability is amazing. It supports Endnotes and HTML. You can manage texts in Creative Cloud Libraries. It also has a huge collection of fonts, you won't run out of options any time soon.
But it has some issues with the PDF formatting. And sometimes the library items don't update fast. So it can seem slow when using for urgent work. The UI can be a bit overwhelming especially for beginners.
This software has been used since 1999 and even now it is one of the best tools for the industry and the Creative Cloud Library can help users to share colors, texts, graphics with other team members instantly.
4. Gravit Designer: Full Featured Vector Graphic Designer App 
Now we will talk about Gravit Designer, an HTML-focused software that can generate high-quality vector graphics. All the web designing professionals use this product. There is a cloud-based version that you can use from any browser.
Key Features Of Gravit Designer:
Easy to navigate Gravit Designer Dashboard 

Pages feature to blend artboards and pages that come with canvas settings

Cross-platform portability for Windows, Linux, Mac, and Chrome OS
Pros & Cons Of Gravit Designer:
The software has a modern user interface, it also has the capabilities to edit scalable vector graphics and support multiple file formats for import and export. It has a PRO version that comes with unlimited cloud storage and offers seamless flexibility through web and desktop versions.
But the fonts need an internet connection to load. You cannot collaborate in real-time, which can be an issue when multiple people are directly involved. And their official resources lack software information.
The online version tends to be slow, so it can harm productivity but there are a lot of professionals who use the locally installed versions. We would recommend you try out the locally installed version. 
5. Adobe Illustrator: Vector Graphics Editor For Drawing Illustrations
Adobe Illustrator is easily one of the best graphic design software on the market. It is perfect for creating logos, page layouts, website mockups, etc. This software is considered the industry benchmark for vector creation tools. You can consider this software as the vector version of Photoshop. They both share similar tools.
Key Features Of Adobe Illustrator:
Adobe's AI-powered Sensei technology resizes and arranges the images 

Adobe InCopy makes working with team members easy

In-Panel editing capabilities to work on multiple artboards at once
Pros & Cons Of Adobe Illustrator:
It can create graphics based on mathematical equations rather than stored pixels and generate files in a smaller size. The smaller size helps to share more easily. You can also access millions of graphic templates from Adobe Stock. This software has tight integration with other Adobe products.
The only downside of this product is that it is less affordable compared to other vector-based software. It also takes up a lot of space on your device. So you need to look into your device's available space while working with this software.
If you want to create graphic designs that can be rescaled to a huge banner or billboard, Adobe Illustrator is the software for you. It has some powerful tools and they do provide regular updates on both Windows and Apple devices.
What Software Should You Choose?
You can see that each of the software has its strengths and weaknesses. These are the best photo editor software and design software in the market. But all of them are really good at specific tasks. To make it very simple for you this is a list of the software with their usual use cases.
Adobe Photoshop:  Photo editing and manipulation
Sketch: UX/UI designing
Adobe InDesign: Publishing material designing
Gravit Designer: Web designing
Adobe Illustrator: Logo, page layout & website mockup designing
Want To Design Your Own WordPress Website?

If you want to design your WordPress website, we have the perfect tool. Templately is a cloud-based solution for WordPress templates. It helps to create and manage web pages with ease. You can choose any template that looks good for your content and then edit it as you like. And it provides a unique feature to make your collaborative work a lot easier. 
You can make the best out of Templately with Templately WorkSpace. It is an amazing cloud collaboration feature that lets you save your templates on the cloud and then share them with your teammates. Then they can reuse it on different WordPress websites. You can even create a one-page website for your business or your personal use.

Start Learning The Basics Of Graphic Designing
If you want to step into the world of graphic design then you need to know the use cases and the limitations of the software. It's best to get introduced to the software one by one. Because a good graphic designer needs to know the overall basics of different types of designing. If you feel this blog was helpful then please let us know in the comments. And don't forget to join our Facebook community and subscribe to our blog to read our latest blog releases.