Did you know the Elementor AI Image Generator can make your workflow faster than ever? With this exciting new feature, Elementor ignited infinite possibilities for web creators to enhance their page-building experience. We are here to walk you through the ins and outs of this outstanding addition to the Elementor widgets library to help you save your time and design limitlessly.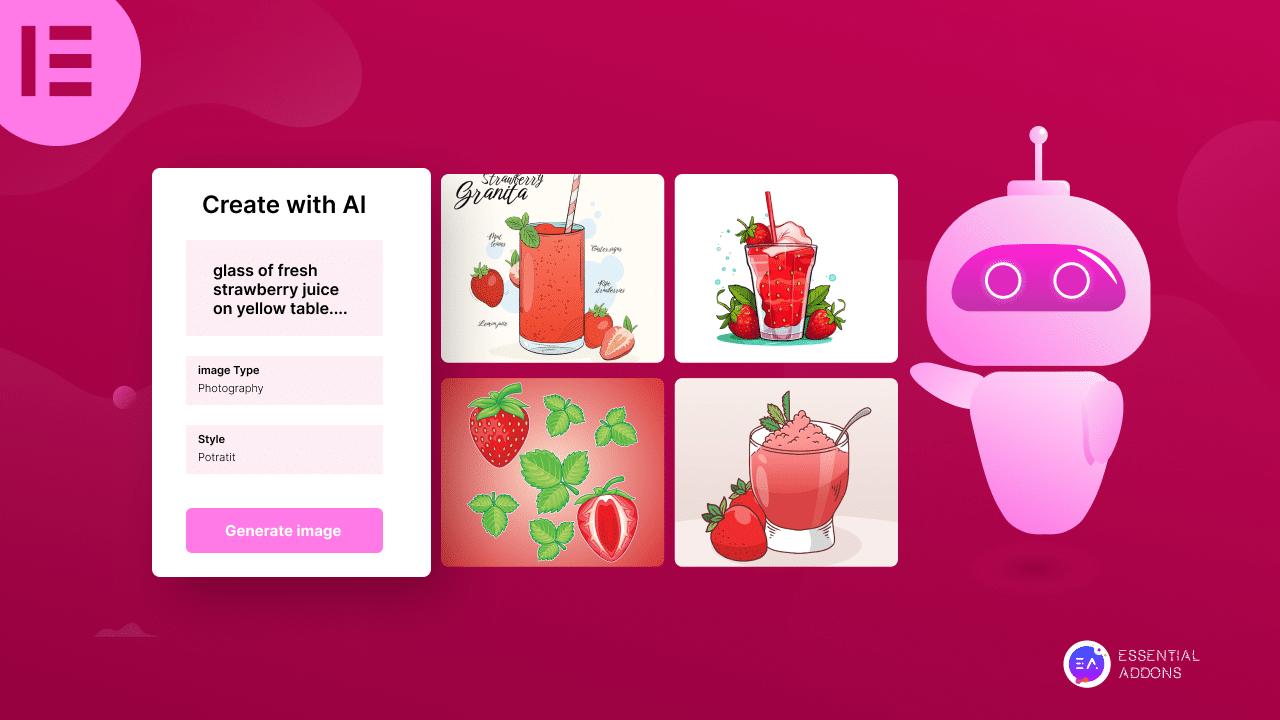 💡 What Does The Elementor AI Image Generator Bring To Table?
Recently, Elementor introduced Artificial Intelligence. Now, you can enjoy the power of AI, right on your favorite website-building platform, make your workflow faster than ever, and take your website-building experience to a whole new level.
And the AI feature introduced is not just for creating website content. With the 3.14 version update, Elementor introduced an AI Image Generator to revolutionize your workflow by adding stunning visuals to your site.
You might be wondering, what it brought to the table for you, and how it can benefit you in your web building. Well, continue reading because, in this section, you will get the answer to all these questions. 
⭐ Better Time Efficiency
Elementor's AI image generator can significantly speed up your design process by eliminating the need to search for or create images manually. From now on, you don't have to search different places or work for hours to create an image for your website.
⭐ Ultimate Design Consistency
With Elementor AI Image Generator, you can easily create images that match the style and theme of your website consistently. Thus, it will help you to enhance the overall aesthetics of your website without worrying about it anymore and set a tone for your brand.
⭐ Endless Possibilities
This latest Elementor feature opens a door for endless possibilities. Now, you can generate unique images matching your design ideas effortlessly which may not have been possible before. In addition to that, you can replicate similar images and create unique new ones whenever you need them.
⭐ Saves Your Money
As Elementor AI Image Generator can create images for you in mere minutes, you don't need to hire a graphics designer from now on. Alternatively, you can generate any image simply with prompts and save your money at ease. Also, you can modify any image with this AI image generator and create any image you want.
📖 Guide: How To Use Elementor AI Image Generator
Now, if you are ready to learn how to use Elementor AI Image Generator, open a page in Elementor and follow our step-by-step guidelines below. However, make sure to have the updated version of Elementor on your website. Without further ado, let's dive into the guide below.
Step 1: Generate Images With A Prompt
To create an image with Elementor AI Image Generator, click on the 'AI icon' in the image content area of the panel. Now, describe the image that you want to create and click on the 'Generate' button. Elementor will instantly create an image for you.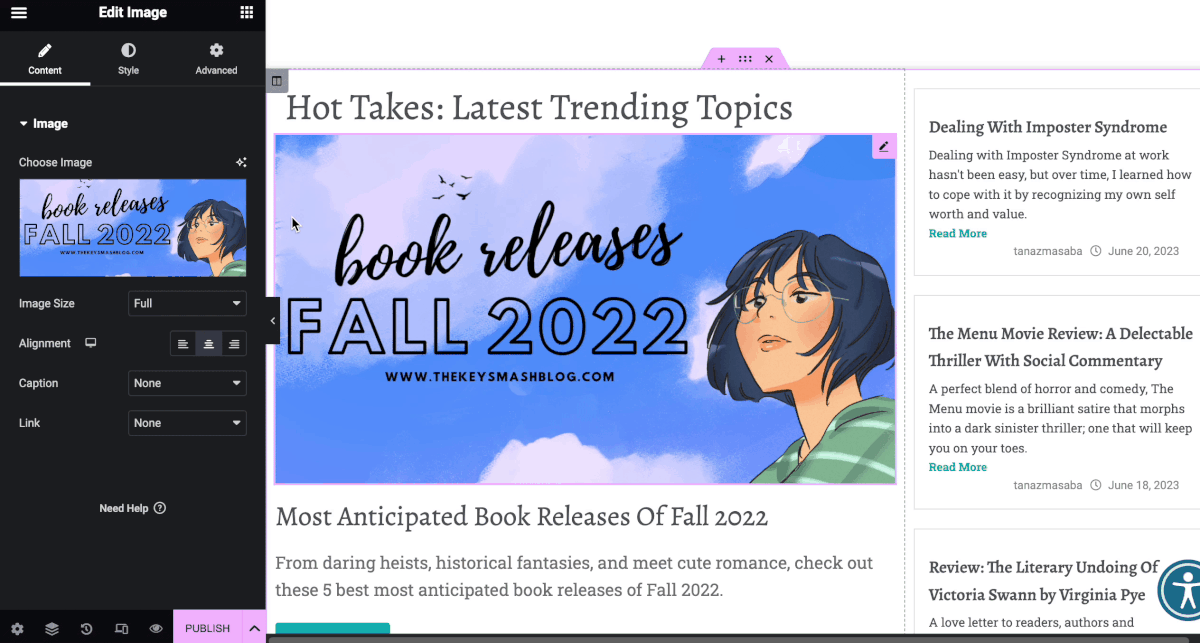 You can also use the 'Enhance prompt' feature to automatically optimize your prompt and add more details to your image. It will help you get even better results with each image.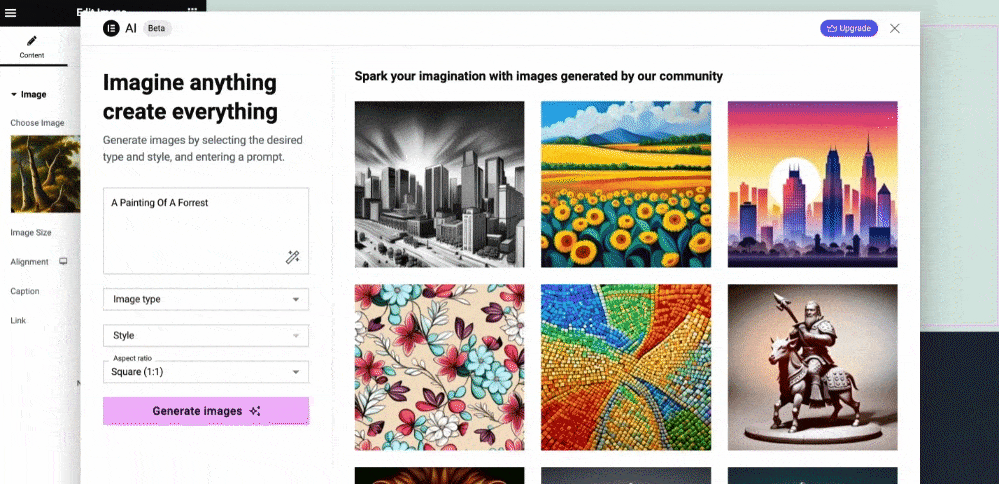 Once you describe an image, AI Image Generator brings different options to choose from for you. So, you can select the suitable image that will align with your website design and visions with ease. Click on the 'Use Image' button if you want to insert any image from there.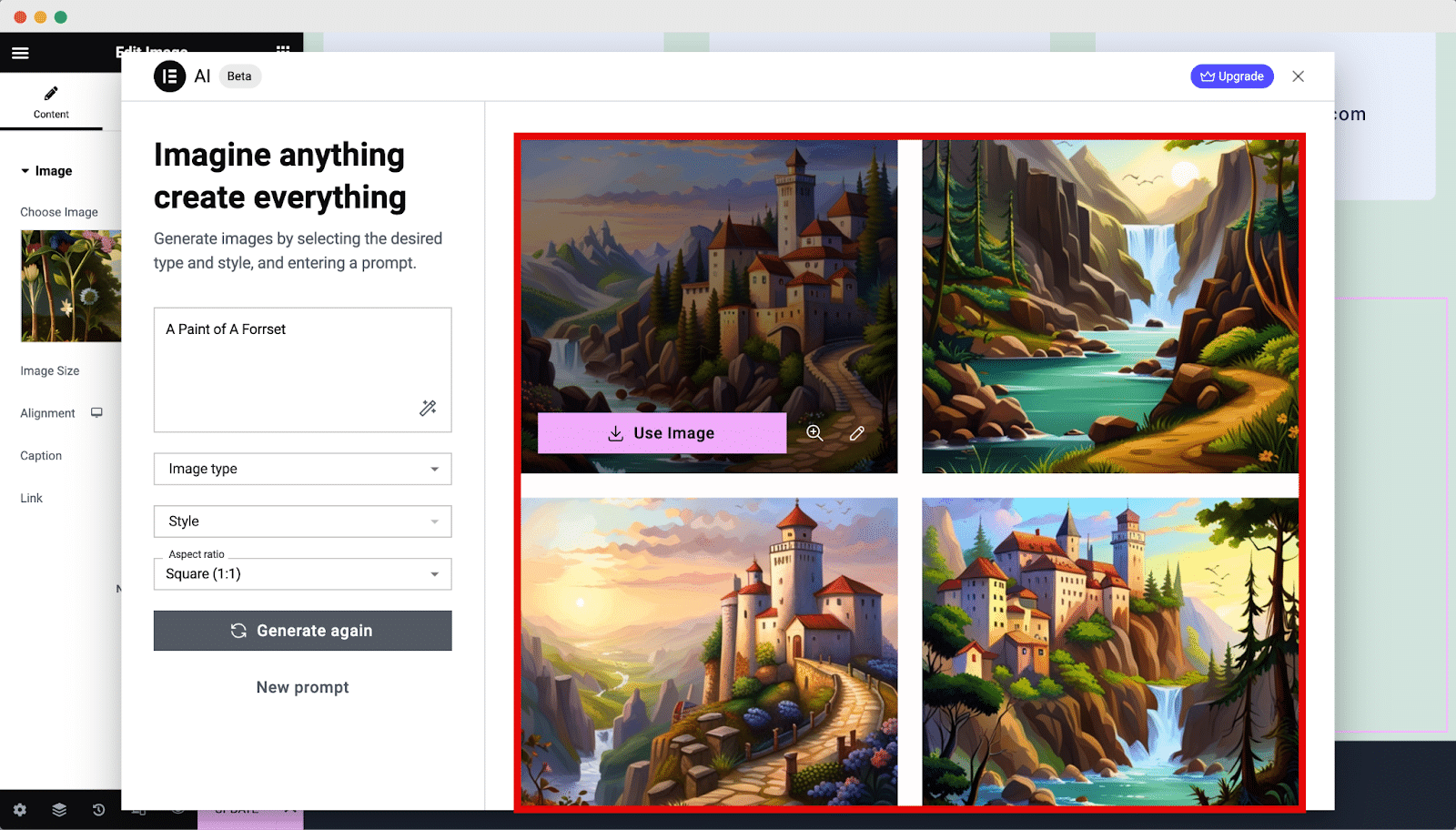 Step 2: Modify The Resolution & Aspect Ratio
Once you have selected an image for use, you can make further adjustments in Elementor without any hassle. Resize the image to get the resolution you need for your web layout. Also, don't forget to keep an eye on ensuring your image looks clear on the front end.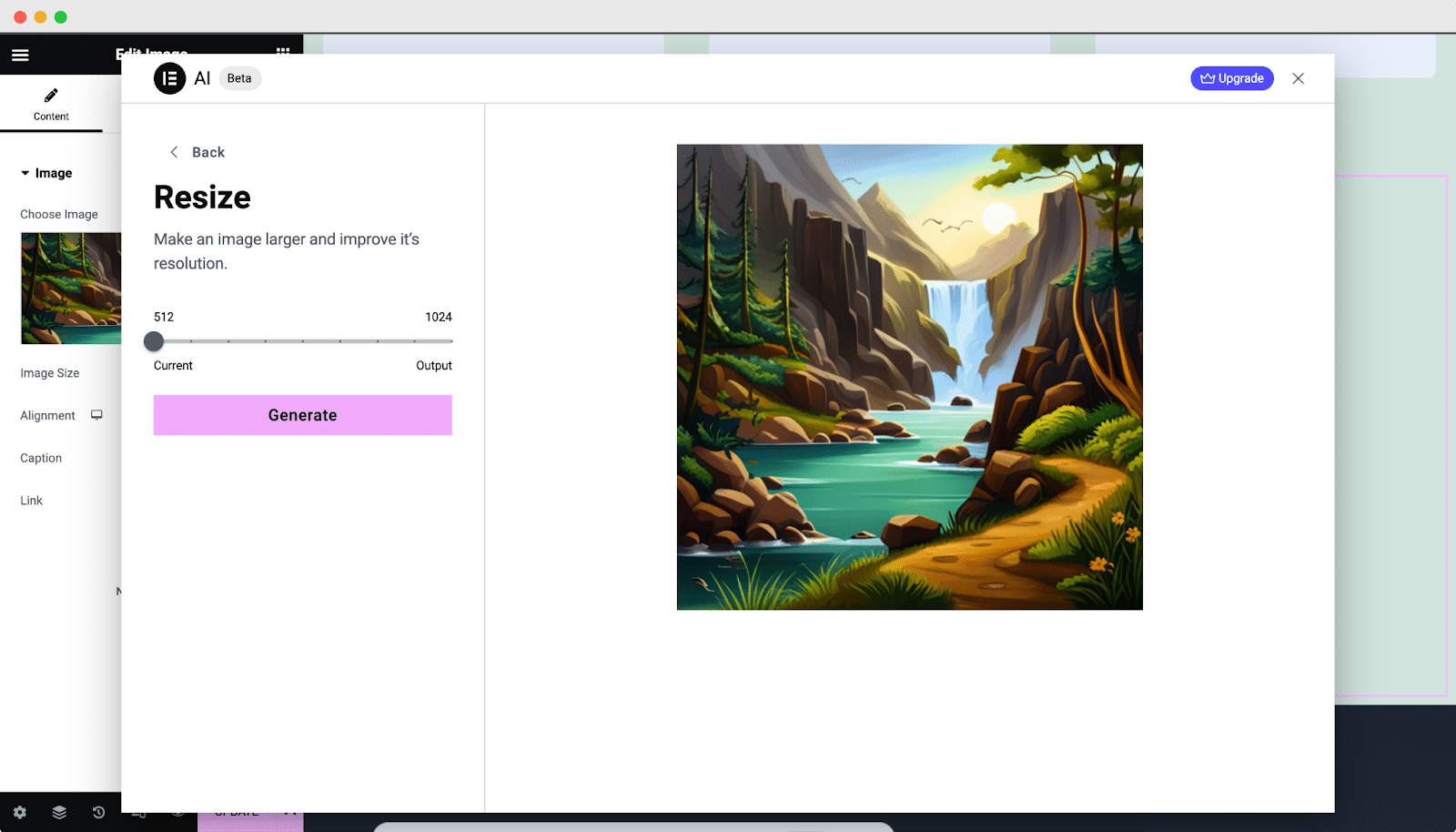 You can also choose your aspect ratio from landscape, portrait, or even square to match it with your website. So, you can enjoy the freedom of making your image look the way you want.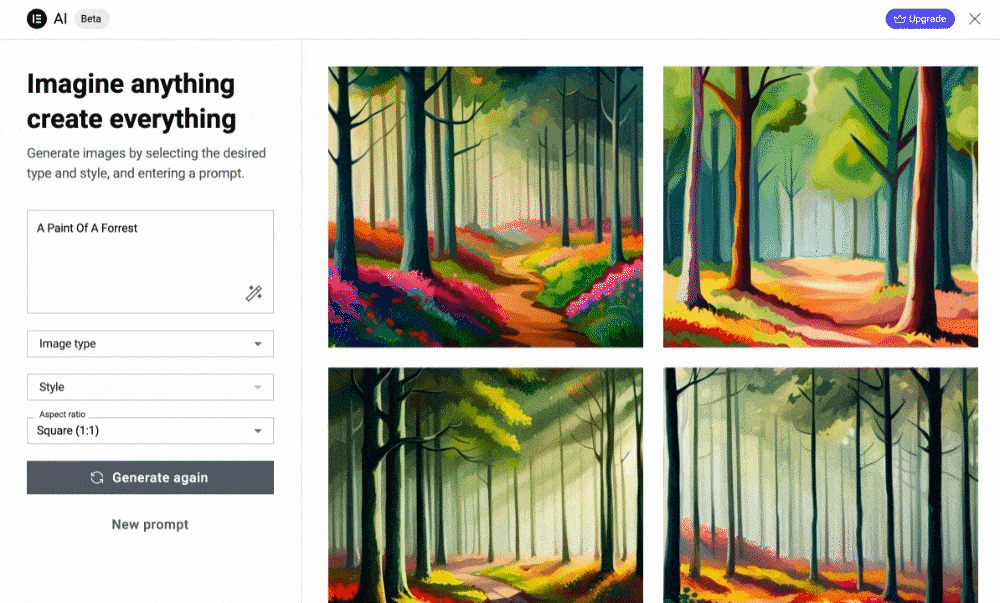 Step 3: Enhance Your Images Through With Generative Fill
Elementor AI Image Generator also helps you to miss details in a generated image. Also, you can give a makeover to your existing image with this amazing addition. With the 'Generative Fill' feature, use the brush tool to mark the areas where you want to modify. Then, describe what you want to add to your image in the description field and click on the 'Generate' button.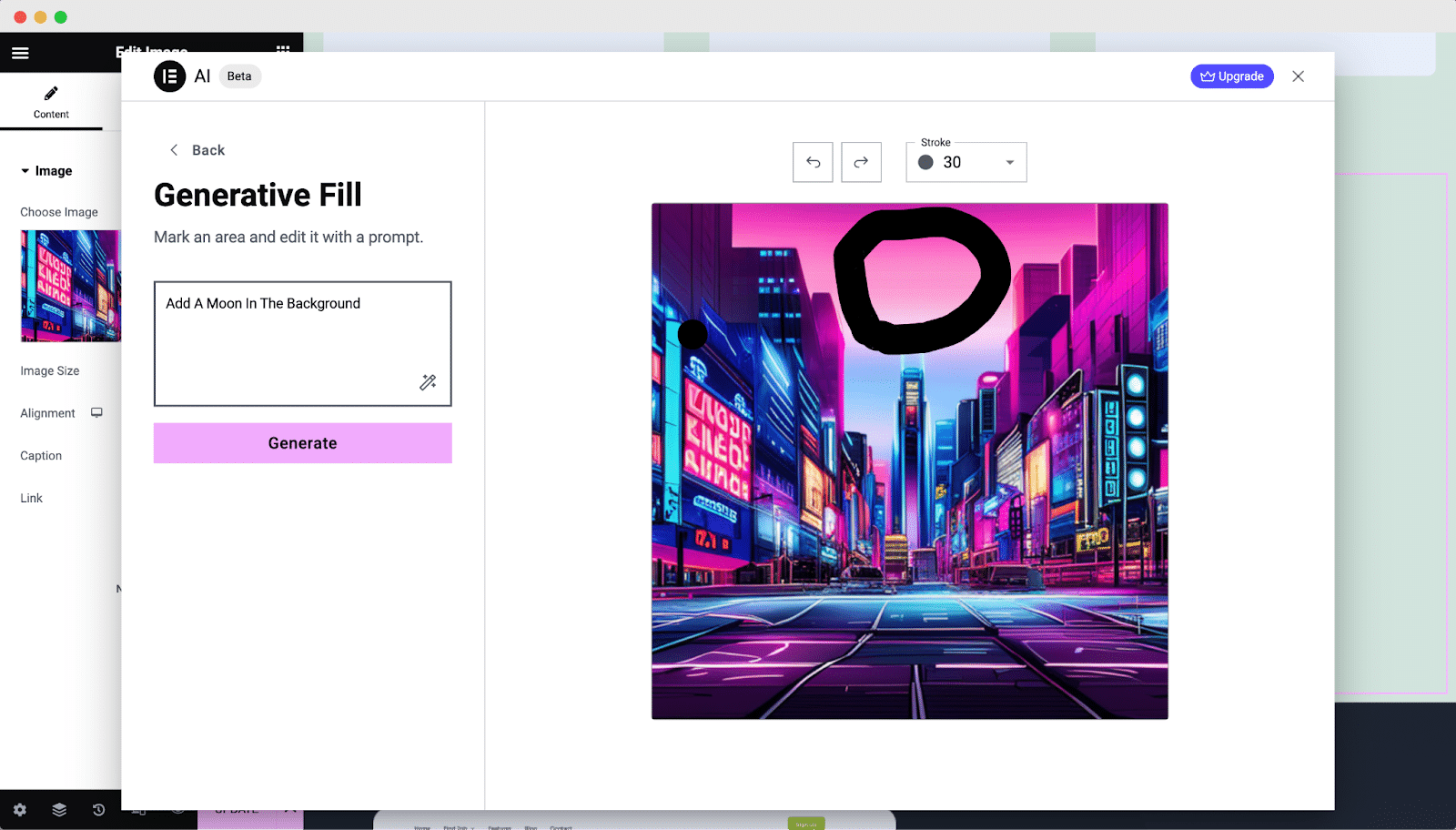 This feature will allow you to make your generated image even better with detailed descriptions. You can easily edit your image simply by providing prompts. So, without a doubt, this image generator will make your life easier than ever before.
Step 4: Transform Your Website With Diverse Image Variations
Elementor AI Image Generator also allows you to create a variety of images for your website. You can use any images as a reference and quickly create a series of similar yet unique images for use on your website.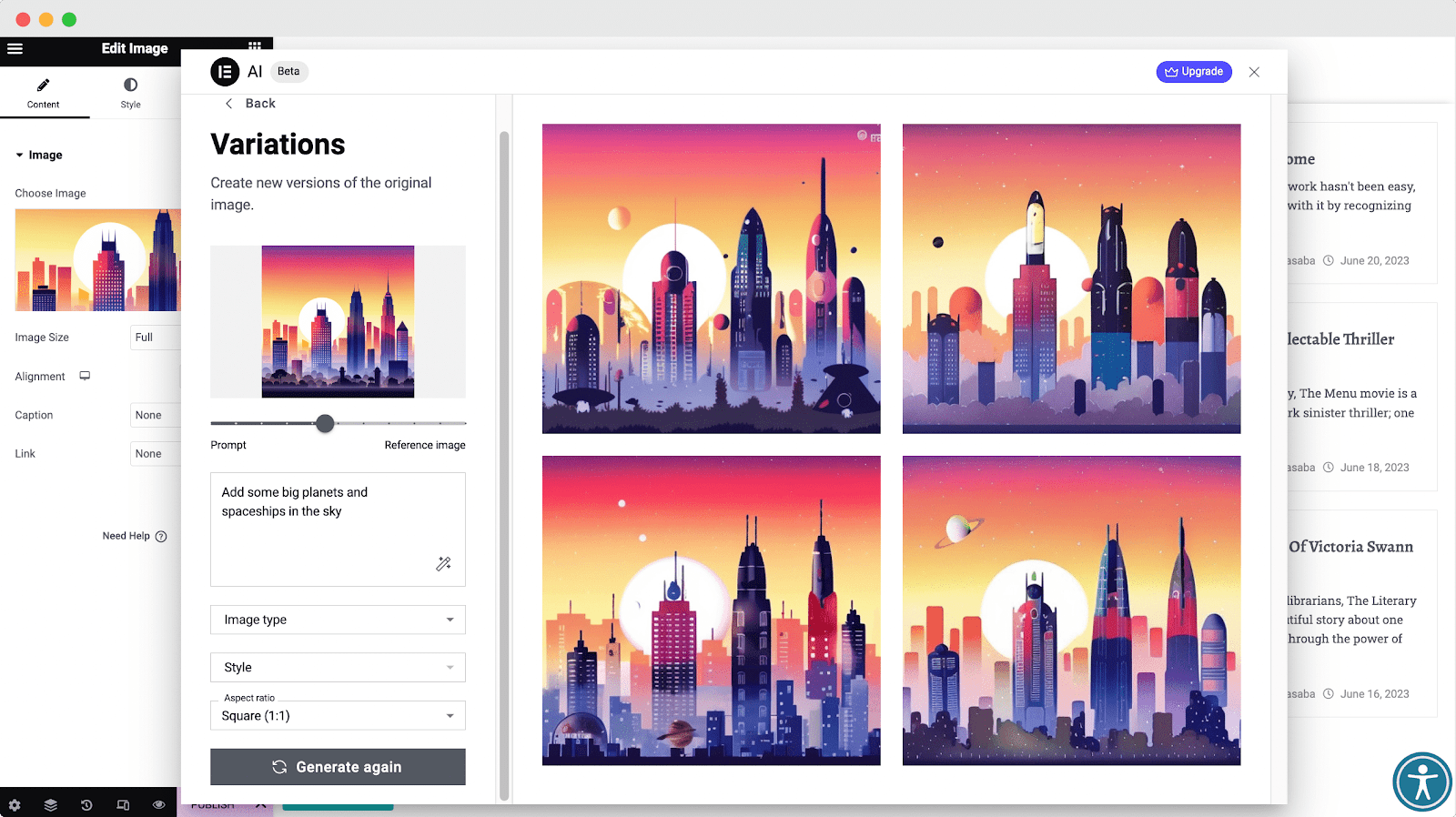 For better results, you should provide detailed prompts to match the images with your vision. Also, choosing your image type, style, and aspect ratio will bring the perfect image that you are looking for like magic.
⚡ Speed Up Your Workflow With Elementor AI Image Generator
Elementor AI Image Generator is an amazing addition to this powerful web-building tool. With the power of AI, you can now create stunning, customized images more efficiently than ever before. So, give Elementor's AI image generator a try and experience the future of web design today.
Have you found this blog useful? If you do, then make sure to check out our subscribe to our blog for more fun tips and tutorials. Also, don't forget to join our Facebook community to share your thoughts and stay connected with fellow web-building enthusiasts.