Step into the realm of web design innovation as the new Elementor v.3.13 unveils the game-changing feature that will redefine the future of web creation: Elementor AI. Like the pages of a sci-fi masterpiece coming to life, Elementor AI blends the wizardry of artificial intelligence intuitively into the native Elementor website builder.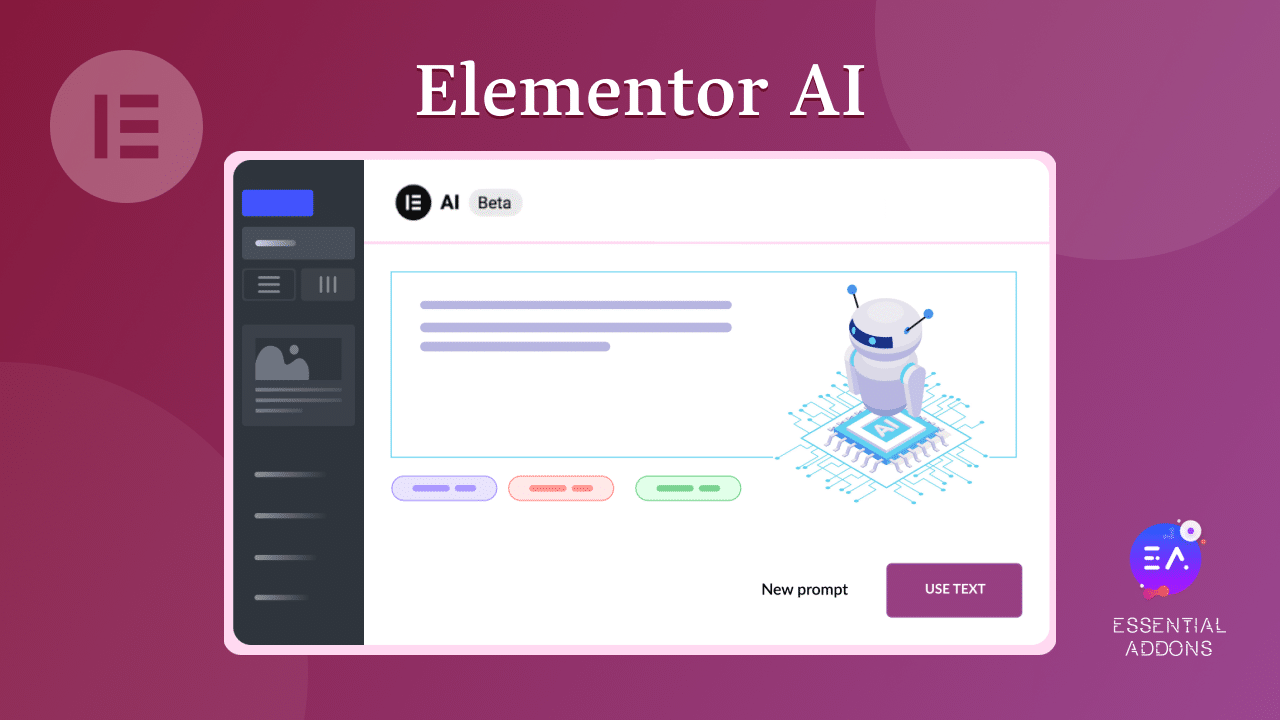 Transform The Way You Design Websites With The Power Of Elementor AI
Elementor has always been a game changer in the world of web creation. By introducing the power of artificial intelligence in Elementor v.3.13, this popular website builder has now made several leaps into the future!
Elementor AI is here to revolutionize the way you create websites, making it a delightful and enjoyable experience from start to finish. Seamlessly integrated within the native Elementor Editor, you can now harness the power of artificial intelligence at any stage of your web design process.
Whether you're a seasoned pro or just starting out, Elementor AI will supercharge your design skills and empower you to create stunning, pixel-perfect websites that leave your clients and visitors in awe.
5 Incredible Things You Can Do With Elementor AI
Experience the magic of Elementor's AI assistant as it effortlessly turns you into a web design wizard,  as it creates captivating content for you, and enables your website to speak multiple languages seamlessly with just a few clicks. 
Say Goodbye To Writer's Block: Create Content With AI
When it comes to creating your website content and ensuring consistency across all pages, sections, and posts, Elementor AI Write can save you hours of time and help you speed up your writing process. You can now focus on coming up with unique ideas and inspiration and let Elementor AI take care of the rest. 
For instance, you can click on any text widget in the Elementor Editor and choose to make that particular text longer or shorter, as shown below. In this example, we are going to let the AI Writing Assitant in Elementor change our title content, "Trending Posts," into a shorter text that conveys the same meaning.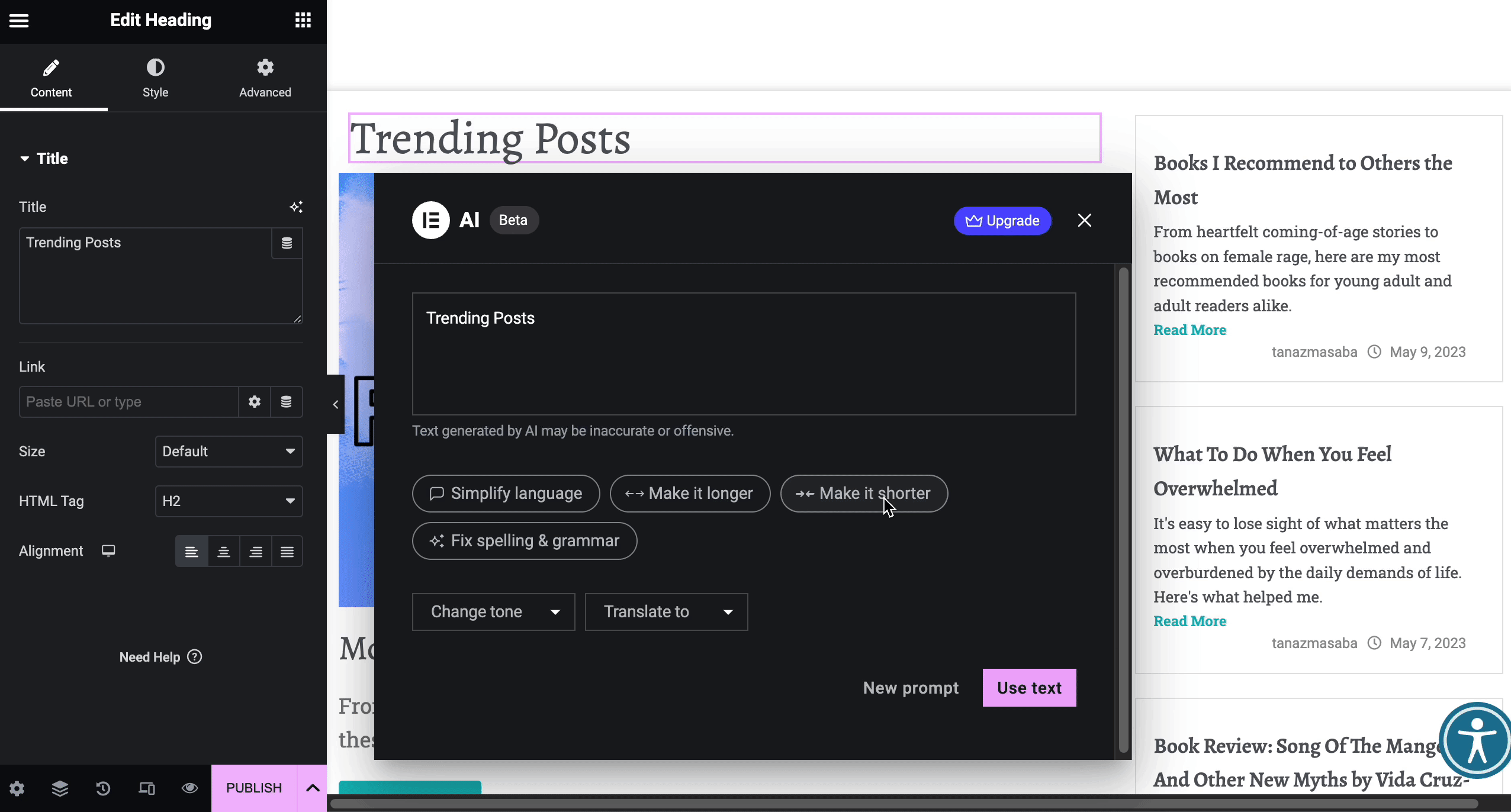 Similarly, you can also choose to change the tone of your content using the AI writing assistant. This way, you can get more control over what kind of content you want on your website and leverage the power of Elementor AI to make sure that the tone and style of your content are consistent throughout your website. This particular feature is also known as Elementor AI Write.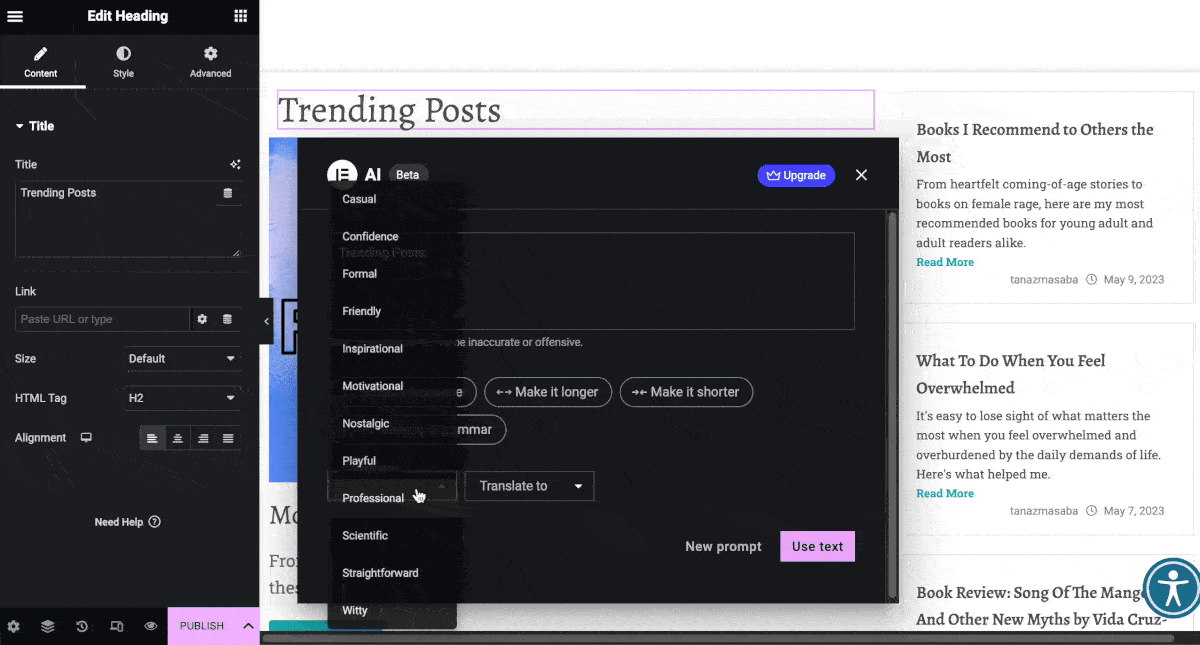 Besides this, you can even use AI writing assistant to generate ideas for new content and thus stay inspired on days when you feel like you are running out of ideas. Simply click on any text widget on your page, hit the "Write with AI" option, and then click on the "New prompt" button as shown below.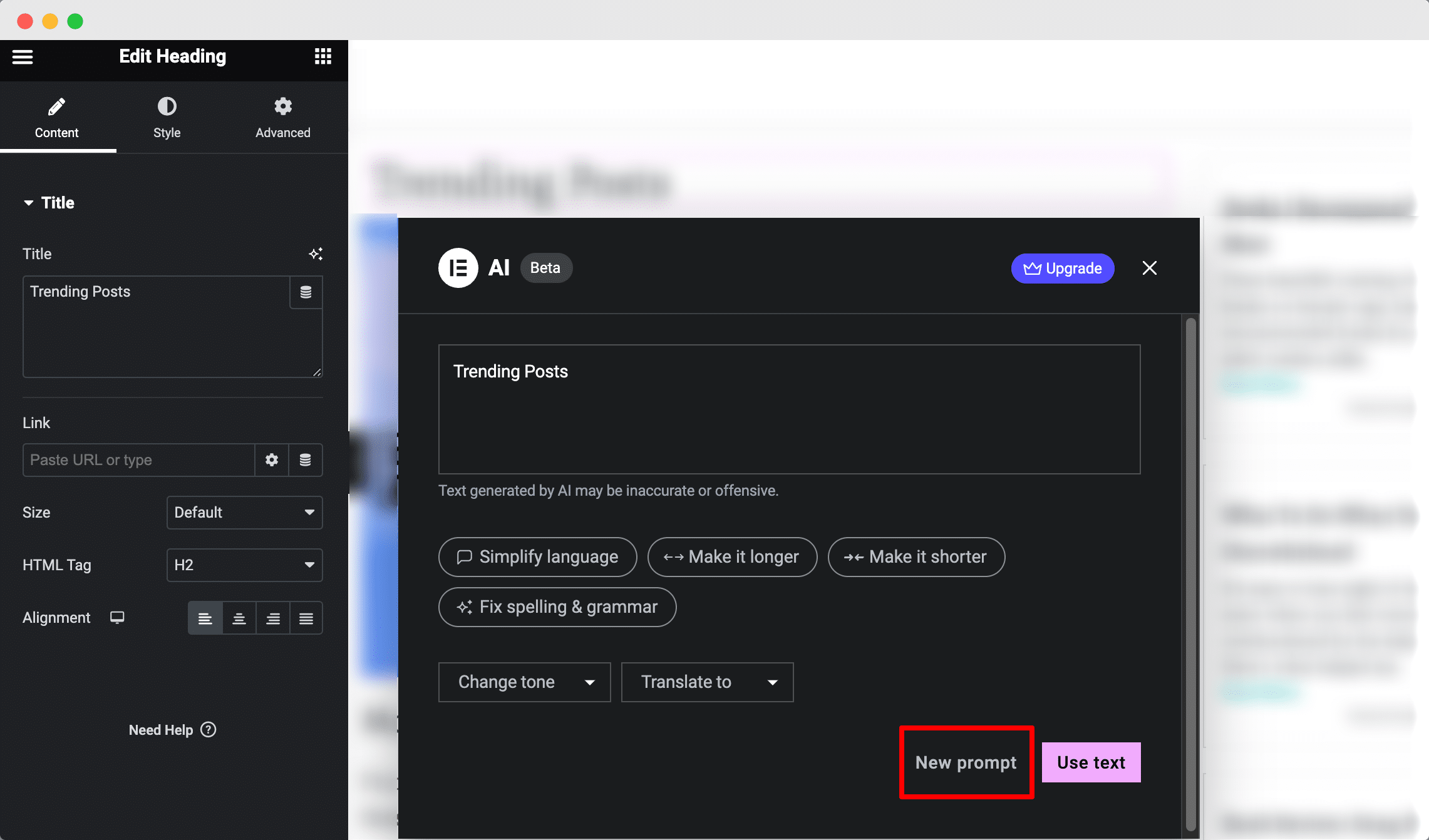 Now, you can choose from the list of prompt suggestions and ask the AI writing assistant to generate content based on your preferences. For this example, we are going to ask the AI writing assistant in Elementor to suggest a 4-word title on the topic of trending blog posts.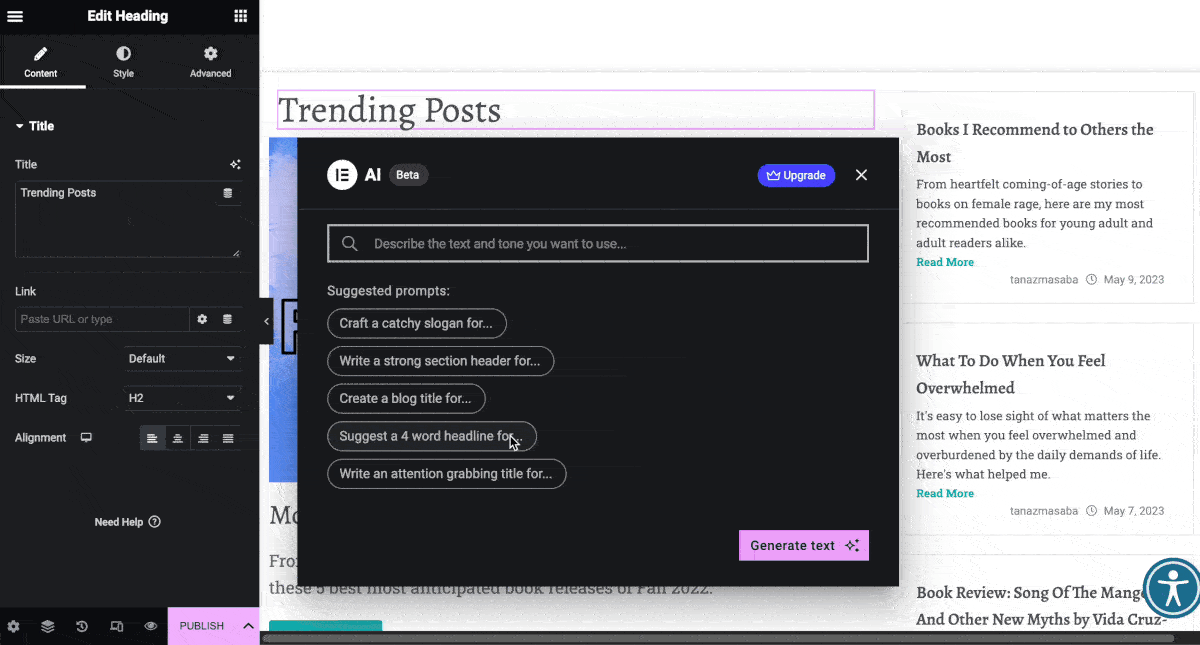 If you are happy with the suggestion you received from the AI writing assistant in Elementor, you can simply click on the "Use text" button to add the content to the selected widget on your page or post.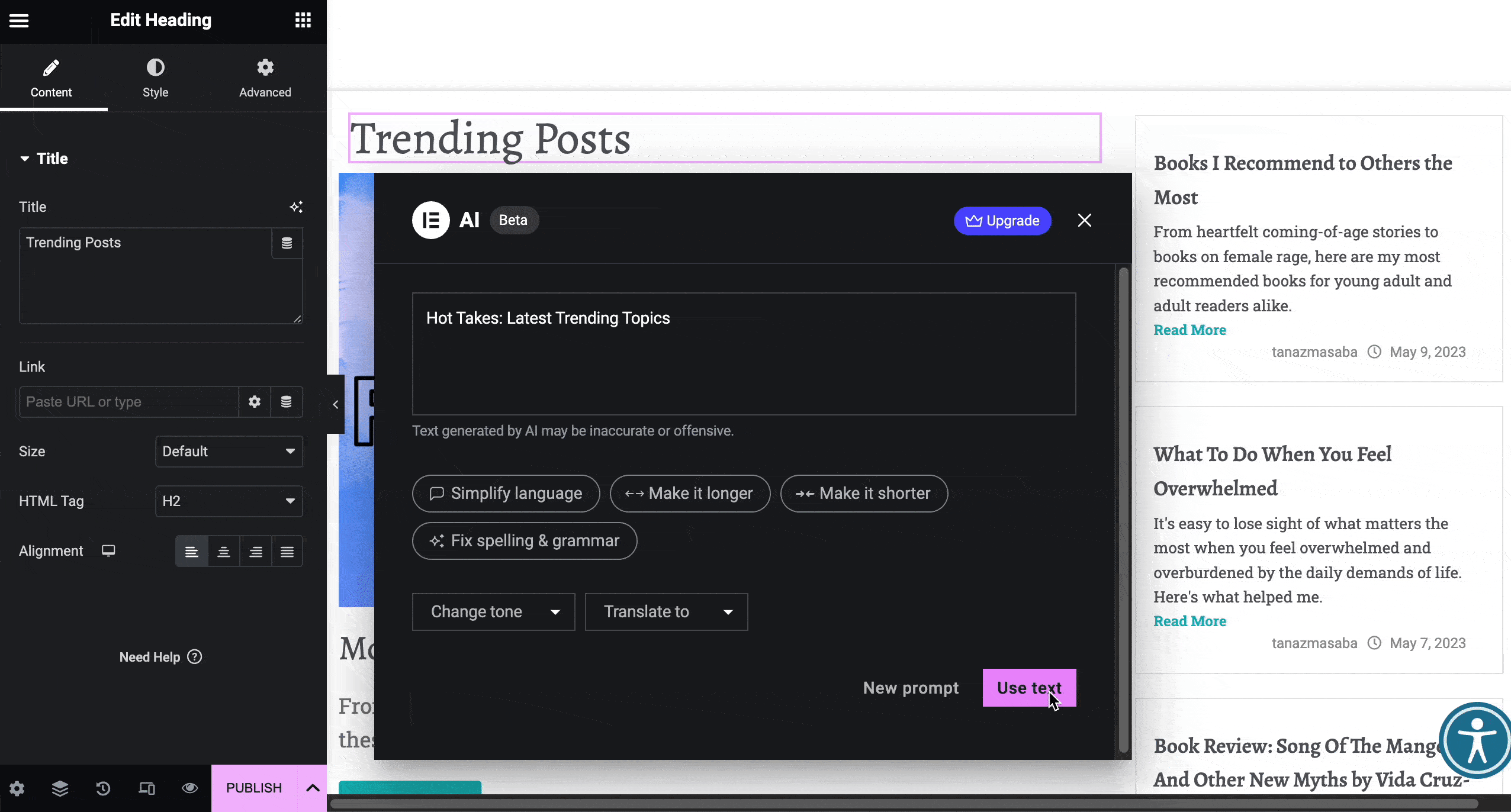 Translate Your Content Into Multiple Languages In Minutes
In addition to this, you can also translate any content on your website into multiple languages with Elementor AI Write. This way, you don't need to spend extra time, effort, or money using additional tools; the AI writing assistant in Elementor will instantly translate your content into different languages and help you reach a wider, global audience. 
As of now, the AI writing assistant in Elementor supports around 29 different languages!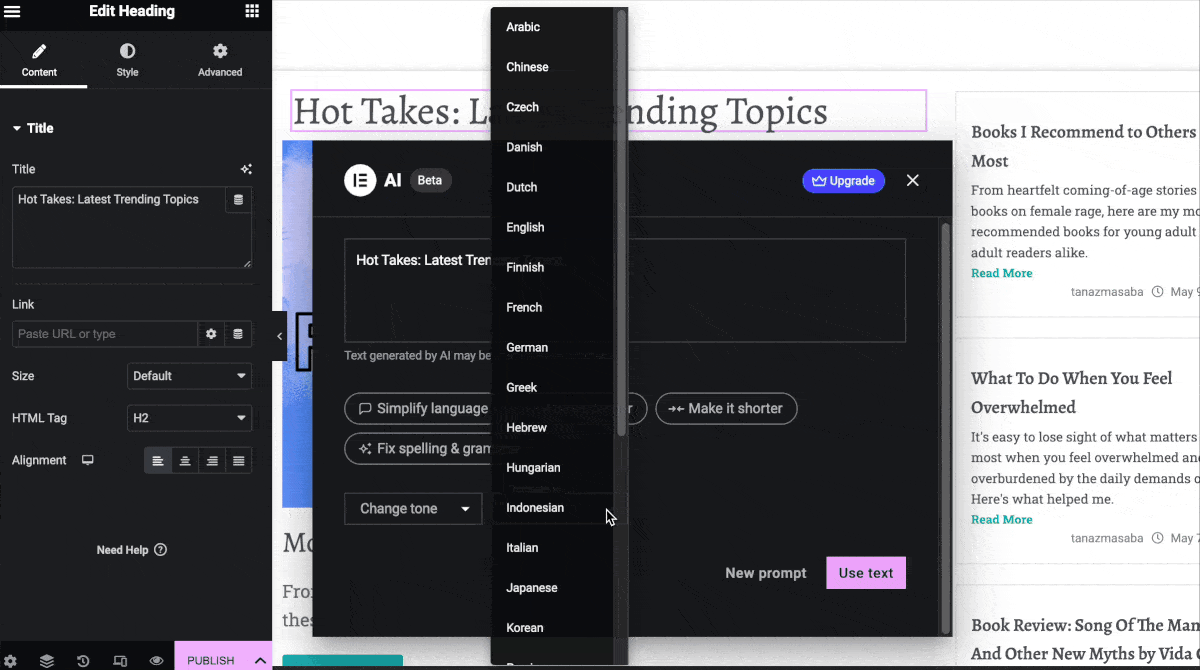 Add Custom CSS With The AI Code Assistant In Elementor
With Elementor AI's Code Assistant, you can effortlessly add custom CSS to your website content and add any kind of customization to make your web design stand out from the crowd. 
For instance, in this example, we are going to use the AI Code Assistant to add rainbow-colored animated text gradients with custom CSS.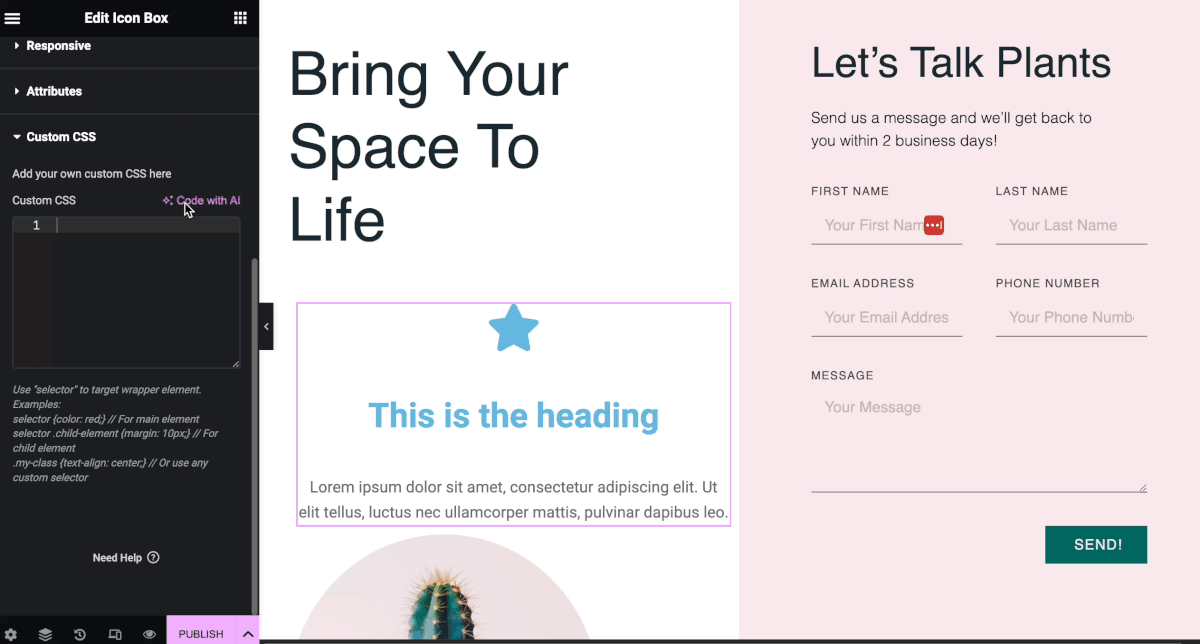 Now wait while Elementor AI works its magic. In a few seconds, the necessary custom CSS will be generated.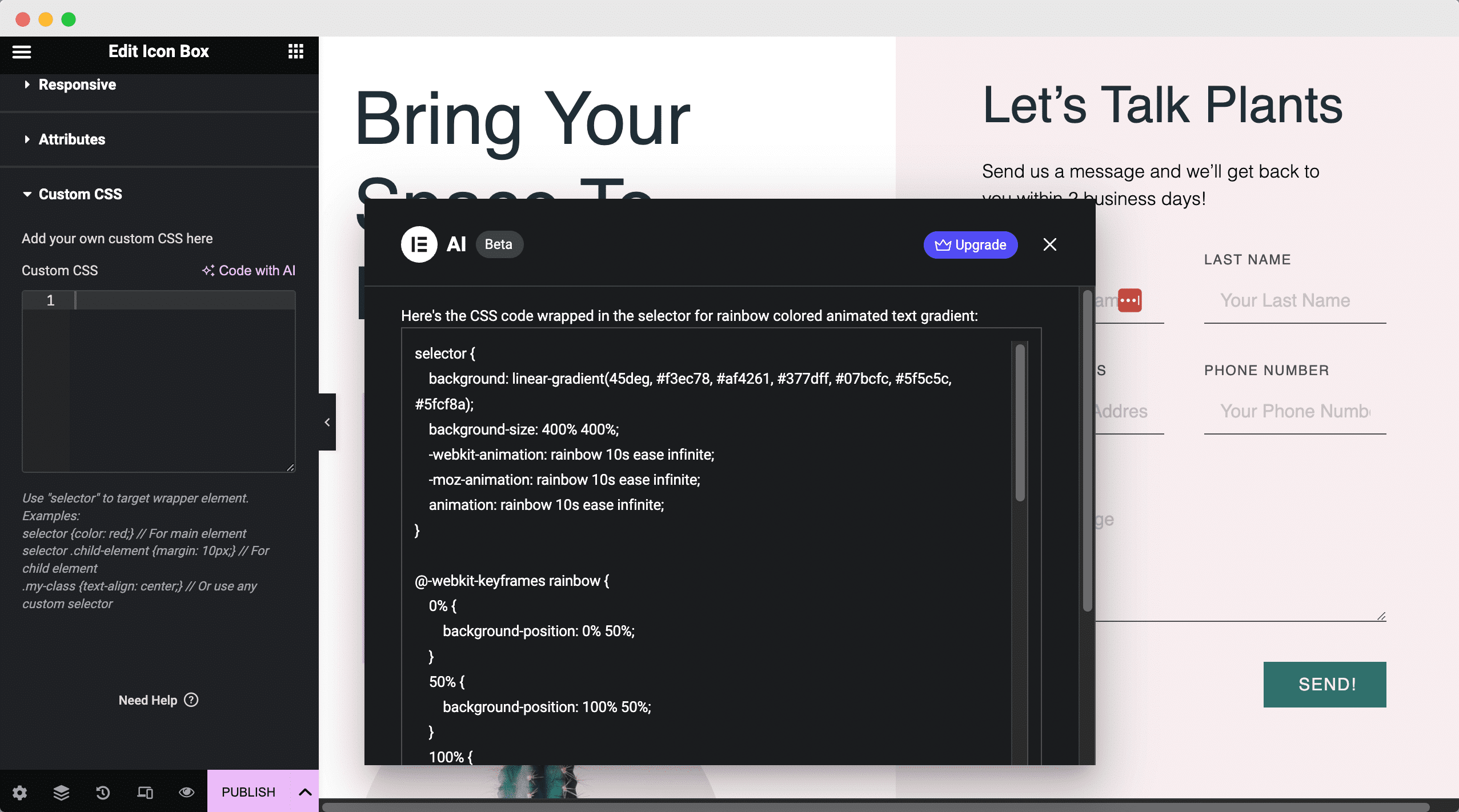 Amazing, isn't it? This way, the AI Code Assistant in Elementor can help you go over the barriers of coding and truly experience a limitless, no-coding web designing experience like never before!
Important Note: Since the Custom CSS feature is only available with Elementor PRO, you will need the premium version of Elementor in order to use the Elementor AI's Code Assistant feature.
Apply Custom Code Snippets Throughout Your Website
Another boundary-breaking innovation that you get with the power of Elementor AI is the ability to apply custom code snippets throughout your website instantly. 
If you have Elementor PRO, then you can head over to your WordPress dashboard and navigate to Elementor→ Custom Code, as shown below.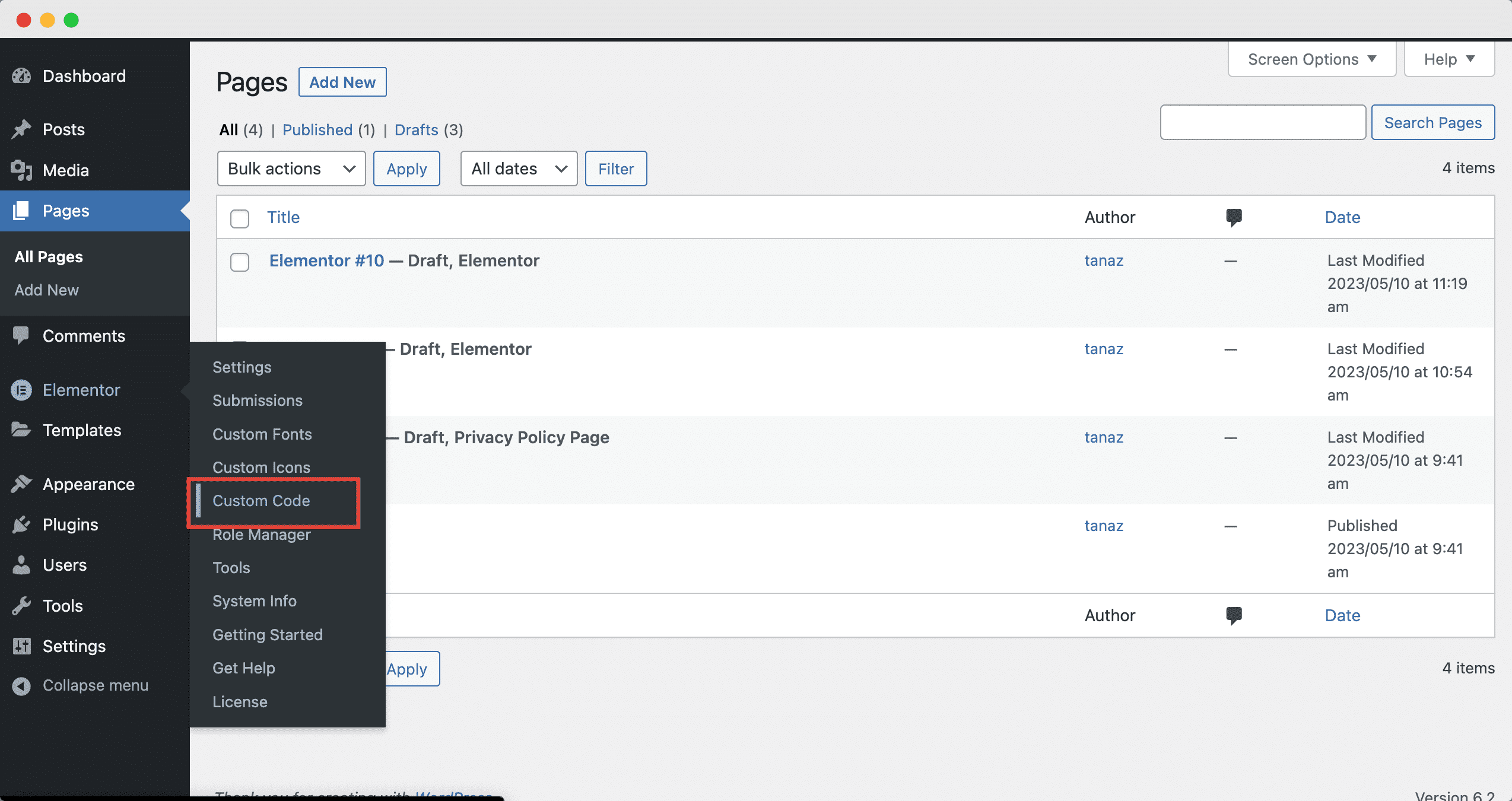 From here, you can click on the "Write me code" option to generate custom codes and insert them on your website. For this tutorial, we are going to ask Elementor AI to write an embed code for Google Analytics.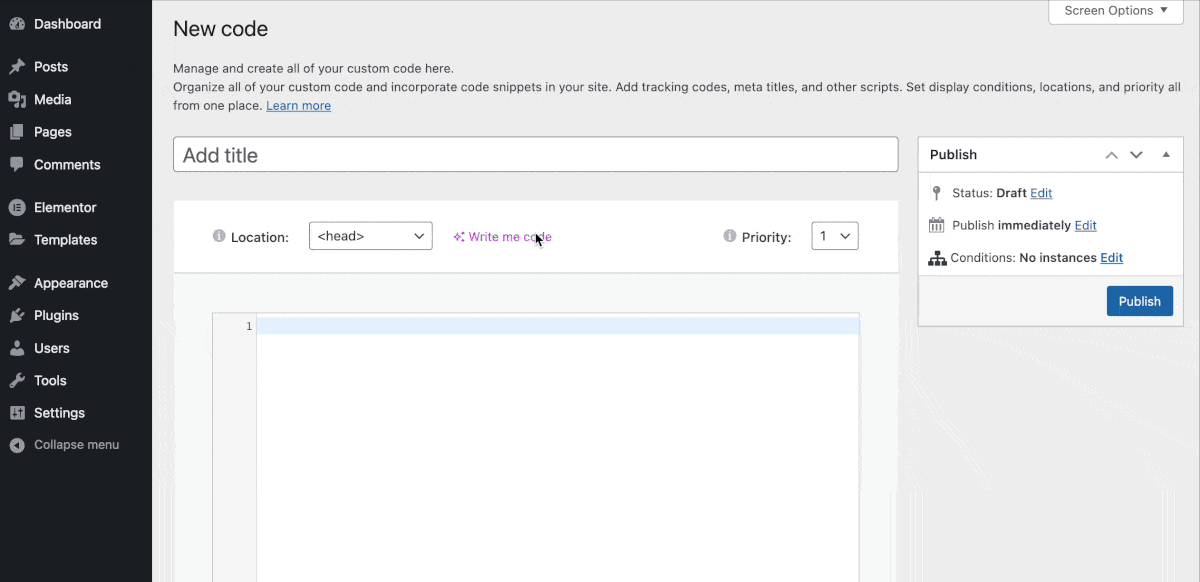 Just like that, the AI Code Assistant feature in Elementor will help you add custom codes to your website that will help you add extra functionalities or change visual elements effortlessly. In fact, you can even use this feature to apply HTML snippets for adding new widgets that aren't available in Elementor.
Explore Elementor AI Today, Now Available With Elementor v.3.13
Buckle up to level up your web design game and embark on a thrilling journey of creativity with Elementor AI. Explore the limitless possibilities that await you with artificial intelligence, now available with Elementor v.3.13. Brace yourself for a game-changing revolution in web design that will leave you inspired, empowered, and ready to conquer the digital world like never before. 
If you enjoyed this post, make sure to check out our subscribe to our blog for more fun tips and tutorials or join our friendly community for the latest updates.