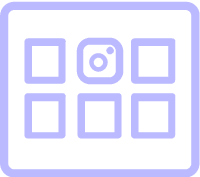 Display Instagram Feed beautifully with EA Instagram Feed element. Lots of options to customize the design of your gallery.
#1. Simple Instagram Gallery
Default style, no spacing, max 12 items, 4 columns, Low resolution (306×306), no caption.
Thumbnail (150×150), 6 columns, max 12 items, blue overlay color set, caption and link disabled, with pagination.
Caption enabled, three columns, Max 12 items, 6px spacing, standard resolution image, sorted by most likes, any dimension.