September flew by quickly this year, but left us with many new ready Elementor template packs from Templately, to kickstart powerful websites in just a few clicks. We've got all of it listed here, in this blog, to help you fuel up your web building skills with complete ease.
While you can always create your website from scratch using codes, or hire an expert to do it for you, we believe it's much more efficient to use a ready Elementor template pack that you can freely customize however you want without coding. 
And so, Templately brings you more than 1500 fully customizable and 100% responsive template packs for Elementor, that you can insert into WordPress with zero coding and just a single click. 
10+ Stunning Template Packs To Bring Your Website To Life
This September, Templately introduced more than 10 Elementor template packs to instantly build websites that will be a success and bring you high conversions. Regardless of the type of WordPress site you want to create, you will find the best choice for you here. 
Responsive Templates To Create Portfolio Websites
First off, we understand that personal portfolio websites are a must-have in this fast pacing digital era for anyone who wants to showcase their skills and experiences online and kickstart their own businesses. And so, this September, we have introduced three template packs to add to our massive collection for: 
 Bankers or financial specialists
 Social media marketers
 Male models and fashion enthusiasts
FinGuru: Perfect Template For Bankers & Finance Analysts
One of the most popular template packs released this month with already more than 1.5K downloads is FinGuru, a template pack that has been designed and developed for bankers and financial specialists. It's a starter pack from Templately that brings along 8 stunning landing pages that you can use to create any section of your WordPress website with complete ease. 
You'll get a Home Page template that can help you showcase detailed descriptions, latest news, engaging testimonials, and even list the services that your business will be offering to the clients. It has every element that you need to build a successful financial website for yourself with no coding. 
FinGuru also offers the following striking landing pages as listed below to help financial advisors, consultants or even agents to showcase the services they provide in complete detail, latest updates, news, and more.
Business related: About Page
Service related: Services Page, Service Details Page, Loan Form Page
News & updates related: Blog Page, Single Post Page
Contact related: Contact Page
DigiMarketer: A Template For Social Media Marketers
Next, we have a premium website landing page template for social media marketers – DigiMarketer. So, if you are someone who specializes in social media engagement and is seeking to start your own business, this template is just the one for you.
This modern and professional-looking website template is perfect for anyone working in digital marketing or advertising. With minimal but dynamic designs, DigiMarketer can help you instantly catch web visitor's eyes. You'll get ready-built sections to showcase your works and projects, along with responsive counters and testimonial sliders to display credibility.
Huxly: Portfolio Template For Rising Male Fashion Models
Another Elementor template pack that is quickly becoming very popular among our users is Huxly. This free, yet professionally made website template with 4 website landing pages is designed to help aspiring and rising male models create a portfolio that will surely bring them under the spotlight and get them more modeling opportunities.
This minimalist template pack with very soothing colors is designed to put website visitor's focus on your photographs and work experiences instantly.
Along with a Home Page where you can add all your personal information, you'll get separate Portfolio and Gallery pages to easily showcase the type of work you are experienced in and are willing to try out. You can easily insert engaging videos and professional photographs with just a click using Elementor.
And of course, it comes with a Contact Page through which fashion brands can reach out to you instantly and bring you irresistible opportunities.
Templates For Booming Agencies & Marketplaces
Over the months, Templately has introduced tons of modern, stylish, and powerful Elementor template packs and September was no different. Take a look at the latest website templates for agencies and marketplaces: 
🎯 NFT Marketplace
🎯 SEO Agencies
🎯 Advertisement Agencies
NFTrade: One-of-a-kind Pack To Match NFT's Uniqueness
One of the biggest rage in recent times is NFTs and crypto art. And so, Templately took the opportunity to create its third NFT website template pack for Elementor – NFTrade. It's a fully responsive, premium template to help you create a successful marketplace with high conversion rates and sales. 
With stylish designs, modern features, and bold, vibrant colors to instantly grab attention, NFTrade has also been developed for NFT agencies, asset stores, Crypto art markets, digital asset bidding websites, and other unique marketplaces.
This one-of-a-kind  template pack with 5 website landing page templates: 
 Website related: Home page, About page
 Marketplace related: Items page, Item details page, Author page
RankPRO: Premium Template Pack For SEO Agencies
Next up, we have RankPro – a minimal yet eye-catching, and powerful template pack for your new SEO agency. This Elementor template will help you effortlessly set up a high-ranking website, instantly skyrocket your own business and easily attract clients who want to improve their website scores and traffic. 
Featuring a soothing color palette, this aesthetically pleasing agency template pack comes with 5 fully customizable, attractive landing page templates which you can implement on your website without using any codes.
CandyBox: Advertising Agency Website Template Pack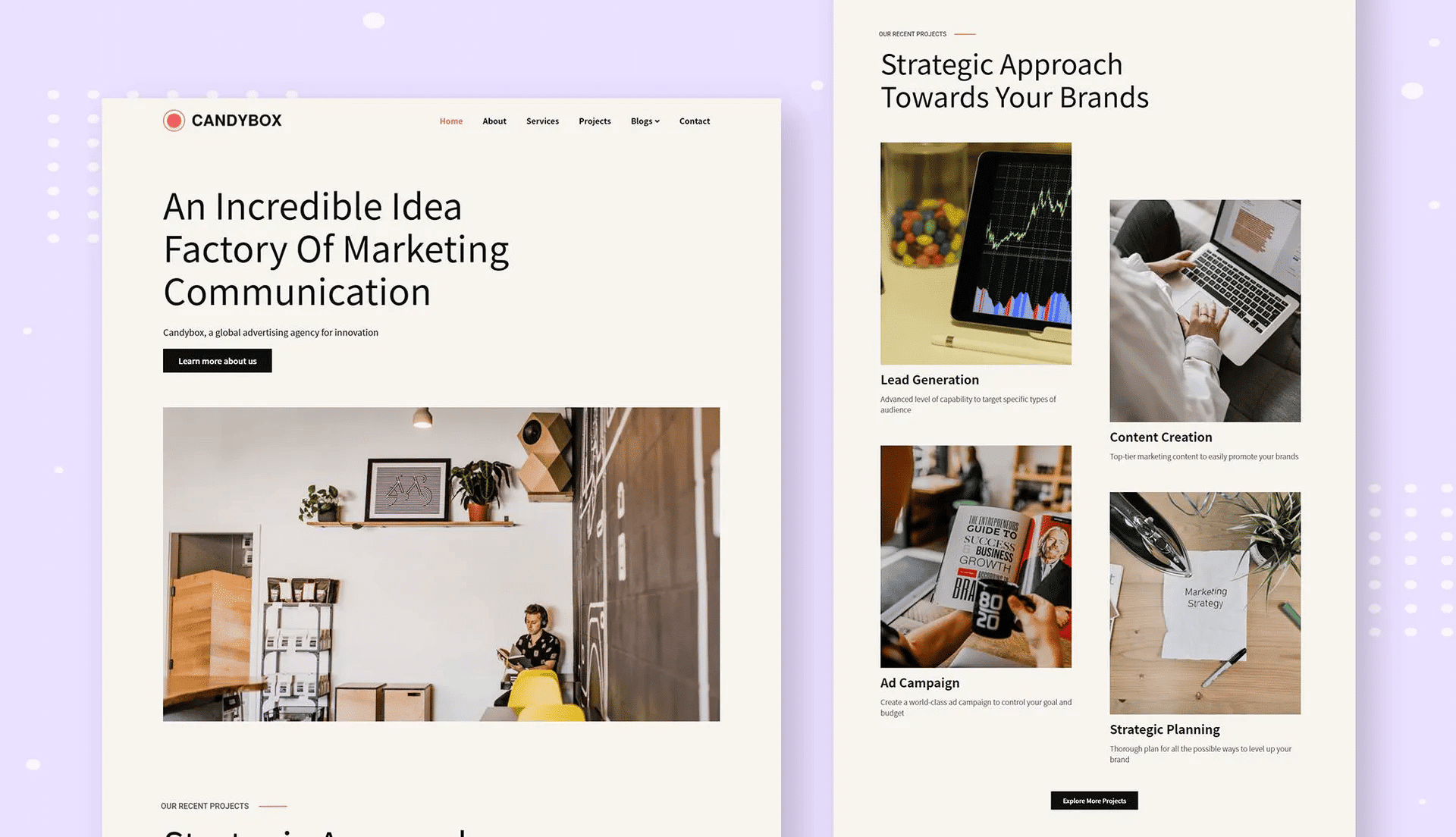 And then we have CandyBox, an advertising agency website template pack that is sure to attract many users and clients to your website, just like a candybox. You can easily grow your own business while helping your clients with their brand advertisements. 
Templately developed this pack with 7 templates to help build a website that is fully equipped with every type of landing page or block that you might need for a fully functional online business. You will be able to showcase your services, projects, blogs, latest news, testimonials, and much more – everything that you need to advertise your own and other's websites and brand with complete ease.  
community for more new templates, updates, and fun tutorial.
Check Out Other NFT Templates From Templately:
Creative Templates For Diverse & Unique Site Types
This September, Templately also added several new Elementor template packs to its growing collection, that can help you create unique websites for many different kinds of businesses and ventures:   
Event Management             
Skin Care Clinic
Online News Portal             
Psychology Clinic
Online Health Magazine
EvenTor: A Template Pack For Event Management Businesses
First up, we have an event management website template pack that can help event organizers everywhere create an engaging online business – EvenTor. This soothing template comes with designs and features that instantly catch visitors' eyes and keeps them hooked to your website. 
This is another premium template pack that comes with multiple landing pages, interactive call-to-action buttons testimonial sections, projects page, and more. 
Luminous Beauty: Beautiful Pack Built For Skin Care Clinics
If you're looking to start an online website for your Skin Care Clinic, Luminous Beauty is the perfect one for you. This is another one of Templately's stunning Elementor website template pack that comes with 7 landing pages. 
You'll get access to a Service Page to list down all the different types of services your clinic will provide to its customers and clients, a Shop Page to sell products online on a regular basis, Blog Pages to upload the latest news, trends, and updates about the beauty world and your business alike. 
Press24: A Buzzing Online News Portal Website Template
Next up we have Press24, a website template pack with 6 landing pages that can help you create a popular online news portal site with many viewers and users. You will be able to categorize your news, then display them as blog posts, allow a contact form, tell the world about your business and your team members. 
It's a template pack that will not only help you create a news portal that drives traffic but also set it apart from the rest on the internet with its striking colors, interactive call-to-action buttons, category tabs, and more, in no time. 
MyCounsel: Psychologist's Go-To Template For A Website

You can create a powerful website for strong mental health patients and clients using MyCounsel. With 9 landing page templates, this is the biggest template pack from Templately in September but for good reasons too. This template pack will not leave out any chance to help you create a complete website. 
It even includes a responsive and fully functioned appointment page that will allow you and your team members to book clients for a counseling session. Your clients will be able to get in touch whenever needed and this will definitely ensure high conversion rates and maximum satisfied clients. Your website will be a success in no time. 
Healthnomic: An Online Health Magazine Pack That Engages
And finally, the last template pack on our list for September template packs this time is one for an online magazine. We bring you Healthnomic – a stylish, one-of-a-kind, and highly customizable health magazine template for an online magazine with 5 landing pages that load instantly on any device and all browsers. 
Guide: Use Ready Template Packs From Templately
And with that, we come to an end for our ultimate list for template packs released by Templately in September. But before we leave, we want to give you a quick overview of how to quickly use these ready template packs from Templately.
All you have to do is sign up for Templately, insert the template or pack that you want to create your website within Elementor editor, add your personal touches to it. You can effortlessly add extra widgets from Elementor or Essential Addons for Elementor to customize the template packs even further and match your brands perfectly, and that's it. 
We are constantly adding new templates, so stay tuned for more. Try out any of the templates listed here or from our massive library in Templately, and let us know of your experience in the comments below. Don't forget to subscribe to our blog or join our Facebook