A text-heavy website can be unappealing to look at. If your website consists of too many texts and fewer visual components, you can use an interactive circle by Essential Addons and display your content in an attractive circular pattern. Let's dive in to learn how to showcase a lot of content in minimal space using this amazing widget. 
Why Do You Need Interactive Circle Widget On Your Website?
For web designers, it becomes challenging to make the website more interactive and at the same time convenient from the user's end. If the website contains a lot of text-based content, it becomes more difficult to present it in the right way. 
Research says that almost 38% of people stop engaging with any website that has an unappealing design layout. In this case, your website's traffic is also depending on your website design as well. Let's explore all the benefits you will get to effectively design your text-based content using an interactive circle widget by Essential Addons in your WordPress website.
Animated Presentation Of Your Website Content
Even though your website includes a lot of text-based content, you may present it in a compelling way to attract visitors and make it easy for them to check it out. Different patterns are common for presenting your website material, so a little motion might help you attract your visitors' interest. Using the Interactive Circle widget by Essential Addons, you can showcase your text-based content with an animated pattern and make the section look more attractive.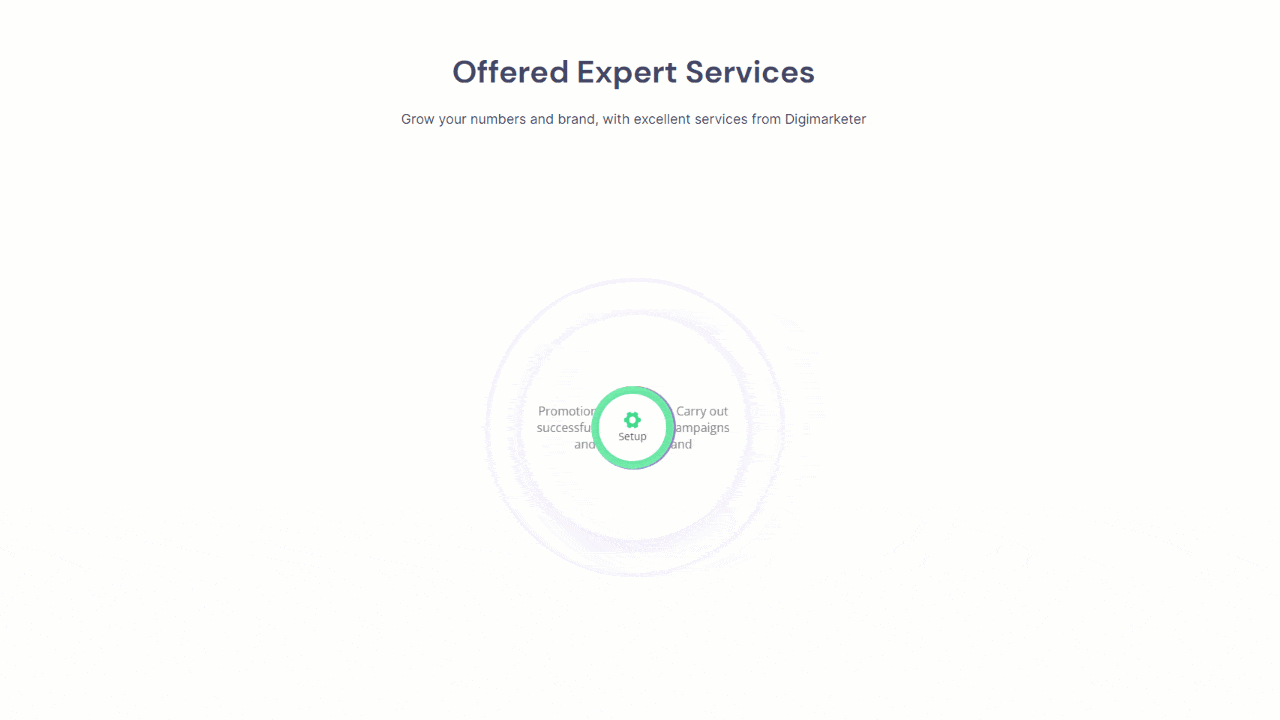 Interactive & Responsive Design For Your Website
It can be difficult for users to find your website on search engines, read content, or navigate your website if it lacks responsive design. This could be due to layout flaws, poor images, text that is too small, or too many infographics that makes your website look cluttered. If you're using a desktop or laptop computer, you can resize this window by clicking and dragging the corner. 
Creating a dynamic design for your website can be easier using an interactive circle widget by Essential addons. No matter what kind of device your website visitors might be using to access your website, your design will not break if you use this widget to present your text-based content.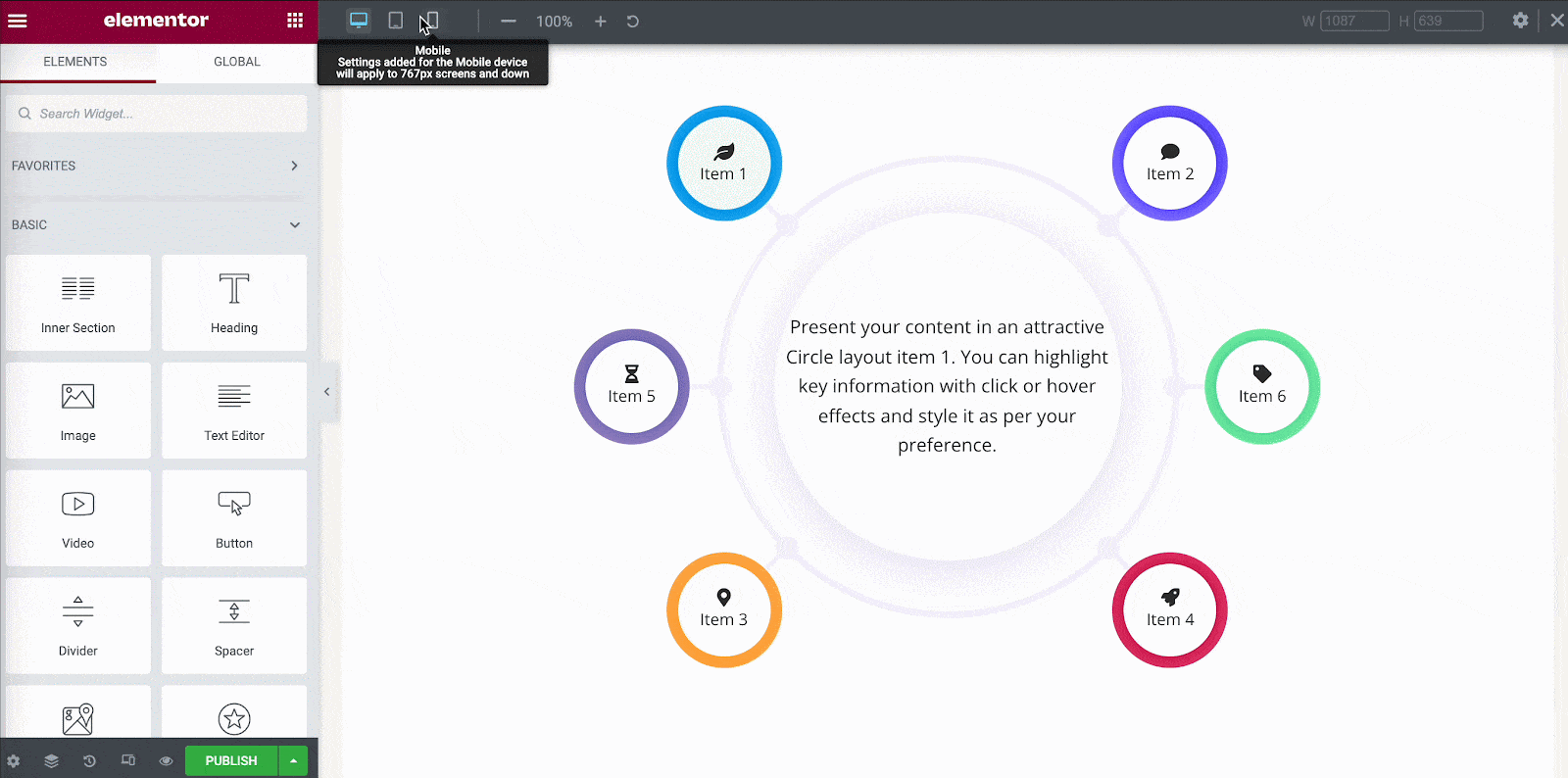 Interactive Circle Widget To Create Beautiful Website
You can display your text-based content in an appealing circular motion with this widget, grabbing the attention of your website users. If you wish to provide your content menu, for example, you can use an interactive circle to present the content while also saving space. A simple text-based content will appear more fascinating and enticing in this manner. Let's find out how easily you can get started with the Interactive Circle widget by the Essential Addons plugin. 
Things You Need To Use Interactive Circle By Essential Addons
Elementor: To use Interactive Circle Widget, you must first install and activate Elementor, after which you are ready to start.
Essential Addons For Elementor: You must install and activate Essential Addons for Elementor on your website in order to use the 'Interactive Circle' widget.
Step 1: Activate Essential Addons Interactive Circle Widget 
Let's make your website more interactive and appealing by using the 'Interactive Circle' widget by Essential Addons. All you need to do is, ensure that you are using the latest version of this plugin. 
The Interactive Circle widget must be enabled in Elementor. Go to Essential Addons Elements in your WordPress dashboard and make sure the 'Interactive Circle' widget is turned on. To ensure that your changes are saved, click the 'Save Settings' button.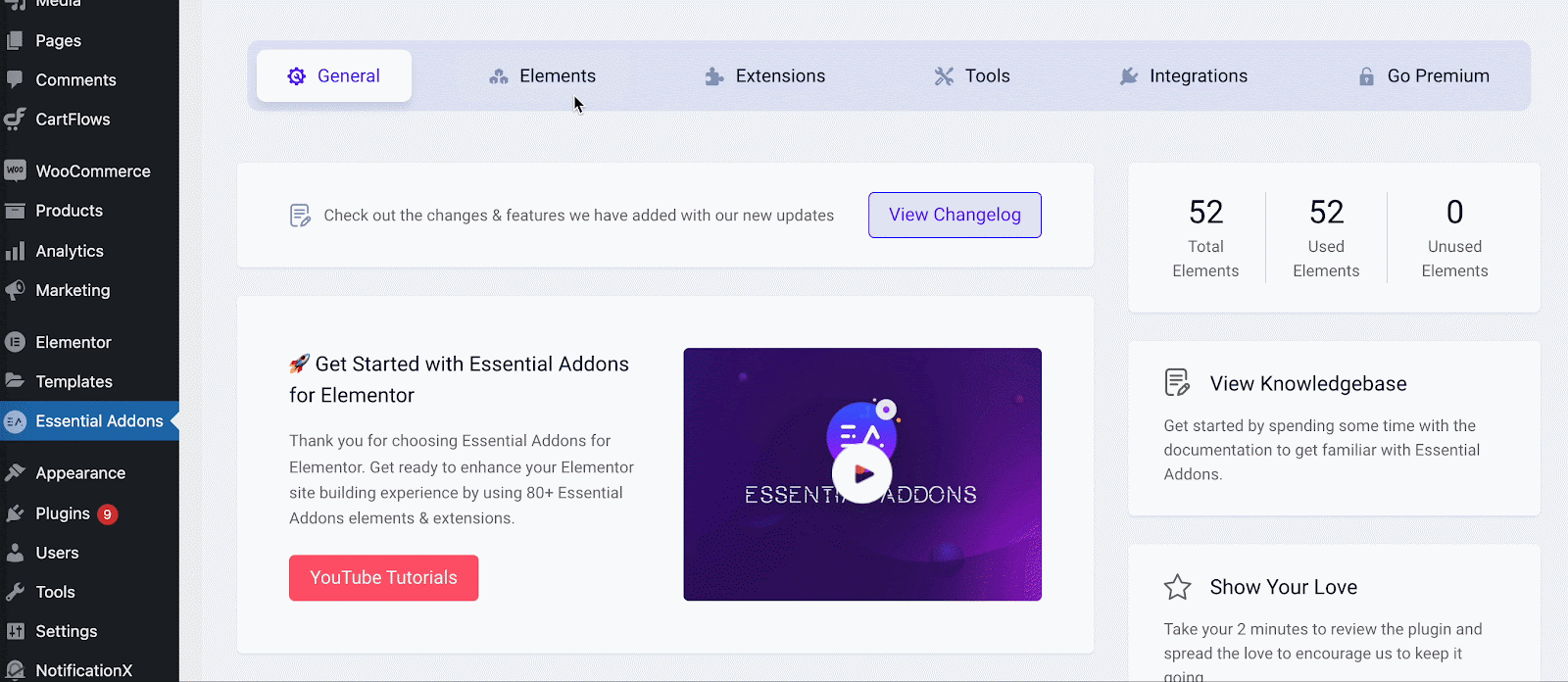 Look for the 'Interactive Circle' widget in the 'Elements' tab of Elementor. Drag and drop the elements wherever you want to show the text-based content.
Step 2: Start Customizing Your Content Settings 
This widget lets you customize the default content and add your own content. From the General tab, you can set any layout from the options. The Interactive Circle widget comes with 4 preset-ready layouts. Play around with the layouts and see which one suits your text-based content the best.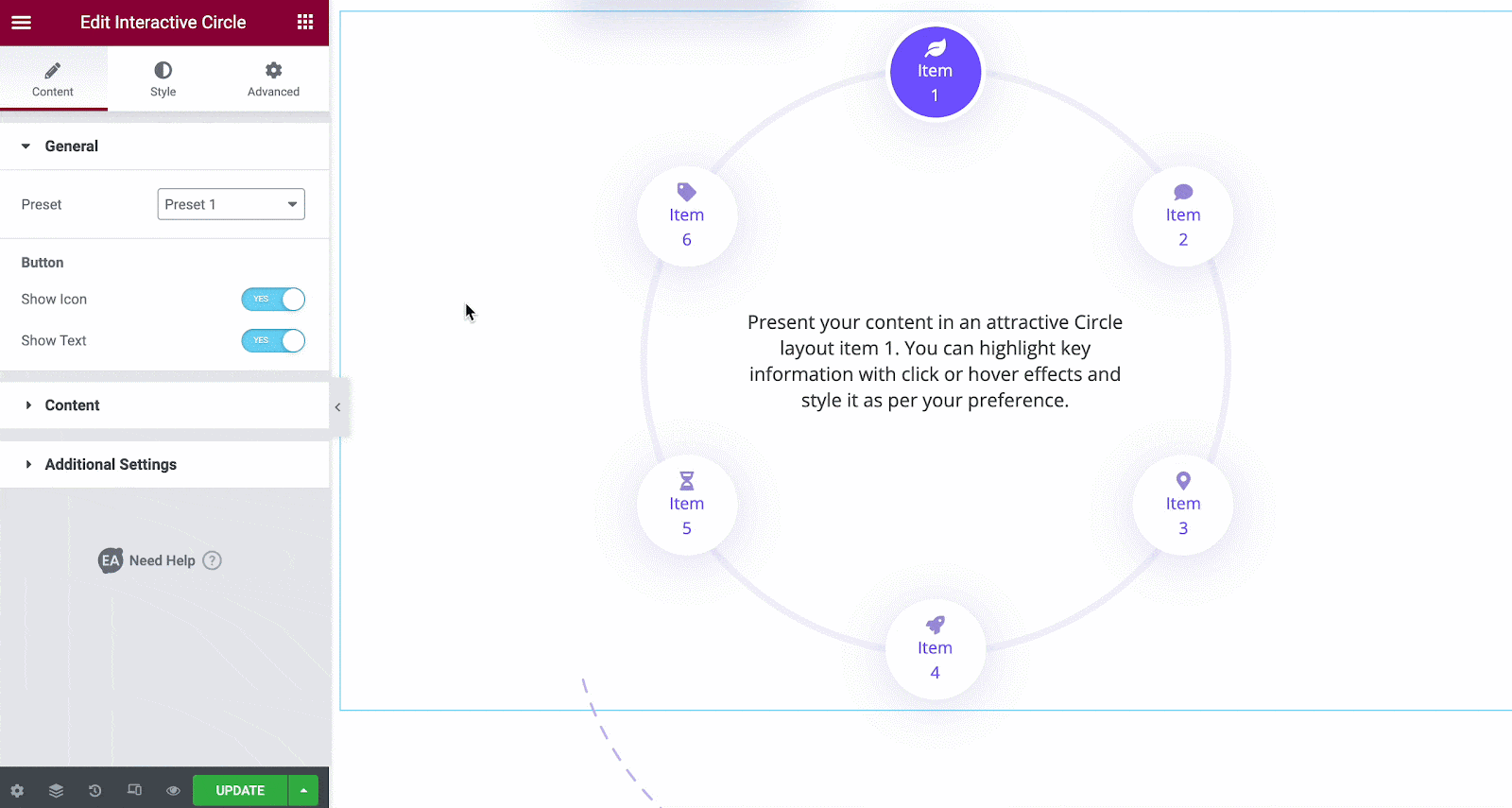 You can also choose whether the buttons in your EA Interactive Circle widget should display icons or text. To hide or show icons and text, toggle the 'Show Icon' and 'Show Text' options under the 'Button' settings, respectively. This widget is very handy for lots of customizations. You can choose from options and create your own circular menu as per your preference.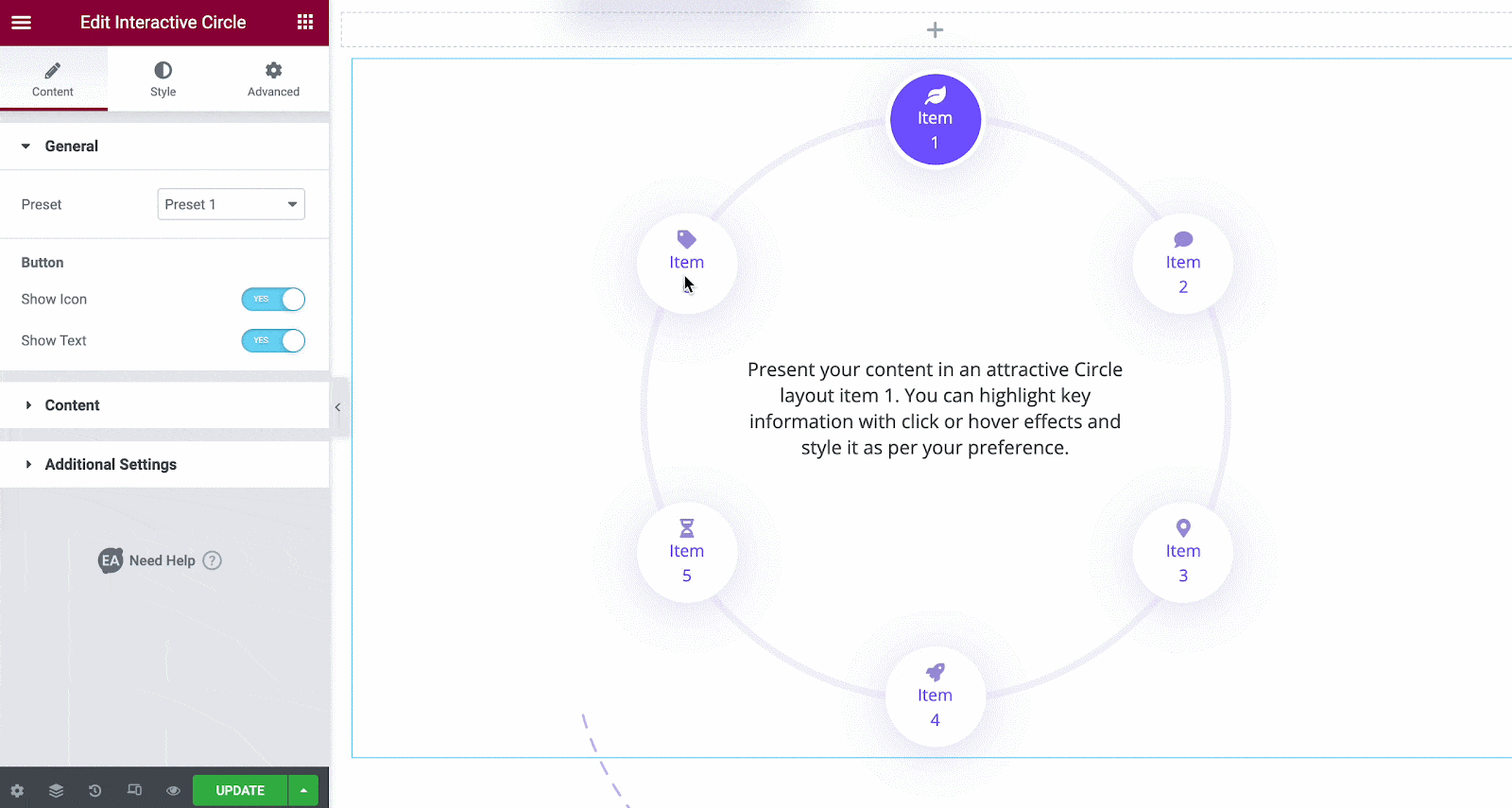 The most important part of using this widget is, you can give your own content and add more circular options as needed. You can add the number of items you want to display with your EA Interactive Circle widget under the 'Content' settings. Simply click the '+ Add Item' button to add a new item. In the same way, you can remove or copy an item from the settings. However, for the sake of design, you can only add up to 8 options at a time; otherwise, the sequence would be broken.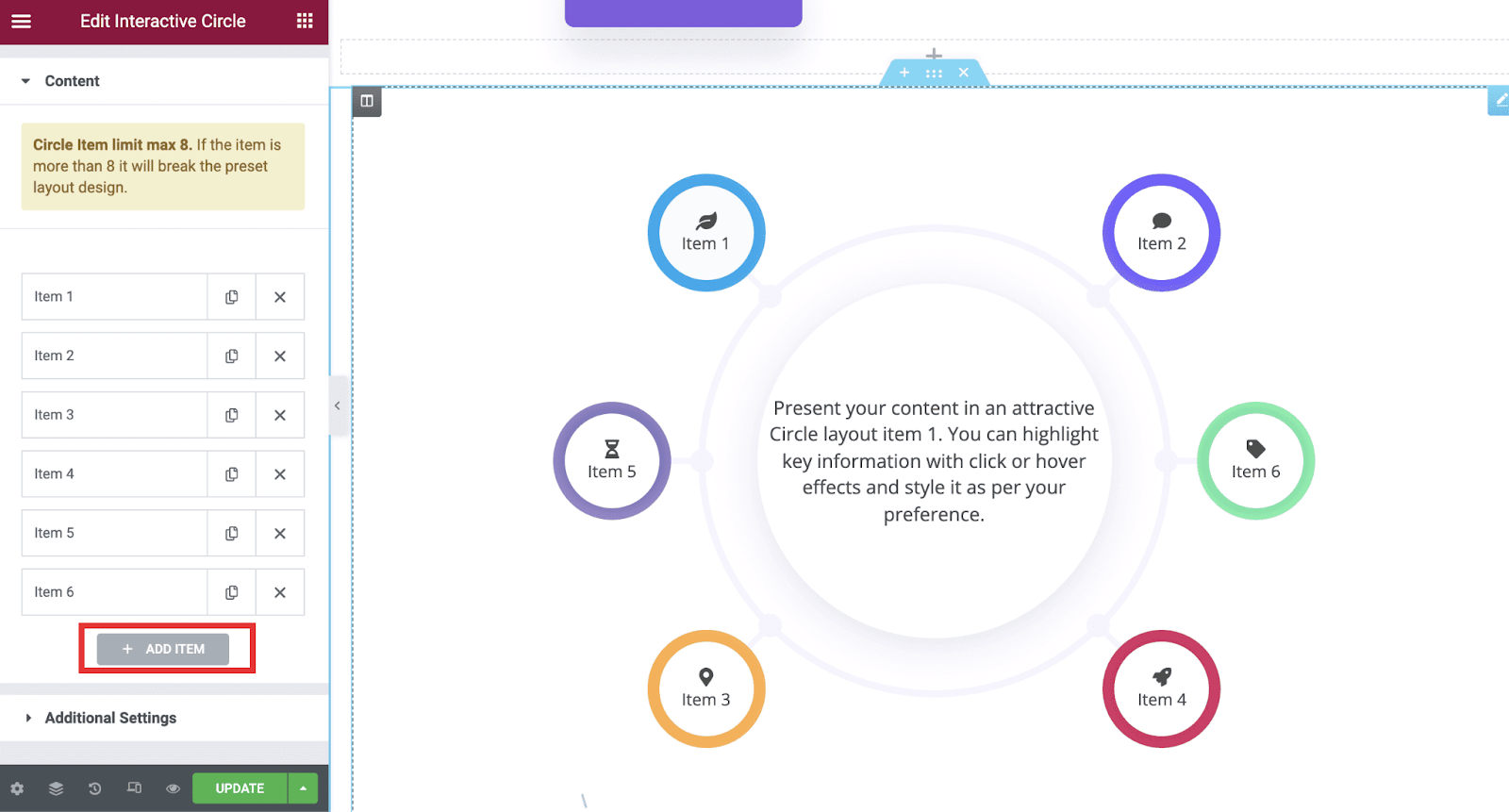 There are three tabs: 'Button,' 'Content,' and 'Style.' You can add an icon for the item and edit the title from the 'Short Title' input field on the 'Button' tab. Similarly, you may add content to your item from the 'Content' tab, and you can add background colors to your item from the 'Style' tab. 
You can receive extra setting options from the 'Additional Settings' option to help you make your EA Interactive Circle widget more dynamic. You can pick between 'Click' and 'Hover' interactions in the 'Mouse Event' option. You may also use the 'Additional Settings' option to add stylish and eye-catching animations. As illustrated below, there are three different animation styles to choose from.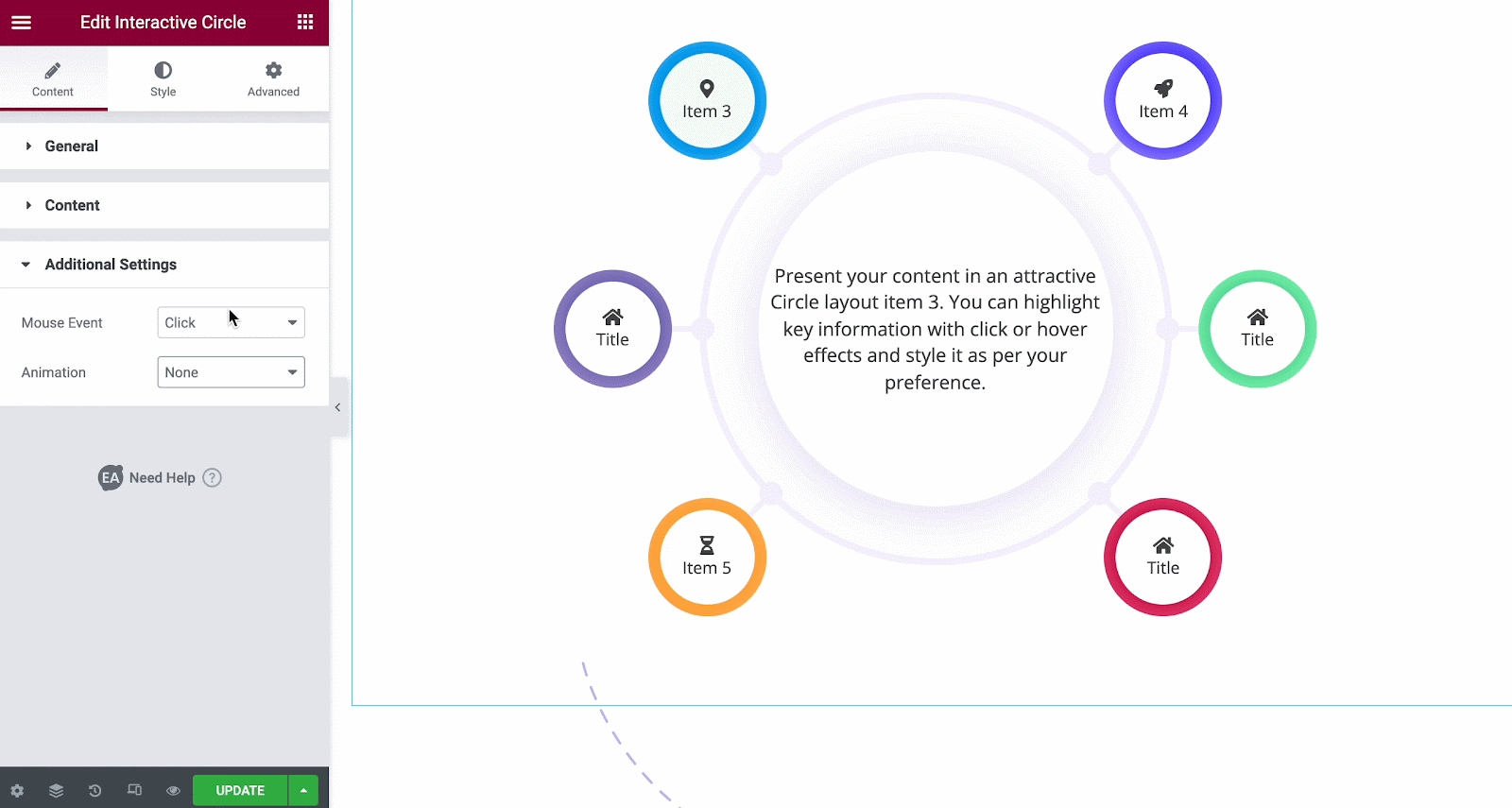 Step 3: Style Your Interactive Text-Based Content 
EA Interactive Circle widget comes with lots of styling options. This option can make a great difference in terms of anyone's interactive circle. By altering the background color, text pattern or color, circle width, and padding or merging, you can change the appearance.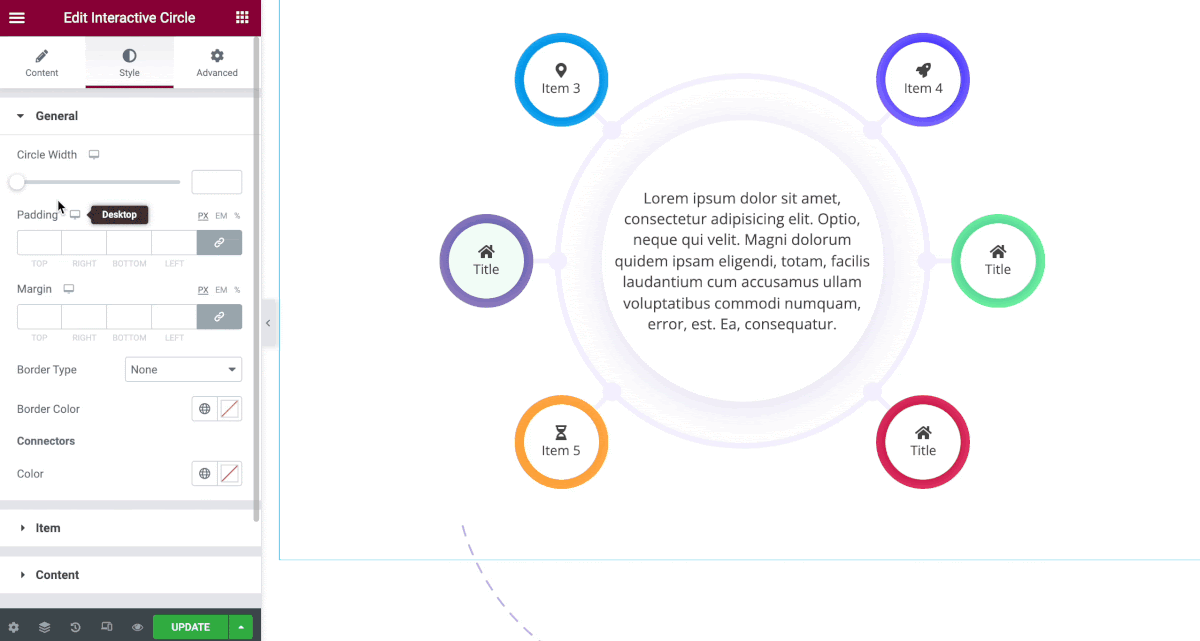 You may alter the typography for each item in your EA Interactive Circle from the 'Item' settings. Each item's width and icon size can also be adjusted. You can also alter the background color, text color, icon color, and many other things.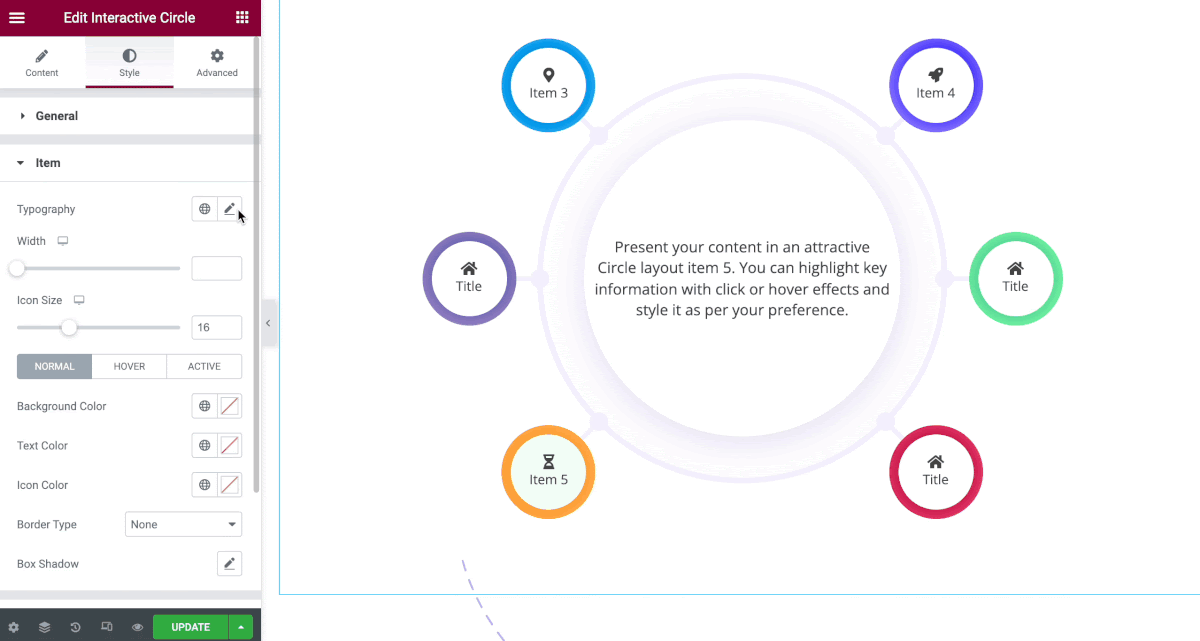 If you're satisfied with the appearance of your interactive circle, you can now publish your page. Take a peek at the Elementor interactive circle we made for this topic.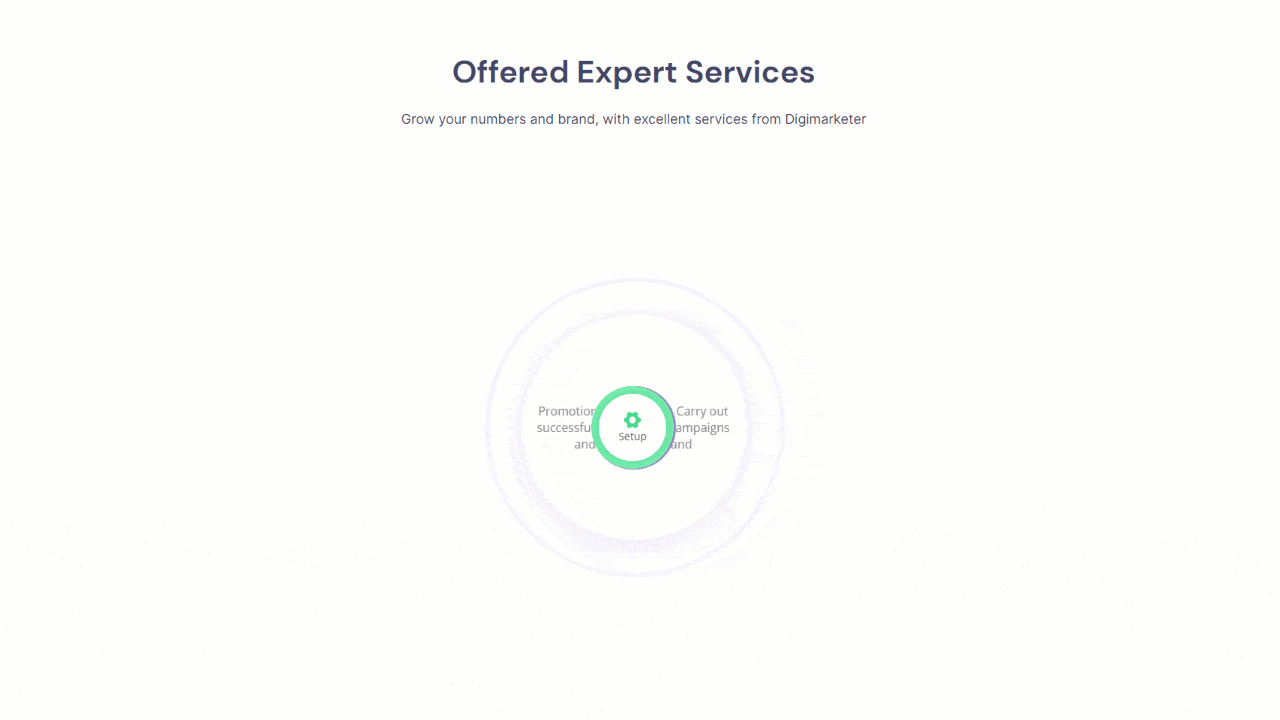 As you can see, Essential Addons for Elementor allows creating a magnificent Interactive Circle and turning your web page into a more fascinating way extremely simple. 
Finally, we believe strongly in the value of continuous improvement. With this in mind, we're working hard to offer you fantastic new Essential Addons for Elementor updates so you may have an even better website design experience with Elementor.
So, what do you have to lose? Update to Essential Addons 5.0 as soon as possible to take advantage of all of the new advanced widgets and extensions including the Interactive Circle widget. 
Try it out for yourself, and if you have any questions, please contact our support team. Subscribe to our blog or join our friendly Facebook community for more information on the latest Elementor addons, web design tutorials, tips and tricks, and more.