What could be a better way to notify new visitors to your website about recent sales you've made? Boost your conversion up to 60% and create sales notifications on WordPress websites or stores. By displaying sales notifications, you can convince visitors that they might be missing out if they don't act quickly. But what if Elementor could be used to make these sales popups? Let's explore these best practices in more detail with tutorials.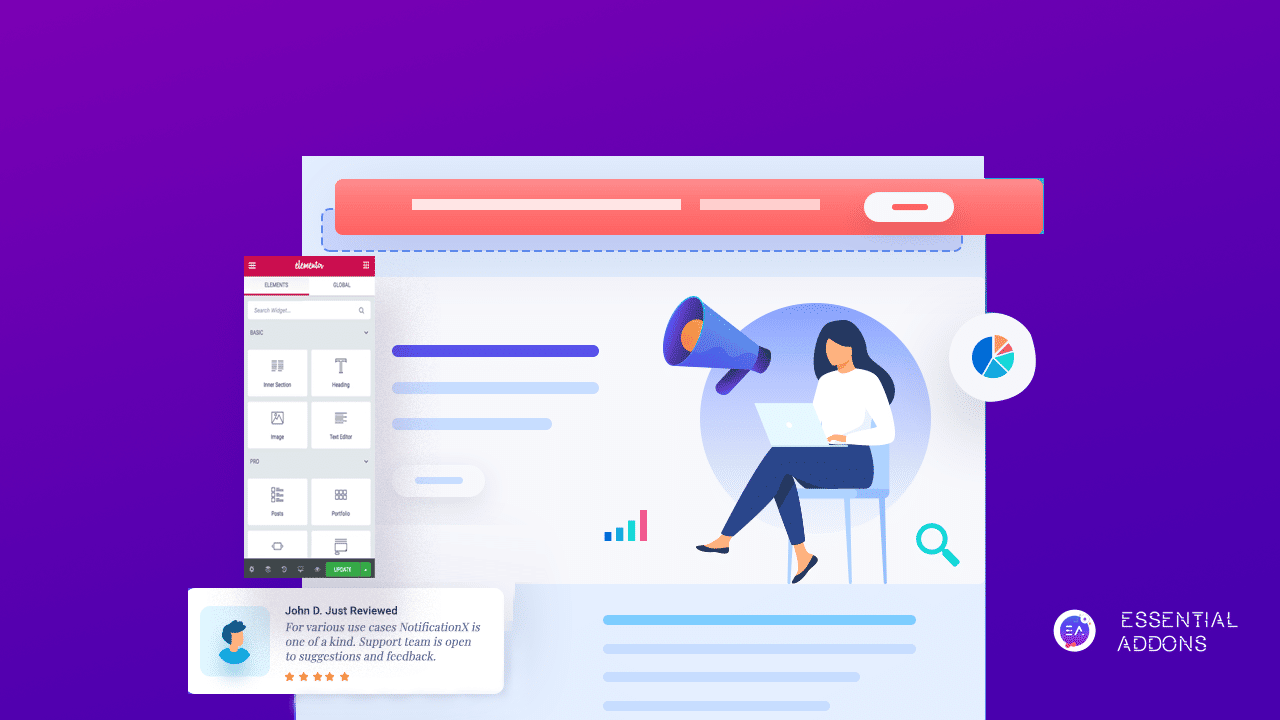 When you are using Elementor in WordPress, you don't need to learn coding to create any sales notifications. Thankfully, NotificationX has introduced integration with Elementor with shortcodes to create notification alerts besides all other amazing features. Let's see how NotificationX can get you started immediately. 
How To Create Sales Notifications In WordPress Using NotificationX
If you are a NotificationX user and want to excel in FOMO marketing using Elementor, there is good news for you. Using NotificationX, you can now showcase all your sales alerts with the help of shortcodes. For this, you must install NotificationX Pro along with the free version. Let's dive in and figure out how you can show all your sales notifications on WordPress pages, posts or wherever you want. 
Make sure NotificationX is all set up on your WordPress website and that you have produced at least one alert before you start. You may now view a list of your notifications from the NotificationX dashboard for which you need to go to the 'All NotificationX' option.  Simply select the notification you want and the shortcode for that specific notice will be copied to your clipboard.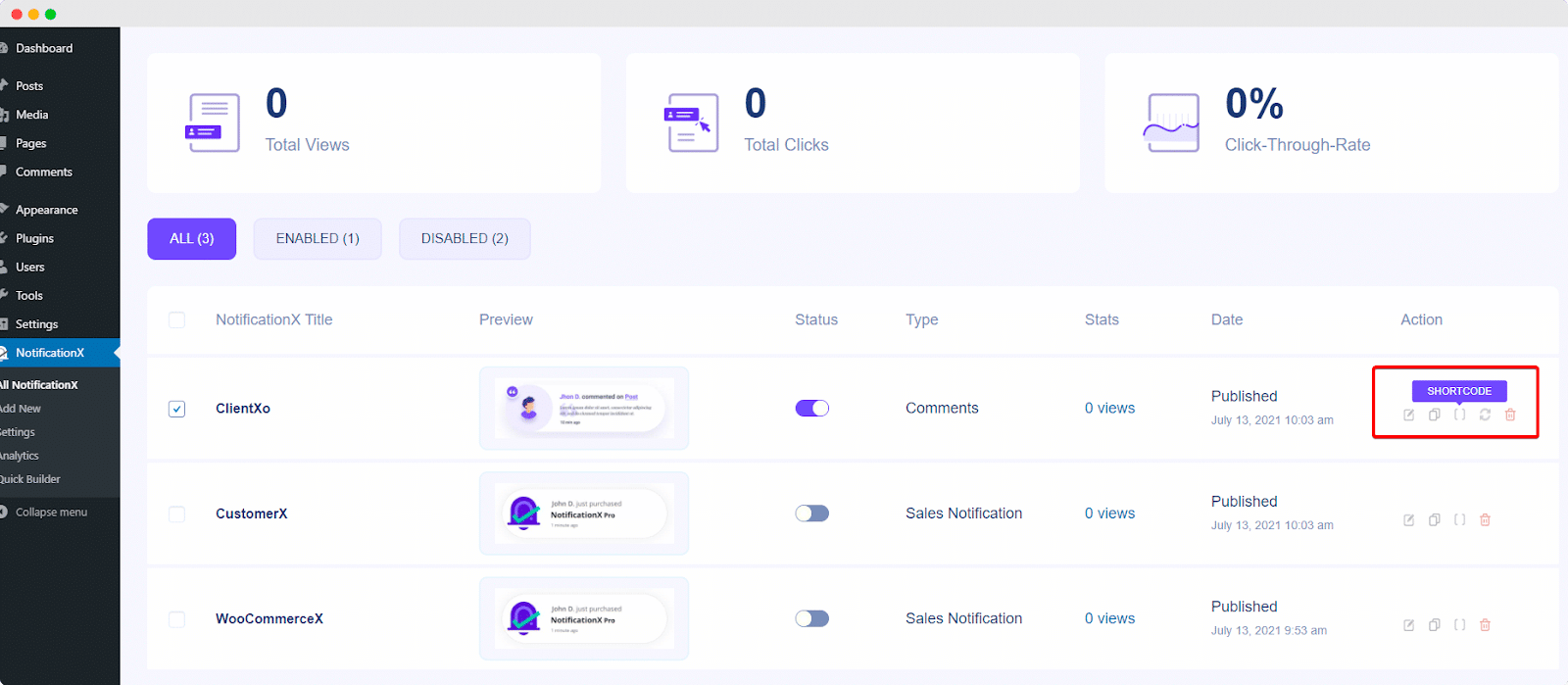 The next step is super simple. Open your page or post in Elementor where you want to show the sales notification alert. Click on the section you want to show the FOMO alert and paste the copied shortcode into Elementor text.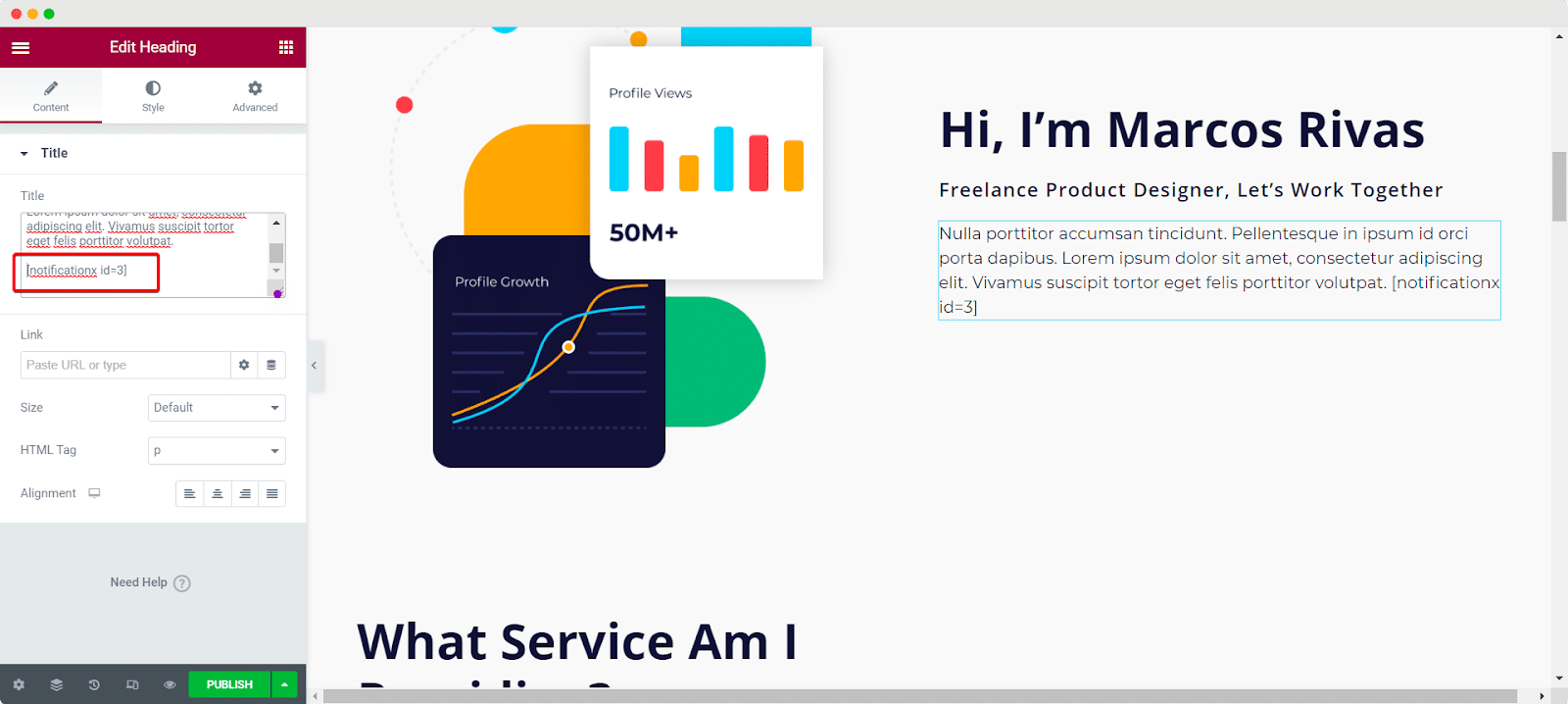 Now that you are done with these steps, you need to head back to the dashboard and click on the 'Display' option. When you scroll down to the 'Visibility' section, you will see multiple options from the 'Show On' dropdown. Choose the 'Use Only as Shortcode' from the dropdown and click the 'Next' button to save the progress.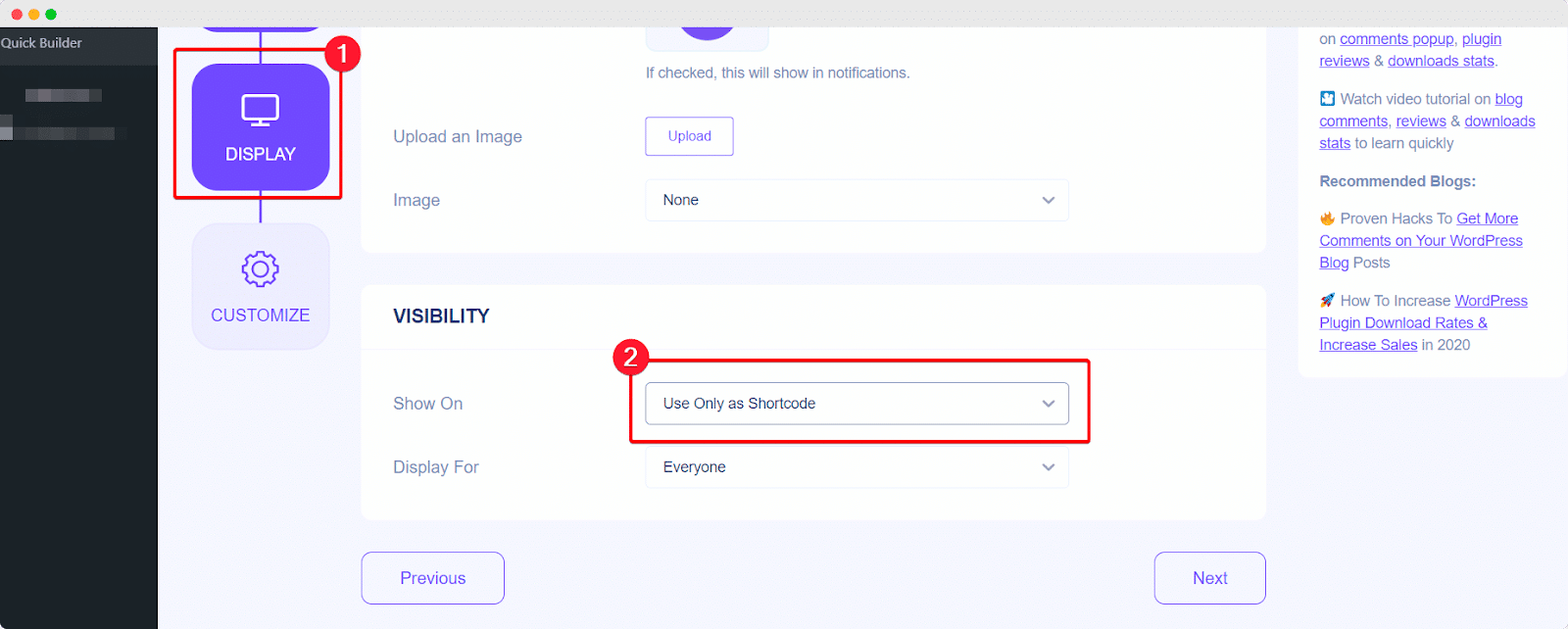 You have the option to solely use Shortcode to display the notification popup and hide the default notification alert. Assuming you are creating a new notification, ensure that the previous steps "Source," "Design," and "Content"—have been completed. then navigate to the "Display" tab. On the other hand, if you already generated an alert, you can access the 'Display' Tab page from within that by using the NotificationX dashboard. As you are done with these, now head over to the published page or post and see the output.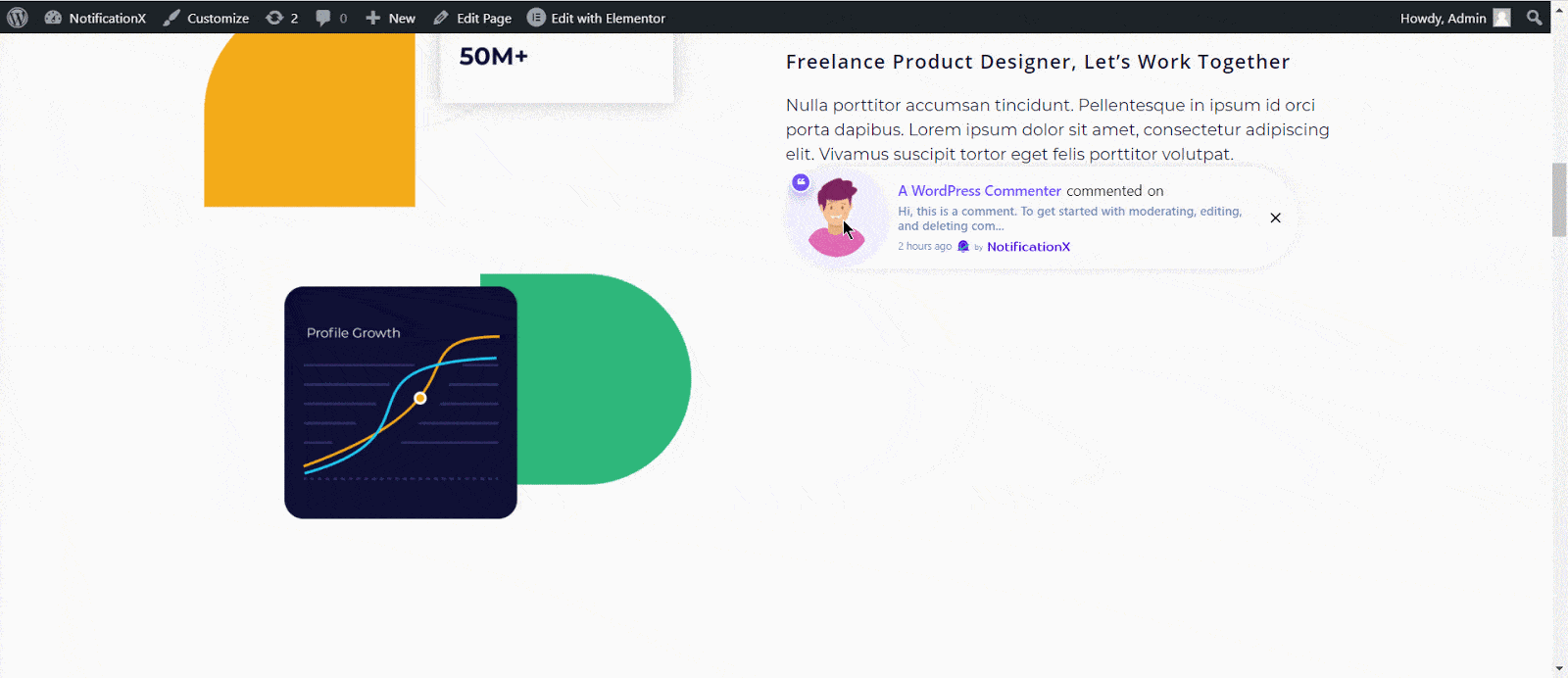 Boost Your Sales Using WordPress Notification Bar With Elementor
On any kind of website, a WordPress notification bar is a fantastic way to boost participation. It can be used for many things, including significant announcements and sales promotions. It is a unique strategy to grab website users' attention and boost conversion rates. You can now design stunning WordPress Notification bars in just 5 minutes thanks to the integration of NotificationX and Elementor. It sounds incredible, doesn't it? Let's get started and discover how you can use Elementor to construct your WordPress notification bar. 
You must build a notification bar in NotificationX when NotificationX is finished installing and activating. From your WordPress dashboard, go to NotificationX 'Add New' to do this. You will be directed to a new page where, as seen below, you can select "Notification Bar" as your source.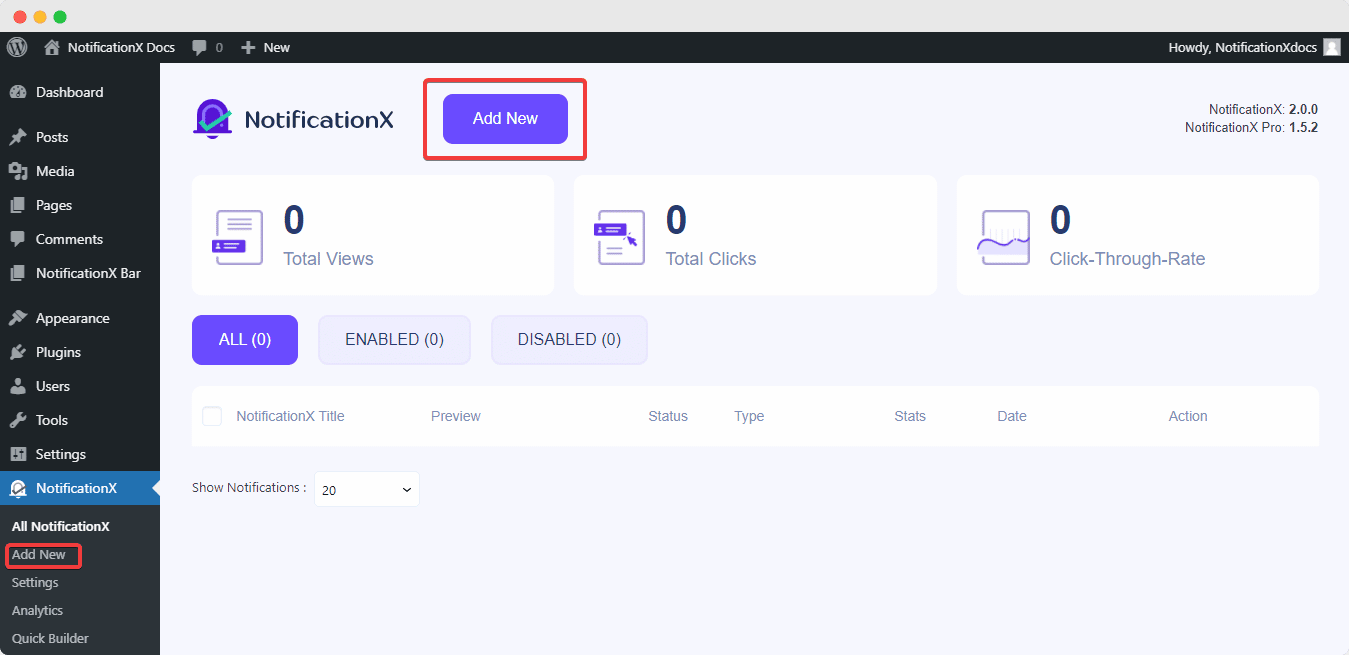 You will be taken to the 'Source' Tab page of your NotificationX user interface once you are finished. Give the alert a title and choose "Notification Bar" as the notification type. Your notification source will be set to "Press Bar" by default. Next, press the "Next" button.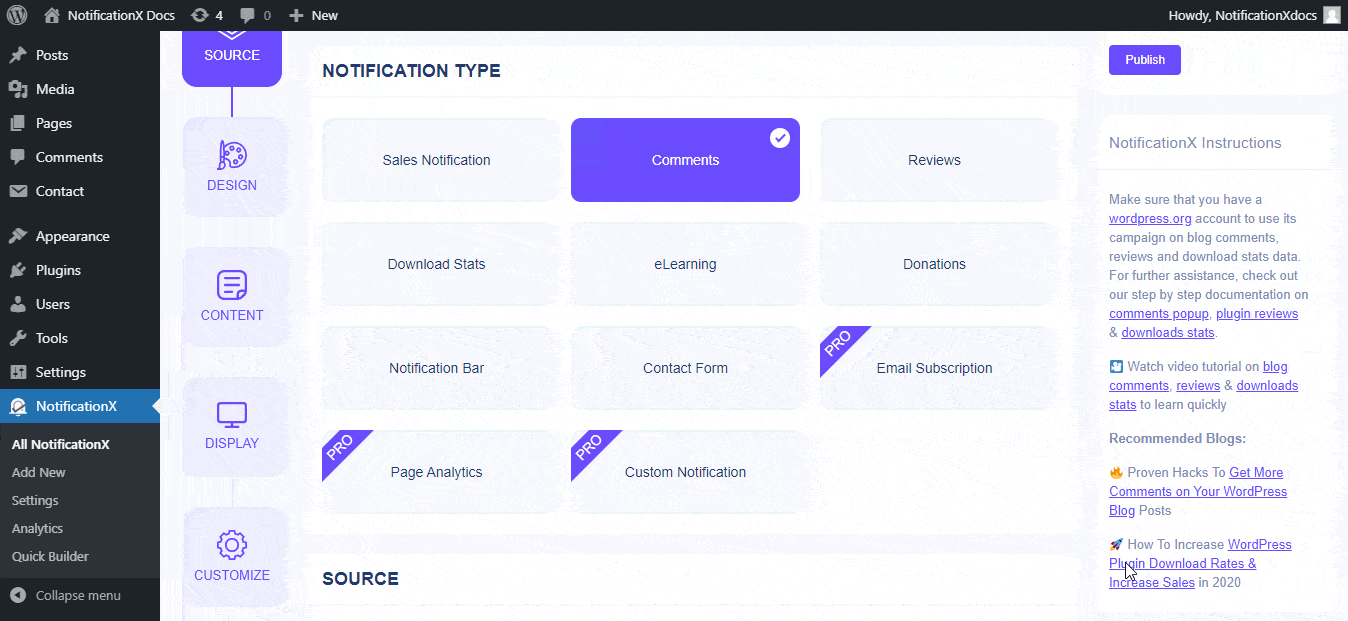 You can select from a few pre-built themes and pick "Build with Elementor" from the "Design" menu. You may access all of the ready-made styles for your notification bar by just clicking the icon.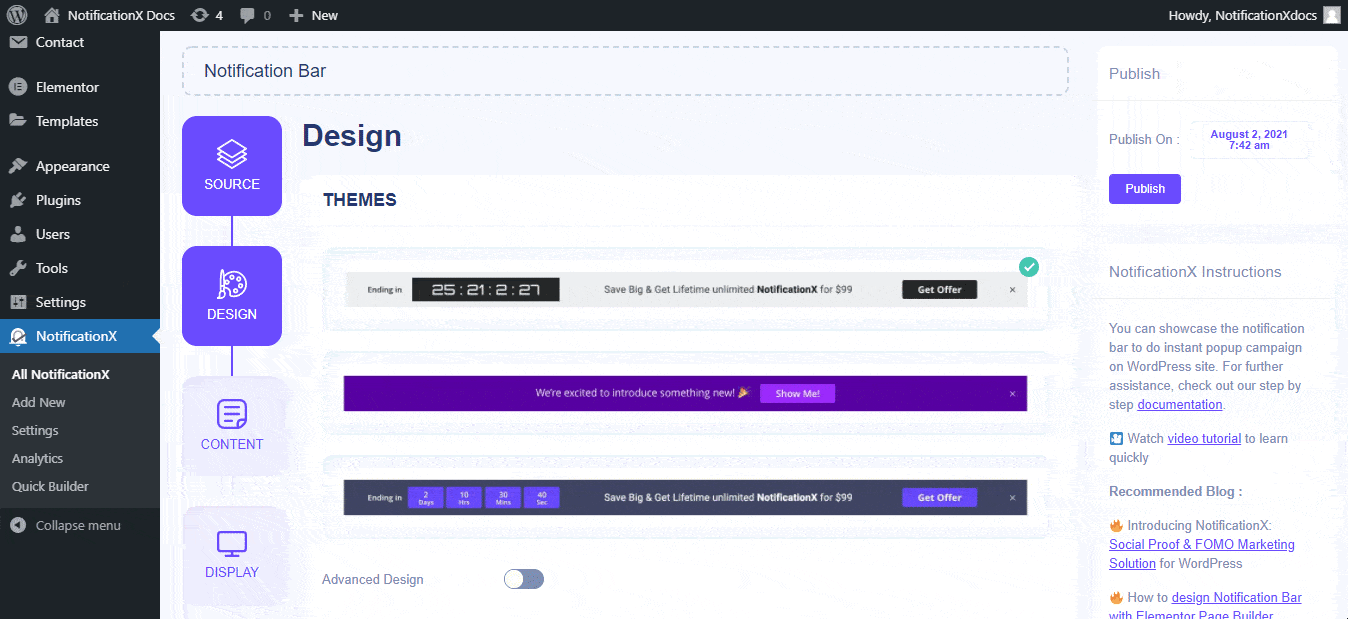 Simply click the "Import" button after selecting your preferred template, as seen above. Once the design has been imported, a button labeled "Edit With Elementor" will appear on the user interface. When you select it, the Elementor editor will open, allowing you to design and style the Notification Bar area any way you like using your favorite styling options.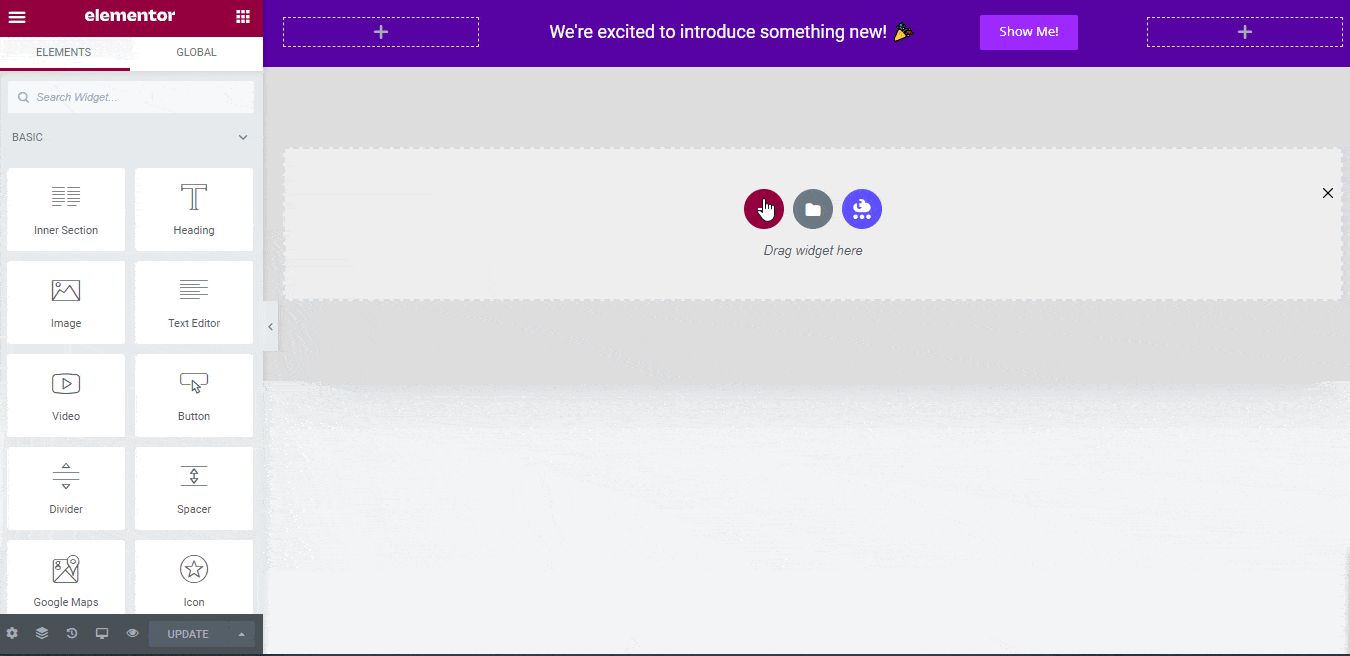 You can choose to add additional Elementor widgets, change the appearance to suit your tastes, and produce a gorgeous notification bar.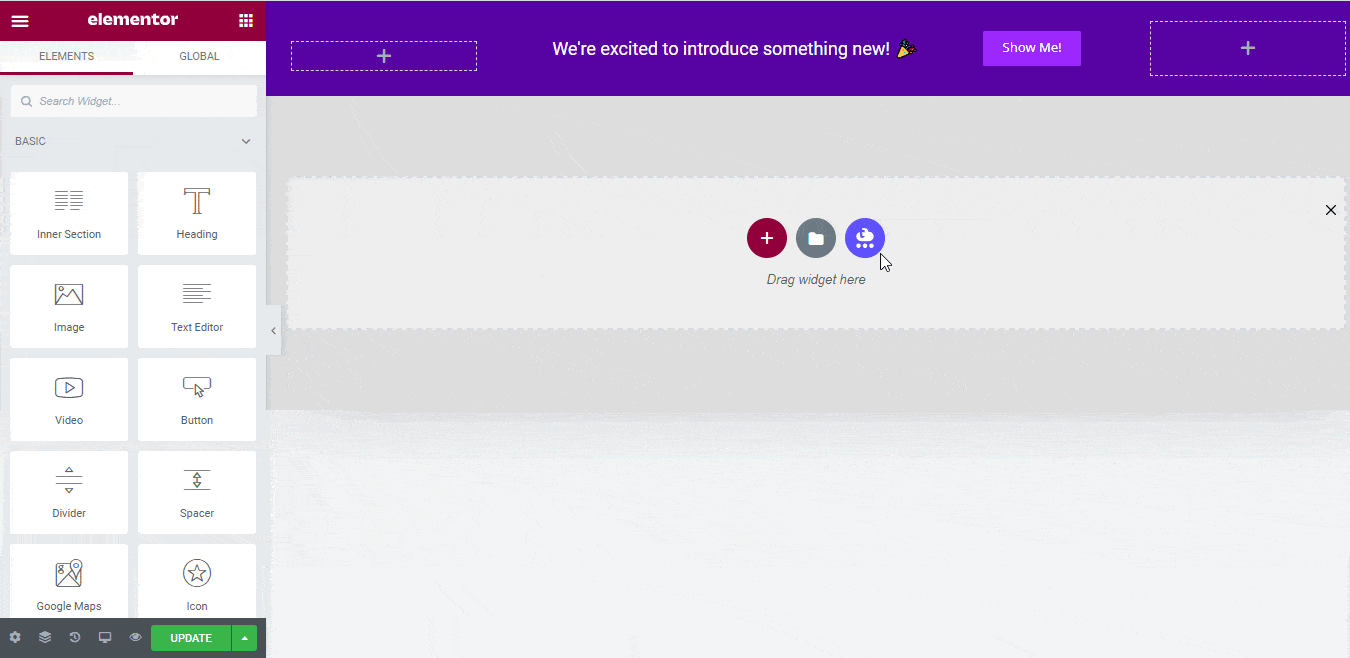 Furthermore, Notification Bar includes two additional ready-made layouts for setting up and displaying the GDPR Cookie Consent bar on your Elementor website. After that, click "Next" to be sent to the "Content" tab of the Notification Bar alert. You may activate an advanced evergreen timer on your notification bar by checking this box, which will make your users feel more pressed for time by utilizing FOMO marketing.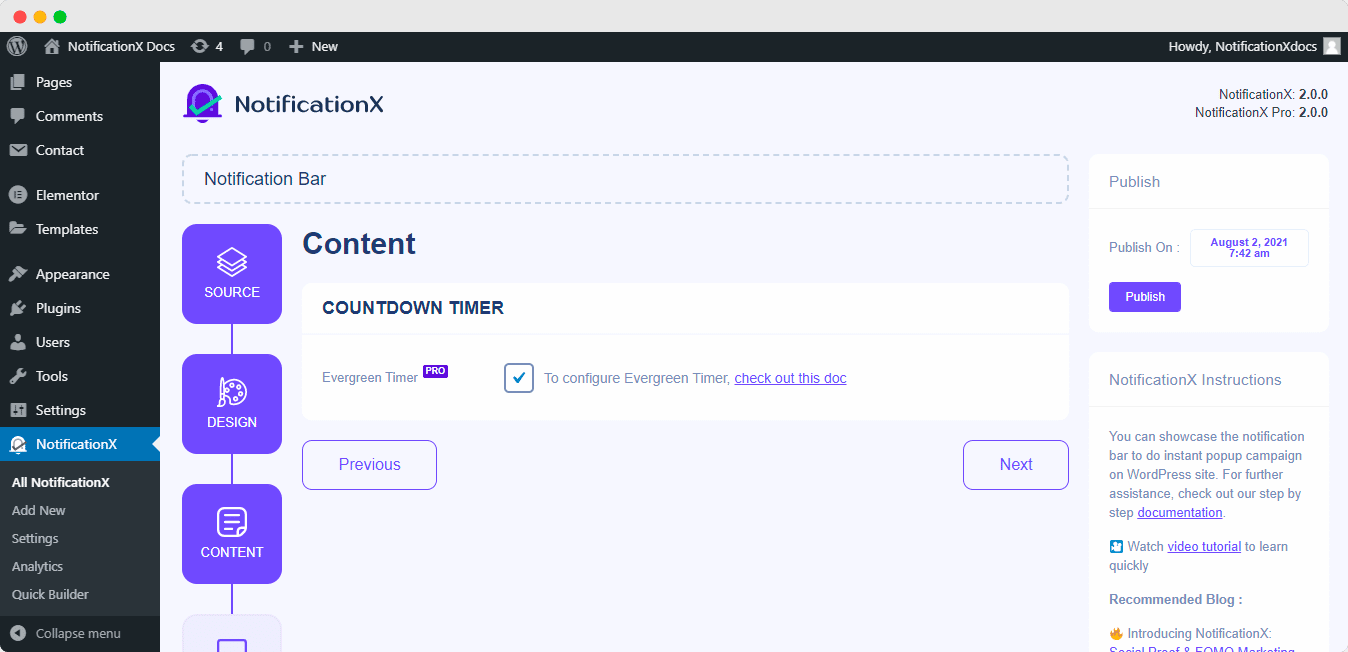 The 'Display' tab of your Notification Bar configuration process will then be displayed. You can now customize its settings to select the area of your website where your notification bar will appear and the users for whom you want to display the sales notification bar.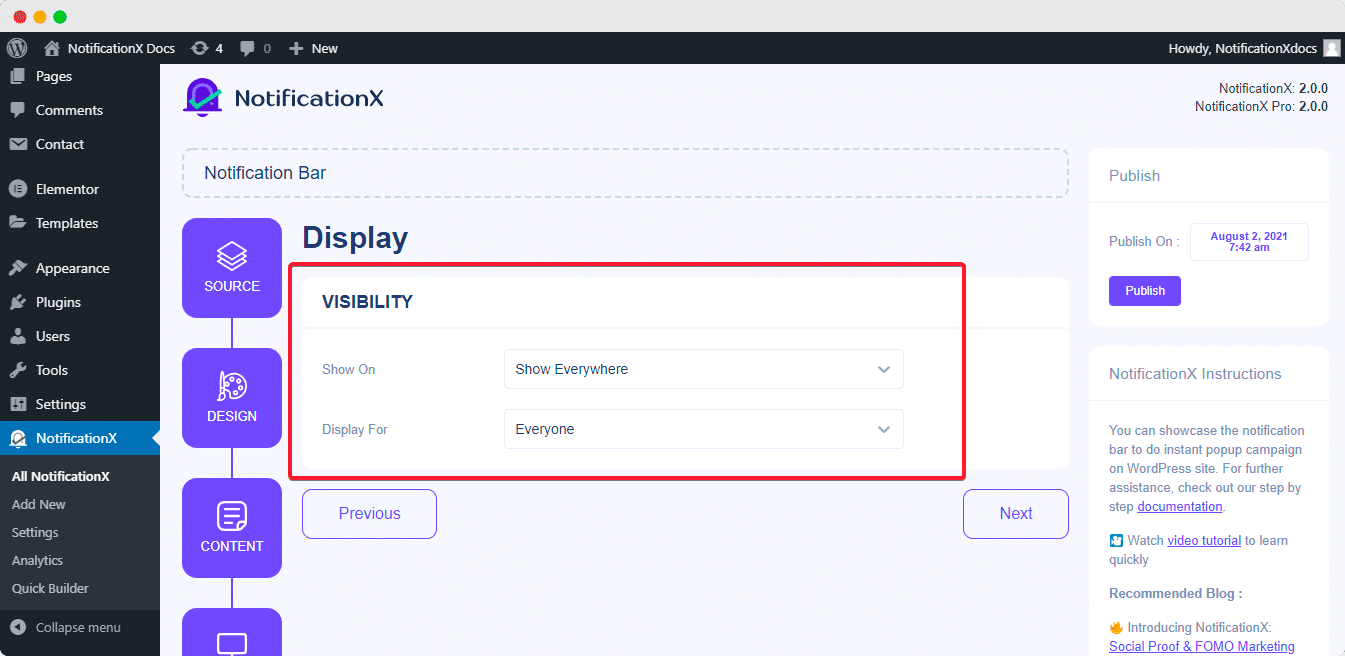 After that, you can easily customize the notification bar's design, timing, and functionality by selecting the appropriate settings from the "Customize" menu. You may decide where on your WordPress website to display the notification bar, whether or not you want the bar to appear on mobile devices, and whether or not you want to include a close button.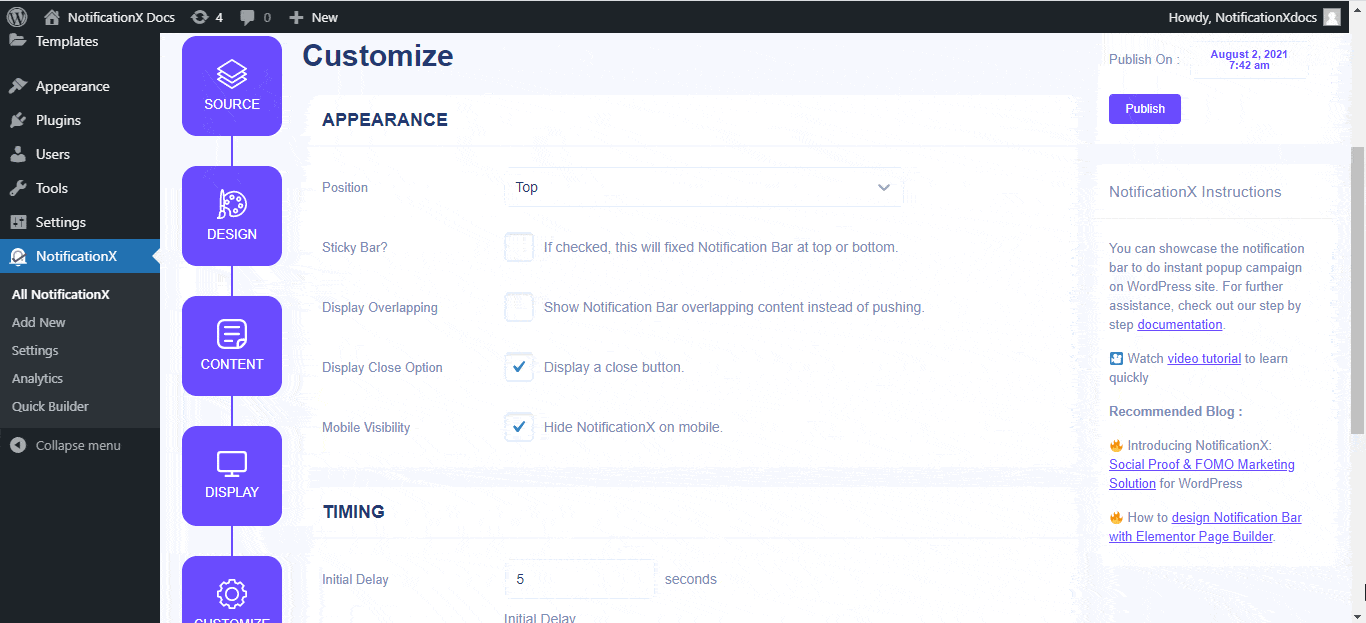 Make sure to save your modifications after finishing editing the WordPress notification bar in Elementor. When you are satisfied with how your notification bar appears, you may publish it after previewing it.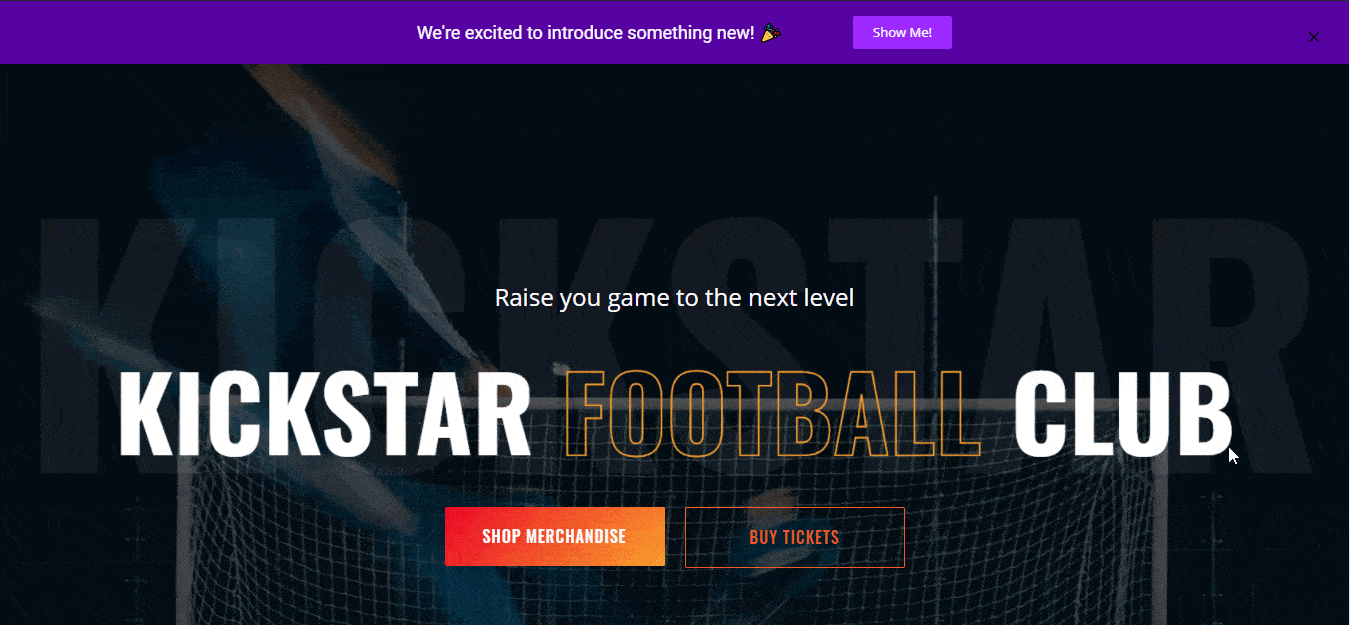 As you can see, it's now much simpler to create your WordPress notification bar, and sales notifications in Elementor thanks to the integration of NotificationX. Today, give it a try for yourself and let us know how it goes in the comments section. Please feel free to contact our support team if you need more help or if you run into any problems. You can also connect with other WordPress users by joining our Facebook community.