Are you thinking about how to add a customized Thank You note when a customer completes a purchase on your WordPress WooCommerce website? Essential Addons For Elementor introduces a new WooCommerce Thank You widget that can bring significant benefits to businesses. You can use this new WooCommerce widget from Essential Addons to create an atttractive, post-purchase 'Thank You' page and express gratitude to customers for their purchase and create a positive impression.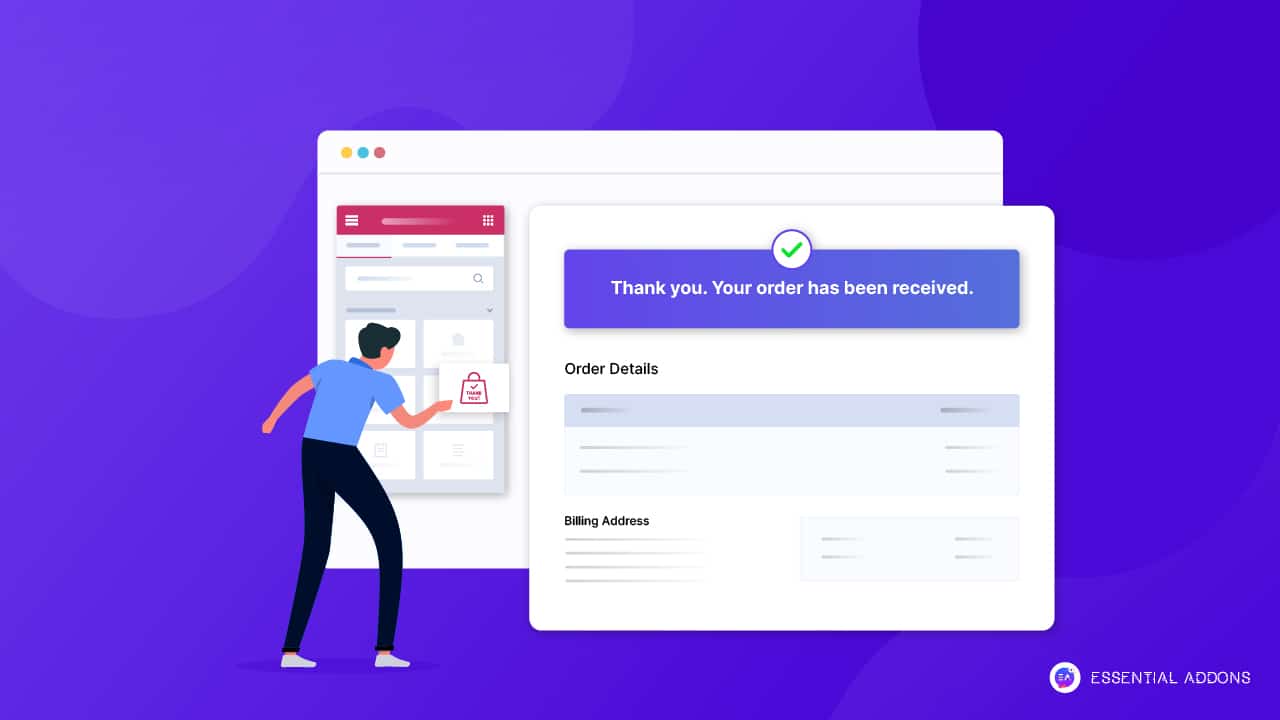 Top Reasons To Create A WooCommerce Thank You Page In Elementor
When a customer completes a purchase, a WooCommerce Thank You page allows the store owner to display a personalized message on the order confirmation page. Below are the ways this new addition helps your WooCommerce business website.
Helps Enhance Customer Satisfaction
A personalized thank-you note can significantly enhance a customer's shopping experience. By expressing gratitude for their purchase, businesses can make their customers feel valued and appreciated, which can boost overall satisfaction and foster customer loyalty.
Aids In Brand Building
By adding a thank you note on the order confirmation page, businesses can use this space to reinforce their brand message or values, thus contributing to a consistent brand identity. For instance, they can design the note to match their brand's tone of voice, colors, and overall aesthetic, thereby enhancing brand recognition.
Upselling and Cross-Selling Opportunities
Businesses can use this widget to introduce additional products or services that the customer might be interested in. They can use the thank you note to promote related items, special discounts, or upcoming sales. This could lead to an increase in average order value and overall revenue.
Promoting Social Media Channels
This widget can also be used to promote a company's social media channels. By including links to these channels in the thank you note, businesses can encourage customers to follow them, thus increasing their social media following and the effectiveness of their marketing efforts.
Increasing Repeat Purchases
Businesses can use this space to offer special discounts or rewards on a customer's next purchase. This can incentivize repeat purchases, boosting customer lifetime value.
Collect And Reflect On Customer Feedback
The thank you note can include a link to a short feedback survey, allowing businesses to collect valuable information about the shopping experience. This data can then be used to make improvements, address any issues, and generally enhance customer satisfaction.
Interested to learn how to use this amazing widget on your WordPress WooCommerce website? Follow this step-by-step guide to add the WooCommerce Thank You Widget to your WordPress site.
How To Create A WooCommerce Thank You Page In Elementor With Essential Addons?
To get started, first, you need to create a new page and make sure to make it a checkout page from WooCommerce settings. For tutorial purposes, we have created a new page called EA Woo Thank You.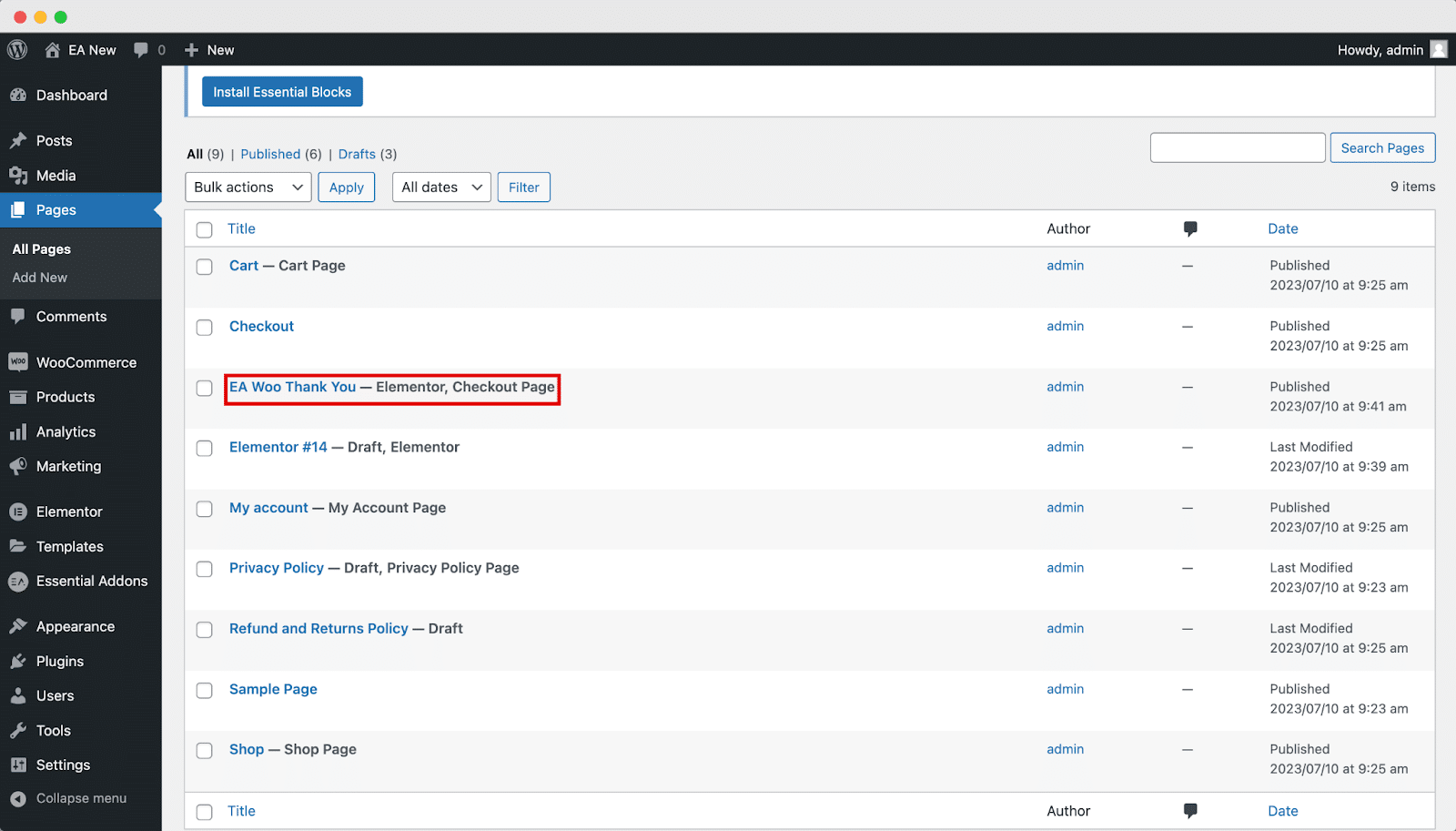 Note: You can see that our newly created page is already a checkout page because we have modified it from the settings. 
If you are done creating the new page, navigate to the WooCommerce → Settings
Move to the 'Advanced' tab and click on the 'Checkout Page Dropdown'. Select the dropdown and simply paste your page name or page code.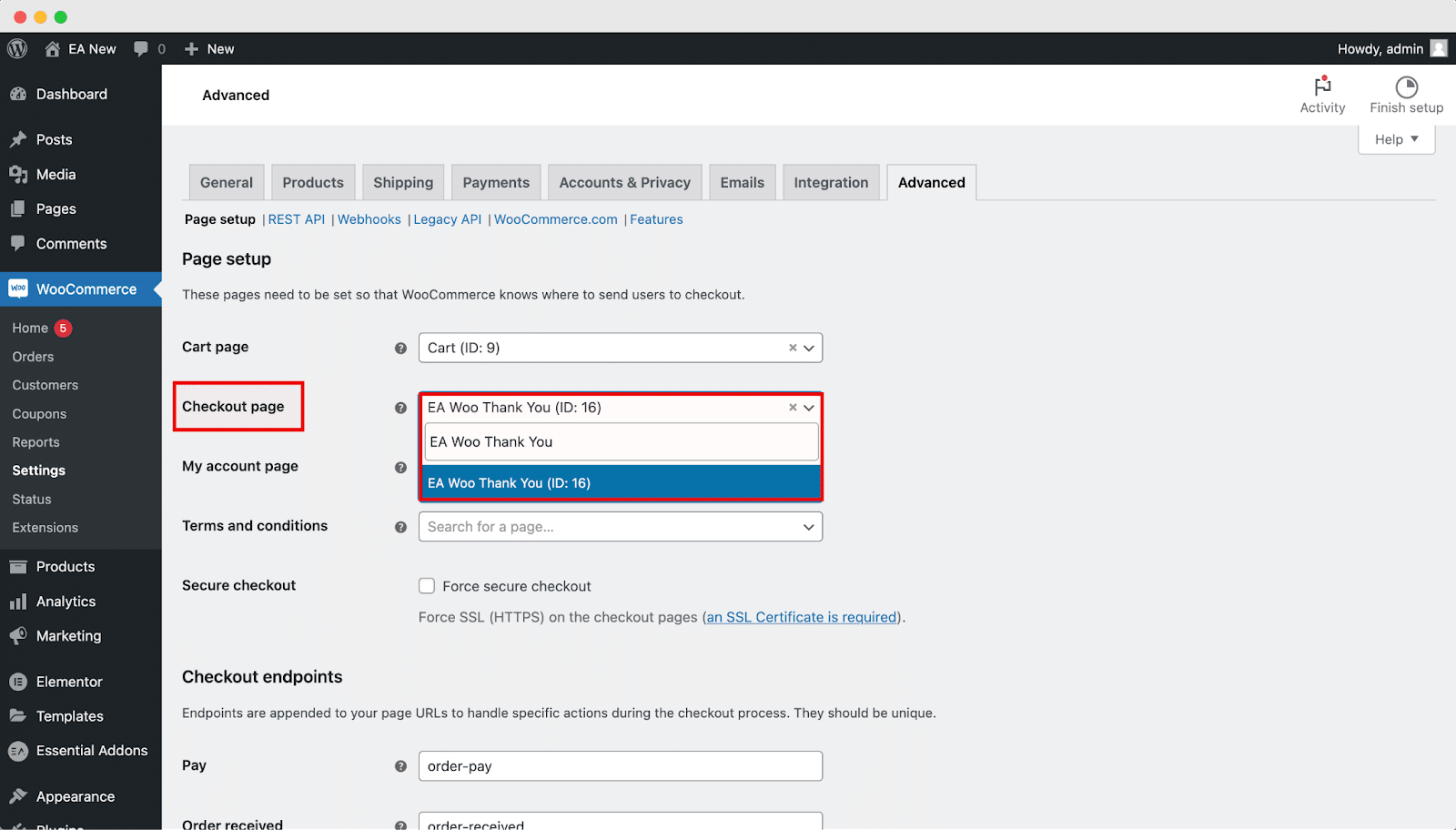 Now, you need to enable a Payment Method. For that, go to the 'Payment' tab and select the options as you prefer. For more details, make sure to check out our documentation. 
The next thing you need to do is to add single or multiple products from your shop page. Simply click on the page and add it. Once you have a product added to your cart, it will be easier for you to customize your WooCommerce Thank You page.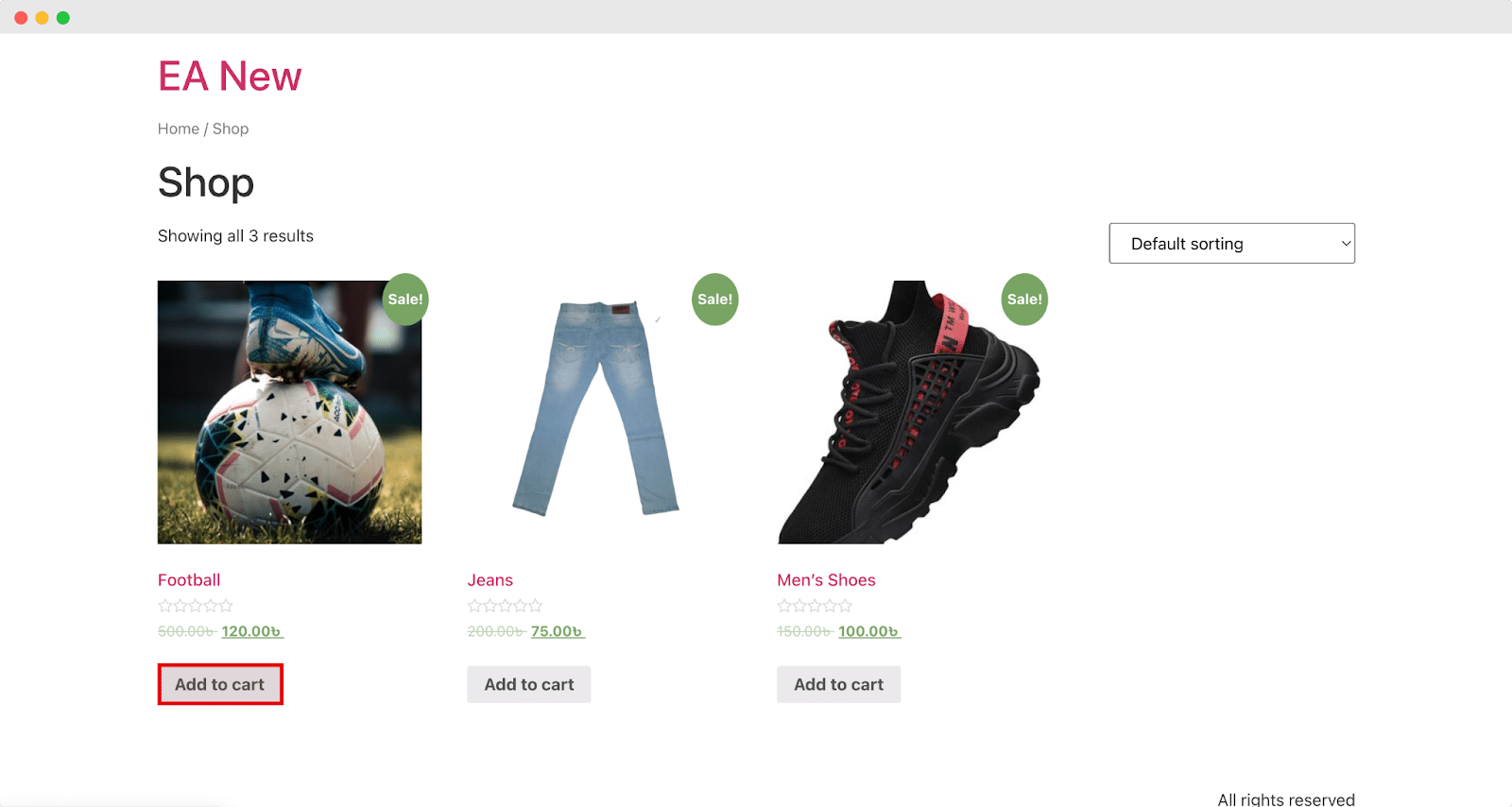 Step 1: Add The WooCommerce Thank You Widget In Elementor
Now the fun part begins. Open your page in Elementor and look for the 'EA Woo Thank You' element from the Search panel under the 'Elements' tab. Simply, Drag & Drop the WooCommerce Thank You Widget into the 'Drag widget here' or the '+' section.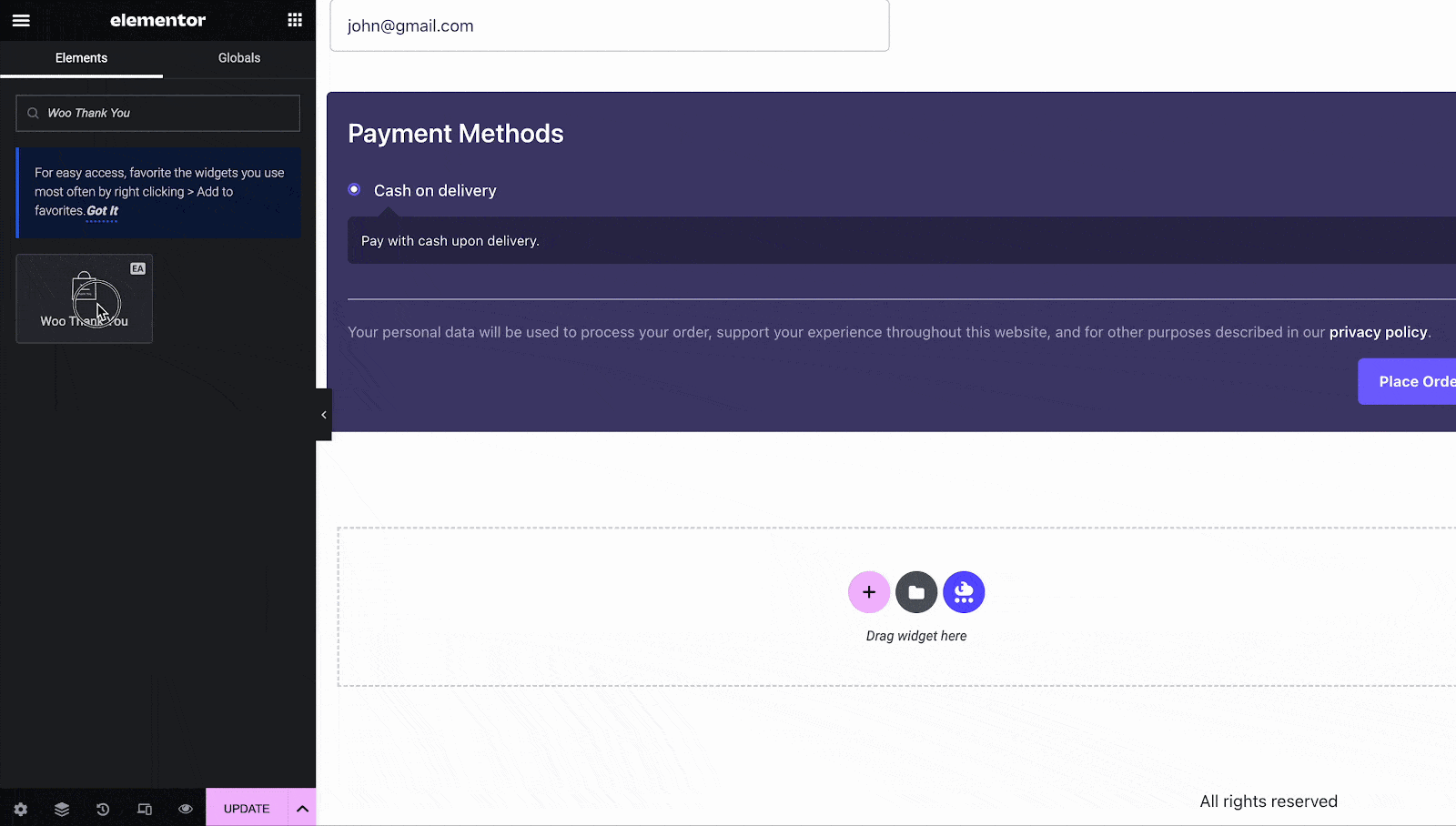 Now, it's time to configure the content settings and play around with the styling options. Under the 'Content' tab, you will be able to configure 'Order Overview', 'Order Details', 'Billing Address' & much more. 
Step 2: Configure The General Settings
Under the General settings, you can enable or disable the thank you message. We have 3 available presets for you to choose from.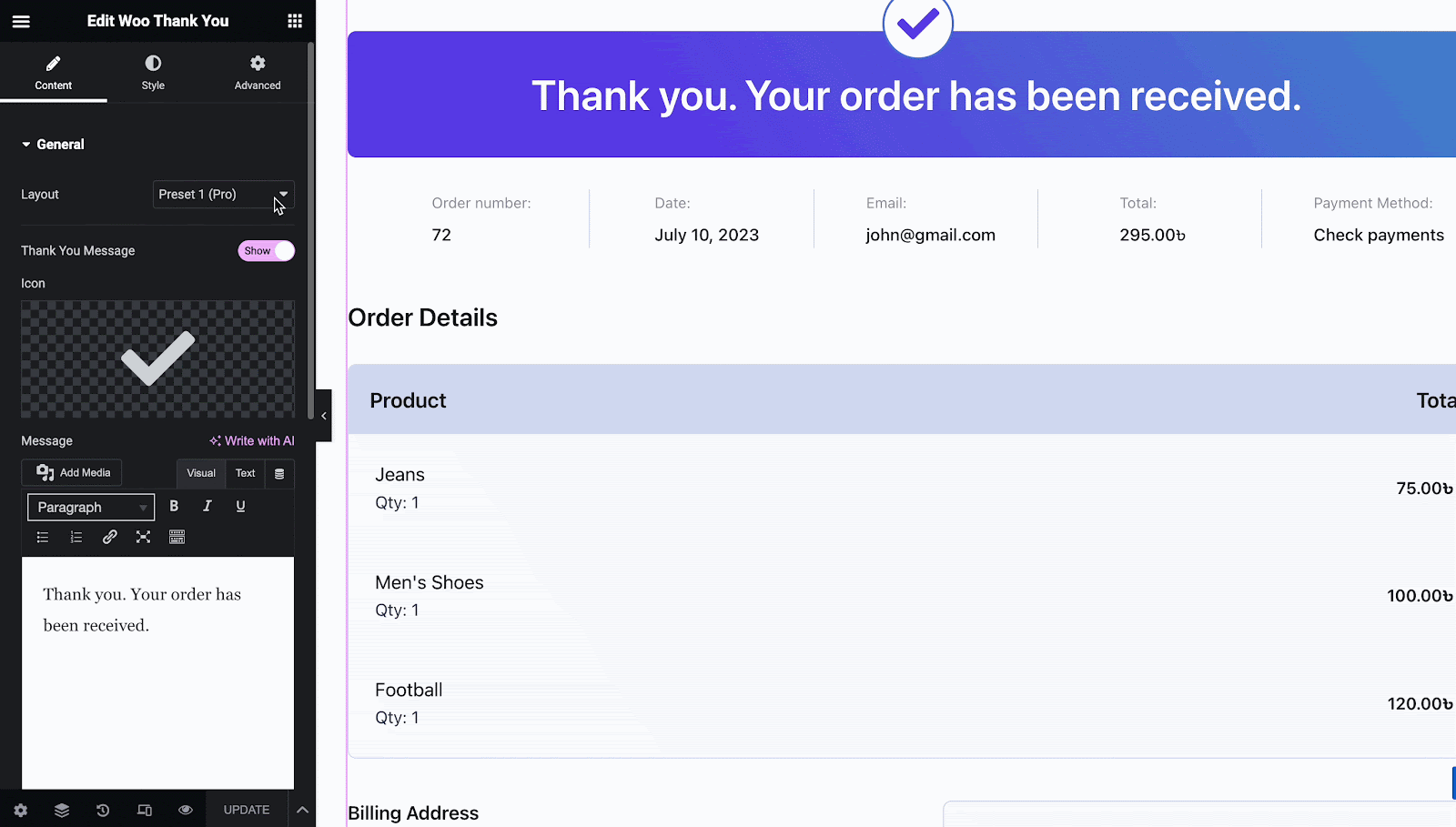 You can also customize your thank you message any way you like. Also, you will have the option to enable or disable the Order Overview, Order Details, Order Summary, and much more options easily.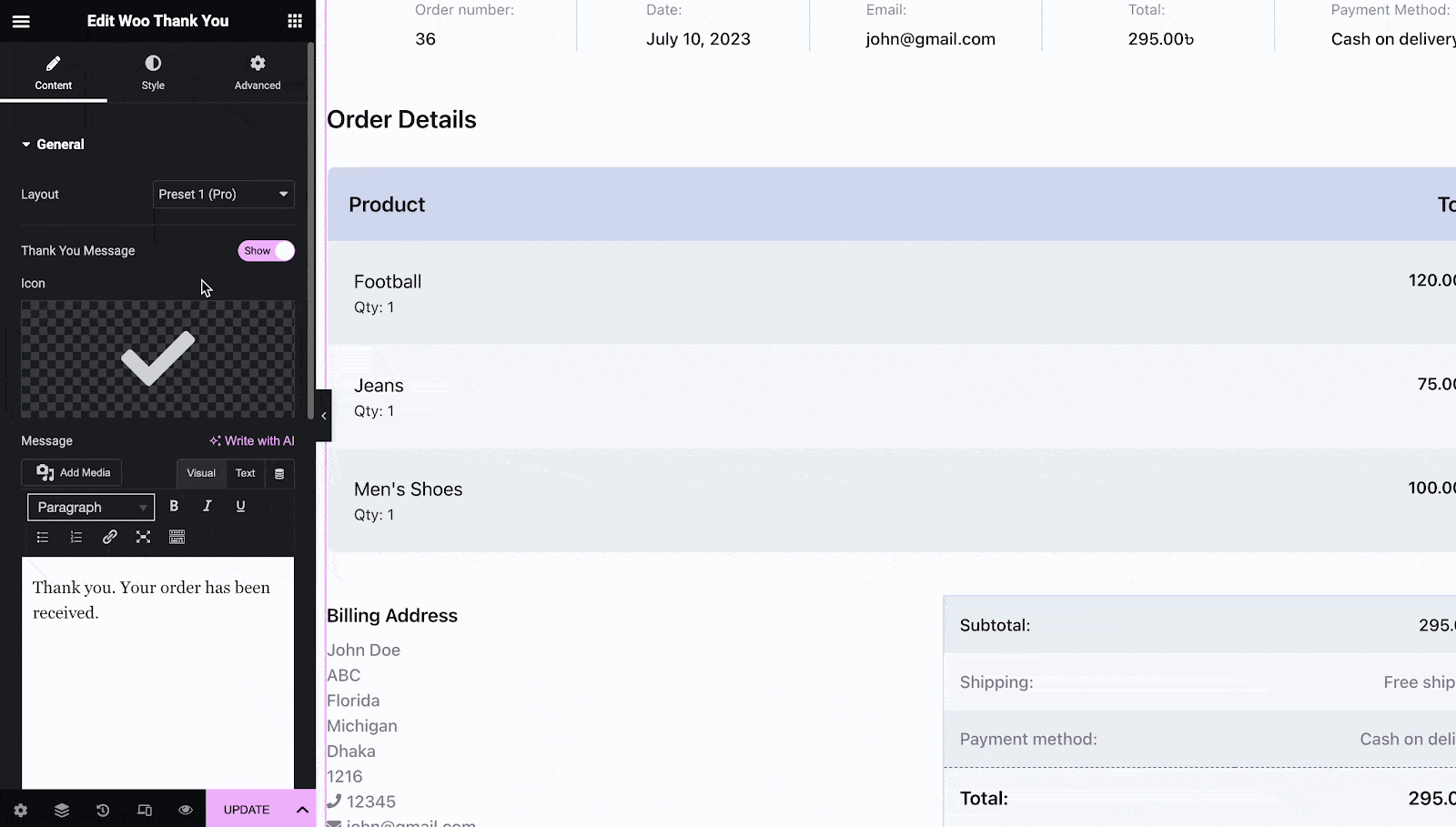 In addition to the above, you can also customize other details such as your Order Number, Date, Email, Label, Payment Method,  etc as shown below.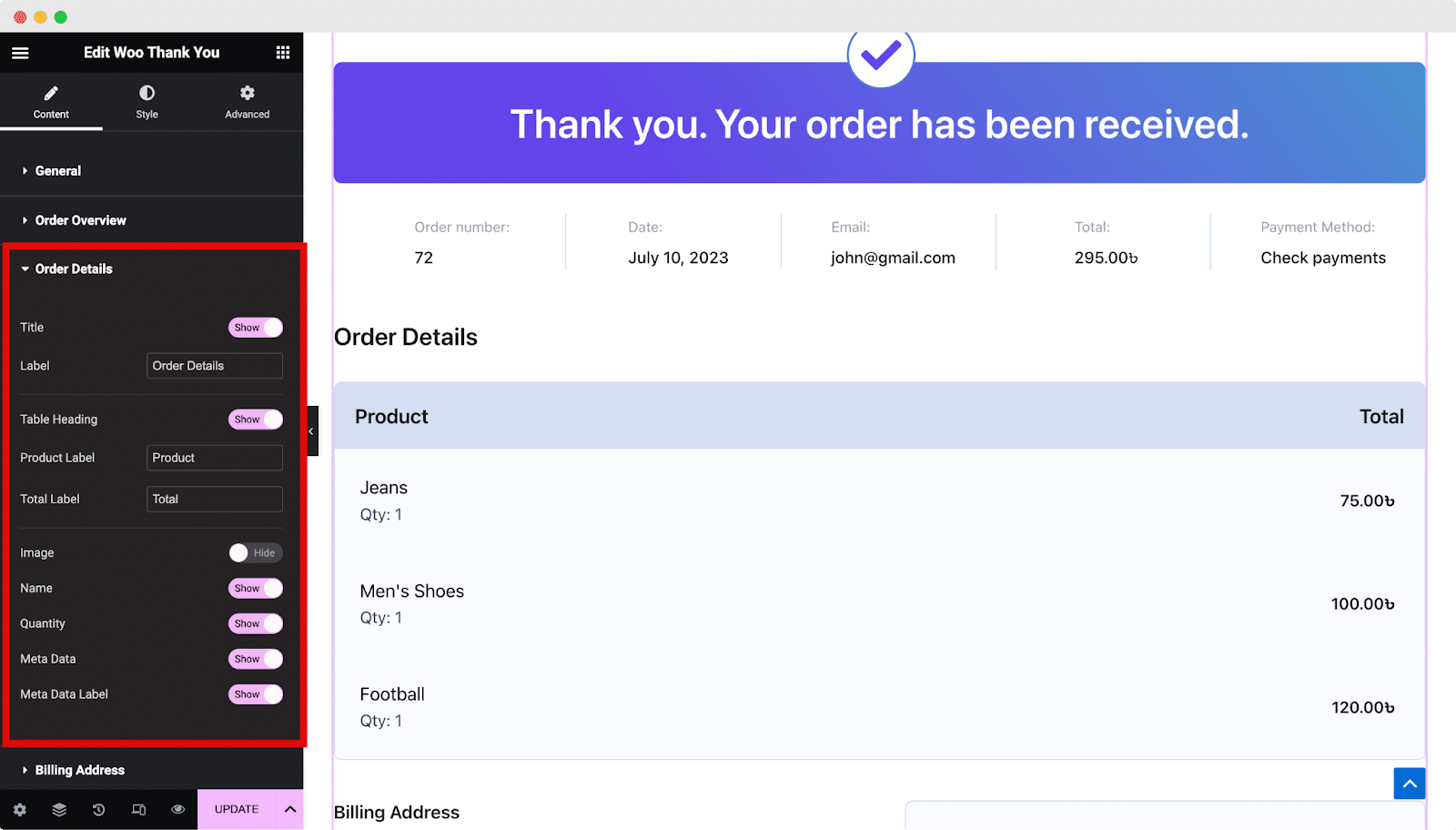 Under the 'Billing Address' and 'Shipping Address' you can add Title, Label, Mobile No, Email Address, and other necessary information easily. You can easily enable or disable the shipping address title and customize the address label as per your preference.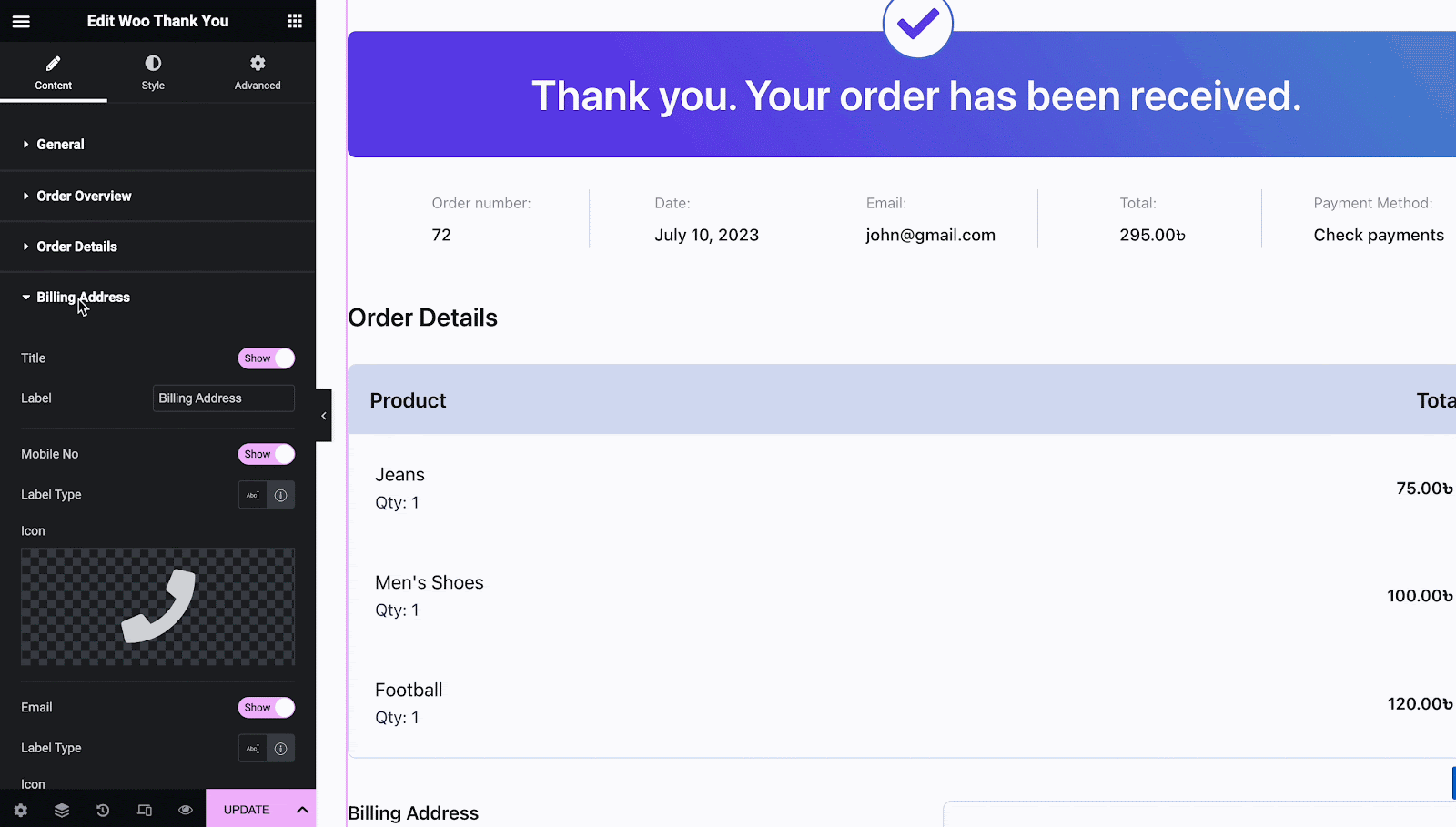 Step 3: Customize The Style And Appearance
The EA Woo Thank You widget has numerous styling options for a more appealing thank you message. Move to the 'Style' tab to customize the features of the EA Woo Thank You and get your desired result.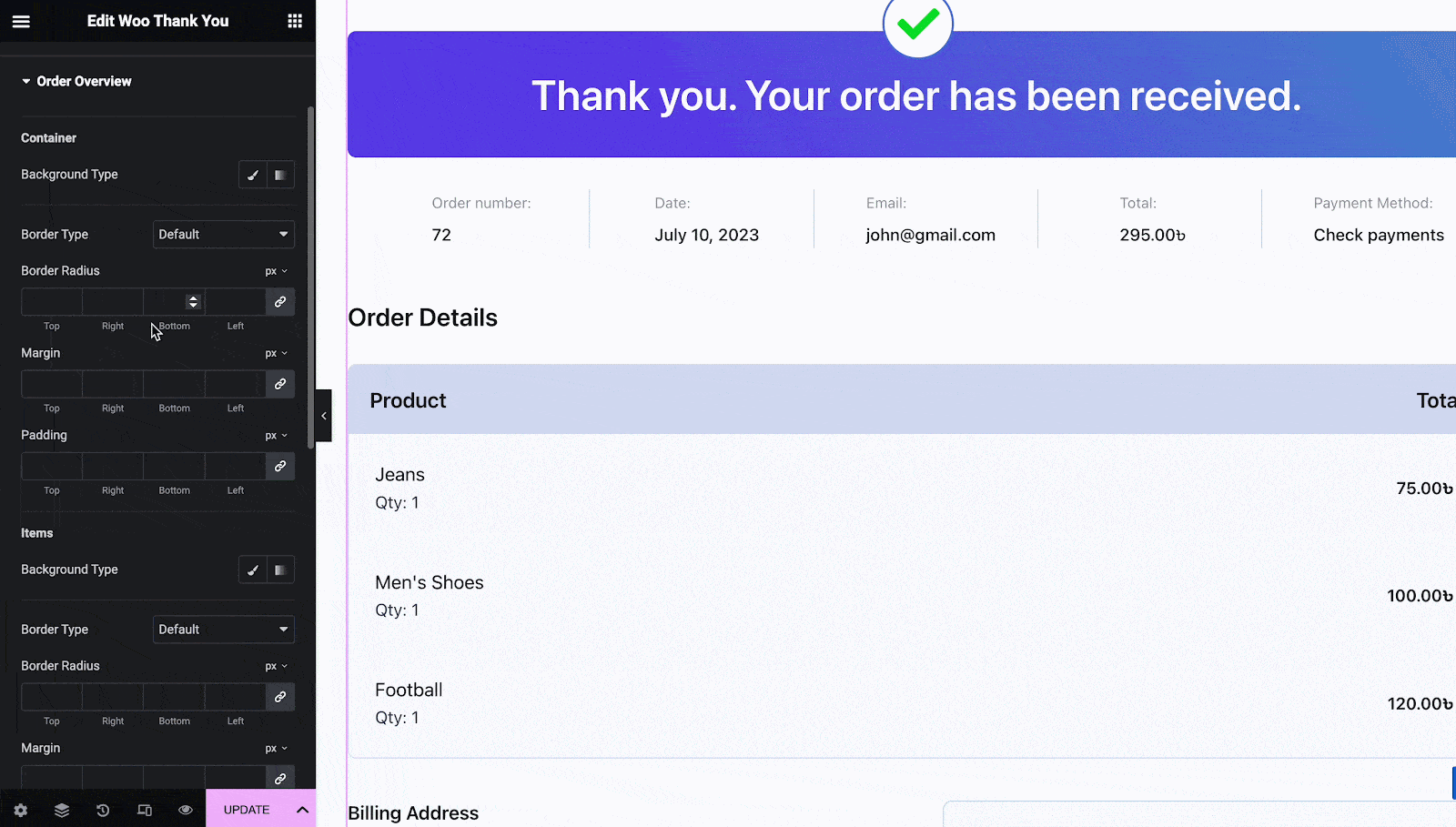 Under the 'Thank You Message' tab you can personalize the overall outlook of your message. Effortlessly customize the icon Size and Area with proper positioning. Pick any color palette that suits your website theme.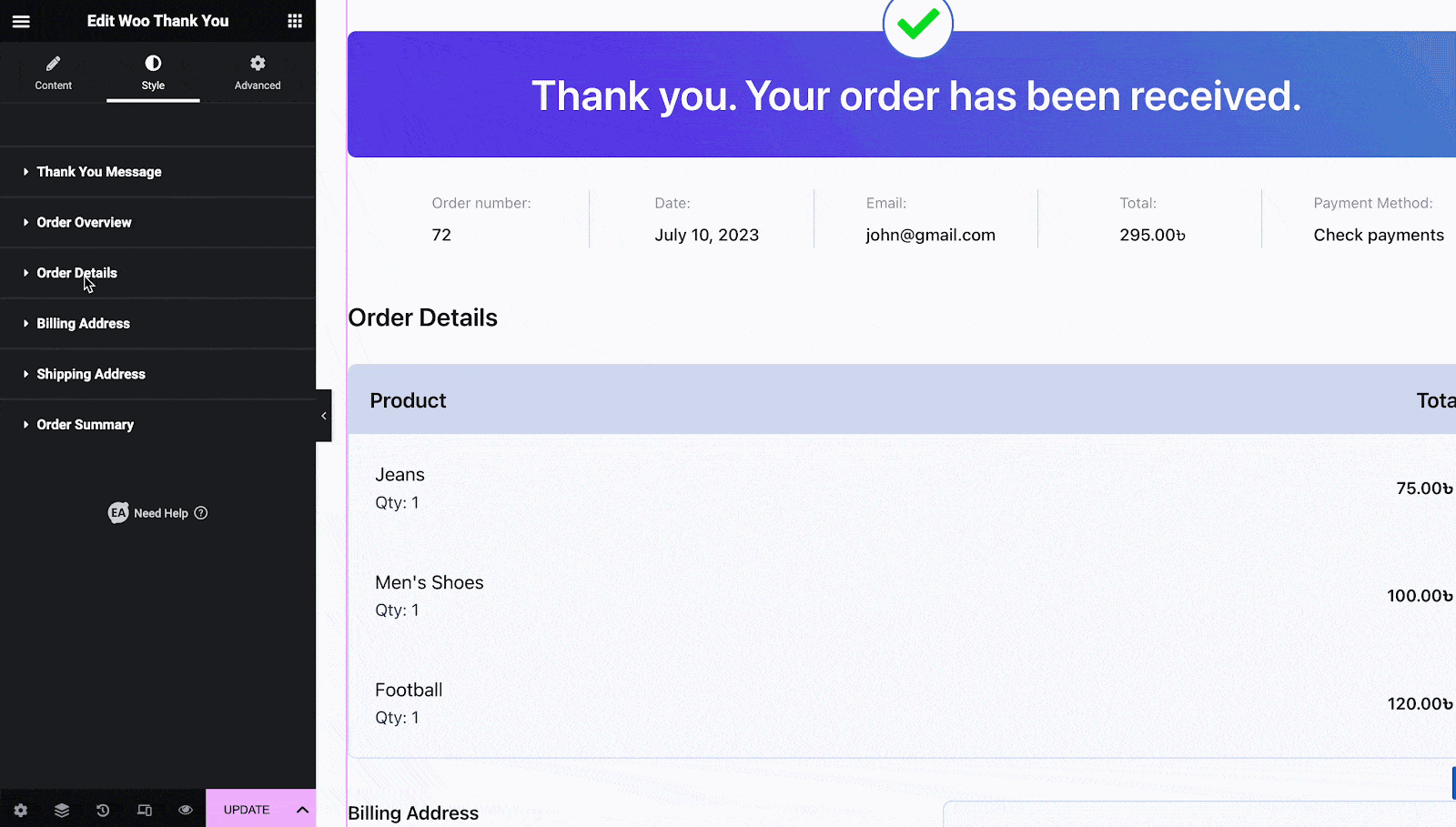 You can also modify your Container, Background Type, Border Type, Label Values, and much more without any coding at all. From the 'Order Details' dropdown, you will have the option to change the Color, Border Type, Table Heading, Item Details, Product Name, etc with ease.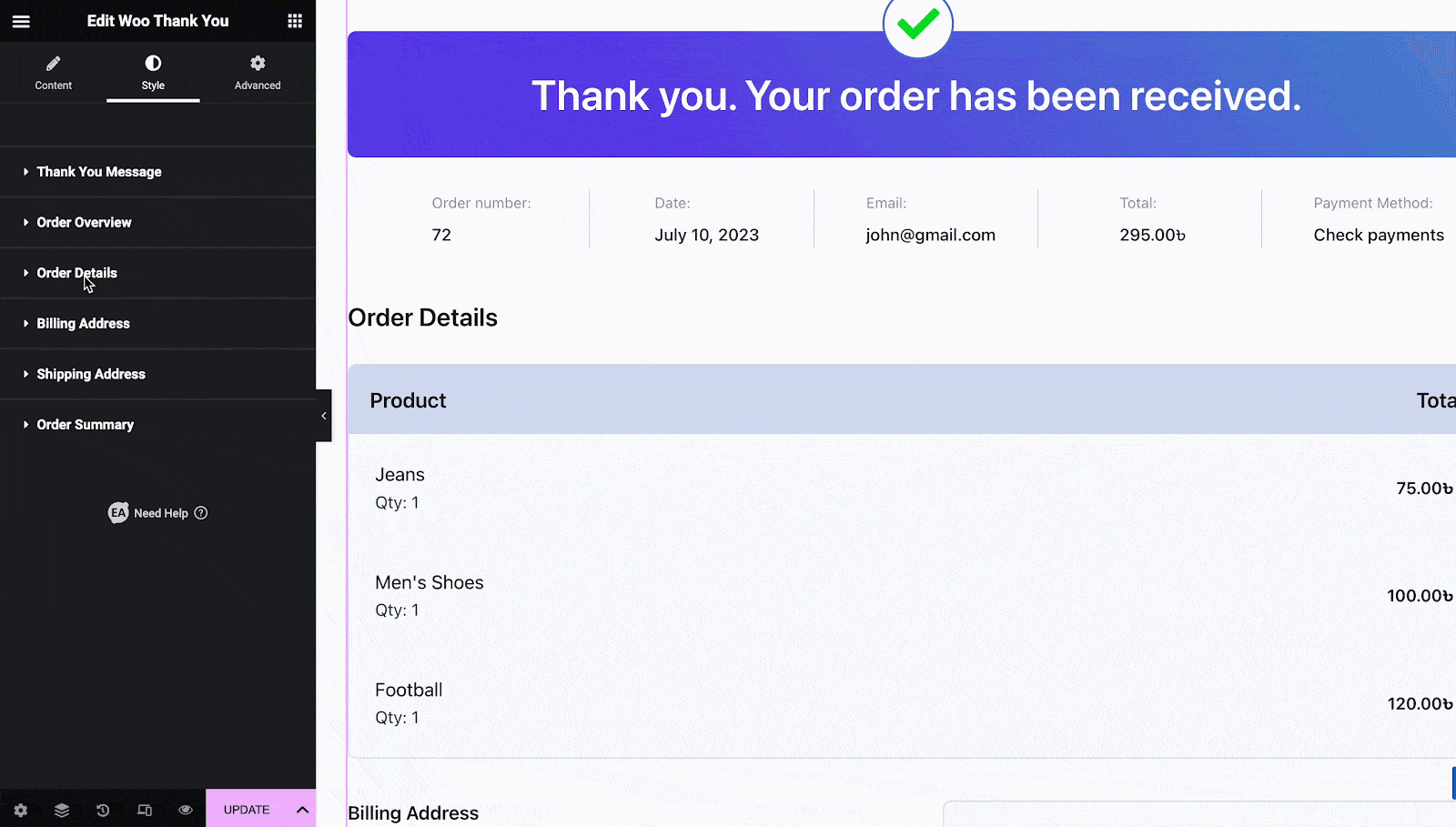 There are tons of customization options for giving your WooCommerce Thank You page a unique and eye-catching look. You can find out about all the details in our documentation here.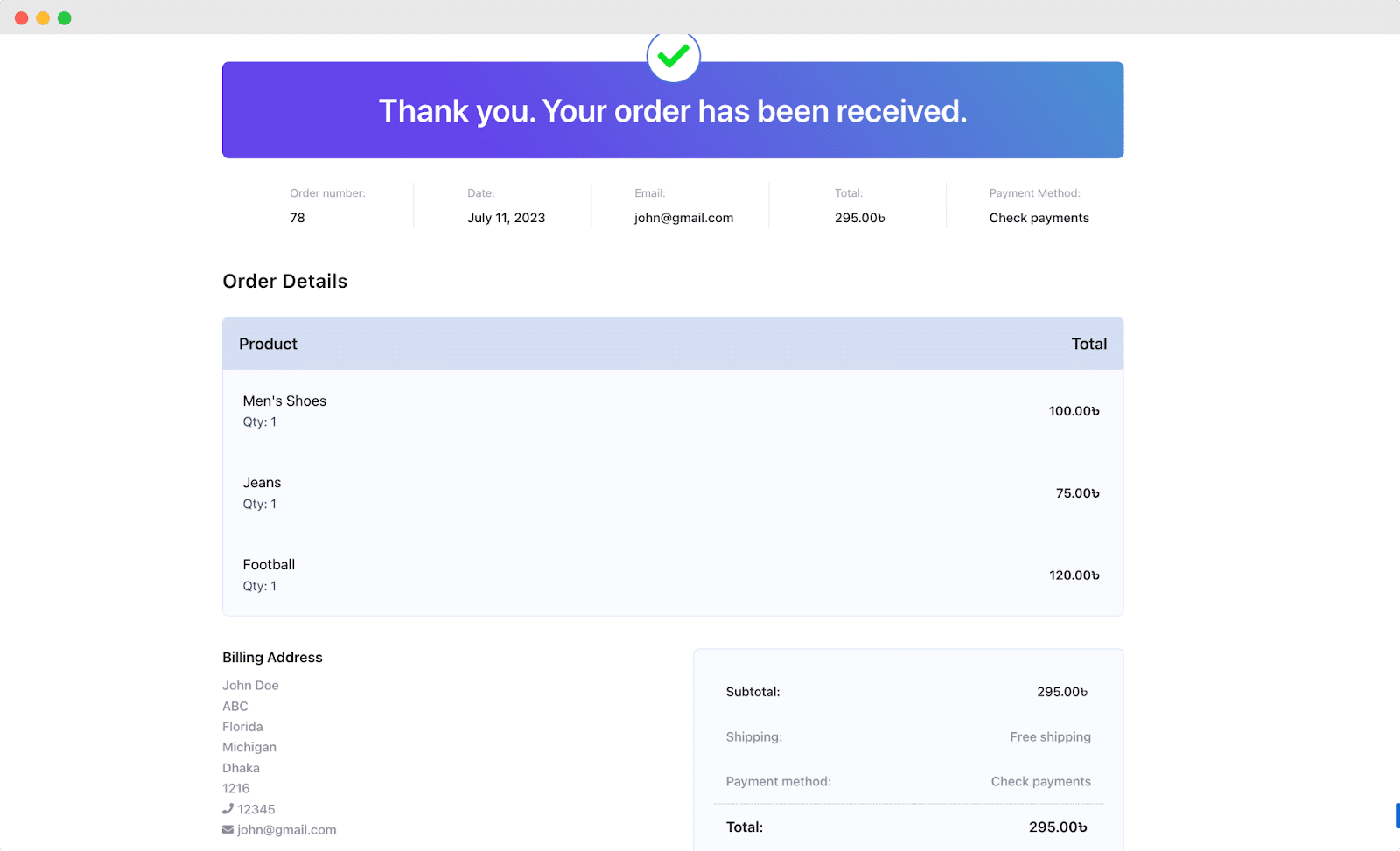 Thus, you can easily add the EA Woo Thank You widget to your WordPress WooCommerce website and add more strength to your customer satisfaction initiatives.
Enhance Your Customer's Post Purchase Experience With An Attractive WooCommerce Thank You Page
Prioritizing customer satisfaction should be a primary objective of every business owner who seeks to elevate their customer experience. With the WooCommerce Thank You widget of Essential Addons, you can show a nice thank you message and give necessary information to customers who have just bought something from your store. This can be a nice way to win over a customer's heart and create a positive impression.
Did you like reading the blog? Feel to contact our support for further assistance and join our Facebook community for the latest updates.