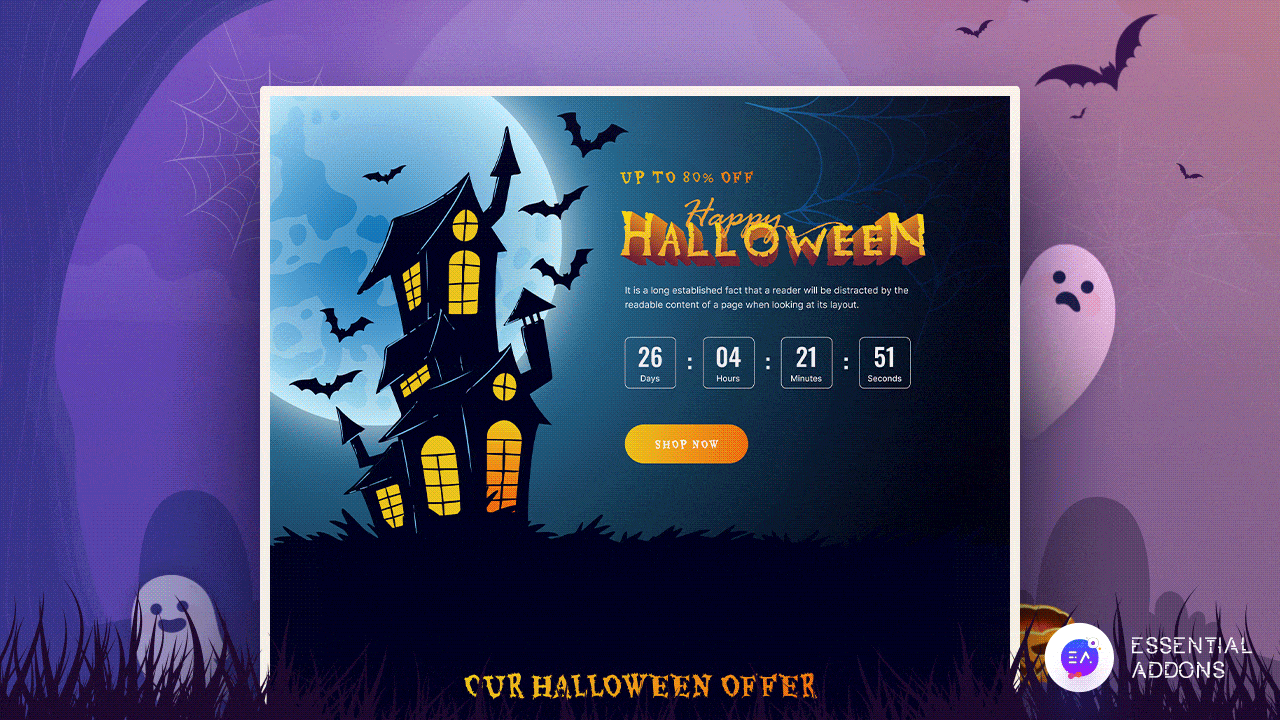 This year on All Hallow's Eve, get ready to create a spooky Halloween website without having to spend a fortune or touch a line of code. After all, Halloween is one of the most festive celebrations of the year. In fact, research shows that more than 35% of customers perform online searches for Halloween costumes, decorations and entertainment. So this makes it the perfect occasion for creating a Halloween website and offering special sales promotions from your business. Let's find out how you can create your Halloween website with a single click!
4 Tips For Creating A Terrifying Halloween Website
No matter what kind of business you are running, you can always take part in the spooky spirit and boost up sales on Halloween. For example, if you own a restaurant, then you can offer special Halloween themed food. If you are running an online clothing store, then you can drive sales with special Halloween costumes. Similarly, if you are running an event organizing business, then you can host Halloween parties.
But how will your customers know what you are offering on Halloween? The best way to do this is by creating a Halloween website or page. Since customers spend a lot of time researching online to find the best Halloween deals, creating a website can help them find your products easily. 
To do that though, you need to make sure that your Halloween website immediately grabs their attention. Here are some tips to help you.
Create A Killer Landing Page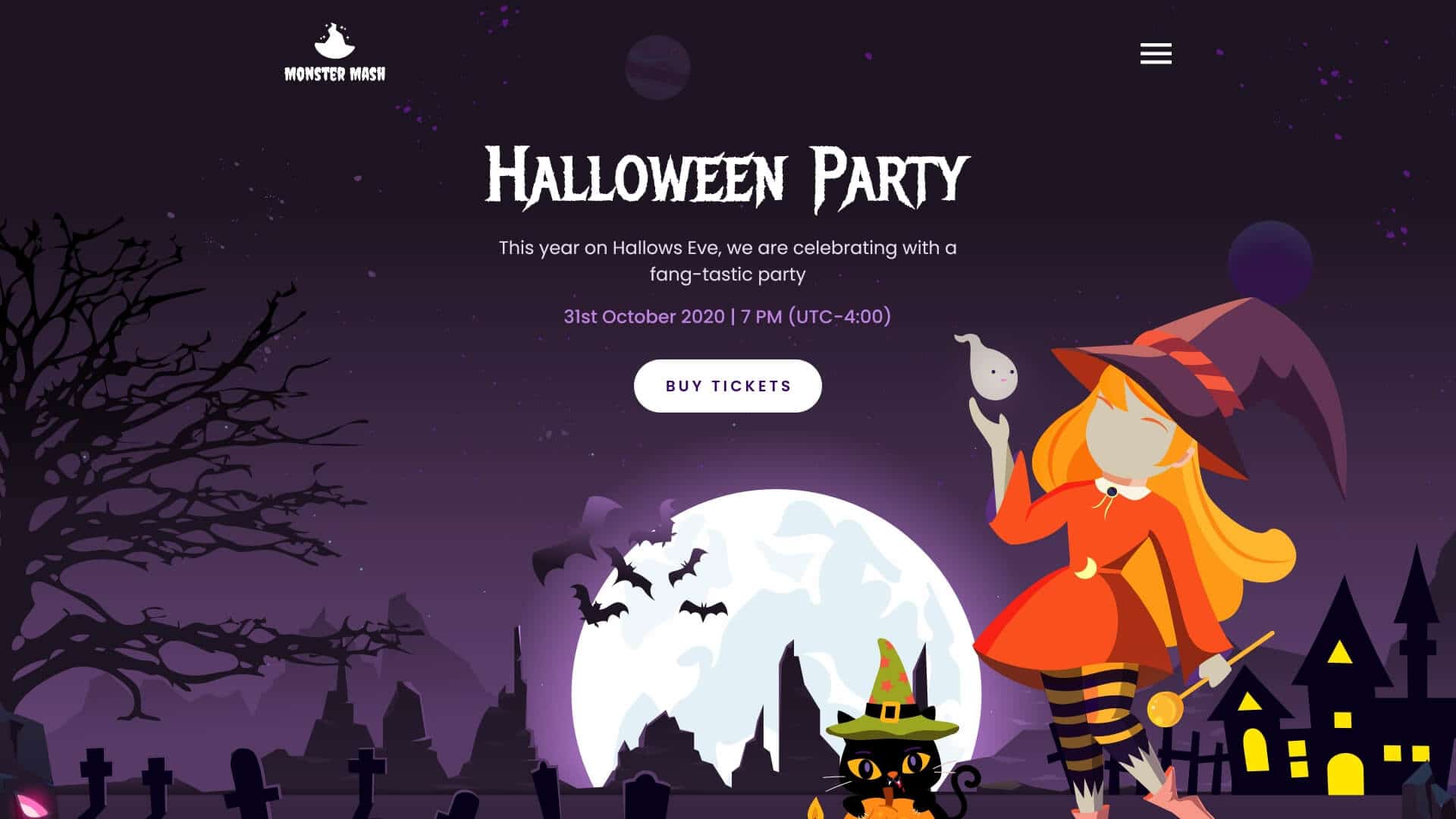 Your landing page is the first page that your visitor will see when they click anywhere on your website. Unlike a home page, which is used to help visitors explore your website, landing pages are used for specific campaigns or offers. That's why it is important to create an attractive landing page for your Halloween website.
Serve Up Frightening Fonts 
If you want to add a spooky touch to your Halloween website, then change the typography and add Halloween themed fonts. But don't use special spooky fonts everywhere; your website will actually look better if you pair Halloween themed fonts with regular fonts. After all, nothing is scarier than having customers complain that they cannot read your website content.
For example, you can use fonts like Creepster for your headers, and for the body text you can use a simple font like Open Sans. This type of pairing will make your website content easy to read. 
Use Haunting 'Call To Action' Buttons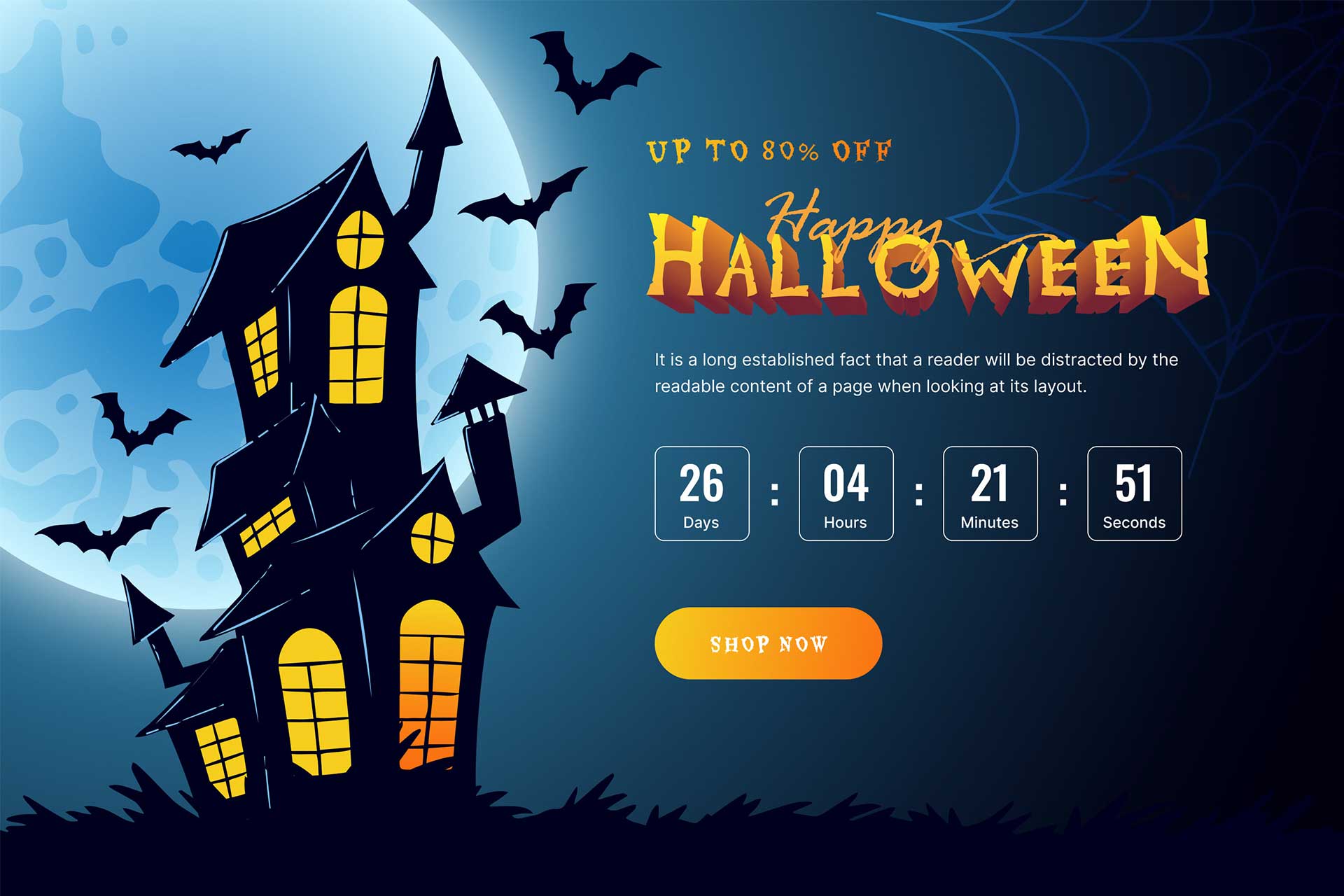 Getting your visitors to make a purchase, or take any kind of action, can be done easily with eye-catching Call To Action buttons. You can use traditional Halloween colors like orange or purple to make your Call To Action buttons pop out. You can use these buttons to influence your visitors to subscribe to your newsletter, submit forms, purchase products or visit other pages. 
Add A Terrifying 'Team Members' Section
When purchasing online, customers often want to know a little more about the people in your business. So, you can add a Halloween themed 'Team Members' section to your website to help your customers get to know more about your business.
Best Elementor Ready Templates For Your Halloween Website
Now that you know what makes a good Halloween website, you might be wondering how you can start creating your website without coding or hiring professional website designers. Don't worry, with the help of the pagebuilder Elementor, you can instantly create beautiful websites on WordPress. All you have to do is use the 'drag and drop' editor to place widgets on your page and then customize it to your preference.
For the best Elementor experience, you can also use Essential Addons For Elementor. This is the most popular Elementor addon with over 1 million happy users and more than 70 amazing widgets. 
Using Elementor ready templates, you can create your Halloween website with a single click. You can find some amazing, fun Halloween templates for Elementor on Templately. This is one of the best template libraries for Elementor with over 1500+ free and premium templates. You can also get access to bonus features like seamless cloud collaboration and cloud storage.
Let's take a look at the Halloween template pack for Elementor from Templately. This template pack comes with 3 different styles of Halloween landing pages as shown below.
Landing Page #1: Monster Mash Halloween Template For Elementor
With the Monster Mash template, you can create a stunning Halloween website in Elementor instantly. This template features dark colors, gorgeous illustrations and attractive Call To Action buttons. If you want to go for a dark Halloween themed website, then this template is the perfect one for you.
Landing Page #2: Wickedly Elementor Template For Halloween
If you want to go for a template with a lighter color scheme while keeping the Halloween theme, then you can try the Wickedly Elementor ready template from Templately. This template is bright, colorful and has a very festive appearance.
Landing Page #3: ScareScream Halloween Website Template 
Are you a fan of haunted houses and creepy spiders? Then you can try the ScareScream Elementor ready template to create your Halloween website. This one comes with animated countdowns, horrifying illustrations and much more.
How To Create A Halloween Website With 1 Click
To start using these Halloween templates, make sure you have signed up for an account on Templately and installed both Elementor and Essential Addons on your WordPress website. Once that's done, you are ready to get started. Just follow the steps given below to create your Halloween website instantly with Elementor and Templately.
Step 1: Insert Halloween Website Template
First, create a new page in your WordPress dashboard by navigating to Pages→ Add New. Once your page has been created, click on the Edit With Elementor button at the  top. This will load the Elementor Editor for you.
Once the Elementor Editor is done loading, all you have to do is click on the blue Templately icon. You should see a pop-up window open up from where you can search for the Halloween website templates. Choose any of the one of the templates you like and simply insert them into your site.
For this tutorial, we are going to use the Monster Mash template. When the page template is inserted, this is how it will show up in your website.
Keep adding more pages until you are happy with your content marketing agency website. Once you are done adding the pages you want, it's time to add your personal touch.
Step 2: Customize Your Halloween Website Template
If you want to, you can customize your Halloween page template in any way you want. To do this, simply use the Elementor Editor on your left hand side and play around the options in the 'Content' and 'Style' tabs. Change the colors, images, typography and more until you are happy with the look.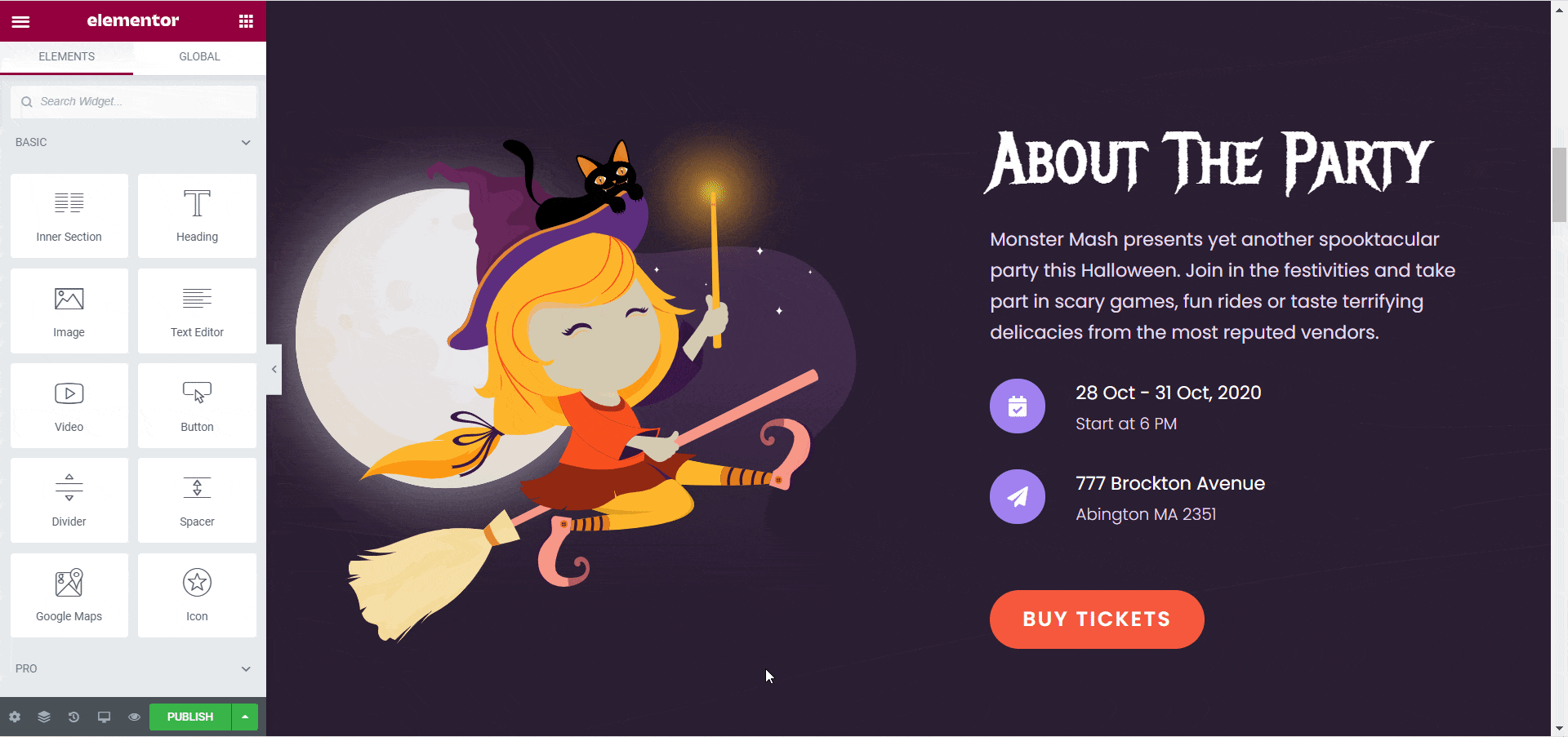 You can also choose to keep the default style of the template and just add your own content. When you are done making any change, remember to click on the 'Save Draft' button to save your changes.
Step 3: Preview Your Halloween Website
When you are happy with your Halloween website, you can save design on Templately's cloud storage. This way, you will have a backup of your website design and can reuse them again next year. Just right click on anywhere on the page and click on 'Save Page To Templately' if you want to save your Halloween website design on MyCloud.
With these three easy steps, you have created your own spooky Halloween website in less than 5 minutes. Great job!
Plan Your Halloween Marketing Campaigns
Now that you are done creating your Halloween website, it's time for you to plan your Halloween promotional campaigns. Here are some great marketing campaign ideas to help you get started.
Give Your Products A Spooky Touch
It's surprisingly easy to change your product styles to match a particular theme. As we mentioned earlier, restaurant owners can add Halloween themed food. Clothing stores can offer Halloween special costumes. The possibilities are endless. Just do a bit of research, and try to come up with creative ways to add a spooky touch to your products.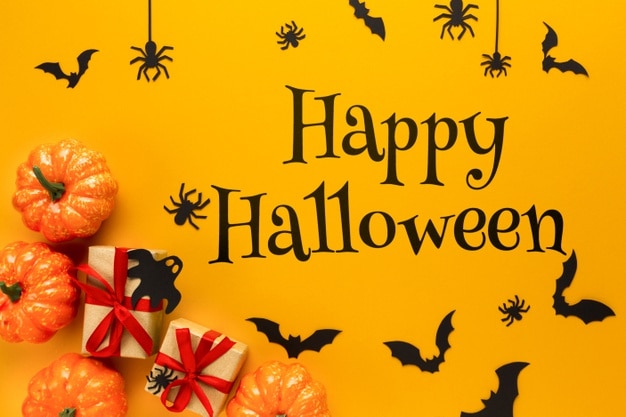 Run Terrific Contests On Your Halloween Website
Besides offering Halloween themed products, you can also run special contests or giveaways on your Halloween website. For example, you can host a pumpkin carving contest or even a costume contest on your website by asking participants to share pictures and videos.
If you want, you can also host a spin the wheel contest where your visitors can try their luck to win prizes. This can be a great way to get traffic to your website and boost your engagement as well. Check out this Halloween special prize wheel template from EasyPromos for ideas.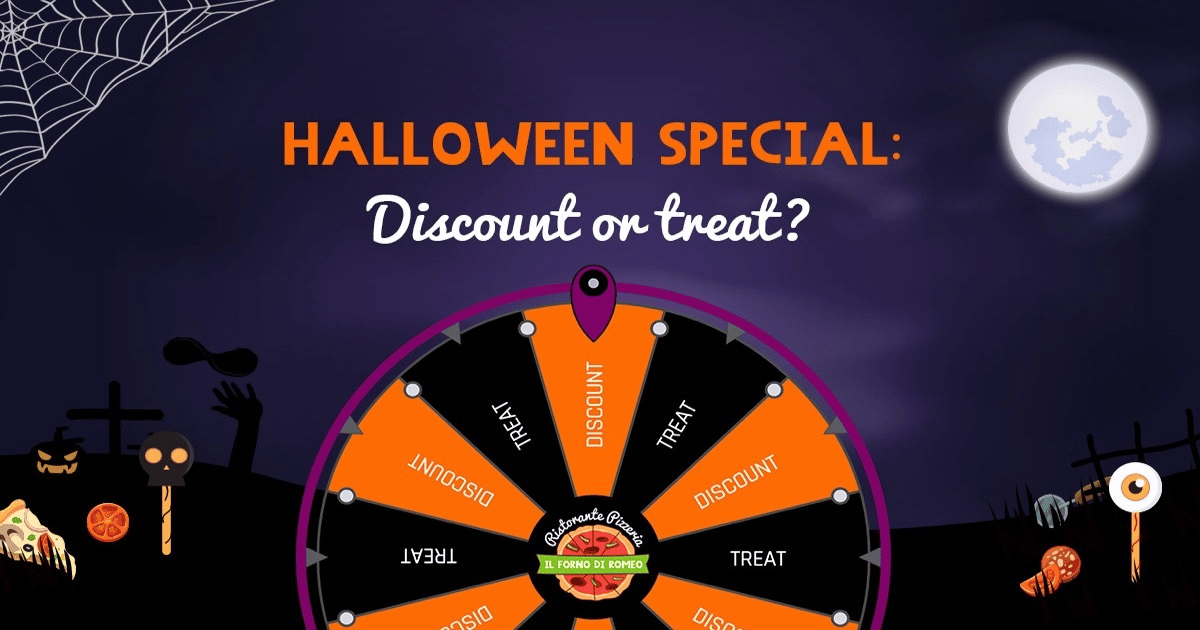 Host Online Trick-Or-Treat Events And Scavenger Hunts
Online trick-or-treat events or scavenger hunts can be super fun and allow your site visitors to participate in the festivities from the comfort of their home. If you want, you can host a similar online trick-or-treat game, or a scavenger hunt game on your Halloween website. Your site visitors will enjoy a fun, festive experience while browsing your website, and you will be able to increase your engagement rates.
For ideas, check out how the chocolates giant Mars Wrigley is hosting a virtual trick-or-treat event.
Spread The Word On Social Media
Social media platforms are a great way to turn your Halloween campaigns into engagement and interaction with customers. Ask your customers to share their favorite Halloween stories, costumes and more. Customers love communicating with brands, and celebrating spooky spirit on Halloween is the perfect way to engage them.
Use Halloween Templates For Email Marketing
Email marketing is an essential strategy for any promotional offer. Thankfully, there are tons of fun, spooky Halloween templates available that you can use for sending emails to your customers. Here are some Halloween templates for email marketing from Moosend templates library to inspire you. 
This brings us to the end of today's tutorial. Let us know your thoughts in the comments below, and don't forget to subscribe to our blog for more fun updates, news and tutorials. Or, share your Halloween website design with us by joining our Facebook Community.