Essential Addons brings you a brand NEW business reviews widget for Elementor to leverage the power of customer reviews to help you establish a more powerful and authentic message that resonates with potential customers. Building trust and credibility with your customers is more important than ever in today's highly competitive and evolving business world. While your marketing tactics and branding efforts are certainly important, what your customers say about your business can often carry even more weight.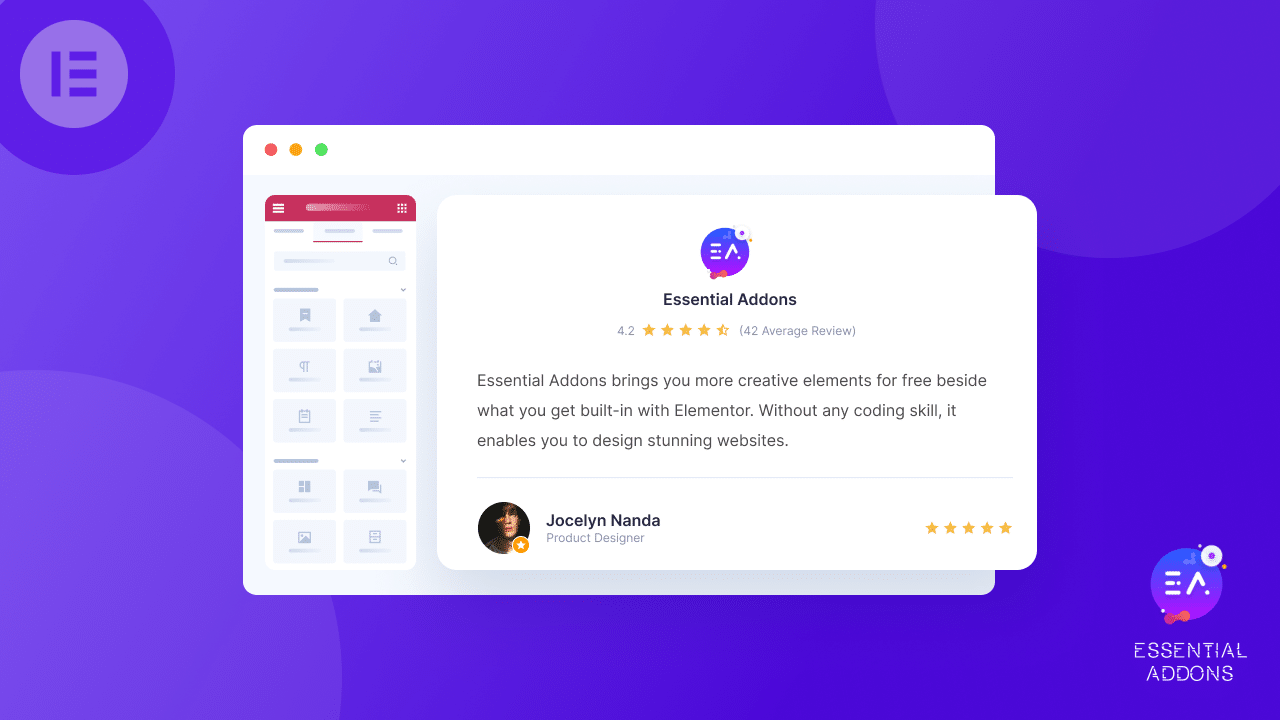 Business Reviews Widget To Boost Sales: How Does It Help?
The business dynamics of today's world are constantly changing. Getting business reviews has become crucial that can help you in various ways, from improving local SEO to increasing your company's reputation. Before we start with the EA Business Reviews Widget, let's first know the advantages you can reap from business reviews. Below are a few ways how business reviews help you.
📢 Strong Social Proof For Your Business
Reviews serve as proof of your website's, brand's, or service's credibility and authenticity. Not only can Google Business Reviews help to improve your local SEO, but they can also play a significant role in enhancing your overall business reputation. By collecting and highlighting positive reviews from satisfied customers, you can establish a more compelling and trustworthy brand image that resonates with potential customers.
With Essential Addons' Business Review widget, you can display reviews and portray the true picture of everything you offer or provide to customers. What others say about you serves as strong social proof for your company, encouraging people to buy from you.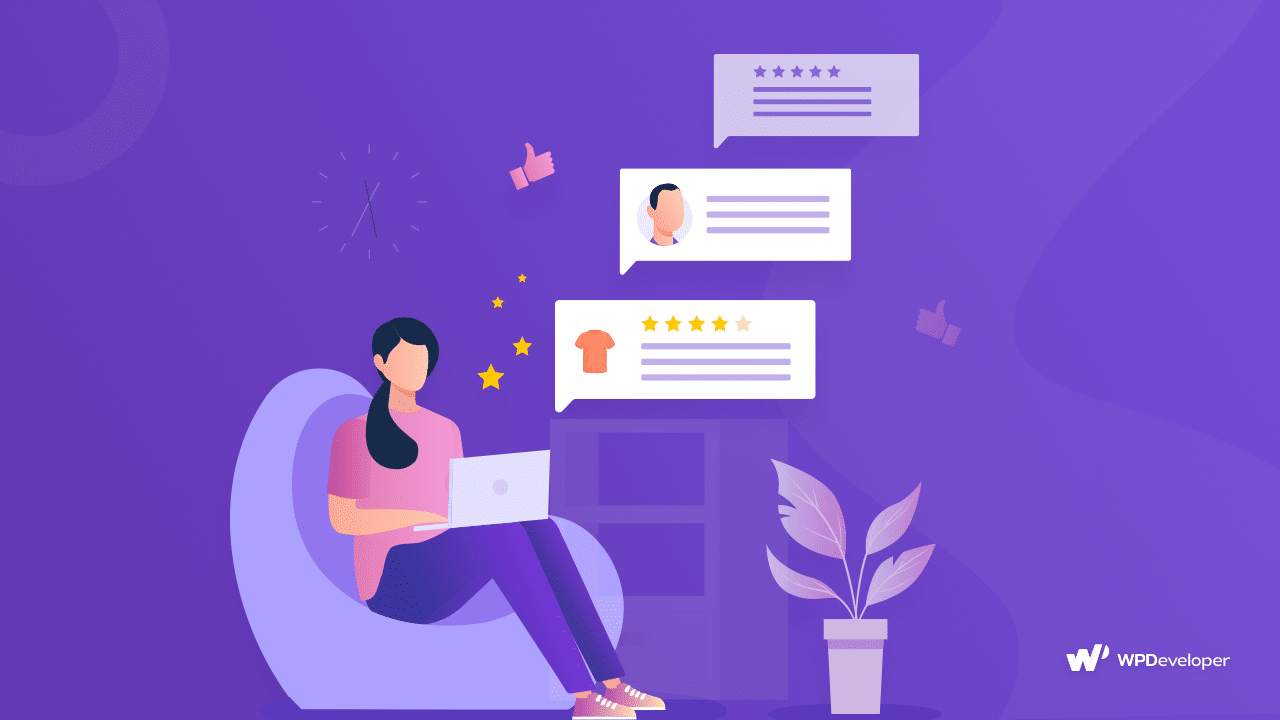 Whether you run a personal or e-commerce website, the EA business reviews widget with genuine customer opinions, thoughts, or feedback is among the best ways to attract visitors and potential customers.
🎯 Enhanced Customer Trust & Reliability
Think back to the first time you visited a business or eCommerce website with the intention of making a purchase. Chances are, you sought out customer reviews to gain insights into the quality of the company's products or services. And it's likely that you only felt comfortable proceeding with a purchase after reading positive feedback from other customers.
To make your visitors feel confident in making a purchase from you and engaging with your brand, you should focus your efforts on highlighting your business reviews on your website. 
🚀 Better Customer Engagement
Positive business reviews have an impact on both your rank and reputation in terms of your ability to attract new clients. So, if you want to increase user engagement and achieve business goals, it's time to incorporate business reviews into your marketing strategy.
You can build trust, drive more traffic to your site, and ultimately grow your bottom line by encouraging satisfied customers to share their experiences and promoting those positive reviews across your online channels. Reviews can serve as valuable proof to your potential customers that your products or services are worth investing their money in. 
Not only are business reviews a way to add social proof to your business, but they are also an important ranking factor. Google considers reviews to be a crucial ranking factor for your company's website and both the quantity and quality of reviews matter for your website to rank higher.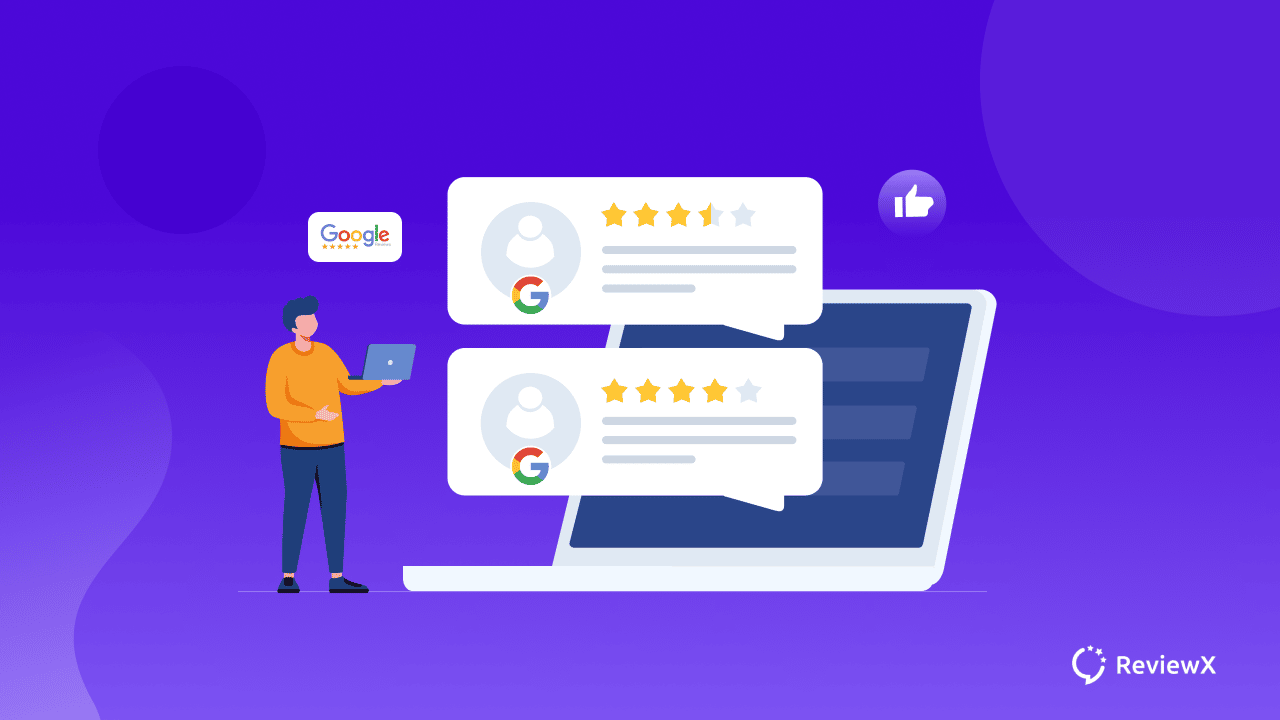 Introducing New Business Reviews Widget For Elementor
Now that you know the power of business reviews for your website, you must be thinking about how to display business reviews beautifully on your website. Essential Addons, the most popular Elementor addon, brings you a brand new Business Reviews Widget for Elementor to help you showcase business reviews amazingly on your WordPress site. 
With Essential Addons 5.6.1, the EA Business Reviews Widget, you can fetch customer reviews with ease. Customer reviews or business reviews on Google enable you to prove your business to your potential customers and increase the online reputation of your business. And with Essential Addons' latest business reviews widget for Elementor, you can show business reviews with the utmost styling and customizations on your website. So, without any further delay, let's learn how to showcase customer reviews with the EA business reviews widget for Elementor.
Step By Step Guide To Use EA Business Reviews Widget for Elementor
Are you excited to explore the Business Reviews widget from Essential Addons? Follow this step-by-step guide to learn how to use the EA Business Reviews widget for Elementor on your WordPress site.
Note: To start with the EA Business Reviews you will need the Places API key from Google. Follow this documentation for more. 
Step 1: Activate The EA Business Reviews Widget
To use this Elementor Business Reviews widget from Essential Addons, you need to activate it first. Open a page in Elementor and find the 'EA Business Reviews' element from the Search option under the 'Elements' tab. Simply just Drag & Drop the 'EA Business Reviews' into the 'Drag widget here' or the '+' section.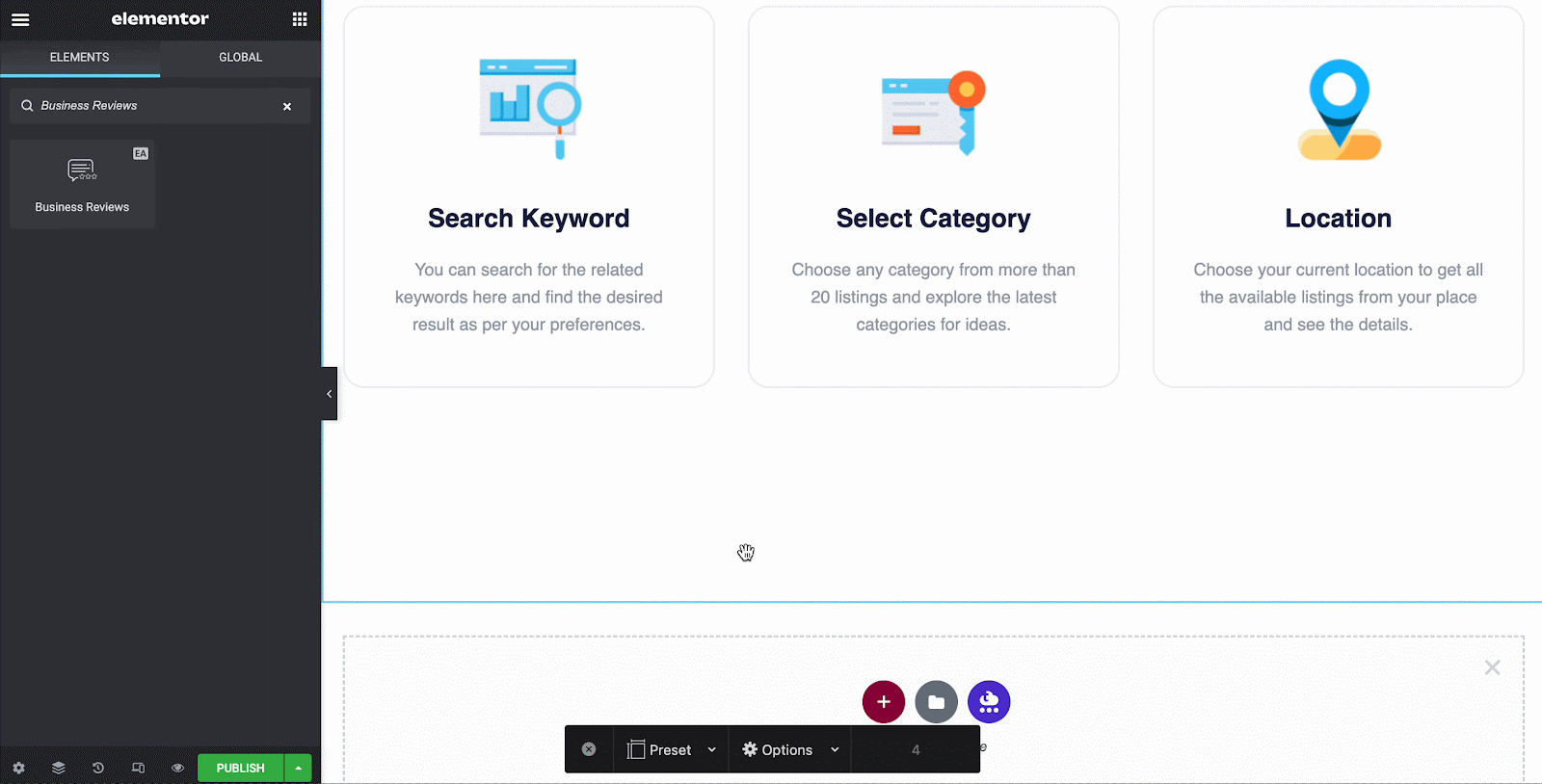 Step 2: Configure The Content Settings
There are diverse options to configure the contents of your business reviews. You will find them under the 'Content' tab. In 'General', 'Layout', and 'Content' settings, you can make necessary changes to the contents as needed.
From the 'General' tab, you can set your 'Source', 'Place ID', 'Sorting', and much more to display business reviews from Google. To get the Place ID key, go through this easy article.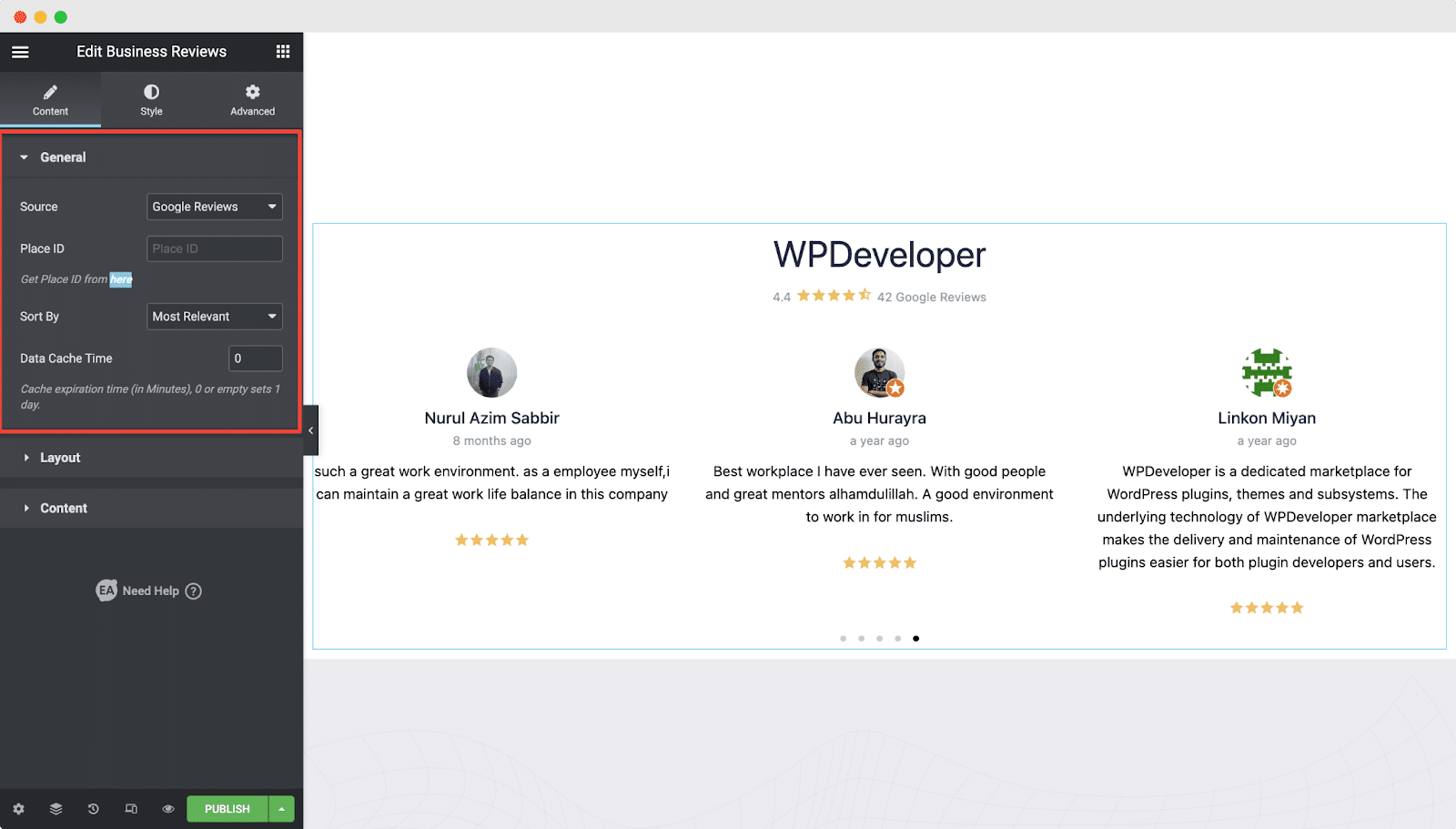 If you want to try out different 'Style Presets', go to the 'Layout' section. Here you can set your preferred 'Style Presets', ''Effects', 'Item Gap', 'Sliding Speed', and so on to make the EA Business Reviews more appealing. 
With this Business Reviews for Elementor widget, you will have more control and flexibility. You can select from a variety of options, including 'Autoplay,' 'Infinite Loop,' 'Grab Cursor,' 'Arrows,' 'Dots,' and many more.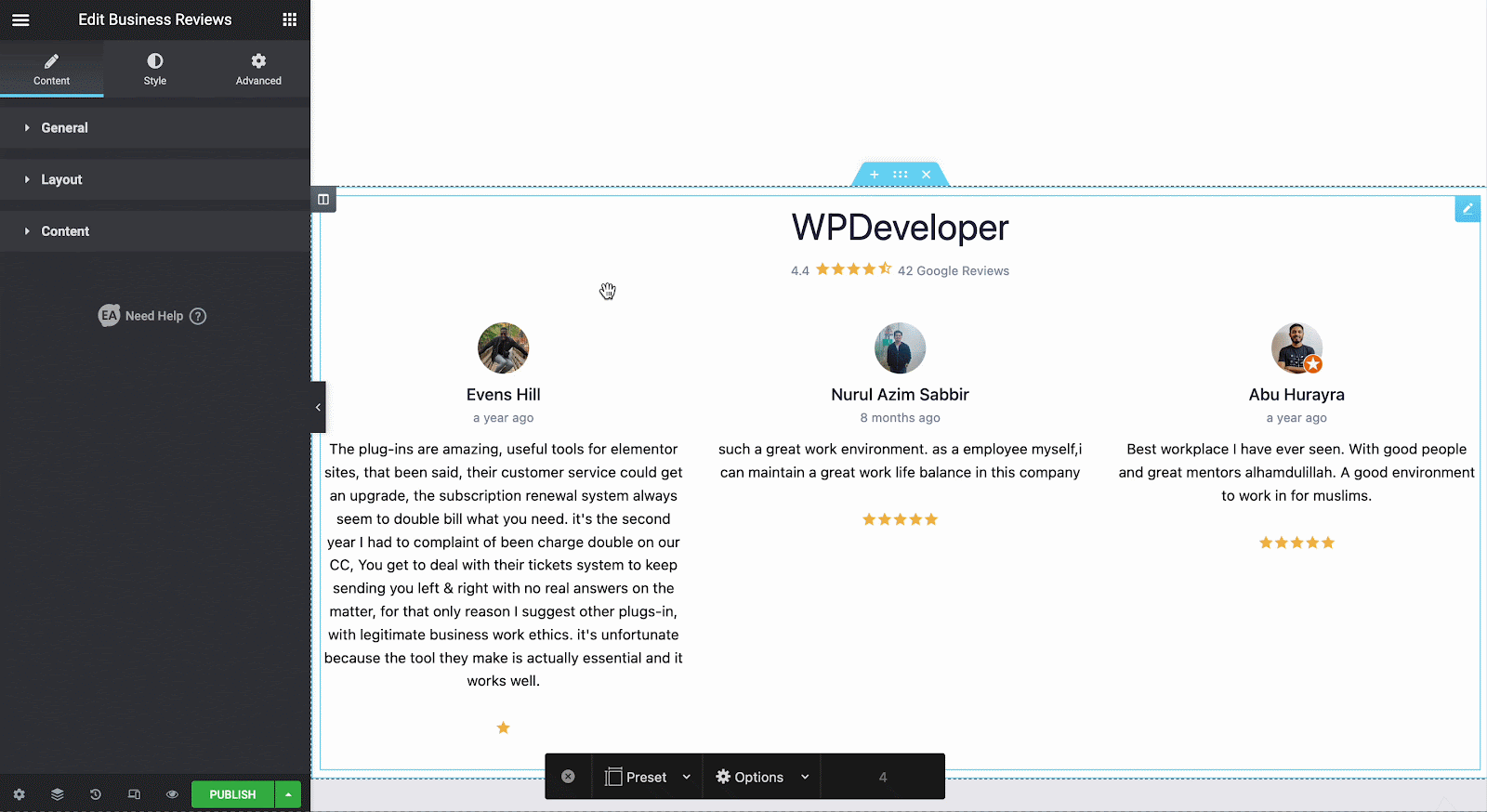 Now move on to the 'Content' section for more options. Here you have the options to enable or disable your business 'Logo', 'Name', 'Address', 'Rating', 'Time', etc.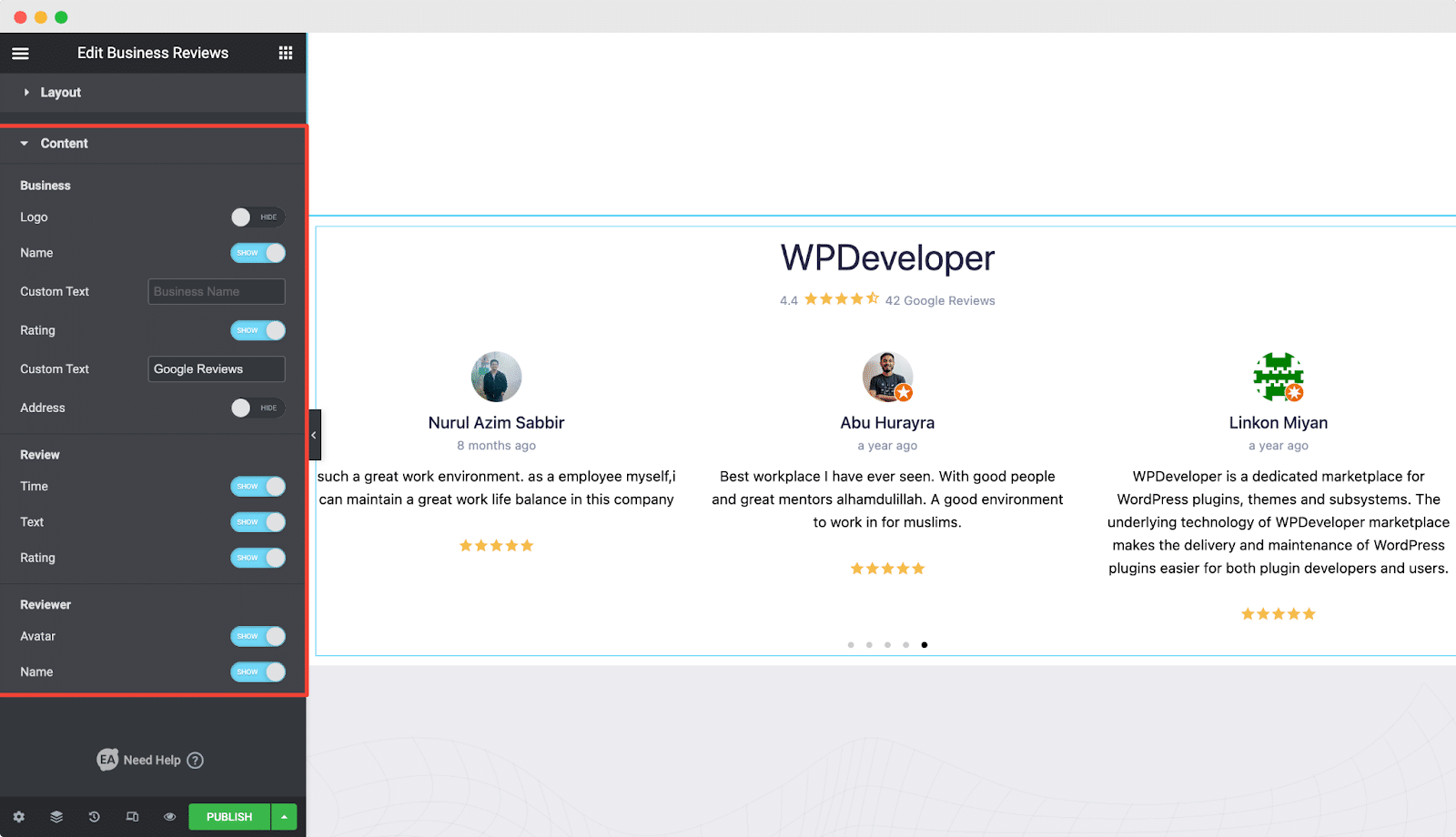 Step 3: Style The Business Reviews' Appearance
Once you are done changing the content settings, now it's time to play around with the unique styling options. Go to the 'Style' tab to style all the features of the EA Business Reviews just the way you prefer and give it your own personal touch.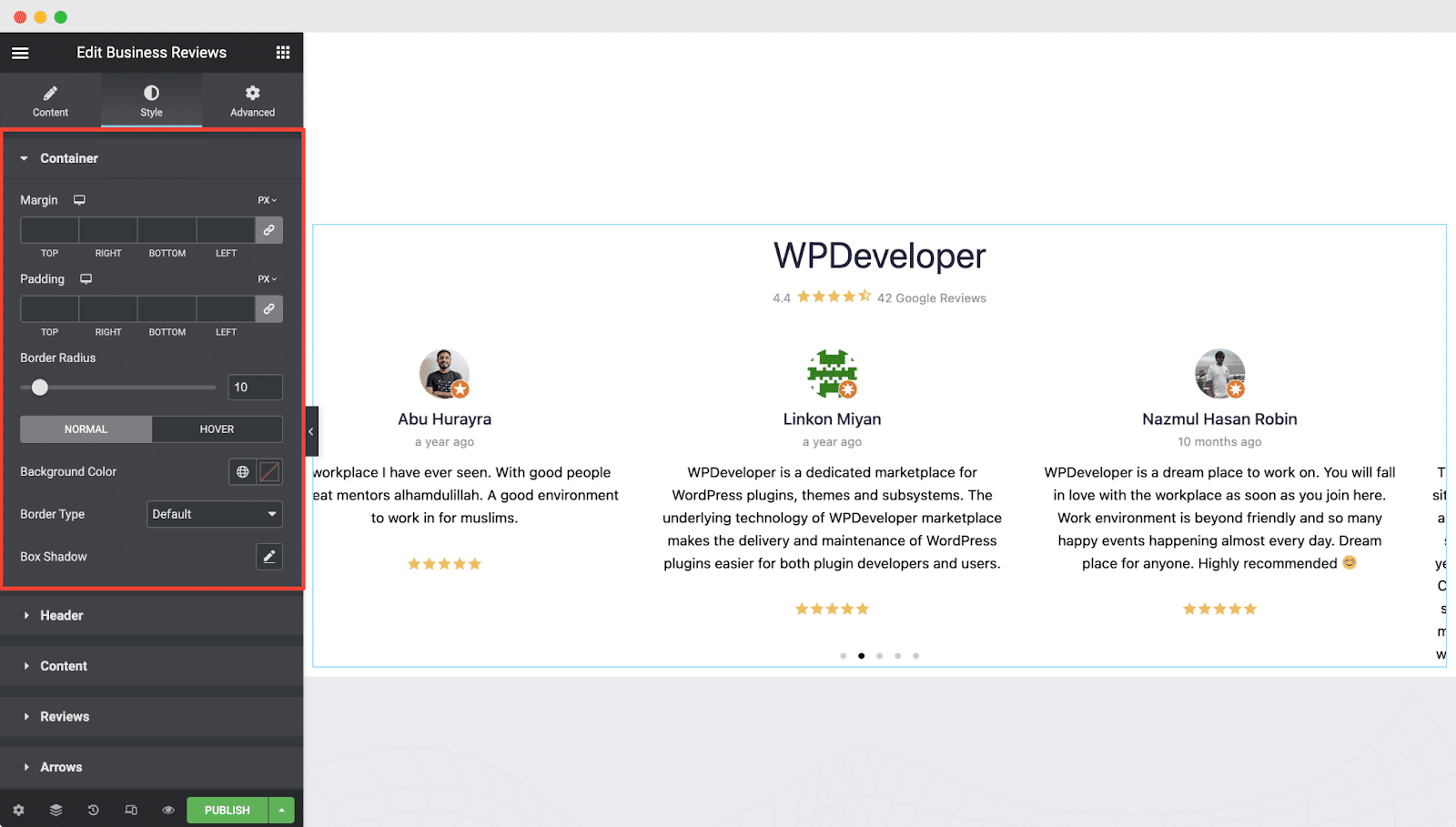 Click on the header and content section to customize the margin, padding, box shadow, alignment, etc. You can also add Business Ratings and Star Size to your reviews.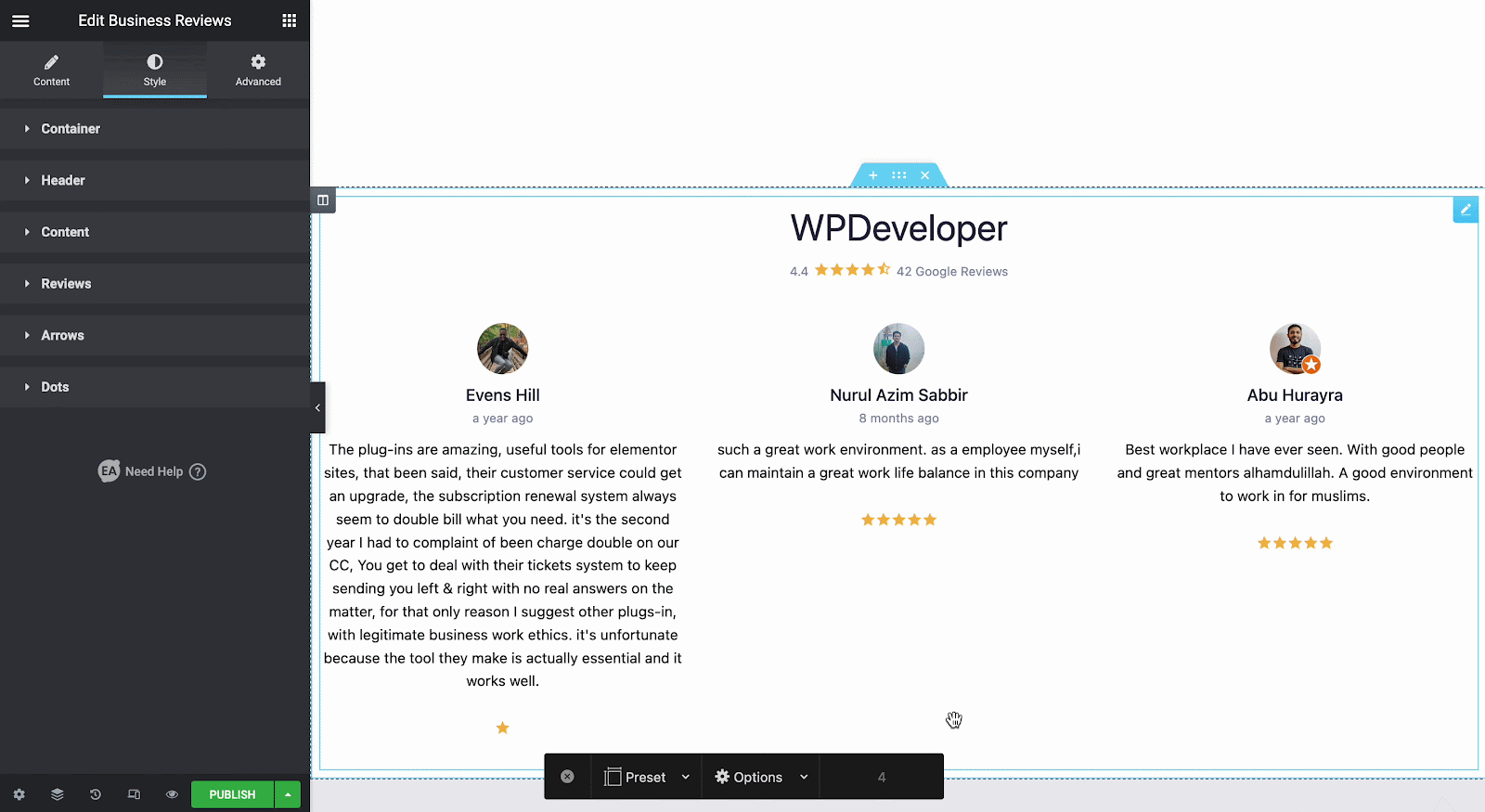 From the 'Reviews' section you can tweak your margin, padding, background color, border type, and much more without any coding. You can set your Arrows direction easily under the 'Arrows' tab. Also, you will have more flexible options to set width, height, font size, alignment, etc.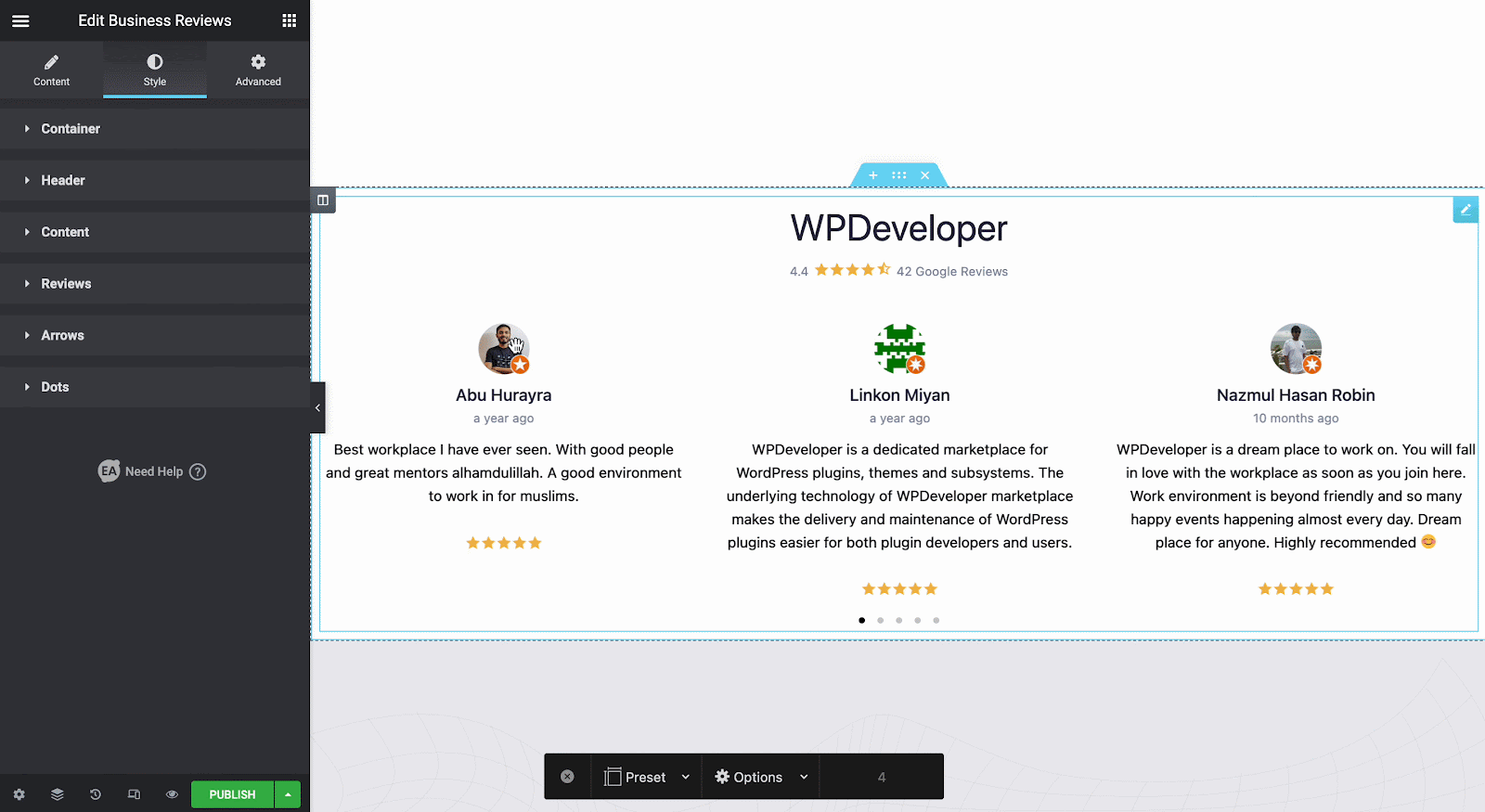 Step 4: Configure The Advanced Settings
From the advanced settings tab, you can enable layout, content protection, motion effects, transform, and many other fascinating extensions and features from Essential Addons.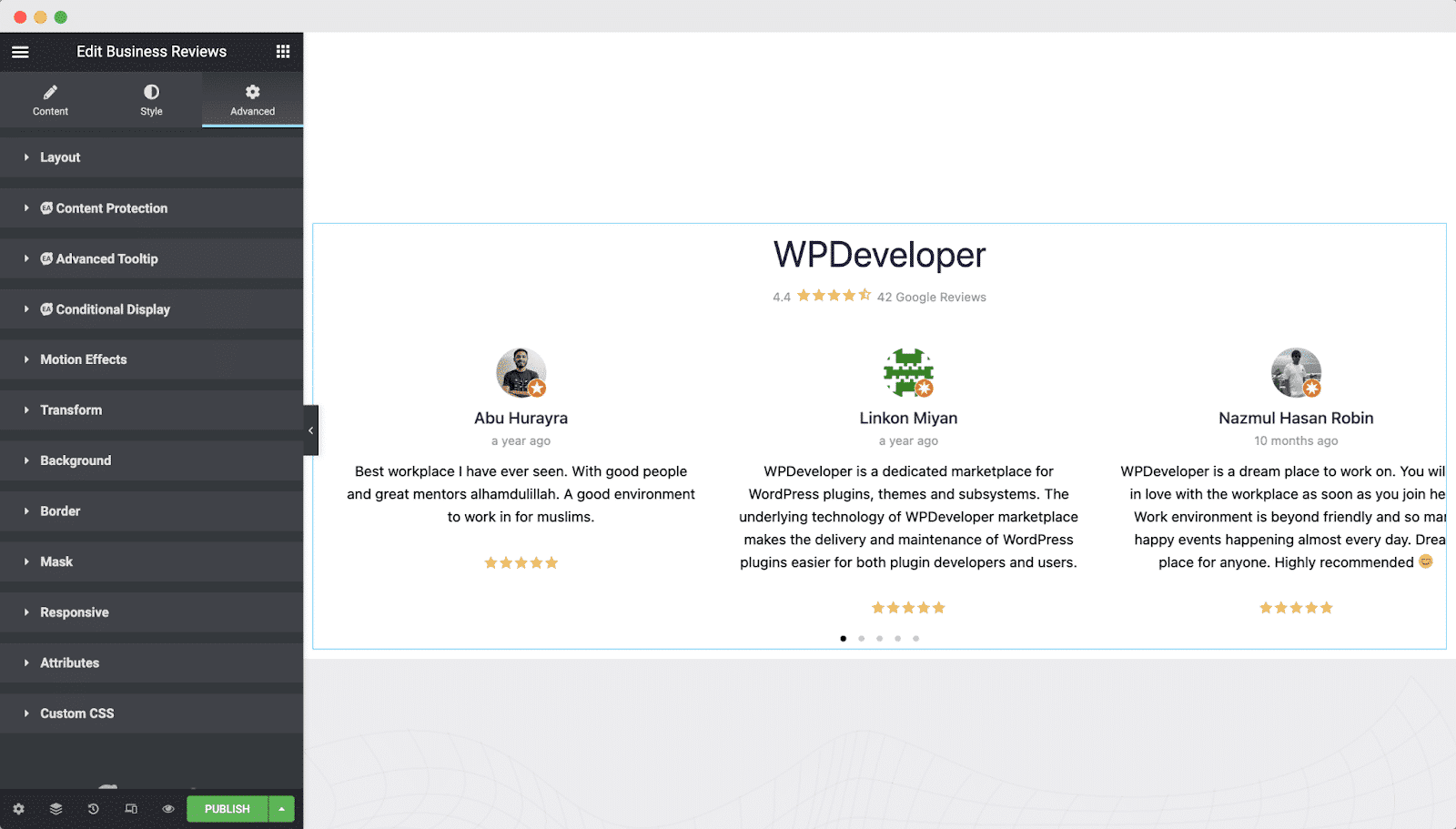 By following the simple and quick steps, you can configure and customize the Essential Addons Business Reviews on your WordPress site and display customer reviews amazingly. Let's have a look at how the business reviews look on your site.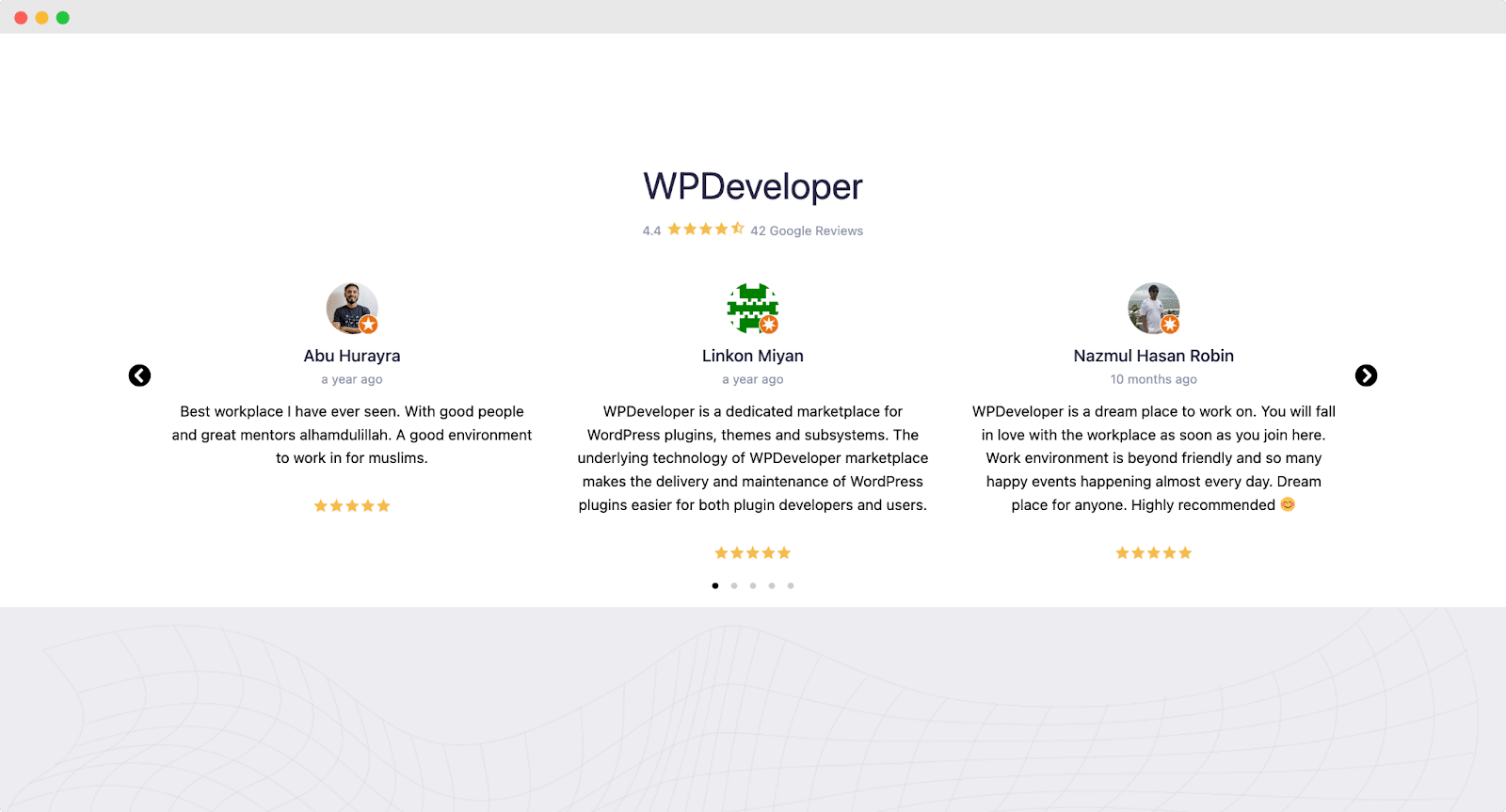 Enhance Your Online Presence With Brand New Business Reviews Widget From EA
Business Reviews are a statement of someone's competence or credibility. When it comes to your own website, your visitors are no different. They are looking for content that establishes your credibility and authority as a merchant, and customer reviews can be a powerful motivator in building that trust. With Essential Addons' Business Reviews Widget, you can display reviews without any hassle using your favorite Elementor page builder and give a boost to your online presence.

So, here we end! Are you going to try this brand-new Elementor business review widget? Feel free to share your thoughts! To get more helpful Elementor tutorials, don't forget to subscribe to our blogs and join our Facebook Community for all the latest updates.