Interactive Promo
Interactive Promo is a powerful element that combines an image and a promo heading with a hidden promo content. Then it adds an elegant effect to fuse it all together. The relative movement of the different contents of the element creates an amazing effect.
The starting point for the customization process can be as random as you want it to be.
Content
Start off by picking an image for the content. The image will be displayed at the back of the Promo Heading and Promo Content. You can also include Image Alt tag from here. You can also include a link to the element. We recommend you also toggle on the "Open in New Window?" option.
Style
You have access to 15 promo effects. How are they different? Different effects display different relative movement of Promo Image, Promo Content, and Promo Title once the mouse hovers over the element.
Then go ahead and adjust the Container Max Width. We recommend you keep it consistent with the promo image resolution. Then you can also add a border for the element. It will be visible surrounding the Promo Image. Then go ahead and edit the Border Width, Border Color, and Border Radius.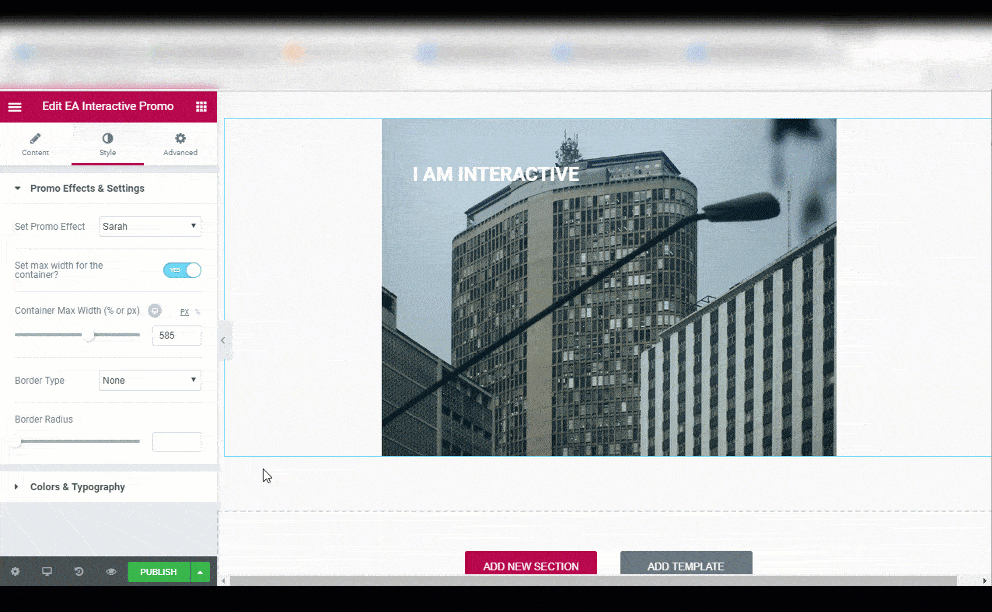 From the Colors and Typography option, you can adjust the color and typography for Promo Heading and Promo Content. You can also pick a Promo Overlay Color. This color is activated when visitors hover their mouse over the element.
See how beautiful Interactive Promo you can build with Essential Addons.