Call to Action
Call to Action(CTA) is an effective online marketing tool. You can set a button at any place of your website with a certain task assigned to it.
The starting point for the customization process can be as random as you want it to be. 
Content
In this section, you get settings for the Content and also the Button Text. From the Content-Type option, you choose to place the content on the right, left or center of the box.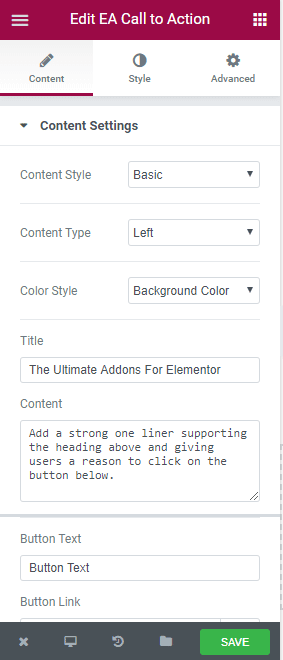 You have a Title Field and also a Content field for typing in your content that you want to display. 
Then you will see the button Text option. Simply type in your text for the Button. Under it you will see the Button Link field. This is the option most of you would love the most. You can paste a link to redirect your visitor to a new page once they click on the button. The small button at the right side gives you two more options- Open in New window and Add nofollow.
Style
You will see three customization bundles inside this option. From the Call to Action Style you will get to pick a background color, padding, margin, border type,border-radius. For advanced styling, you can use the Box shadow option.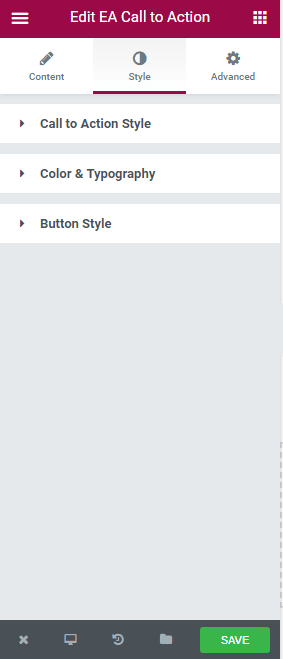 From the next option, you can pick the typography and color for your title and content. Then move on to the Button Style option. You can pick an effect for the Button from three built-in options, padding, and margin. Once you turn on the typography you will see a new set of options for picking a family, adjusting the weight, font style, line height and letter spacing. You can separately add styling to your static button and when the mouse is over the button.
See how beautiful Call To Actions you can build with Essential Addons.