Welcome to our blog post, where we delve into the latest and most exciting updates from Essential Addons in our 2023 2nd Quarter Release! If you're a WooCommerce enthusiast or a website developer seeking to enhance user experience and functionality, this release is bound to grasp your attention.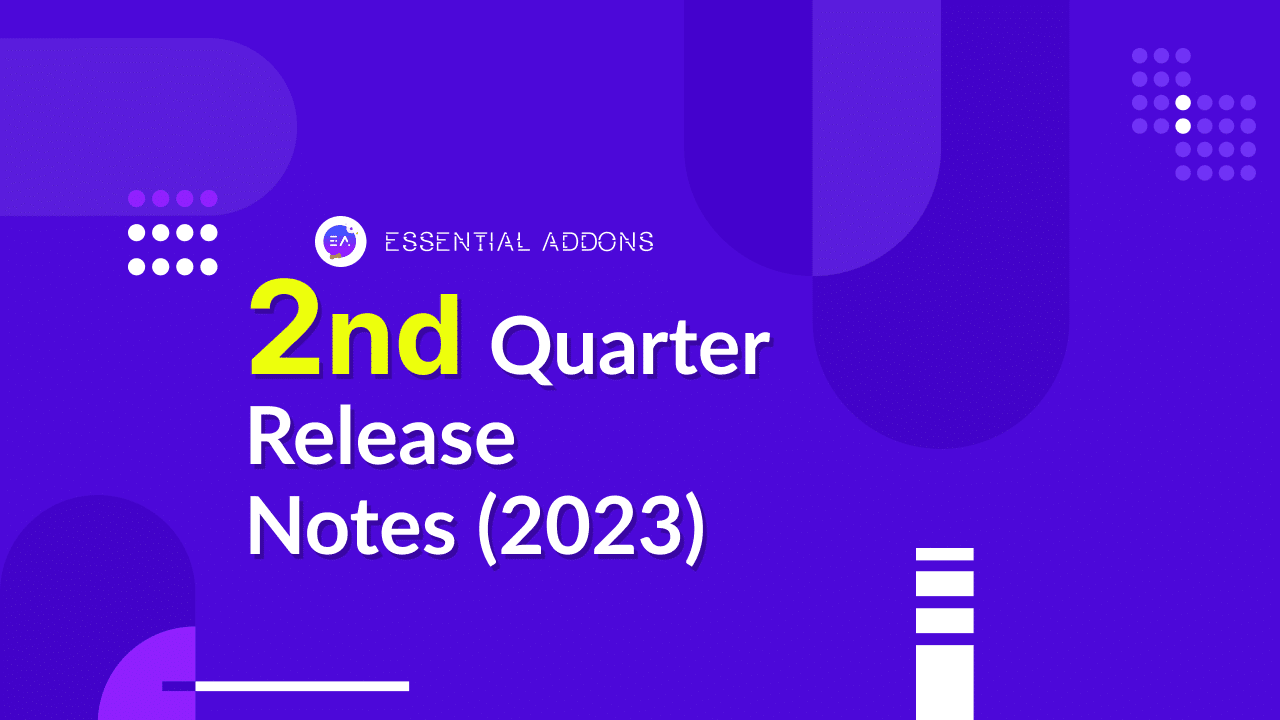 The star of this 2nd quarter release is undeniably the phenomenal WooCommerce Thank You widget. Our Essential Addons team has outdone ourselves by introducing this fantastic widget, designed to revolutionize the way you engage with your customers after a successful purchase.
But that's not all! Beyond the WooCommerce Thank You widget, we've included numerous bug fixes for a smoother, more reliable user experience.
Enhancing Your WooCommerce Experience With NEW Thank You Widget For Elementor
Introducing the revolutionary "WooCommerce Thank You" widget, the latest addition to the 2nd quarter release of Essential Addons that has to transform the post-purchase experience like never before. This powerful widget is designed to express gratitude to your customers, building a strong sense of appreciation and fostering long-term loyalty.
With the WooCommerce Thank You widget, you can easily create personalized and visually appealing thank you messages that leave a lasting impression on your customers. Customize the messages to match your brand's tone and style, and include special offers, discounts, or even social media links to further engage your audience.
The benefits of the WooCommerce Thank You widget are manifold. First and foremost, it humanizes your brand by conveying genuine appreciation, which in turn strengthens the customer-brand relationship. This personal touch can go a long way in turning one-time buyers into loyal advocates for your business.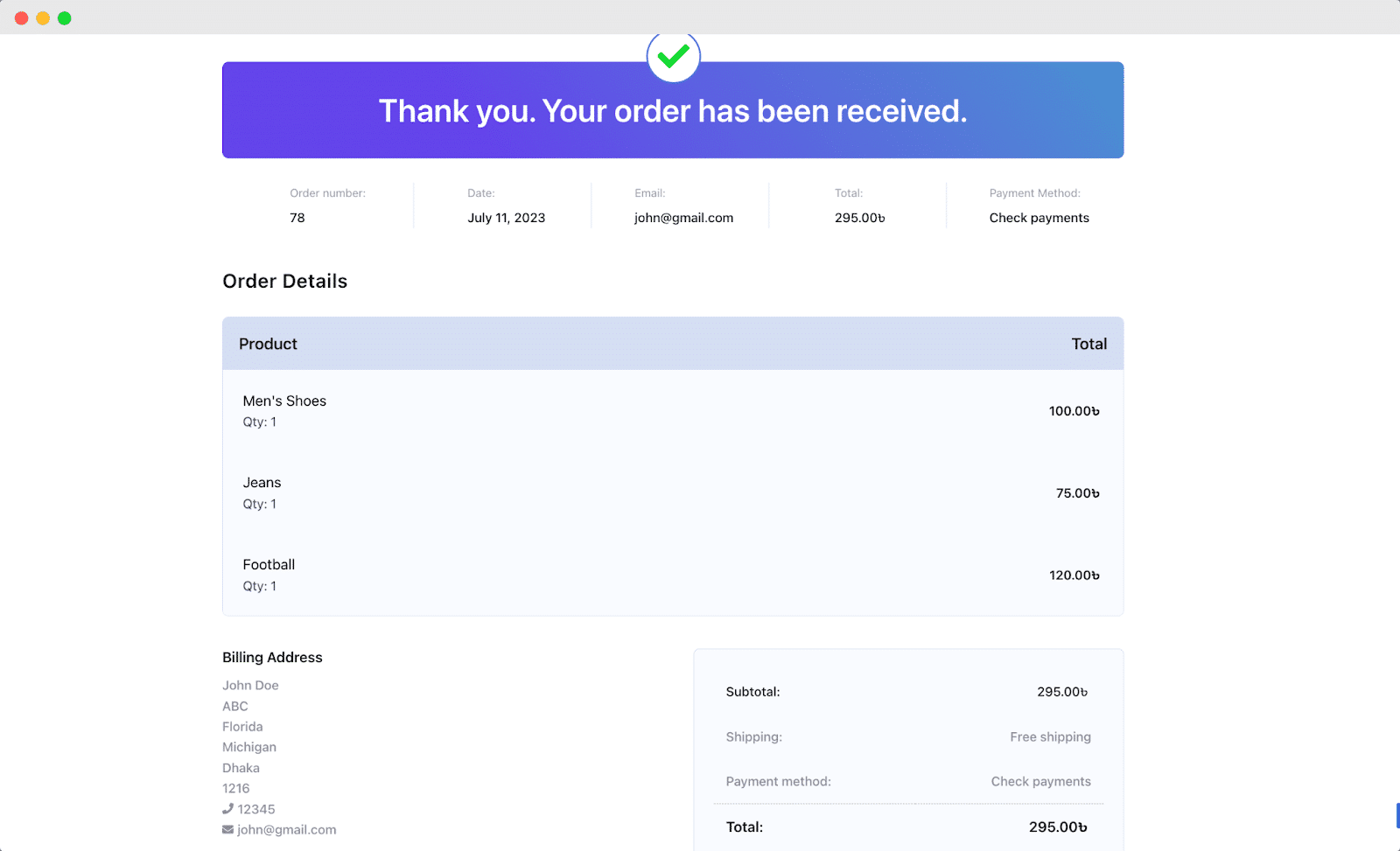 Moreover, the WooCommerce Thank You widget provides an excellent opportunity for upselling or cross-selling. By strategically placing relevant offers or product suggestions within the thank you message, you can encourage customers to explore additional products or services, thereby boosting your sales.
Transform Web Design With Powerful New Wrapper Link Extension
Unlock a whole new level of interactivity with the Wrapper Link feature in Elementor. This powerful extension in the 2nd quarter release of EA allows you to transform entire sections or widgets into clickable links, enhancing user engagement and optimizing the browsing experience. Seamlessly direct visitors to specific pages or external sources with just a single click, providing them with a guided and frictionless journey through your website.
Elevate your design and captivate your audience with this game-changing addition to Elementor's toolkit.
This innovative extension empowers you to link entire sections or widgets, revolutionizing your website's interactivity and user flow. Embrace the power of Wrapper Link and elevate your website's user experience to new heights.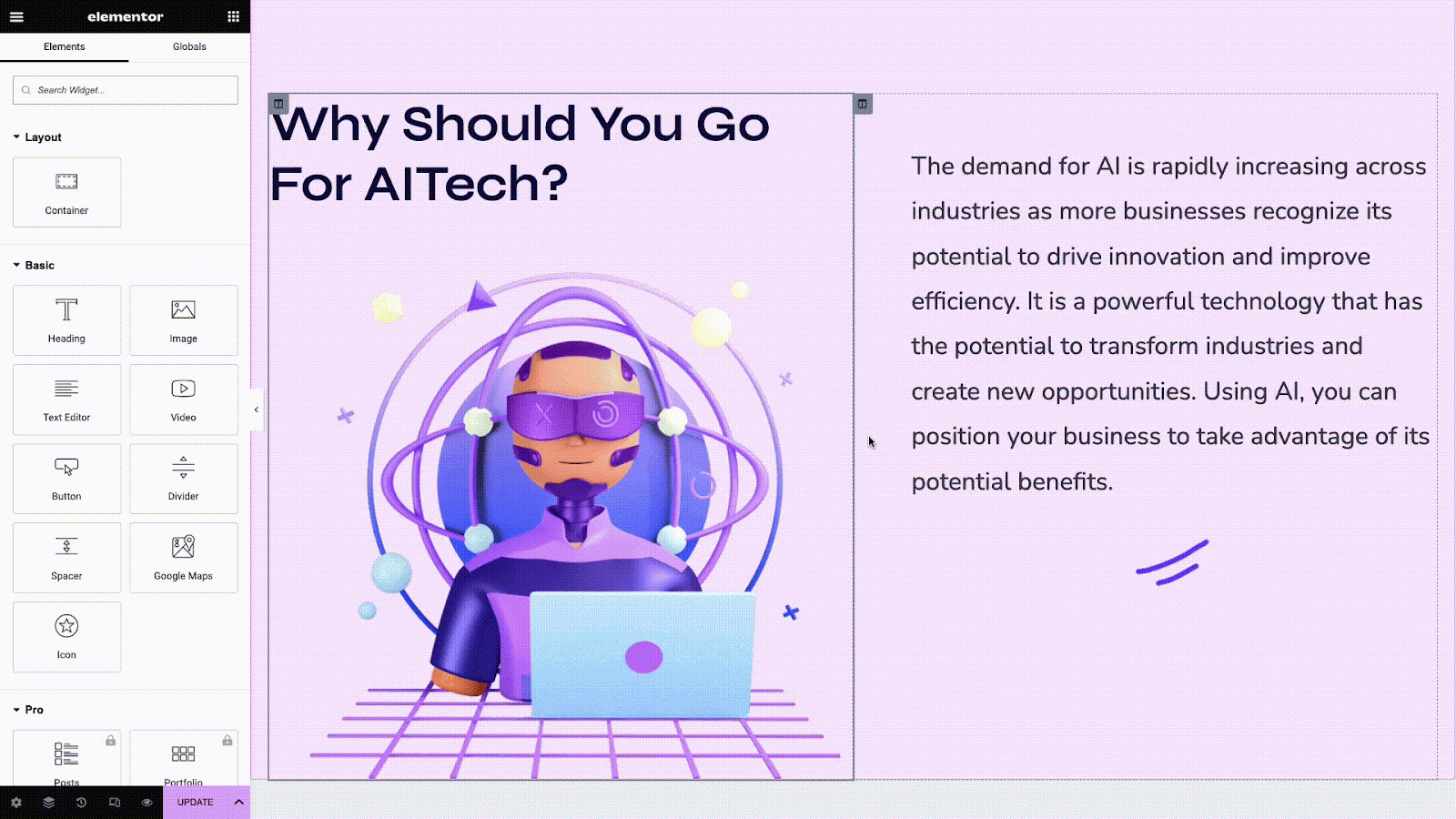 Discover More Exciting Updates In 2nd Quarter Release
Get ready to be amazed as we delve into the latest enhancements in Essential Addons' 2nd quarter Release. From powerful new widgets to improved functionalities, this release has it all.
Improved: Check-box Feature For 'Terms & Conditions' In Login/Register Form
Explore the upgraded Essential Addons widget in the 2nd quarter release of 2023, now featuring a user-friendly check-box for 'Terms & Conditions' in the EA Login/Register Form. Simplify interactions, boost compliance, and elevate user experiences effortlessly. Stay ahead with this seamless addition to your toolkit!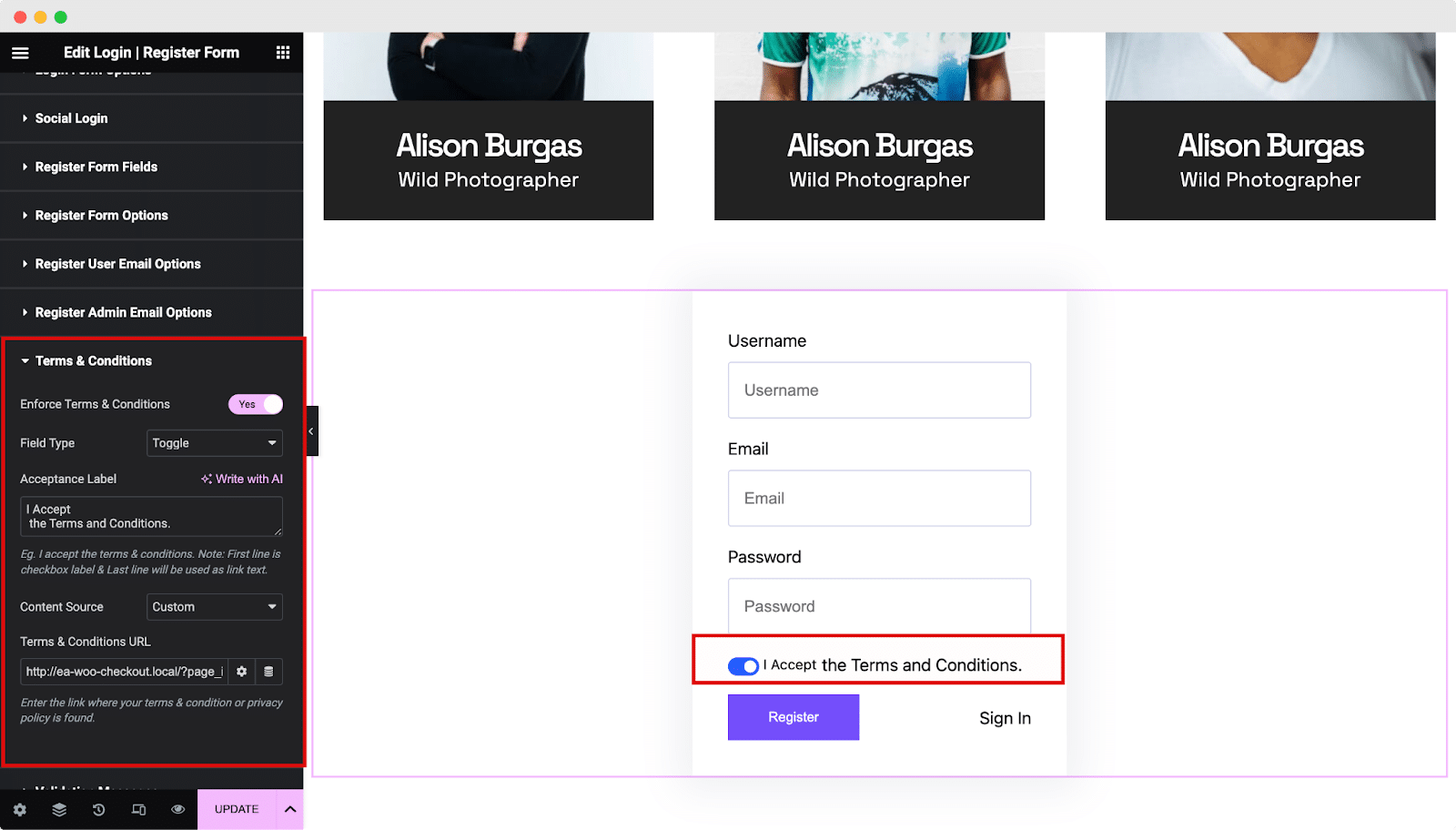 Enhanced Compatibility: Essential Addons Now Supports PHP 8.2
With the latest update, you can experience improved performance, increased stability, and seamless functionality on the newest PHP version.
Our team has worked tirelessly to ensure that Essential Addons seamlessly integrates with PHP 8.2, so you can focus on creating remarkable websites without worrying about technical hiccups. Whether you're a developer, designer, or an enthusiastic website owner, this upgrade promises to elevate your digital journey.
Next-Level Security: Scrolling Control Feature Now Available In Content Protection
We're delighted to introduce the much-anticipated Scrolling Control feature in our EA Content Protection extension. With this latest enhancement, you can now enjoy even greater control and security over your password-protected content.
The Scrolling Control feature empowers you to determine the accessibility of your password field, allowing you to choose whether users can scroll or navigate within the field. This added layer of control ensures that users interact with the password field in a manner that aligns with your content protection strategy.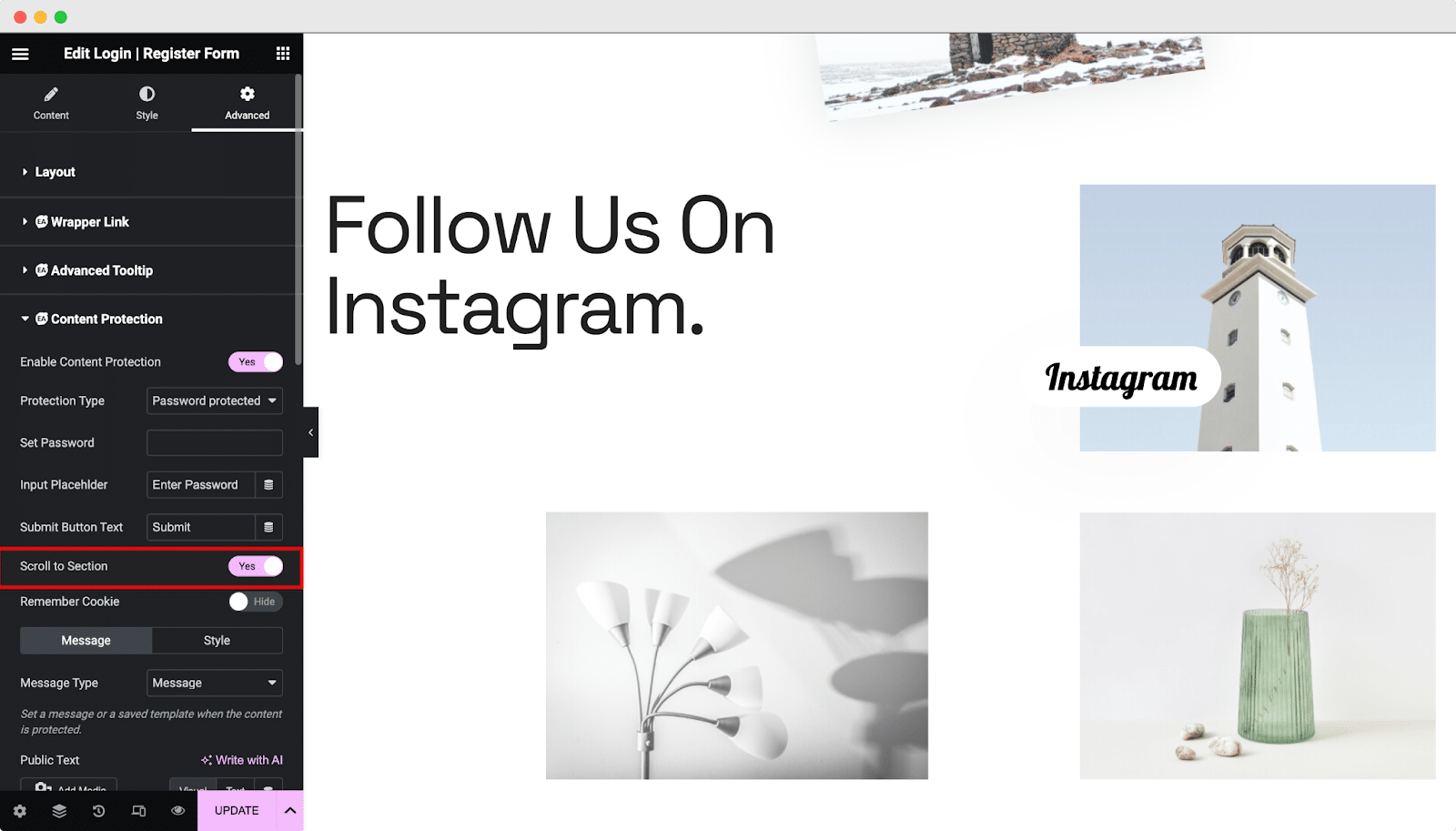 Improved Navigation: EA Content Timeline Now Supports Anchor Links
We are excited to announce that the EA Content Timeline widget from Essential Addons has been further enhanced to support Anchor Links! With this latest improvement, your website visitors can now experience a seamless navigation journey through your dynamic post's feature images.
Enhanced Course Display: LearnDash Course List Now Supports Dynamic Tags
With the newly added support for Dynamic Tags, showcasing your LearnDash courses has never been more powerful and dynamic. The Dynamic Tags feature allows you to display course information dynamically within the Single Course Template.
Now, when users access a specific course page, the widget will automatically populate with the relevant course details, making it easier for learners to access essential information about the course they are interested in.
This enhancement streamlines the course browsing experience and enables you to provide more personalized information to your learners, ensuring they have all the necessary details at their fingertips.
Stay Tuned For More Exciting Updates In 2023
In conclusion, the 2nd quarter release has truly been a game-changer for website development. The star of this release, the Woo Thank You widget, has redefined the post-purchase experience, fostering stronger customer relationships and increasing satisfaction levels.
But that's not all; this update also brought an array of enhancements, including numerous bug fixes and exciting new features in some widgets. From improved performance to enhanced user experiences, the Q2 2023 Release has paved the way for website owners to take their online presence to new heights.
Did you like reading the blog? Feel to contact our support for further assistance and join our Facebook group for the latest updates.