Emphasize on a single word in a sentence by highlighting it with a different color. Dual color Headline lets you do exactly that. Pick colors in the right contrast. And sure enough, you will invoke certain emotions into your site-visitors.
Content
First, adjust the relative position of the icon and text of your element. Use the drop-down menu to do so. Then you can change the existing icon and pick a new one from the drop-down menu. There are hundreds of icon options readily available.  Then separately type in the Title(First & Second Part) and the Sub-Text. Then go ahead and adjust its alignment.
Style
Fix the Background Color, Padding, Margin and Radius from the Dual Heading Style. You have separate setting options for the icon. You can change the size and color of the icon from the Icon Style option.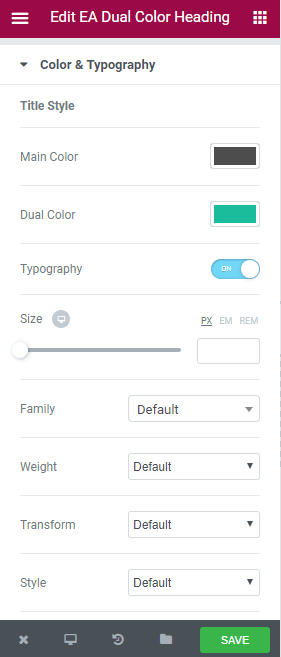 Now the important one. From the Color and typography settings pick the Main color and a Dual color for the title. You can further adjust the text from the typography option like-alignment, font size, font family, font weight. Then go ahead and adjust the Sub-title style.