Flip Box
Readers will leave your website unless you give them a reason to stay. You can earn their attention by adding Flip Box which adds a playful vibe to your website. This element is the right choice in terms of adding suspense to your content. You can add action to any boring content with Flip Box.
The starting point for the customization process can be as random as you want it to be. 
Content
First select in which direction you want the Flip Box to FLIP. You have a handful of options in the Drop Down Menu. Then select an Icon that will be placed on the front of the Flip-Box. There are hundreds of icons from which you can choose.
Then move onto the Content Part. You have to add Front and Back Content Separately. Every side of the FlipBox has a Title, Text and Alignment adjustment field.
Style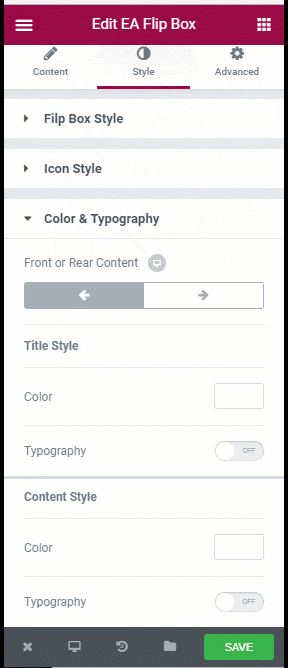 Pick the background color for the Front and Back side of the FlipBox. Then adjust the padding, margin, content padding and border-radius. You can add a border to your Icon from the Icon Style option. You can edit both the front and back text from the Color and typography option.
See how beautiful Flip Boxes you can build with Essential Addons.