Team Member is another good element to add credibility to your website. You do not want to present your website as a faceless entity. With Team Members element you get to present your team to your site-visitors in an interactive manner. Introduce your team members with a short profile.
Content
From the first option pick a picture of your member. You can resize the picture after you have uploaded it. You can use the Custom Image Size option if you don't want to pick one from the drop-down menu. From the Content option, separately type in the Name, Job Description and Job Position of your member.
From the next customization options add Social Media account links to your member. By default, you will see 4 fields- Facebook, Twitter, Google+ and Linkedin. However, you can add a new or delete an existing field. If you add a new Social Media Account, open the Customization options simply by clicking on it. Then add the icon and paste the link to the profiles.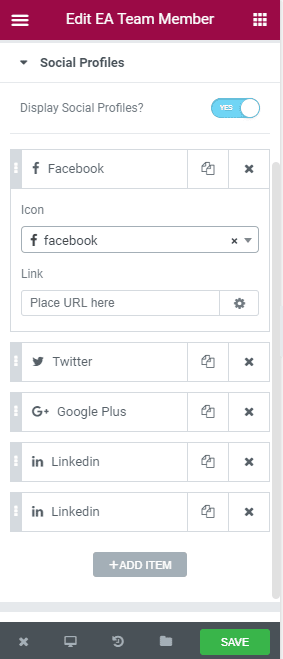 Style
Pick a style for your element from a drop-down menu. You have five distinct styles to choose from. Then add a Content background color, Content Padding, Alignment, and Border. From the Team Member Image Style option, adjust the picture of your member. You can turn on the Rounded Avatar option to set around layout for the image. From the color and Typography option, separately adjust the Member Name, Member Description and Member Job Position.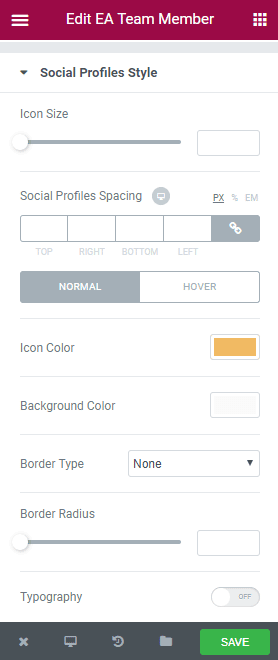 From the Social Profile Styles, separately customize the icons of the social profiles. Add a slightly different color shade to the icon for when the mouse is placed over it.
See how beautiful Team Members section you can build with Essential Addon.