Content
Filterable Gallery Settings-Use the drop-down menu to select Animation Duration, Animation style, Number of columns for the element. Use the drop-down menu to pick a zoom icon for the element.
Gallery Control Settings-Insert the key-words for the gallery you want to filter with. Afterwards, by just clicking on the key-word, any user can sort the gallery.
Gallery Item Settings- From here you can individually edit the items in your gallery. Pick an existing image from the media library or upload a new one. Most importantly insert the keyword you want the item to respond to. Type in the keyword in the Control Name field. You can insert item title and content from here.
Pop-Up settings- When a visitor clicks on the zoom icon the image will trigger as a popup and take up the full-screen. Toggle it off if you do not want to have pop-ups in the gallery.
Style
General Style- From here pick a background color, adjust the padding, margin, and radius of the element.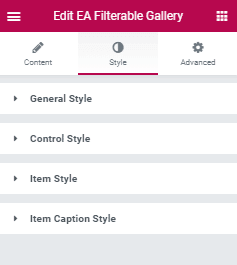 Control Style-The controller for the gallery will be placed at the top. Adjust the padding and margin in general. Afterwards, adjust the normal and active controller separately. For both states, you can pick separate border type, text and background color, and radius.
Item Style-From here adjust the margin, padding, radius for all the items in the gallery as a whole.
Item Caption Style- When you hover your mouse over the gallery an overlay will be triggered. From here you can adjust its settings. First, pick the background color for the overlay, its border, width, and Box shadow. Scroll down to find the hover icon adjustment settings. By default, you will see two hover icons-Zoom and link. these icons will have a separate background. Both its color and its background color can be adjusted.
See how beautiful Filterable Gallery you can build with Essential Addons.