Post Grid places multiple post/blogs in an aesthetic post grid.The purpose of this element is to let you organize and place your blogs/posts in one place.
Content
First, pick a post type for the grid using the drop-down menu.You can also use any custom post type. Next, pick the number of Posts you want to display in your grid. Use the 'Order by' field to pick a criterion for sorting your posts. Afterwards, adjust the order field to select ascending or descending order for the posts.
From the Layout Settings, pick the number of columns you want to have for the grid. Use the drop-down menu to do so. you can have a maximum of 6 columns for the grid. You will see 5 settings with simple toggle bars. All of them are related to what elements you want to display and what you want to hide. Toggle on/off them to show/hide the parts.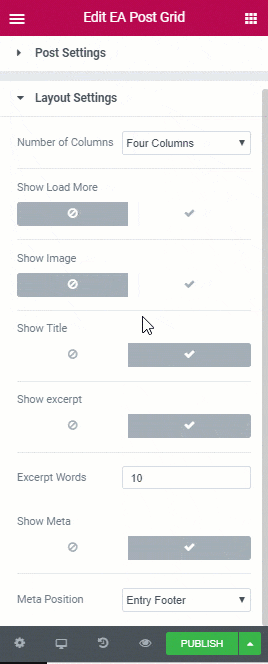 If you wish to show an image for the grid, a new field will appear. From here you can adjust the image size. Similarly, if you toggle on the show except for your posts in the grid, a new field will appear. You can set the limit of excerpt words from here.
Style
From the Post Grid Style, pick a background color for the element. Not to mention, from the Color and Typography settings you can adjust the Title style, Excerpt style, and Meta style separately. Click on the little pencil icon to open the typography settings.
See how beautiful Post Grids you can build with Essential Addons.