Using WordPress booking plugins in your online event website can be an easy way of inviting your niche audiences. And if you are looking for such solutions to manage your online events ticket sales, then this blog is only for you. Read more in detail to compare which plugin will be most suitable to fulfill your needs.
In recent years online events have gotten the most success due to pandemic situations. People now prefer attending events online rather than in person. So, online booking or ticket purchase has become increasingly popular in a continuous process.
How Does WordPress Booking Plugins Can Manage Your Online Events?
Almost every type of workshop, meeting, and concert has been happening online these recent years. WordPress booking plugins can make the total booking process easier and more convenient. 
Including a WordPress booking plugin means you can manage reservations, book events, sell tickets, etc. with online booking systems. Let's discuss how the online booking system for your online events is a blessing. 
🔰 Having an online booking system for your online event website means a booking option is available 24/7. So that people not only feel interested, they can also check all event details like which day, time schedule this event will take place with others. 
🔰 Anyone can check available seats, book them, and get tickets by making online payments through WordPress booking plugins. It lets you maximize your reservations and well ticket selling on online events.
🔰 The best WordPress booking plugins come with analytics that enables you to measure your business success. You can find out easily which merchants sell the most, which time slots are most requested, and even which add-ons are most popular. 
🔰 WordPress booking plugins can also help you save allow attendees time and money with their amazing integrated payment systems. So that you won't have to take help from other additional plugins, or booking portals both as a buyer or seller.
Tricks To Identify The Best WordPress Plugins For Booking
Wondering how to pick the best WordPress booking plugins to run your online events? Here you will get all. As the best WordPress booking plugins need to meet several criteria. That's why we've listed all essential features down below:
Booking Facilities:
You should ensure that your customers can complete the booking journey on their own, without incorporating your event management team into the process. 
Check out whether you can display the reserves and available seats or slots with your selected WordPress booking plugins first.
Your online event participants can participate from all over the world. So check out if your WordPress booking plugins have the privilege to display.
Multiple Platforms Integration:
🟩 WordPress booking plugins integrate a variety of calendars including Outlook, Google Calendar, etc.
🟩 You can easily integrate the calendar on any of your WordPress pages or posts.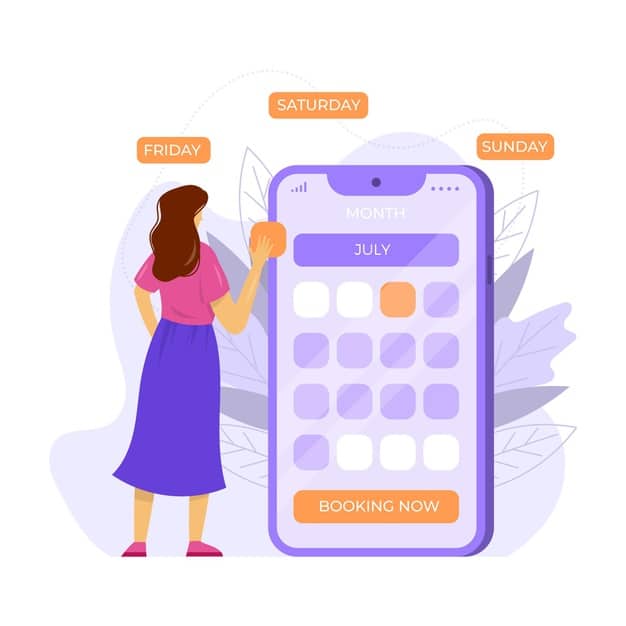 🟩 An additional exclusive feature can be sending meeting notifications automatically. Look for whether your chosen WordPress booking plugins has this feature or not. 
🟩 Booking plugins have integrated advanced lead generation tools for collecting client details and creating a client database. It is all for smooth future communication. It will eventually help you collect leads.
🟩 Best WordPress booking plugins offer multilingual support. It helps to reach people for different regions. Check out if your WordPress booking plugin supports it or not.
Online Payment Method: 
🟦 Integrating multiple payment methods is one of the vitals in the best WordPress booking plugins.
🟦 Check if your WordPress booking plugin allows you to accept multiple currencies.
 🟦 Not all audiences use the same payment method. So check if the audience can pay via other options.
5+ Best WordPress Booking Plugins To Automate Online Events & More
We have analyzed and compared the best WordPress booking plugins to see what their best features are. Also, it might make you choose one over the other. Let's get started!
1️⃣ The Events Calendar: Easily Handle Online Booking Systems
The Events Calendar can help you create and manage online booking for every type of event. You can easily integrate this WordPress booking plugin into your website and manage online bookings without hassles. This plugin is flexible and extensible so that you can customize additional features without adding a single line of code.
☑️ Popular integrations like Google Calendar, iCal, Google Maps are already integrated into The Events Calendar. Therefore, only you need to include the API key and get started. 
☑️ With this plugin, you can easily create and manage your online events. The plugin provides live event search options for interested persons to easily find their desired events.
☑️ The WordPress booking plugin includes an easily manageable event calendar, where you can directly create events, allow attendees the opportunity to make online bookings, and so on.  
☑️ Popular themes like Avada, OceanWP, Divi are compatible with this plugin. Also, totally responsive across mobile, tablet, and desktop.
2️⃣ ModernEvents Calendar Light: Tool For Managing Online Events 
Modern Events Calendar Lite has been designed in a way that event organizers have an easy time managing events in varied businesses such as education, online events, restaurants, and so on. You can easily set up and manage online booking, sell tickets, make profits, and grow your online events with ease.
Key Features Of ModernEvents Calendar Light:
☑️ This WordPress booking plugin provides all essential online booking system features. You can easily import all your previously created events and store them. 
☑️ You can organize online events as easily and successfully as possible. You can post the events publicly or privately to your attendees, and invite them to your online event by sending them the link and password.
☑️ ModernEvents Calendar Light has multiple templates for events, categories, archives. Without coding, you can easily change the appearance by selecting from these templates. 
☑️ This plugin supports multiple payment methods. So your attendees can pay for the online booking instantly with their preferred methods.  
3️⃣ Essential Addons Event Calendar Widget For Elementor
If you have a WordPress-built online event website using Elementor, then Essential Addons Event Calendar will take your online event management experience to a whole new level. EA Event Calendar's ability to manage every single tiny detail will make your upcoming events a huge success. You can customize this widget easily without using any code. 
Key Features Of Bookly WordPress Plugin:
☑️ In Elementor, you can customize everything exactly the way you would like and create unlimited events instantly.
☑️ You won't need to implement any shortcode for functionating EA Event Calendar widget. Just activate Essential Addons and start using this widget for free. 
☑️ You can integrate Google Calendar, Zoom, Meetup, and many other extensions to offer your attendees an online booking system directly from the website. 
☑️ It retrieves event data from Google Calendar and allows you to display them beautifully on your WordPress website. So that attendees can check instantly about upcoming and ongoing events.
4️⃣ Booking Calendar: Online Booking System For WordPress
You can create an online booking form with the ability to integrate a reservation calendar and PayPal payment option for your online events with the Booking Calendar plugin. The plugin allows visitors to find ongoing online events more easily. It has an anti-spam CAPTCHA that will save your online event website from malware and spam attacks.
Key Features Of Booking Calendar Plugin:
☑️ With this plugin, you will get a built-in calendar and form builder. So you can manage online events easily and collect potential lead data as well. 
☑️ The event calendar has a fully responsive design that works well on all devices. Bookings can be viewed and managed via a beautiful and friendly admin interface.
☑️ You can easily set season rates and costs depending on selected days or on options, coupons, or deposits you make.
☑️ With this WordPress booking plugin, you can support multiple independent online booking admin panels for multiple online events.
5️⃣ Event Calendar WD: Responsive Event Calendar plugin
Event Calendar WD is an easy-to-use plugin for creating and managing online events on a website. It is an online booking system plugin that allows you to create single-time or recurring events. You can also sell tickets online and send event invitations using this plugin.
Key Features OF Event Calendar WD:
☑️ By integrating Event Calendar WD into your online event website, your attendees can view upcoming events and book online, but they can also share the online booking system to social media platforms.
☑️ This plugin allows you to customize how your calendars are displayed. You can manage online bookings for multiple events on the same day swiftly.
☑️ Event Calendar WD comes with an adaptive calendar that will display flawlessly across a variety of device types and screen sizes.
☑️ The plugin includes a powerful user interface that lets you customize the look and functionality of your online events and calendars as you prefer.
6️⃣ Bookly: WordPress Online Booking and Scheduling Plugin
Bookly will provide your visitors' easy navigation for online booking so that visitors can easily book appointments and reservations, and save their valuable time. You can send your customers email or SMS notifications before the online events, which will automatically be added to your online booking calendar.
Key Features Of Bookly WordPress Plugin:
☑️ This WordPress booking plugin offers you the fastest online booking system with easily manageable online forms.
☑️ Bookly allows you to send customizable SMS and email notifications to online event attendees directly from the website backend.
☑️ This plugin provides you integration with popular plugins like WooCommerce, google calendars, and so on. It will fetch data from these integrations and display it on your online event website. 
☑️ You will gain access to built-in analytics so you can create a detailed report containing details about the number of online booking, ticket selling, and payments received.
7️⃣ Amelia: Online Events & Appointments Booking Calendar
Amelia was built with cutting-edge technology on both sides of the web, ensuring a smooth and slick experience. All elements of this plugin are designed with a single-page-app concept in mind, so the admin and customer interfaces are both responsive & work without reloading the website's online booking page.
Key Features Of Amelia WordPress Plugin For Booking:
☑️ Using shortcodes, you can easily create a user-friendly online booking system to sell tickets and reserve them for online events. 
☑️ You get a convenient calendar view in the online event website dashboard, that will provide a complete overview of all events and their statuses.
☑️ Email notifications can be easily sent to the online event attendees notifying every phase of events as well as booking confirmation. 
☑️ It has a multi-role management facility so your entire staff can easily handle online booking for your events with this plugin.
✨ Bonus: Revamp Your Online Events Outlook With Templately Ready Templates
In addition to making your online event website user-friendly, you should also make it visually appealing. So every time a visitor lands on your website, they get a sense of enticement and immediately sign up for your online event. The following tips will inform you how to improve your WordPress-built online event website to make it all the more inviting‌ ‌and‌ ‌engaging.
People commonly avoid having a website due to the hassle of coding and designing it. WordPress opens new opportunities for its users. Without having to code or hire designers, you can now create beautiful and interactive websites instantly using WordPress templates.
Now the question is which WordPress template you may choose for your online event website. From tons of online event templates available on the web, you can pick EventPress Pro, a template from Templately from this ready templates cloud. That's specially designed for online events, conferences, meetings, and so on. 
EventPress Pro template pack is built with Elementor and Essential Addons and allows you unlimited customization with no coding needed. This template pack comes with beautifully prepared pages, including Home Page, About Page, Event Schedule Page, Speakers Page, Blog Page, and Blog Details Page. you can easily integrate the WordPress booking plugin and effectively manage your online events booking from a beautifully designed website. 
Streamline More Your Online Event Booking Process
This post has hopefully given you a good idea of the best WordPress booking plugins so that you won't waste time testing each one. Now pick suitable WordPress booking plugins to automate your online event and successfully integrate it into your website.
Feel free to ask any questions about the best WordPress Booking Plugins in the comments or our Facebook community. Don't forget to subscribe to our blog to get this kind of information, tips, and suggestions.