WordPress portfolio themes can help you display all your works uniquely on your personal website without coding. Personal portfolio websites can give you this stunning opportunity to earn money from your passion. And if you are looking for suitable WordPress portfolio themes, then you have landed in the right place. Read till the end to find out about powerful and exclusive WordPress portfolio themes. 
🤔 Why Create Personal Website With WordPress Portfolio Themes?
When you are creating your personal website, it's important to make sure that it is functional, effective, and easy to maintain. Your personal website can reflect your identity, creativity, and more in detail. So it's important to choose the right platform. If you want to build your website swiftly and without coding, WordPress portfolio themes are the best option to go for. Let's explore what exclusive benefits you can get with WordPress portfolio themes. 
WordPress portfolio themes can offer you

modern and minimalistic design

with clean layouts, fine-drawn layouts, and slick animations to give professional look. 

Whether block editors or drag and drop page builders, the WordPress portfolio themes are support all types of page builders

.

The great news is WordPress portfolio themes are

lightweight

and take less time to load and improve site performance. 
Must-Keep Elements On Your Personal Website
You have already known the importance of creating a personal website with WordPress portfolio themes in the earlier parts. Here are some of the mandatory elements you should consider when developing your personal website. 
🔥 Portrait Works Beautifully On Personal Website
There are only a few seconds for you to catch the attention of your visitors or potential clients. So you have to represent all your works to maintain attractiveness. When you are choosing WordPress portfolio themes, check out if you can create photo slideshows, videos, filterable galleries, thumbnails, etc. These can help you to make your experience, past works more presentable.
🔥 Display Self-Description In A Catchy Way
Another mandatory element of your personal website is to tell your stories beautifully. Whoever comes to visit your website will get an overview of yours along with your works. You can design this section beautifully with images, videos, catchy text contents, highlight educational backgrounds, and personal communicating information, etc. So when you pick a ready theme, make sure you can add these elements to your personal website.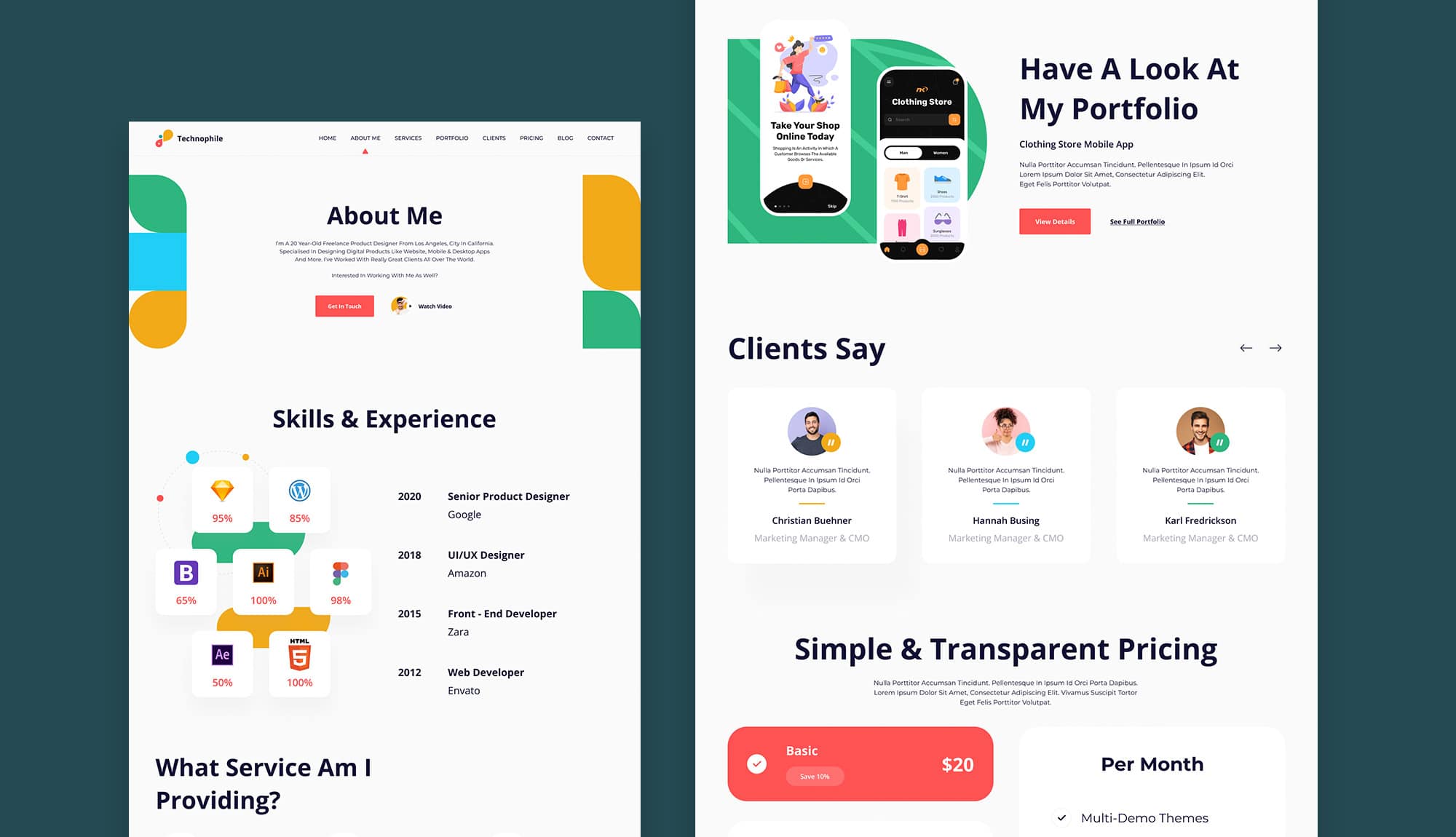 🔥 Promote Call-To-Action On Your Website 
The main purpose of your personal website is to display your works and expertise and build a communication bridge with your visitors. You can interactively display content by using call-to-actions b through contact forms and creative buttons. These will help you to promote your work and get exciting collaboration and work offers in near future. Select WordPress Portfolio themes that have all these functionalities. 
🔥 Tell Your Stories With Attractive Blogs
Blogs help you to tell your stories in more catchy and interesting ways. You can showcase your expertise, new experiment, success story, etc with blogs. Find out when you choose your WordPress portfolio themes that can have a blog display page, single blog detail page, and other blog-related functionalities. 
🔥 Preview All Good Words Interestingly
If you can display what others say about your work, that will help to build trust among new visitors. It will also help you get new works as testimonials work as auto-recommendations. Testimonials can be displayed in various ways, such as slide shows, pop-ups, images and videos, and so on. Choosing WordPress portfolio themes allows your business reviews, valuable words, and credibility sections to be displayed to create credibility and trustworthiness.  
Top 10+ Best Free WordPress Portfolio Themes To Start Your Personal Website In 2023
More than 1000+ free WordPress portfolio themes are available on the WordPress repository to create a personal website. Here we have listed some best free WordPress portfolio themes that can ease your work. Let's check out the themes and find out what is more suitable for your personal website. Get started!
✨
Astra Most Powerful Versatile Portfolio Theme
Astra is one of the popular multi-purpose themes. This theme is well-known for its lightweight and seamless Gutenberg compatibility. You can create a complete personal website with this theme without making any major customization. Astra is free and has compatibility with more than 100+ plugins and tools.  This is one of the most used WordPress portfolio themes among all themes. 
👉 Why Should You Go For Astra? 
This theme has SEO-friendly markup so that it will help you to create a search engine optimized personal website. 

You can translate this theme into your native language easily. If your language is of RTL format (right to left), Astra can support that too. 

It is compatible with all page-builders. You can use any page builder to create your personal website. 
✨
Go The Trending WordPress Portfolio Theme
Go is a multipurpose theme, you can create any type of personal website no matter what profession you form. Its modern and slick layouts will make the website attractive. Also, it will help you build the credibility of your professional expertise and experience. 
👉 Best Features Of Go Theme 
If you are comfortable creating websites with the block editor, then Go is suitable for you. 

It is a one-column theme to beautifully represent all your works and experiences. 

Go has a handful of customizer options to ensure flexibility in creating and maintaining the personal website. 
✨
OceanWP Most Popular WordPress Theme
OceanWP is one of the powerful WordPress portfolio themes. This theme is so lightweight and fast loading, it will make your website search engine optimized. Its simple yet modern layouts will make your website breathtaking and attractive. 
👉 Main Reasons For Choosing OceanWP
It has an exclusive parallax effect to make your personal website interactive and beautifully presentable. 

This theme will make sure your website is adjustable to all-size screens, regardless of which device it is on. 

Almost all popular page builders are compatible with OceanWP, and it has seamless integration of WooCommerce. You can create and manage your online store also. 
✨
Ultra A Stunning WordPress Portfolio Theme
Ultra is easy to set up and one of the popular WordPress portfolio themes. To launch your business, blog, or portfolio, Ultra will help you to create visitor-engaging and interactive websites instantly. It supports almost all popular plugins and extensions. 
👉 Key Reasons To Choose Ultra 
You can remove the attribution link from the footer without editing any code. 

Ultra allows you to take complete control over all theme backgrounds, elements, and font colors. 

It allows users to submit comments without a page reload on submit. You can communicate with your readers and visitors more efficiently. 
✨
Flexia The Most Popular Multi-Purpose WordPress Theme
If you are looking for a lightweight and easily expandable theme for creating your personal website, then you can go for Flexia– the best WordPress theme for Elementor & Gutenberg users. This theme offers you endless customization options and is compatible with the WooCommerce plugin. If you want to customize and personalize the theme, you have to create a child theme and start customizing. 
👉 Why Is Flexia Suitable For Personal Websites? 
This theme is super customized, so you can customize it without using a single line of code. 

This theme uses HTML tags, metadata that will help your website to rank higher in search engines.

Flexia

contains all modern, and versatile features to give your website a more interactive outlook. 
✨
Shapely A Gorgeous Portfolio Theme For WordPress
Shapely is a versatile WordPress portfolio theme, with a pixel-perfect design. This theme will help you to create a complete personal website with outstanding functionalities. Shapely is also search engine optimized so that you can reach your potential clients and visitors easily with this theme. 
👉 What Makes Shapely Popular?
It allows you to include razor-sharp text, vibrant colors, stunning graphics, sharp images, premium feel, and beautiful vectorized icons on retina displays.

Shapely theme features a sleek one-page layout which is well suited for creating personal websites.

You will find all mandatory elements like galleries, testimonials, interactive call-to-action options as built-in widgets on your website. 
✨
Perfect Portfolio A WordPress Theme 
From the theme name you can easily guess about its functionalities clearly, it's one of the popular WordPress portfolio themes. Perfect Portfolio theme comes with attractive design layouts. You can take full advantage of the free widgets to create an amazing personal website regardless of whether you are a graphic designer, painter, artist, web designer, web developer, software engineer, or photographer.
👉 Attractive Features Of Perfect Portfolio Theme 
With

Perfect Portfolio

, you can feasibly build credibility and attract potential clients by displaying your case studies, testimonials, expertise, and so on. 

This theme also offers speed-optimized code topped with a fully mobile-friendly layout.

You can customize your theme layouts and designs easily without tweaking any code. 
✨
Twenty Twenty-One The Most Lightweight WordPress Theme
Twenty Twenty-One has been designed to be a simple and elegant theme but comes with all the features you will need to create a stunning website in your block editor. It has been popular as WordPress portfolio themes also. You can create a beautiful personal website with Twenty Twenty-One. 
👉 Key Features of Twenty Twenty-One Theme
This theme has worked on accessibility, including the 'Dark Mode' support opt-in setting. 

There are new block patterns, you can overlap multiple types of content blocks easily and swiftly on your website. 

It has improved styled and custom CSS properties so that you can customize your website more attractively.  
✨
EleFolio A Stunning Portfolio Website Template
EleFolio is a popular template from Templately to create your personal website. If you are comfortable with the Elementor page builder then this template is suitable for you. You can use any WordPress portfolio templates to use this template, these templates have no dependency on any themes, are completely free, and are flexible to use. 
👉 All Specialties of EleFolio Portfolio Website Template
You will get all the essential pages to make a complete personal website like the home page, contact page, service page, project detail page, etc.

You can display all your testimonials with an animated carousel. 

The only dependency this template has is with Elementor and its libraries. So you can create your website easily and in fewer steps. 
✨
Mellafex A Striking Makeup Artist Template
If you are passionate enough about makeup kits and experiments then you can beautifully display your expertise with Mellafex template from Templately. The main benefit of using this template pack is that it has no dependency on other themes and can customize the template without coding. Mellafex template pack will give your personal website a modern and sleek touch. 
👉 Special Features of Mellafex Template
Here are 7 ready templates for creating a complete personal website. That belongs with the homepage, contact page, blog page, service page, and so on. 

Its attractive call-to-action will influence visitors to take action.

This theme is 100% responsive, SEO-Friendly design, and has cross-browser compatibility. So your visitors can browse the site from any device. 
✨
CVTemple CVResumePortfolio A Classic Looking Elementor Template
If you are planning to represent all your skills, experiences beautifully on your personal website, then CVTemple from Templately is suitable for you. You can include all your social media platforms, work experience, educational background in an interactive way. 
👉 Why Should You Use CVTemple
If you want to display all your portfolio information on one page, then this template is the suitable one. 

CVTemple is built with such simple elements that you won't need to install another third party, only by activating

Elementor and Templately

you can create a stunning personal website. 

You can easily build communication bridges with your visitors and potential clients through your website. 
✨
LyfGuide An Amazing Template For Life Coach Personal Website
LyfGuide template from Templately is suitable for life coaches, personal coaches, counselors, consultants, or anyone in similar professions. It is a completely customizable template and you can beautifully functionalize this on your website without using any WordPress portfolio themes. You can create any type of personal website instantly with this template. 
👉 Best Features Of LyfGuide
If you want to showcase all your experiences on one page, then this template is suitable. 

You can customize your entire website without a single line of coding. 

This template will offer your modern design layout and advanced elements to represent your portfolio more eye-catching. 
Hope you have found your suitable theme and portfolio template from this list. If you have created your personal website with any of the following WordPress portfolio themes, don't forget to share your experiences with our Facebook community. Subscribe to our blogs to get more of these kinds of tutorials, insights, news, and so on.