Post Timeline lets you build vertical timeline for your post and testimonials. This way your readers can navigate your website better.
Content
The first thing you want to do is select the type of content you want to include in the timeline. Use the drop-down menu to select a type. You can also select any custom post type for the timeline. Select any Category name if you wish to sort the posts based on category. The field will automatically fetch all the categories you have used on your website. Use the last two settings Order and Order By to arrange the posts according to Author, Title, Date. Arrange them in either a descending or ascending order.
The layout settings consist of only yes/no buttons. Use these settings to Show/Hide image, title, excerpt and the load more button. Furthermore, once you pick the yes button for load more button,  show image and show excerpt a new field will show up. For example, once you pick 'Yes' for the 'Show Load More' option an additional field will come up, where you can pick a different button text, By default, it is set to 'Load More'.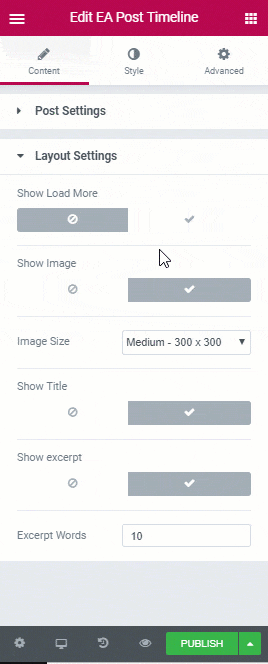 Style
From here you can pick a color for the Overlay Background, Timeline Bullet, Timeline Bullet Border, Timeline Vertical Line Color, Border & Arrow Color, Date Background Color and Date Text Color.
From the Typography, you can adjust the Title and Excerpt style. You can pick separate colors for them.
See how beautiful Post Timelines you can build with Essential Addons.