You will find that practices of using white space are becoming more popular each day as you check out the best trends of web design. When the whole world is buzzing about this web design concept, why should you be left behind? We will now take you on a tour to reveal the best use cases for white space design in websites with 5 design practices.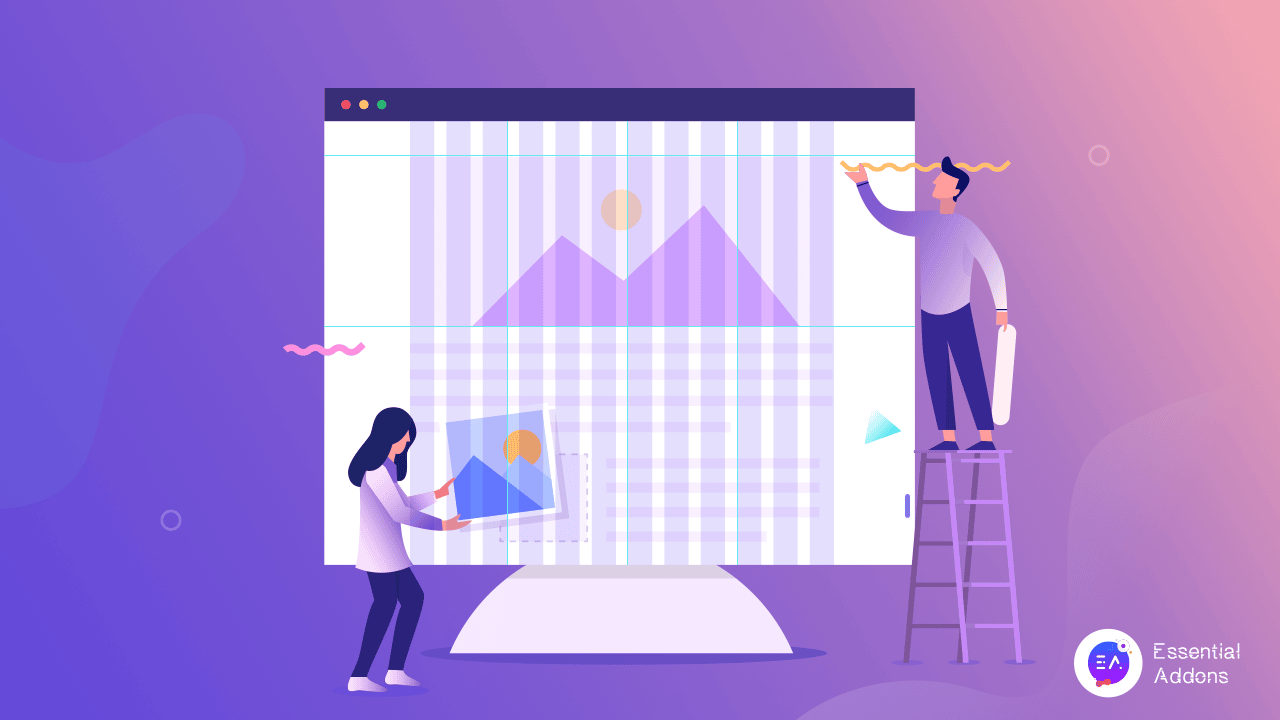 What Does White Space Mean In Web Design?
Our brains process information better when the information is presented clearly, in a minimal way– they're more appealing aesthetically and have a positive impact on learning. The brain is unable to absorb anything at all when too much information or visual data is crammed into a small, crowded space. This is the definition of information overload.
In contrast, white space refers to a negative area in any composition. Viewers are given some visual breaks when processing design through unmarked distances between elements, minimal distractions and making it easier to concentrate. White space has become increasingly important in website design recently. In website design, when you focus on blank spaces and a minimalist look, that is considered as white space. Here is an example of using white space in web design.
4 Different Types Of White Space Practices In Designing
After getting a basic idea about white space in web designing, now is the time to explore the types of white space you can practice for your website. According to the web designing convention, we can categorize the use of white space into 4 different categories. Let's break them down. 
 ​💡 Micro: In web design, a micro space is defined as a space between smaller elements such as the spacing between letters or the line-height. white space in the micro is just as important as macro white space, if not more, as it improves user readability.
💡 Macro: When you use space between the elements of graphics, copy, images, etc in your web design, that is considered as macro white space. That is most commonly considered as white space practice on the web.
💡 Active: A website that flows smoothly and leads the user down to a conversion point (call-to-action, form, etc) is one excellent example of active white space. The use of active white space on a web page is intended to provide structure and flow.
💡 Passive: Text and graphics naturally contain passive white space. Using background imagery, videos, textures, and patterns, the theory of white space has been successfully applied. There are many excellent examples of using white spaces that aren't white in color.
Why White Space In Web Design Getting Popular Day By Day? 
Let's look at why white space is becoming more popular day after day in web design. Here we have listed down the best use cases that have inspired practice white spaces more. 
Improve Your Website's Readability
If you check out what some of the earliest websites looked like, you will find out that previously website designs were so cluttered and all information used to be presented in one place in a boring way. Here is what the very first website ever looked like if you want to check it out.
You can see that there is no breathing space in the web design. In the recent era, website creators are more focused on improving user experience in website design. Hence, when you practice white space in your website design, it helps you to represent all information with more space and breathing room. This improves the readability of your website.
Grab Visitors Attention Instantly
Usually, there is a certain purpose behind every live website. Some websites are created to increase product selling or download, some are created to increase viewers of a particular blog or video and many more. When you start practicing white space in your website design, it helps you to design important information as well as call-to-action in a more focused way. That eventually helps to grab site visitors' attention on the important sections. 
Boost Website Loading Speed
When you will cut down unnecessary information, designs, sections from your website, it will make your website clean looking. Additionally, when you skip elements from your website appearance, that means you are using fewer widgets or blocks, which helps make your website lighter. Furthermore, lighter websites load faster than heavy ones. As a result, you get a better ranking on search engines.
Guideline To Implement White Space Design In Your Website
White space design covers everything from content spacing to latter gaps. It is considered fundamental in website designing. Now is time to check out how we can implement white space in your website design. Here we have listed down 5 easy steps you can follow to practice white space in web design. 
Use Wireframing Tools For White Space Design
Using white space design means, you are going to implement proper spacing, padding, and margins. At the same time, you have to keep device responsiveness in your mind. So using grids is the best practice in white space design. To use grids seamlessly, you should go for the right wireframing tool that will guide you efficiently. 
UXPin, Adobe XD, Figma, Axure RP, etc are the most popular wireframing tools at present. These wireframing tools will help you to use grids in web design, prototyping, wireframing, making device responsive design, and most importantly automate your designing process smoothly. 
Implement Gestalt principle of proximity
Gestalt principle of proximity is one of the widely used principles of web design. By using this principle rule, you can ensure that users associate closely related elements as having similar attributes. It is important to group related elements close together in order to apply this principle well. If you can summarize the theory, then that will be this: 
"What this illustrates is that we humans recognize the whole of something in lieu of its individual parts. It's not so much that the whole is the sum of its parts but that the whole is something different from its individual parts. We perceive a singular light in motion instead of a set of multiple lights individually turning off and on."
As an example, consider form design. It may make sense to group information like name and address into one group, separated by a little more space, then credit card details into another group. That will help visitors to give proper attention in important fields.
Emphasize On The Visual Hierarchy
Implementing visual hierarchy is a practice of active white space designing. By creating white space between elements on your page, you are able to emphasize their visual hierarchy. Put more or less emphasis on certain elements by trimming or increasing aspects like padding and margin. Place crucial elements such as call-to-actions prominently on your site.
Create A Focus For Users' Eye
Make use of white space design to guide your users' eyes. It is best to organize your page's content into no more than 15+ points on the page (anything beyond that should be put on another page). Once you have ranked the points in order of priority, you are done. The logo might be the first point, the navigation bar might be the second, the hero image might be the third, the text paragraph might be the fourth, and so forth.
Also, you have to determine where you will place the macro white space when positioning the content. In other words, the location where the individual pieces of content or group of elements appear on the screen. The macro white space occurs when the elements or groups of elements are adjacent. In contrast, micro white space refers to the space between paragraphs or lines in a text as well as the space between different elements in a group.
You Don't Have To Use White Always!
You need to strike a balance between white space and content when you get to the prototyping stage. Just as you want to avoid cluttering the page, you also want to avoid a spartan effect on your website UI. This can reduce the user's comprehension because all the elements and any text will seem disconnected, making the page harder to scan. Here is a bad example of overused white space in web design.
5 Best White Space Design Practices In Action
Start looking at every detail of a page to create more whitespace in your designs, and you'll end up with a better result. Consider margins, headers, footers, menus, images and captions, list items, words, and letters. Having space between elements is important, as well as letting your reader's eyes rest. To help you design websites more efficiently using white space, here we've listed down the top practices in action in multiple popular websites. Let's check them out. 
1️⃣ Google
At present, Google is the most popular search engine with the most minimalist outlook. Also, it is considered the ideal use case of white space in the design. If you check out Google's statistics, then you will find out that most people visit Gmail and Google Image more than any other Google services. So these two sites are added to the navigation bar. More importantly, the main purpose of Google is to serve you with searched results. So they placed a big search bar on the web page to grab attention, at the same time, describe the motive of this website. 
2️⃣ Apple
Apple brings a revolution in product design. Also, they tried to reflect that too in their website design. If you list down the most selling products of Apple then they will be iPhone, iWatch, and then the rest of the products. What Apple wants people to consume, keeping that in mind they have designed the landing page. While Apple products are the most hyped one, they don't need more explanation! So Apple has focused on images, then texts and others.
3️⃣ Dropbox
Dropbox is a popular platform for stopping resources. Its website is widely popular for its proper use of White space in web design. Using color blocking is the same as using whitespace (also called negative space) to group the content of the page from top to bottom. It's a great way to contain copy while still leaving plenty of breathing room for content. It's also a great way to make use of whitespace on a micro-level with line-heights, font sizes, and kerning (spacing) of text.
4️⃣ Squarespace
When displaying content and imagery simultaneously, two-column layouts are often used. Squarespace, on the other hand, took the opposite approach to its two-column design by letting its imagery and copy speak for themselves. On this page, each section fills the entire viewport (the visible portion of a webpage on a display device), which lets the user pause and digest the information and perhaps select one of the two CTAs before they continue scrolling. This page is made dynamic by the subtle movements of the image blocks and the increased line-height of each line.
5️⃣ Elementor
As mentioned earlier, white space doesn't represent that you always color white! And the Elementor website is the perfect example of that. The web designers have used two colors from the same color family, a darker one to symbolize importance and a lighter one to symbolize separation. Moreover, they have also utilized text hierarchy to grab visitors' attention. Big and clean images also added more value to the design. 
Hopefully, all these resources will guide you smoothly to create a stunning website using the best practices of white space. If you need further guidance, then you can reach out to us through our Facebook community. Also stay up to date with our latest blogs, tutorials, and reviews by subscribing to our blog.