Templately is empowering over 200,000 websites all over the world with nearly 4,000 ready templates. And more than half of them are for Elementor. This year, we added a few exclusive website template packs for you to fuel up your web-building skills on your favorite website builder. Here, in this blog, you will find the best Elementor templates collection from the 2023 first quarter offered by Templately.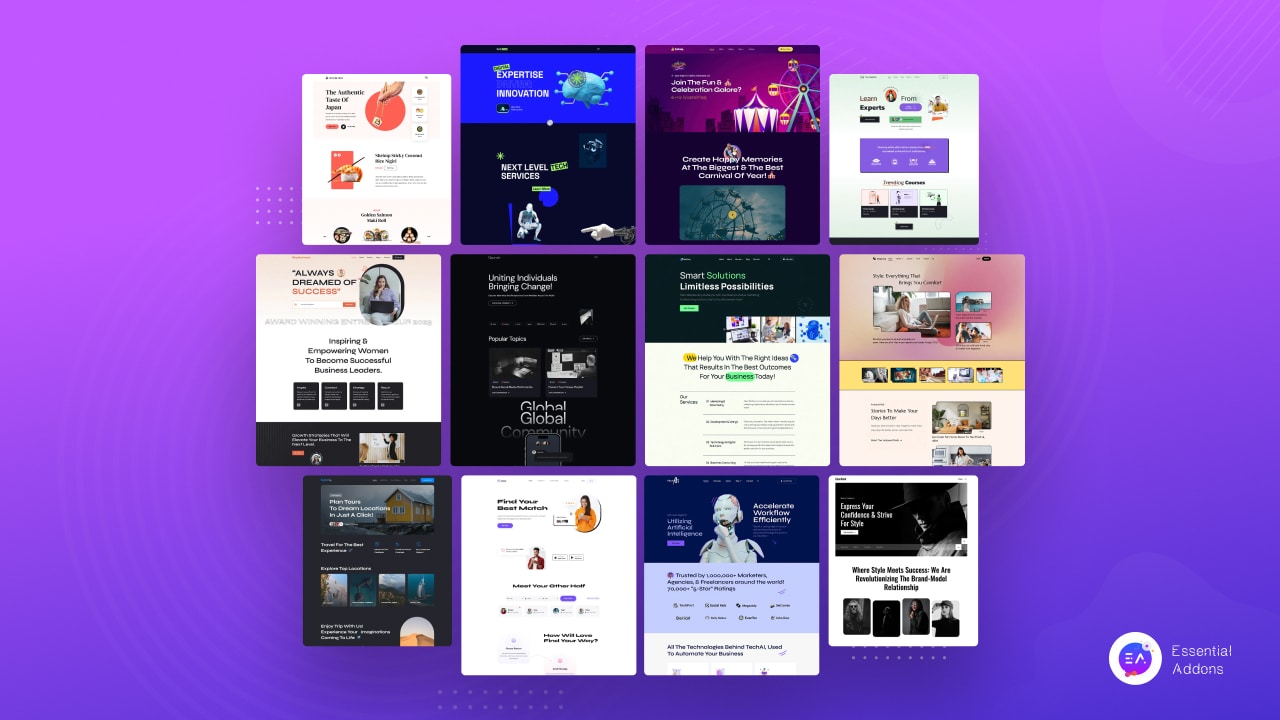 Advantage Of Creating Websites Using Ready Templates 
Templates offer a range of benefits while making websites. Please have a look below at the advantages of creating websites using ready templates.
Attractive & Professional-Looking Website: Creating a website can be a daunting task, especially if you don't have any coding skills. With templates, you can easily create an attractive and professional-looking website with pre-designed layouts and structures which are visually appealing.
Engaging User Experience: Most templates are created with user experience in mind, incorporating intuitive navigation, clear calls to action, and eye-catching visuals to help keep visitors engaged and encourage them to explore the site further.
Time-Saving Efficiency: Ready templates can save a significant amount of time and effort in designing your website because you don't need to start from scratch. This means you can get your website up and running faster than if you had to design it yourself. So it increases efficiency for seasoned pros as well as new web builders. 
Our Pick Of The Top Elementor Templates Released In 2023
When it comes to building stunning websites with Elementor templates, Templately stands out as a valuable resource for users seeking top-quality templates. Templately offers a vast collection of professionally designed templates that are highly customizable and responsive. Whether you're creating a website for an e-commerce store, a portfolio, a blog, or any other niche, Templately provides an extensive range of templates to suit your needs. 
With Templately, users can easily import these templates into their Elementor-built websites, saving time and effort while still achieving a visually captivating and user-friendly design. Have a look below at our top Elementor templates collection released this year. 
FestiveLy – Attractive Carnival Template For Elementor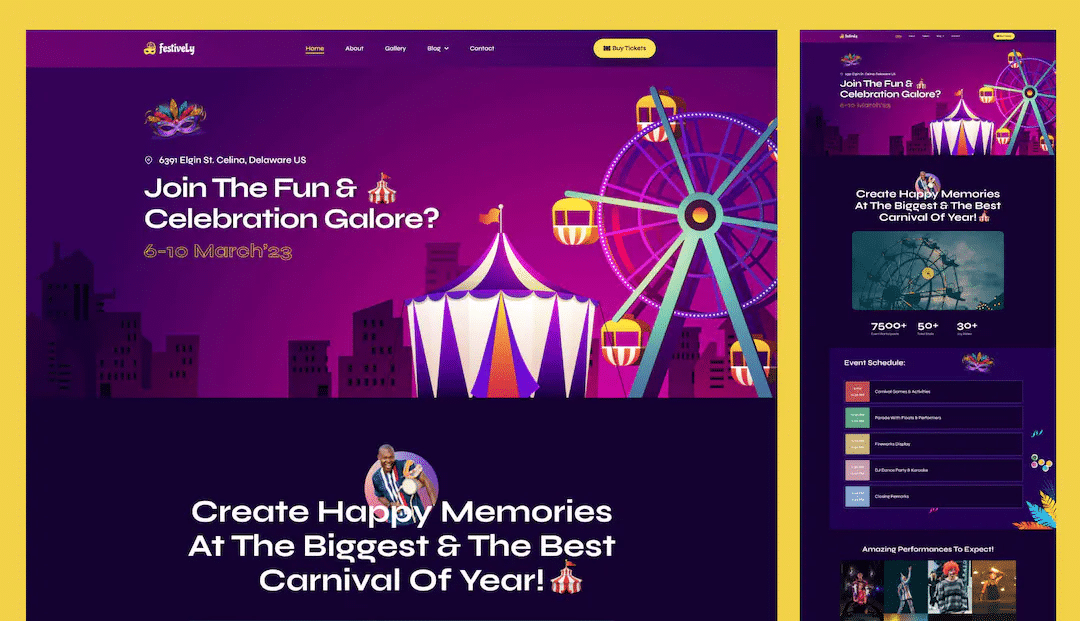 Looking to add a splash of fun and festivity to your website? Look no further than FestiveLy – the ultimate Elementor template pack for carnival and festive events! It is the perfect choice for parties, fairs, and other festive events. This professionally designed template kit is packed with all the features you need to create a vibrant and engaging website that captures the spirit of your event. With a stunning dark-colored theme, FestiveLy is perfect for showcasing images and highlighting the key details of your event.
With 6 stunning pages that are fully customizable, FestiveLy comes packed with advanced widgets and features to help you create the perfect website for your needs. From interactive call-to-action buttons to attractive image galleries and more, this template pack is sure to delight and can engage your audience.
Magazinely – Fashion & Lifestyle Blogging Website Template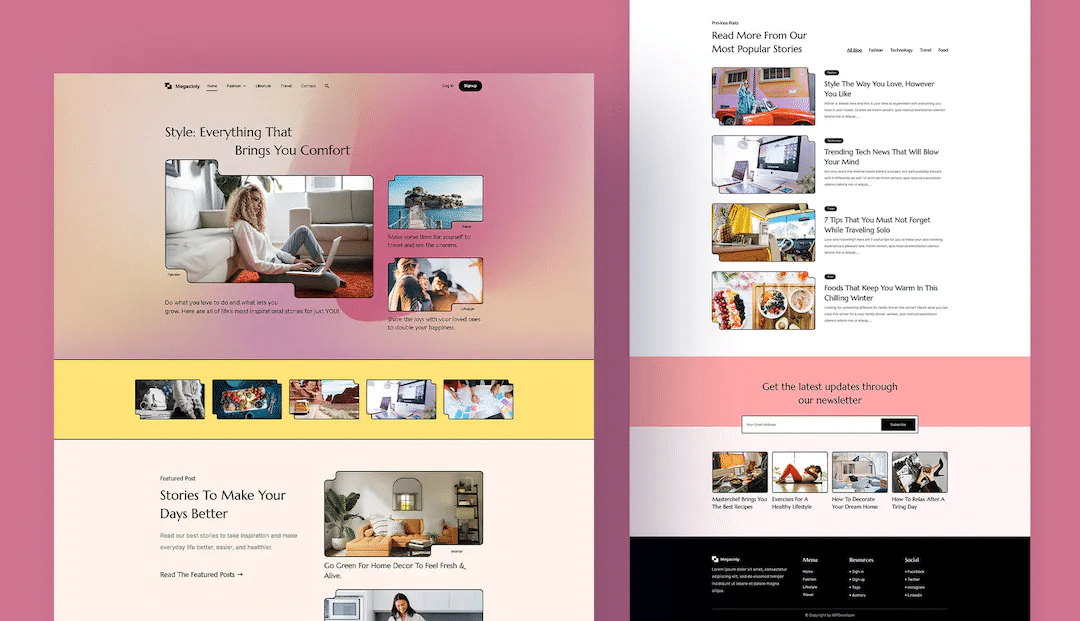 Magazinely can be a great solution for bloggers who are looking to create stunning and unique blogging or magazine websites without any coding. With a bright and beautiful design, this Elementor website template pack is perfect for travel, fashion, lifestyle, or any personal blog. The unique and charming design, with a soothing yet vibrant color palette, is sure to capture your audience's attention and keep them engaged.
Built with Essential Addons and Elementor, Magazinely is fully customizable and responsive. This template pack features six gorgeous pages that can provide everything you need to create a full-fledged personal blogging website. And with exciting features such as an amazing image gallery and post grid, you can beautifully display your blog posts with interactive call-to-action buttons and other engaging elements. Moreover, Magazinely has everything you need to create a stunning and successful website that stands out from all the other online blogs and magazines. 
Mochi And Meals – WooCommerce Template Pack For Online Restaurants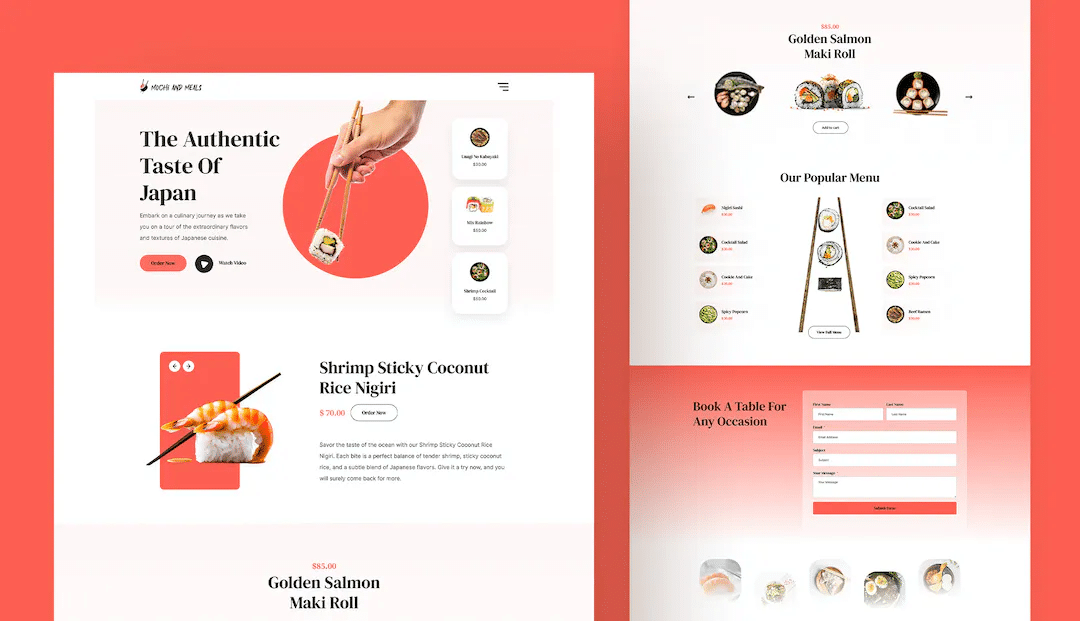 If you are up for making a website for Japanese restaurants, look no further than Mochi And Meals. It is a stunning template pack designed specifically for Japanese restaurants, but of course, you can go with it for any cuisine food business. Because of its elegant and dynamic design, this template pack is also perfectly suitable for any Asian restaurant, eaterie, diner, and more.
Created with Elementor and Essential Addons, Mochi And Meals is fully customizable and responsive. It includes six fully customizable pages. Whether you're showcasing your restaurant's food, culture, or ambiance, it has everything you need to build a website that stands out from the competition.
With its soothing color palette, striking design elements, and user-friendly interface, this template pack is sure to leave a lasting impression on anyone who visits your site. Plus, with WooCommerce compatibility, you can easily take orders and reservations directly from your website. So without any further do, you can give your restaurant the online presence it deserves with Mochi And Meals.
techCRUSH – Tech Startup Website Template For Elementor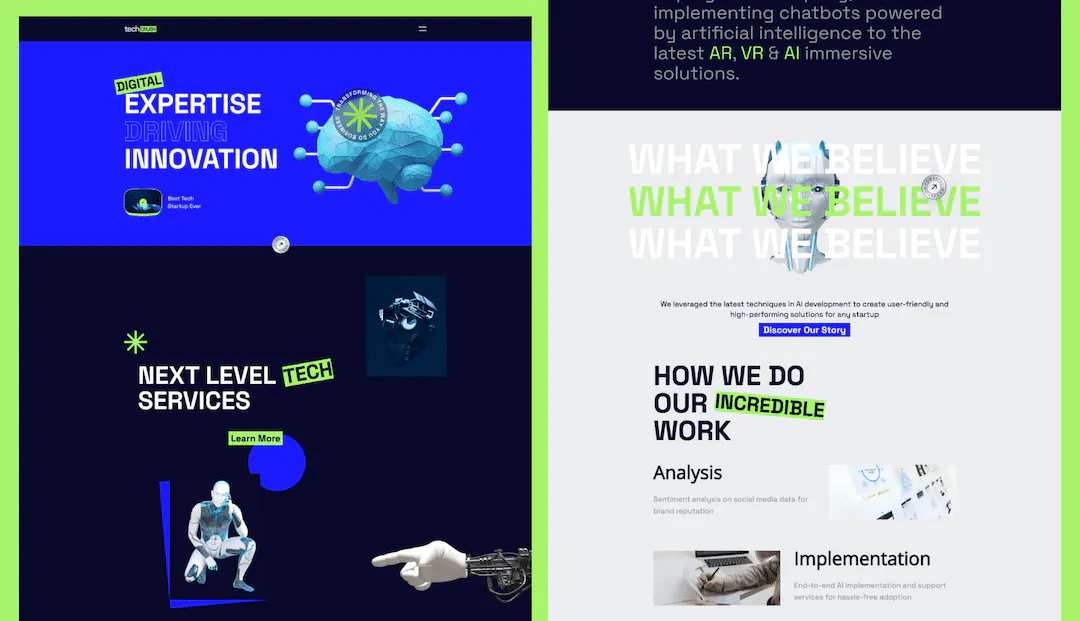 Looking to create a stunning website for your tech startup without having to spend endless hours coding? Then try out techCRUSH, the complete WordPress template pack for Elementor. With its sleek and dynamic designs and 6 stunning landing pages, it is the perfect solution for tech and AI companies looking to make a splash online.
Designed with the latest technology in mind, techCRUSH specializes in crafting websites for machine learning, deep learning, computer vision, and artificial intelligence companies. With mesmerizing illustrations, captivating color combinations, and dynamic motion effects, this template pack is sure to leave a lasting impression on your visitors.
NextLearn – Online Learning Elementor Template Pack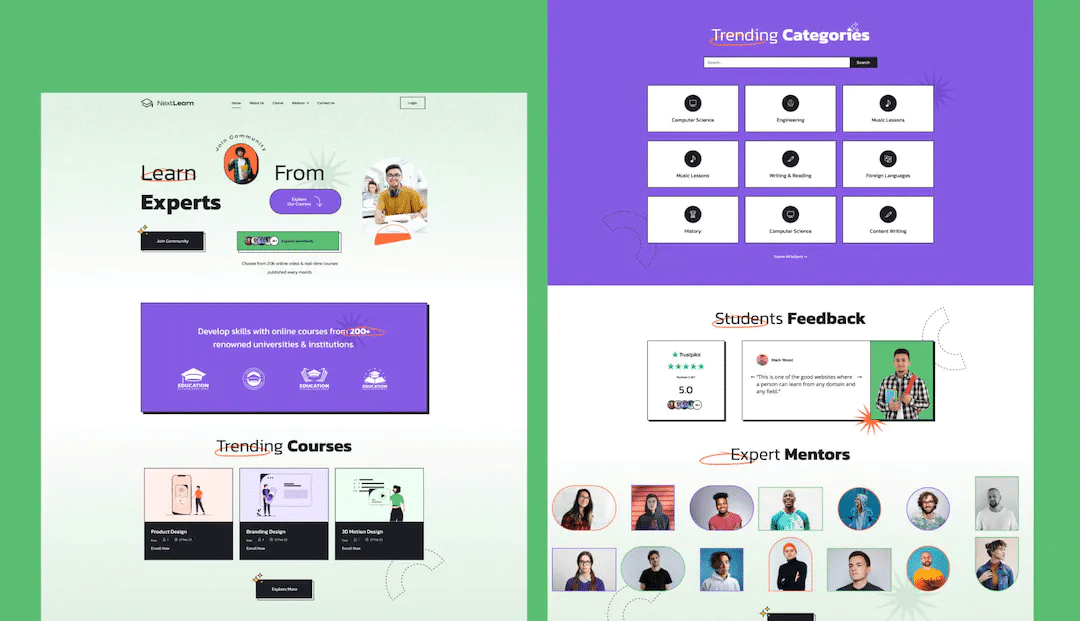 Looking for a template pack to create your own eLearning website without any coding? Look no further than NextLearn, the perfect solution for anyone looking to sell online courses. With its vibrant and funky design, this Elementor template pack is sure to engage your visitors from the moment they land on your site.
Built with Essential Addons and Elementor, NextLearn is fully responsive, ensuring a smooth browsing experience for users on any device. Customize layouts and sections to your liking with the 7 mesmerizing landing pages. And with its striking color combinations, interactive motion effects, and eye-catching call-to-action buttons, you'll have everything you need to start your own successful course-selling website with just a few clicks.
SheNetwork – Women Empowerment Website Template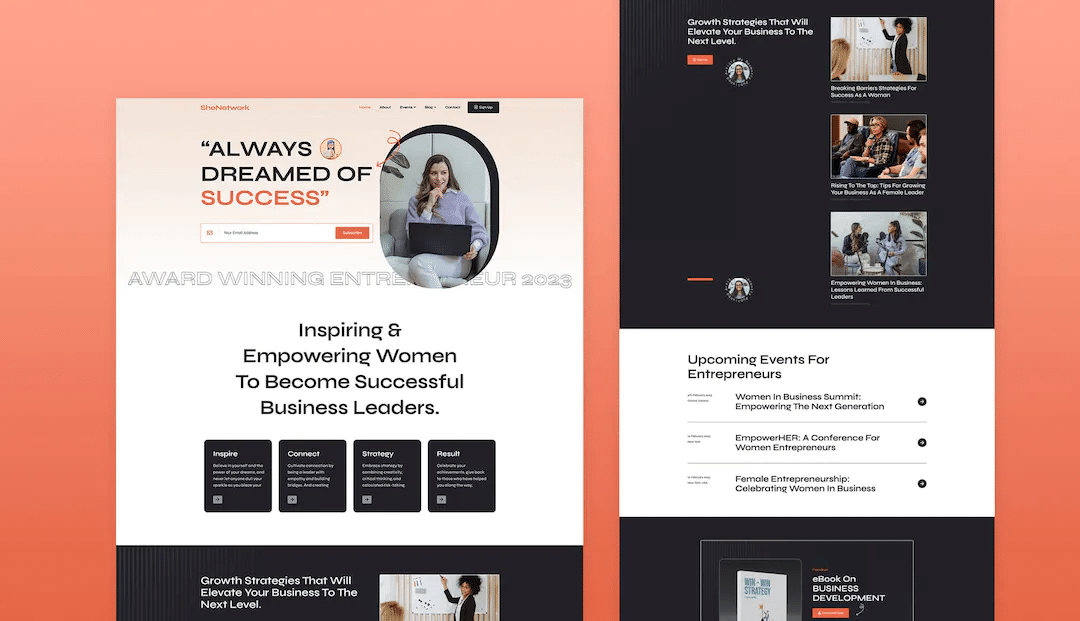 SheNetwork is a stunning WordPress template pack designed to help you create a complete website for female influencers, entrepreneurs, activists, and organizations that promote women's empowerment. 
This visually appealing and elegant template pack is built with Elementor and Essential Addons, making it fully customizable and responsive. With 7 beautifully designed landing pages, you can create a website that truly reflects your brand and empowers women around the world.
The landing pages are perfectly designed with dynamic sections, captivating color combinations, and interactive call-to-action buttons. The template pack is optimized for fast loading and compatible with all browsers and devices, ensuring that your website will look great and function flawlessly on any screen. With SheNetwork, you can create a website that inspires and empowers women to achieve their goals and reach their full potential.
Quorum – Elementor Template For Community Forum Website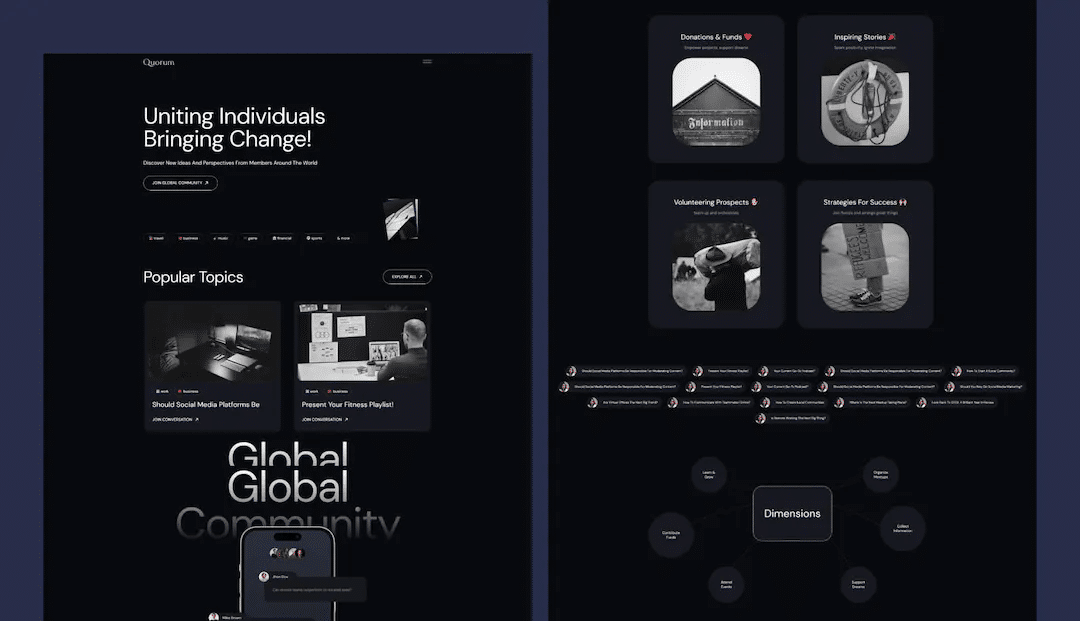 Quorum is a professionally designed template pack for WordPress Elementor that caters to community and forum websites. Built with Essential Addons, this template pack offers a dynamic and flexible design that's easy to customize. It comes with 5 pre-built landing pages so that you can easily create a sleek and engaging community website that's sure to attract attention.
One of the standout features of Quorum is its stunning visual design. The striking color palette and interactive sections, like call-to-action buttons, etc make this template pack visually appealing and user-friendly. Also, it's fully responsive and compatible with all devices, ensuring a seamless browsing experience for your users. With Quorum, you can create a powerful online community that fosters engagement and encourages discussion on a global scale.
BizRise – Attractive Multipurpose Agency Website Template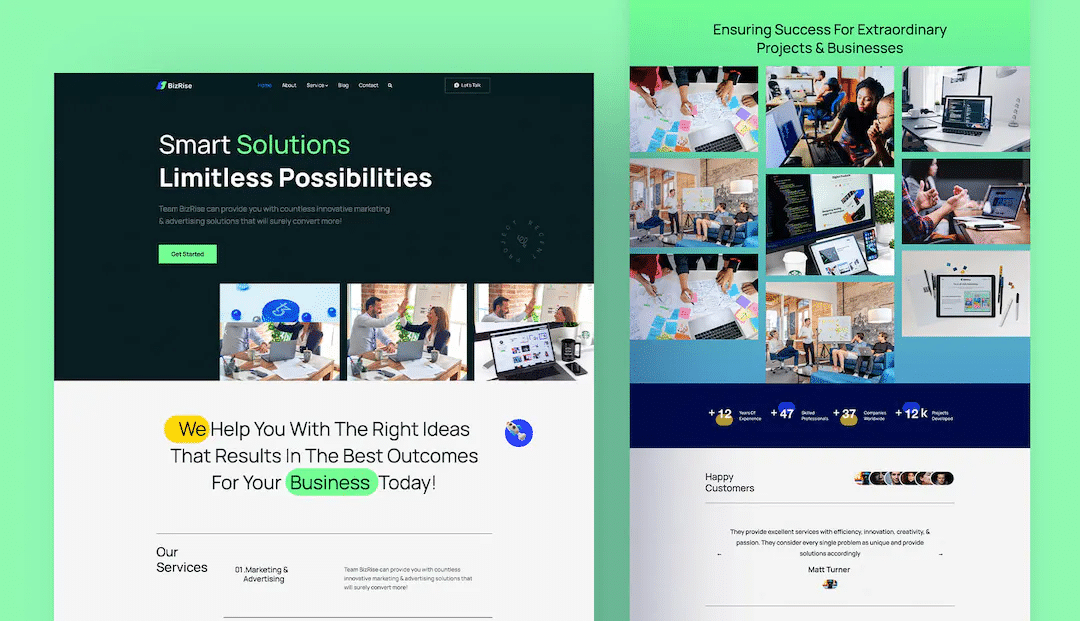 BizRise is an excellent choice for anyone who wants to build a professional website for their business or agency. With its minimalistic yet unique layout and customizable design, this template pack makes it easy to create a stunning website without any coding knowledge.
The template pack's 7 ready-to-use pages include everything you need to build a complete website. With features like post grids, testimonials, and counters, you can easily showcase your work and achievements and engage your visitors with interactive call-to-action buttons.
ExploreLy – Travel Agency Template Pack For Elementor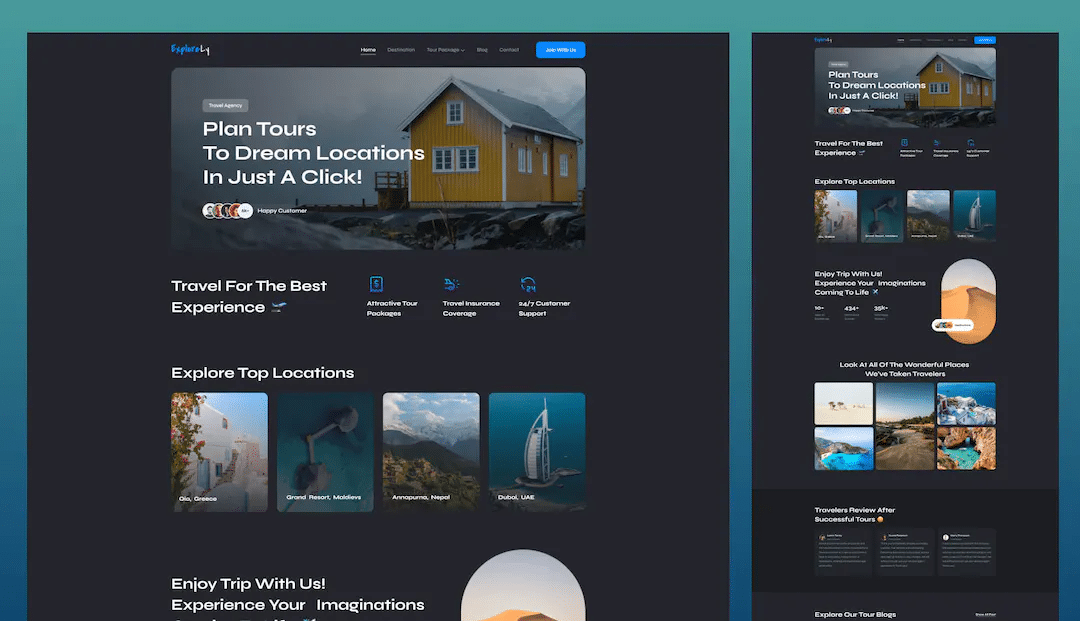 ExploreLy is an alluring and engaging WordPress travel agency website template pack that offers a sleek style and soothing color palette, perfect for creating travel blogs, travel business websites, online travel magazines or journals, and more. This template pack is built with Elementor and Essential Addons. So, it is fully customizable, allowing you to personalize each section of the 7 stunning landing pages to your preference, with advanced widgets and tailored content.
The template pack includes various interactive sections such as Call To Action Buttons, Testimonials, Image Galleries, and more, ensuring high engagement and attracting visitors. With ExploreLy, you can create a stunning website that will showcase your adventurous experiences and help you connect with readers.
MatchMaker – Attractive Dating Website Template Pack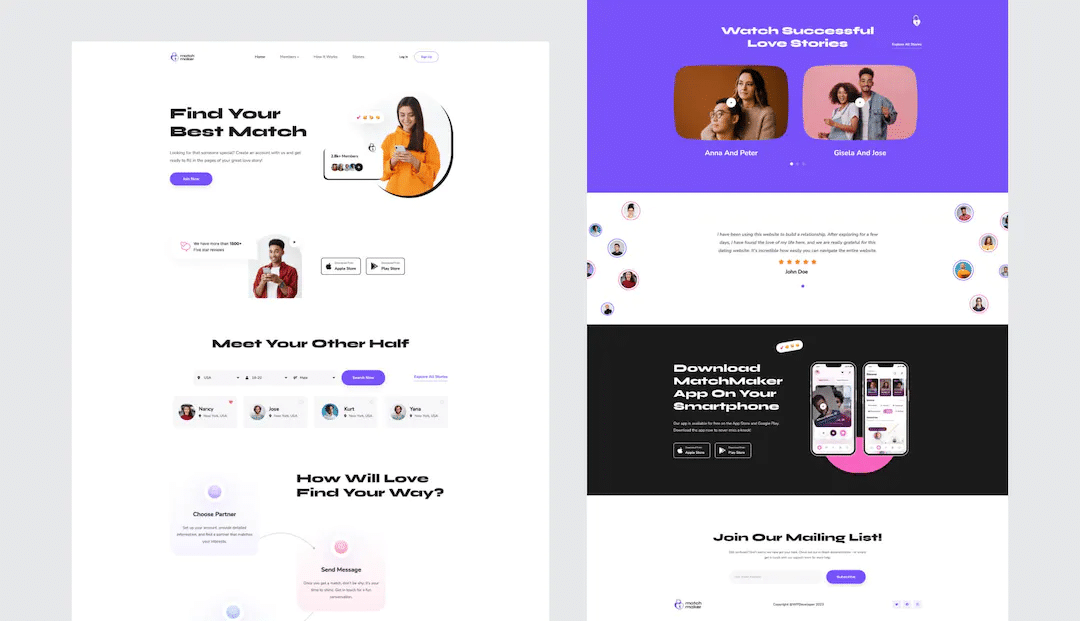 MatchMaker is a hassle-free solution for creating a professional and visually appealing dating website or website app with Elementor. With its responsive design and customizable features, you can easily create a stunning site that will attract subscribers and visitors alike.
The pack includes various landing pages, each with beautiful designs and interactive elements. The use of motion effects, engaging call-to-action buttons, and testimonial sections make this template pack an excellent choice for creating a successful dating or match-making website.
TechAI – Elementor Template Pack For Technology Website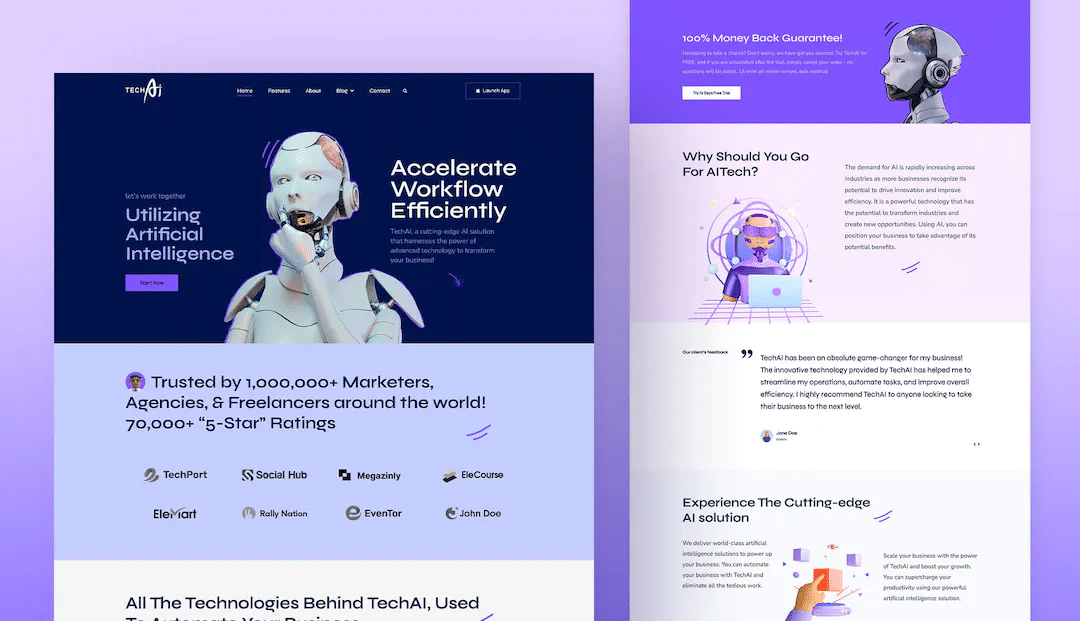 TechAI is the perfect solution for anyone seeking to create a cutting-edge website for their AI business or startup. With its stunning design and user-friendly interface, TechAI allows you to showcase your latest innovations, solutions, or services and attract and retain visitors with ease.
Whether you're looking to establish a professional online presence, increase your brand recognition, or generate leads and conversions, TechAI's customizable templates and responsive design will help you achieve your goals. So if you're ready to take your AI website to the next level, try TechAI and see the difference it can make!
GlamWalk – Stunning Fashion Portfolio Website Template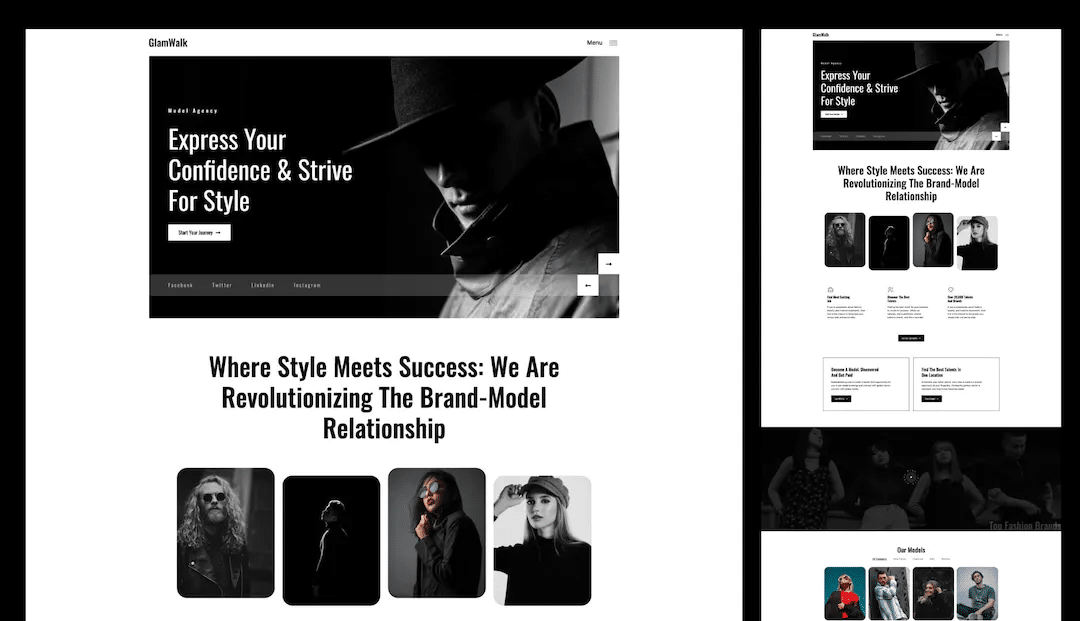 Are you in the fashion industry and looking for an eye-catching way to showcase your work? GlamWalk is the perfect solution for you! This modern and sleek fashion portfolio template pack, built with Essential Addons and Elementor, offers a dynamic design and customizable options to make your website stand out. Whether you're a fashion designer, model, photographer, makeup artist, stylist, or agency, GlamWalk has 7 fully customizable templates that will help you create an impressive online portfolio.
With its interactive Call To Action buttons, image galleries, and contrasting color scheme, GlamWalk ensures that your website will capture visitors' attention and keep them engaged. And since these templates are completely responsive, your website will load seamlessly on any device and screen size. So if you're ready to create a stunning portfolio website that will attract visitors and establish a strong online presence, GlamWalk is the way to go!
Why Should You Use Templates Offered By Templately?
Using templates offered by Templately can greatly benefit you in creating an attractive and professional-looking website. The customizable elements are designed to engage your audience and provide the best possible user experience on Elementor. You can easily customize the templates to match your brand's style and colors, making your website stand out from the competition. Have a look at the advantages of using Templately below.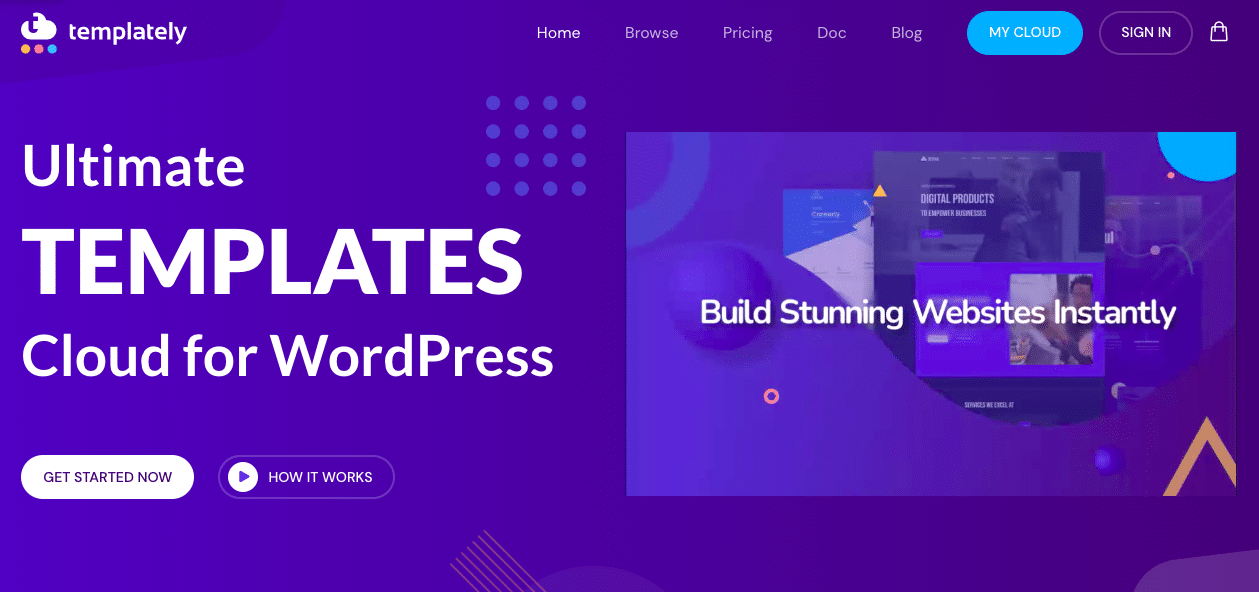 Attractive Customizable Elements: You can engage your audience with interactive and attractive designs, and provide the finest experience on Elementor.
Fully Compatible With Elementor: You can customize your event website effortlessly with powerful widgets from Essential Addons on the Elementor website builder.
100% Responsive On All Devices: These template packs are 100% responsive on all devices. You can instantly adjust the website to any device screen size and orientation to ensure anyone can get smooth access.
Cross-Browser Compatibility: You can build a lightweight and quick responsive website that loads quickly on multiple browsers like Chrome, Firefox, and Opera.
Explore Templately Now And Start Creating Awesome Websites
Templately offers templates for different industries, such as e-commerce, education, and health, so you can choose the one that best suits your needs. With Templately, you can save a significant amount of time and effort in designing your website as they offer a wide variety of templates suitable for various industries and purposes.
Do you think this article is helpful? If you like this, then subscribe to our blog for more articles. Also, join us on our Facebook community to interact with more people.