Nowadays, multipurpose themes are in high demand when creating WordPress websites, as they serve several different, versatile purposes at once. But which WordPress multipurpose theme will be the best for your business among thousands? To help you out, today we will share the best 10+ multipurpose theme suggestions that are fully compatible with the Elementor website builder.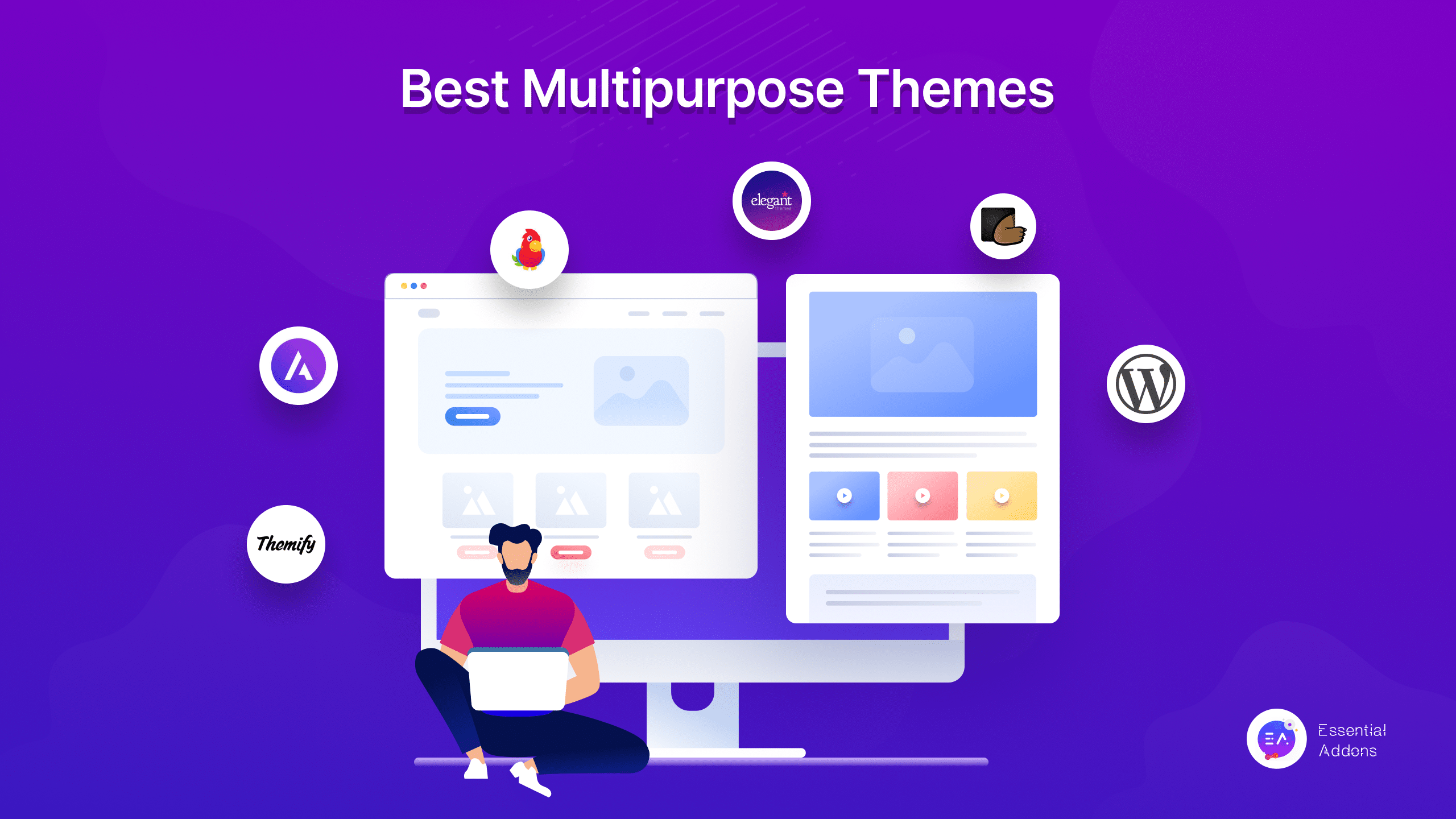 If you are planning to create your own website without coding, Elementor is the best choice. In addition to its interactive interface and the fact that no coding is required, this website builder is quickly becoming a favorite among non-coders. At the same time, finding WordPress multipurpose themes that are Elementor compatible isn't an easy task. You have to go through every theme's description and compatibility. That's why we have researched and gathered the best multipurpose and Elementor-supported themes.
4 Reasons To Choose A WordPress Multipurpose Theme
Let's start with what multipurpose themes mean. A WordPress multipurpose theme is a versatile theme designed for various types of websites and purposes. Unlike niche-specific themes that are tailored to a specific industry or website type, multipurpose themes offer a wide range of features, customization options, and pre-designed templates to accommodate different website needs.
The term "multipurpose" indicates that the theme can be applied to various contexts and adapted to different styles, industries, or functionalities. It allows users to create websites for businesses, portfolios, blogs, eCommerce stores, magazines, or any other type of online presence.
When considering a WordPress theme for your website, several factors may encourage you to choose a multipurpose theme. Here are four key factors:
1️⃣ Provides Flexibility And Versatility
Multipurpose themes are designed to be highly flexible and versatile, offering a wide range of customization options and functionality. They often come with various pre-designed layouts, templates, and modules that can be easily adapted to suit different types of websites, such as business websites, portfolios, blogs, e-commerce stores, or online magazines. With a multipurpose theme, you can create a unique and customized website without having to start from scratch or switch themes for different purposes.
2️⃣ Cost-Effective Themes
You can save money by using multipurpose themes if you plan to build multiple websites or if your website's needs change over time. Instead of purchasing separate themes for different projects or functionalities, a single multipurpose theme can serve multiple purposes. This can save you money on theme purchases and potentially reduce development costs, as you can reuse the same theme framework and design elements across various projects.
3️⃣ Comprehensive Features And Integration
A variety of integrated features and integration options are frequently included with multipurpose themes. These may include drag-and-drop page builders, advanced customization options, e-commerce compatibility, SEO optimization, responsive design for mobile devices, social media integration, and more. By selecting a multipurpose theme, you can access a wide range of functionalities and integrations within a single package, reducing the need for additional plugins or custom development.
4️⃣ Ongoing Support and Updates
Multipurpose themes are typically well-supported by developers and theme companies. They often receive regular updates to ensure compatibility with the latest versions of WordPress and to address any security vulnerabilities or bug fixes. Choosing a popular multipurpose theme with an active developer community can provide you with ongoing support, documentation, and access to new features or improvements over time.
While multipurpose themes offer a range of advantages, it's important to carefully evaluate your specific website requirements and compare different themes before making a final decision. Consider factors such as design aesthetics, performance optimization, user reviews and ratings, customer support, and the reputation of the theme developer or company.
Mandatory Checklists For The Best Multipurpose WordPress Themes
Perhaps you are now aware of the advantages of using multipurpose themes. As your goal is to choose a WordPress multipurpose theme that is Elementor compatible, you should set up a pre-buying checklist before choosing one. We advise you to concentrate on a few important factors while selecting the top WordPress multipurpose themes for your website:
🔰Compability With Elementor: We are already decided to design the website in Elementor, so while selecting the multipurpose theme, we have to ensure that the theme is Elementor compatible.
🔰 Sales/Download Statistics: It's good when a theme is well-liked. It typically denotes a more active community and shows that the theme will get support and updates moving forward.
🔰 Theme Reviews & Ratings: Check out what its users are writing about it. What pain point is this multipurpose theme solving, etc?
🔰 Ease Of Using The Theme: Adherence to contemporary design standards, such as using contemporary aesthetics and responsive design concepts, etc. It's simpler to use a theme across different genres when it has templates or demo content, which is a feature of multipurpose themes.
10+ Best Elementor Multipurpose Themes In Elementor [Free + Pro]
Now check out the best suitable Elementor multiple themes for your website. Here we have picked the best 11 based on the above checklist. Let's dig into the list.
1. Hello Elementor Multipurpose WordPress Theme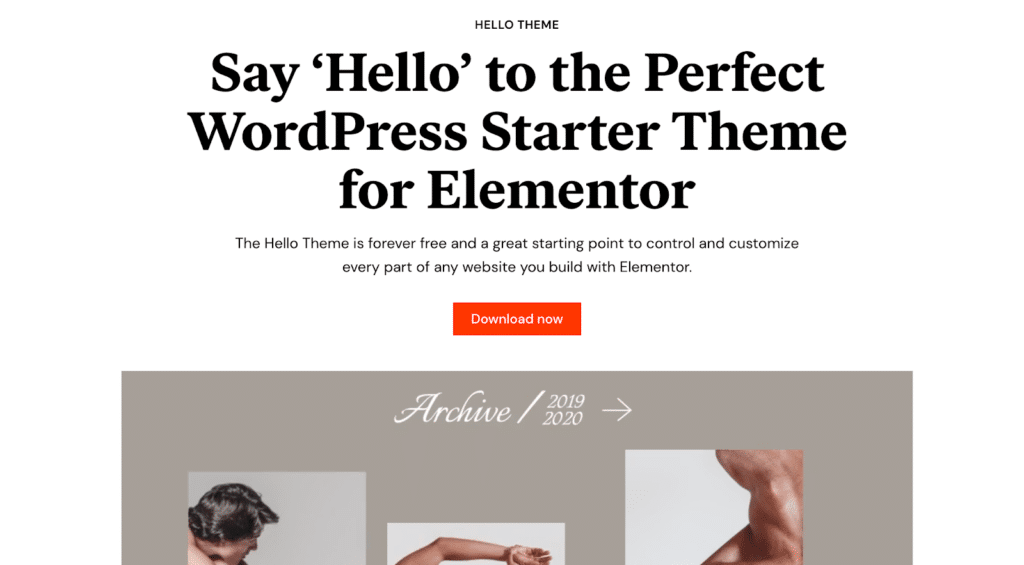 The free multipurpose WordPress theme, Hello Elementor syncs flawlessly with the page builder Elementor. You may still create a one-of-a-kind, feature-rich website for your needs by using Hello Elementor and the free edition of the page builder if you're trying to keep costs down for your next WordPress project. Additionally, since it is a lightweight WordPress theme, you won't need to be concerned about page loads when you create your website.
Designed to be a blank canvas where you can get your creative ideas flowing seamlessly, the Hello Elementor theme is definitely the top choice for any one who is looking for a minimalist, multipurpose theme for Elementor.
2. EleMart – eCommerce Multipurpose Website Template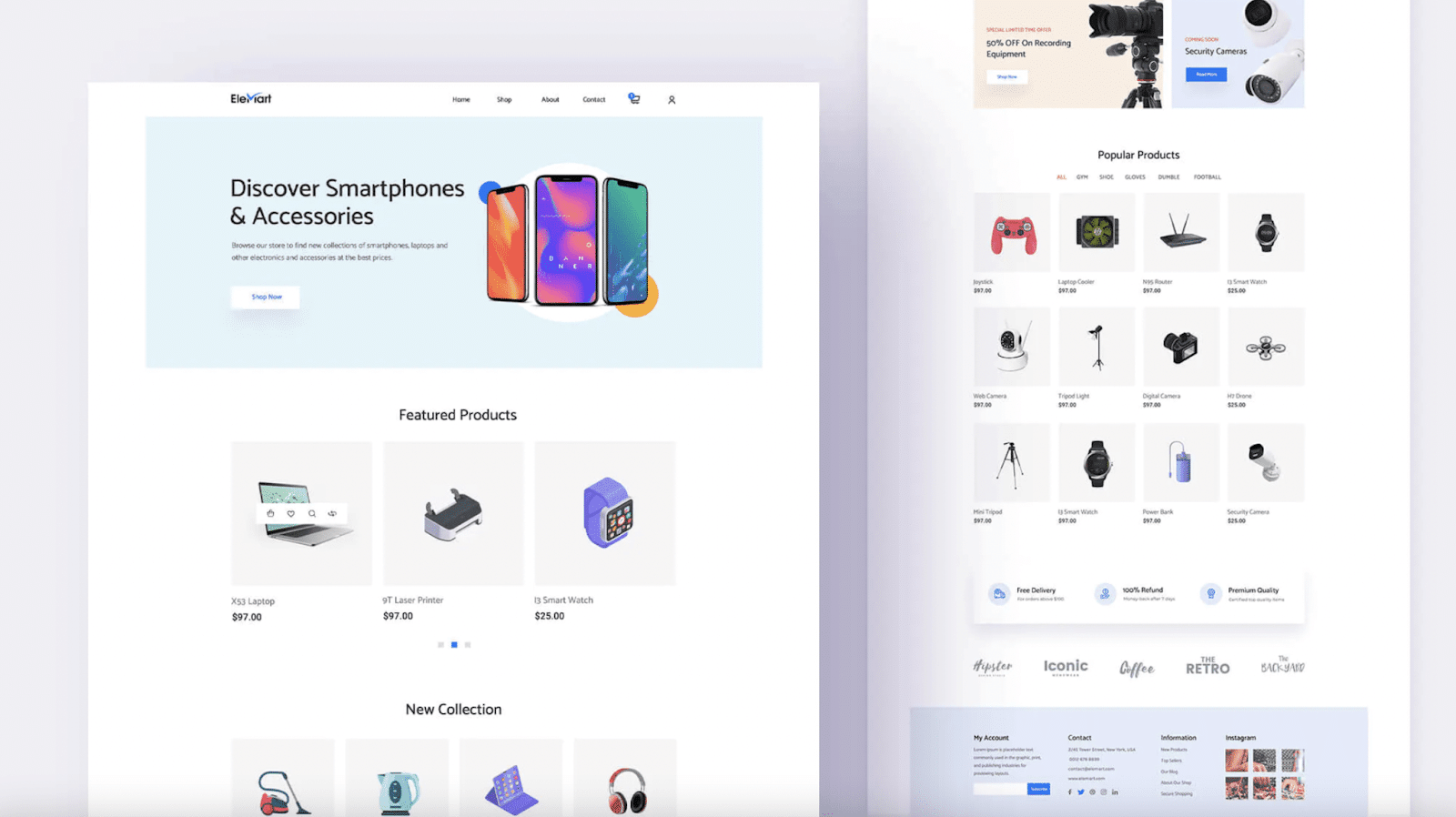 EleMart is a gorgeously designed eCommerce website template set for WordPress that includes 10 more landing pages in addition to 7 various variations of home pages. You may use the EleMart template collection to develop any type of eCommerce website on WordPress without any coding, including electronic stores, websites for online grocery stores, toy stores, apparel and accessory stores, furniture stores, jewelry stores, and much more. EleMart was created using Elementor and Essential Addons and is completely customizable.
3. Creativo Multipurpose Theme From RockyThemes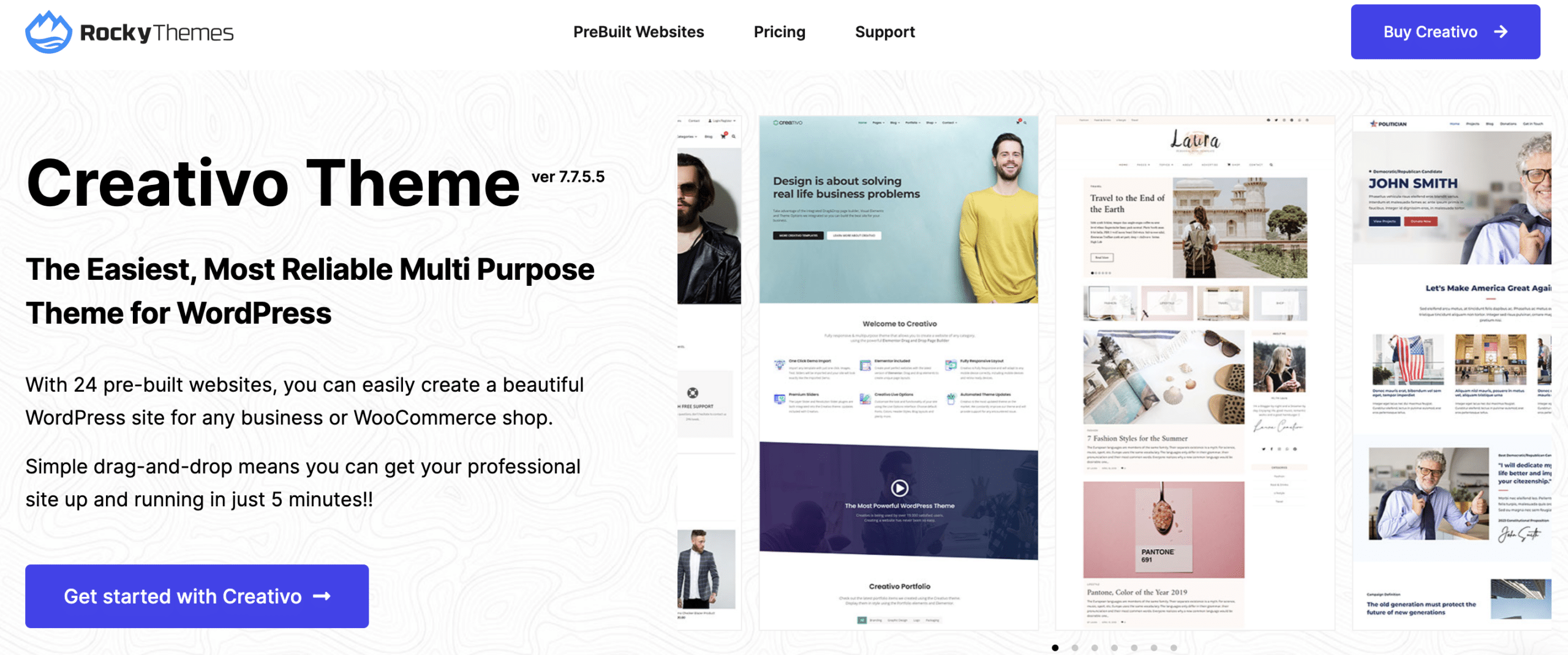 Creativo is the best selling multipurpose theme for WordPress from RockyThemes, with more than 21,000 happy customers. The theme comes with 25 ready-to-use Elementor and WP Bakery pre-built websites that can be customized in great detail, without coding anything.
Exclusive features of Creativo:
Elementor and WP Bakery page builder full integration.
Header, Footer, and Blog builder using Elementor Free and our in-house developed Creativo Elements which extends Elementor free functionality
25 Ready to use Pre-Built websites which can be imported with just 1 click
50+ Exclusive Elementor widgets included, on top of the free Elementor widgets
Live Theme Options interface, allowing all the customization of the Theme options in a visible mode
Fully responsive and adaptive layout for any type of device
4. Genesis Pro Multipurpose Theme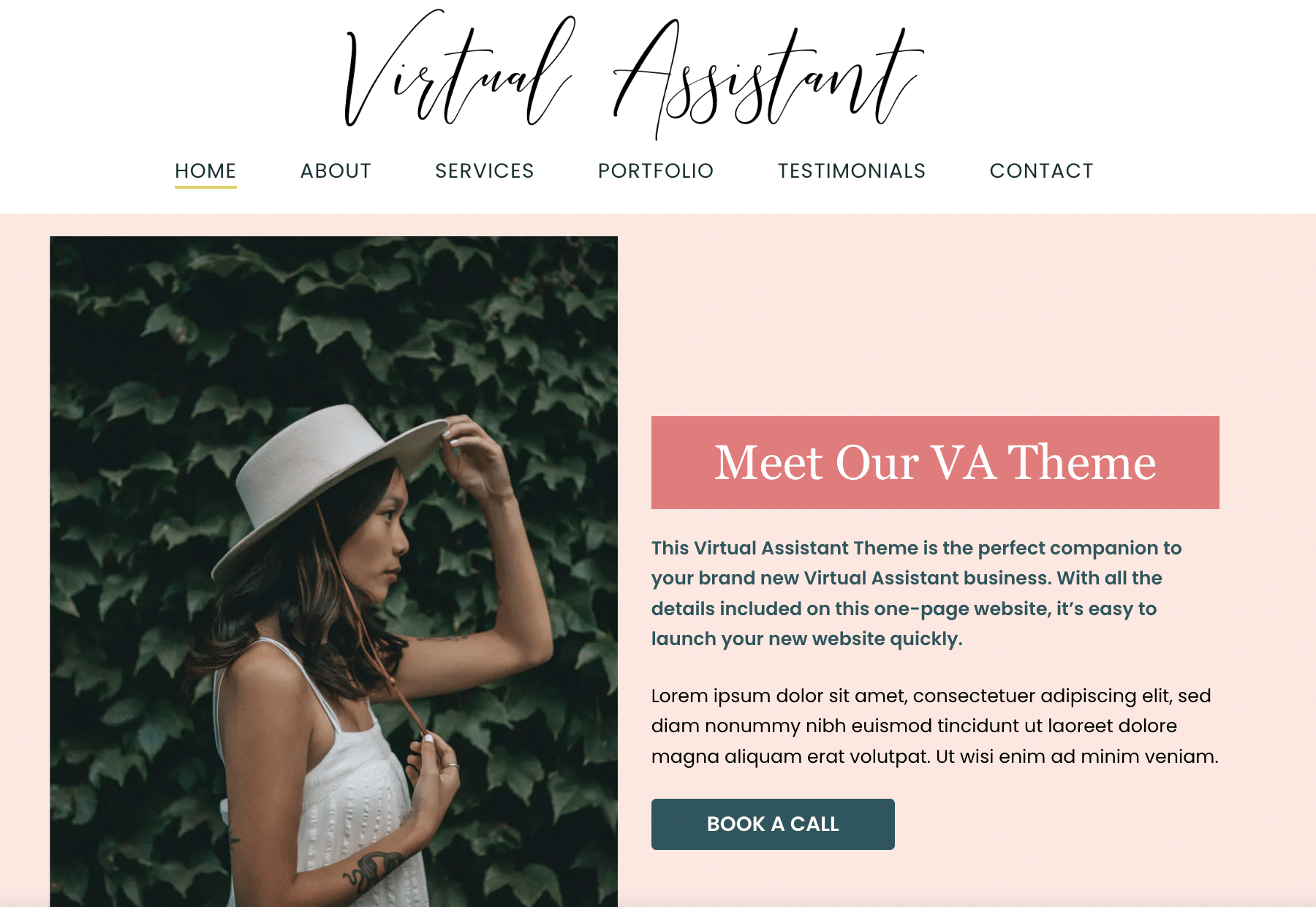 Genesis Pro is a different theme that incorporates the Elementor Editor. The creation and use of content are made simple and quick with this multipurpose theme. With Block Editor and Genesis Pro, you can create any type of website with prebuilt parts, unique page layouts, and more. Although the Genesis framework has a free version, Genesis Pro allows you greater control and direction. It's an improvement to the Block Editor in WordPress that enables you to expedite your design process while maintaining good code standards. One of the most versatile WordPress themes for you is Genesis Pro, if these web design elements are crucial to you and your company.
5. Flexia WordPress Multipurpose Theme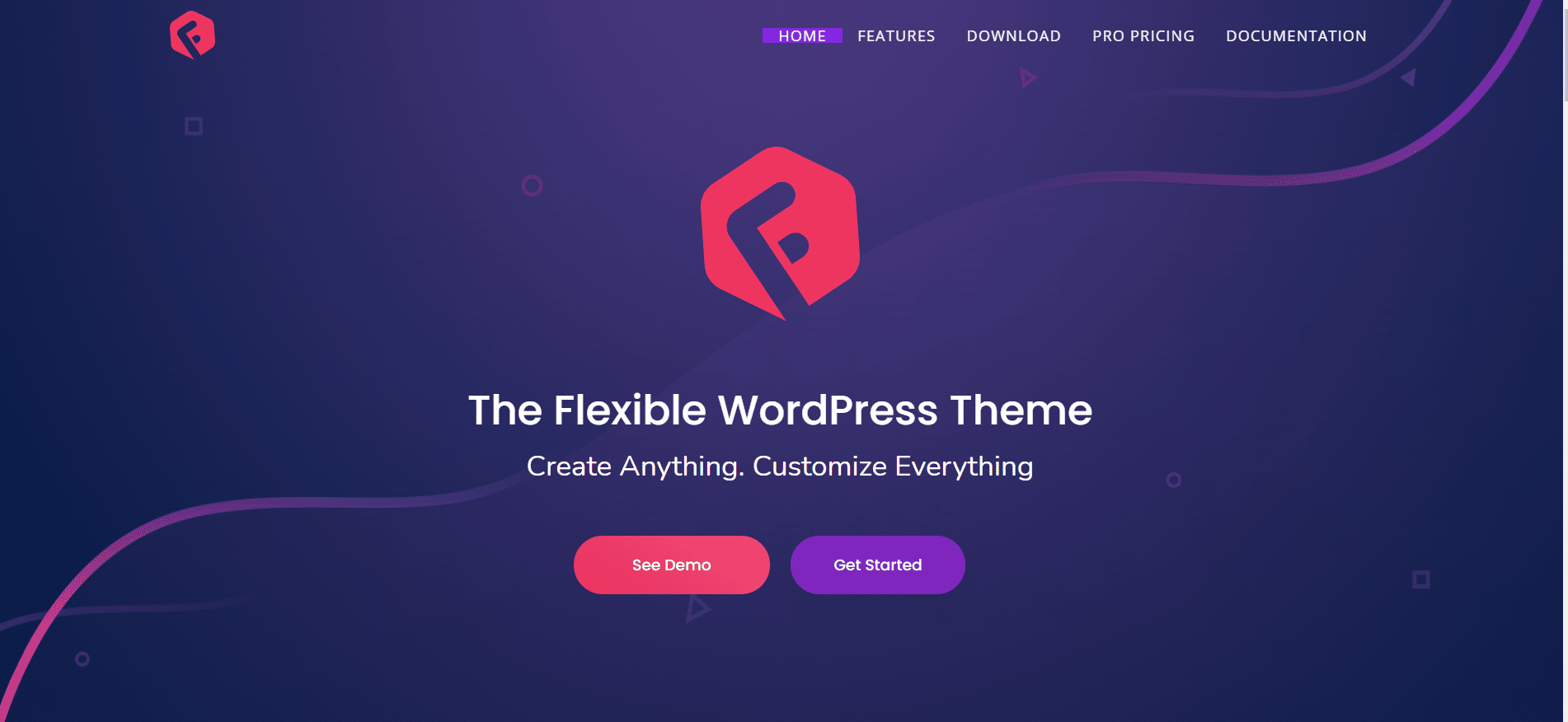 For those looking for a WordPress multipurpose theme for Elementor that can easily be customized, but is also very flexible and lightweight, then you can go for Flexia. With Flexia, you can get tons of customization and styling options to design endlessly, and it is seamlessly compatible with Elementor.
6. Ultra Multipurpose Theme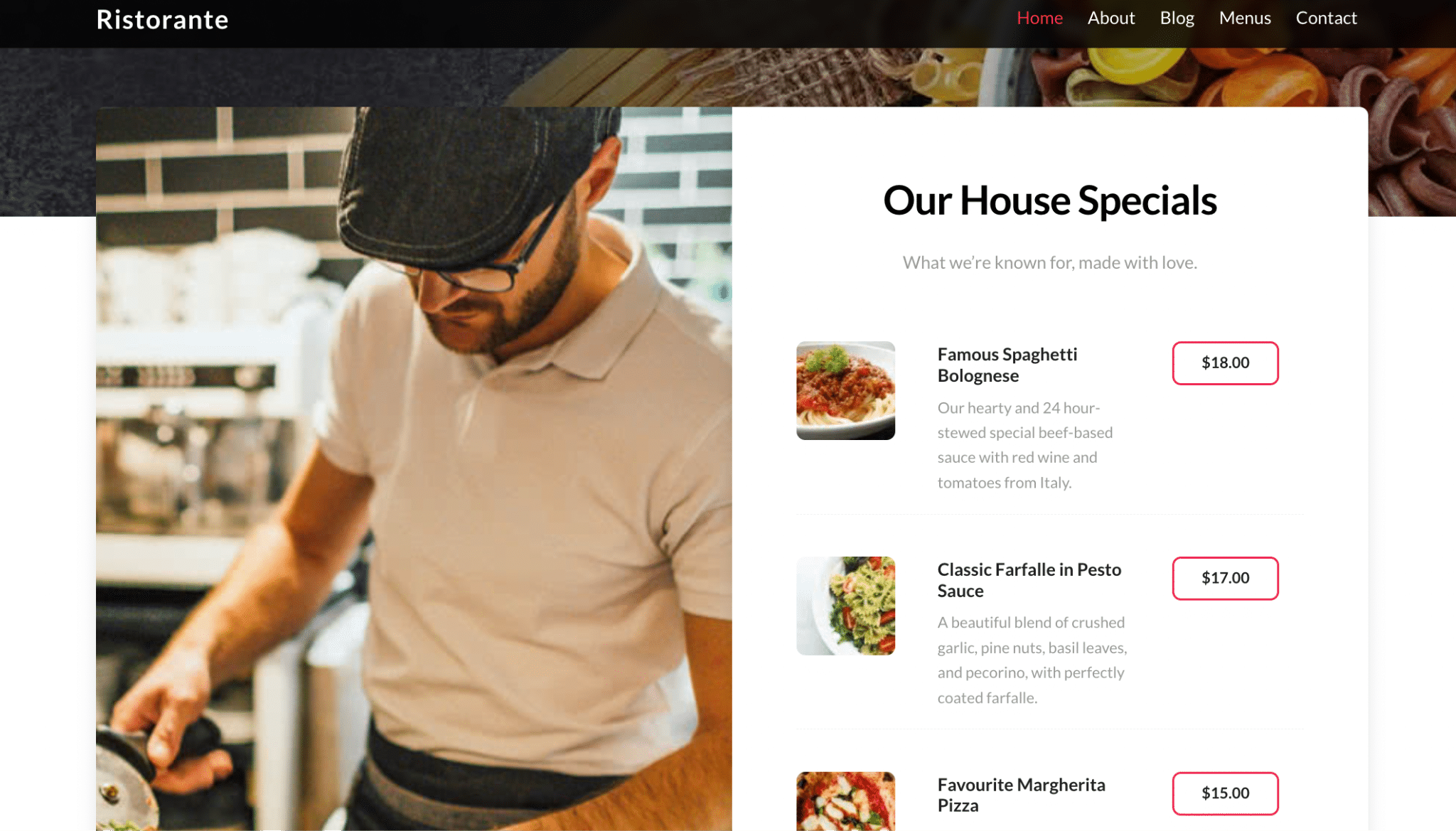 The powerful multipurpose theme from Themify called Ultra makes it simple to personalize any element of your website. It has several "skins" that enable you to easily build websites for a variety of markets, including restaurants, weddings, fitness, lawyers, and more. You can use the built-in typography that Ultra provides on your website. You can also pick from more than 600 Google fonts as an alternative. You can develop a custom color scheme that can be applied universally across your entire website. Regardless of your industry, website specifications, or branding, Ultra can help you quickly and effortlessly create the website of your dreams.
7. Porto Multipurpose & WooCommerce Theme

Porto eCommerce Theme is a popular and versatile theme available on Themeforest, a popular marketplace for website templates and themes. Porto is designed specifically for creating e-commerce websites using the WordPress platform. The theme is deeply integrated with WooCommerce, the leading WordPress plugin for creating online stores. This integration provides extensive e-commerce functionality, allowing you to sell products, manage inventory, set up payment gateways, and more. Porto works seamlessly with a variety of popular WordPress plugins, allowing you to extend the functionality of your website. Examples of compatible plugins include Yoast SEO, Contact Form 7, Revolution Slider, and many others.
8. WoodMart eCommerce Multipurpose Theme

WoodMart is a WooCommerce WordPress theme available on Themeforest, designed specifically for creating e-commerce websites using the WordPress platform with a focus on WooCommerce integration. This theme is compatible with Elementor website builder and has versatile, multi-purpose layouts.
More exclusive features of WoordMart are:
Cross Browser Compatibility: Firefox, Safari, Chrome, Edge
Custom CSS & JS in Theme Settings
AJAX shop filters
AJAX search
AJAX Add to cart for all products
Infinite scrolling for the shop page
9. GeneratePress Multipurpose Theme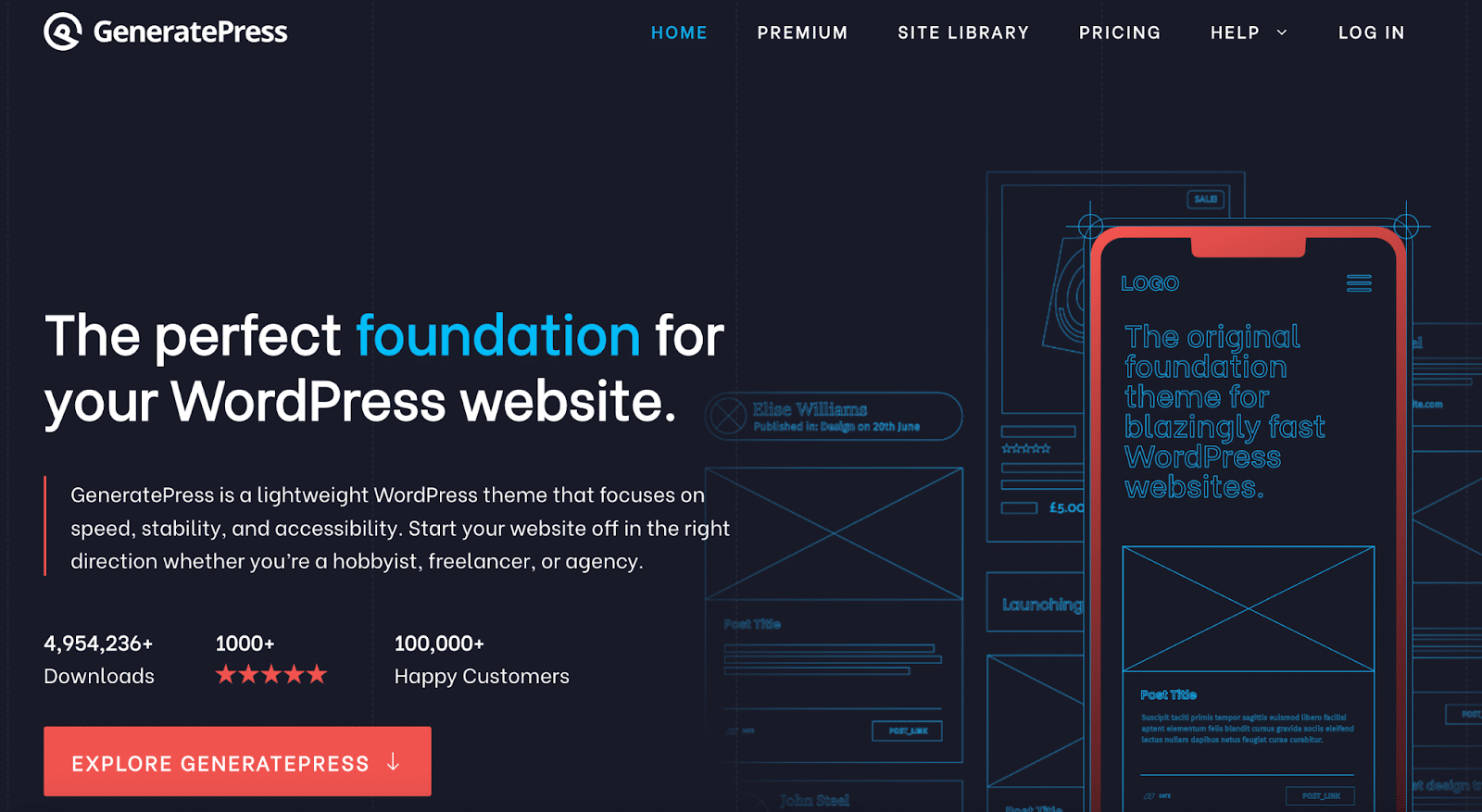 GeneratePress stands out as the top choice for individuals seeking a multipurpose WordPress theme that prioritizes performance and seamless integration with the Block Editor. While it may not boast an abundance of extravagant modules, its core values lie in accessibility, well-structured code, and user-friendliness. Additionally, GeneratePress offers a site library containing numerous expertly crafted starter sites. Whether your objective is to establish a business website, create a blog, or set up an online store, GeneratePress provides the necessary tools and flexibility to achieve all of these goals.
More exclusive features of GeneratePress are:
Works well with Gutenberg, Beaver Builder, and Elementor
Block-based Theme Builder
Integration with WooCommerce
Extensive library of professionally designed websites
Several menu and navigation options, including off-canvas, secondary navigation, and sticky options
10. The7 Elementor Multipurpose Theme

The7 is undeniably one of the top contenders among the best multipurpose WordPress themes currently available. Trusted by over 280,000 users, it holds a strong position on our list. The theme offers deep integration with Elementor, expanding its widget library, theme builder capabilities, and even the WooCommerce editor. This level of integration empowers you with enhanced control over every aspect of your website.
This multipurpose theme further impresses with its vast collection of demo sites, allowing you to swiftly and effectively construct any type of site you desire. Notably, the theme introduces custom post types such as testimonials, portfolios, and teams, complemented by dedicated widgets to display them on your site elegantly. If you seek to maximize the potential of the Elementor page builder plugin, The7 stands out as an excellent choice of theme.
More exclusive features of The7 are:
60+ demo sites
25+ content widgets
20+ WooCommerce widgets
Works well with Elementor and WP Bakery
Easy custom post-type layout builder
11. uDesign Multipurpose WordPress Theme

uDesign is a robust and intuitive theme that caters to both beginners and experienced developers. It enables users without programming experience to build their websites swiftly, effortlessly, and with confidence. With the exceptional capabilities of this theme, you can effortlessly transform your site within seconds, ensuring timely project delivery. Our primary objective is client satisfaction, and we are dedicated to assisting you with your website endeavors.
More exclusive features of uDesign are:
4 Different Portfolio Types
Auto-generate portfolio thumbnails
You can add a description to each portfolio item
Specify the number of items per page
Automatic pagination
Enhance WordPress Website Functionalities With Stunning Multipurpose Themes
While managing versatile types of websites, going for a multipurpose theme can be a game changer. Hopefully, from the above-curated lists, you will find the best Elementor multipurpose theme for your website. So, why are you waiting? Pick the best one and start creating your website with multiple themes.
Don't forget to subscribe to our blog for the latest news and updates .