Search Bar is one of the essentials that must be ensured while building your WordPress website or any. This is helpful for your online visitors that assist them to find their desired query answer right away through searching your website search bar. That's why website developers placed search bars on your website navigation menu and all related places where it is necessary, and ensure its full functionality. 
By default, all WordPress themes come with the search bar option to make it happen without coding. Otherwise, if you want to customize one or place it differently, you can do that with the right tactics. This blog is all about how to add a search bar in WordPress + 4 best search plugins in detail. Take a look! 
Reasons To Add A Fully Functional Search Bar On A Website
Several web design principles you have to follow to create a better user interface and improve your website user experience on an instance. Among all of them, a fully functional search bar is one of those undeniable functions that you have to assure on your web design. 
This is for making your website comfortable for your customers who visit your website regularly. An effective search bar can help to get on their perfect query results without roaming around your entire website. Take a look at the pinpoints of having a search bar on the website below: 
🟣Seamless user experience, easy-to-navigate your website pages & more. 
🟣Your website content will come faster to visitors when they get immediate results with a simple search on your website search bar. 
🟣 40% of people say an effective search bar leads them to their desired results and more. 
🟣You can even easily check out your customer searchers by including your search bar with analytics. This will lead you to know what your visitors are mostly searching for and accordingly, you can improve your products to boost sales. 
🟣Besides, for mobile users, the search bar of a website works as a blessing. In a tiny window, they can get their immediate solution from your website without any hassles. 
What Makes Your Search System More Effective?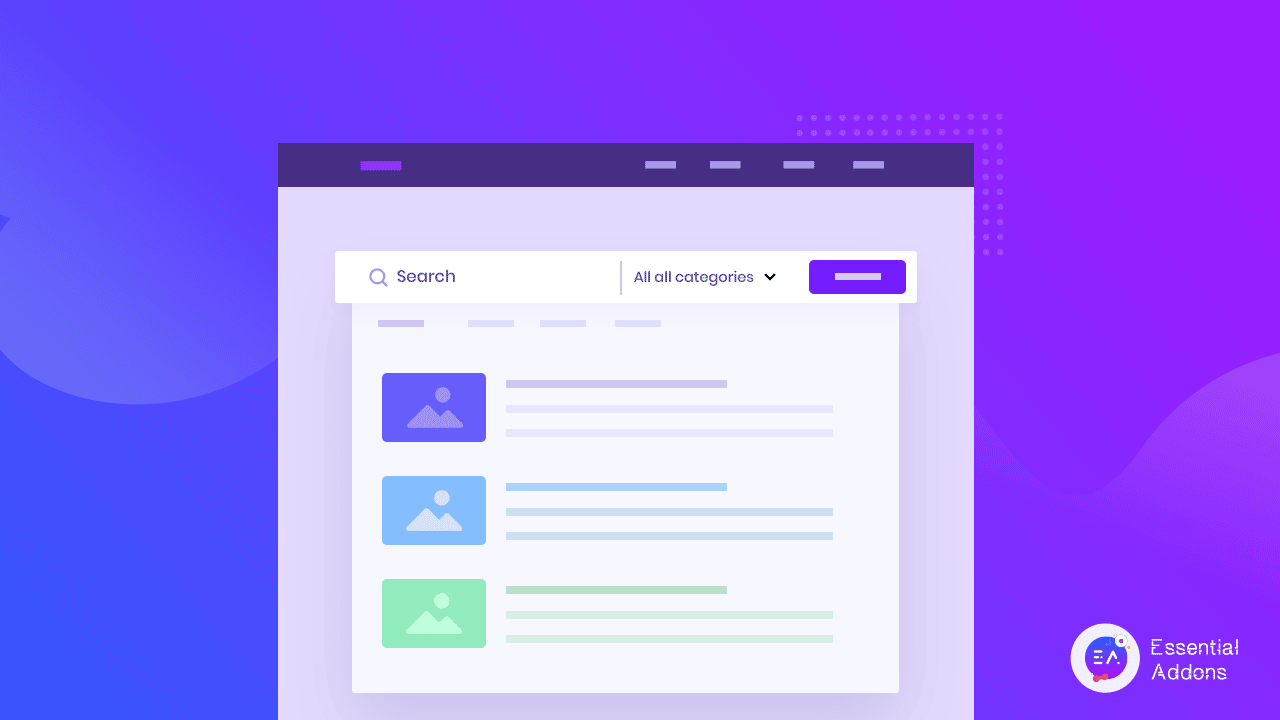 If you want to make website search more effective, you can then go through several latest search bar design tactics to look at. Check out what search bar design principles can make your search system improve your website user experience right away. 
Place Search Bar In The Right Place
Make your search bar be on the top of your website navigation menu, with the other pages' top places. Like if you have a blog page, you have to then create a separate search panel on the top to let your site visitors search for their desired results right away.  
Add Advanced Search Filter Feature
If you want to make your search bar more effective for your customers, you can then include an advanced search filter feature to make your users' custom search automatic. Like by typing one or two words your customers can get their preferred results to link and instantly click to get their solution.  
Get Best Search Solution
You can take expert help or ready solution to add a search bar to your website. And if your website is WordPress built, you can then easily use the best WordPress search plugins to customize the look of your website search bar and make it more advanced and user-friendly. 
Methods: How To Add Search Bar In WordPress?
In this section, we are going to provide you with two methods to add a search bar in WordPress. One is by configuring the default WordPress settings and another by using the right WordPress search plugin. Get all details below: 
Method 1: Configure WordPress Search Bar From Widgets Panel
If you are a beginner, you can then first set up your WordPress default theme Twenty Twenty one or can get a flexible, versatile theme like Flexia to configure your WordPress site appearance in advance. And if you have already configured your WordPress site theme, you can then directly configure the WordPress search bar with a few steps. Go through all the simple steps below:
1. Navigate to your WordPress dashboard Appearance → Widgets.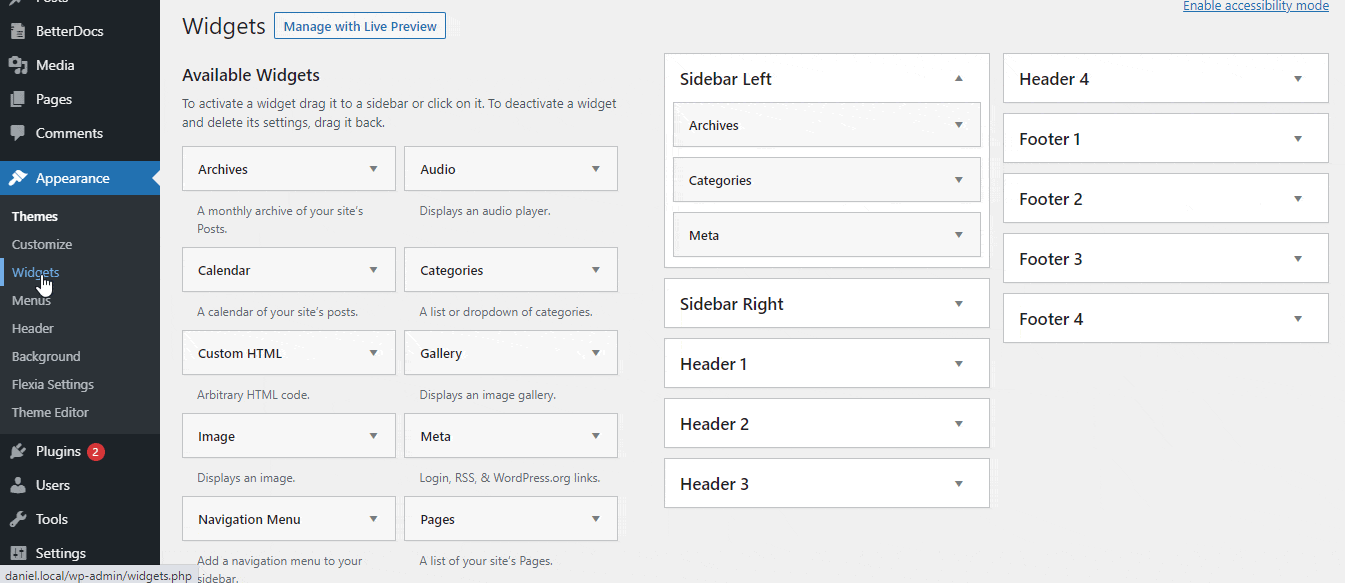 2. Now scroll down a bit and click on the default WordPress 'Search' widget there. You can see a list of things we have configured on our WordPress Flexia theme. Choose the 'Sidebar Left' option from the scroll option of 'Search' bar widgets.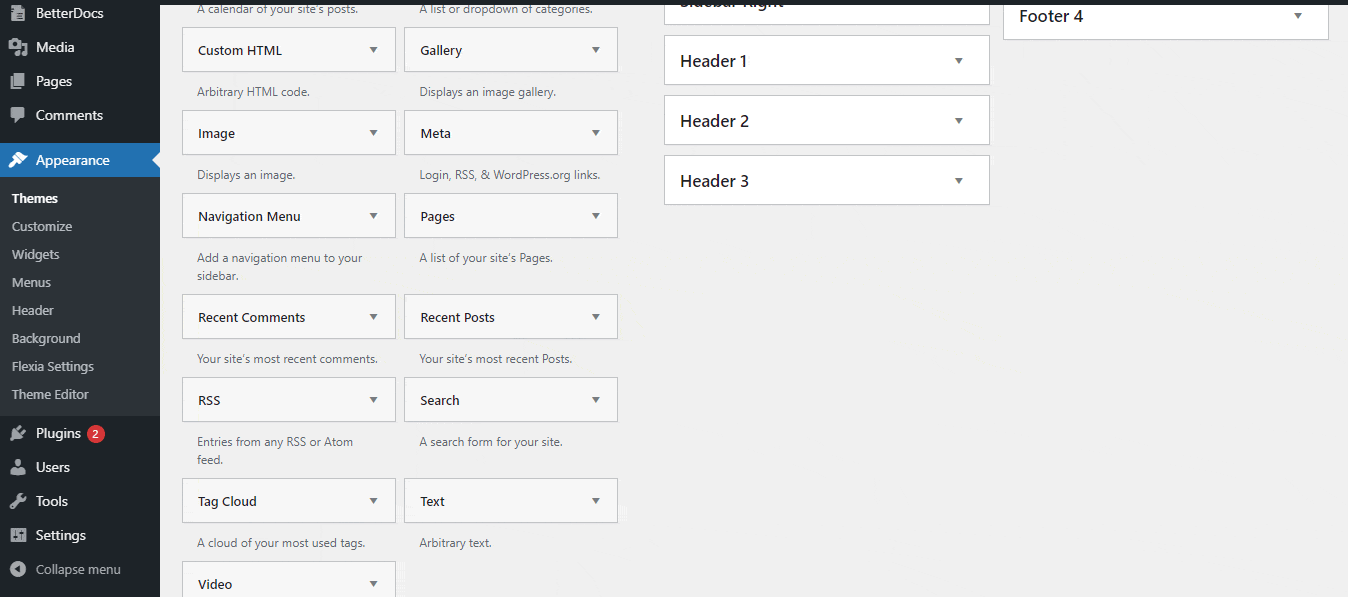 3. Afterward, Preview your WordPress website homepage and see the changes.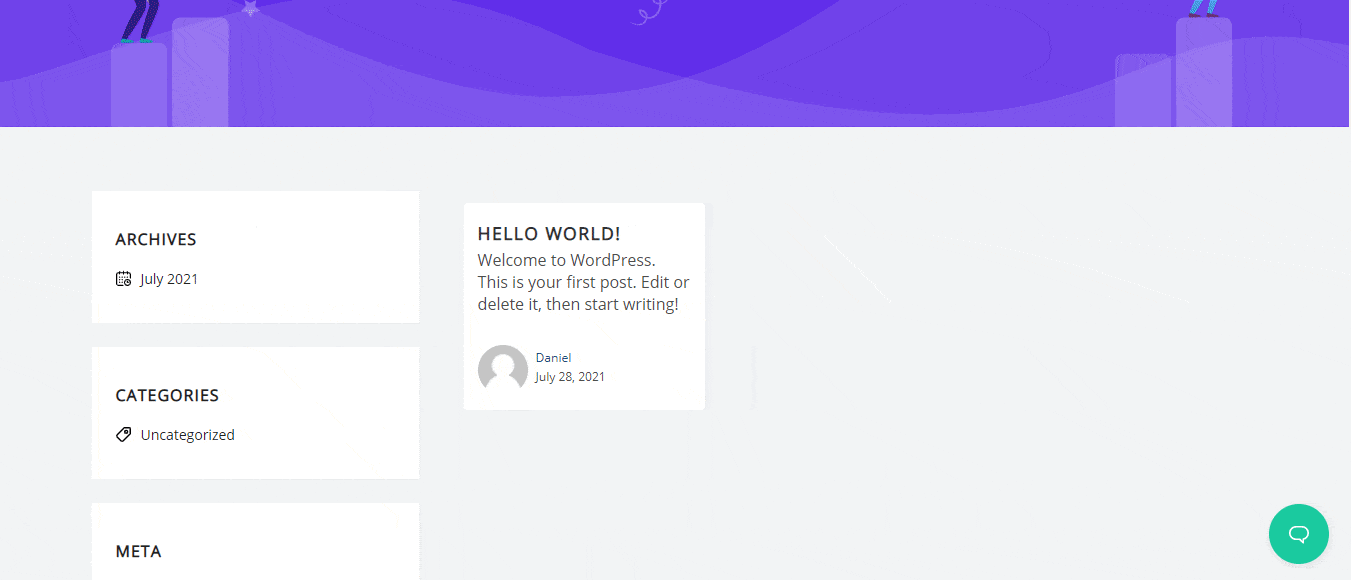 That's it! This is how simply you can choose and configure your search bar in WordPress with its default widgets. 
Method 2: Add WordPress Search Bar With A Search Plugin
What if you want something different, and customize the look of the default WordPress Search Bar? You can then avail yourself of one of these 4 best search plugins on your website and make your scratch bar advanced for your site visitors right away.  And guess what! You don't have to add any single line of codes. Before doing anything you have to know some basic steps of adding any new WordPress plugin on your website: 
Navigate to WordPress dashboard

Plugins → Add New

plugins option. 

Search

& Pick the best Search bar solution for your WordPress site to get started.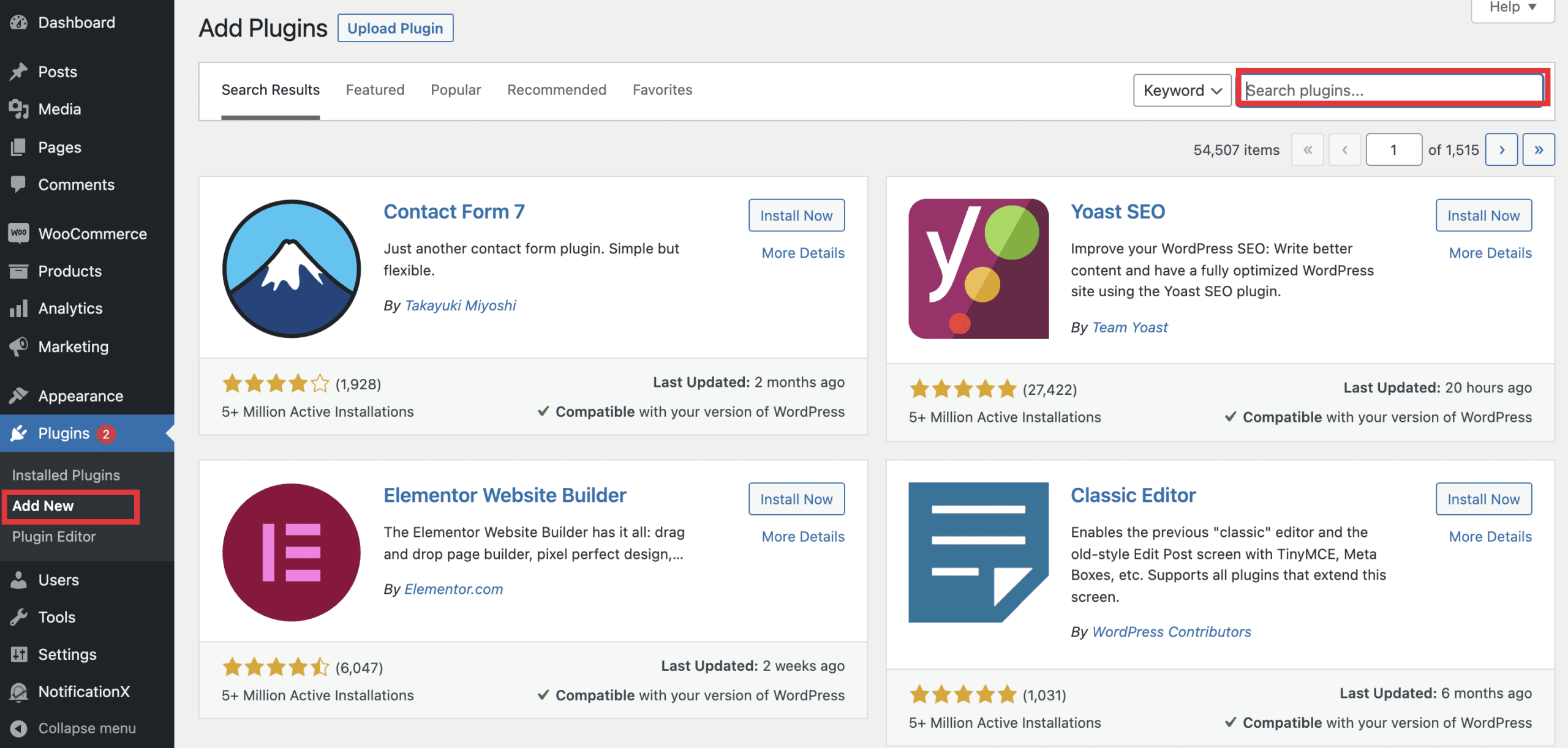 Now that you have already known how to add your preferred search bar plugins on WordPress. This time check out the below section to choose the right WordPress search plugins for your website and build a fully functional custom search bar for your users. 
4 Best WordPress Search Plugins To Look At
Without any further intro, let's take a look at the top 4 best WordPress search plugins and how to use them below: 
BetterDocs Knowledgebase Plugin With Advanced Search 

BetterDocs is the best, all-in-one knowledgebase plugin with 20000+ active installs. If you get this documentation solution, you can then design an advanced search bar in WordPress that comes with an exclusive sort & filter option providing results just by typing one or two related characters. 
Your customers can easily get help from your self-servicing by getting this exclusive knowledgebase solution. You can even style your search bar with different colors and make the appearance appealing for your site visitors that can take immediate help from your self-servicing platform using this exclusive search bar feature. And you can use BetterDocs advanced search bar in WordPress completely free.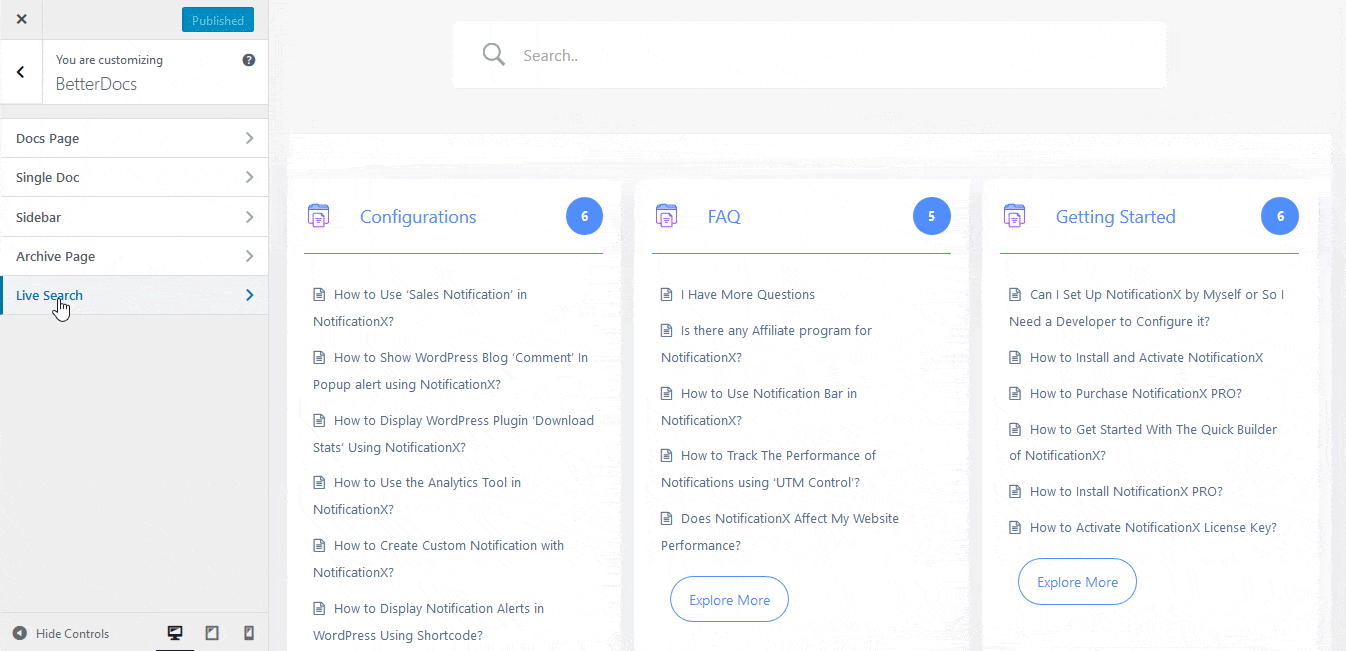 Besides, if you upgrade to BetterDocs Pro with any of its affordable pricing plans, you can then manage multiple knowledge bases for your separate products, internal documentation with a modern user interface. That allows you to organize your documentation from the dashboard with an advanced list view or grid view options, advanced user role management systems, and a lot more options. It's also now exclusively compatible with WPML having a strong partnership.  
Moreover, you can also help your customers by activating this interactive instant answer documentation support including an advanced search bar. And this is not yet done, you can even analyze the performance of your documentations with BetterDocs in-built analytics. That helps you measure your visitor's searches, views counts, and a lot more in detail. This is all because of the powerful integration of the BetterDocs search bar with its advanced analytics.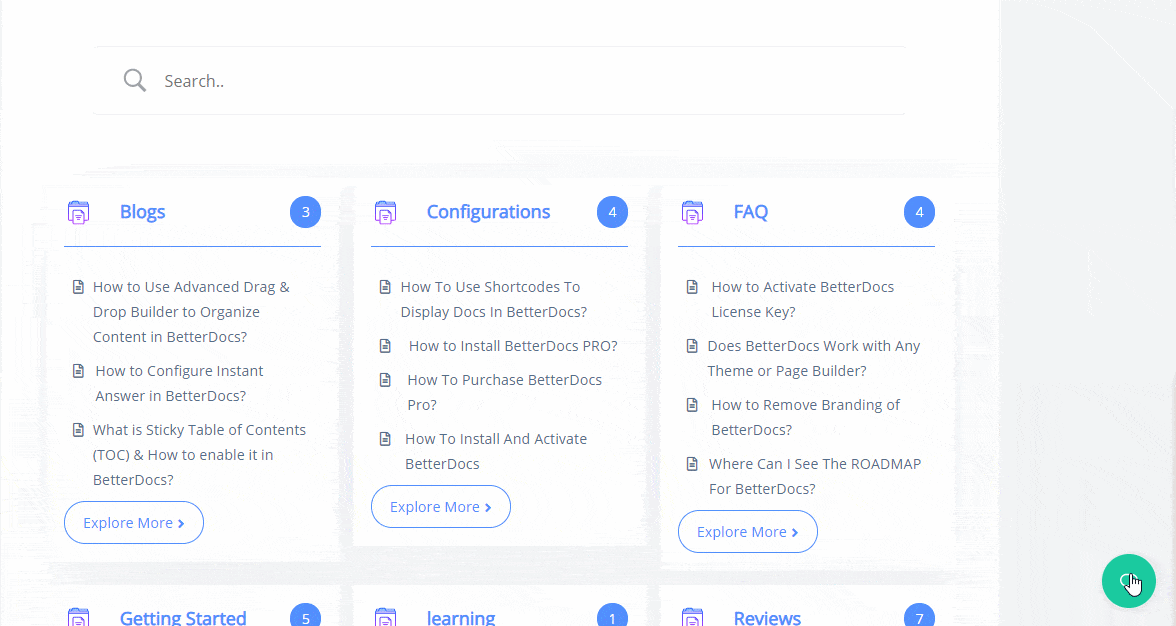 Ivory Search – WordPress Search Plugin

Ivory Search plugin is specially designed to create and customize the look of your WordPress site search bar. You can design and enable search bars on your website on any pages, header, footer, sidebar, navigation menu, or any required places with ease. It helps you create an advanced search for WooCommerce products, search images, files, and many more. 
At any time you can customize the search with a customizer, including ajax search and many more. Also, you can track searches with analytics, powerful integration support like WPML and others. This WordPress search plugin comes absolutely free for WordPress users.

FiboSearch – Ajax Search for WooCommerce

FiboSearch is a complete WordPress search plugin that is specially designed for WooCommerce built sites. It comes with an advanced Ajax search with WooCommerce to make your eCommerce site user-friendly and advanced for your customers. 
Your customers can search by product title, long or short, any type of search to get their required things right away. It's completely compatible with any WordPress themes and integrates with powerful platforms like WPML and many others. 
It comes free and pro for both versions. If you want to avail its premium facilities like ultra-fast search, custom fields search, and others you can go with any of its affordable price plans.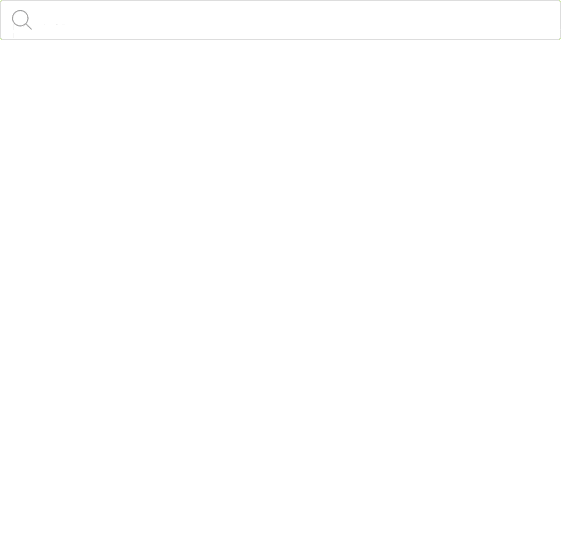 ACF: Better Search Plugin For WordPress

ACF: Better Search is another WordPress search plugin that integrates with the default WordPress search engine to search by content from selected fields of the Advanced Custom Fields plugin. 
Visitors can get the result with custom fields or advanced custom fields results on an instance. Instead, if anyone wants to search with a whole phrase, a single word, or others can also be done. It comes free for WordPress and comes in handy.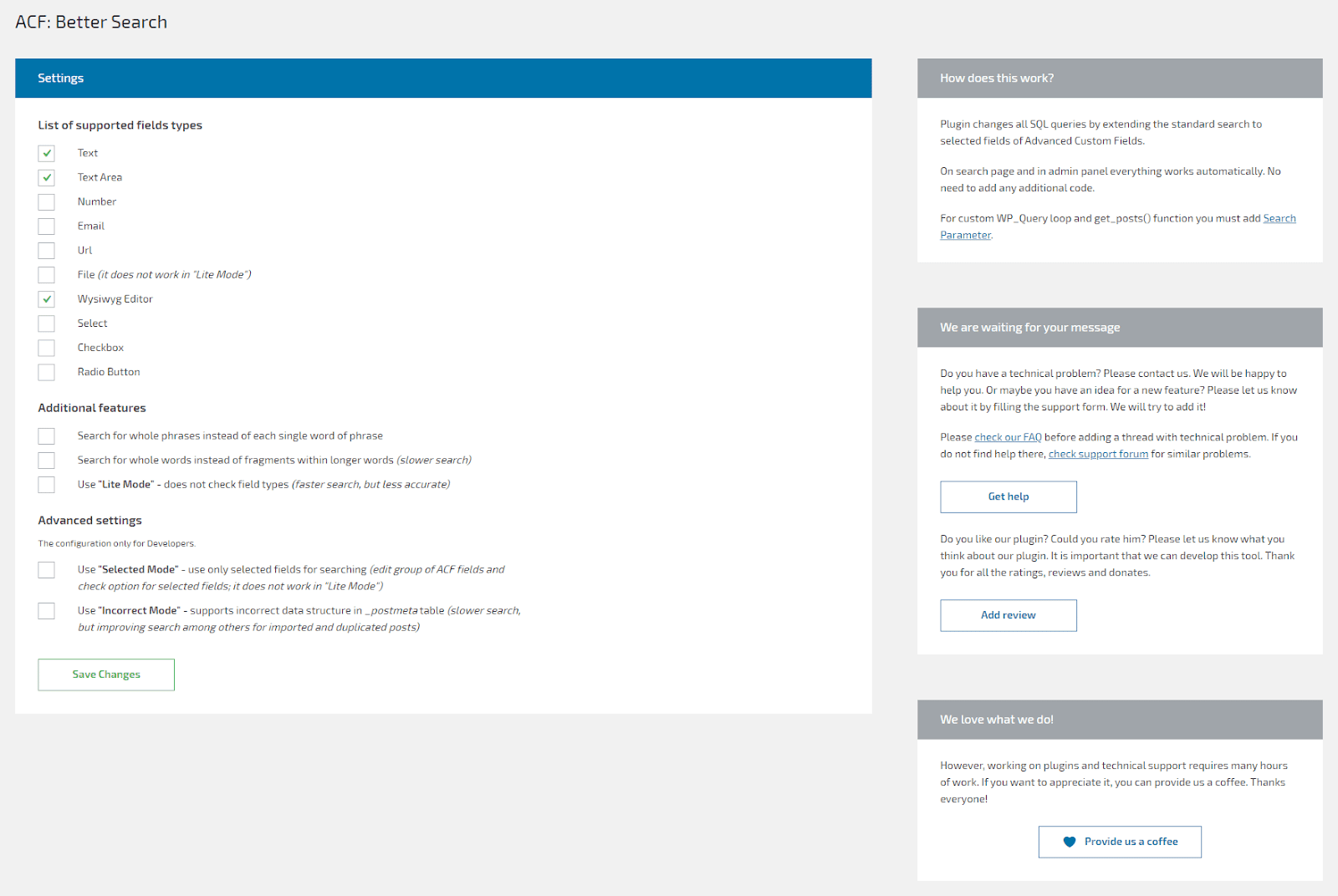 Create Stunning Search Bar With Best The WordPress Search Plugins 
You are now fully acknowledged on how to add a search bar in WordPress + 4 best WordPress search plugins. Different, exciting, and best WordPress search plugins are mentioned here to help you get the right solution. So check out these plugins and pick the best one to run your online business smoothly satisfying your customers from every aspect. 
Hope you find this blog helpful and feel free to share your opinion by commenting below. If you want to read more exciting tutorials, tips and tricks, and hacks subscribe to our blog and don't forget to join our popular Facebook community to get connected with all WordPress experts.