During the time of COVID, we could not meet people face-to-face for a long time and that's the time when everyone understood the importance of video communication even if they were not using it before. Advanced video conference software has worked as a blessing for all of us. It helps to create a strong relationship in the global network between different zones of people of any country or for separate countries. Apart from office meetings, video conferencing is also there for doing online courses, global conferences and more.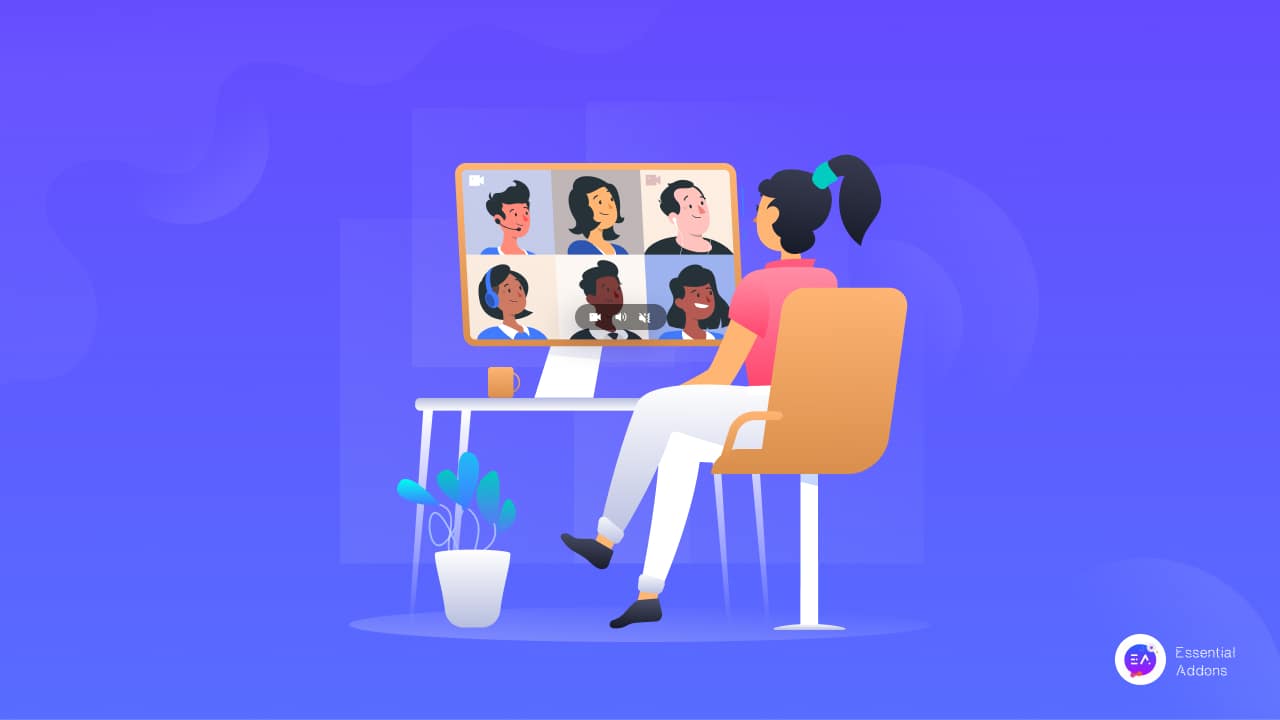 Many organizations or individuals are stuck between choosing the best video conferencing software that can help to create a glitch-free, secure and smooth connection. What to choose and how to evaluate any video conferencing software productivity become a hassle. Don't you worry! Here, in this blog, you can compare the best 7 video conference software and pick the best one for your team. Take a deep dive into this blog till the end! 
Basic Components You Need To Check Before Choosing Video Conference Software
Let's get to know what components you must have to check and use before having any video conference software. Get the checklists of basic components: 
Ensure stable internet connection first. 

Choose between your device like mobile, desktop, pc, or laptop.

Make sure your devices have great sound quality, webcam facility, and microphone. 

Get a separate microphone or choose an in-built microphone device. 

Check whether your headphone, laptop or pc speakers work fine or not. 

You can even get echo cancellation software to reduce audio delays and make smooth real-time communications. 
How To Pick The Best Video Conference Software For Your Team
Another thing you have to consider is to know the best ways to get the perfect software for your business or team. Let's have a look at that: 
✅Know Your Team Needs
You must analyze if you have a big team or small this can serve any purpose. Like if you are running your online classes, for any separate organization, for doing client meetings, or others. In any case, know the number of your team members, and accordingly, pick the best video conference software. If your team is small and any free version of the video conference can serve the purpose, you should go with that. And for a big team, you might have to take any paid and advanced video conference software. 
✅Choose The Certified Solution
Free or paid for any video conference software, make sure the solution is certified. You have to ensure that whatever video conference software you may choose is secure, suitable, and easy to use for your team. Other than that, your work privacy can be at risk. 
✅Check All Latest Advancements
Make sure how many people can communicate at a time, audio or video conferencing is stable or not, must have file and screen share facility is there or not. Besides the live messaging system, noise cancellation, device switching facility should be there. You must have to look for the features to facilitate your team. 
✅Think About Long Term Benefits
When choosing any video conference software, think about long-term facilities, not short-term. Anytime you feel the need to communicate with team members or outside the country, you have stand-by and effective video conference software to serve your business and team needs. It helps you not only make your communication smooth but can also make you more organized and efficient as a team. 
Best 7 Video Conference Softwares For Your Team
Now in this section, you are going to know the best 7 video conference software for your team and their exclusive features. Get all details below: 
1. Google Meet – Cloud-Based Video Conferencing
Google Meet, which is formerly known as Google Hangouts Meet, comes with in-built video conference software for Google Workplace. It is an accessible cloud-based video conference solution. You can at a time collaborate with your effectively using this video conference solution on android or ios mobile or desktop. This solution is smooth, effective, and comes in handy for any type of business conference. At a time, you can chat, share files, screen, and a lot more. It is available in both free and premium services. 
2. Zoom – Affordable Video Conference Software
Zoom is now one of the widely used video conference software to serve any business, education, or other purposes without any hassles. At a time, if you want to call, screen share, file share, do chats in private or with the team, and more. Also, notice cancellation, device switching, background changing facilities, and a lot more there. You can take its free facilities, but for a greater purpose to serve a long time you can get its premium facilities too. 
3. Microsoft Team – Microsoft 365 Video Conference Software 
Microsoft Team is another popular business communication video conference software integrated with Microsoft 365 package. It is right now another popular video conference software for doing any team and business communication. In real-time, you can meet, chat, call and collaborate without any hassles. You can even find, share files, and edit them simultaneously with this app support. If you want you can take its advance support availing its any premium packages.    
4. Skype – Communication Tool For Free Calls & Chat
Skype is an all-time free communication tool for individuals, teams or even you can serve your business purposes. It's another Microsoft video conference tool that has been used for years and is one of the oldest ones. You can do video calls, chats, audio calls, call recording facility is there, can do private conversations, screen sharing, and a lot more. If you want you can avail of its pro plan because its real-time video conferencing limit is not more than 50 people. So for a big team, you have to avail yourself of its pro plans. 
5. Slack – Best Business Communication Platform 
Slack is owned by the Salesforce team, and another free, and popular business communication tool. It is not only considered a video conferencing tool, it's a complete package for collaborating with your team on real-time communication the whole day. You can do real-time chats, video calls, audio calls, screen sharing, look for previous files, and more. 
Right now one of its exciting features is the hurdle that can collaborate between your individual slack channels, person-to-person just by enabling the toggle, and there is a lot more to explore. If your team is big and you want more smooth online communication with unlimited packages, you can anytime avail its pro plans. 
6. Webex Meetings – Video Conferencing, Cloud Calling & More 
Webex is another video conference software by Cisco to make your team communication even stronger. You can simultaneously do video calls, invite more people for meetings, give messages, create polling, events, and a lot more. If you want to explore more unlimited functions for your business team, you can get any of its pro plans. And exciting is it you can choose what type of facility you want from the pricing lists, according to this your pricing will be provided. 
7. GoToMeeting – Web Conferencing & Online Meeting Software
GoToMeeting is a fast, reliable, and secure video conferencing solution. It comes completely premium with 14 days free trial for users. Its price plans are divided into separate packages to serve individual team needs. At a time, you can do video calls, chat, recording, cross-device support, recording with the latest security, and many more advanced facilities are there. 
As you have already known what to choose, features of an individual, price plans, and each little detail. Now it's your turn to let us know how this blog helps you by commenting below. 
Bonus Tip: Video Conferencing & Remote Requirements 
Businesses now rely more on remote hiring solutions to onboard their applicants quickly with all latest, advanced features with video conferencing tool integrations. So we get Easy.jobs for you! This is one of the latest, best online recruitment SAAS solutions, also integrated with WordPress & the most popular page builder Elementor. 
Anyone now can take advantage of recruiting the right talent faster onboard by exploring its AI supports, smart candidate hiring pipeline, custom domain, multilingual support, powerful integration with video conference software Google Meet and Zoom, and a lot more others in the row.
If you want to read more exciting tutorials, tips and tricks, and hacks, subscribe to our blog, and don't forget to join our popular Facebook community to get attached with all WordPress experts.