Just established a sophisticated and welcoming new coworking space to host professionals working independently on different projects? Now, you need to advertise the space the right way to attract coworking customers and clients. And there is no better way to do that than by creating a modern new WordPress website that can impress diligent white-collar workers with its stunning layouts and designs!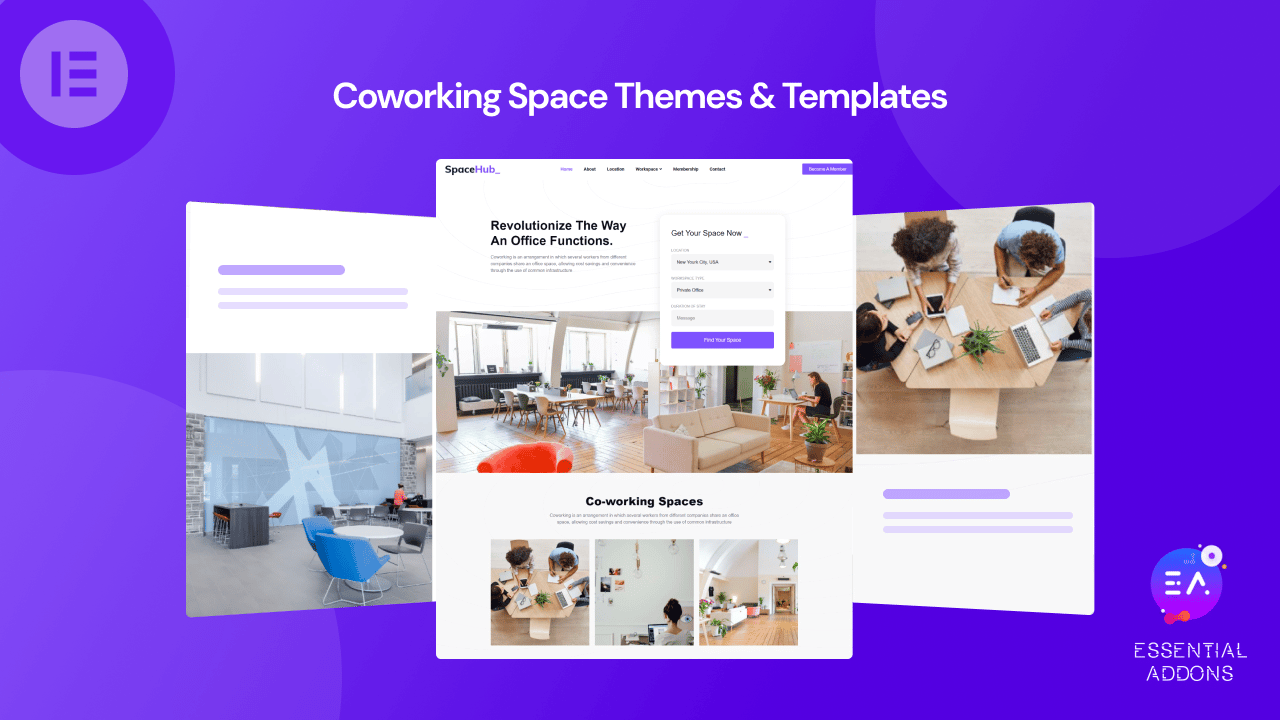 When it comes to building a Coworking Space website from scratch, using ready themes and Elementor templates can give you the solid kickstart and fast development that you need to get your site up and running soon. So, with this blog, we bring you a list of the finest WordPress Coworking Space themes and templates that can make your website a success in 2022. 
But not just a list, with this blog, we will also provide you with a quick guide on how you can install stunning templates in Elementor in just a few clicks, and create a fully functioning website on WordPress. So excited to learn more? Let's dive right in. 
Features That Make A Template Or Theme Perfect For Coworking Space
But what makes a WordPress theme or template perfect for your Coworking Space website? A sloppy-looking website with a poor design or layout might give your site visitors the wrong impression of the professionalism of your space. And you can't make your website look sleek, modern, and vibrant for your consumers unless you choose a complete, flexible, lightweight yet powerful Coworking Space theme or template.
Here's what you need to keep in mind before choosing a theme or website template for your Coworking space website: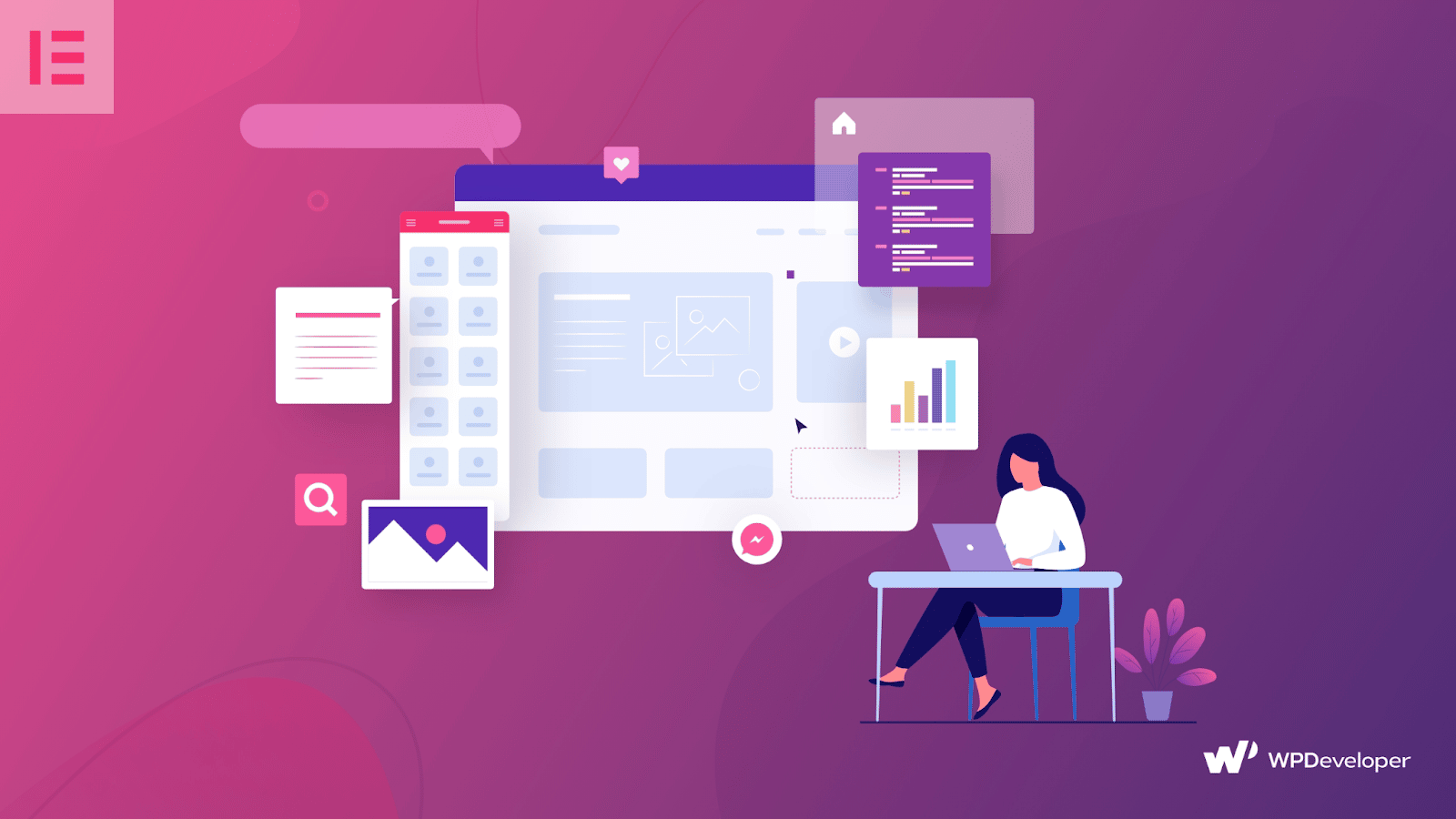 🏆 Customization – Your website should be 100% customizable so that you can create a look that instantly grabs attention and goes with your business brand, making it stand out and appealing to both your workers and other visitors. So, when choosing a theme or Elementor template for your site, be sure to consider how much customization or adjustment you can do.
🏆 Responsive Design – It's essential that your theme looks and functions well on a number of platforms or devices, allowing potential workers (or, existing ones) to access the site and their workspace from their laptops or smartphones with ease. If your users can access your website from any device, you'll see a spike in traffic and conversion rates in no time.
🏆 Rich Functionality – It goes without saying that functionality is at the top of the list when it comes to choosing the best theme or Elementor template for a coworking space that will provide users with an amazing experience.
Top 5 Best Coworking Space Templates & Themes For WordPress 
So, we have gathered the top 5 best Coworking Space themes and templates that check off all of these qualities and add even more to help you create the high-converting website in WordPress. Keep reading to find out more. 
💼 Space Hub – Elementor Coworking Space Template From Templately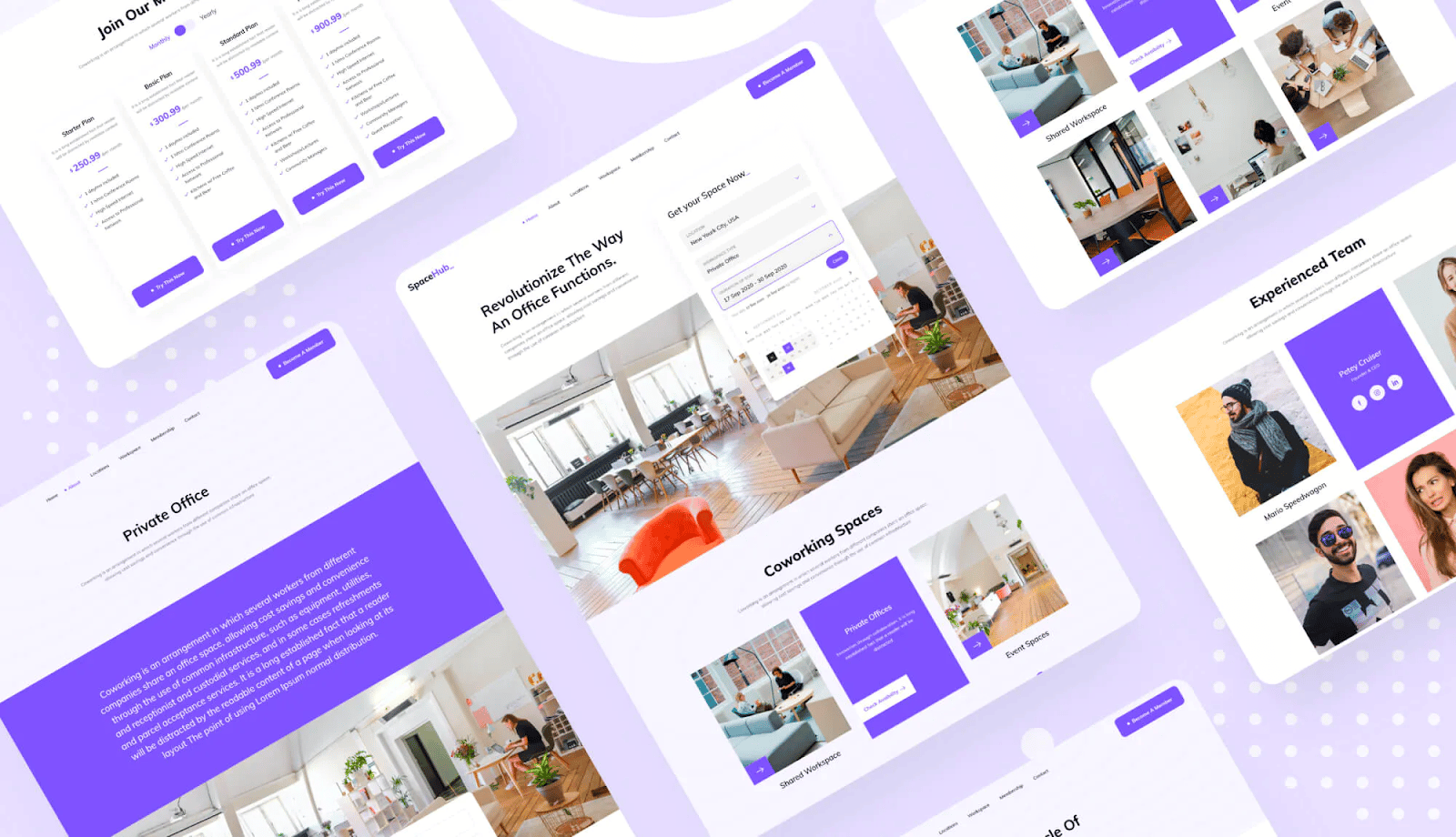 Let's start off our list with a website template that's perfectly suitable to create an outstanding and highly professional website for your coworking space – Space Hub. It is an eye-catching Elementor compatible template pack from Templately, that features 2 blocks and multiple landing pages to help you create every aspect of your site with ease. And the best part is, implementing these templates requires NO coding at all. 
Along with the highly engaging Home page and About page templates for your website, you will get separate landing pages to display workspaces, memberships, and locations interactively with the world. It also brings you attractive-looking contact pages to drive more visitors to your website and enable a direct communication process. 
Of course, the template is fully customizable with Elementor and can even be improved using the Elementor widget library, Essential Addons, enabling you to highlight your brand and set your site apart from the rest in the industry. And if you want to create a coworking space website that loads fast on all devices seamlessly, this is the perfect template pack for you without a second thought. 
💼 Codesk: Coworking Space Elementor Template Kit By Themesflat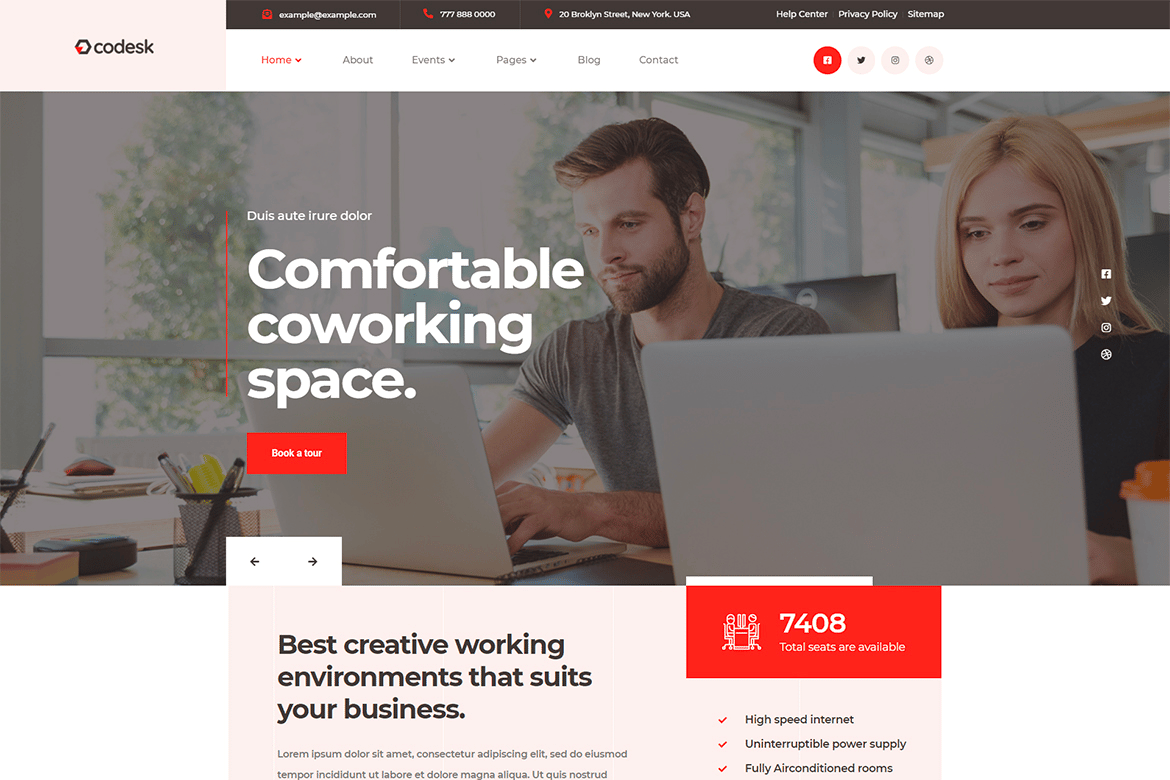 Next on our list, we have another Elementor template kit from themesflat that offers you some vibrant colors and creative designs to display your coworking space. It's called Codesk and is very modern and professional which makes it suitable for creating websites to promote your open office, shared offices, or conference rental spaces. 
To use this stunning template for your website optimized, you will need to make sure the plugins Themesflat Addons and MetFrom in WordPress. It is fully optimized for mobile devices and SEO as well and comes with more than 3 elegant homepage layouts that you can implement with a single click. It is also easy to customize so that you can make as many changes as needed.
💼 Crework: A Creative Coworking Space Theme By Axiom Themes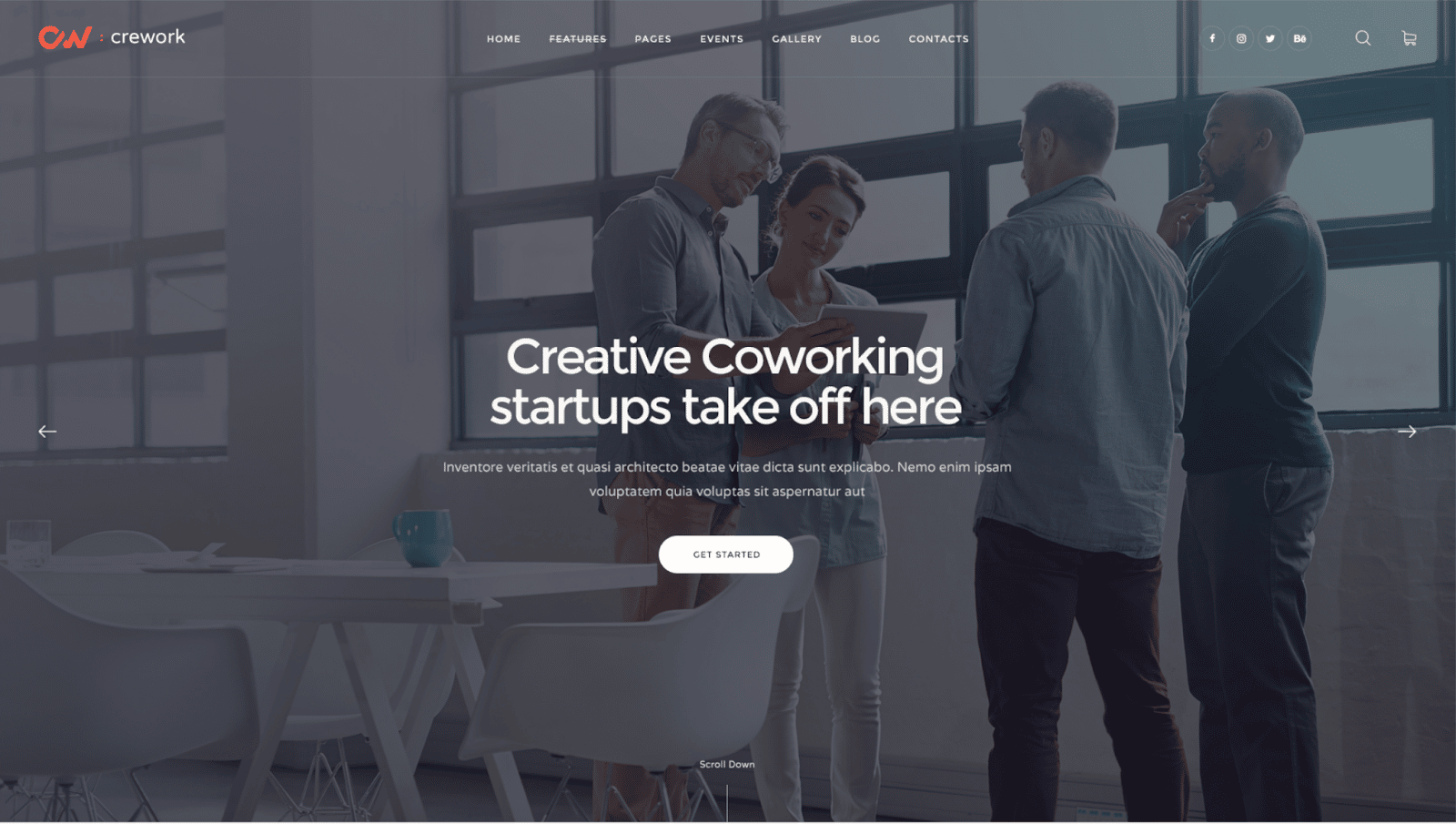 Moving on to WordPress Coworking Space themes, we have one that is specifically tailored for open offices, workshops, or conference rooms: Crework. It is a highly responsive, easy-to-use, SEO-optimized theme brought to you by the team of Axiom Themes.  
To get started, there are two pre-built homepages and several ready-to-use templates. And with that, the theme includes all of the necessary features you'll need to accurately represent all of the services and facilities you provide in your coworking space. With an engaging parallax effect background, it helps to attract your visitors' attention, but you can also include other dynamic and exciting content elements to your site with the dozens of shortcodes that are included with the theme.
Your users will have an amazing time without any hassles because of the endless customization options available. In addition, the theme comes with extensive documentation and excellent support in case you need some extra help creating your coworking space website.
💼 Nomad: Business & Coworking Space Theme By ProgressionStudios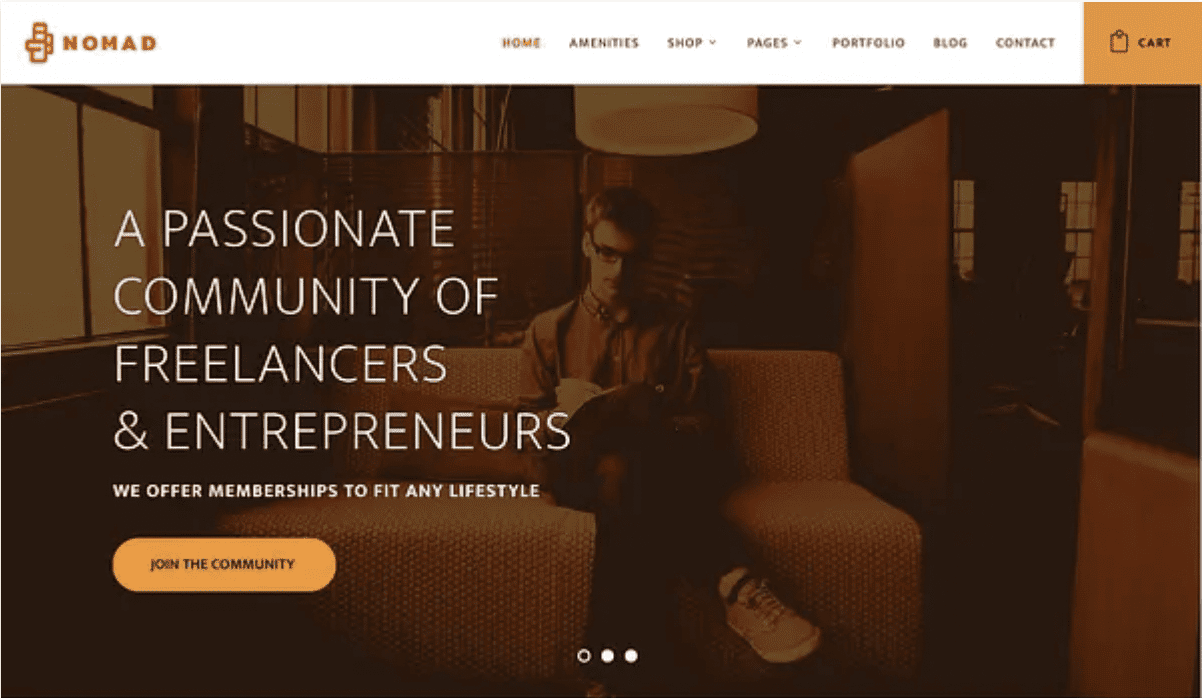 Next, we introduce to you a modern, and premium-built WordPress theme from ProgressionStudios that fits business and coworking websites ideally: Nomad. Designed with the intention to meet the needs of freelancers and entrepreneurs, this theme is super easy to customize without having to use a single line of codes.
Nomad features a high-contrasting aesthetics and is very eye-catching – whitespace, tiny fonts, and vivid bursts of color abound. The theme is perfectly compatible with WooCommerce and includes SEO optimization, Slider Revolution and WPBakery page builders, mega menus, and a completely responsive layout.
💼 Hub2B: A Powerful Theme For A Successful Coworking Space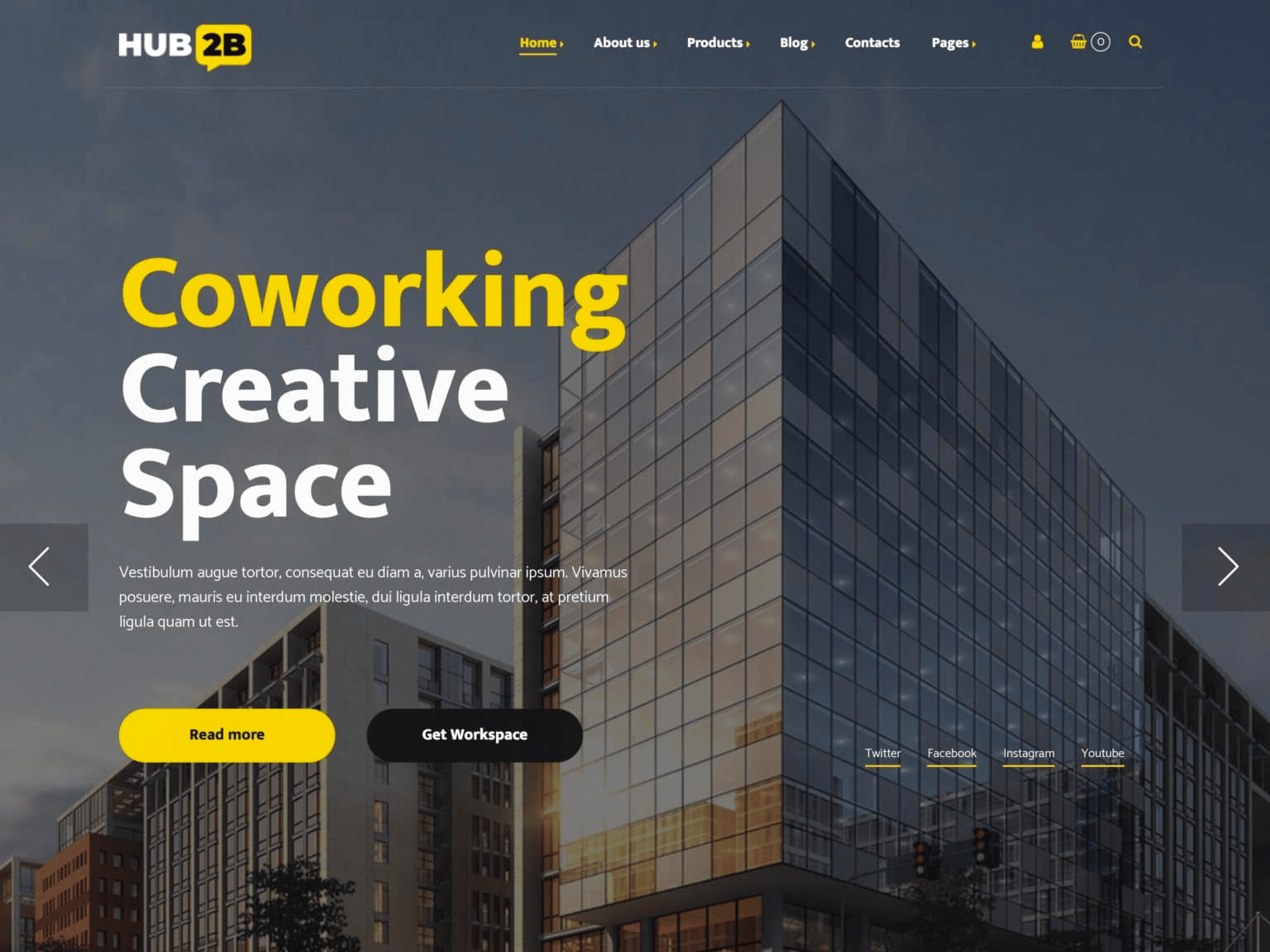 To wrap up the list, we have the WordPress theme Hub2B by Like-Themes for you. An impressive, multipurpose WordPress theme for coworking spaces, it comes with all the necessary and powerful features you need to get started right away. And we must mention that this theme could be ideal for your website if your coworking space also provides digital agency services.
This theme makes it easy to create extremely responsive homepages with a variety of predefined elements, inner layouts, as well as professionally created sections and features. You will also find Google fonts, parallax effects, multi-level menu, sticky navigation, and pricing plans, along with full customizability.
The theme also comes with an online store and WooCommerce compatibility which means you can sell your office space. Besides that, the theme is SEO optimized, plugin friendly with the support of the convenient page builder along with translation-ready files which are essential for a coworking space website.
Create A Fantastic Coworking Space Website In Elementor With Space Hub
As promised, we do not want to leave you with just a list of the best WordPress coworking space themes and Elementor templates. And so, in this section of the blog, let's take a look at how you can swiftly and effortlessly use 'Space Hub' – our top choice of coworking space Elementor template – to kickstart your website in just a few clicks using Templately. 
Follow the detailed, step-by-step instructions given below to design your outstanding website in Elementor editor now:
Must-Have Plugins To For This Quick Tutorial:
⚙️ Elementor: As you can already tell, you will need to have Elementor installed and activated in WordPress.
⚙️ Essential Addons: This amazing widgets library has been used to add many of the previously mentioned fantastic features in Space Hub and can also help you to take your customization to newer heights too. So, use the template pack, you must first install and activate this plugin.
⚙️ Templately: And finally, the process would be incomplete without Templately, the widest templates library for Elementor that brings you this outstanding template pack. And therefore, you must first create an account and then install the Templately plugin for WordPress.
Get Your Website Up & Running In Elementor In Just 5 Minutes
If you are have already completed the aforementioned steps and have the plugins you need, it's time to use Elementor to build your coworking space website. So let's get started with the guide to set up your template:
Step 1: Insert The Space Hub Template Into Elementor Editor
Open a web page and head over to the Elementor editor. A blue Templately icon should appear once the editor has finished loading, as shown below. When you simply click on it a popup window will appear, displaying various template designs from the platform. Search for the "Space Hub" template from the search bar.
Once you have found the template or block you need from the pack, simply insert it onto the Elementor editor. And you'll already be a step closer to creating a successful website for a harmonious coworking space.
Step 2: Customize To Personalize The Web Content
You can customize these template packs to add personal touches and set your site apart from all the rest.  Elementor allows you to customize these ready templates and tweak the content background, color, typography, and much more – anything is possible.
You can change the content and add your own pictures or videos to personalize the entire pack or different sections to match your brand. Or, ou can even take your website design up a notch by adding extra widgets and elements from Essential Addons For Elementor as needed.
Step 3: Back Up Your Coworking Space Website Design
Once you're done personalizing your website, it's time to backup the design and save it  so you can reuse it in a few clicks if ever needed. And this amazing, unique facility comes from Templately – your own Cloud Storage where you can save to secure your designed templates. All you have to do once you're done with the designing is right-click on the Space Hub template and click on "Save Page To Templately".
Congratulations! You've just successfully created your own coworking space website using an Elementor template in just 3 major steps and less than 5 minutes. And you didn't even have to write a single line of code or employ a web designer to accomplish it for you. Incredible, isn't it?
Choose The Best WordPress Coworking Space Theme & Templates For You
And there you have it, a complete list of the top 5 WordPress coworking space themes and templates along with a thorough setup guide. We hope it helps you kickstart you own website with ease; let us know if you follow our step-by-step guideline and how your experience goes.
Sign up for Templately, if you haven't already, to get access to 2,000+ ready Elementor templates at once. If you have found the blog useful, subscribe to our blog to read similar guides, useful tips, and all the latest news. Share your thoughts with other WordPress users and enthusiasts on our friendly Facebook group.