Successful and eventful festivals need proper planning and promotion. You also need to keep your event participants engaged and up-to-date in real-time for the best turnout. And the best way to do all these and more is through a website. If you want to create a festival website on WordPress, Elementor-ready templates from Templately can make the job effortless and fun.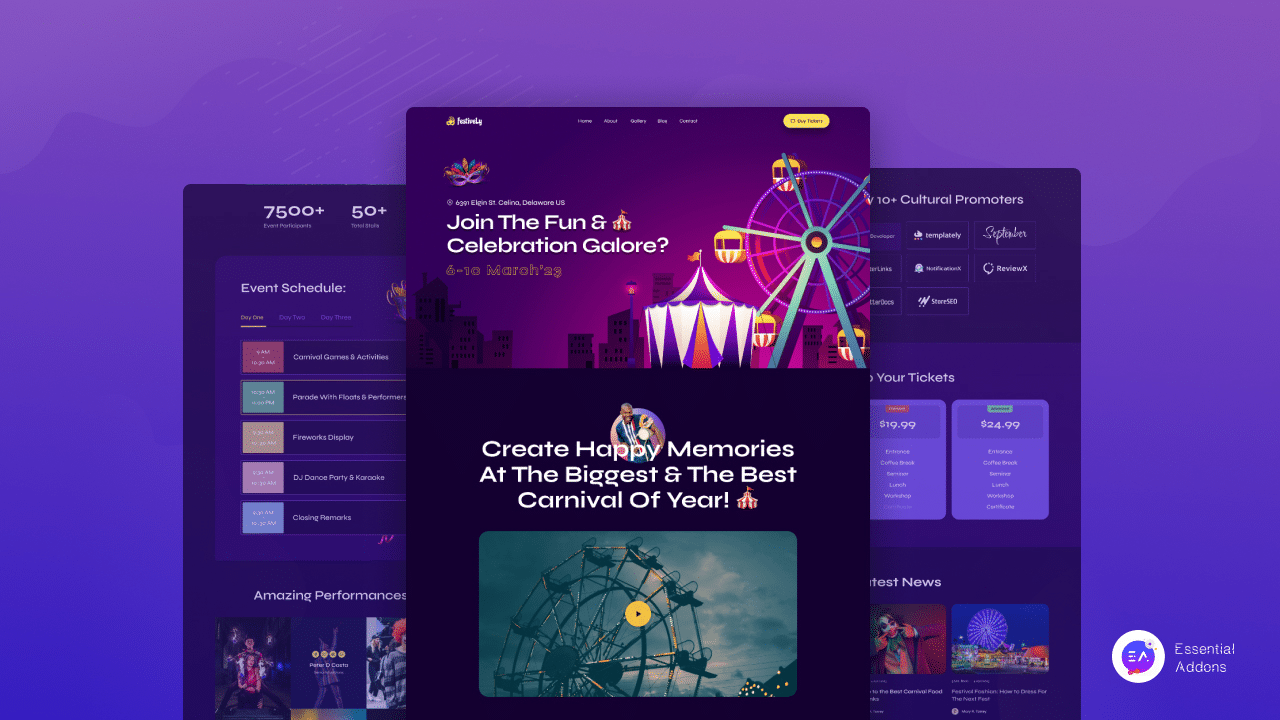 Potential participants in your festival or event will likely want to learn all they can about it. Your website is a wonderful location to describe why your event is important, why viewers should attend, how they can, and more details about it. Festival website Elementor templates from Templately offer everything you need to create a festival website with the least effort.
🤔 Why Would You Need A Festival Website?
Festivals are essential and something everyone looks forward to because they allow us to take a break from our regular routines. Festivals also provide an excellent opportunity for people to get together and have a good time. Furthermore, they help develop local and global communities. But getting the word around about an upcoming event might be quite troublesome, especially if done manually.
In this age of the internet, online platforms are the easiest way to let folks know you're throwing a party or celebrating an achievement. A festival website with the vibrant details of the next big occasion will do half the job for you, if not entirely.
Attendees and organizers alike will benefit from a website dedicated to the festival or event, which can serve as a central hub for announcements, bookings, payments, and more. You can't also overlook the opportunity to create a unique festival website that draws repeat visitors and increases conversion rates.
🔖 Things To Focus On To Create A Festival Website
The best festival websites should be informative and aesthetic to attract guests and spread the news about your festival. This is true whether you're preparing a big feast, celebrating Thanksgiving, holding a town fair, or having your post-marriage party.
Here are some suggestions for festival website designs to simultaneously increase attendance at your gathering and excitement about the occasion.
🌟 Make Sure It Is Mobile Responsive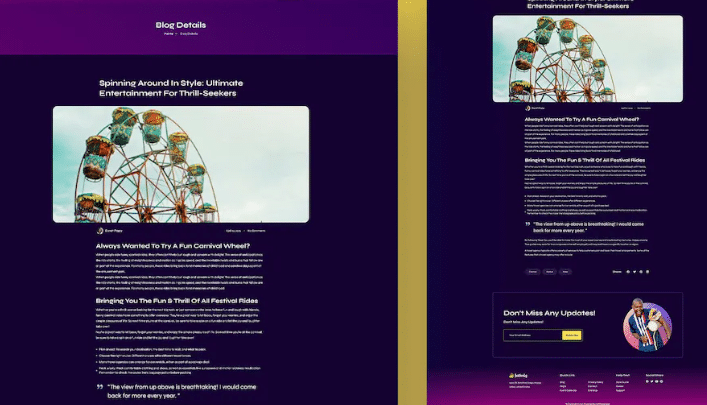 Make your site responsive to ensure it is mobile-friendly. Websites that aren't mobile-friendly or optimized for different screen sizes are difficult to browse on devices like tablets and smartphones. Visitors to your website will enjoy a simple navigation structure.

A noticeable navigation bar at the top of each page should also be included so visitors can easily navigate your site and find the necessary details. By carefully arranging your menu, you can avoid having too many links on each page.
🌟 Stunning Landing Pages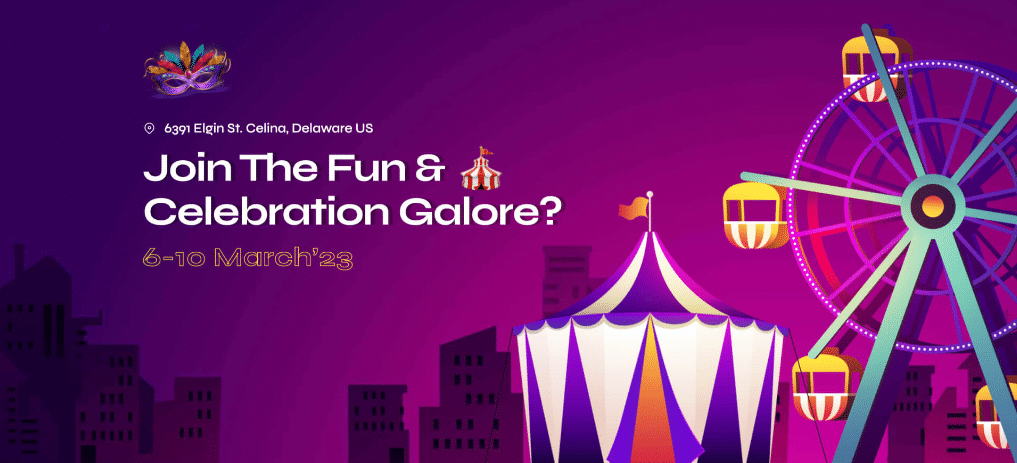 Visitors to your landing page should be able to get all the information they need to decide whether or not to attend the occasion. They need to feel interested in the event, which only comes from an inviting layout and design.
Create an engaging and visually pleasing landing page for your website. Once you've got their attention, make it easy for them to learn more, sign up, and follow your celebration's social media accounts.
🌟 Keep It Fun, But Make Sure It Is Informative
Remember that your visitors will be looking for details. As a result, it's crucial to add information in a way that draws the reader's attention while they are already in awe of your website's stunning visuals. Choosing simple fonts that scale nicely will be easier on you and your readers. Use big, strong headlines and easy-to-read text blocks to design your site so that it can be quickly browsed without the need to zoom in or wander around.
🌟 Add An Event Schedule Page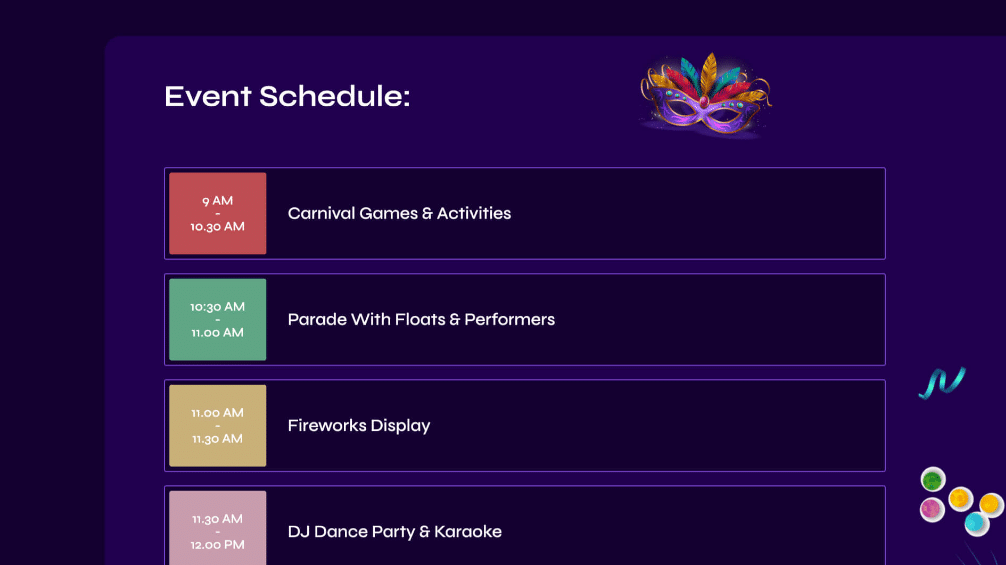 The time and date of the festivities must appear correctly on the website announcing them. If it's a virtual event, it should include locale-specific timing details and links to find suitable connections.
However, you also need to mention clearly where the event will take place, if there are any parking and driving directions, and if there are any restrictions or precautions that attendees need to know about.
🌟 Add An Interactive, Engaging Gallery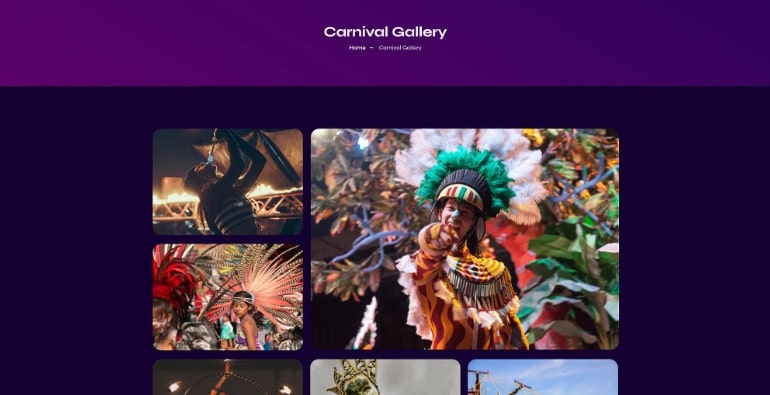 Take photos to promote your event since "a picture is worth a thousand words." Plus, videos are easy to show details and are an excellent communication method. You can also include audio clips from interviews with guests, performers, and organizers.
On top of those, some animations or hilarious gifs offer visitors a flavor of the festival mood. Tweets and sharing behind-the-scenes photos and videos on Instagram and Facebook can also help engage more attendees.
📑 Essential You Need To Create A Festival Website From Scratch
Now that you know what to consider when designing a festival website, you can start thinking about how to make it interactive. Therefore, here is how to create a festival website from scratch.
📌 Register A Domain Name And Select A Web Host
To get your website up and running, you'll need a domain name, which you can get through your chosen platform and web hosting provider. Your online information, including passwords and backups, will be secure there. If you want to save money, get your domain name and web hosting from the same provider and use WordPress to make your website.
📌 Make WordPress Your Primary Option
You can use WordPress as a jumping-off point for creating an easy-to-use website for your party. Simply put, you don't have to know how to write code to use a free drag-and-drop page builder to create an interactive website.
📌 Choose A Catchy Theme
Choose a flexible, lightweight theme in WordPress when making an interactive festival website to guarantee a visually appealing website. Flexia, for example, is a powerful, lightweight, and fast-loading WordPress theme that can immediately alter the visual style of your WordPress-based festival website.
🎆 Choose A Festival Website Elementor Template From Templately
You might already know how flexible WordPress is and how easy it is to use its page builders. Use the widely-used WordPress page builder Elementor to design a stunning website. All you have to do is personalize it with your own items.
Templately's collection of over 3500 pre-built, mobile-responsive Elementor templates is a fun addition to the already powerful Elementor page builder. There's no coding required; insert your preferred template, make any adjustments, and hit "Publish."
You are in luck if you are here to create one of the best festival websites. Templately's multiple packs of festival website Elementor templates make it easy to create a festival website in minutes. For your convenience, we will be showing you how to create a festival website with one of Templately's popular festival website templates, 'FestiveLy'.
🎡 Get FestiveLy – Carnival Template For Elementor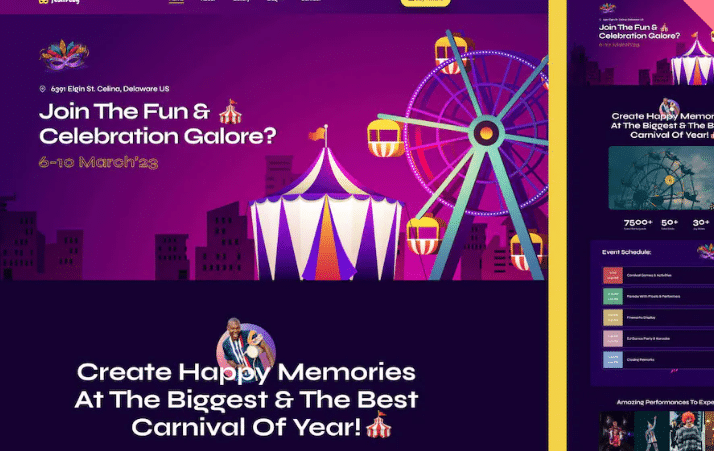 Designed just for Elementor, the FestiveLy WordPress template collection is packed with color and originality. This professionally designed and produced festival website template pack is perfect for carnivals, parties, fairs, festivals, and event management websites. These templates' beautiful dark design themes will help you draw in the right crowd for your next carnival or festival by bringing out the best in your photos.
The templates in FestiveLy are very adaptable since they are constructed using the latest widgets from Elementor and Essential Addons. This beautiful festival website template set has six exclusive pages that adapt well to any screen size or device. The websites are also adaptable to various screen sizes.
With FestiveLy, you will have:
🌟 6 Stunning Landing Pages: Create a visually appealing festival or carnival website with six beautifully designed landing pages presenting vital information.
🌟 Attractive Customizable Elements: Engage your audience with engaging and appealing designs, and deliver the best Elementor experience possible.
🌟 Fully Elementor Compatible: Easily customize your event website with sophisticated widgets from Essential Addons on the Elementor website builder.
🌟 Completely Responsive On All Devices: Instantly adapt the website to any device's screen size and orientation to guarantee that everyone has easy access.
🌟 Cross-Browser Compatibility: Create a lightweight, responsive website that loads rapidly in browsers such as Chrome, Firefox, and Opera.
🛠️ Essential Tools To Get Before Building A Festival Website
Before we begin creating a festival website using Templately's "Festively" Elementor template collection, let's get a few things in order. If you want to utilize this ready template pack, you'll need the following plugins:
🌟 Elementor: Install the leading page builder, Elementor, to use this ready Elementor template pack by Templately.
🌟 Essential Addons: To make the most out of your festival or event website, you will need Essential Addons For Elementor. This is the best collection of widgets for Elementor, with over a million happy clients and ninety exceptional widgets.
🌟 Templately: Sign up for a free account with 'Templately' and install the plugin on your WordPress site to get this pre-made Elementor template. You also need to get Templately PRO, as this is a premium template pack by Templately.
🎡 Create A Festival Website With FestiveLy- A Ready Template Pack For Elementor
You can start using FestiveLy, a ready Elementor festival website template, to create a festival website once you've installed the necessary plugins. Here are the simple steps to take:
Step 1: Insert FestiveLy Template Into Elementor Builder
From your WordPress dashboard, create a new page and click on 'Edit with Elementor' button. You will get a new page in the Elementor editor just with a single click.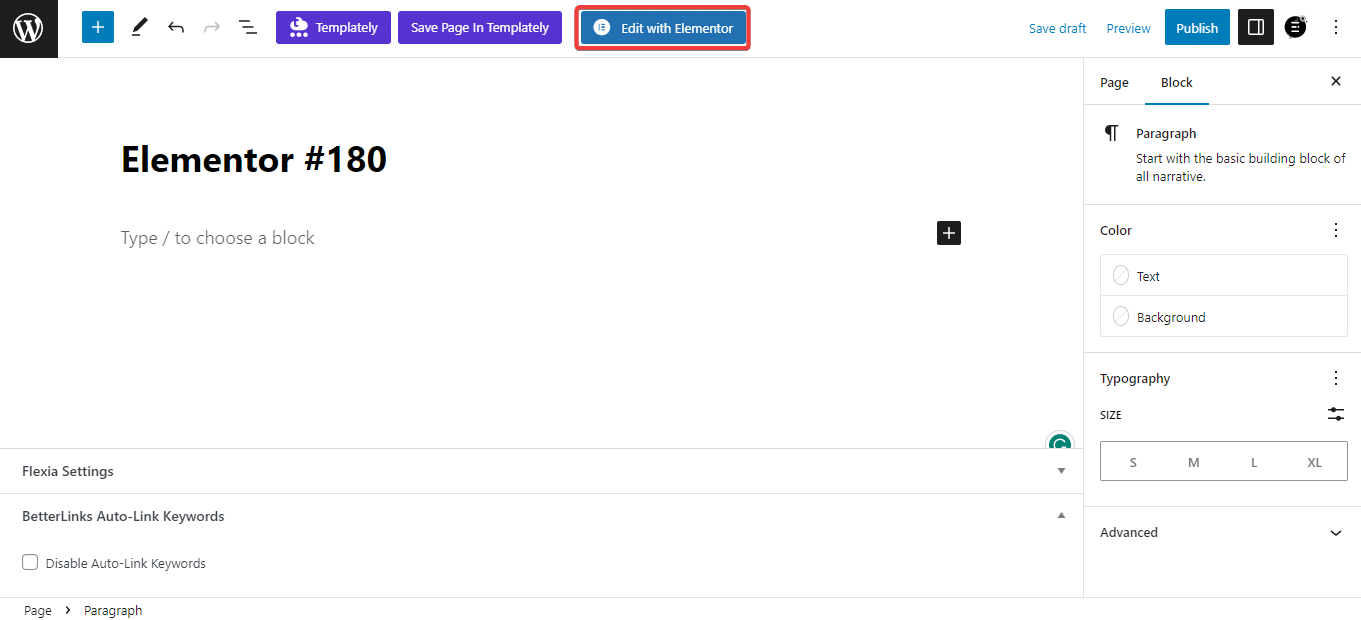 Following that, you'll notice a blue Templately icon in the upper panel of the page. It has a popup window with all of Templately's ready templates. You must type 'FestiveLy' into the search box. It will then show you all of the ready pages and blocks that come with the box.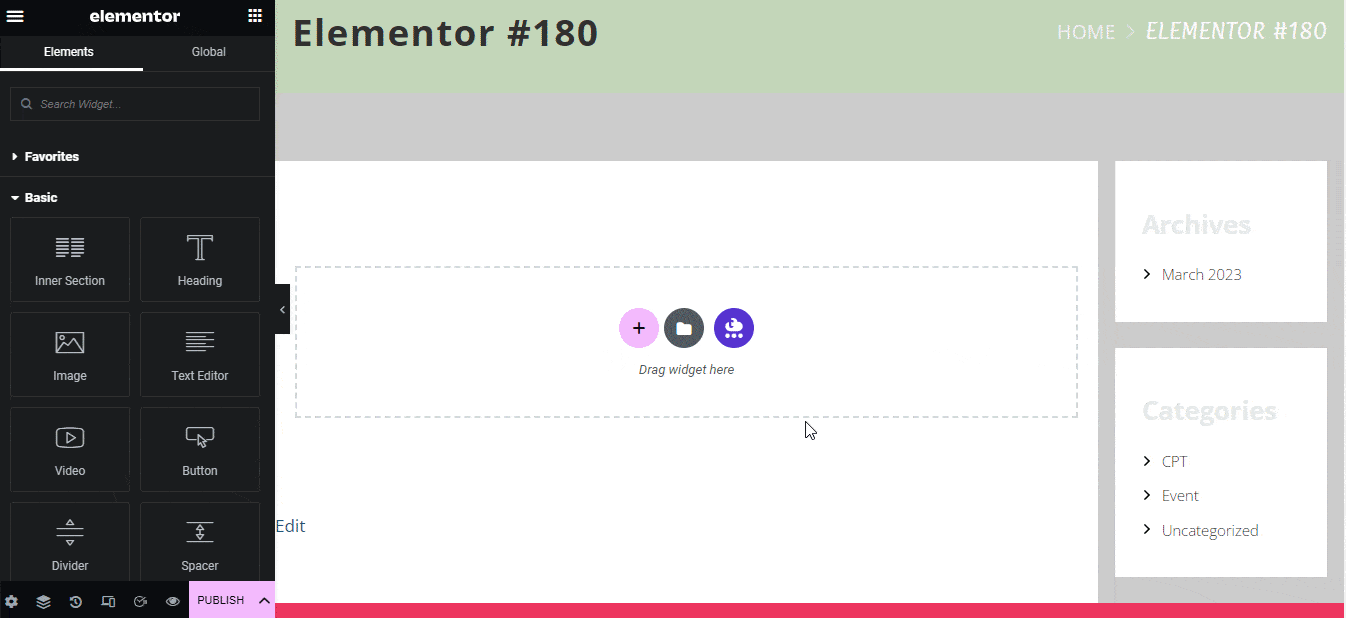 We will use the 'FestiveLy' ready homepage template from Elementor Editorial. To do this, we will choose the 'Insert' option and insert the page template into the website. Similarly, you may add more pages to your festival website.
Step 2: Customize The FestiveLy Template
You can now add your preferred content to the FestiveLy homepage, create each creative section, drag and drop one to another, make a few tweaks, and it's ready to go live.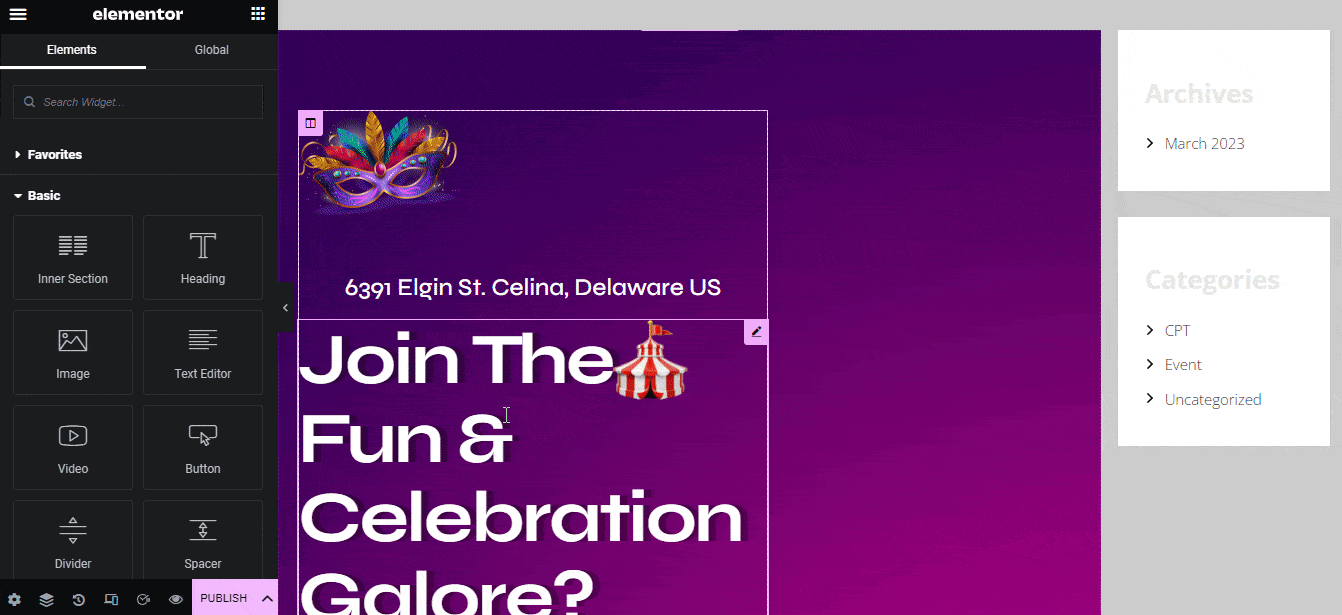 Step 3: Save Your Design On Cloud
Save your FestiveLy homepage template designs to Templately's 'MyCloud' storage space. To save the design to the cloud, right-click on it and choose 'Save Page to Templately'. You can save each design block independently by choosing the 'Save Block to Templately' option. It enables you to create a backup of your design without taking up more space.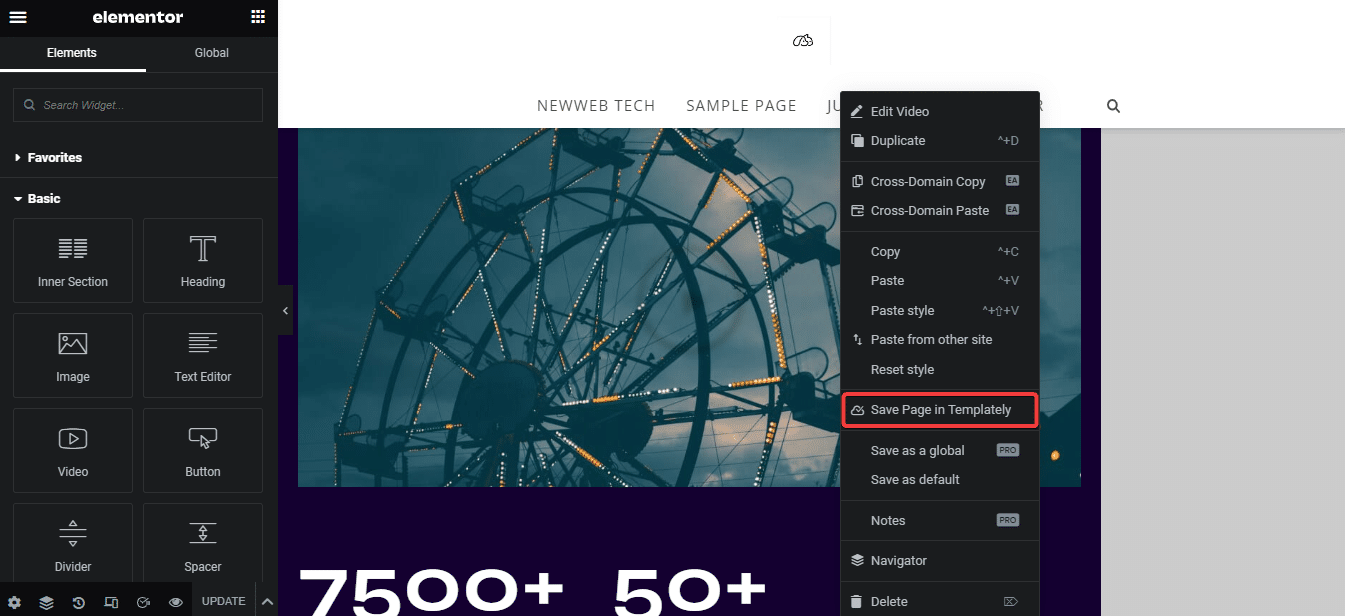 Templately WorkSpace allows you to store your template designs and use them as much as you want. Your team can see your festival website designs, and you can easily collaborate on them.
🥳 Use Templately To Create A Festival Website Seamlessly
Sign up for Templately now to have access to a beautiful selection of 3500+ pre-made templates if you haven't already done so. Leave a comment below and tell us about your experience.
If you have found this blog helpful, share your opinion with our Facebook community. You can subscribe to our blogs for valuable tutorials, guides, knowledge, tips, and the latest WordPress updates.