There is no alternative to creating a dedicated retail store website to showcase your products to the whole world in this digital age. What is the solution if you do not want to spend time or resources creating a website for your retail store from scratch? That's when ready retail store website templates can help you out!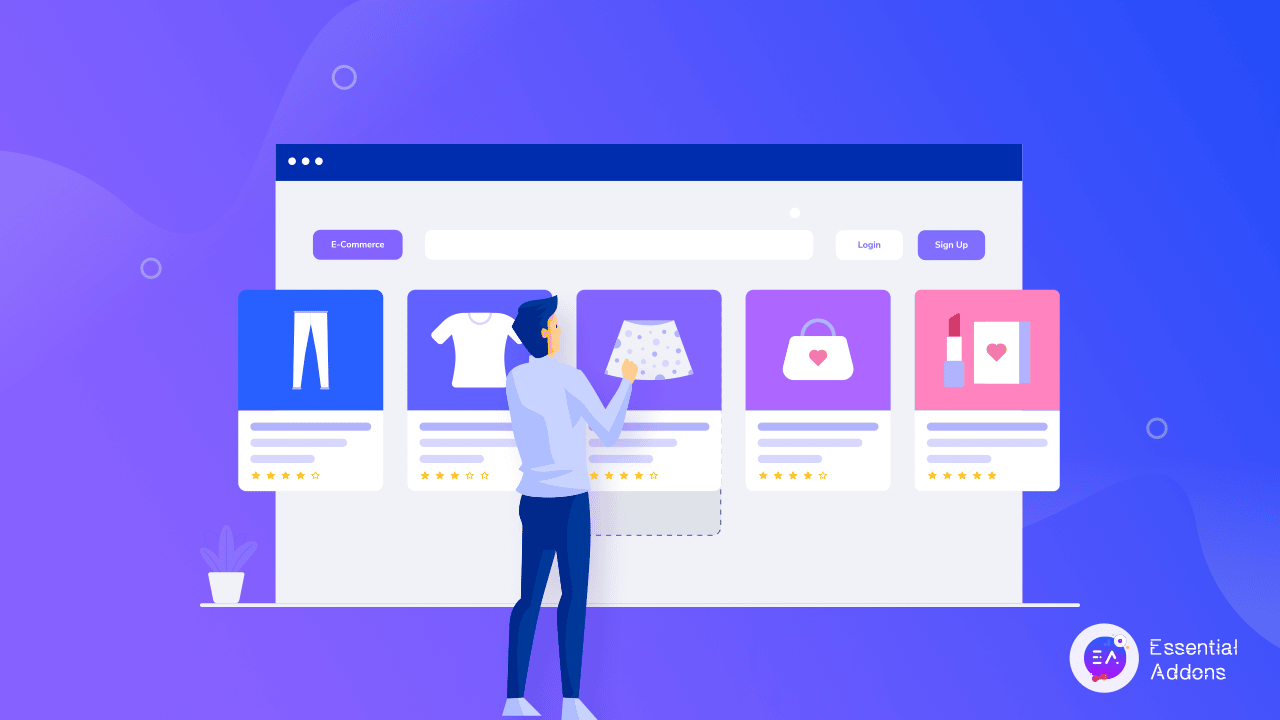 You would like to reach as many people as possible if you are planning to have a website for your new retail store. To help you find an easy solution to make a quick start on your first retail store website, we are here to share a complete guideline.
Creating A Retail Store Website: How Does It Help You?
In this highly competitive business world, inaugurating any business requires a lot of planning and strategies. It will be difficult for the new business to take its place without reaching people in a short time. 
👉🏻 Creating a retail store website can help your store reach out to customers and viewers quickly. Your potential customers will find you easily. And this is very effective because customers and viewers can easily know about your business store, products, and services from anywhere.
👉🏻 When you have a dedicated retail store website, you can easily showcase your products based on different categories, and pricing and enhance user experience.  On a WordPress website, you can avail of many plugins for managing inventory smoothly which is not possible on social media platforms.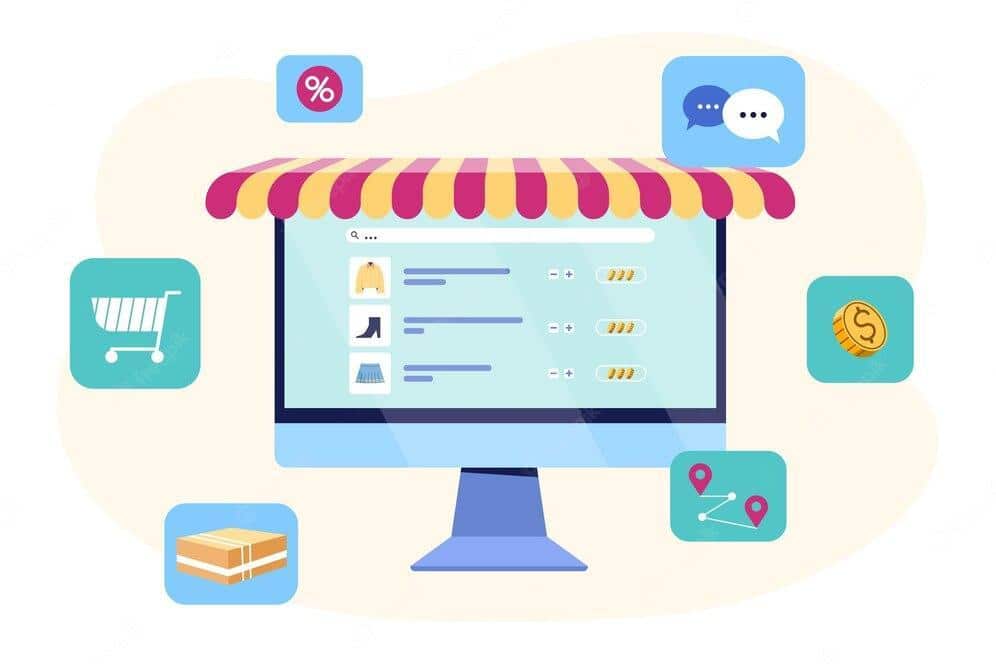 👉🏻 On your website, you can easily write blogs on product details, and product features nicely which is highly beneficial for marketing your products. By writing review blogs, and product usability you will be able to bring more traffic to your retail store website. This is because good-quality content 
However, you need to offer something exclusive to the customers. People will not value your store if they do not find anything exclusive. Be it in terms of design or the products or services you provide. When they find their desired items displayed exclusively and uniquely, they will likely prefer your store to the rest of the others. You can retain everything relating to the store in an organized manner if you have a website for your store. 
Pages To Include To Create A Complete Retail Store Website
Maintaining a retail store website means bringing quality products, providing quick and efficient service, making prompt updates, and designing it uniquely. If you become able to hold consistency, uniqueness, trust, and efficiency in maintaining your retail store, people will be motivated to be your customer and lead you to sound business growth. Considering every single factor, it is essential that you creatively design your retail store website. Here's what you can include in your retail store website design.
🔵
A Unique And Stunning Landing Page
The essential part of any website is a landing page that briefly assorts the mission, vision, objective, and purpose of your website. A landing page is going to appear first in front of the viewers and visitors. 
Therefore, to create a positive impression and generate interest among visitors, it is mandatory that your landing page is beautiful and easy to comprehend. When it's a website for a retail store, you may highlight your vision, display popular products, showcase some reviews, or anything you prefer to highlight on the landing page.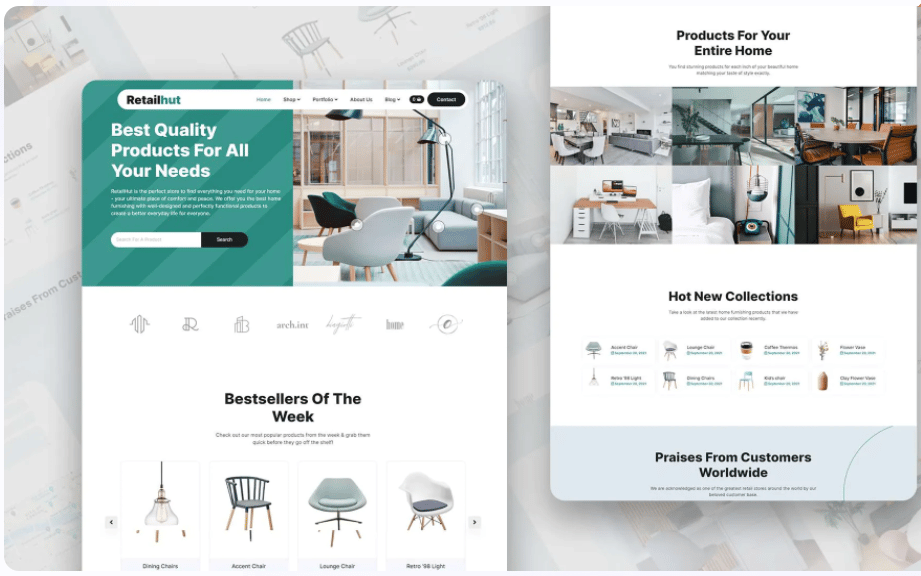 🔵
Shop Page To Display Products Beautifully
If you don't showcase your products nicely, it may become difficult for visitors and customers to see all of your products. So, to display all the available products and let the visitors know what type of products you are selling, there must be a shop page specifically for displaying all the products. You can create a shop page for your newly launched retail store for multiple categories of products.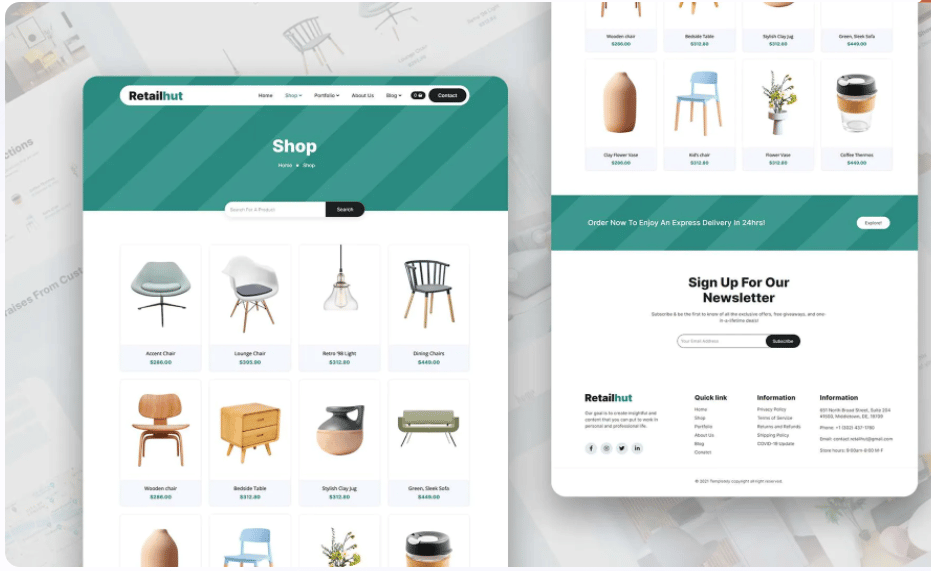 🔵
Single
Product Page For Showcasing Product
You can add a single product page for displaying your products with detailed information so that visitors can easily look at the product detail and purchase their desired one. A dedicated product page is important for a retail store website as you may need to show different kinds of products to your audience.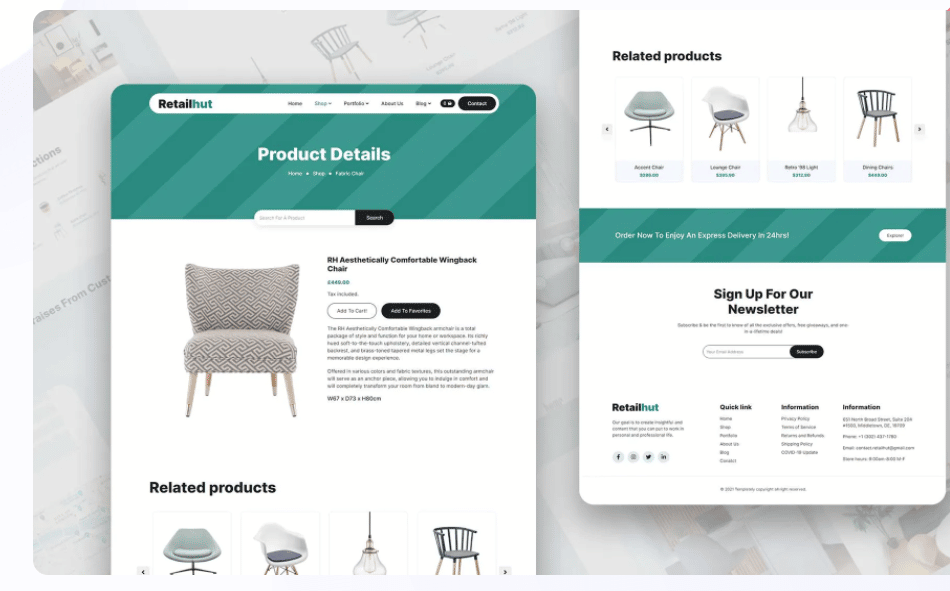 🔵
Dedicated Blog Page To Enhance Promotion
For any online store, it must get a sound promotion at the very beginning. And for promoting your online retail store and the products, blogs can be effective. Blogs are considered one of the finest organic marketing strategies where you can encourage customer feedback, review blogs, comparison blogs, customer stories, and many more. Having a separate blog page for displaying all the blogs is beneficial if you are going to start a retail store website.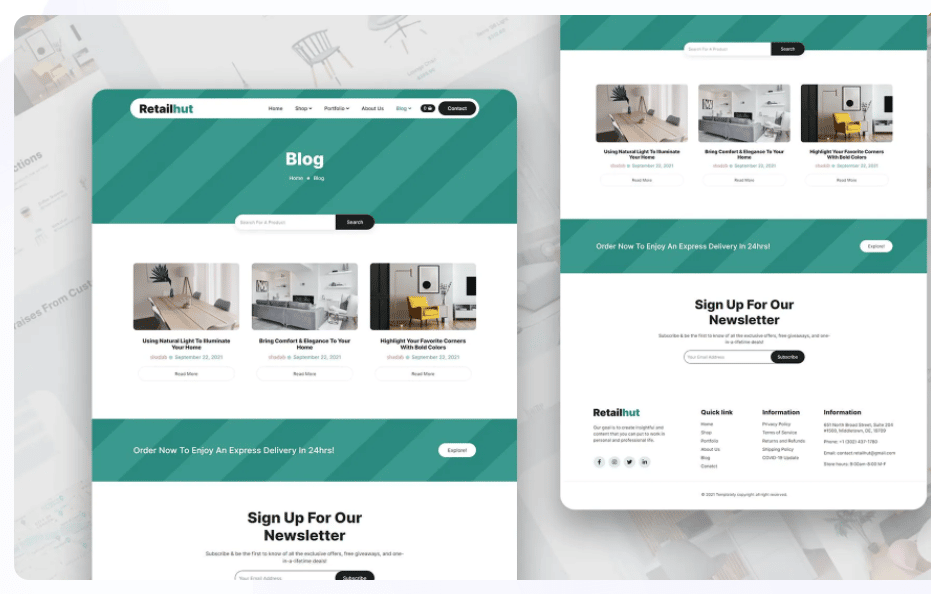 🔵
Contact Page For Smooth Communication
Building a healthy seller-customer relationship is essential. For this, you must ensure that your customers can contact you easily without having to delay. If you maintain a separate contact page with all the necessary contact details, your visitors will be able to communicate with you easily and instantly. Apart from that, you can be available 24/7 with your customer service if you have a properly designed contact page.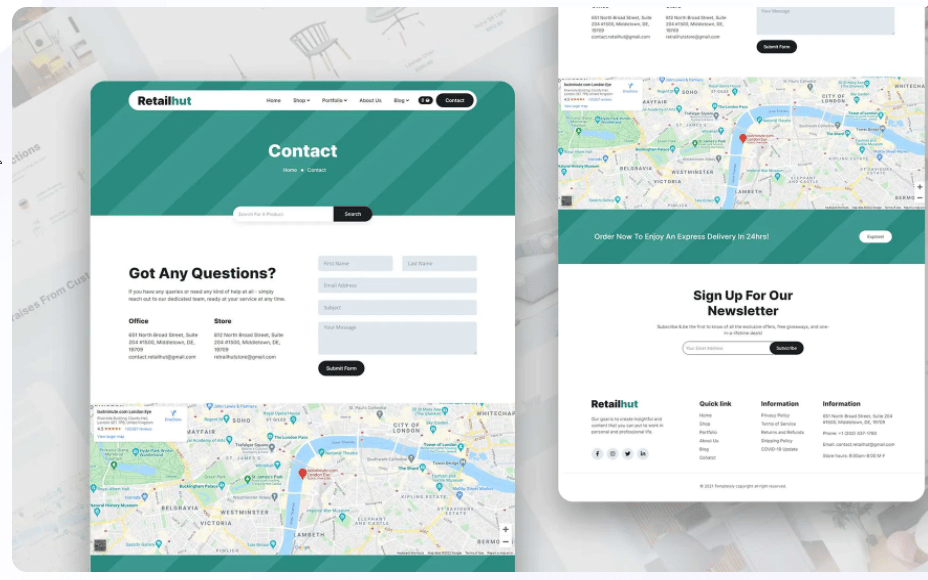 🔵
About Page To Highlight The Evolvement 
You may add a separate 'About' page where you can highlight the background story behind your retail store in brief. This page can be used to let others know in brief about your business objectives, services, facilities, etc. A nicely designed ''About Page'' can create a positive impression among the viewers, encouraging them to be your customer.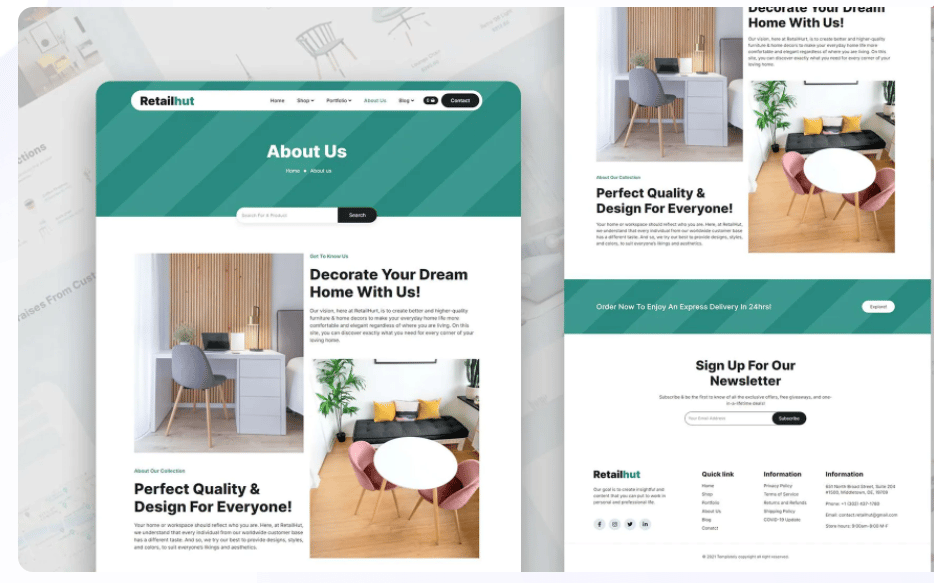 How To Create A Retail Store Website Without Any Code?
By now, there's no iota of doubt about why you need to create a website for your retail store. Creating websites especially when you have less experience or no experience in coding, may seem an overwhelming task. But this should not be stopping you from creating stunning websites. 
You can create beautiful websites for your retail store even if you do not know how to code. And to do so WordPress can be the best platform. This gets way faster if you use a ready retail store website template.
There are many template stores out there for creating stunning websites and Templately is one of the most popular template libraries with 3000+ ready Elementor & Gutenberg templates to give you a whole new web-building experience.

Before creating the website, you must go through the following steps to make every part of the website. These steps are to provide security for your site that will cost you money. To avail of ready designs for your website, you need to go through the following procedures.
Exclusive And Unique Domain Name With Hosting
A unique and different domain name is needed first for creating a website for the retail store. The domain name has to be different to get registered with your website. To keep all your data protected, secured, and stored, a hosting provider is required. Some popular sites for getting domain names and host providers are GoDaddy and Bluehost.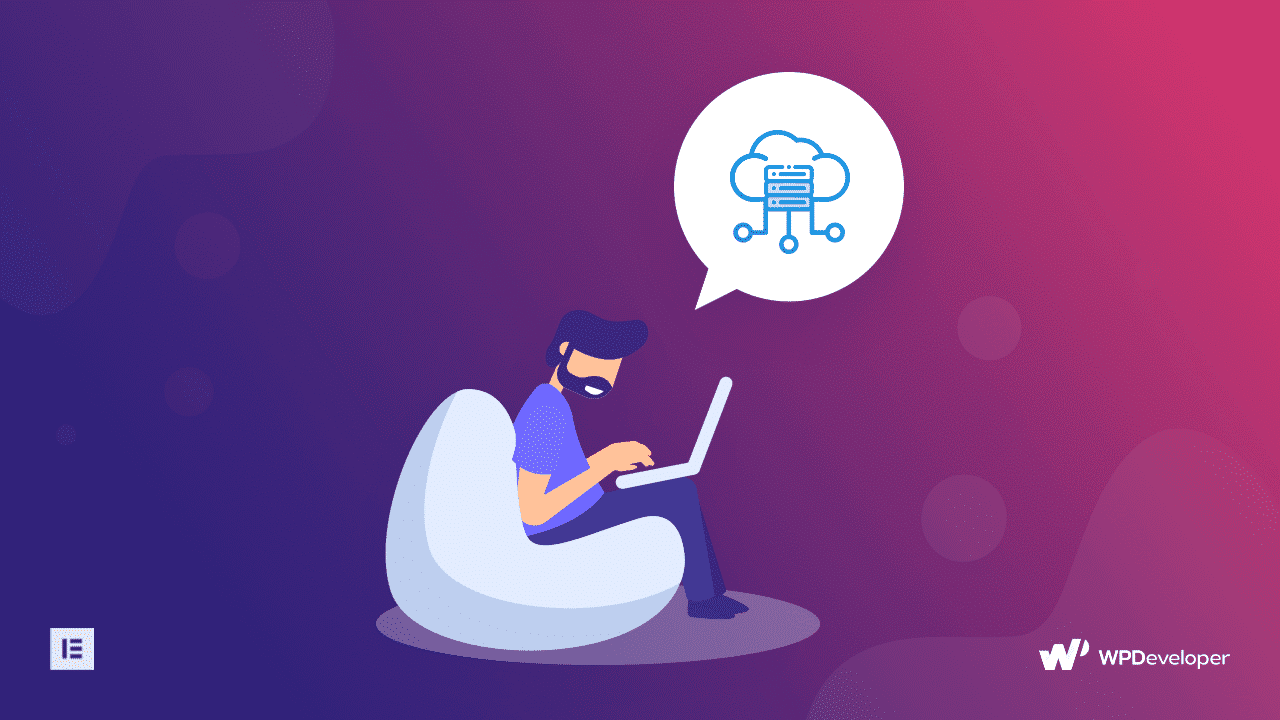 One-Click WordPress Set Up For Website
For creating your online retail store with a ready WordPress template, you will need to get the WordPress environment. It's very easy to set up WordPress which takes only one click when you have popular host providers. Before getting started with designing the pages for your retail store website, choose a lightweight theme and essential plugins that you will need. 
Get A Retail Store Website Template 
Once you are done with the previous steps now it's time to design your retail store website. Choosing a retail store website template to create your online retail store can be the best among all the options if you want to design a website with no prior experience in coding. For the tutorial purpose, we are using RetailHut, a retail store website template from Templately.
Essential Plugins For Creating A Retail Store Website
To create a website easily in one click, you need to have some necessary plugins installed and activated on your site. 
👉 Elementor: this is one of the most popular page builders that comes with drag-and-drop widgets to design WordPress websites easily. 
👉 Templately: the ultimate templates cloud with 200,000+ active users, you can easily find more than 3000+ ready website designs for Elementor on Templately. For the retail store website, we've picked a template pack specially designed for online retail stores named RetailHut. It is a premium WordPress retail store website template from Templately.
👉 Essential Addons For Elementor: with Essential Addons, you get 90 advanced widgets to design beautiful websites on Elementor. As the RetailHut template is also built with both Elementor and Essential Addons, so to get all the sections of the template altogether, you have to get this plugin in your WordPress dashboard. 
👉 WooCommerce: as you want to showcase your products and sell them, you will need to set up WooCommerce on your website to manage your online retail store. 
Guide To Creating Your Retail Store Website In Elementor
After you have installed and activated the plugins mentioned above, it's time to start working on creating and designing the website now. To create the website, follow the step-by-step guide below.
Step 1: Create A New Page In Your WordPress Website
To design an online retail store, you need to create a new page from your WordPress dashboard first. Log in to your WordPress dashboard and navigate to the Pages → Add New.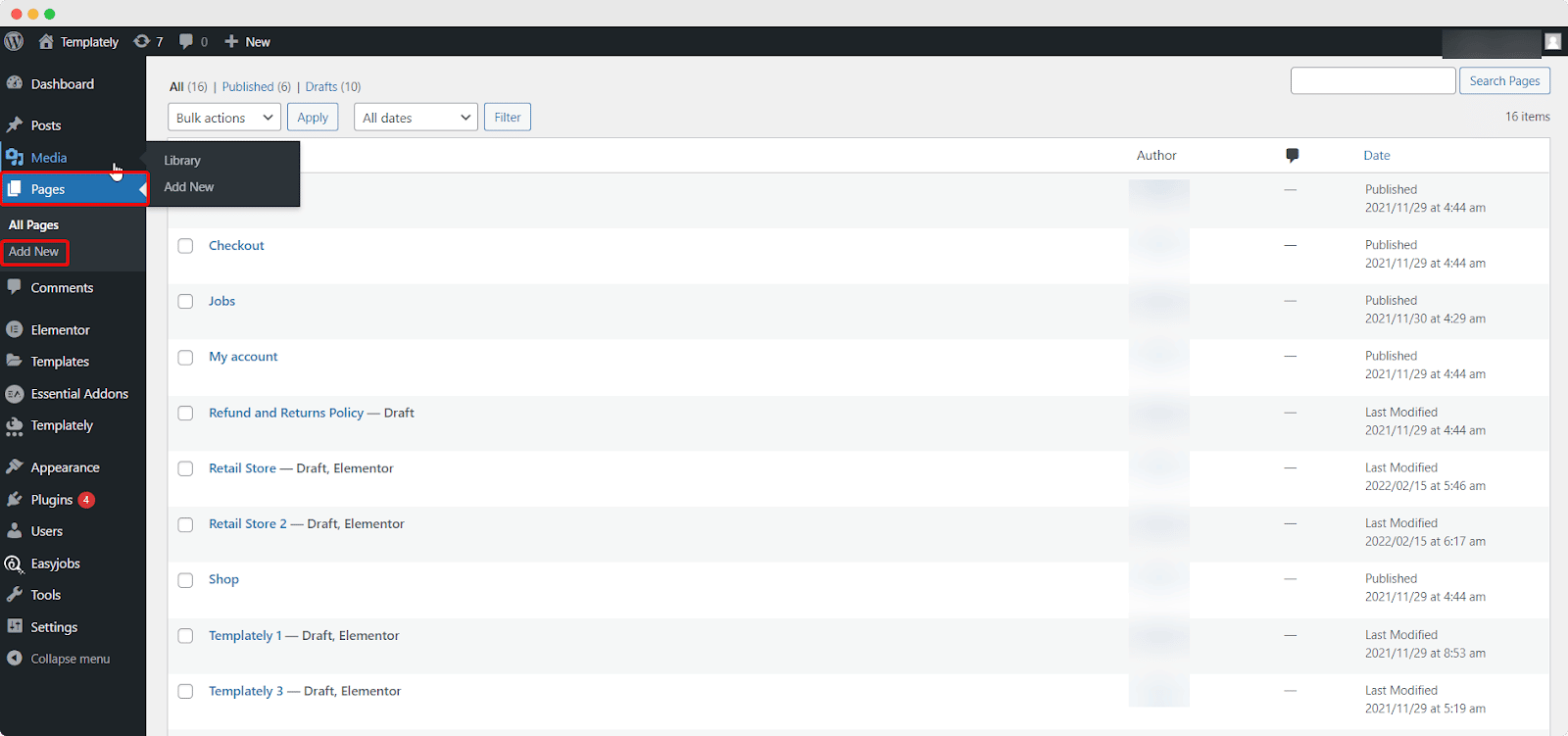 You will find yourself in the default editing panel of WordPress. Now click on the 'Edit with Elementor' appearing at the top. You will be instantly directed to the Elementor editing panel.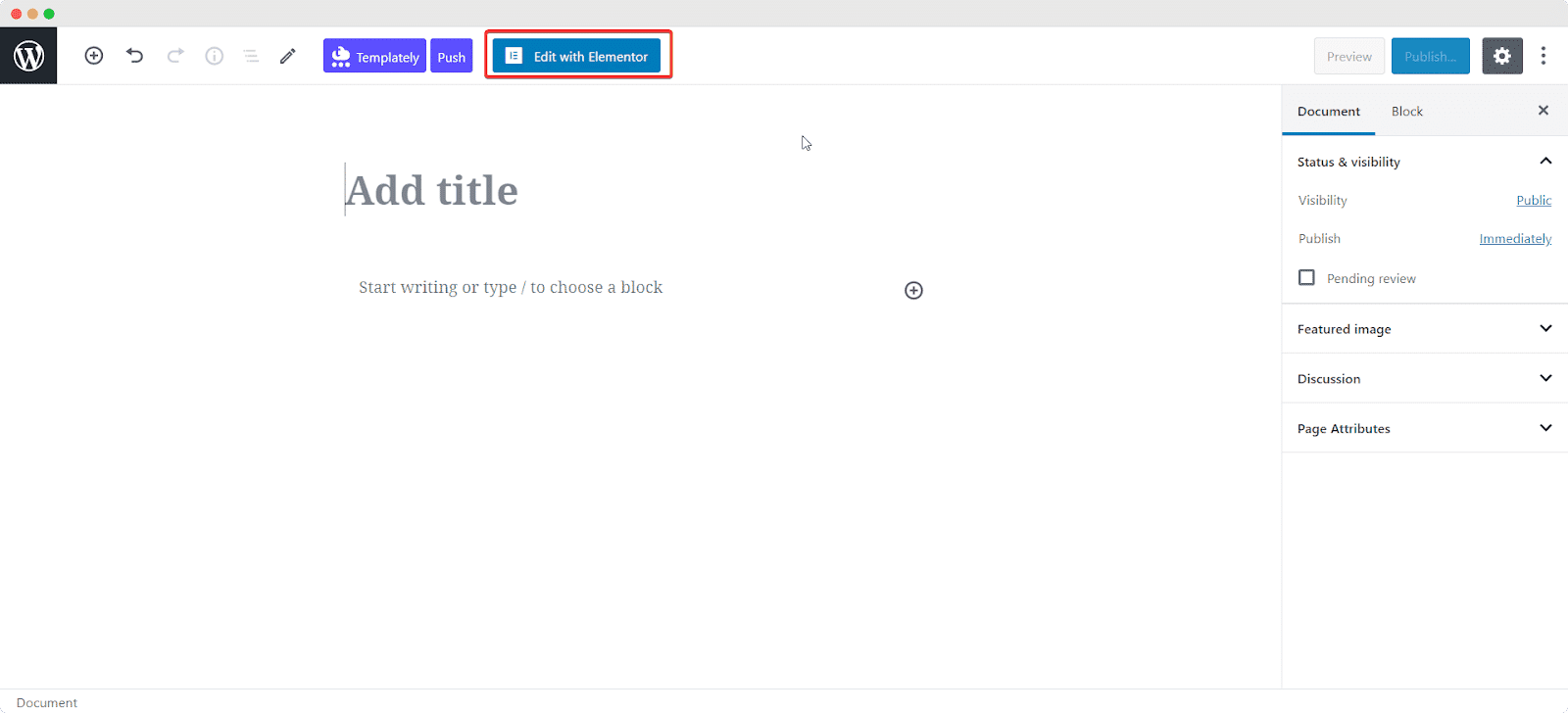 Step 2: Insert A Template For Your Online Retail Store
You will find the 'Templately' blue icon in the middle of the page you created. Click on it to get access to the Templately template library.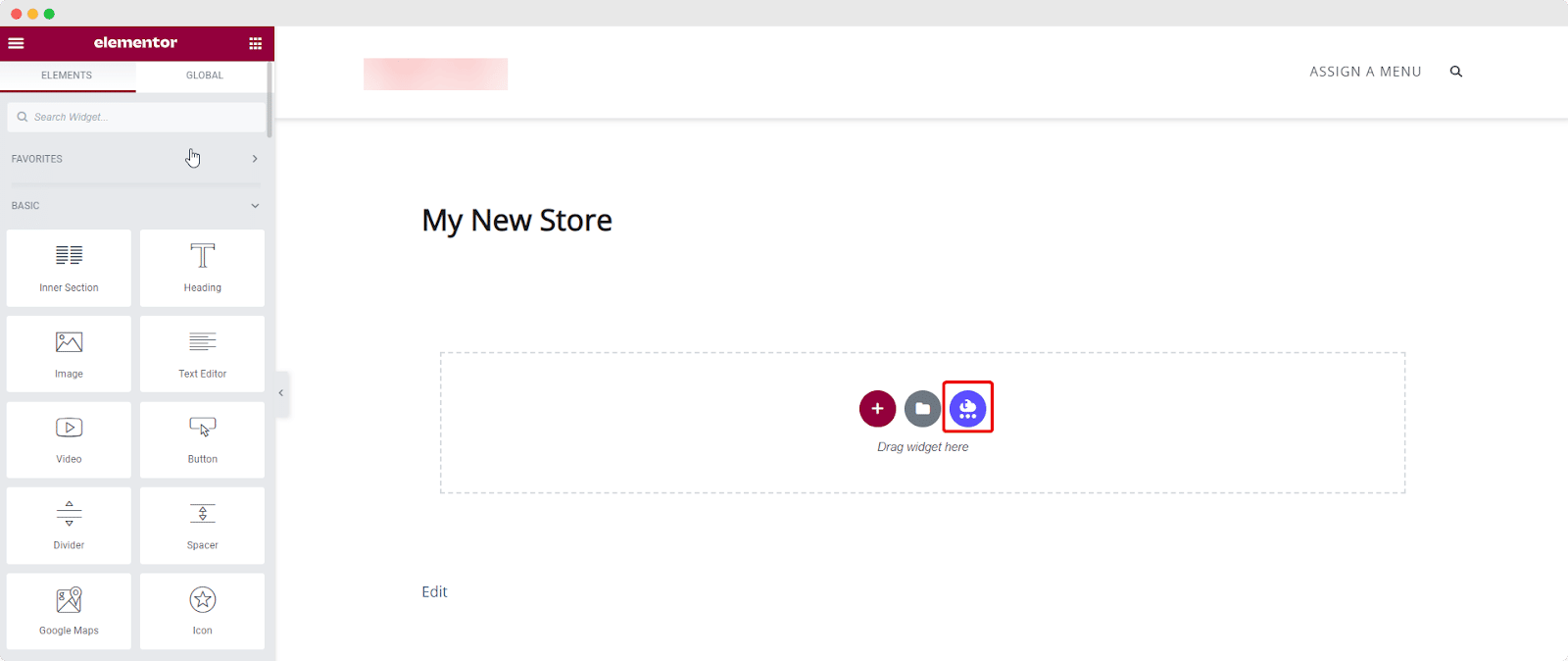 In this tutorial, we have chosen 'RetailHut' to create the retail store website. From the search bar, search "RetailHut" and you will find a stunning ready template pack for your online retail store.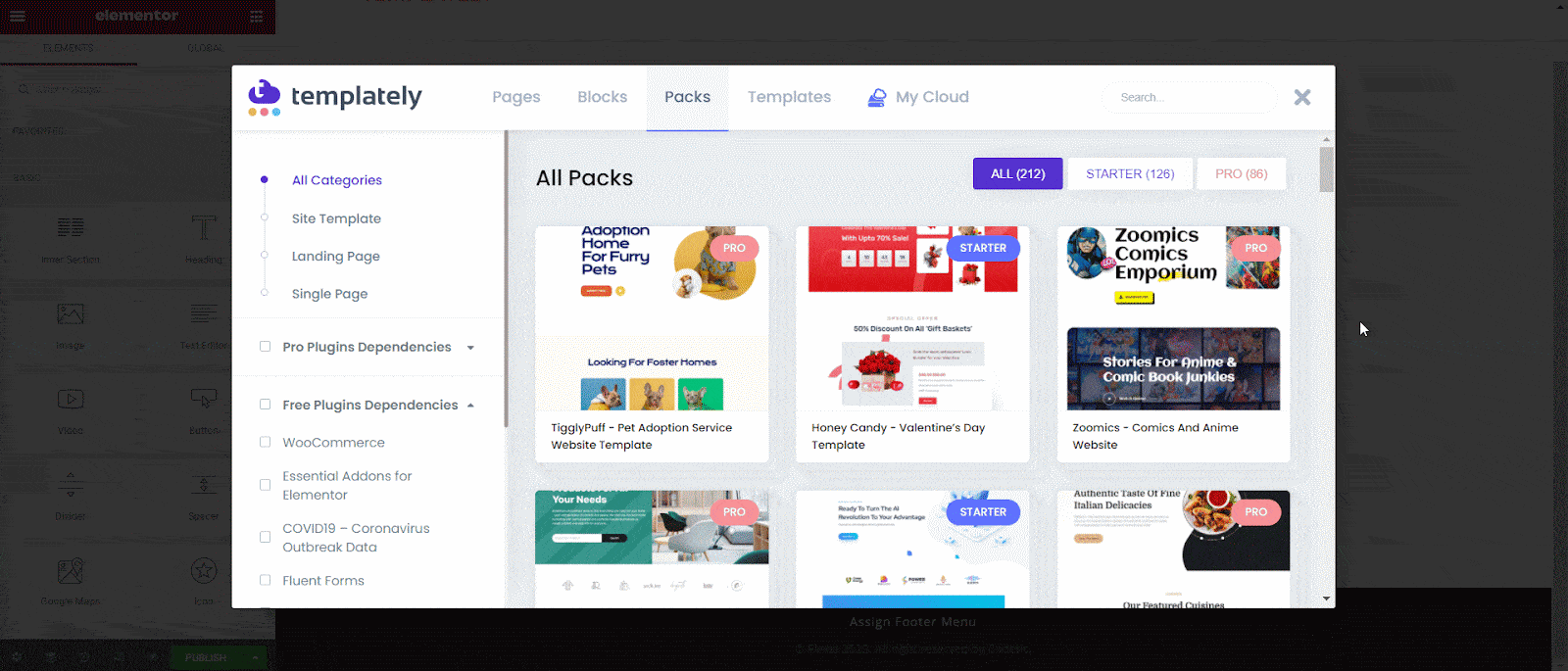 Insert it into your page by clicking on the 'Insert' icon. In just one click you will get the retail store website template. The landing page of the retail store is being designed here in this tutorial.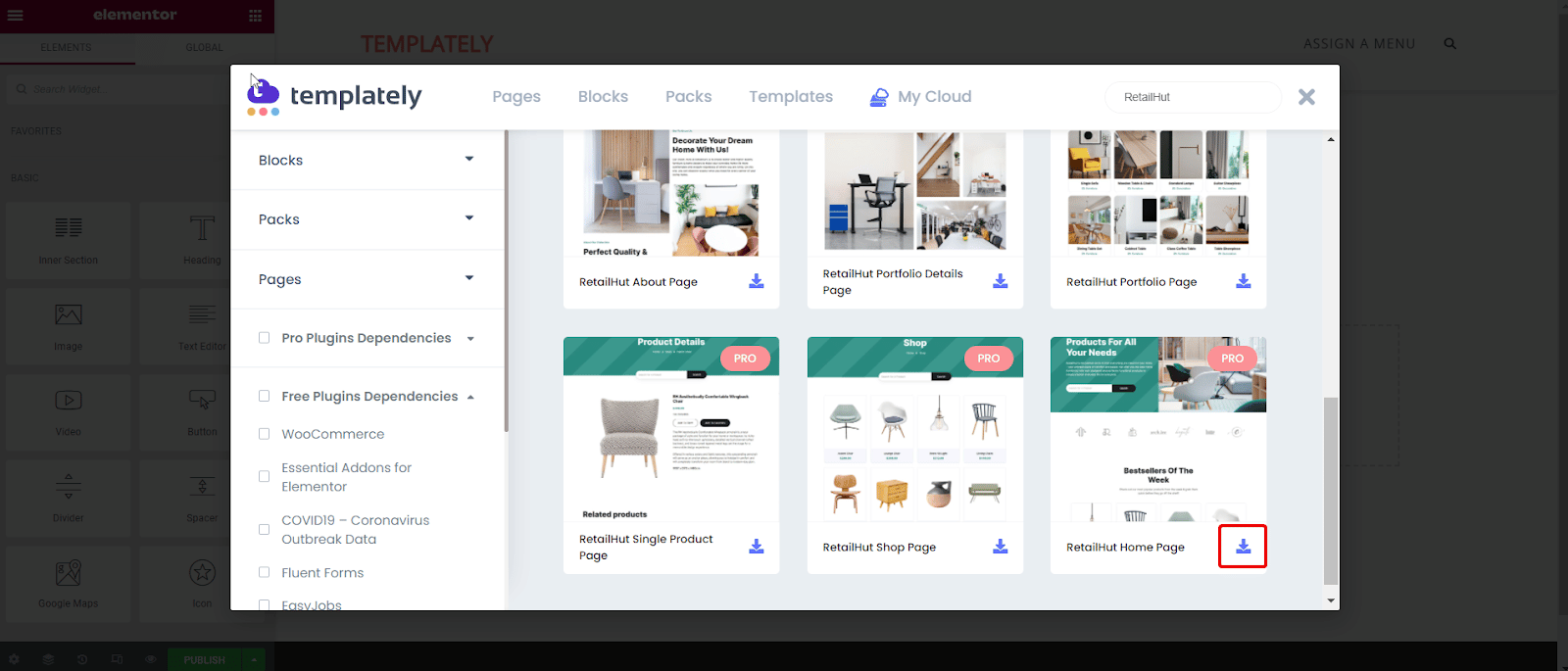 After inserting the RetailHut Home Page, this is how the design will appear on your page.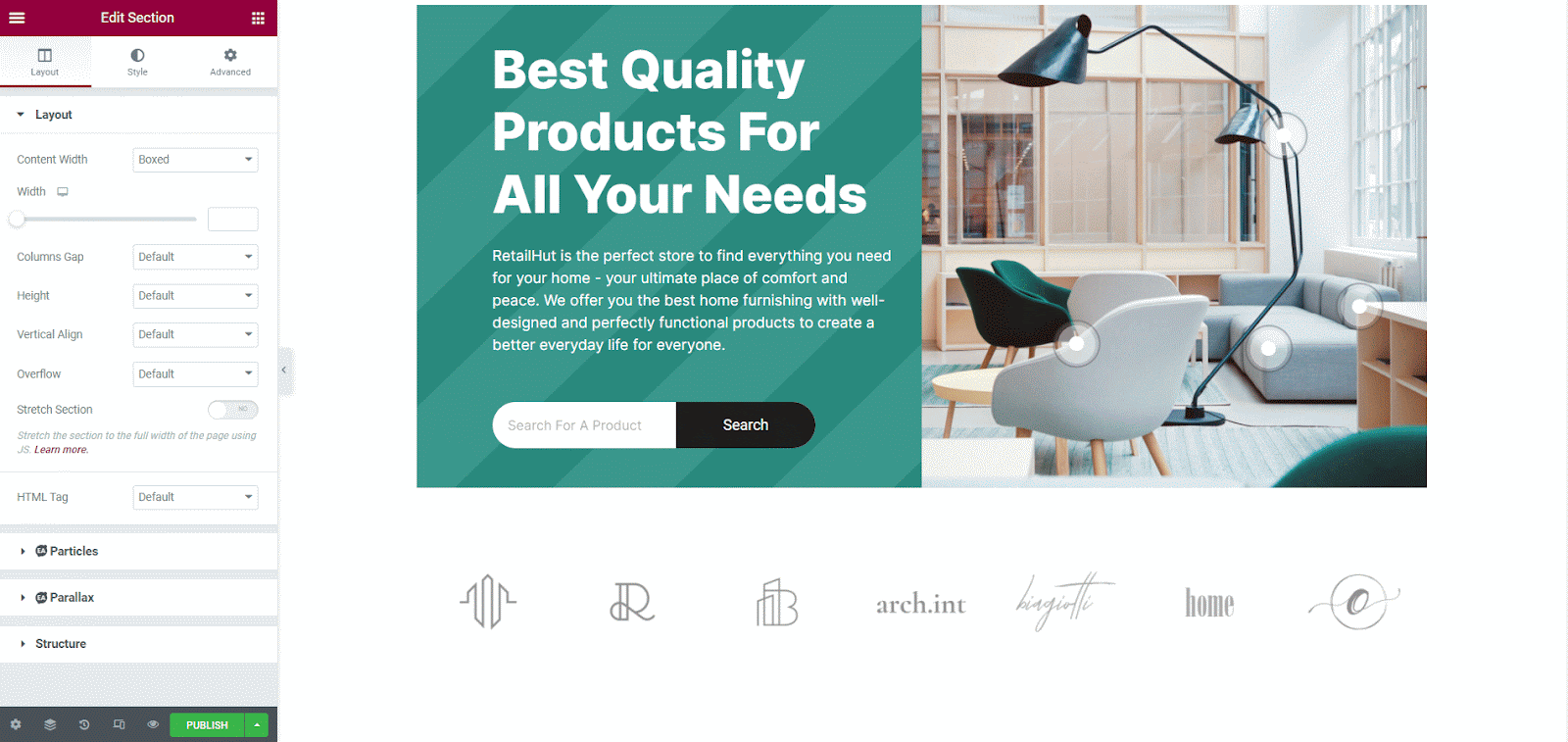 Step 3: Customize The Template To Design Your Website
Click on the section of the home page template you want to customize, and the editing panel will be opened instantly. Now make all the necessary changes and give your website a vibrant look.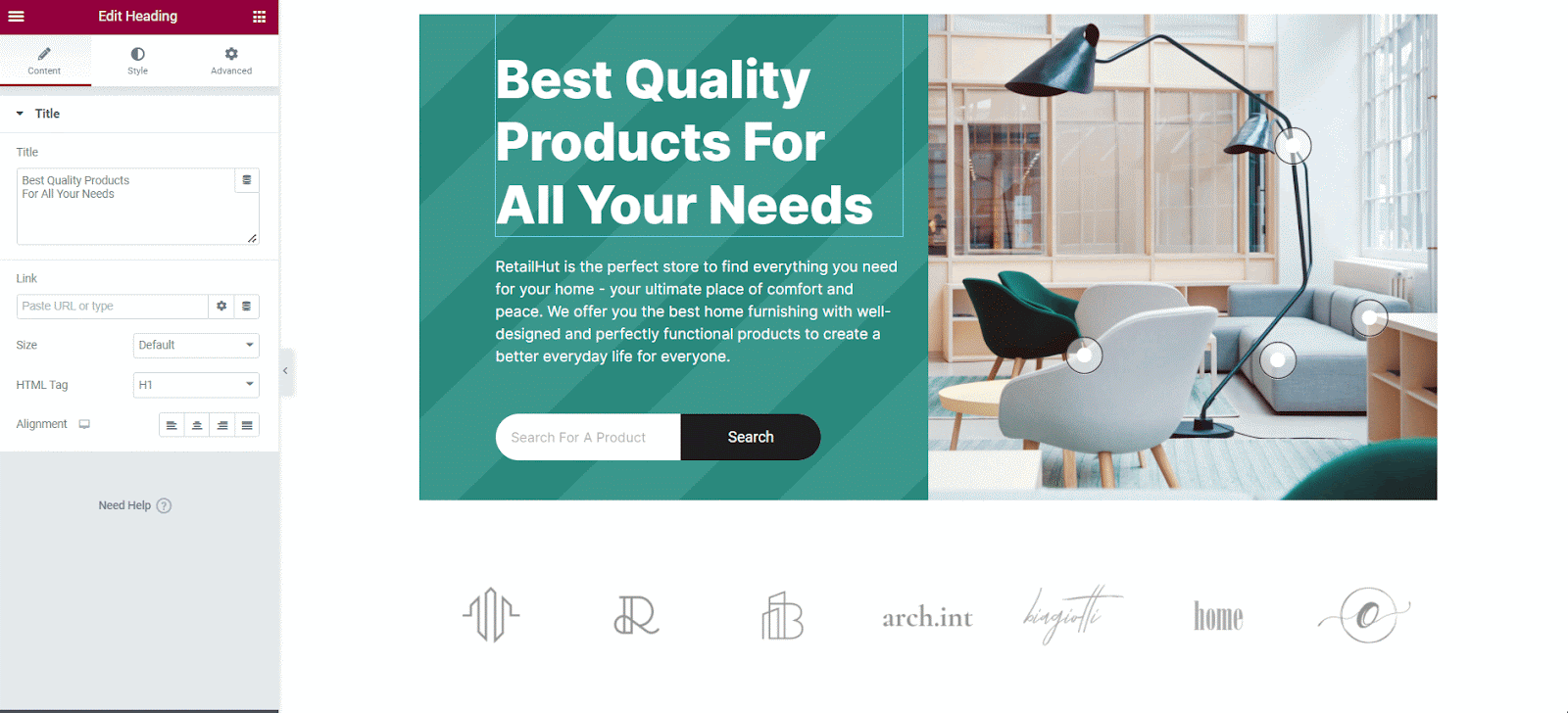 Step 4: Store Your Customized Designs In Templately MyCloud
Templately has an amazing feature for storing your customized templates in Templately cloud storage "My Cloud". You can store the template there for further use. A very useful feature that allows you to store templates in a cloud storage place that no other Template Libraries offer. If you want to use your customized page for any other purposes, then you can save those easily. Right-click on the section you want to save and then click on the 'Save Page To Templately' from the drop-down.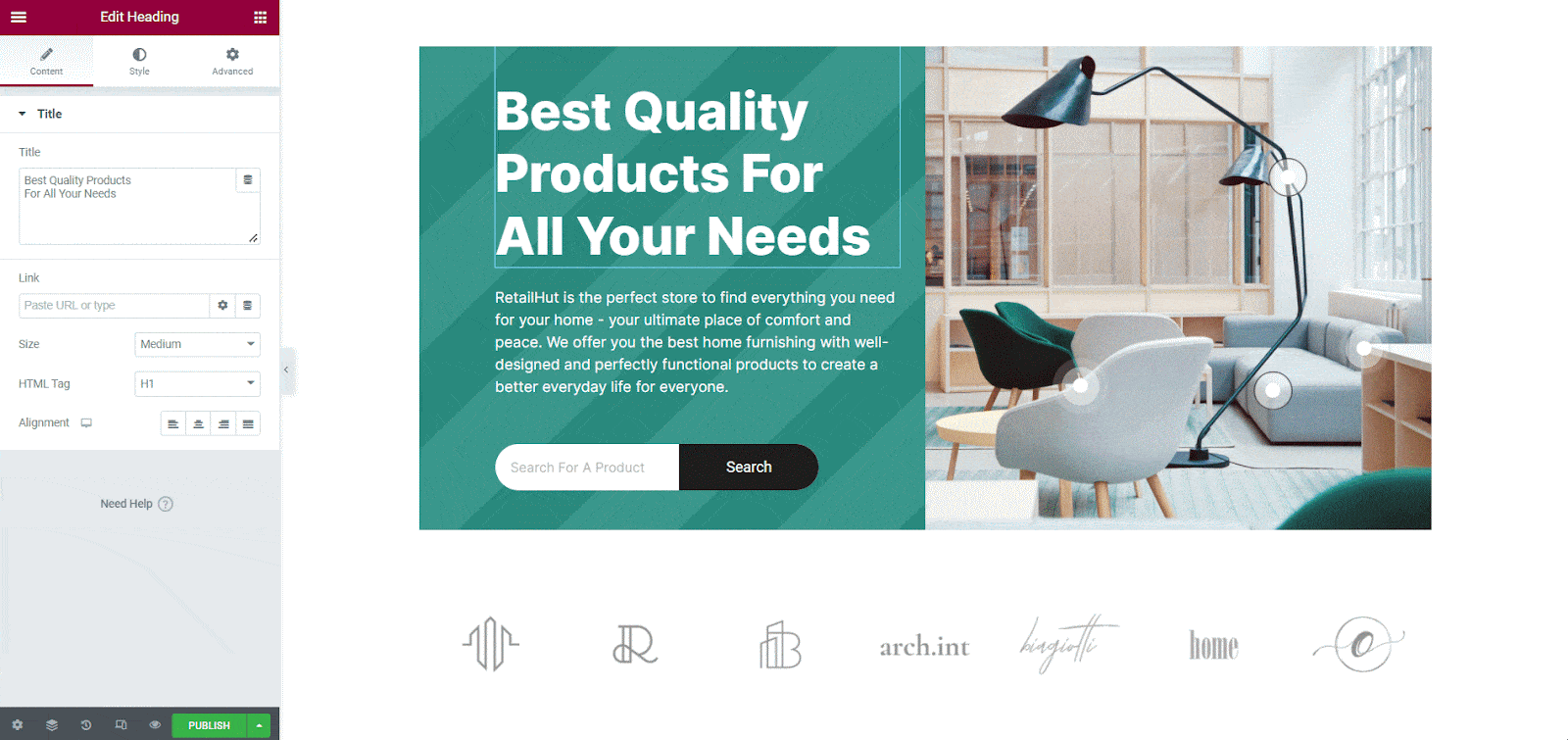 On top of that, if you want to share your saved items with others then you can use another exclusive and useful feature 'WorkSpace'. This unique and effective feature lets you directly collaborate with others with this feature and save a lot of time.
Final Outlook Of Your Retail Store Website
For the website of your online retail store, you need to create a landing page. As your main goal is to scale up your sale and gain customer trust, you need to create a positive impression among the visitors and customers. So, your landing page needs to be neat and pretty. When you are done with all the customizations, make your website live. Click on the 'Publish' button. Your newly created website landing page is published.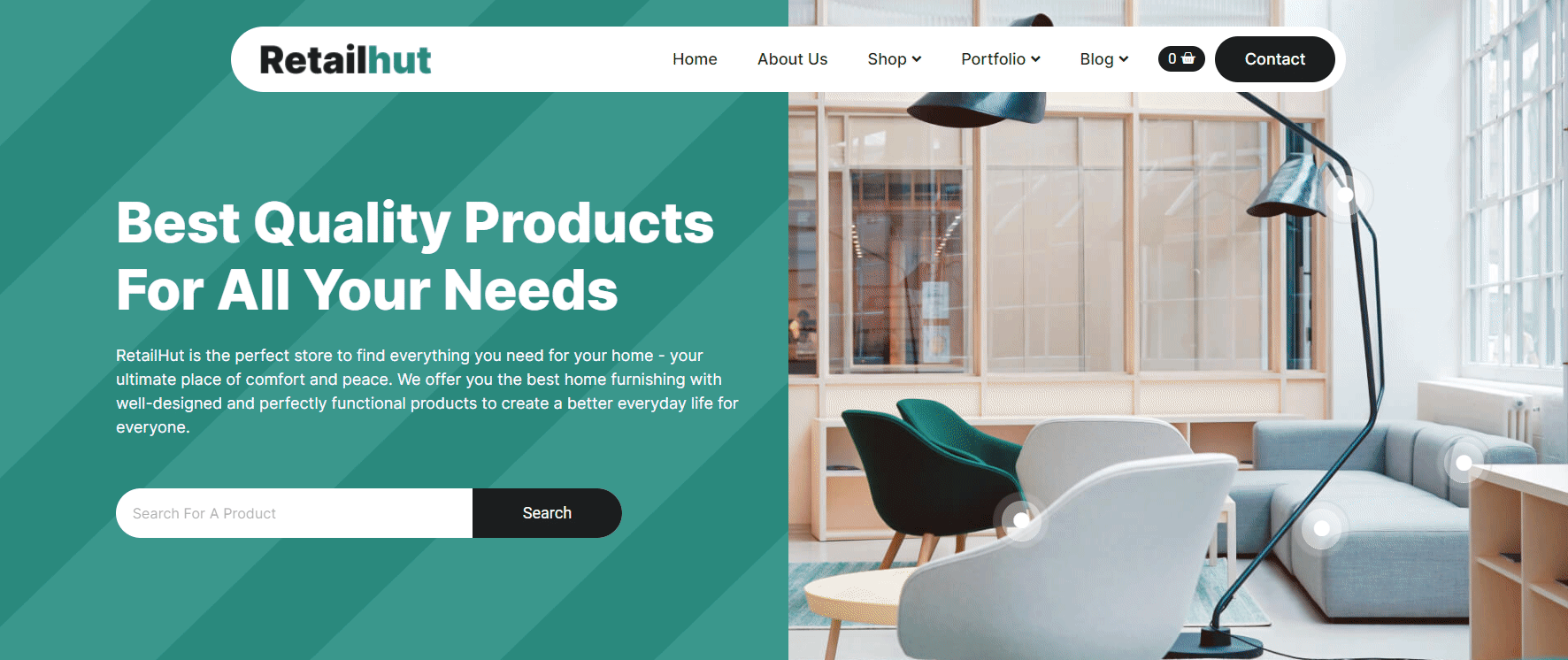 Now create other essential pages that you want to be on your website like a shop page, contact page, about page, etc with just one click by following the same guidelines and charm everyone with the impressive designs of your site. RetailHut template pack has impressive designs for all the pages that you will need for the online retail store website.
Engage Your Customers With An Amazing Retail Store Website 
This is how easily you can create retail store websites with Templately WordPress templates. If you need further assistance while creating your retail store website, feel free to communicate with the dedicated support team.
You can also subscribe to our blog to stay up-to-date with our latest blogs, tutorials, and insights, or join our Facebook community to get connected with other Templately users.