Ambition usually begins with the desire to be your own boss. Then one vision gives birth to another – success and the building of your own formidable SEO agency website to manage your business as your own boss as well as establish brand recognition in the global search engines. Whatever drove you to the decision to establish an online SEO business, it all boils down to one single question: Are you prepared to give it your all?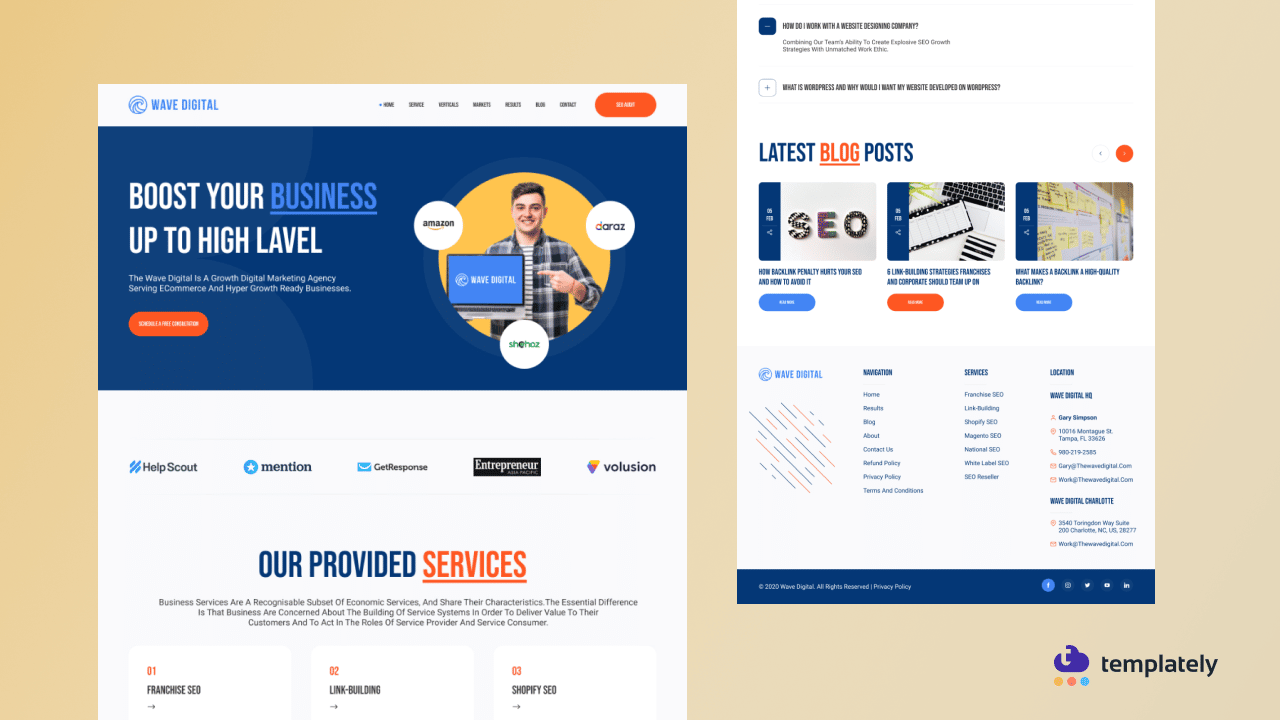 If you want to launch a successful SEO agency website of your own then you could face some challenges but fear not, with proper planning and execution you can overcome any obstacles. If you are on your way to creating your own SEO agency website then grab your laptop and your notebook. In this complete guideline, we will give you an in-depth tutorial to craft your agency website from scratch. 
👉 Everything You Need To Start An SEO Agency Business 
As they say, the initiation is frequently the most difficult. However, the quicker you learn the fundamentals of how to establish an SEO agency, the simpler the following steps will be for your business.   
In truth, no one is ever prepared to launch and manage an SEO agency. Aside from the ever-changing SEO sector, you must consider operations, logistics, and proper risk management. This is all a learning curve you have to endure for success. Before you dive further into our review, make sure to tick the following: 
1. Master The Basics Of Digital Marketing
Consider this: Google and Facebook make more money than any conventional media firm because they have more viewers. That is why digital marketing is so significant; that's where the emphasis is. Businesses rely on successful digital marketing initiatives to increase exposure and sales through their web portals. 
So, in order to create an SEO agency, you must understand the fundamentals of digital marketing because you need to reach out to your users.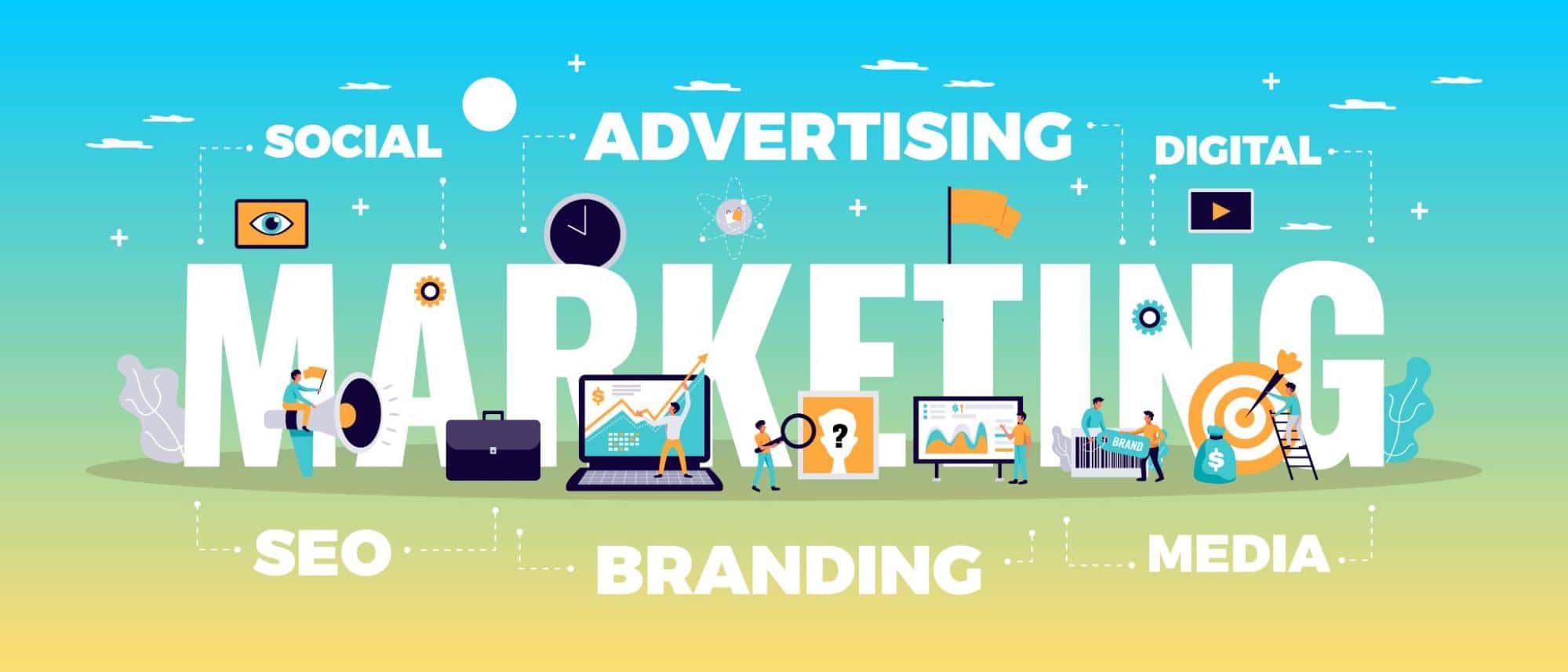 2. Have A Clear Insight On Business Strategies
An SEO agency is a company, just like any other. If you have no business strategy to work on, you will most likely struggle to keep your agency afloat. Many business owners waste thousands of dollars simply because they lack the foresight to do what is best for their company. There are several internet tools and excellent publications available that can teach you how to establish and run an effective SEO agency. 
For example, you can take help from any project management software, make a list of business ideas and steps and execute them properly with creative thinking. 
3. Establish Your Business Structure
Before you can even think of naming your agency website, you must first decide on your business structure. If you are registering your agency as a sole proprietorship then it means you will be the only owner of your business. This is generally the case for many startup agency founders who work as freelancers.
In contrast to a sole proprietorship, forming an LLC allows you to have more than one owner (partner) to manage your agency. Functioning as a Limited Liability Company (LLC) presents fewer dangers for startups, one of which is keeping tax rates distinct from personal assets
🚀 Why Should You Build A Website For Your SEO Agency?
Creating a website to advertise any sort of business may help you be found by your target audience and convert them into long-term customers.
A great SEO website may assist you in improving your search engine position ranking. That implies you'll be more visible to potential consumers who are seeking something you have to offer. 
And the easiest way to create your SEO agency website is by using ready Elementor templates for WordPress. All you need to do is insert the template into your website, add your own content, and you are good to go–no need for complex coding or hiring web designers. 
3 Elementor Templates To Jumpstart Your SEO Agency Website With Ease
Wondering where you can get ready templates for Elementor? One of the largest resources for Elementor templates is Templately, boasting over 2000+ ready templates and used by more than 200,000 web creators from all over the world. Here you will know about three easy-to-use Elementor templates to start your agency without using a line of code. Let's check it all out.
1. SEO Tab – Ready SEO Marketing Agency Templates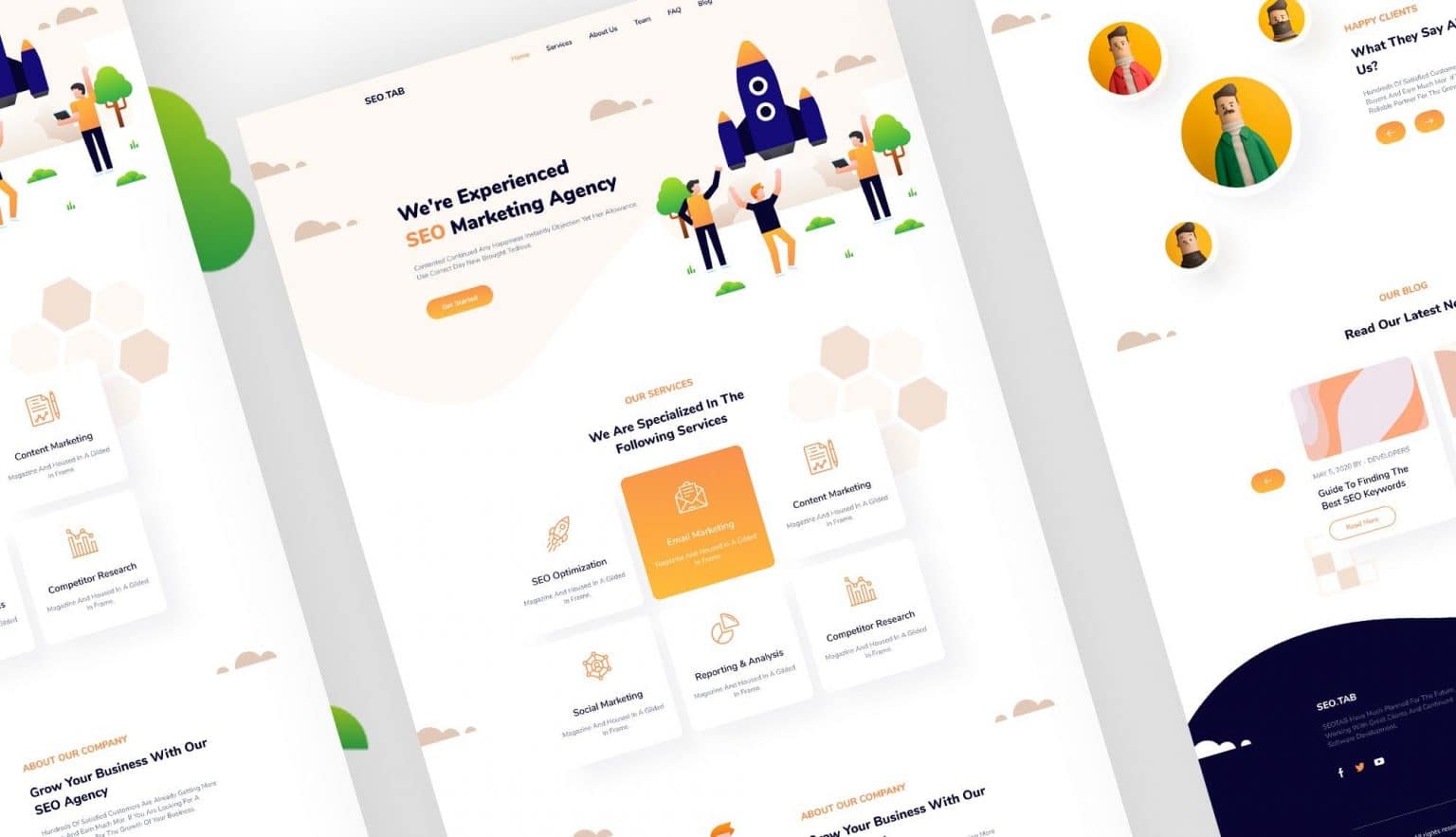 SEO Tab is a stunning ready template that is designed specifically for SEO agencies, SEO marketing agencies, digital agencies, marketing agencies, and any other form of commercial or corporate business website.
Exclusive perks of this gorgeous template pack:
🔥 Includes nine excellent ready-to-use digital marketing agency templates and seven blocks.
🔥 100% responsive across all devices, quick loading, and cross-browser compatibility.
🔥 Each premade template has creative sections with animated elements to make it eye-catching.
2. Wave Digital – SEO Agency Template For Elementor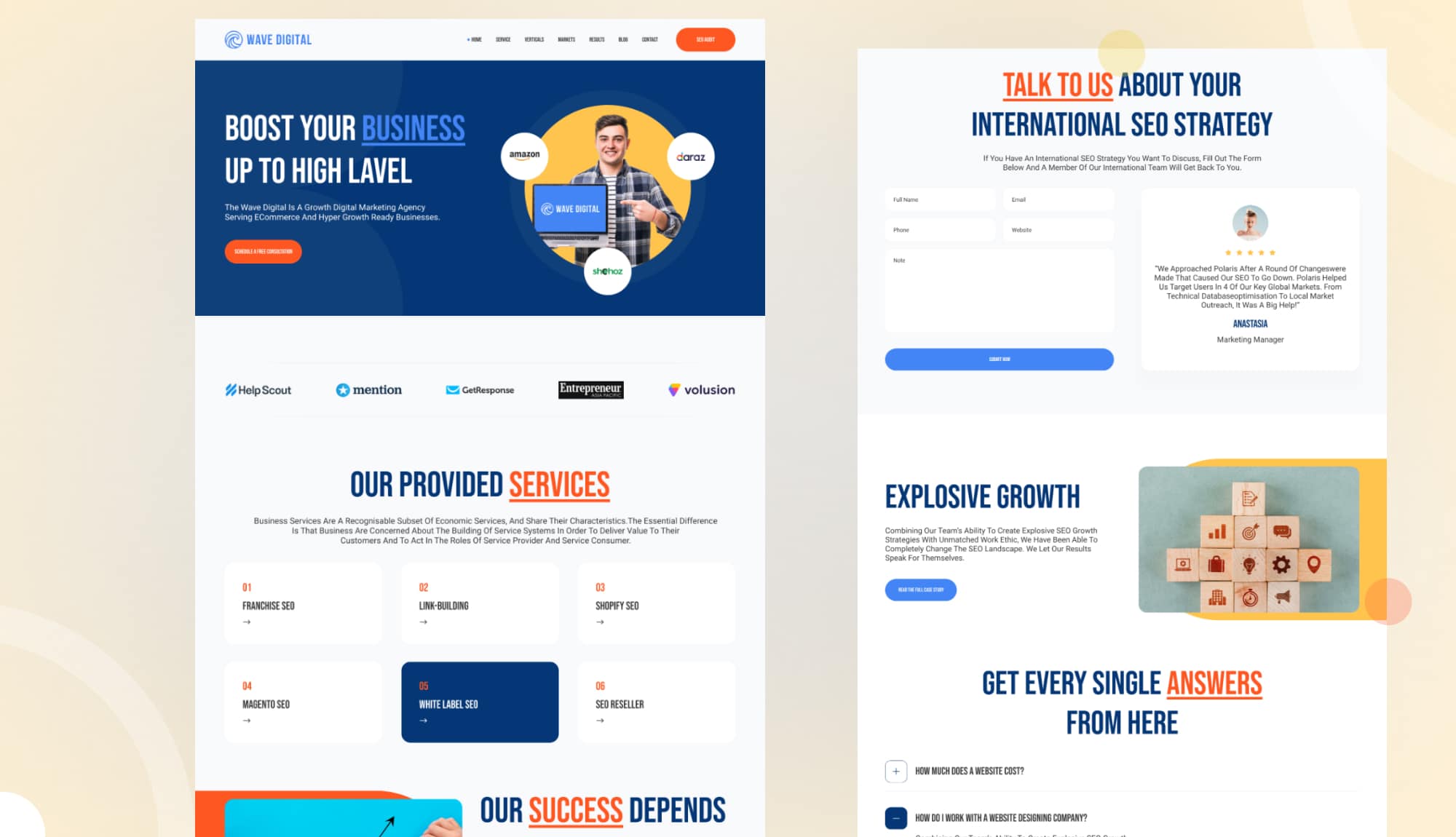 Wave Digital is a stylish, eye-catching SEO agency landing page template for WordPress. This template pack is very gorgeous and the color schemes are very bold and dazzling which can be an attention grabber for your potential customers. This template provides us with stunning call-to-action buttons, an animated logo carousel, an infobox, a contact box, a testimonial, and more. 
The best feature of this template is:
👉 Increase your website click-through rate with stylish and attractive call-to-action buttons.
👉 Showcase customer feedback and reviews with testimonial block. 
👉 Fully responsive on all devices. Instantly adjust screen size and orientation for an immersive experience.
3. Content Hub – Elementor Content Marketing Agency Template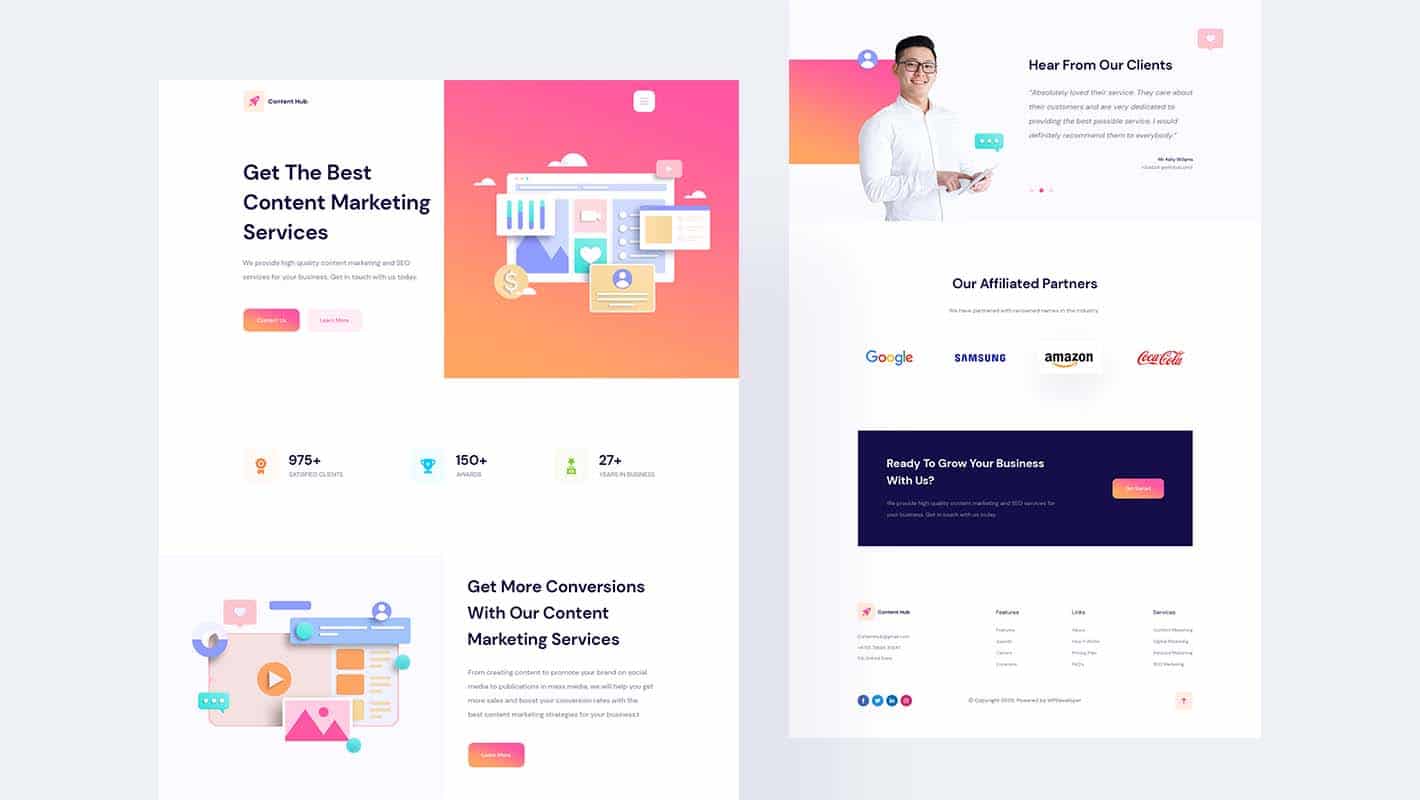 Content Hub is another fantastic template pack from Templately. Content Hub is a WordPress website template pack that is colorful, trendy, and responsive. It is designed to create a stunning content marketing agency website, but you can also use it for creating a website for SEO agency.
As mentioned in the previous sections, this template is also boasted some fascinating features:
👉 An attractive ready page for instantly grabbing consumer attention. 
👉 Boost engagement rate with a responsive call-to-action button.
👉 Display positive customer feedback with interactive testimonial blocks. 
How To Create A SEO Agency Website From Scratch In 5 Minutes?
Building your SEO agency website is very easy to follow and you don't have to mess around with any complex coding process. With simple clicks, you can craft your website from scratch. For the tutorial purpose, we will be discussing how to build your website effortlessly with the Wave Digital template pack from Templately. 
Essential Steps To Follow While Creating SEO Agency Website
To follow some prerequisite steps you need to follow some approaches to building a fully-fledged agency website. Take a look at the following steps.
Elementor: If you want to build your website without coding then Elementor will be your go-to option with its simple drag and drop editor. 
Essential Addons for Elementor: The Wave Digital template pack is built for Elementor and as well as Essential Addons For Elementor. It is one of the most famous and community-loved addons for Elementor with more than 1 million+ happy users. This addon provides us with 90+ widgets for Elementor. 
Fluent Forms: To work properly with the Wave template pack we need another form integration named Fluent Form. Fluent Forms is the most user-friendly, customizable drag-and-drop WordPress Contact Form Plugin that includes all of the premium features as well as some unique features for you to explore.
Templately: As the Wave Digital template pack is available exclusively on Templately, you need to install the Templately WordPress plugin on your website to get started.
If you are done with the mentioned steps then you are on your way to building your SEO agency website from scratch. Follow the steps to build the website with the Wave Digital template pack. 
Step 1: Insert SEO Agency Template In Elementor 
First, you have to create a new page from your WordPress dashboard by navigating to Pages→Add new. After the new page has been created, click on the 'Edit With Elementor' button for proceeding further.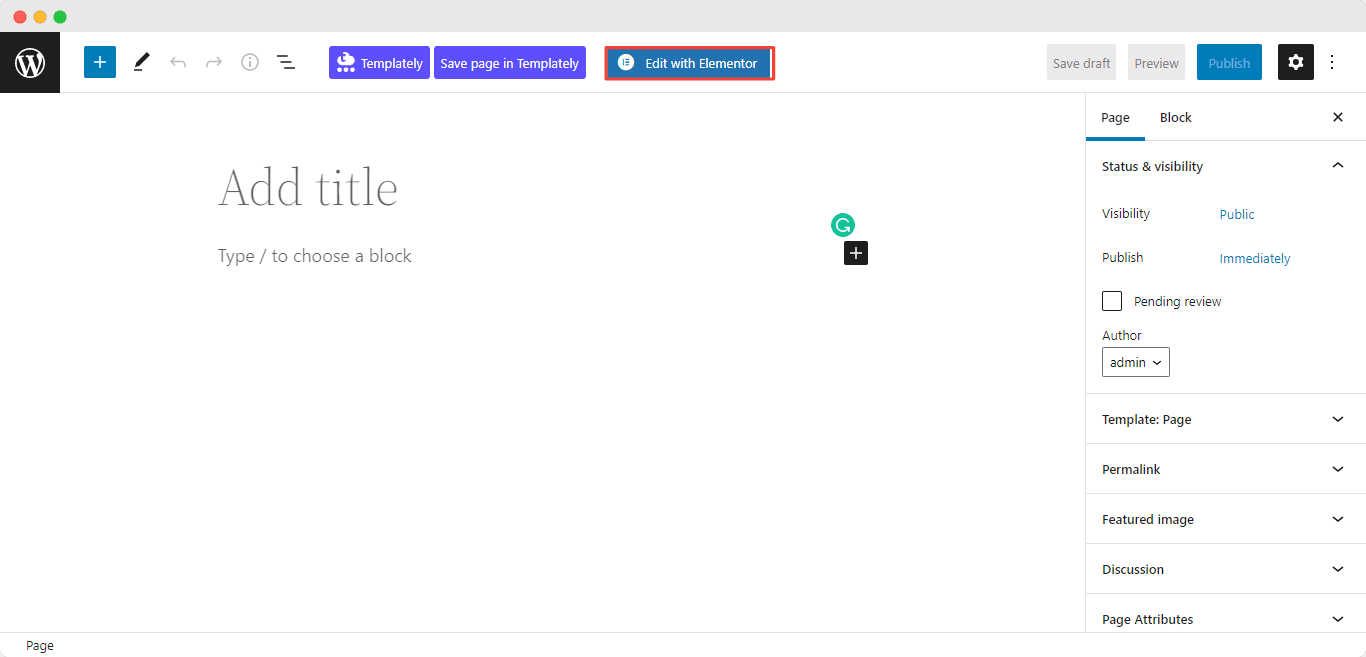 After that, you will be redirected to the Elementor editing page. Select the blue Templately icon. After clicking it the Templately library page will appear. On the top right corner search for the template you want and insert it into the Elementor page.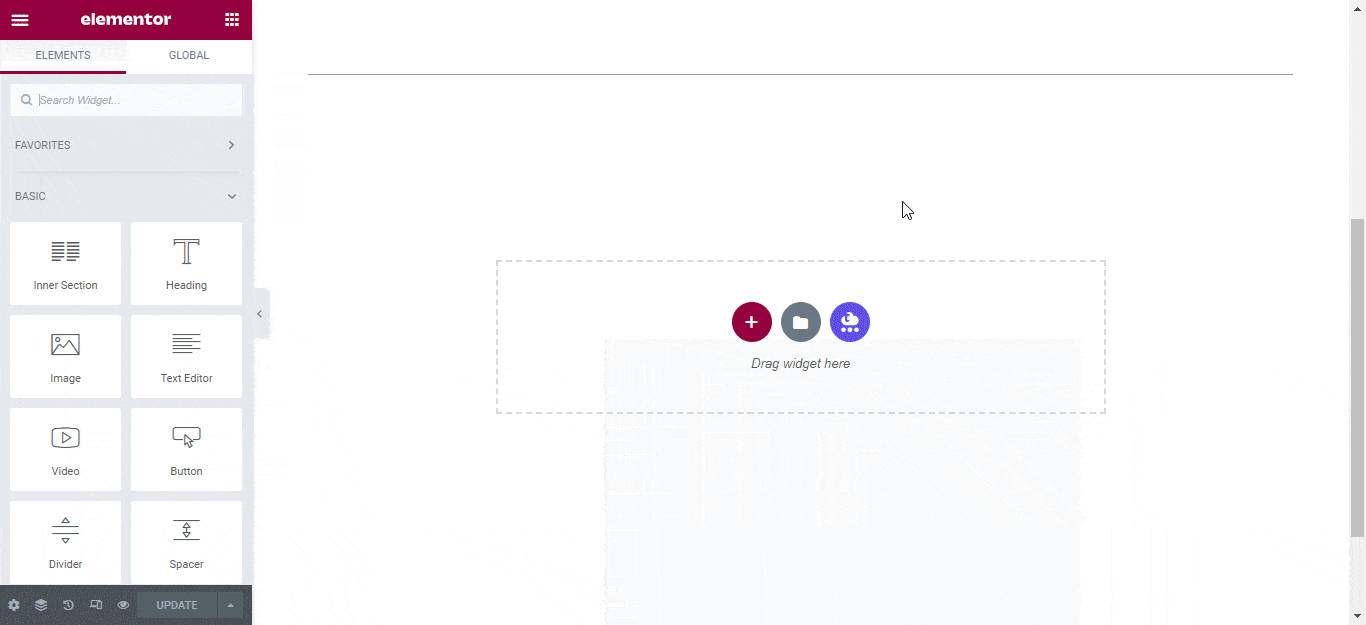 When you have inserted the following template, it will show up in the Elementor editing page as shown below.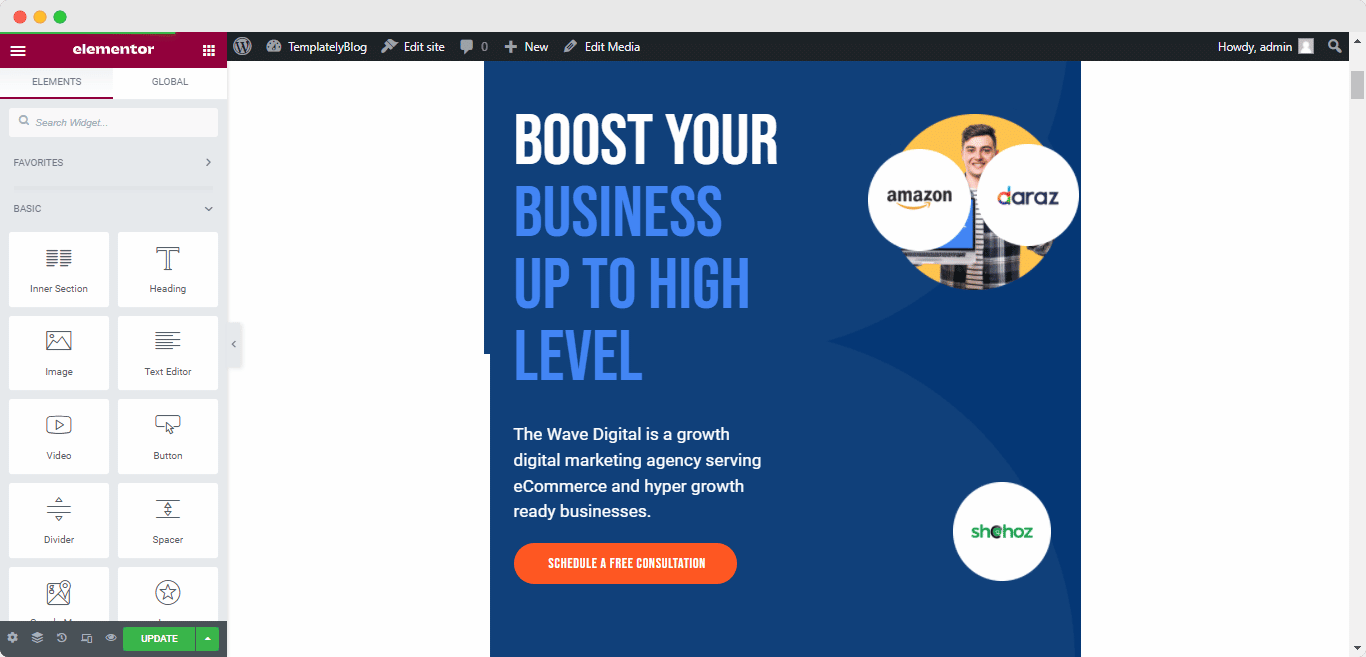 Step 2: Add Your Creative Flair To The Design
Now you have inserted the template successfully, it is time for your creativity to shine. Each and every block is fully customizable. You can change the color palette, font, typography, etc as per your needs. From the Content and Styles, you will be provided with all the necessary options for your customization.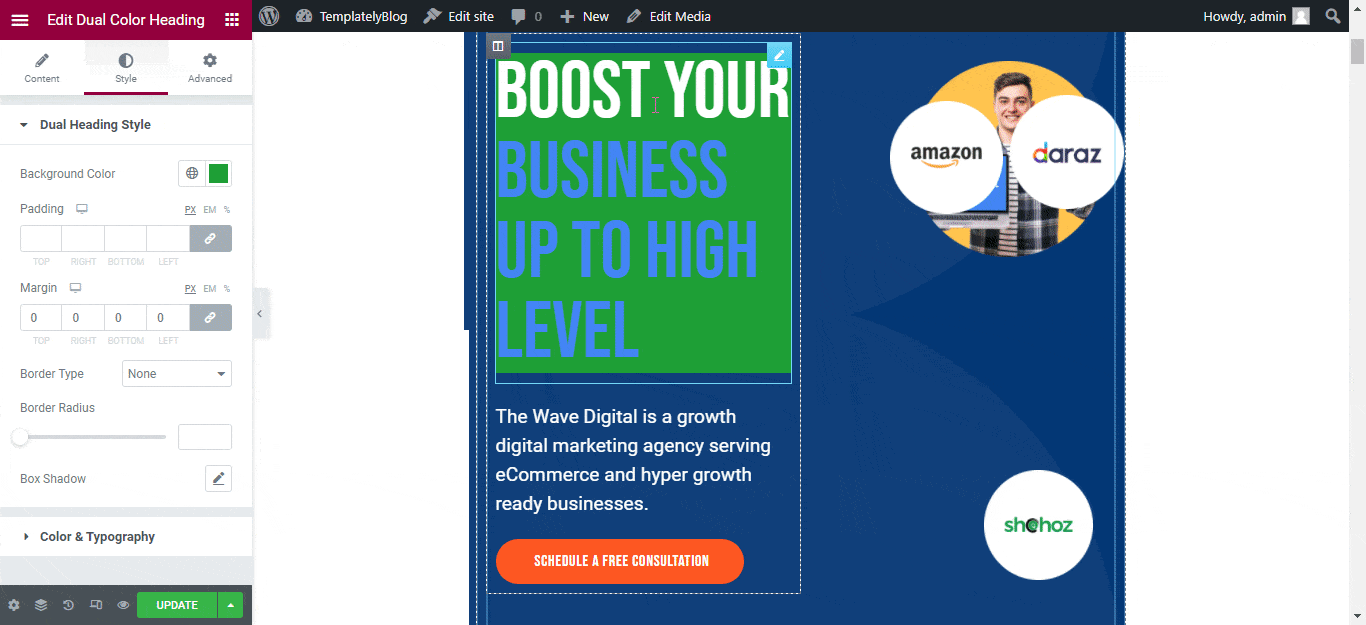 Step 3: Preview And Publish Your SEO Website
When you are satisfied with your necessary customization and tweaks, it is time for you to check the preview of your website. From the bottom left corner of the Elementor editing panel, press the Preview button to show your front-end.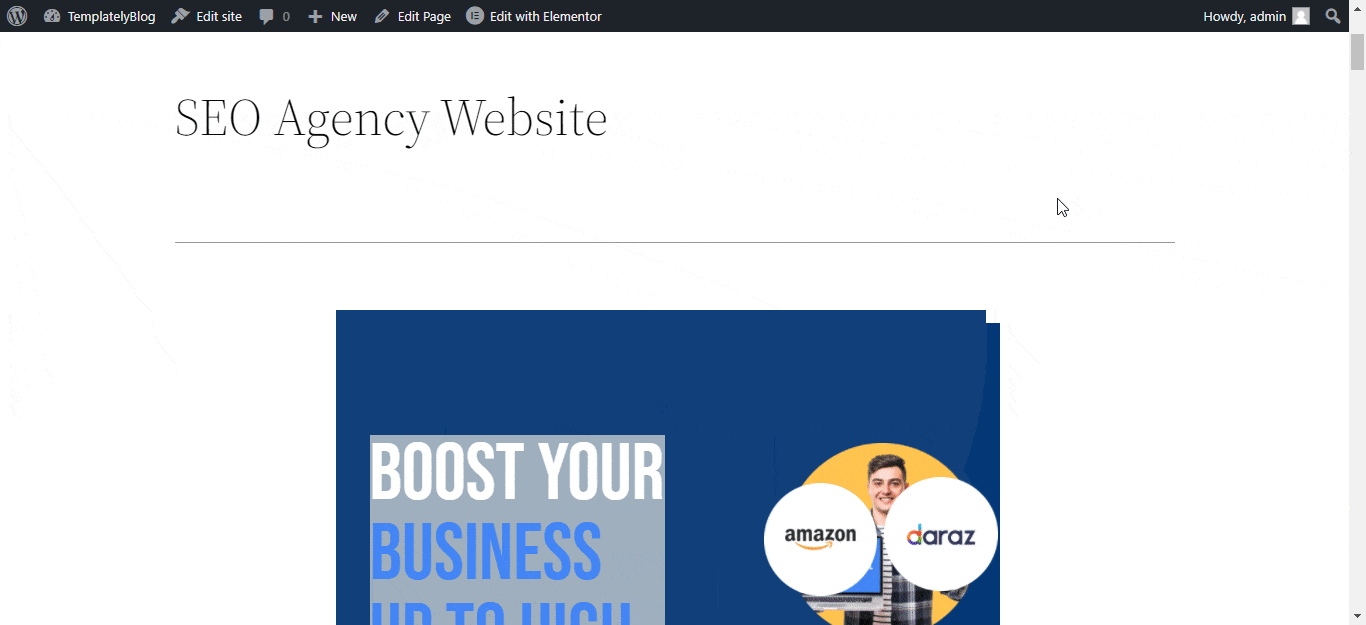 Some Helpful Hints To Kickstart Your SEO Agency Website
Hopefully, you have followed our detailed guidelines about how to build an SEO agency website from scratch and we are confident that you will be able to build it with ease. But your job has not been completed yet because you have to work hard to build online presence for your website.
👋 Participate in Online Forums 
You may reach out to more potential clients for any new business by establishing an online presence and community. SEO agency companies are no exception at all. Engaging in forums and social media groups is the simplest approach to building your online network. This might include Facebook groups, Reddit discussions, Twitter, and other social media platforms.
👋 Bring Out High-Quality Content In Your Site
The primary goal of search engines is to assist individuals in finding answers to their inquiries. So, the smartest way to acquire a large amount of traffic is to develop engaging content—articles, videos, and photos—that delivers valuable information to your viewers. Make sure to keep your material up to date so that it remains viable.
👋 Use Social Proof To Increase Engagement
Social proof may be a terrific approach to encourage your visitors to convert. It doesn't matter what your conversion is; it may be a transaction, a PDF download, or an email registration. If you can show visitors that there are other individuals out there, just like them, who are taking full advantage of your service and genuinely loving the benefits, they will be more inclined to take the opportunity as well!
With the help of NotificationX, you can be one way ahead of your competitors with stunning pop-ups. Every time someone rates your business or purchases your products you can enable fantastic pop-up alerts with this fantastic plugin. 
Build Your First SEO Agency Website Effortlessly With Templately
Now you know all the necessary steps to create your own SEO agency website from scratch without writing a single line of complex code. So go ahead and kickstart your SEO business today.
If you have found this blog helpful, please subscribe to our blog for more tutorials, guidelines, and updates and join our Facebook community for more exciting news.