Having a breathtaking gaming theme or design for your gaming website is vital for gaining your audience's attention if you're a player who wants to share your gameplays with your community or share exciting ideas with your followers. Today, we'll discuss our top WordPress gaming themes and Elementor templates for you to choose from.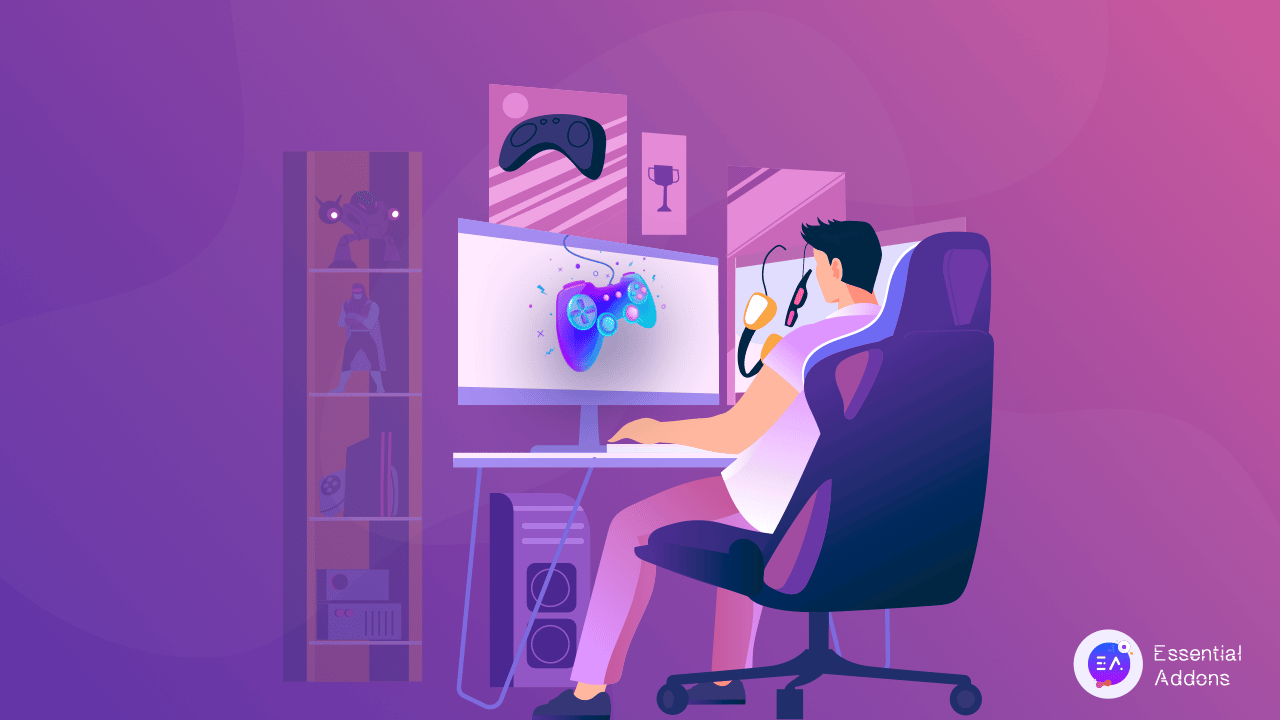 3 Reasons To Choose Elementor Templates For Your Gaming Website
Want to create and customize your website without paying a developer and having no coding experience? Then consider the world's number one page builder- Elementor– as one of your choices so far! Elementor is the plugin to use if you want complete control over the aesthetic of your WordPress site without having to dig into coding. It makes website design simple and straightforward and there's no excuse not to use it.
Easily Design A Professional, Stunning Website Without Coding
Usually, most major corporations do not want to develop their own website because they are intimidated by the amount of code required to design and personalize a website. But you don't have to worry about it! Elementor is here to put that concern to rest once and for all. Several famous companies now simply create a website by dragging and dropping using Elementor.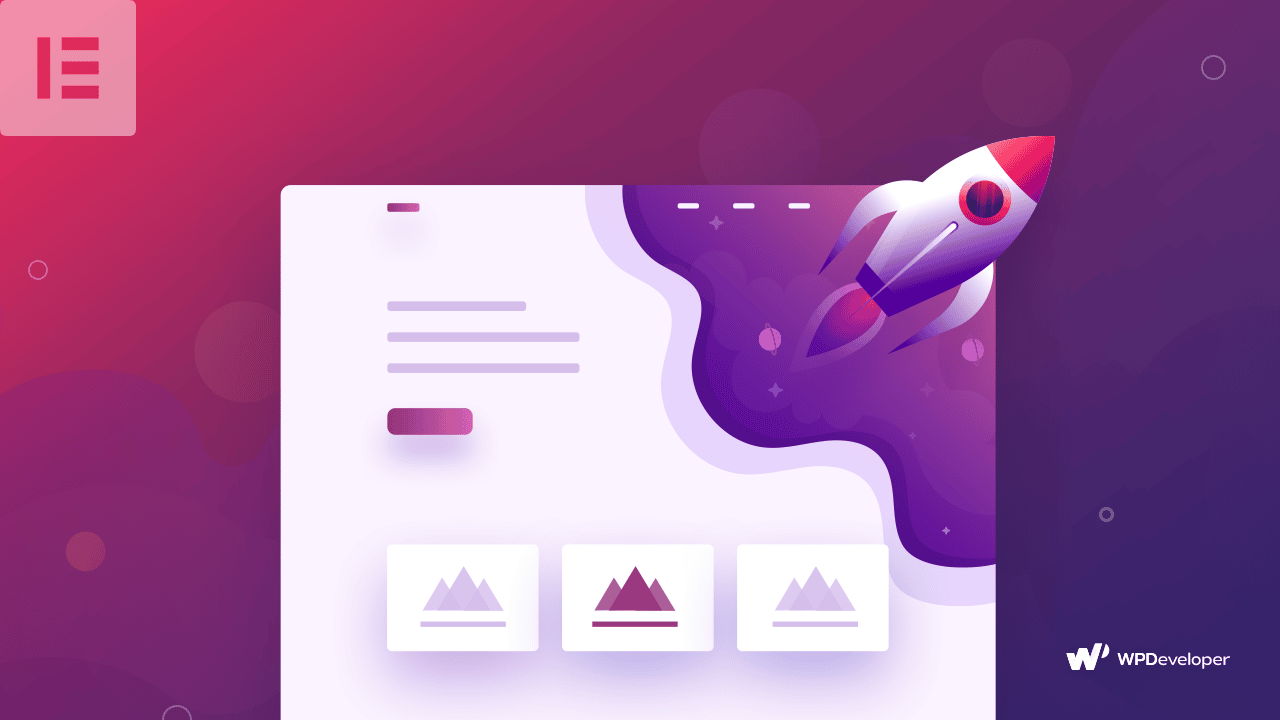 Elementor does not require any coding knowledge. All you need is a clear idea of how you want your website to look. Because Elementor removes the hassle of developing a website, you will have more time to focus on your objectives and business.
Simple Drag & Drop Feature For Widgets
Elementor implemented the drag and drop tool to save you work and effort while creating a beautiful website. You may easily add photos, text holders, fonts, buttons, icons, components, and other items to any page.
All you have to do is drag the suitable add-on and drop it in the desired location on the website. Everything is possible, and you have complete control over every widget.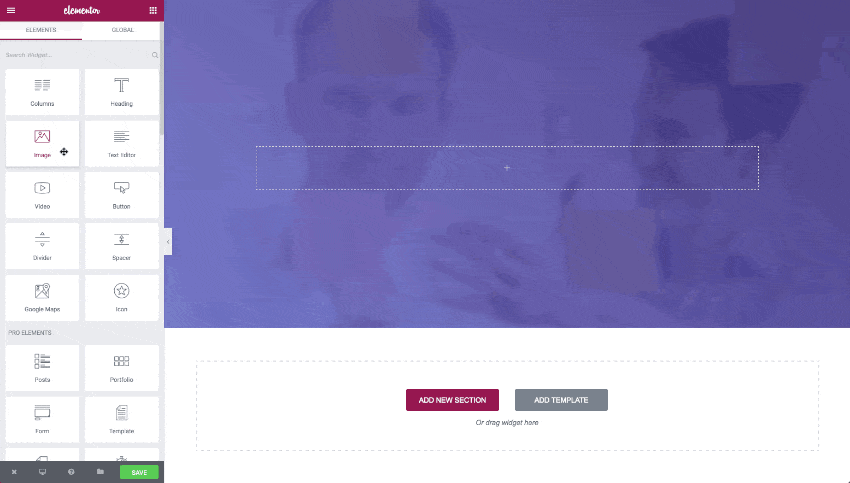 Effortlessly Create Webpages With Premade Templates
Most page builders have a library of predefined templates that you can use to quickly design your website. Elementor, for example, includes its own Elementor Layouts Library where you may browse a library of predefined page templates. All you have to do is select a design template that you like and integrate it into your website. Then you may add your content and your website is complete.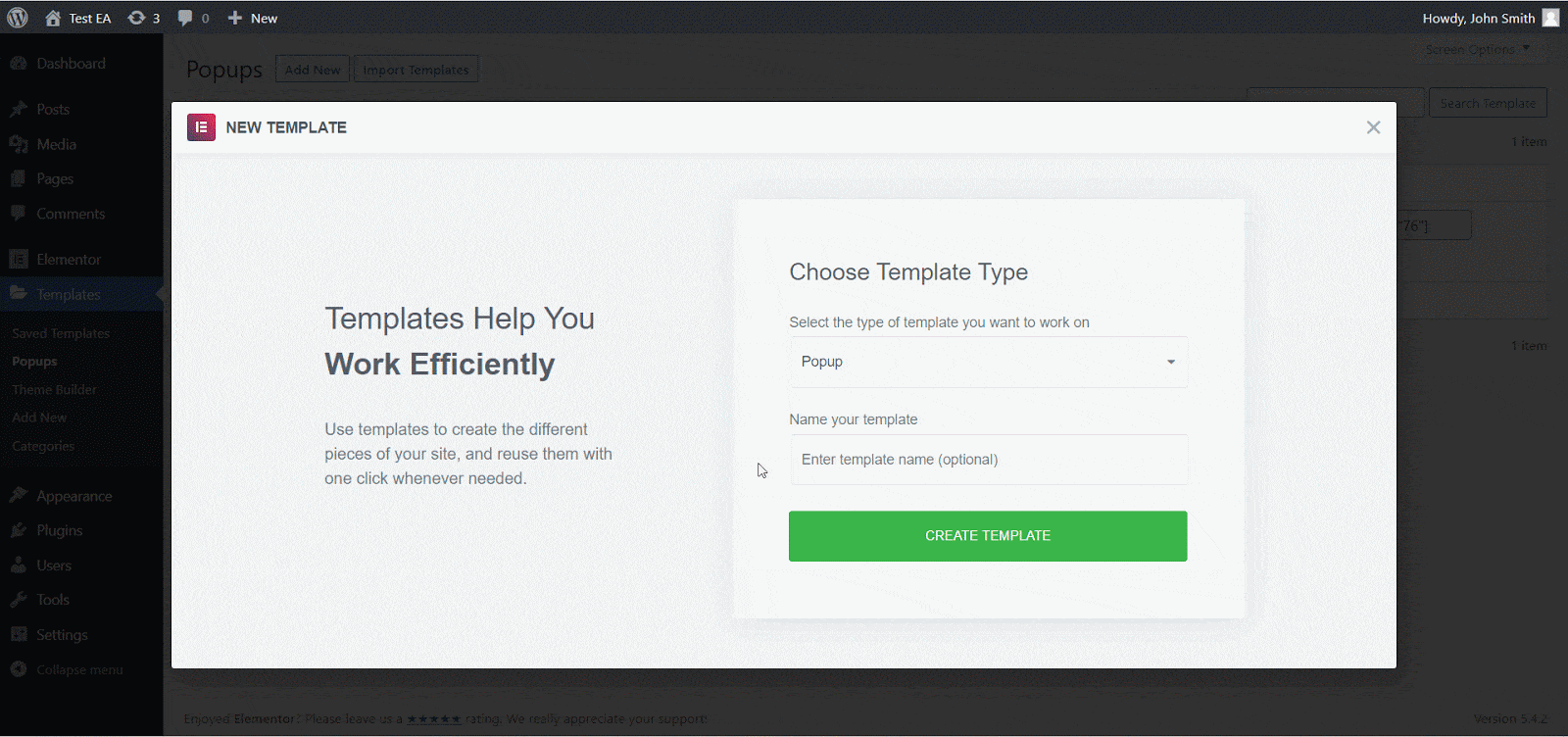 Best WordPress & Elementor Gaming Themes And Templates
In the following section, we will talk about the most gorgeous gaming themes you can use for your gaming website. 
1. GameZone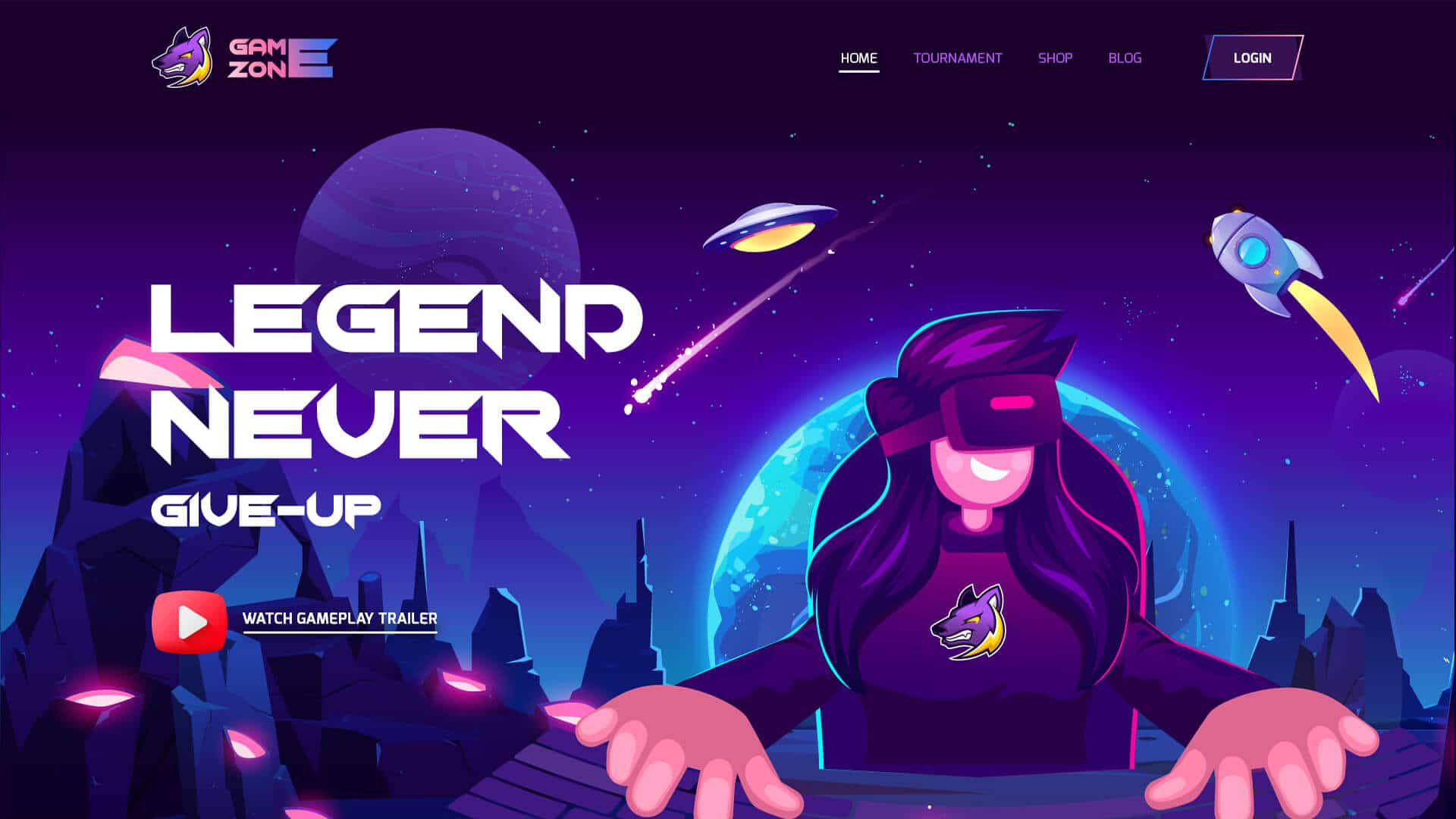 Game Zone is an interactive, stylish, and elegant template pack designed for gaming websites, online gamers, game reviews, gaming communities, eSport, game studio sites, game publishers, and anybody else interested in video games. This fantastic template pack comes with stylish and modern page designs, an interactive grid layout for gaming blog posts, and cross-browser compatibility. 
You can build your gaming without any coding. This template could be a perfect gaming theme for any gamer. 
2. Plaxer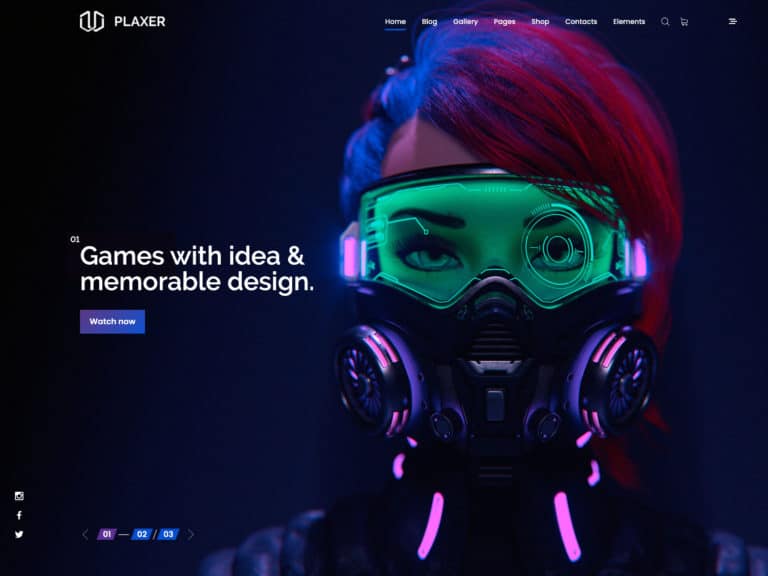 Plaxer and its landing pages have an eye-catching design that will make your gaming site stand out.
Plaxer offers the ideal design if you want to develop a website with a style that your visitors will immediately identify as a gaming or eSports site. If you look at the Plaxer designs, you'll notice that there are options for streaming, eSports, and game developer websites, as well as a more general set for any standard gaming themes.
3. PlayerX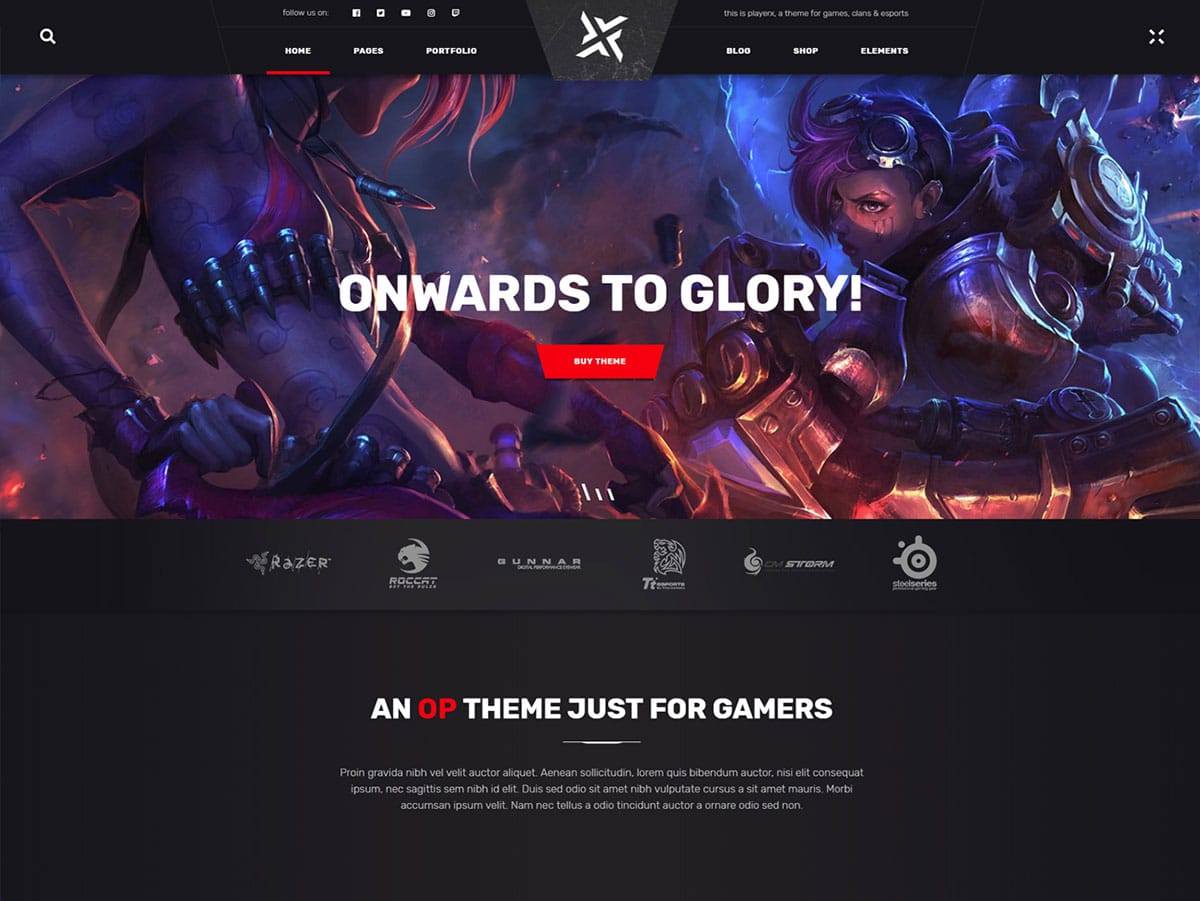 PlayerX has several elegant, modern, and dynamic outlooks, as well as three standard header kinds, seven icon font collections, and a multitude of unique layouts. This allows you to improve the website as much as possible.
PlayerX is a high-quality theme with an easy-to-customize interface. Even if you lack sophisticated expertise in programming and design, you will not be concerned. This template is among one of the most used gaming themes in the WordPress community. 
With ready pages this pack also comes with slider galleries, fullscreen menus, mega menus, and price shortcodes, to mention a few.
4. Eldritch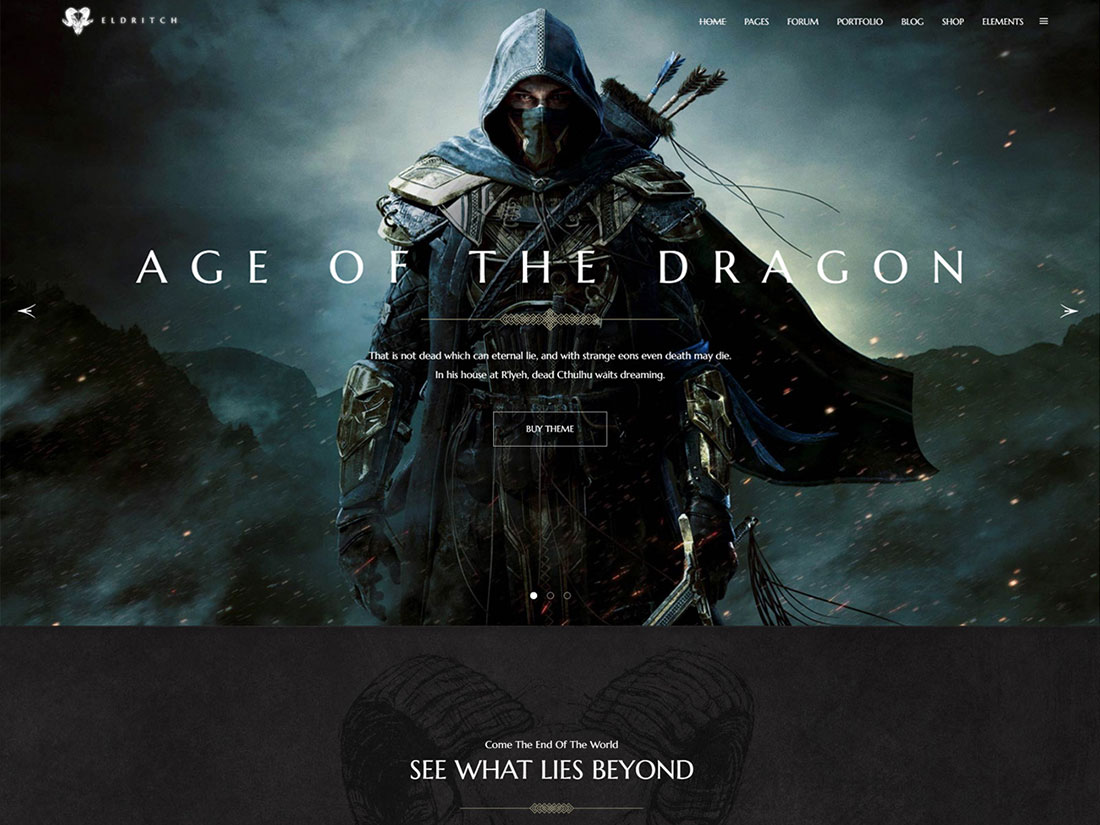 Eldritch is a captivating esports and gaming theme designed for players, organizations, and anybody else involved in the video game industry. It includes attractive and easily adjustable gaming homepage templates for eSports tournaments, game reviews, esports blog, concept art display, an online store, and much more. Eldritch features a distinct design style that will make your gaming and esports website stand out in a spectacular way.
5. Entropia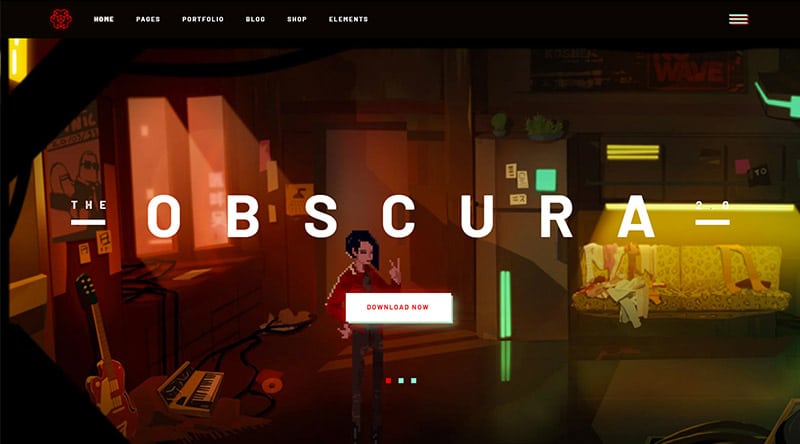 Entropia is a true power pack when it comes to gaming WordPress themes. Apart from its incredibly stylish design, which will leave any gamer speechless, this theme also comes with full-fledged customization. You'll be able to tweak all of these features until you design a website that looks and functions precisely like the one you imagined in your brain, thanks to a large variety of home and inner pages as well as custom shortcodes. Entropia is also retina ready, which means you will have an awesome user experience on any device. Entropia is one of the most popular gaming themes in the market.
6. Respawn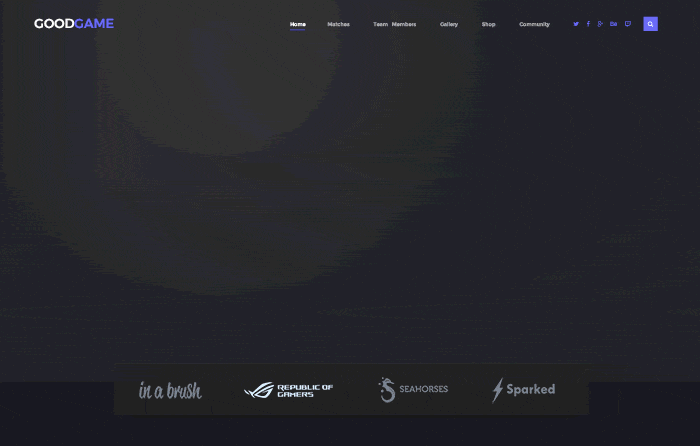 Get entangled in the awesomeness of Respawn while looking for a game WordPress theme. With a single click, you can install all of the accessible demos. After that, you can further customize the layout to your gaming mind
Without any coding, you can use it right away and have a full-fledged website and run it in the blink of an eye. Especially in the eSports community, Respawn is one of the most used gamin themes in the market. 
There is no need to make any coding changes in order to alter, improve, and activate Respawn. Anyone can unleash their creative side and become a master of designing game websites thanks to the Elementor drag and drop page builder.
7. Geco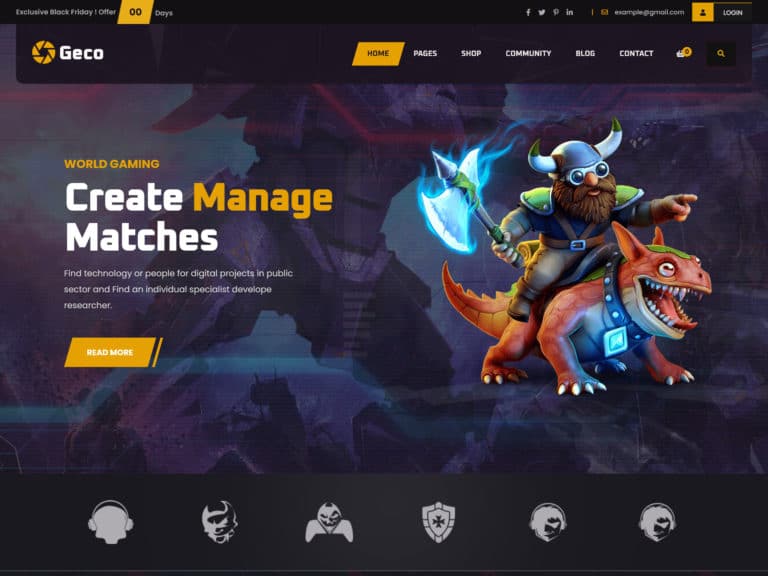 Geco is a WordPress eSports and gaming theme with interactive landing pages. All of the Geco templates have been loaded with a variety of helpful features and components. Sliders, galleries, and responsive layouts are some examples of this. They all work together to give your site a premium and professional appearance. If you need to make modifications to any of the templates, you can do so using  Elementor page builder's straightforward drag-and-drop interface.
8. Godlike
With this Godlike, you will surely become a gaming genius. Let's start with what your audience will notice initially — the visual component. Many of your website's visitors will undoubtedly be in amazement because the design of this theme is nothing short of mesmerizing! Godlike is jam-packed with slick animations and parallax effects, and it also lets you alter the color of your website to whatever you like. All you have to do is select, and the sky's the limit. With Elementor, you can do all the customizations with simple drag and drop. Among all the gaming themes we have mentioned Armadon is the most light weight one. 
9. Armadon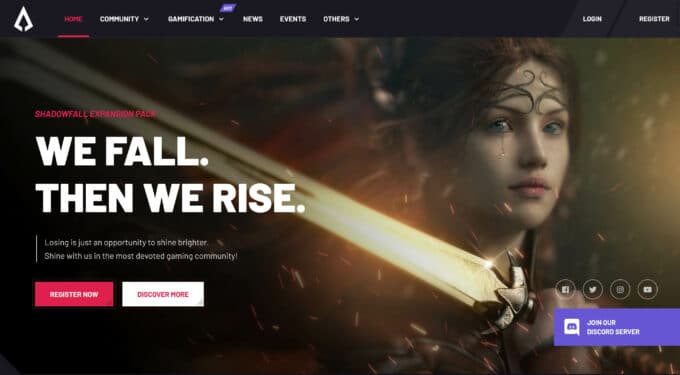 Armadon is one of the most fan-favorite gaming themes in the WordPress community. This theme is intended for anyone creating a website for eSports communities, gaming competitions, or publishing game reviews, to mention a few uses. Rather than providing you with many demonstrations to work with, Armadon comes with a single mode that you may customize with a single click. The homepage is jam-packed with components that you can quickly modify to match your website with the Elementor website builder. Armadon is one of the most downloaded gaming themes in the Elementor community. 
10. Game Addict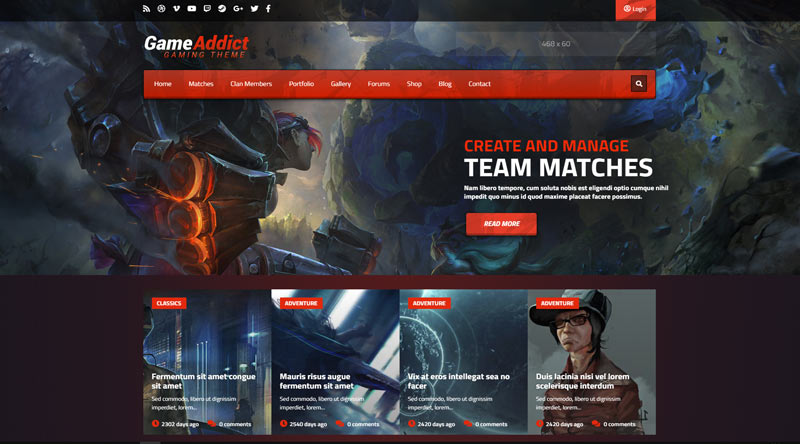 The prominent red and black colors of this premium game WordPress theme make it easily identifiable. However, this is not the only element that distinguishes Game Addict. With its numerous amazing functions, you will have everything you need to design your ideal website. If you consider clans and online match scheduling to be crucial for a gaming website, you won't have to go any farther since this theme will offer you both. For hardcore clan communities, this is among one of the most loved gaming themes in gaming communities. 
Bonus: How To Build A Gaming Website With Elementor In 2 Minutes 
There are tons of gaming themes available for WordPress in the market but not all of them are easy to work with. With Templately, your web-building experience will be much smoother because you don't need to play around with complex coding. All the template packs come with stunning ready pages with gorgeous layouts. 
If you want to build a stunning gaming website for your WordPress site then follow this non-coding video guideline for more. 
Hope this list of gaming themes will help you in the future. Feel free to share your feedback in the comment section. Subscribe to our blog and join our Facebook community for more exciting updates.