Elementor's official kits library brings you 100+ free and PRO website templates to enhance your web building skills with ease. But did you know that the official library isn't the only place you can get stunning, top rated, ready Elementor PRO templates from?
The ultimate templates library for WordPress, Templately, can be the perfect platform to find 2,000+ ready, premium eye-catching, and sleek website templates that you don't want to miss. Regardless of the market your website may belong to, be it eCommerce or a personal blog, you'll surely find templates to help you create breathtakingly stunning websites using Elementor with ease!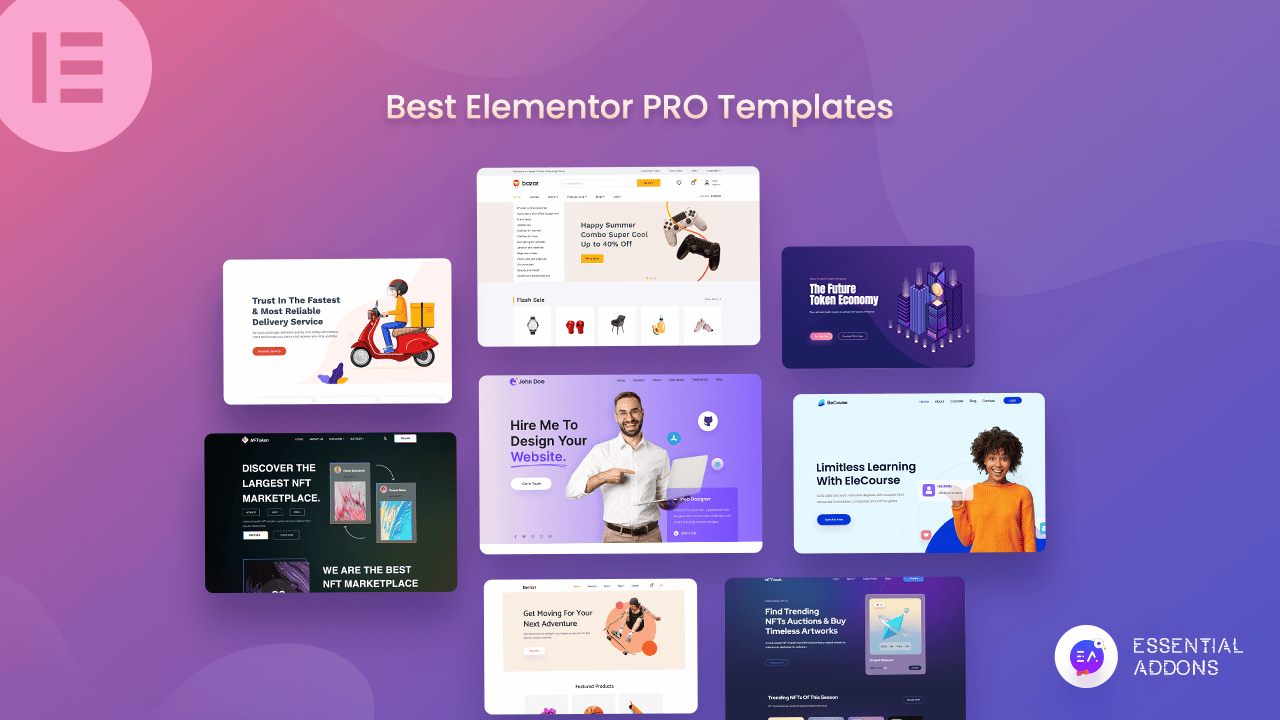 So, to help you out and boost your efficiency in web designing experience, we took the time to sort and list the top 10 most popular and loved Elementor PRO templates brought to you by Templately. So, without waiting any longer, dice right in and find the template pack or single landing page that perfectly suits your goals and all your website needs today.
Templately: The Most Popular Library For 2000+ Freemium Elementor Templates
But first, let's begin with a little overview of the ultimate Elementor templates library for WordPress, Templately. Brought to you by team WPDeveloper, the same trusted team behind your favorite elements library, Essential Addons For Elementor, the templates cloud is quickly gaining trust and high appreciation from web builders and renowned publications alike over the last few years.
And within the shortest time since its launch in 2020, Templately has become one of the largest libraries with more than 200,000+ active users from around the globe, and more than 2,000 free and PRO templates for WordPress and Elementor. Learn more about it's glorious journey from our blog here. 
And that's not all, Templately aims to enhance your website building experience to the next level with the unlimited amount of features and facilities it brings to the table, even for those who don't have any coding experience. This includes seamless integration with the website builder, Elementor, full customizability, 100% responsiveness on all devices along with much more. But what makes it unique and unstoppable are its exclusive features, MyCloud & Cloud Collaboration (more later).
Top 10+ Stunning, Elementor PRO Templates For Your WordPress Website
So, take a look at our list of the top 10, most popular Elementor PRO templates from Templately below and make your web designing on WordPress fun, easy, and super fast and take your website engagement and conversion rates to the next heights.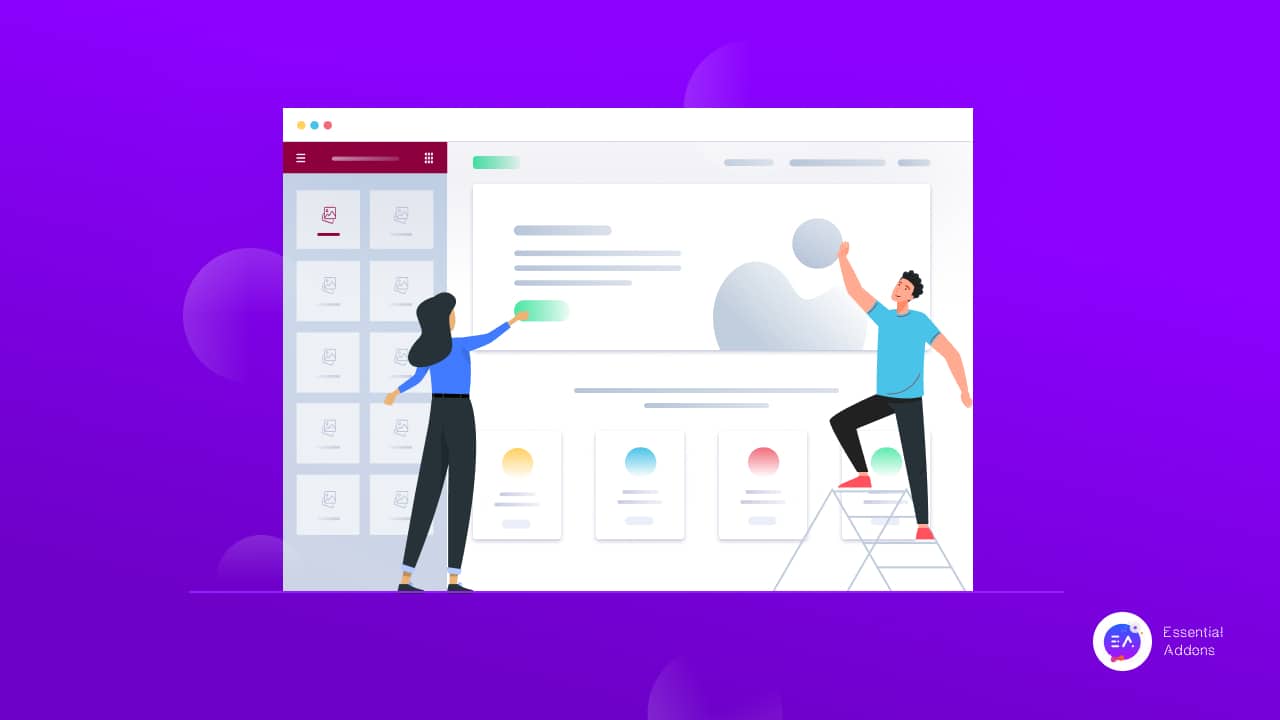 🔷 Premium NFT Templates Gaining More Popularity Than Ever Before
To start off our list of Elementor PRO templates, there are some unique and outstanding NFT template packs that can be a complete game changer for your websites. These can help you get started with a buzzing marketplace or agency features outstanding NFTs that converts in great numbers.
NFVault: A NFT Business Website Template With A Striking, Eye-Catching Color Palette
With an astounding 2.5K downloads, NFTVault is an extremely popular, ready-to-use, Elementor PRO templates pack that can help you create the most striking, and eye-catching WordPress website using the website builder, Elementor. With 10 interactive pages and dynamic designs, this template can be used to build a whole NFT website or redesign any existing one, in just a few clicks.
You won't need any coding skills to make a responsive, lightweight, colorful and quick-loading NFT website using its stunning, landing page templates including the Home Page, Author Page, and Item Details Page. And not just these, you will also find a very responsive contact page that lets you interact with the live website visitors with ease.
NFToken: An Agency Website Templates Pack To Create Every Aspect Of Your Site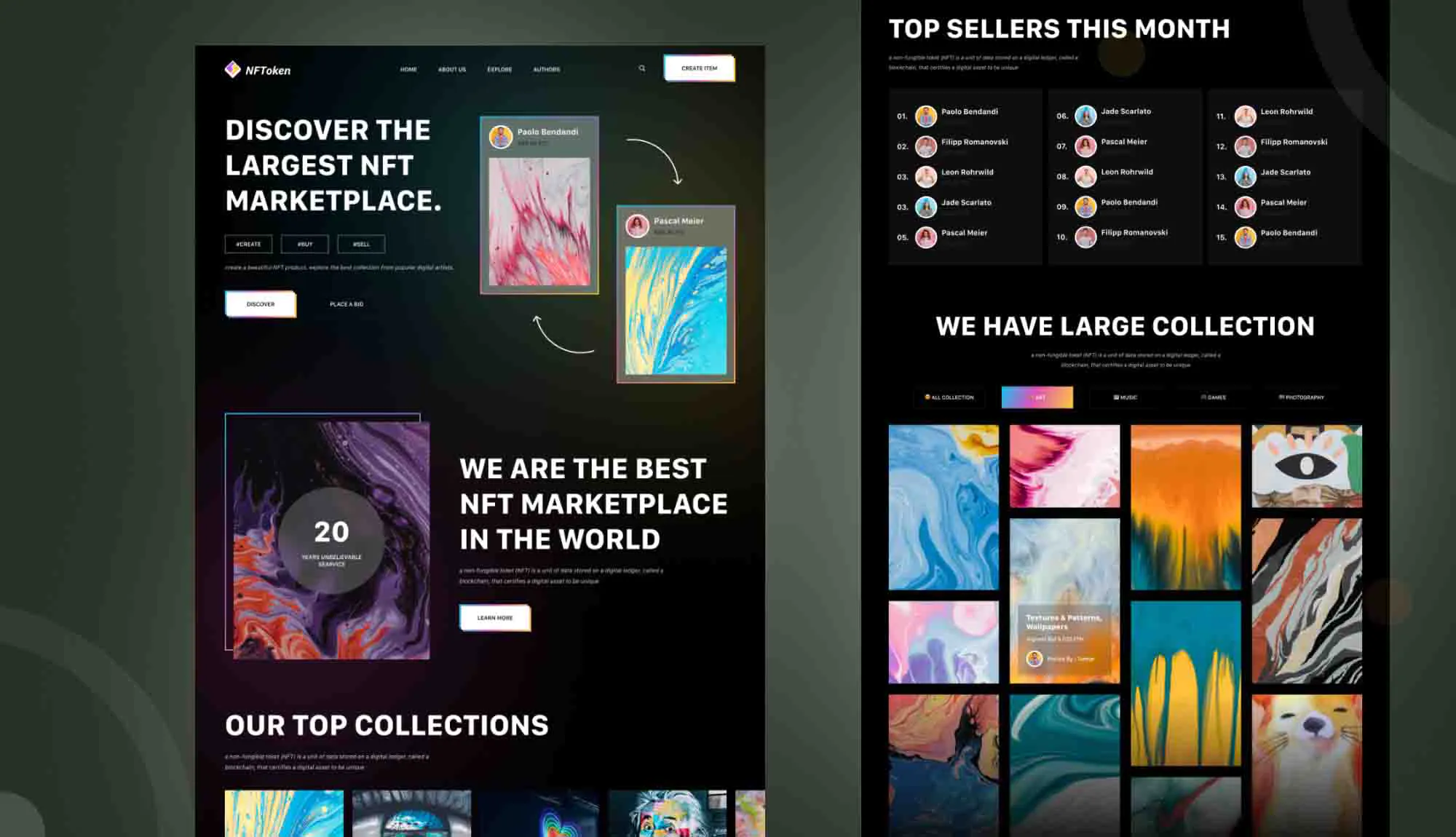 Next we want to introduce NFToken, that has been downloaded 2000+ thousand times since it was developed and released by Templately. It is a one-of-a-kind NFT marketplace template pack, bringing you countless landing page templates to help you create every aspect and section of your high-converting websites.
Along with a striking color palette that's perfect to display and highlight your NFT artifacts, NFToken also features dynamic designs on each web page template with dynamic designs that will instantly help your site attract attention from any visitors and get them interested in exploring more. You will find interactive call-to-action buttons, customer testimonial sections, visual media, and much more – everything you need for a successful agency website.
CryptoCurrency: A Sleek & Modern Landing Page Template Pack For Elementor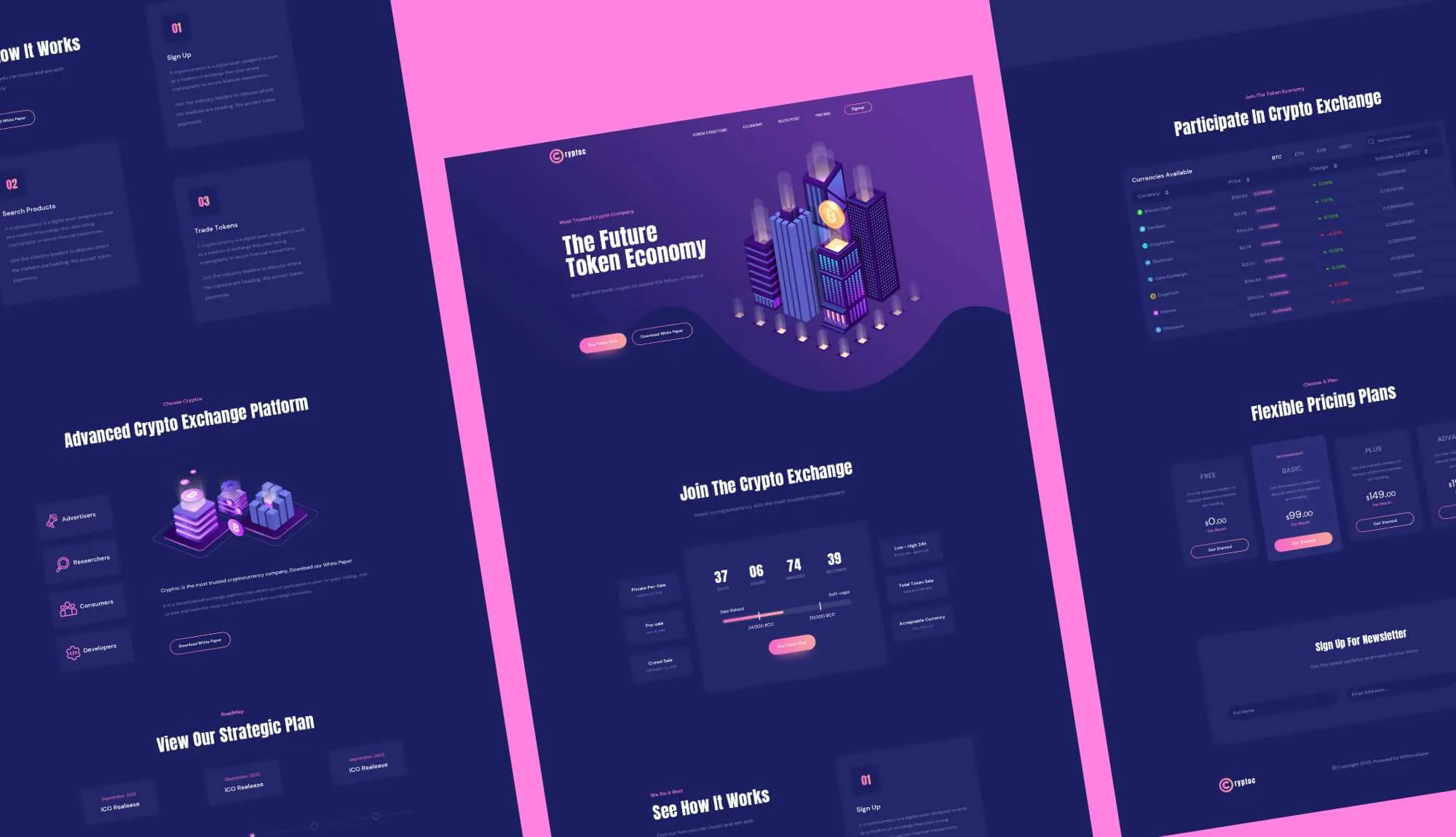 To wrap up this mini-list of professionally-built NFT websites from Templately, we want to introduce CryptoCurrency – a one-page, stunning, premade template. Even though it is a single landing page template, it comes with four separate, and very informative blocks featuring another standout professional dark theme. To instantly draw visitors to your site with its interactivity, CryptoCurrency comes with dynamic, animated widgets on each of its creative sections and a spectacular scrolling effect over the complete template design.
Here, you will be able to display your token structure, token economy, latest pricing, related blog posts, etc that will fulfill all current demands to build your cryptocurrency website Landing Page template with ease. You don't have to roam around everywhere to find a perfect solution now. And for more detail and a peak into the many more NFT templates available from Templately, check out this detailed feature blog her
🛍️ Elementor PRO Templates For High-Converting eCommerce Sites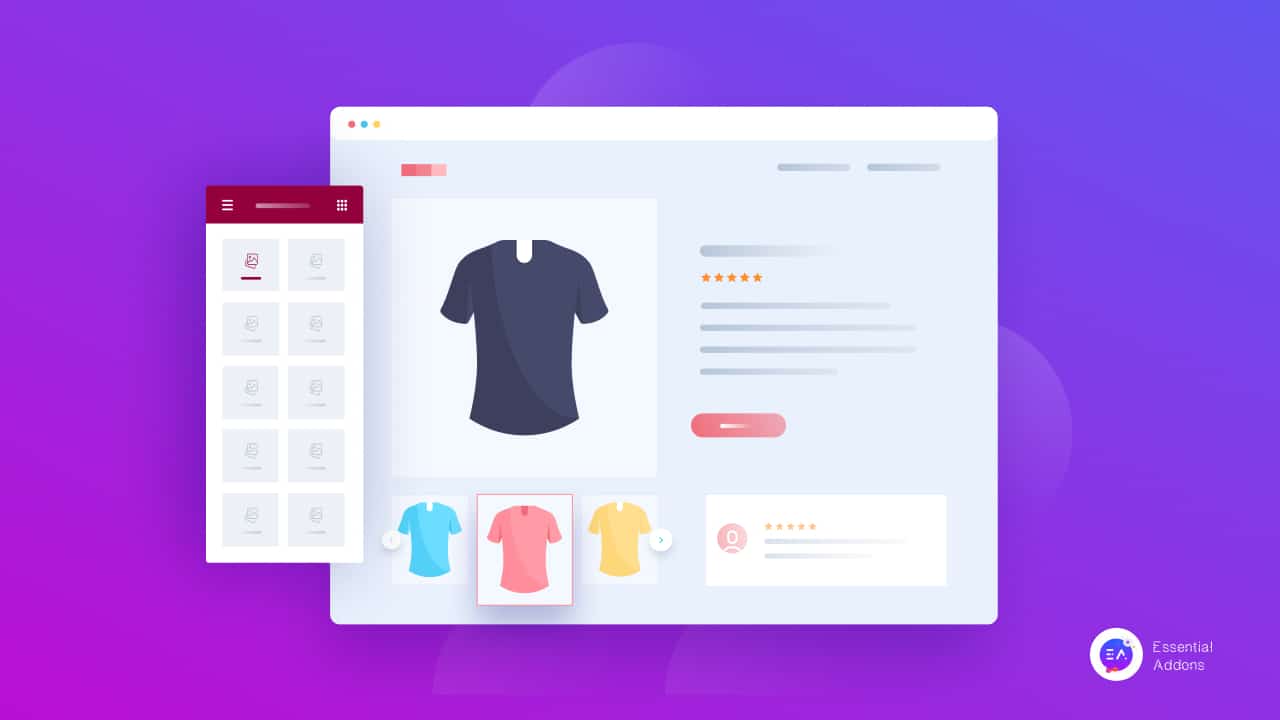 Ready Elementor PRO templates for WooCommerce are some of the most popular templates types you will find in Templately. Undoubtedly, you will find tons of ready Elementor PRO template packs to create high-converting websites for any kind of e-Commerce business that converts and leads to skyrocketing sales.
Many of these WooCommerce templates from Templately come with ready WooCommerce Checkout pages, so you don't have to worry about creating your own from scratch. What's more is that you can amplify the template designs many folds by adding more functionality to them using the outstanding WooCommerce widgets brought to you by Essential Addons.
Bazar: A Multi Vendor Marketplace Template To NOT Miss
Switching to the more soothing color palette, to start off this list, we have the notable Elementor PRO templates pack, Bazar. As its name suggests, it is a versatile, multi vendor marketplace templates pack that is seamlessly compatible with both Elementor and WooCommerce.
It has been professionally developed and built to accommodate multiple vendors at once giving you the complete power to create your very own popular and high-converting marketplace like Etsy or Amazon, without having to touch a line of code. And the interactive designs or minimalistic design concept is exactly what you need to draw the right amount of attention to the products you offer at your eCommerce store and get potential customers exploring through your site within minutes.
EleMart: An Elementor PRO Template Pack For A Multi-purpose eCommerce Site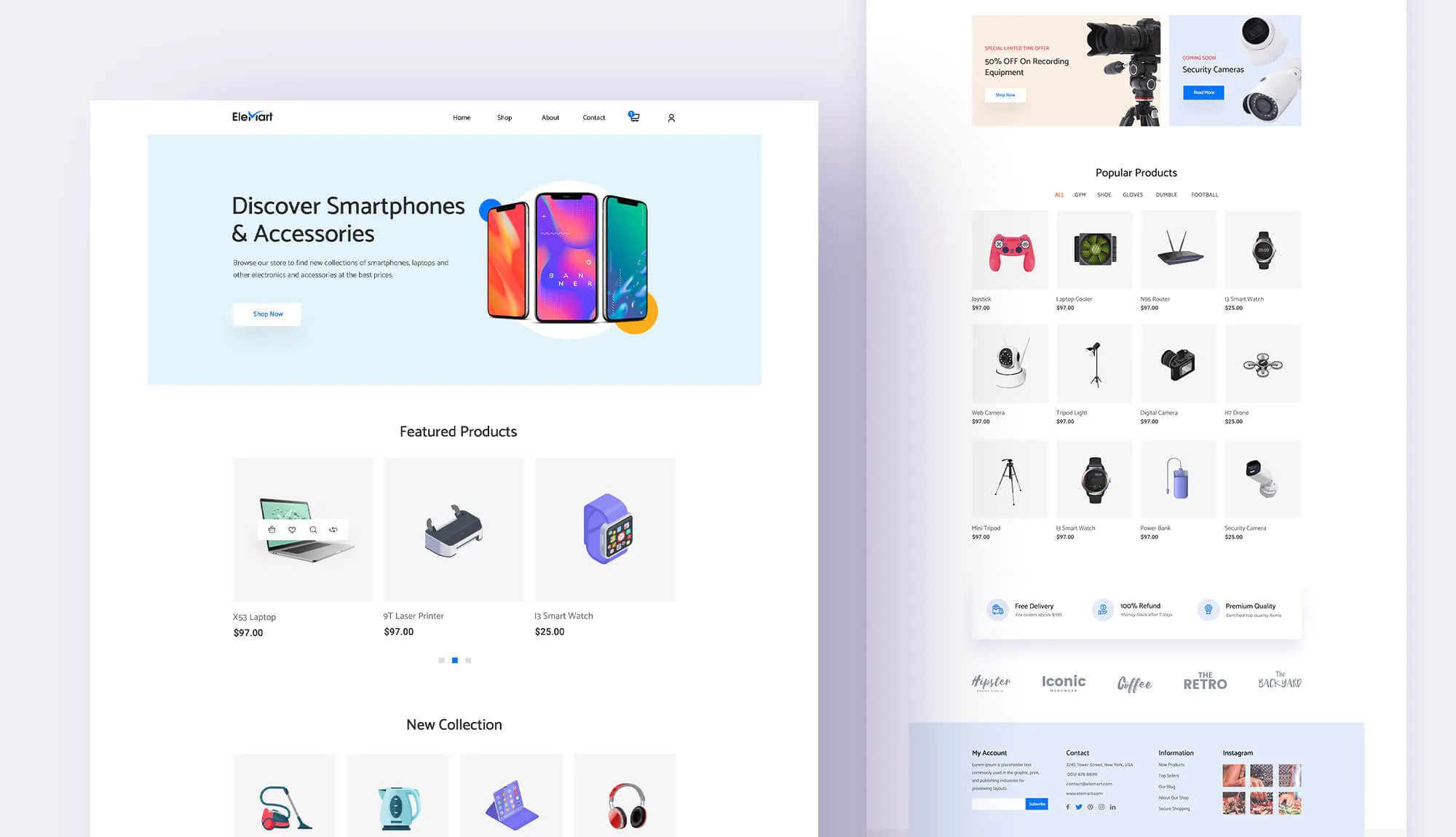 Speaking of eCommerce templates that features minimalistic designs and soothing colors, Templately has also introduced multi-purpose eCommerce templates pack for Elementor named EleMart. With an astounding 17 ready pages and 8 prebuilt blocks EleMart is an all-in-one templates pack for to help you create any part of your new WooCommerce website in Elementor.
It has been built to be versatile so that anyone like you can install and implement it on your website and create whichever type of eCommerce store you need – the decision is completely yours. And this versatility of this website template along with its top-quality responsiveness and customizability is what got it almost 2 thousand downloads on Templately.
eBox: An Exclusive Template Pack Built Especially For Electronic Websites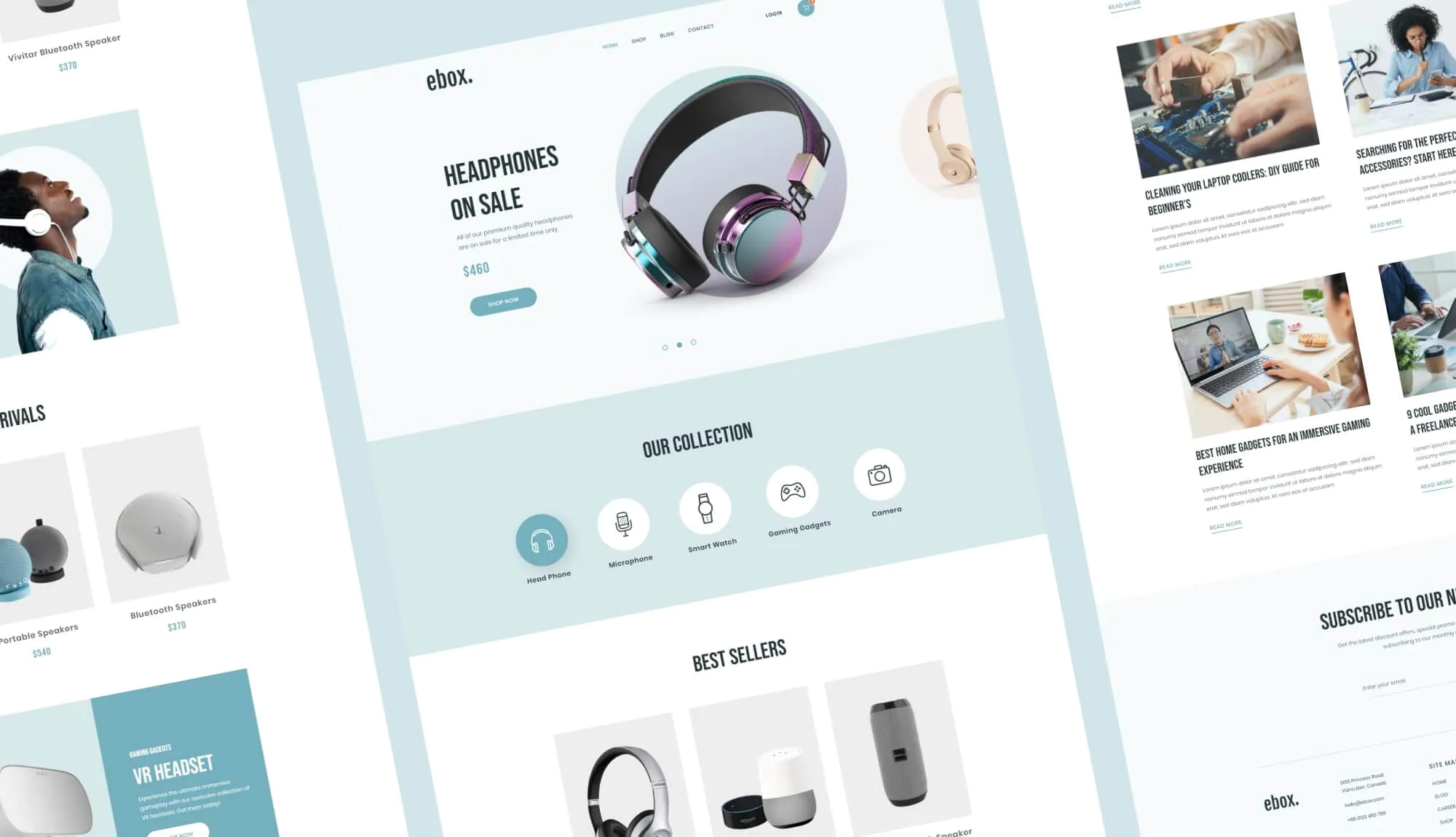 This Covid-19 pandemic era has seen many marketplaces thrive and grow online – and one such eCommerce niche is the online electronic business. And so, keeping this in mind, Templately has developed a unique Elementor PRO template that has been built specifically to create your own electronics and gadgets store online with – eBox. It not only features a seamless compatibility with Elementor, but can also be integrated with Essential Addons and WooCommerce within just a few clicks.
The gorgeous, premium Ebox Elementor template pack brings you eight ready pages and blocks to make your eCommerce website as per your preferences. You just have to insert any of the templates you want, add your own content to it, and make it stand out just with a few clicks.  Starting from an interactive and appealing Home Page template to attract your customers, separate, fully functional Products Page to display all your electronic store products, and many more, you will find absolutely everything you need to not only create a website online, but also be the most promising one in the market or industry.
Unique Templates Built To Design Creative Websites
But that's not all. The 2000+ ready templates from Templately includes designs keeping every type of industry and eCommerce niches in mind. You can design creative, versatile, and definitely attention-grabbing websites with these templates in no time. Below, we have highlighted few of the most popular ones for you:
EleCreative: A Colorful Template Pack For Stunning Creative Agency Websites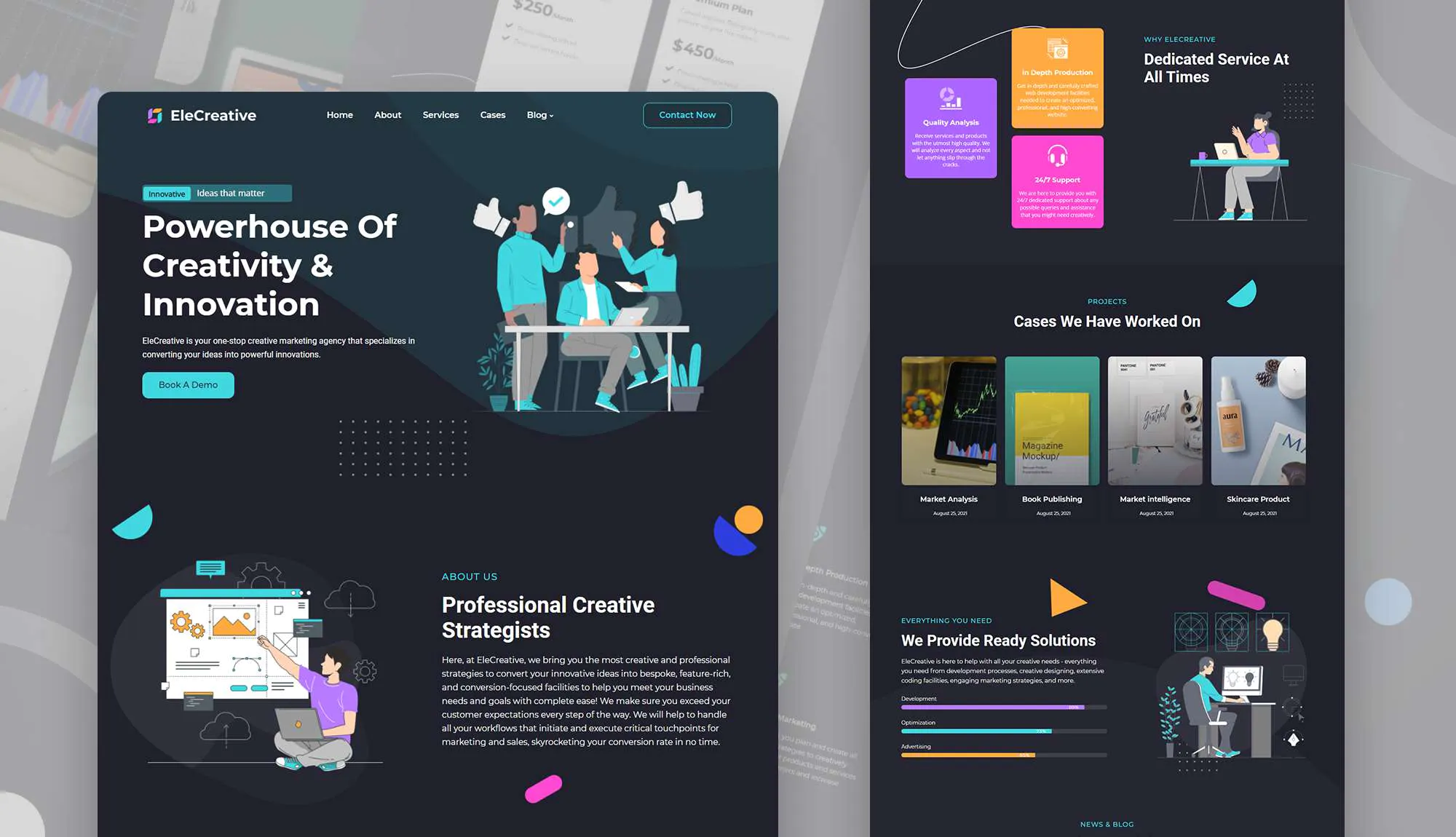 When it comes to displaying creativity, Templately brings you exceptionally beautiful template packs that will instantly catch anyone's eyes. And so, we want to start off this list of versatile packs with one that is popular for its bold, vibrant, and striking colors just as much as it is known for its unique dynamic designs. And it is EleCreative, a brilliant, Elementor PRO template pack designed and developed especially for creative agencies,  creative design studios or agencies, digital marketing agencies, and anyone who provides similar services.
And EleCreative and all 7 of its landing pages are also fully customizable with the help of your favorite website builder as well as Essential Addons and so, you can use this template pack for versatile firms as required with no worries about complicated coding. The site will be completely responsive on any type of device your users might view from, and will load instantly ensuring the best user experience for all.
Delibox: Powerful Delivery Service Template That Will Ensure Smooth User Experience

'Delibox' complete courier/delivery is an Elementor PRO template pack by Templately designed to make your online delivery service website standout without coding. No matter how many users view websites built using Delibox, it will ensure that the website loads smoothly and causes no delays in service. It is fully customizable and you don't need any coding skills to make this template your very own and highlight your brand.
The template comes with 7 beautifully designed premade pages for the about page, FAQ page, service page, blog page, blog details page, and contact page. It also has eye-catching Call To Action buttons, an advanced accordion for frequently asked questions, a built-in contact form, and much more. And using all these features, you can also make websites for delivery companies, courier companies, transportation or logistics companies, etc.
TechPort: A Digital Startup Website Template To Kickstart Your Business
You'll be delighted to know that Templately has a ton of ready-made Elementor templates for startup businesses if you're preparing to launch your own digital startup firm and kickstart your business today. And one of the best suited templates for this very purpose is TechPort, the perfect template pack for any type of digital startup websites.
This attractive ready Elementor template pack comes with 5 ready pages and a clean, minimalistic, modern design. It is perfect for anyone who wants to create a website for any digital agency, IT agency, tech startup or similar businesses.
EleCourse: A Website Template To Create eLearning Websites With Ease
And finally, For those who want to create an eLearning website or an online education website like Coursera or Udemy, Templately brings you EleCourse, a stunning ready Elementor template pack with which you can offer online courses to site visitors. It comes with 5 ready pages and is perfectly compatible with WordPress LMS plugins like LearnDash.
Modernize Web Building With Exclusive Cloud Storage & Collaboration
And with that we conclude our list of the top 10 best Elementor PRO templates that you wouldn't want to miss out on. But as promised, we will not elaborate more on the two most unique features of Templately that makes it the ultimate templates cloud for web building. Website design and creation isn't an easy task; and even though Templately brings you completely ready website templates to use with just a few clicks, oftentimes web designing requires several people to get work together, and that's why cloud collaboration is more important than ever.
Using Templately's MyCloud storage, you can effortlessly backup your designs and access them whenever you need to from anywhere via your account. Additionally, you can establish a successful a Templately WorkSpace and invite your entire website designing team members to it so they can collaborate on designs and work together remotely.
Save & Add Your Customized Template Designs To Templately's MyCloud Storage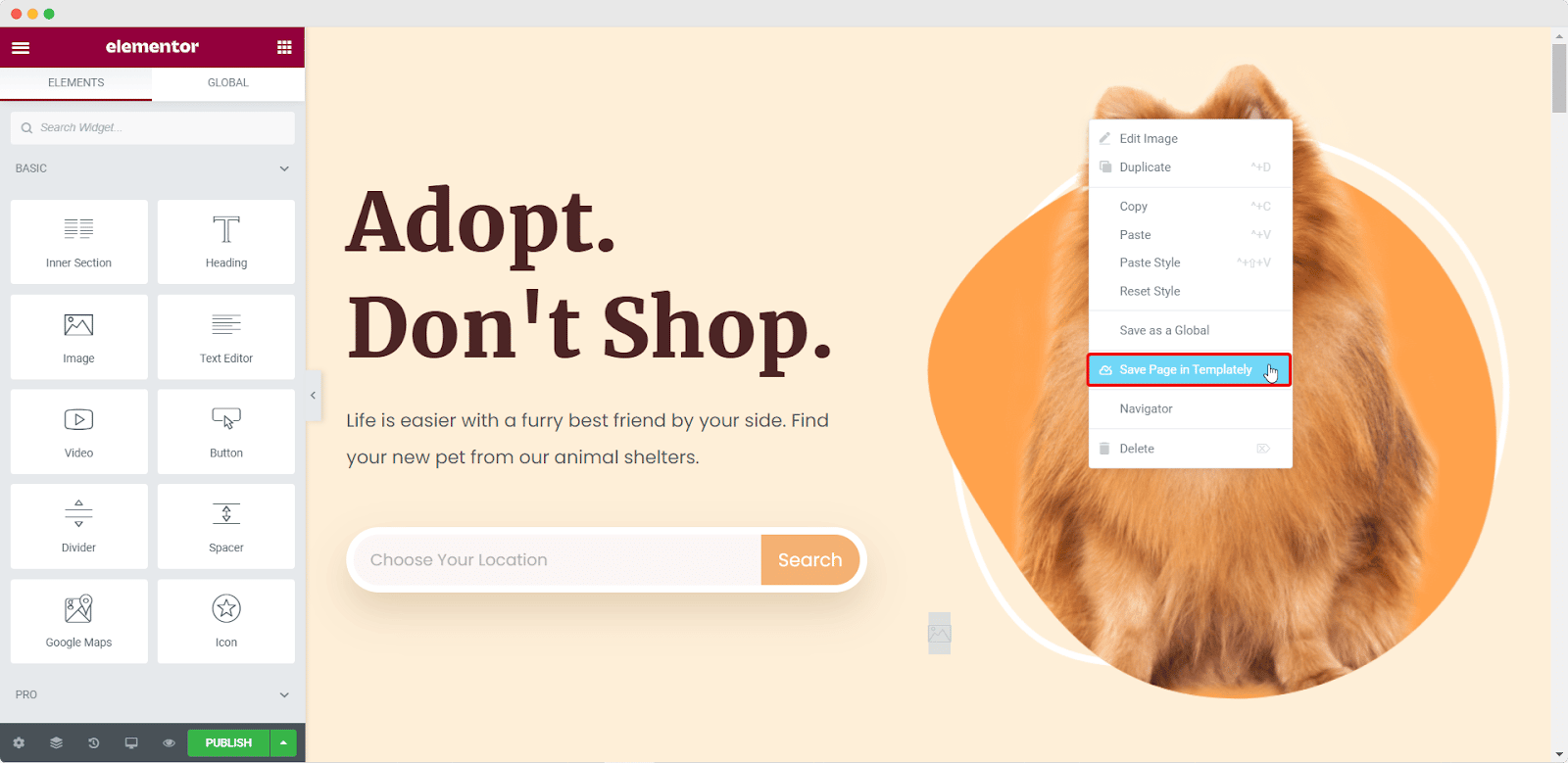 Once you have customized your preferred template just the way you want, you can save your design to cloud storage using just a single step. All you have to do is just click anywhere on your web page and select the 'Save Page to Templately' option. And the best part is you can save unlimited number of items in your MyCloud storage space with Templately PRO. This means you can create backups of all of your page designs without any worries and re-use your designs anytime.
Collaborate & Share Your Designs With Your Team Using Templately Workspace
Afterward you can easily share your designs with your team by creating a Templately WorkSpace. Just log in to your Templately account and click on 'My WorkSpace'. From there, you can click on the 'Add New WorkSpace' option. And with Templately PRO, you can take up your team work a notch higher and create unlimited number of WorkSpaces for all your teams and projects likewise.
Create Beautiful Websites On WordPress With One Of The Largest Ready Templates Library
Try any of these most popular top 10 Elementor PRO templates listed above and join our beloved community of 200,000 Elementor users today. We hope this blog was helpful to you. If you have any suggestions on what new templates you would like to see from Templately, feel free to reach out to us, and make sure to subscribe to our blog or join our friendly community for the latest update