With the end of spooky October, we steppe into the month of the biggest sales of the year – November. It's a time when store owners, marketers, and bloggers are busy getting their websites fully prepared to make massive sales and big revenue. And to help make your website building effortless, we are back with yet another list of 10+ ready and stunning Best Elementor templates from Templately.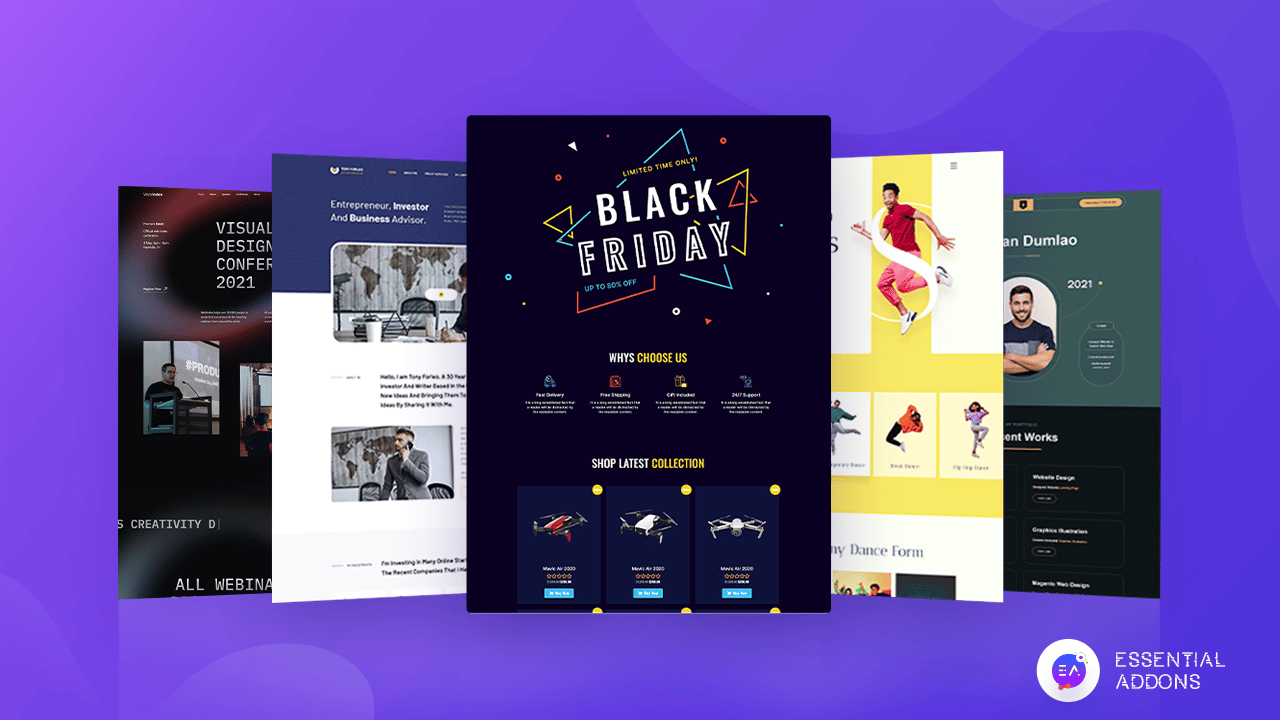 This time, we are here to inform you of all the latest Elementor template packs that were released this October. Not only that, we will also be sharing our massive collection of exclusive website templates created just for the upcoming Black Friday & Cyber Monday to ensure you have a powerful website prepared for the biggest sale season of the year.
But before we dive into our list of the best Elementor templates released last month, check out this blog on scary good Halloween template packs from Templately, if you have not already. 
Best Elementor Templates To Create Stunning Sites
This past month, the biggest Elementor templates library, Templately, brought to you 10 completely new template packs to help you instantly build websites with high conversion rates that will take your business to the heights of success. 
Engaging Website Templates For Personal Portfolios
Let's start off with the must-have personal website templates. This October, Templately has introduced 3 exceptionally stunning Elementor templates to help you build powerful portfolios where you can effortlessly showcase all your skills and experiences and kickstart your own businesses or careers, and that too without any coding. 
Tony Forleo: A Powerful Portfolio Site For Rising Entrepreneurs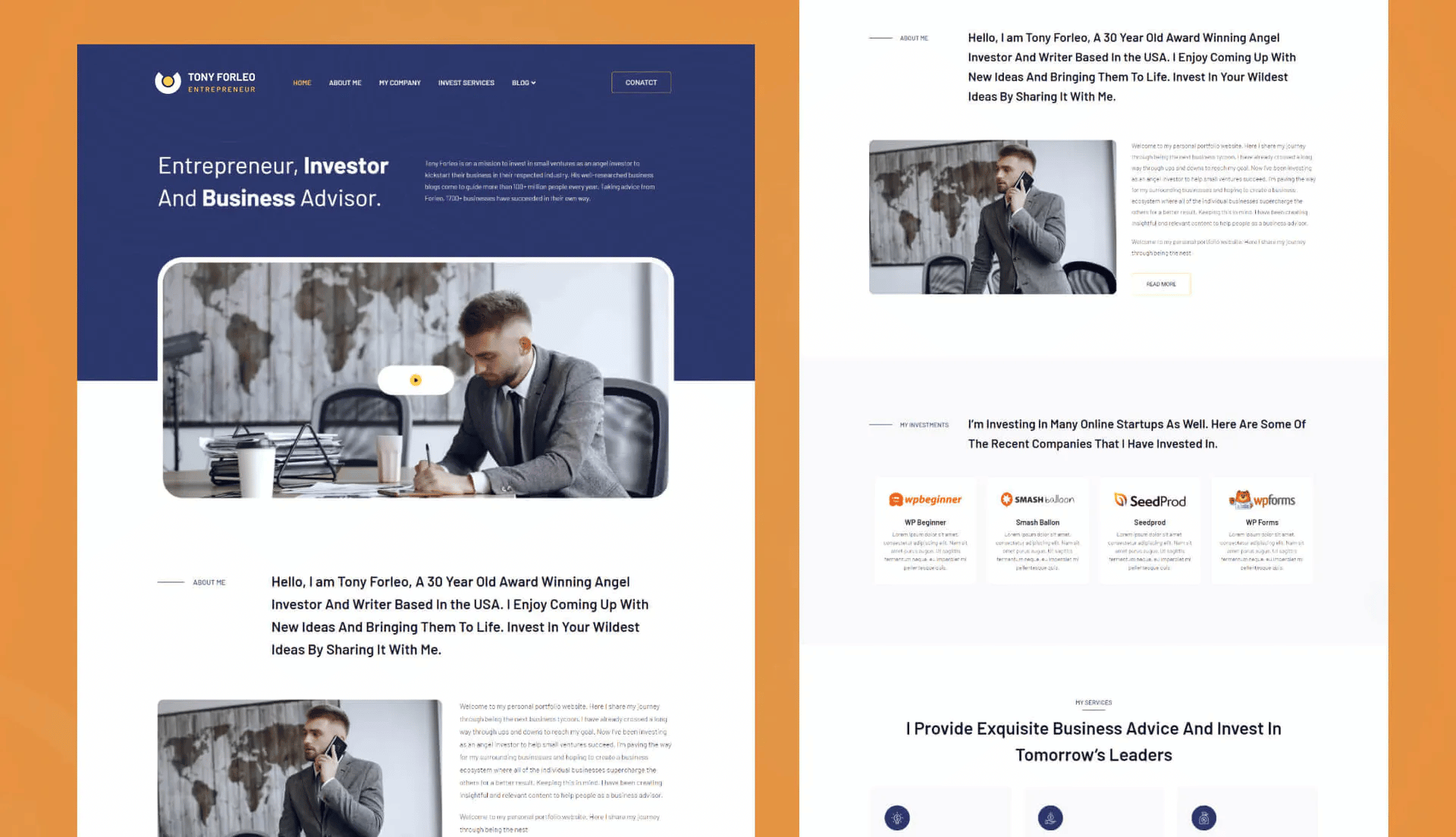 First up, we have Tony Forleo, a highly professional-looking personal website for rising entrepreneurs who want to make heads turn and catch clients' eyes with ease. With already more than 2K downloads this Elementor template pack is the most popular of the month. 
Designed and developed for business owners, entrepreneurs, and freelancers, you can use this starter Elementor template pack to create any section of your WordPress website with just a few clicks and no codes. 
You'll be able to instantly grab attention from website visitors with a stunning new Home Page template with dynamic designs. And then you can easily keep them engaged and interested with 6 more fully responsive and functional landing pages where you can detail out your business objectives, services, latest news, and more.
SleekResume
:
A Unique Website Template To Display Your Resume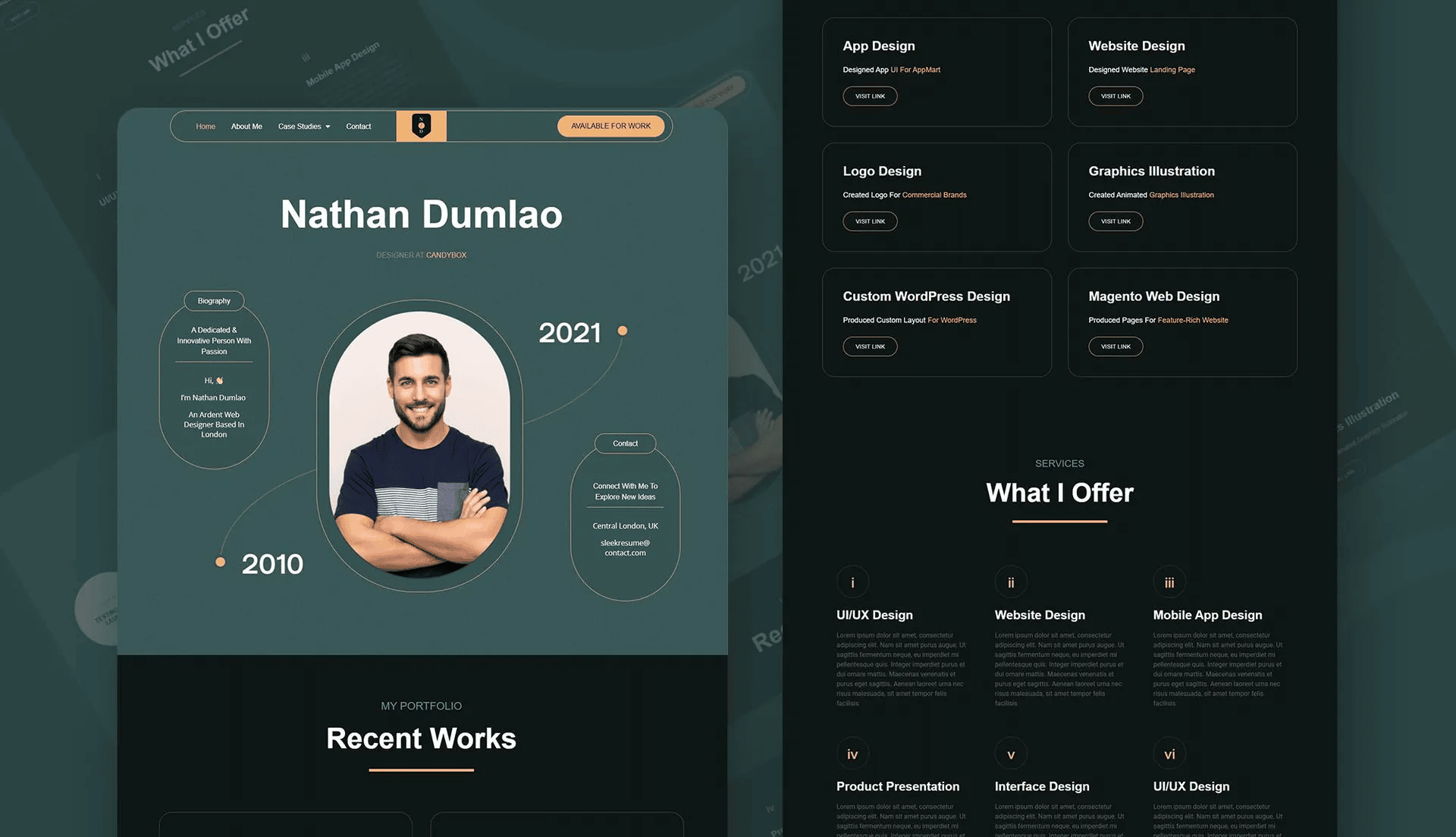 Next up, we have the highly-rated SleekResume – another Elementor template for personal websites. In striking contrast to the previous template pack, this premium pack comes with more bold colors and designs to help you set the tone. 
It's a perfect template pack, with 5 ready and customizable landing pages, to help anyone kickstart their careers and attract recruiters with ease by creating strong resumes, portfolios, and CVs. 
Wattson Sparks: A Personal Website Template Just For Electricians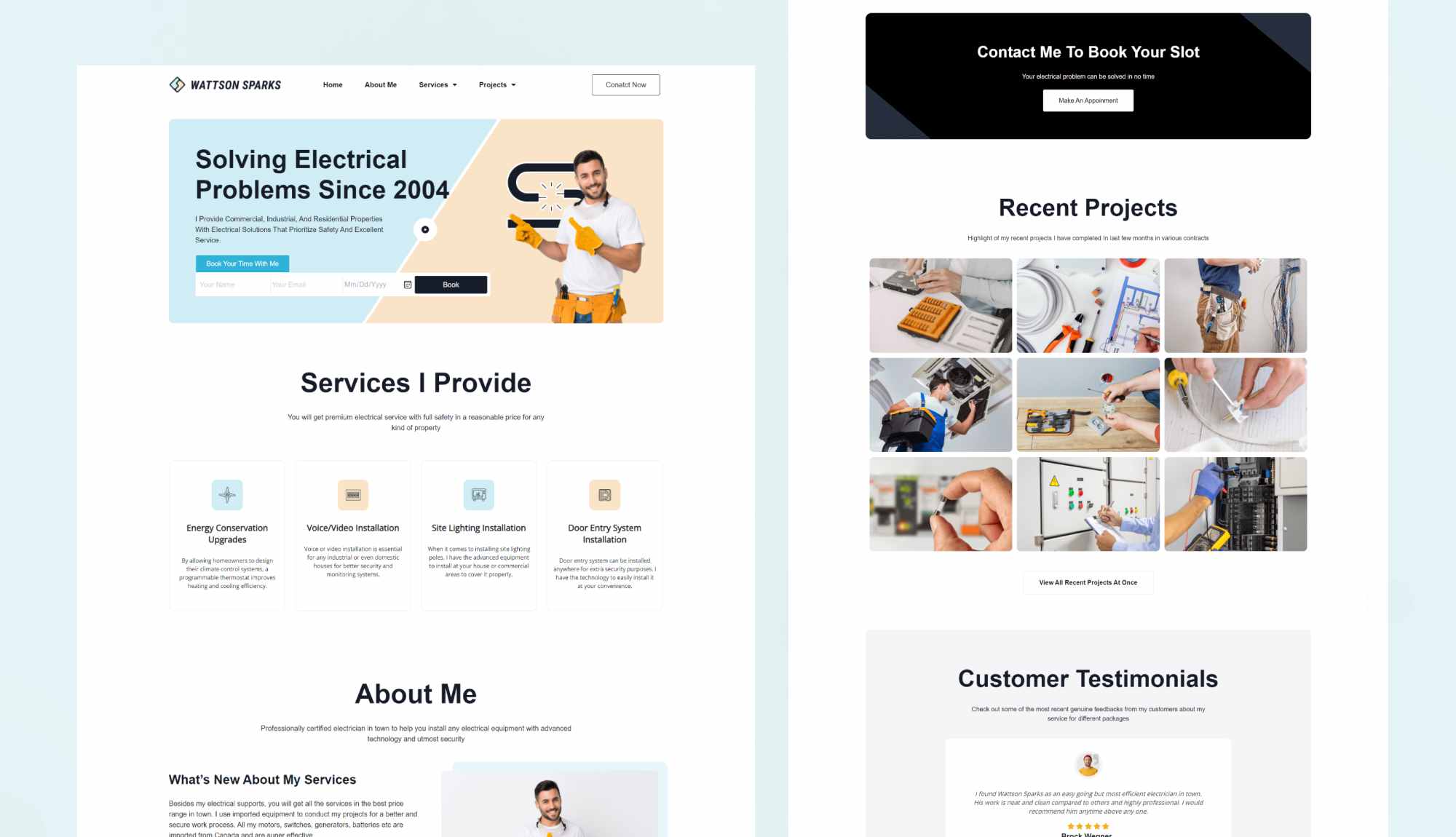 And finally, on our list of personal website templates, we have Wattson Sparks – a completely free portfolio Elementor template created just for Electricians and any mechanics who can provide electrical solutions. 
With a soothing color palette and simple designs, this template pack is built to help you highlight your talent, showcase projects you have worked on, and offer your expertise and services.
Responsive Templates For Successful Business Sites
Now let's step into the best Elementor template by Templately released in October to help you create modern and stylish websites and take your stores and companies to the next level. Regardless of what your business type may be, we have you covered with 3 different and equally beautiful template packs that you can use separately or mix and match sections from to build a successful business website.
Shake A Leg: A Dynamic Template Pack For Your Dance Studio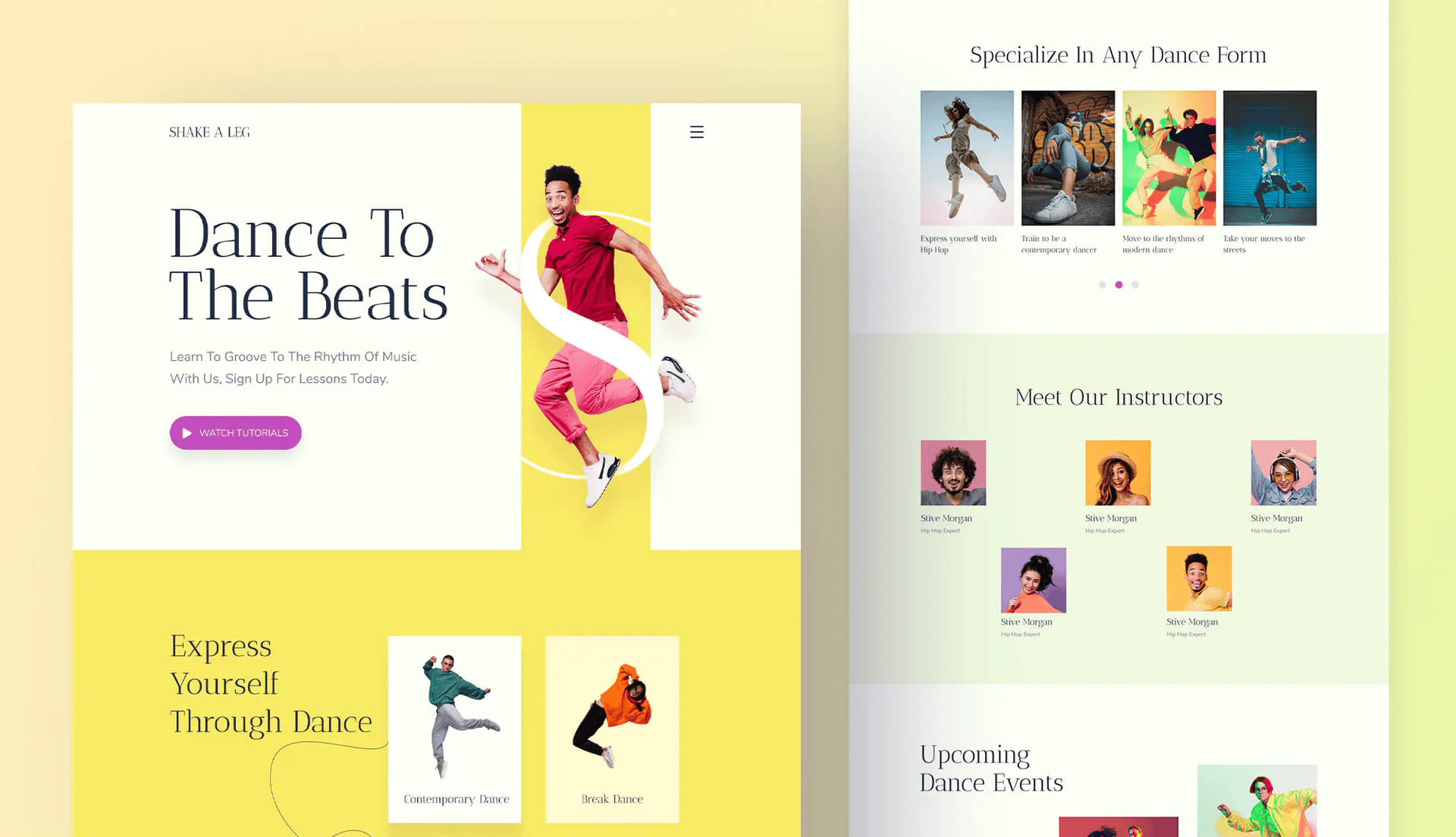 Let's start this section with a fun and color Elementor template from Templately with dynamic designs, perfect to get your dance studio website started – Shake A Leg. It's a single landing page template with bright colors, interactive call-to-action buttons, and engaging testimonial sections to build credibility – everything you need to get your dance studio or blog going among dancers and learners. 
EleCeramics: Elegant Elementor Templates For Online Ceramic Stores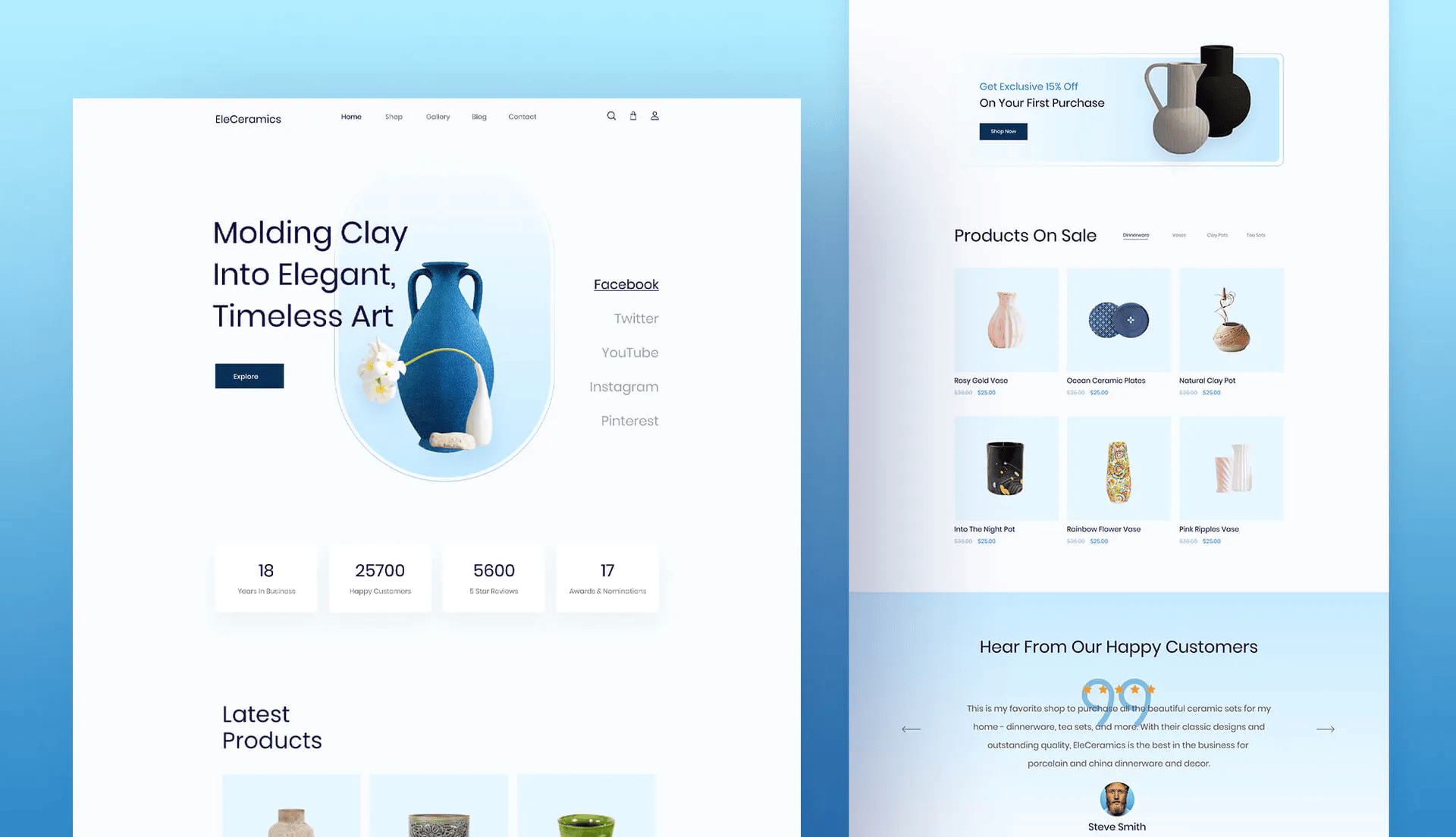 Taking a completely different route, we have EleCeramics – an elegant and aesthetic template pack created for Ceramic store sites, online pottery shops, and home decor websites.
With a total of 7 landing pages and 2 blocks, this Elementor template includes two dedicated Shop and Gallery Pages just to grab your customer's attention and display timeless pieces of clay, China or Ceramic art, pottery, and decors with ease. You get, and exclusive testimonial sections to add social proof and credibility to your website with ease. 
Herbs N Spice: Perfect Template To Create A Best Selling Spice Shop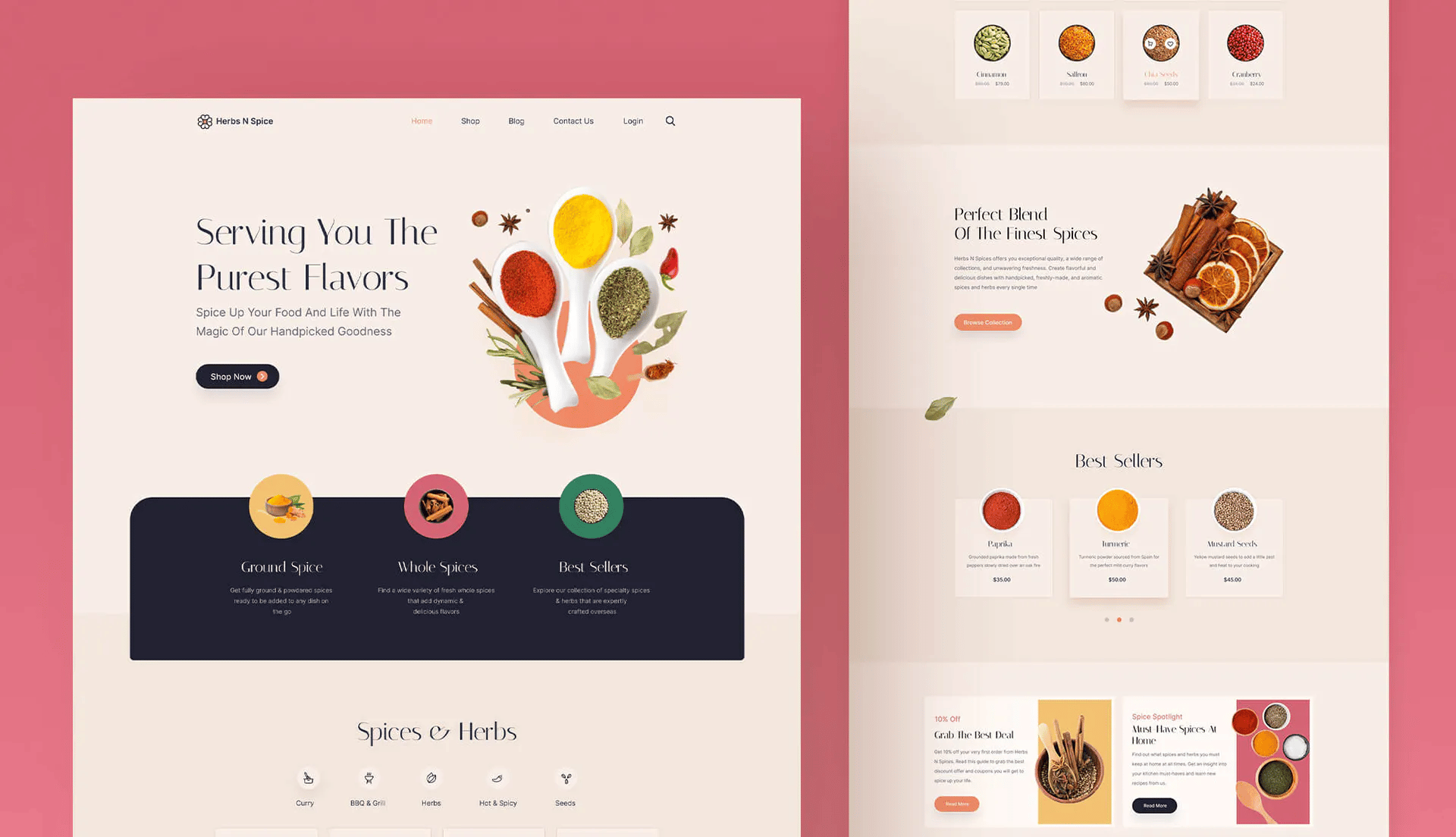 And next, we have an Elementor template pack that can help you set up the best-selling grocery store website dedicated to selling spices and organic ingredients. The template's named Herbs N Spice, and with its soothing colors, it is perfectly suitable to create an online spice shop that puts the focus on your products. 
Create Websites With Diverse Elementor Templates
And like always, Templately understands the need to provide creative Elementor templates to help you create diverse websites of any type to help you on all your new ventures. And so this October, we have added the following: 
AppMart: A Responsive Landing Page For Your App Websites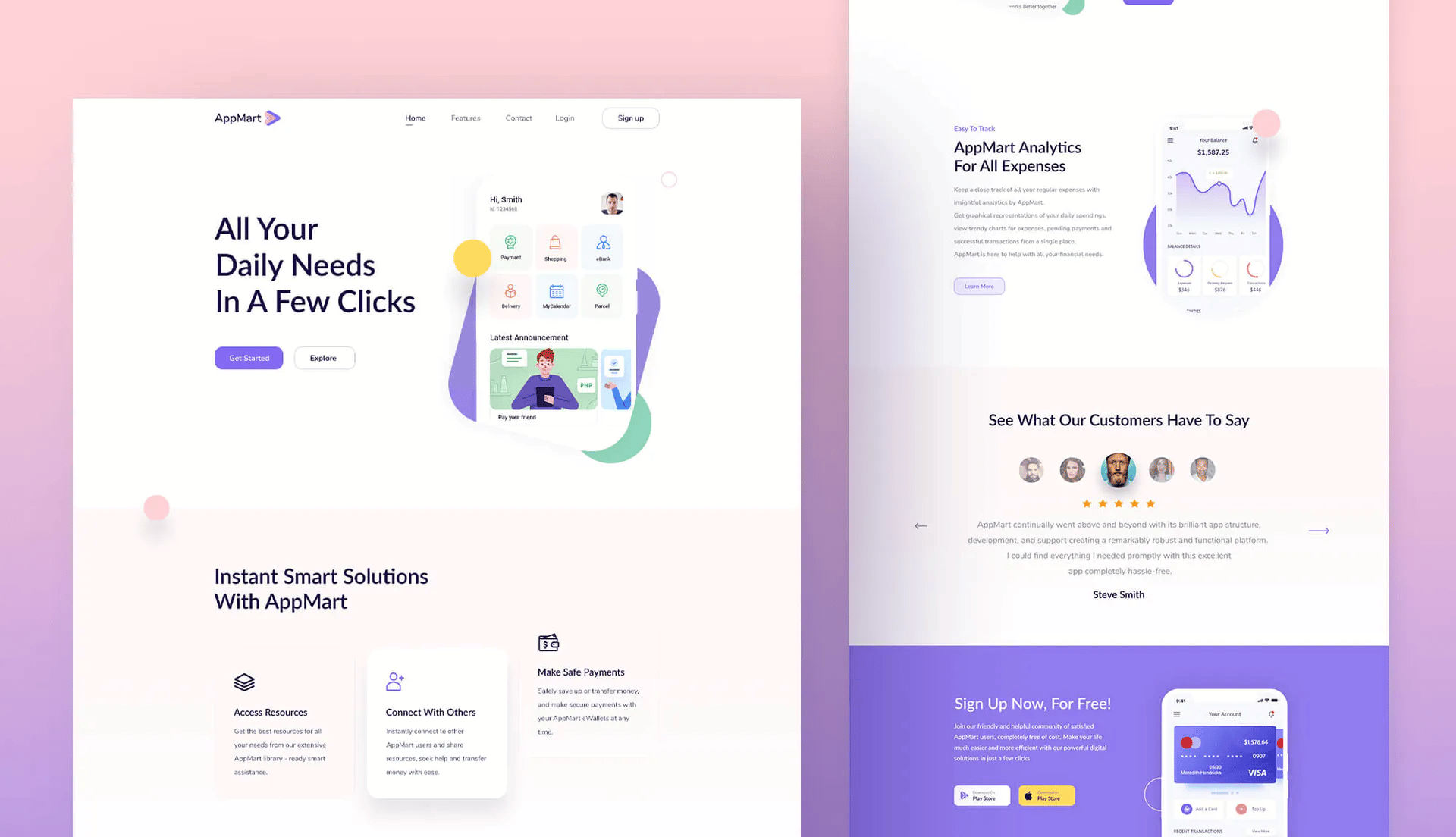 And next, we have a fully customizable and responsive Elementor template pack that is ready to help you create a stunning app landing page. If your software company has developed an application that you want to build a website for, AppMart is the one for you. 
Featuring a very soothing color palette, this aesthetically pleasing app landing page template pack comes with 5 fully customizable, attractive templates which you can implement on your website. And the best part is that, while your application is full of high-performing codes, Templately templates require no extra coding at all. 
GameInfo: A News Portal Elementor Site For Sports & Gaming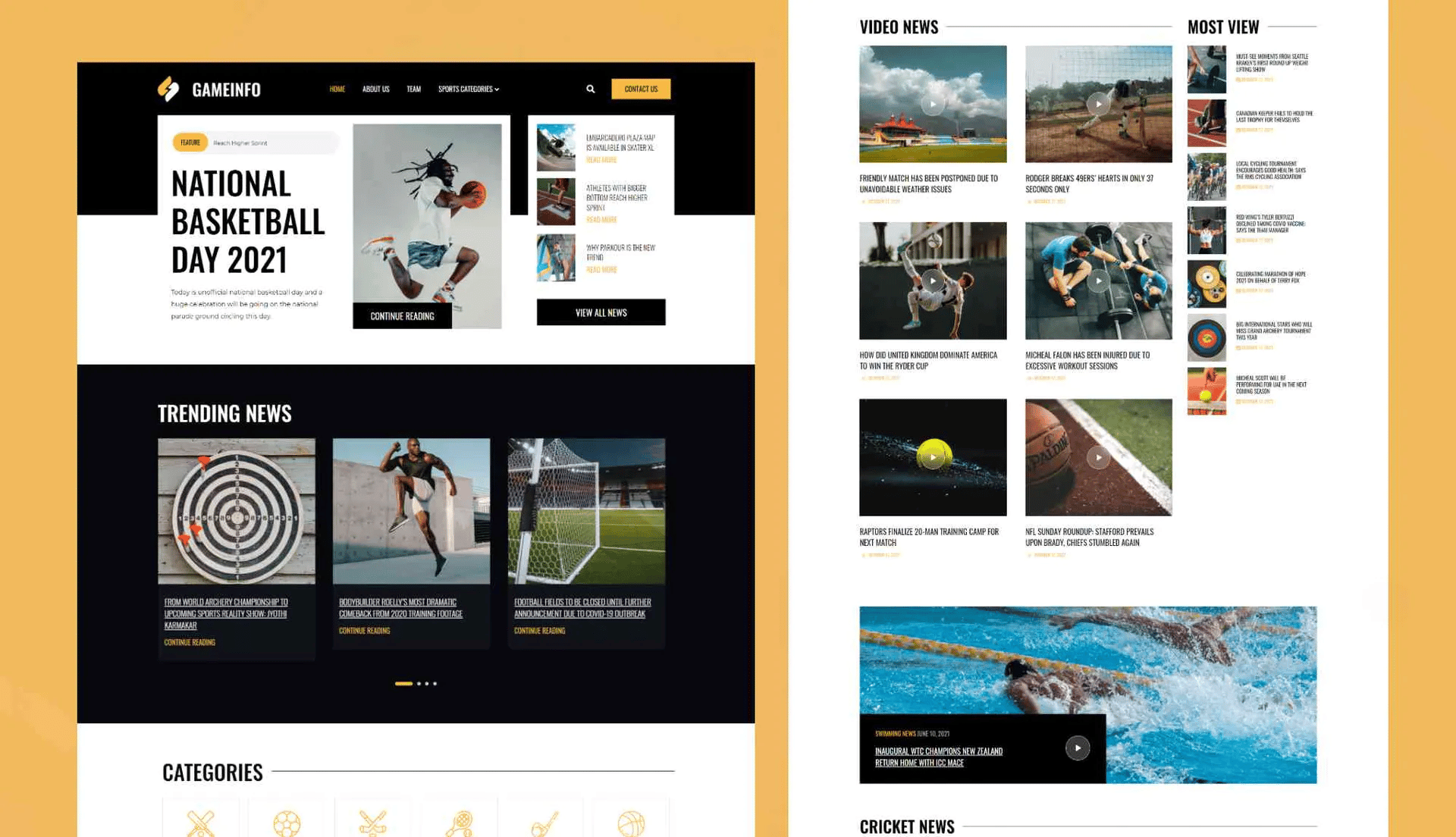 Sports fans out there know that the Cricket T20 World Cup competition is going on this time of the year, with viewers and supporters trying to keep up with the latest news from around the world. So now would be the perfect time to create a buzzing sports news portal online that gives buzzing new updates. 
And to help you do exactly that, Templately brings you its informative and attractive template pack, GameInfo. It comes along with 6 landing pages that are best suited to highlight sports news, gaming information, sports coverage, and video lights. 
WebIndex: A Webinar Template Pack To Grab High Reach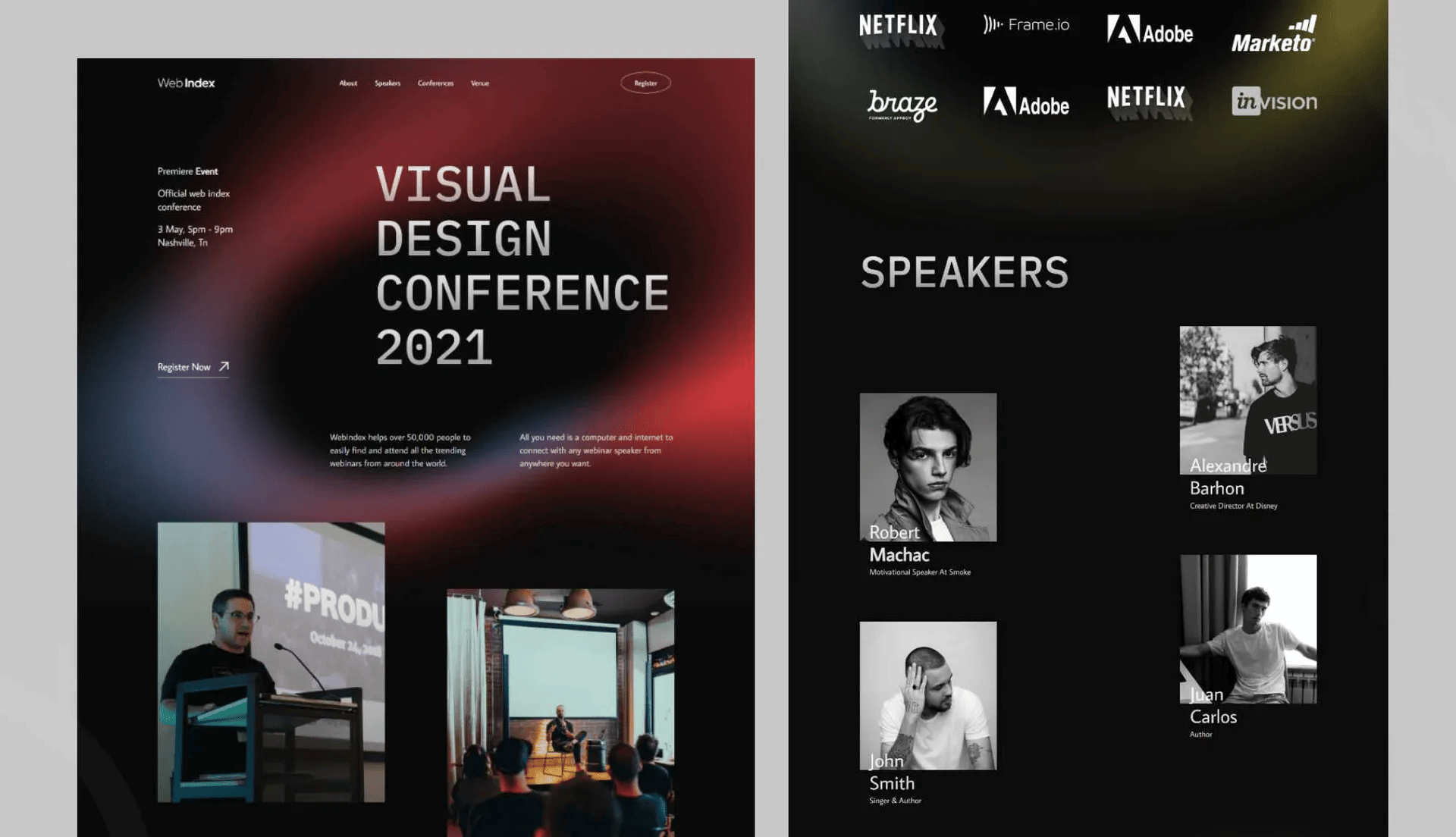 And to end the list of best Elementor templates released this October, we have WebIndex – a stunning pack with striking colors, dynamic designs, responsive call-to-action buttons, and much more. 
If you're planning to host an online seminar (or webinar as most say these days), or event, this template will be most suitable for you as you will be able to list event timelines with dates and months, add your team members, speakers, and more. 
And with that, we conclude the list of the 10 best Elementor templates brought to you from Templately this October. But we cannot leave without showing you all the stunning templates we have specially built to help you create a Black Friday Sales website that will not fail. To learn more, keep on reading. 
Bonus: 8+ Highly-Rated Black Friday & Cyber Monday Elementor Templates 

To generate more revenue and earn the maximum profit, this holiday sale season you need an interactive and high converting website landing page. But not to worry because Templately brings you several ready Elementor Black Friday & Cyber Monday templates to help you skyrocket sales this holiday season with a fully functioning website guaranteed not to break.
To list a few, some of the most popular and highly rated templates for Black Friday and Cyber Monday are: 
BFriday                
BlackNov         
FlashFriday
Black Esale         
EleCyber           
CyberSell
CrunchDeal         
Cyber Dealz     
CyberCred
Take A Look At Some Stunning Deals Templates Here
But these are just some of the best Elementor template packs from Templately to help you kickstart any type of WordPress website in just a few clicks; we are constantly trying to add more, so stay tuned!
If you try out any of the templates listed here or from our massive library in Templately, and let us know of your experience in the comments below. Don't forget to subscribe to our blog or join our Facebook community.