The Covid-19 pandemic has seen a massive surge in demand for education websites and online courses, all around the globe. With most educational institutions shutting down during the worldwide lockdown, remote learning has come to the forefront of education systems. Institutions have realized the importance of and switched to eLearning websites on WordPress for continued learning.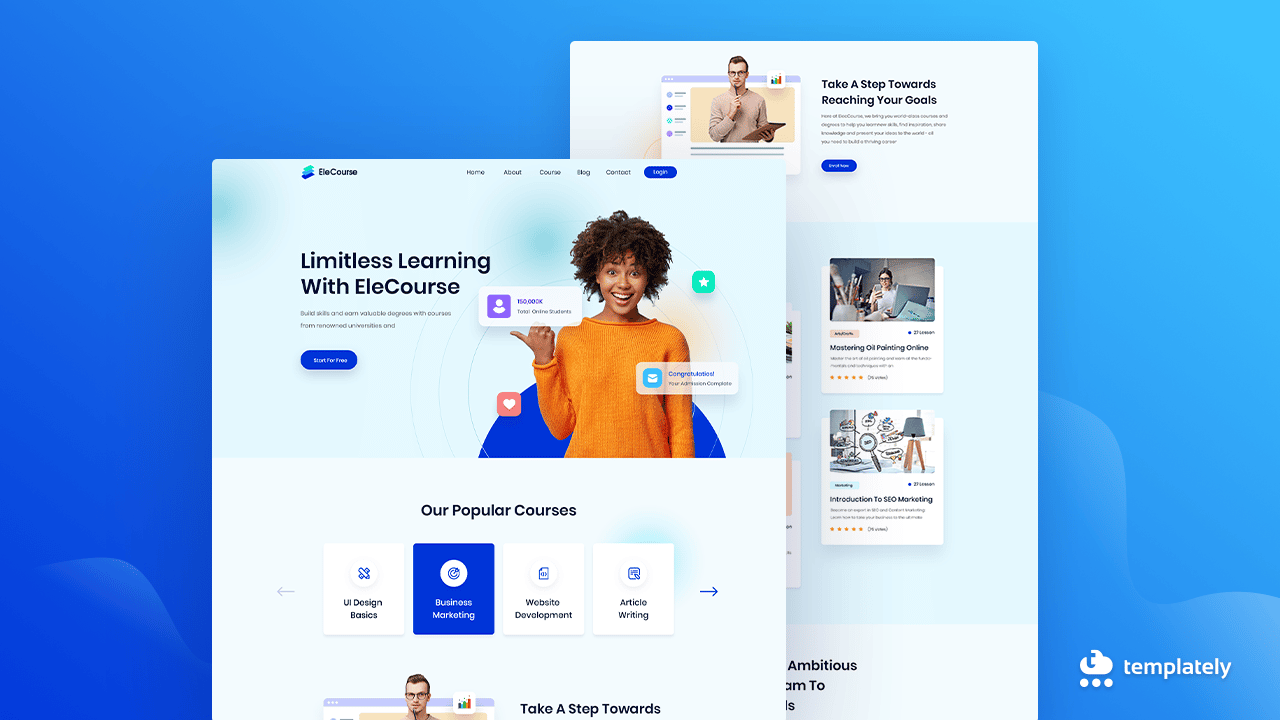 With the world embracing remote learning and online courses, building an eLearning platform has become essential for all educational institutions. In this blog, we'll walk you through the process of creating your own education website on WordPress using stunning, easy-to-use, ready Elementor template packs. 
Effect Of Covid-19 On Educational Institutions Around The Globe
The rapid spread of the coronavirus in the past 2 years has made closing down educational institutions and their campus operations unavoidable in the hopes to prevent further casualty and ensure social distancing among its students. And unfortunately, this has led to many significant, negative consequences on not only the students but the educational institutions, as well.
Educational Disruption: Students worldwide have suffered from and are still facing the consequences of disrupted education over many months. Many students had to postpone their graduations and put a pause on their degrees for a long stretch of time. Neither students nor the schools and colleges were ready for prolonged campus closures.
Mismanagement Of Grades: One of the most significant challenges faced by institutions was the mismanagement of exams. Many schools and universities tried to take guarded tests online but failed due to lack of preparation, while others decided to cancel exams altogether. 
Spike In The Number Of Dropouts: Following up on the previous two factors, thousands of students have dropped out of schools and colleges to cope with the stress and uncertainty of a coronavirus-infected world.
Unemployment among teachers: The pandemic has also led to the highest rate of unemployment among teachers. The USA saw more than 1.1million teachers lose their jobs in April 2020 alone. To cope with the unexpected shutdowns, the increased number of dropouts, and the lower enrollments, educational institutions have laid off many teachers. 
The Rise Of Remote eLearning Websites During The Pendamic
For a short time in 2020, education had come to a complete standstill when all schools and universities closed down. However, with time many online platforms and education websites have emerged on WordPress to ensure students and learners do not fall too behind while tackling the pandemic. 
Remote learning and online education websites have become essential to combat the casualties faced by schools, colleges, and students worldwide. Many schools and universities have switched their systems to offer online courses that students of all ages can access from anywhere, even during strict lockdowns. 
The rise of eLearning opportunities has brought on advances in technologies and better user experiences of educational websites. It is adaptable, extendable, interactive, and enjoyable.  
Know The Industry Before Starting An Education Website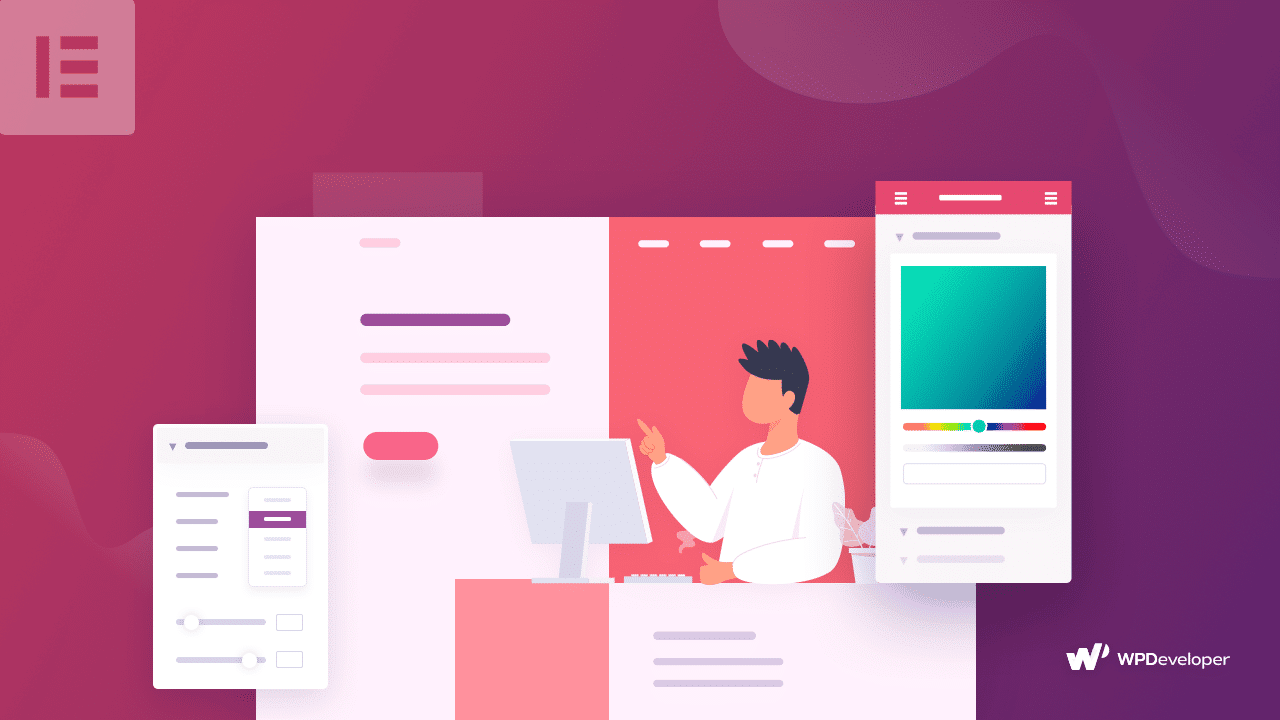 So if you want to create a seamless learning system for your students online by starting your own education website, you need to first get to know the industry. Based on the current demands and requirements, you can make a checklist of what you need to do and consider before starting your own education website. To make things easier for you, we have listed down some possible requirements and created a checklist. 
Set Your Mission And Goals 
There are several types of online schools and course websites that you will find these days. Some focus on school students while others target college students getting their undergraduate or graduate degrees while preparing for the job sector. You need to first clearly define who your target audience will be and set realistic goals. 
Analyze Your Competition
Nowadays, multiple online websites are offering free and paid courses to students under renowned colleges and universities. Some of these sites also offer lessons with highly reputable instructors from around the world. You need to consider what type of courses will be on your site if they will be given out for a price and who you can hire to teach the lessons.
Pick A Unique Name For Your Site
You need to pick a unique, catchy name for your site that audiences will remember. If you already have a physical, educational institution and want to take your teaching online, you can use that too. Just make sure the name is available in the market and on WordPress.
Get Required Licenses & Legal Entity
The school model you will choose will define the type of legal and tax requirements your site will need. Therefore, once your set out your plan and goals, form a legal entity and get any required licenses. 
Build A Successful Educational Website On WordPress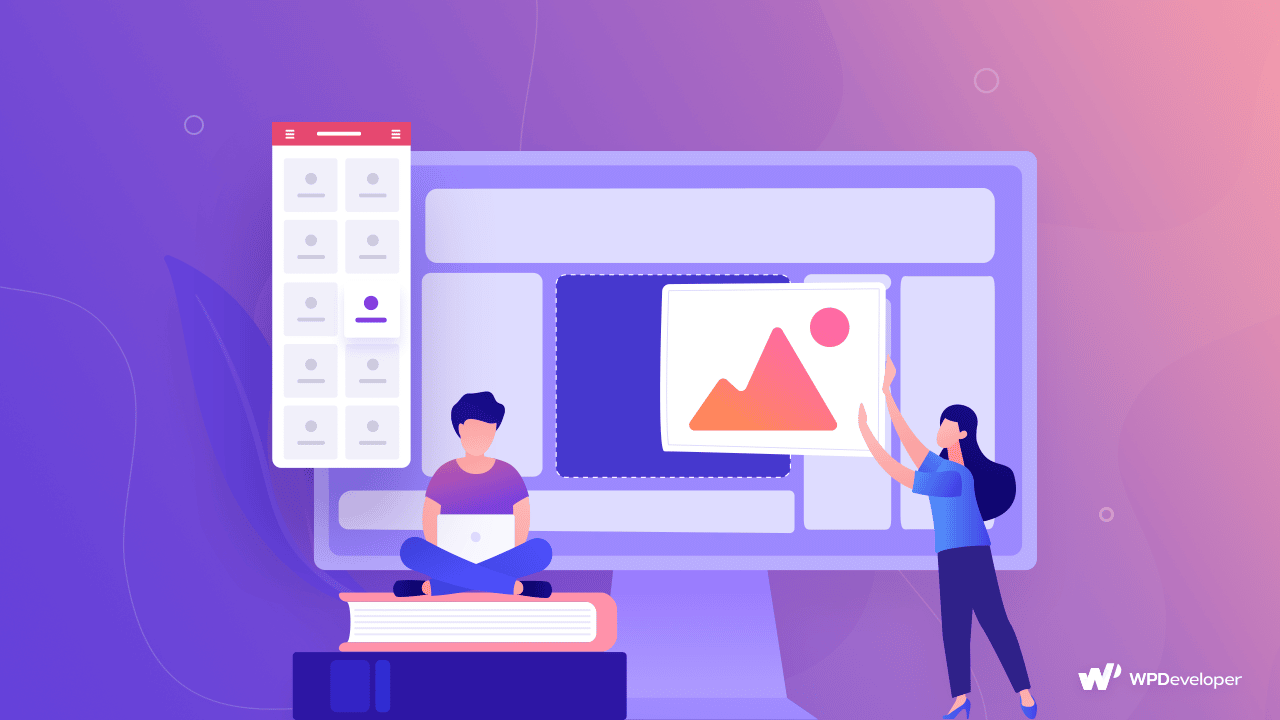 You can now create responsive, interactive, and eye-catchingly attractive educational websites on WordPress within a few quick, simple steps. You do not need to hire professional website builders or learn complicated codes yourself, nor do you have to worry about starting from scratch. 
However, there are a few other things you need to start your own online eLearning website before you can worry about the designs. Read more to find out. 
Register A Domain Name And Hosting Plan For Your Site
The very first step is to choose a domain name for your educational website. This stands for the brand name of your site and represents your online institution. Users will use this to look for your platform on the web. Since this is an education-based site, finding a domain name will not be too difficult, and you can also use the existing name of your institution if you have one.
Once you have finalized the domain name, you need to register a hosting plan. Web hosting services allow your website and its contents to be uploaded to and displayed on the internet. We recommend using a managed hosting server to make the process easier. Here is a list of the best-managed hosting servers for WordPress available in the market. 
Create A Website With Elementor Templates From Templately
Now that you have already thought of a domain name and registered under a managed hosting server, you are ready to build and design your WordPress website.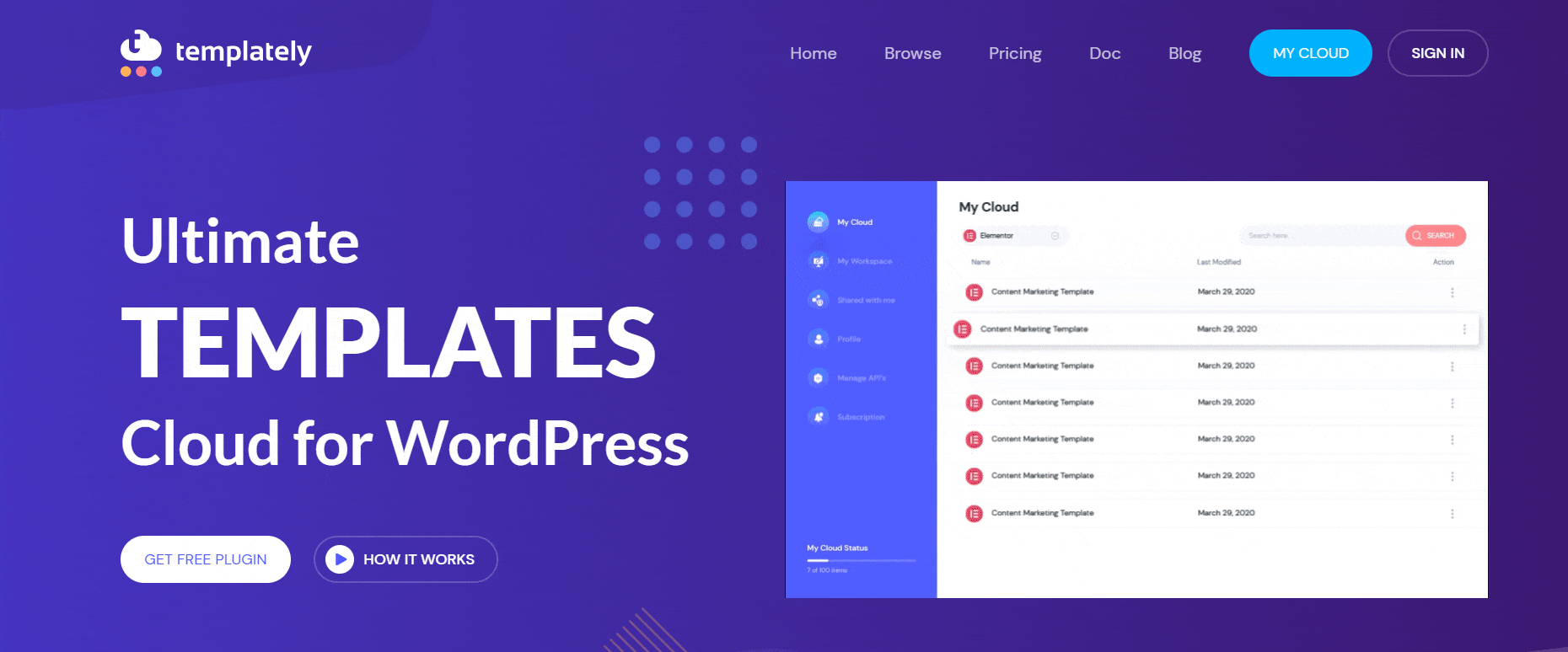 The largest Elementor templates library, Templately, brings you several stunning, ready, and unique template packs made specifically for online courses and education websites with Elementor. You will be able to showcase your courses, categories, blogs, and much more through ready page templates and premade blocks. All you need to do is tweak around the outlook and customize the contents with a few clicks. 
As of now, you will find three template packs dedicated to education websites and platforms on Templately: 
 EleCourse – Online Course Website Template
 EduBee – Education Website Template
 Wonderland – Kindergarten School Template
These beautifully designed template packs are developed specifically for online learning institutions and websites. They are fully responsive, fast loading and completely customizable template packs also bring your website multiple functionalities with built-in widgets.   
But before we get into the step-by-step process of building a website using Templately ready packs, let's finish the process of creating an online educational website.
Set Up A Learning Management System (LMS) Plugin
Next, you need to add Learning Management System (LMS) plugins to your website. There are multiple course building plugins in the market specially developed for building an LMS system on WordPress. LearnDash and TutorLMS are LMS tools that you can use to create your site. 

These plugins can enable users to set up their lessons, courses, quizzes, and exams from the same course builder page to create a fully functioning eLearning website. Some plugins also come with extra features and integrations that can allow course registrations and payment systems. LearnDash is one such LMS tool that you can use to create your site.
And with that, your remote learning website is complete and ready to continue providing education and training to students even during a global pandemic! 
Best WordPress Ready Template Packs For Education Websites
Templately comes with many template packs to help you create the perfect Educational website on WordPress using Elementor without any coding. 
EleCourse: Stunning Online Education Website Template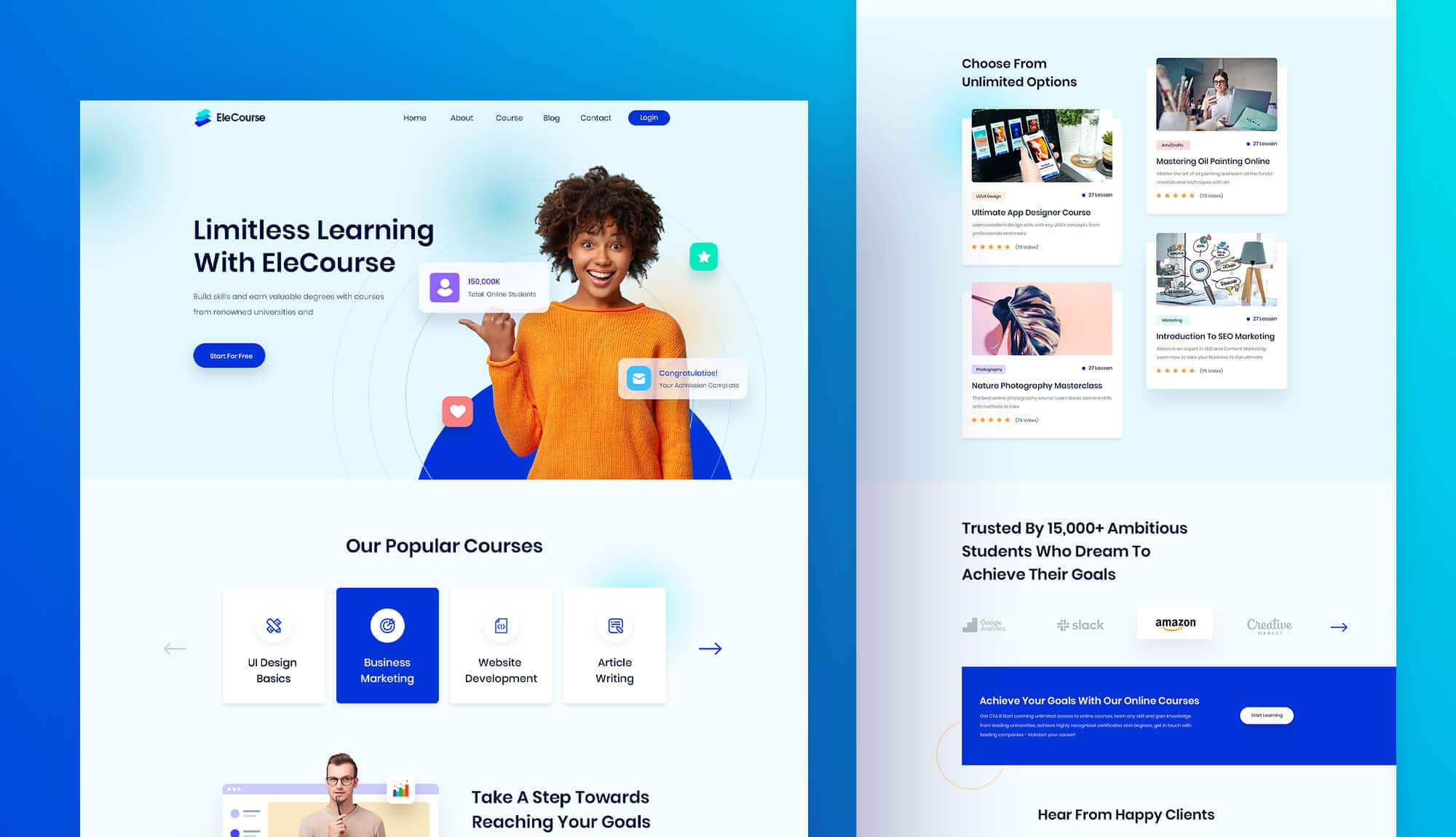 First up, we have EleCourse – a fully responsive and colorful template pack by Templately offered for educational websites. It is a stunning eLearning course template pack with 5 landing pages including a home page, course page, and contact page.
To take things a step further, it also has a page template solely dedicated to blogs, so if you want to engage your audience by sharing interactive blogs, this is the template pack for you. You can use single pages or the whole pack, and your website will function smoothly in both cases giving you neat, eye-catching eLearning websites. 
EduBee: An Eye-Catching Education Template Pack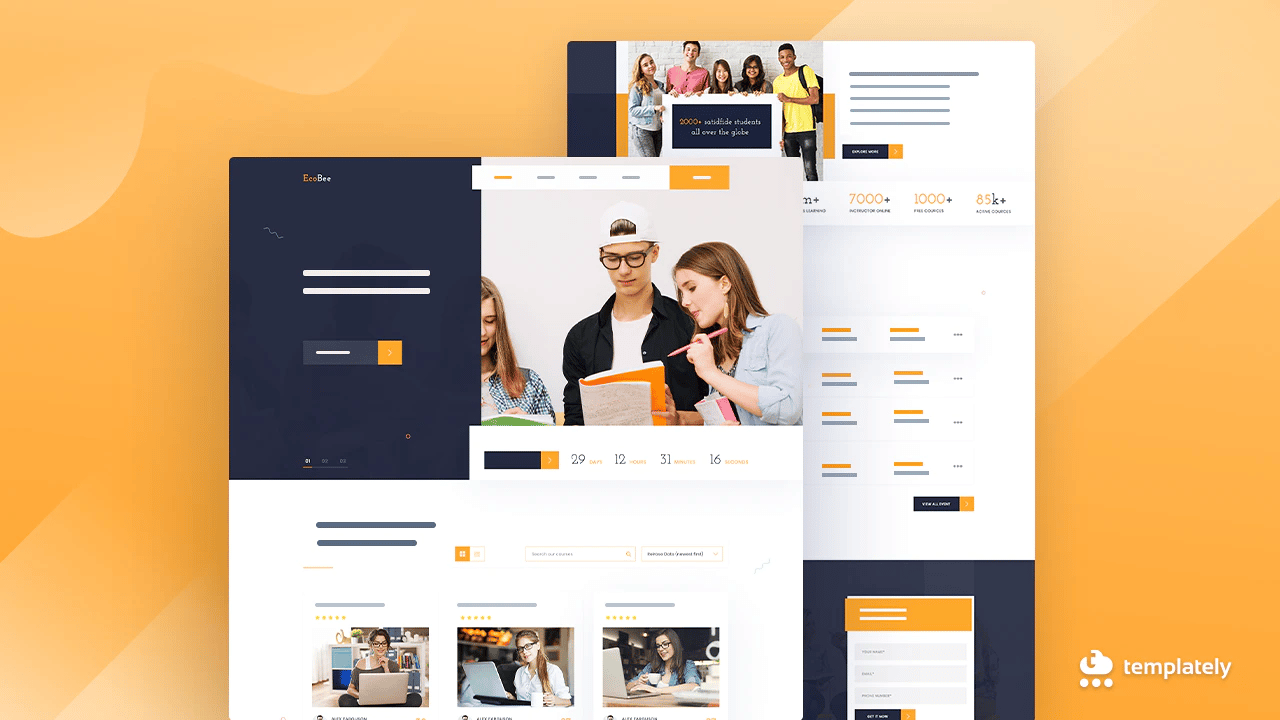 EduBee is an online course learning template pack offered by Templately. It comes with seven stunning, ready-to-use pages and five pre-made blocks, including the home page and course page. It also provides you a web page solely to create and plan upcoming online events.  
The template pack is neat, attractive and allows you to add detailed information effortlessly. It already has content implemented on it. You just have to modify the content to make it your own. 
WonderLand: A Playful Template Pack For Kindergartens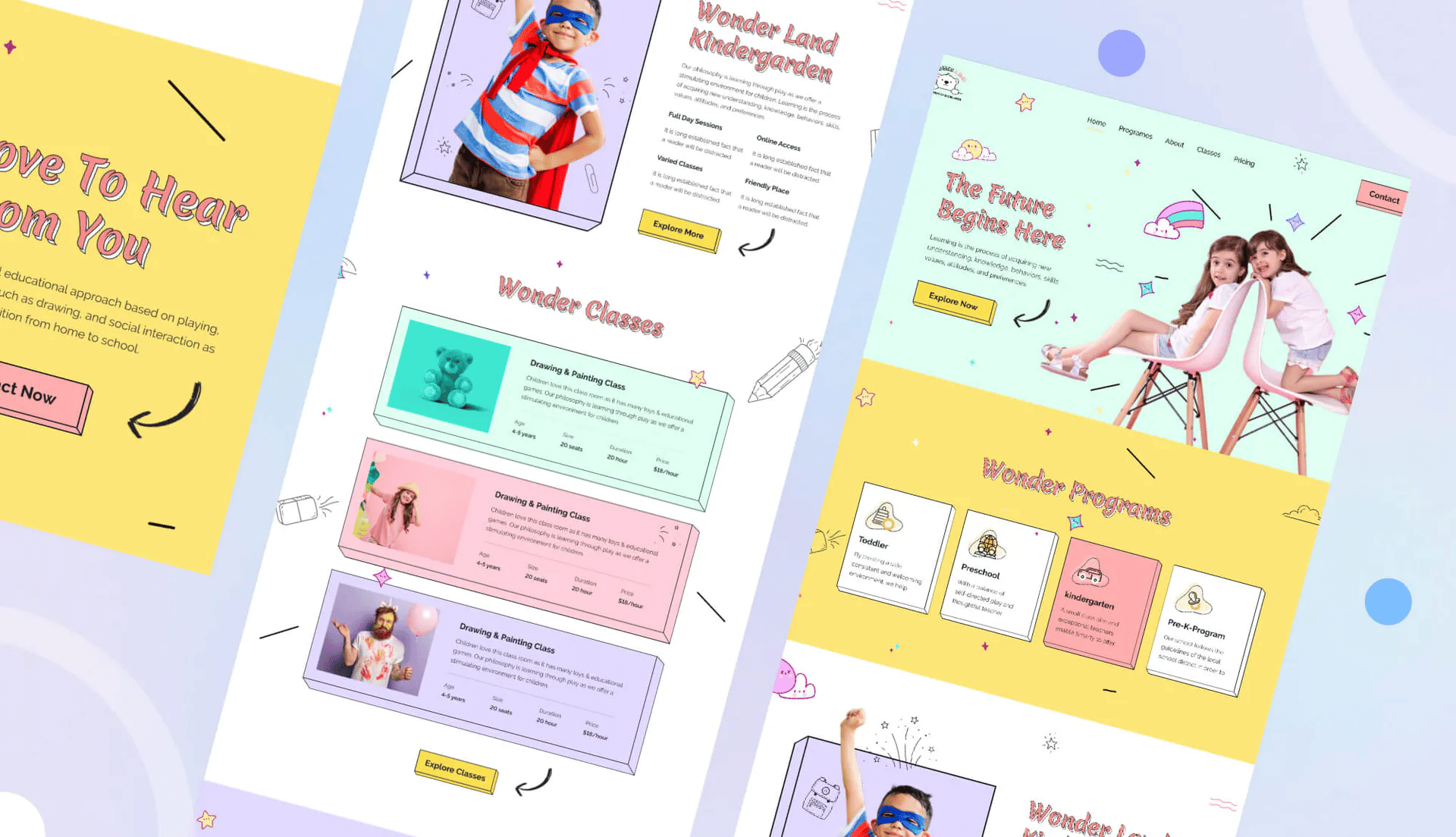 And finally, we have WonderLand – a playful, colorful, and fully responsive template pack for creating the perfect online kindergarten for school-going children. You will find 6 landing pages to build any section and block as you need.
Create An Educational Website In Elementor Without Coding
Now that you know everything that you need to build an online education website on WordPress, here are some simple, easy steps you can follow to create the platform. All you will need is a registered account on WordPress, access to Elementor Page Builder, and a beautiful template pack from Templately. 
Step 1: Insert Your Ready Education Website Template
Let's take the EleCourse template pack as our example. Open a website page using the Elementor editor, and click on the blue Templately icon and look for the template pack, as shown below.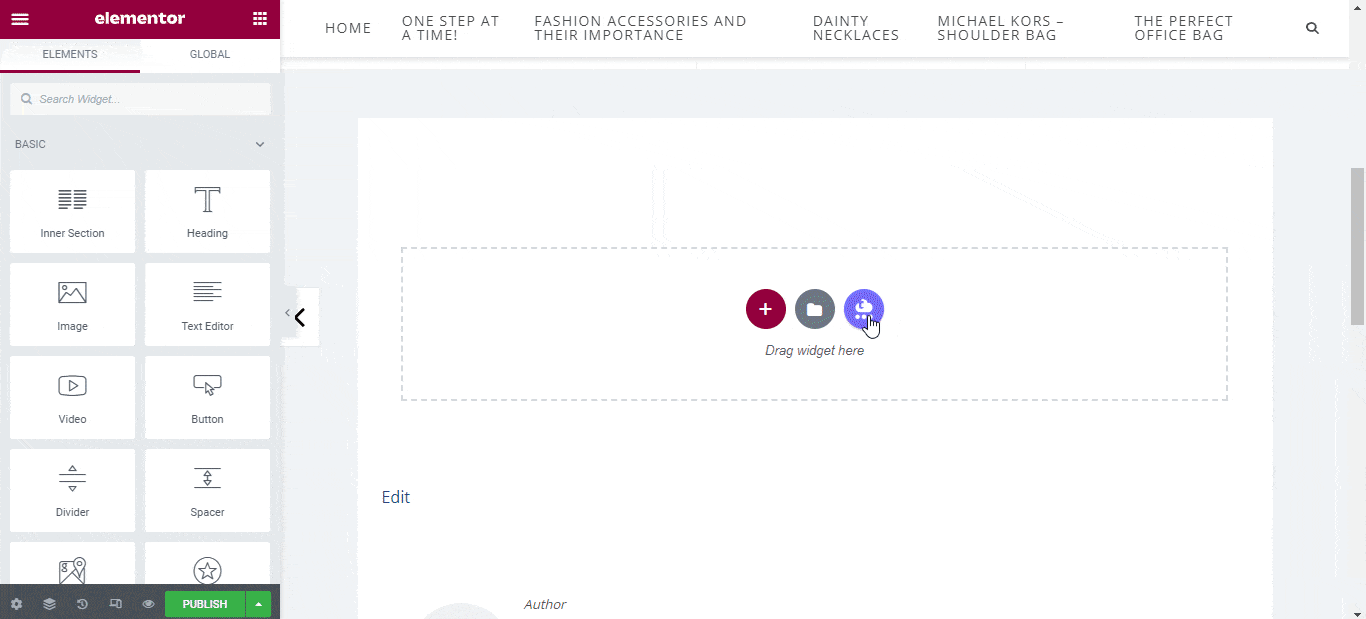 Once you have found the template or block you need, simply insert it onto the Elementor editor. And a step closer to creating a successful education website for students worldwide. Several template landing pages and blocks are available that you can implement to build your website exactly how you want.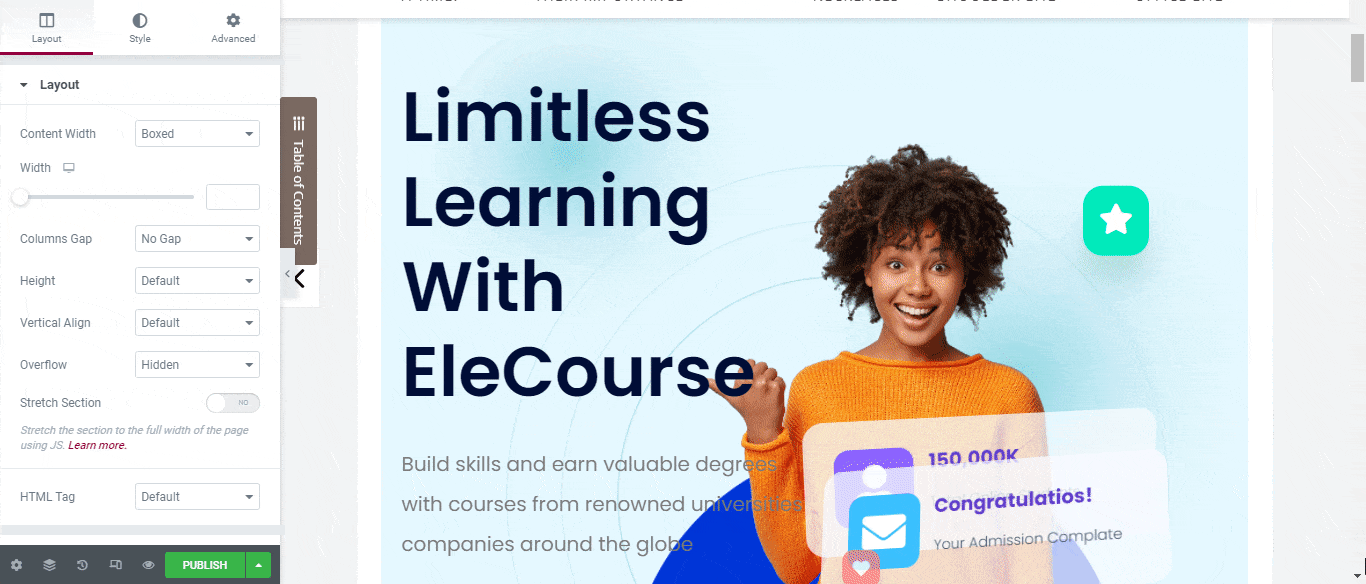 Step 2: Customize The Template Pages And Blocks
You can customize these template packs to add personal touches and set your site apart from all the rest.  Elementor allows you to customize these ready templates and change up the fonts, styles, and colors – everything is possible. You can even take your website design up a notch by installing Essential Addons For Elementor and adding extra widgets as needed.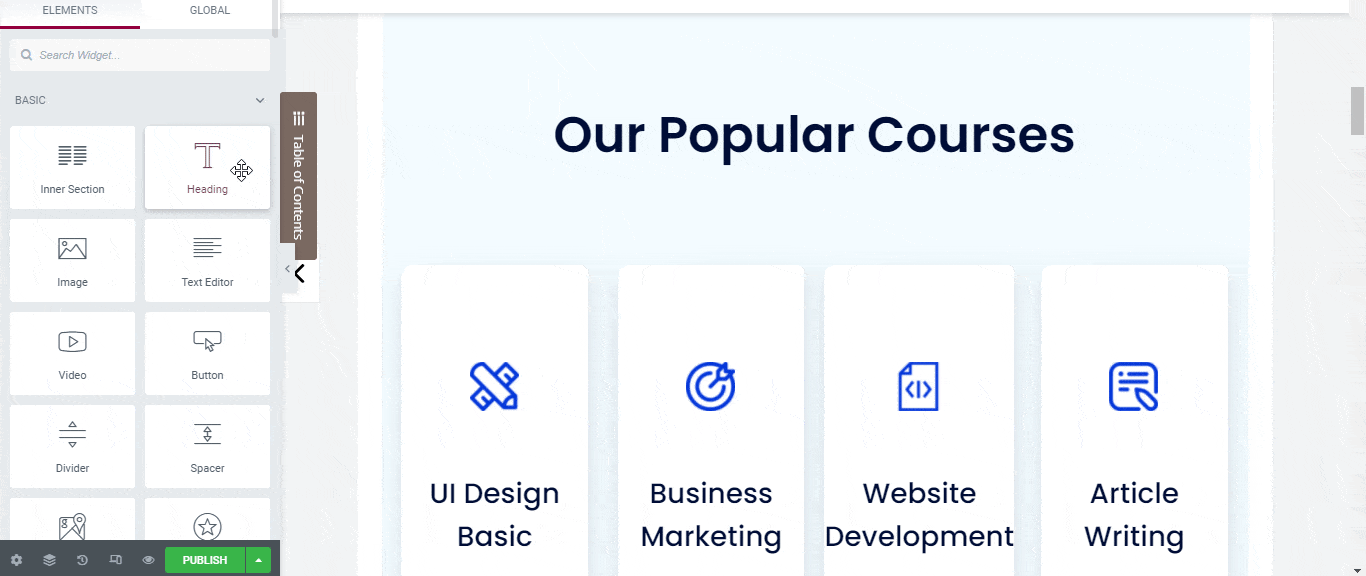 Step 3: Personalize With Your Content
Now that you have created an eLearning website, the next step is to add the courses, lessons, schedules, and other contents. You can add your personal touches to the website and set it apart from all the rest of the existing sites online.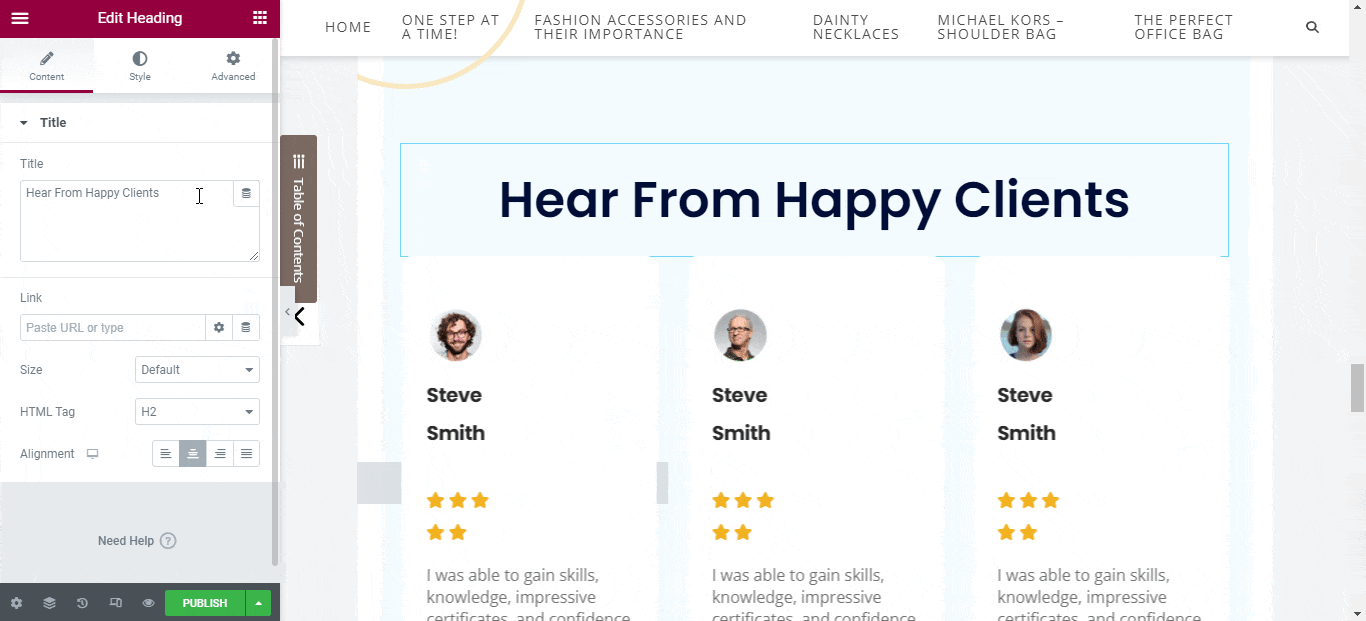 Add descriptions to showcase your intent and missions, display news and events, add testimonials and blogs. You can add images, videos, and even presentations to make your website more interactive and engaging to your students. Faculty and student information pages are a must too. 

Congratulations! If you have followed everything listed in this blog, we assume you have successfully created an online education website.
Tips To Make Your eLearning Platform A Success

Now that your site is ready, here are some useful tips to help you run a successful online educational website:
 Set clear learning objectives and guidelines that students can keep up with while studying remotely. 
 Implement interactive courses and training sessions with a good amount of engagement opportunities.
 Carefully plan your content for maximum output from your students and instructors. 
 Get in touch with prominent and notable faculty, educators, and instructors from around the world. 
 Keep your course contents up-to-date and in sync with the current statuses of the world. 
 Offer valuable certificates and degrees to keep your students motivated and yearning for more. 
 Use the ultimate FOMO marketing tool, NotificationX, and its integration with Tutor LMS to drive more conversions and students to your education website.
Create A Successful Education Website In A Few Easy Steps
What are you waiting for? Create your online education website effortlessly without breaking a sweat. Build a successful educational platform that will help students around the world continue their studies even during the pandemic.