Are you new to the world of Elementor and still figuring out how to create powerful websites using its features? Now, you have nothing to worry about. Because, the most popular WordPress drag and drop page builder Elementor, has introduced its official web page for all of its educational content – Elementor Academy.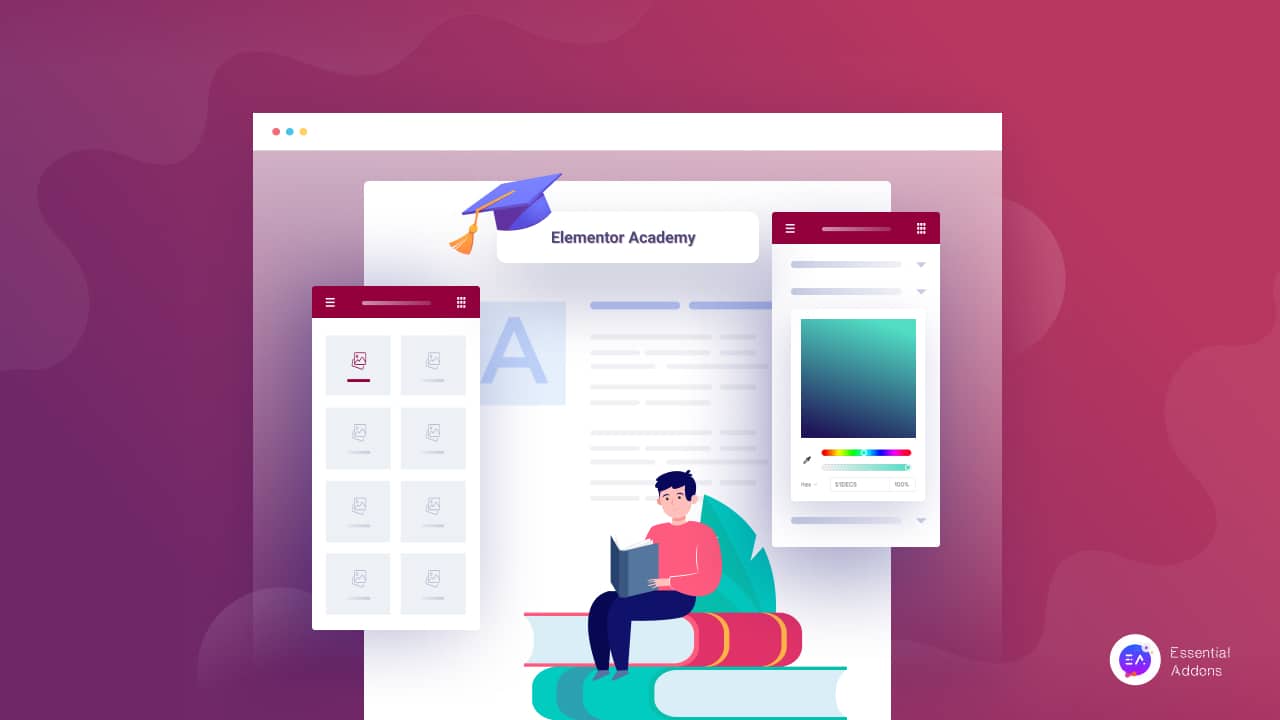 Elementor Academy: Official Home For All Educational Content
Whether you are starting off with your very first WordPress website or you are a pro developer in the business for years, getting all related resources in an organized place with tailor-made content is a blessing for anyone who wants to learn web building in detail. And to empower web creators worldwide, Elementor page builder brings you just that.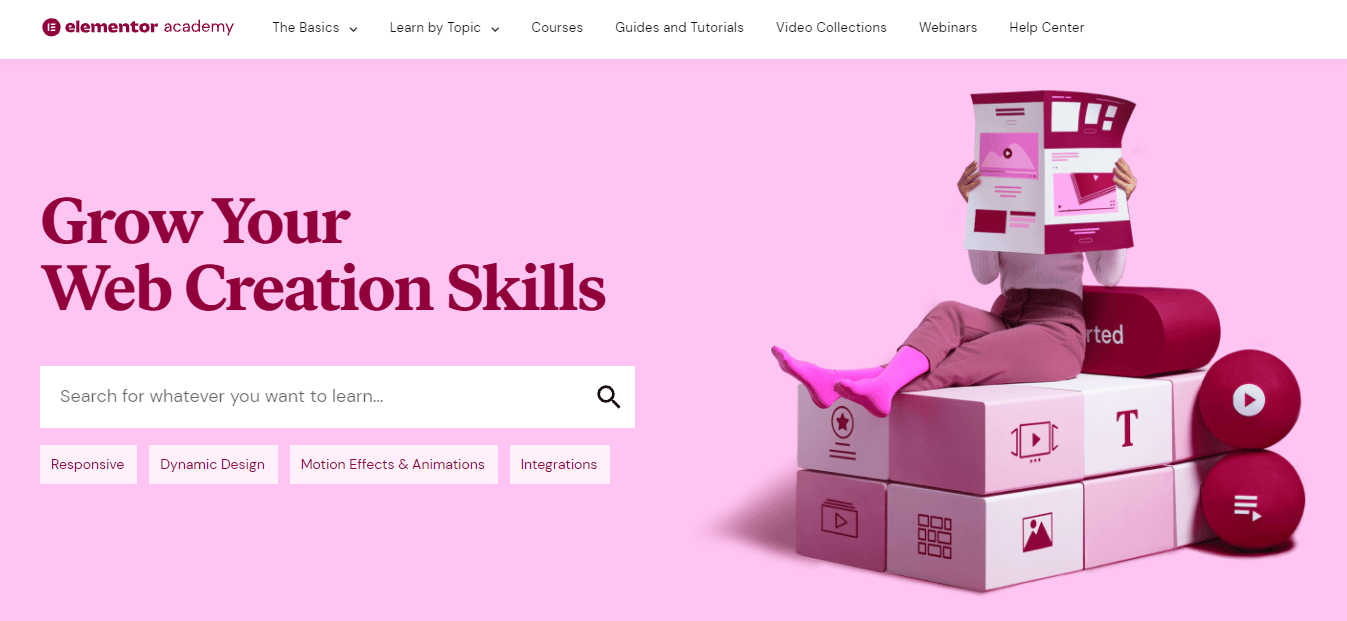 Along with providing you with necessary widgets and elements for your website content, Elementor now brings you Elementor Academy – a web home for all educational content and learning materials, in all formats and types. 
🗓️ When Did Elementor Launch Its Academy?
Elementor had organized documentation and blogs to help users with detailed information about their products, from the very beginning. However, it launched an official academy with courses, video tutorials, webinar materials in a wider range of topics this 13th September'21. 
It has everything from short how-to video tutorials to full courses in various topics including web design, performance, marketing solutions, and more.
🚀 Who Can Benefit Most From Elementor Academy?
Built to bring you a thorough and comprehensive learning experience, the academy is categorized by topic and level of expertise to help both beginners and advanced learners, equally.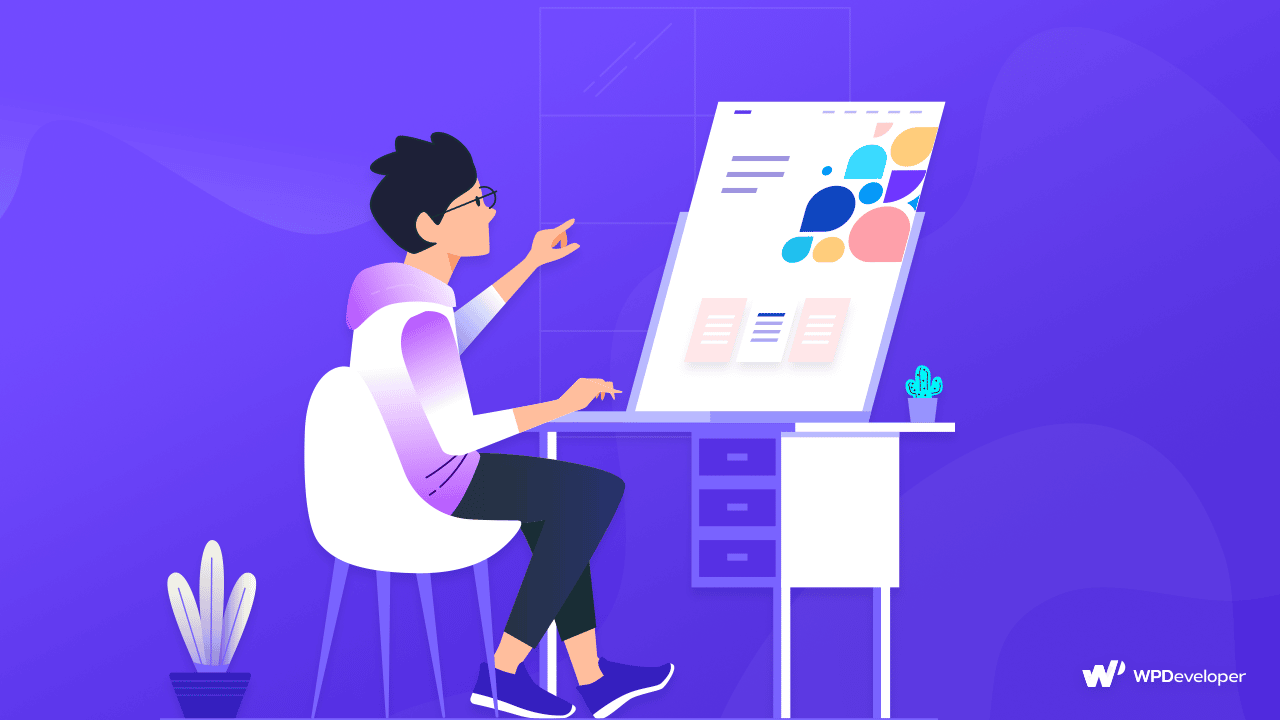 Not just regarding the page builder itself and WordPress, the Academy brings you course and learning materials for other topics such as WooCommerce, marketing, SEO optimization, and much more. And so, anyone who wants to learn more on how to build and grow their WordPress websites will be immensely benefited from Elementor's new academy. 
So, now let's dive in, and find out how you can use Elementor Academy to expand your knowledge, improve your skills, and become better at web designing.
What To Expect In Elementor Academy: Courses, Guides & More
So you might be wondering what you will actually find at the Elementor Academy that's different from regular knowledge bases. And to answer your question very simply, it has knowledgeable materials not only related to Elementor widgets but for WordPress, in general.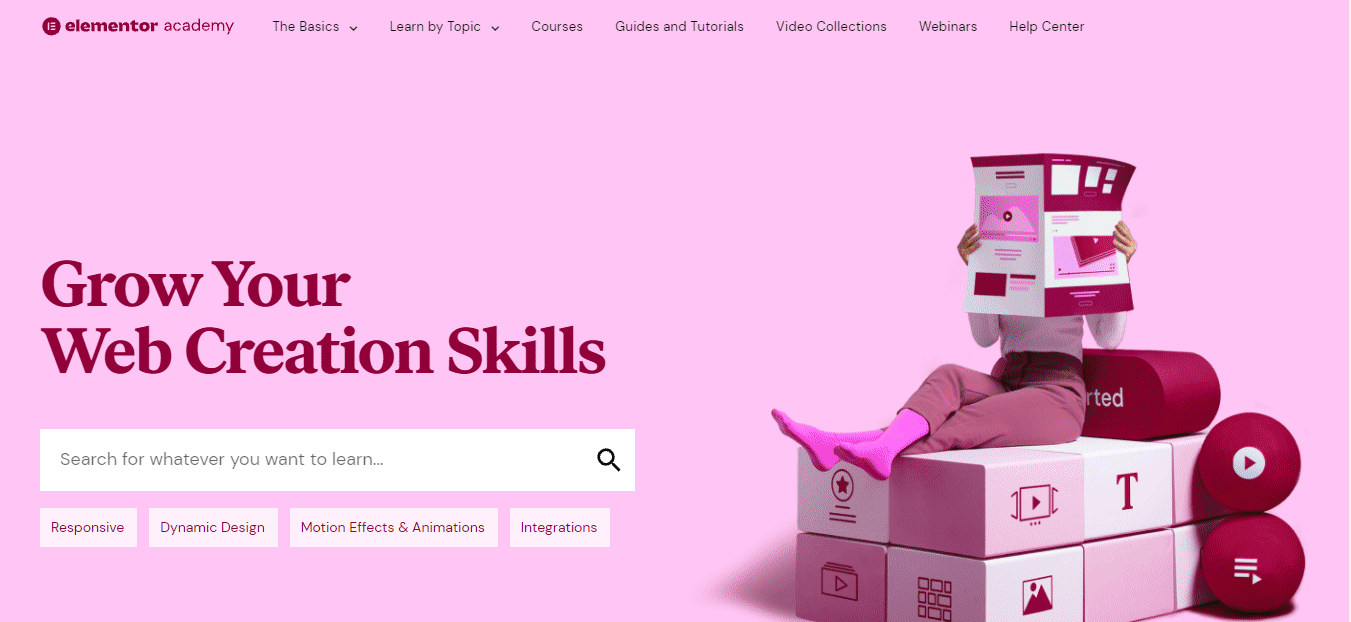 Apart from that, you will find tutorials and guides in any format that you prefer: 
✅ Elementor Courses
✅ Guides & Tutorials
✅ How-to Video Tutorials
✅ Webinars From Experts
💡 Learn The Basics Of WordPress Web Building Using Elementor
At the very beginning of Elementor Academy, you will come across a section completely dedicated to the basics of web building – whether it's building a comprehensive website, just a landing page, or simply improving the SEO scores of your current website. The Academy's Basic Elementor Courses contain everything you need to get started.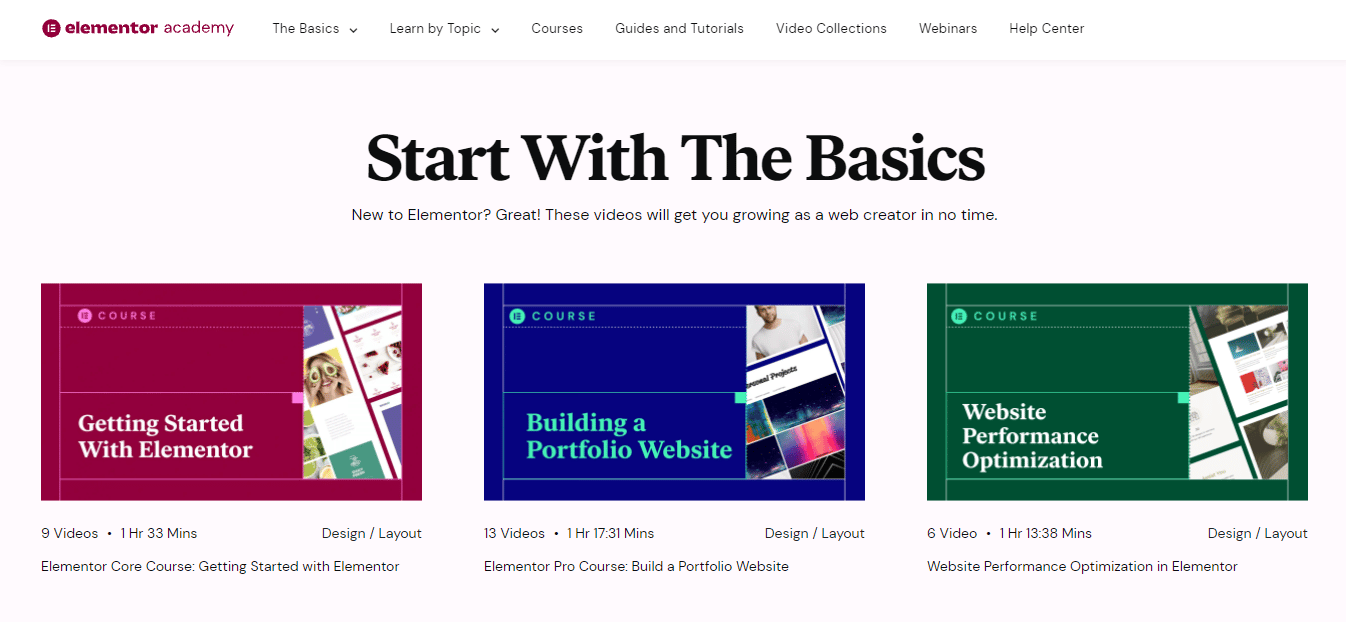 As of now, in October 2021, you will get the following Elementor courses for web creators: 
🎯 Getting Started With Elementor (Core)
🎯 Building A Portfolio Website (PRO)
🎯 Web Performance Optimization 
These fundamental Elementor courses come with video tutorials and are specially curated for different levels of Elementor users – beginners and for experts comfortable using Elementor PRO. Each course comes with an overview that lets the learners know what they will be gaining knowledge about, as well as prerequisites are required to take part in the course. 
And at the end of each course landing page, you will find tags for other Elementor courses related to the topic you have just taken. 
✅ Brush Up On Your Web Building Skills Following Guides By Topic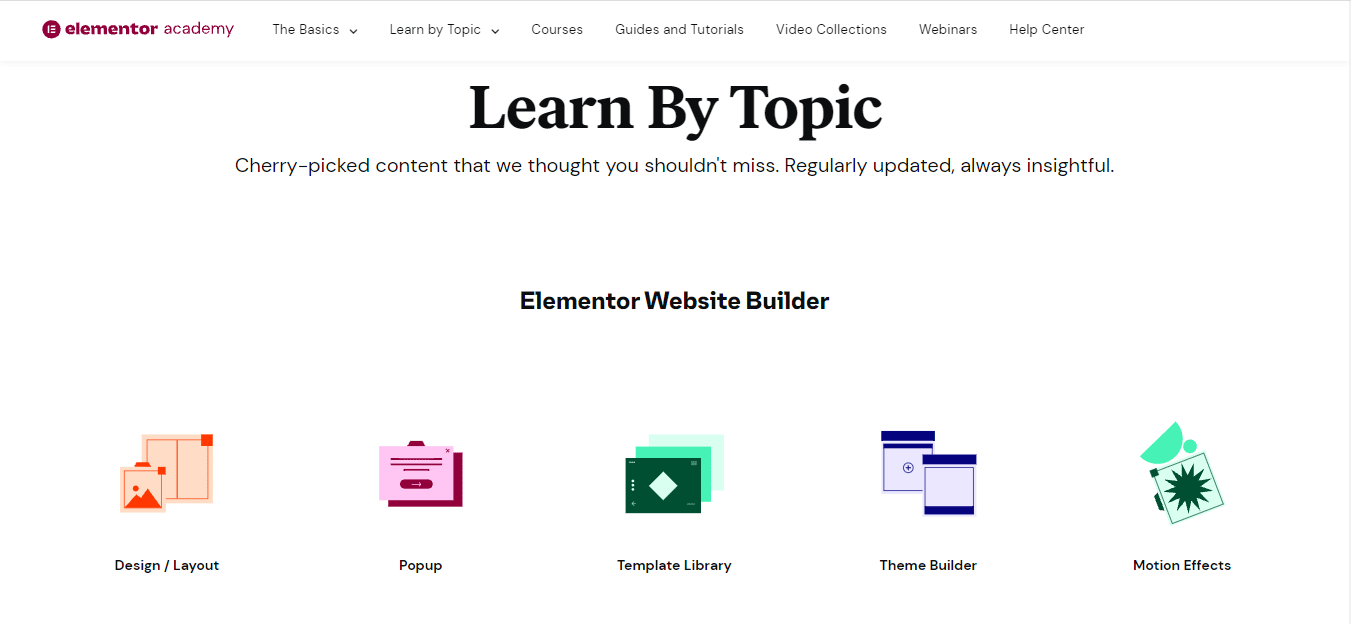 Following up on the tags, we have to mention Elementor Academy's organized section on learning various different web-building skills topic-wise. You will see there are around 10 topics on Elementor and 5 on growing your business to the next level.
You can select educational content based on your interests and needs for your level of web building. Then, once you click on a topic, you will be redirected to the landing page that is solely dedicated to all courses, guides and tutorials, a wide video tutorial collection, and even more, including webinars and related widgets.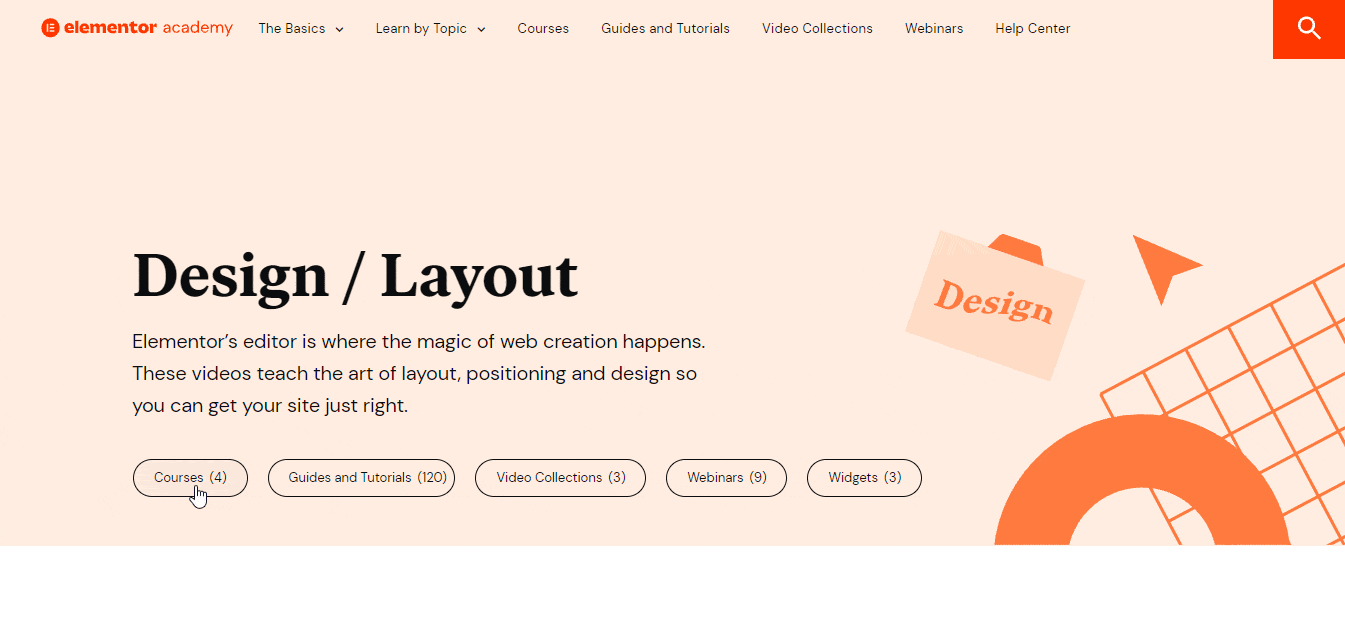 And the best part? You will be able to filter out each type of material by clicking on the tabs listed top of the banner, as shown below, for better navigation 
🎓 Enroll In Courses & Learn From WordPress & Elementor Experts
Now let's talk about the courses that Elementor Academy offers to its pupils – and there are more than just the few we mentioned earlier. In fact, as of now, there are 5 courses with dedicated video tutorials created by the very people who develop Elementor. 
If you are a long-time Elementor user or someone who is just learning the basics, you will be delighted to know that these dedicated teachers have developed certain working methodologies which can greatly benefit Elementor users.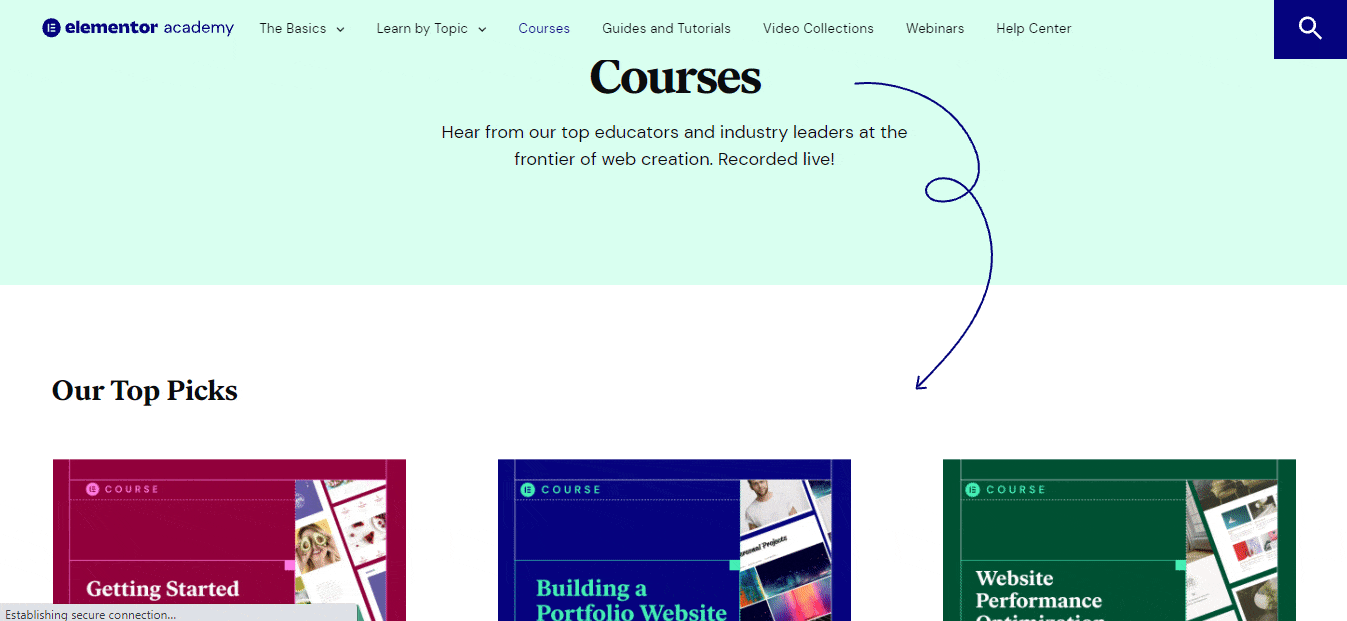 Get Specialized Guides & Tutorials On Specific Web Building Topic
Next up we have guides and tutorials. The Elementor Academy provides hundreds of short, yet detailed and straightforward, video tutorials to help you out in any and every step of your web building process. 
From videos on tips and tricks to video tutorials about almost all of Elementor's widgets and how to use them on your website listed under the guides and tutorial sector of the academy. Some of these tutorials also come with links to related blogs that can help you get a better idea of the topic you want to learn about. 
🎞️ Watch Over 100 Video Tutorials On Web Building From A To Z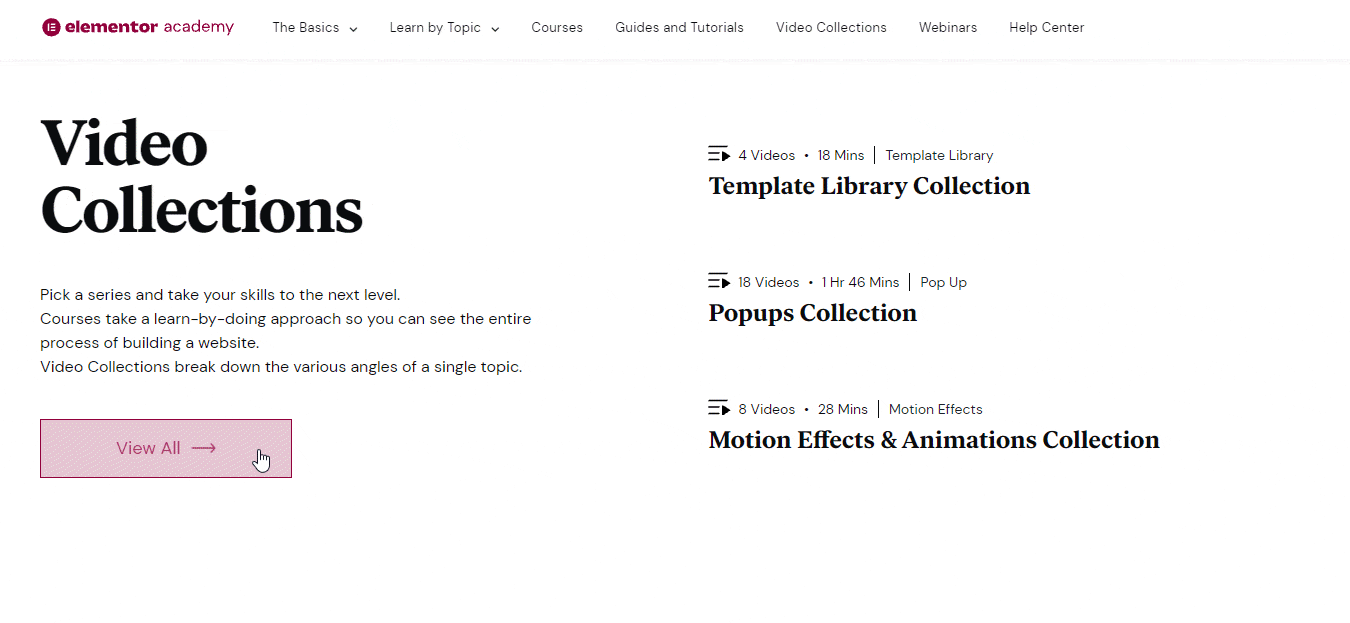 By now you must have realized that the academy at Elementor comes with hundreds of videos on almost any and every topic. And truly, there are multiple Elementor video tutorials on each topic which you will be able to pick from. Just choose the topic that you want to learn about and start watching the videos. 
By the end of the long list of video tutorials, we believe you will have become a pro at web building on WordPress using Elementor, and have taken your business to newer heights of success. 
🎬 Attend Recorded Webinars By Experts To Understand In Depth
And finally, the Elementor Academy comes with recorded webinars where WordPress and Elementor experts discuss and talk about each aspect of website building. Unlike the video tutorials, these are made longer and in a way that two expert web creators discuss and share their knowledge with the world of learners.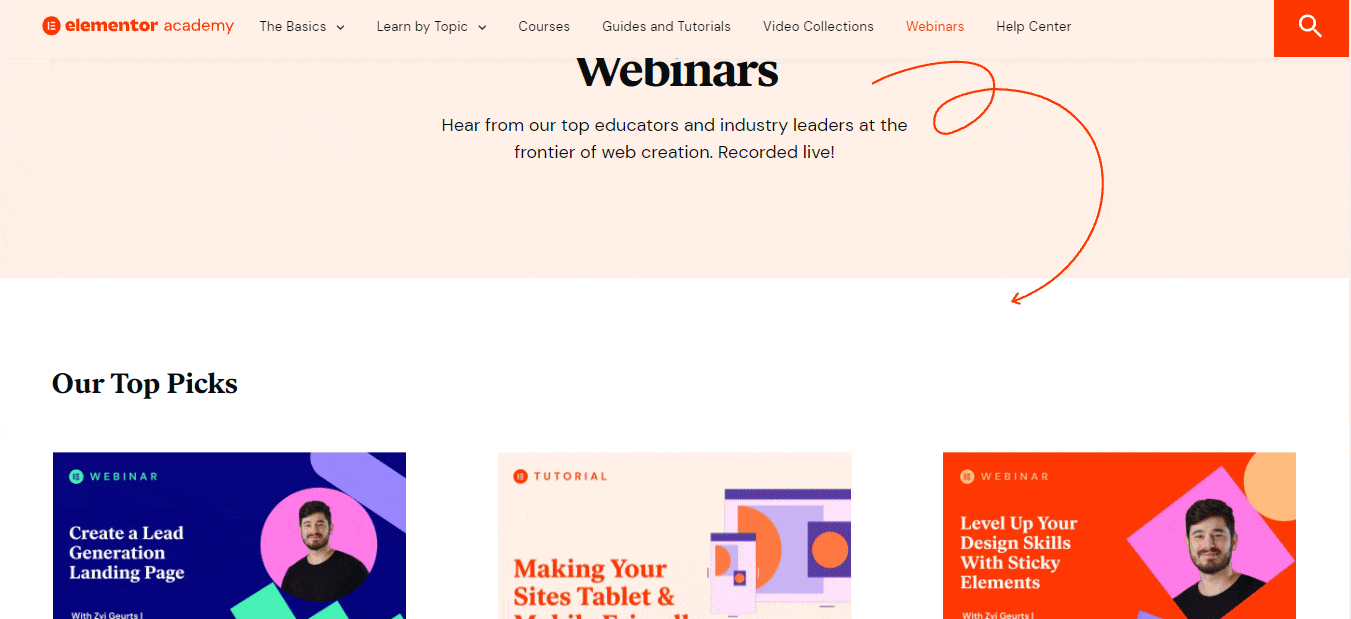 Become An Expert In Web Building With Elementor Academy
And with that, we came to the conclusion of our own guide for using Elementor Academy to become a great web creator for WordPress. But to give you some additional information, we would have to mention that the academy has a search bar that helps you navigate through the hundreds of guides and video tutorials available. 
We must also mention that you will be able to find a separate 'Help Center' from where you can easily access all of Elementor's knowledge base and learn further when required.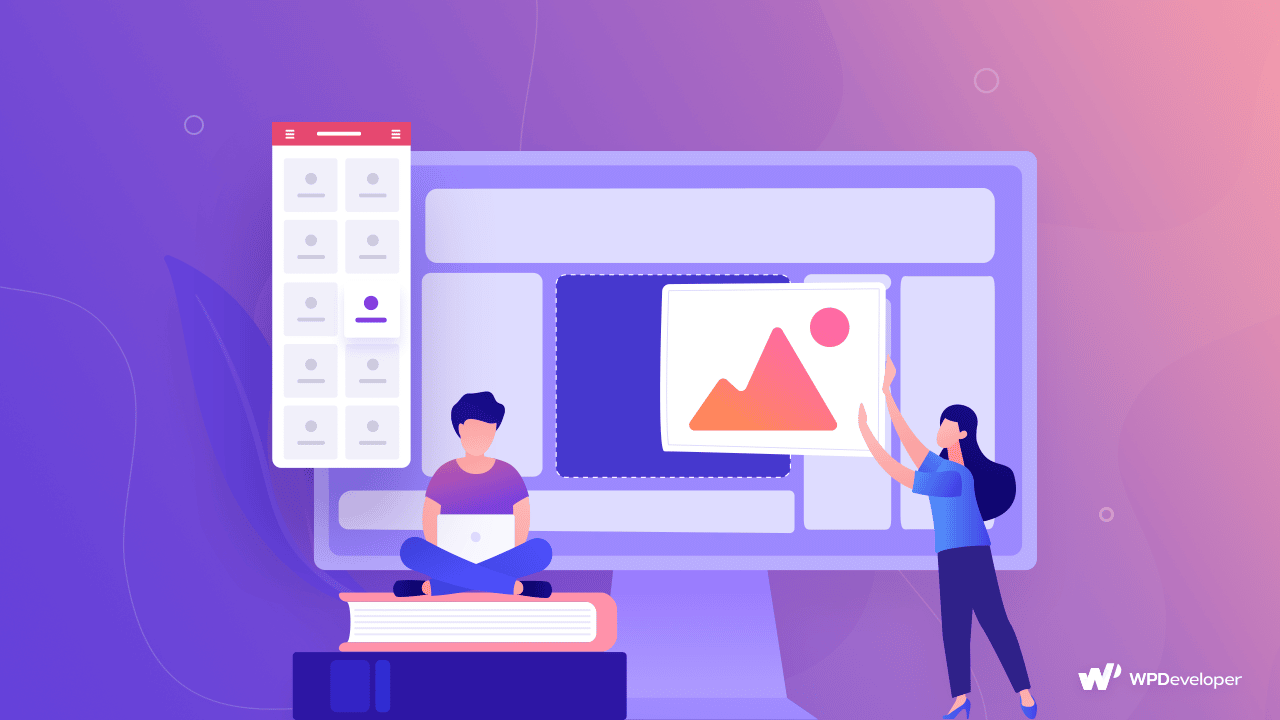 We hope this blog was helpful to understand what Elementor Academy brings to the table and how you can easily become a WordPress or Elementor expert by following all guides. Let us know of your experience by commenting below. 
If you want to learn web building with Elementor further, you can also check out our blog on the best Elementor tutorials you'll find on the internet. The blog will help you find all the right resources and educational sources such as blogs, YouTube videos, and much more.  Or read how to use a custom font, size, color & style in Elementor page builder to become a PRO at customization. 
To find more useful blogs, tips and tricks, or the latest news and updates, subscribe to our blog. Or get in touch with us by joining our friendly Facebook community of web creators, like you.