Do you want to start a hotel business or already have one? Either way if you are running a hotel business and you are trying to reach out to more clients, the first step should be an online existance with a hotel booking website. Since millions of people are using the internet everyday, a hotel booking website can help you expand your business locally and globally. In this tutorial, we're going to show you how to create your own hotel booking website on WordPress using Elementor and in this process, you won't need any coding! 
What Features Do You Really Need On Your Hotel Booking Website?
In order to create a hotel booking website that immediately catches your client's attention, you need to add some essential features that a hotel booking website must have. We're going to take a look at these key features briefly below:
A stunning, interactive

Home Page

that will make your clients want to browse your site.

A beautifully designed

Dining Page

that will let clients know about their dining options.

Services Page

where your visitors can know what other facilities and services you offer.

Reservation Page

for your visitors to easily and instantly make reservations.

Contact Page

for your visitors to quickly get in touch with you.
With these essential features, you can create an amazing hotel booking website that gets high engagement and conversions. Don't worry, you don't need to hire professional website designers to create a fully functional hotel booking website. With the HotelHut template pack from Templately, you can instantly create your own beautiful hotel booking websites in a matter of minutes. To get an idea of what you can get with HotelHut, check it out below.
Things You'll Need To Design A Hotel Booking Website On WordPress
The first thing you need to do to make your own WordPress hotel booking website is to sign up for an account on WordPress and get your own domain. Once you have your own domain on WordPress, you need to install a few plugins to do it without any coding:
Elementor:

For those who don't want to hire website designers or use coding,

Elementor

is the best solution. This popular page builder lets you instantly build websites from scratch with its 'drag and drop' feature. Install and activate this plugin.

Essential Addons:

To use the HotelHut

template pack, you need to install and activate

Essential Addons, the most popular elements library for Elementor. Almost 700,000 active users are using Essential Addons because it is very easy to use, and comes with more than 70 cool elements. If you have never used it before, you should start now and install Essential Addons on your site; it's the best elements library anyone could ask for.
Templately:

You will find tons of beautiful, premade template packs for WordPress on

Templately

, including the HotelHut template pack. So,

sign up for an account on Templately

and install the Templately plugin for WordPress.
Now that you have these must have plugins, you are ready to start creating your own hotel booking website on WordPress.
How To Create Your Hotel Booking Website On WordPress?
If you have successfully installed and activated all the plugins, you can follow the step-by-step instructions below to create your own hotel booking website. It will only take a few minutes to set everything up, and you won't need to edit a single line of code while you're at it.
Step 1: Select HotelHut Template From Templately
The first thing you need to do is create a new page in your WordPress dashboard and click 'Edit with Elementor'. This will open up the Elementor Editor.
Now all you need to do is select and load the HotelHut template into your page. All you have to do is click on the blue Templately icon and you should see a pop-up window displaying all the templates available with Templately. Simply search for and choose any of the HotelHut premade pages. 
For this tutorial, we will be using HotelHut Home Page.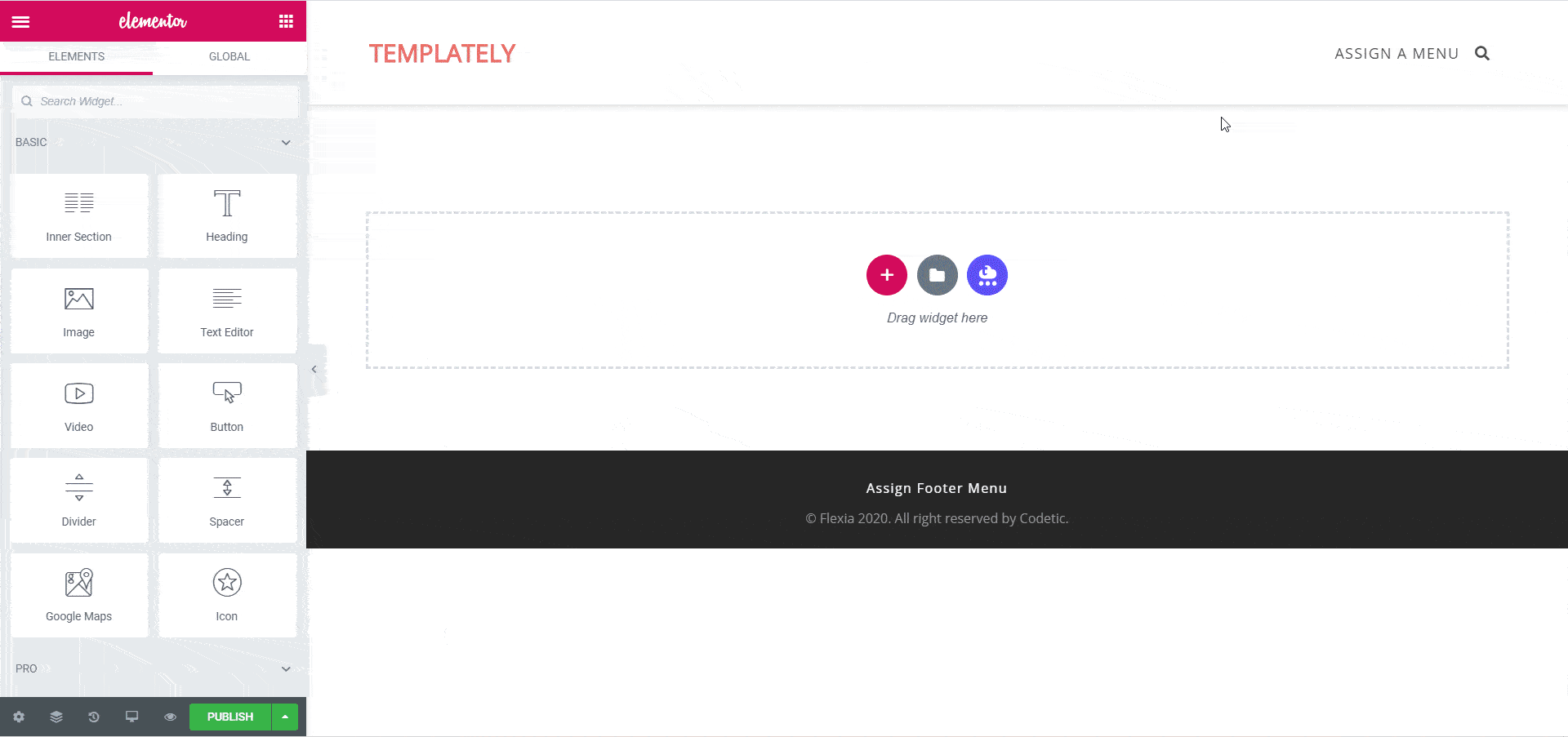 Wait a few seconds for the page to load. You should be able to see the premade, ready-to-use home page after a few moments.
Just like that, you've added a premade page for your hotel booking website! Wasn't that easy?
Step 2: Style Your Hotel Booking Website Pages
After you have inserted your desired pages, it's time to style them using the simple, drag and drop feature of Elementor. Simply click on any section of the page you want to customize and use the Elementor Editor on your left to style your page in any way you like.
Change the font colors, typography, background colors and add your own to make your website stand out. Don't hesitate to tweak around with all the styling options to add your own personal touch to your web pages and grab your site visitor's attention.
You can view all the changes you make to your page in real time, and also have the option to preview your page before publishing by clicking on the 'Preview Changes' option. Make sure to save all your changes when you are done customizing your hotel booking website.
Step 3: Save Your Design To Templately
One of the most popular features of Templately is that it offers cloud storage for all of your designs. This means that if you want to reuse the design of your hotel booking website or keep it somewhere safe as backup, you can save your template to MyCloud by right clicking on your page and choosing the 'Save Page to Templately' option.
Final Outcome: Your Very Own WordPress Hotel Booking Website
If you have successfully completed all of the steps above, then congratulations! You've created your own WordPress hotel booking website using Elementor in only a matter of minutes. Click on the 'Publish' button to share your beautiful website with the rest of the world if you are ready. 
As you can see, it doesn't matter if you don't have any experience or knowledge about coding. You don't even have to spend money hiring extra people to design your pages. By using the premade, ready-to-use pages from the HotelHut template pack from Templately, you can quickly design a stunning hotel booking website all by yourself.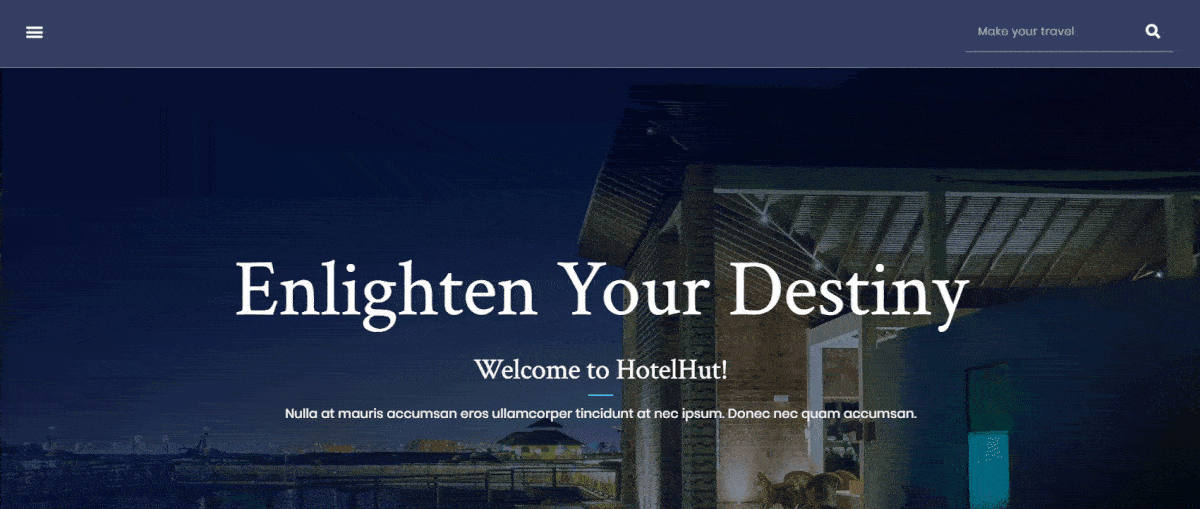 So what are you waiting for? Sign up for Templately now and check out all the cool templates available. If you face any problems contact our support team for further assistance