If you want to showcase your NFT gallery on Elementor, we have great news for you. With the latest release of Essential Addons v5.5.0, now you can easily showcase NFT galleries on your WordPress website using the powerful website builder, Elementor. Dive right into our detailed guide below to learn how to use NFT Gallery for Elementor to display NFTs on your website. 👇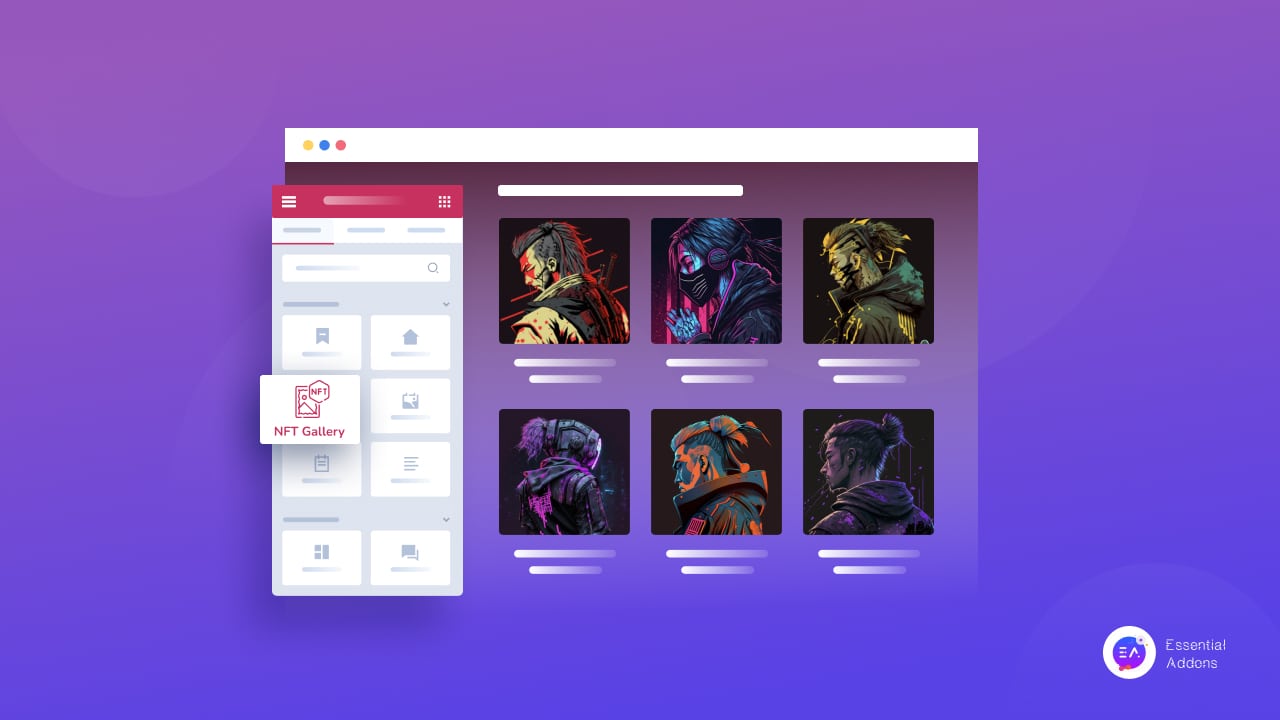 📣 Introducing NFT Gallery: Brand New Elementor Widget From Essential Addons
NFTs (non-fungible tokens) are digital or physical assets that are connected to a blockchain, and they are extremely valuable. You can never duplicate NFTs; however, you can trade them anytime you want. You can also upload your NFTs to a marketplace like OpenSea, store them and trade them with ease.
And to help you easily showcase your OpenSea NFTs using a stunning gallery on your WordPress website without any hassle, Essential Addons brings you a brand new widget, NFT Gallery. This new element is packed with advanced features and facilities to empower you with a smooth web-building experience on Elementor when you want to display NFTs.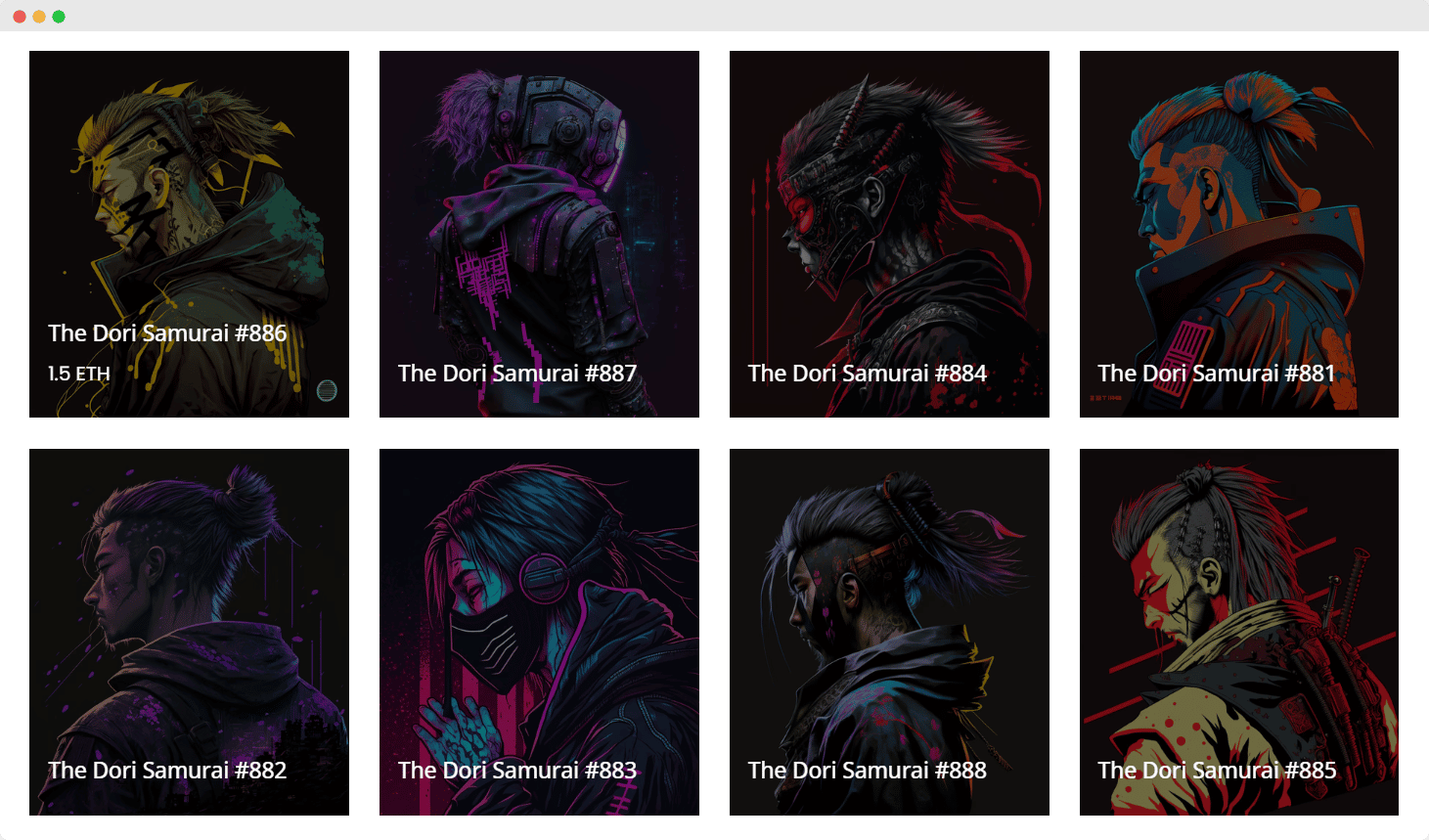 You can filter your NFT Gallery for Elementor by wallet address and design the layout as you want. With advanced controls, you will be able to design and personalize your NFT Gallery for Elementor websites. You can even enable or disable different attributes as well while displaying your NFT tokens on your website.
Before going to the guideline, let's have a look at how you can benefit from showcasing your NFTs on your website below.
🔷 Get More Traffic To Your NFT Marketplace
Showcasing NFTs on your website can help you drive new traffic to your NFT marketplace. If you already have visitors to your website, you can easily send them your marketing place by showcasing the NFT gallery. In addition, you can promote your NFT marketplace on your website with the help of the NFT gallery and get more traffic easily. Either way, displaying NFTs with a stunning gallery on your website can help you grow your business exponentially.
🔷 Boost Your Brand Identity & Credibility
If you want to increase your brand identity creating a separate website for NFTs and showcasing them there could be a great idea. Using the NFT gallery for Elementor widget, you can showcase them easily on your website and create a marketing campaign to attract new customers. So, you can trade off your NFTs and get more sales from your NFT business.
🔷 Boost Your Affiliate Bonus Easily
If you are partnering with any NFT trader, then a NFT Gallery for Elementor could be a great tool for you. With the help of the NFT Gallery widget, now you can easily promote the NFTs from the marketplace and boost your affiliate commission with ease. With the help of this Elementor widget, you can easily showcase the NFTs that you want to promote directly on your website without any copyright claim.
📖 Complete Guide: How To Use NFT Gallery For Elementor
Elementor is one of the most popular website builders that you can use to create a fully functional website without any coding. Now you can easily showcase your NFT gallery in Elementor. And to enable NFT Gallery For Elementor, you need to install & activate the following widget library from below.
🔵 Essential Addons For Elementor
Essential Addons is the most popular Elementor widget which comes with amazing addons and extensions to power up the Elementor website builder. It has more than 90 outstanding widgets and extensions that will help you to build stunning Elementor websites without any hassle. Using Essential Addons you can easily showcase your OpenSea NFTs on your website, so install & activate Essential Addons on your website first.
To get started with creating your own NFT Gallery in Elementor, check out the step-by-step guide below or watch this quick video tutorial.
Step 1: Add The Widget & Configure The Content Settings
First of all, find the 'EA NFT Gallery' widget in Elementor, and drag & drop the widget into your web page. Now you need to configure the content on your website.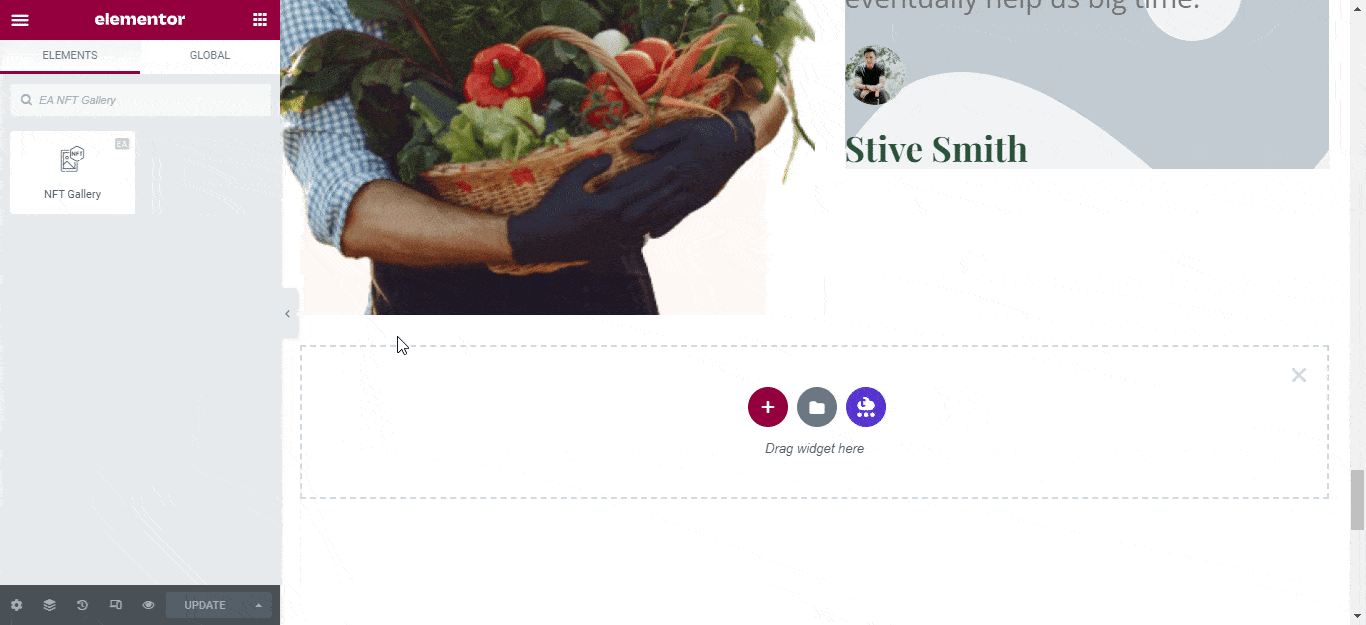 From the 'Content' tab, go to the 'Query' option and provide your OpenSea 'Source', and 'API Key' to showcase your NFT gallery on your website. You can follow this doc to learn how to get the API key from OpenSea.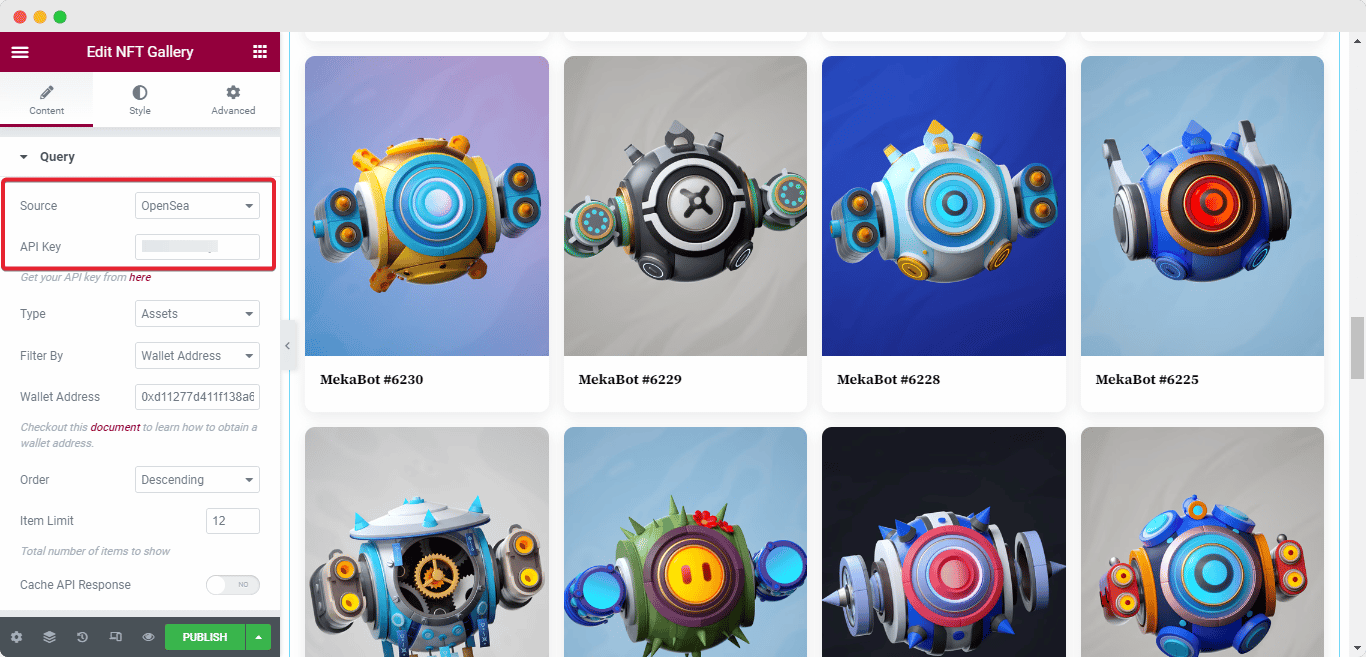 Now, set your NFT 'Type' and 'Filter' options for showcasing the Gallery as you want. After that, provide the 'Wallet Address' and choose 'Order', and 'Item Limit' from there.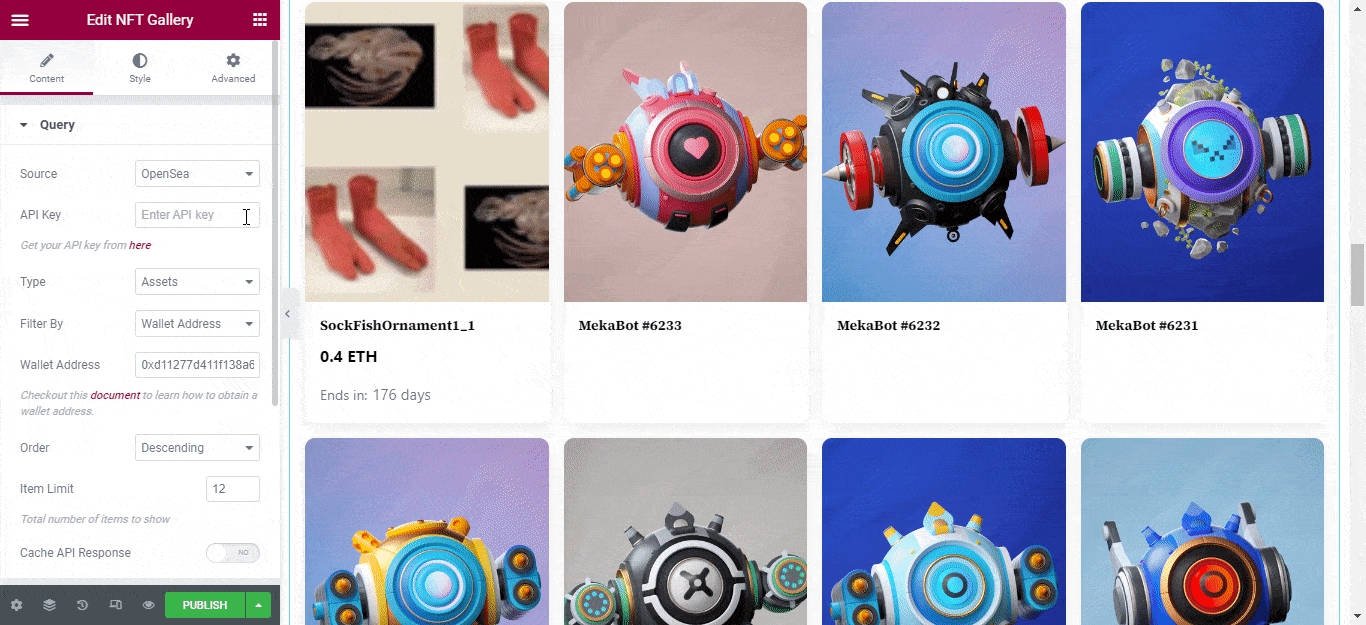 From the 'Layout' tab, choose your 'Layout Type', and 'Style Presets', and select how many 'Columns' you want to keep on your web layout. Now, toggle on or off 'NFT Image', 'Image Clickable', 'Title', 'Creator', and 'Current Price', as you want.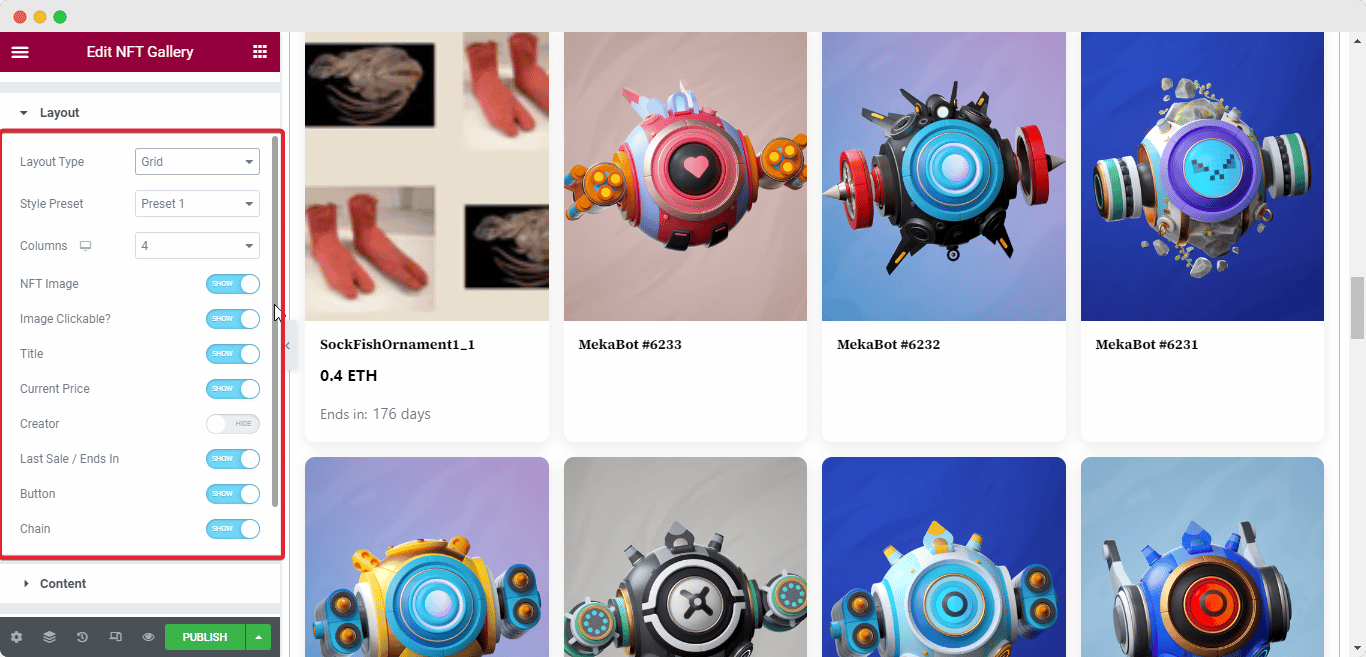 Afterward, navigate to the 'Content' tab and adjust the content of the 'View Details', 'No Items', 'Last Sale', and 'Ends In' fields as needed. You can also set up the error message from there.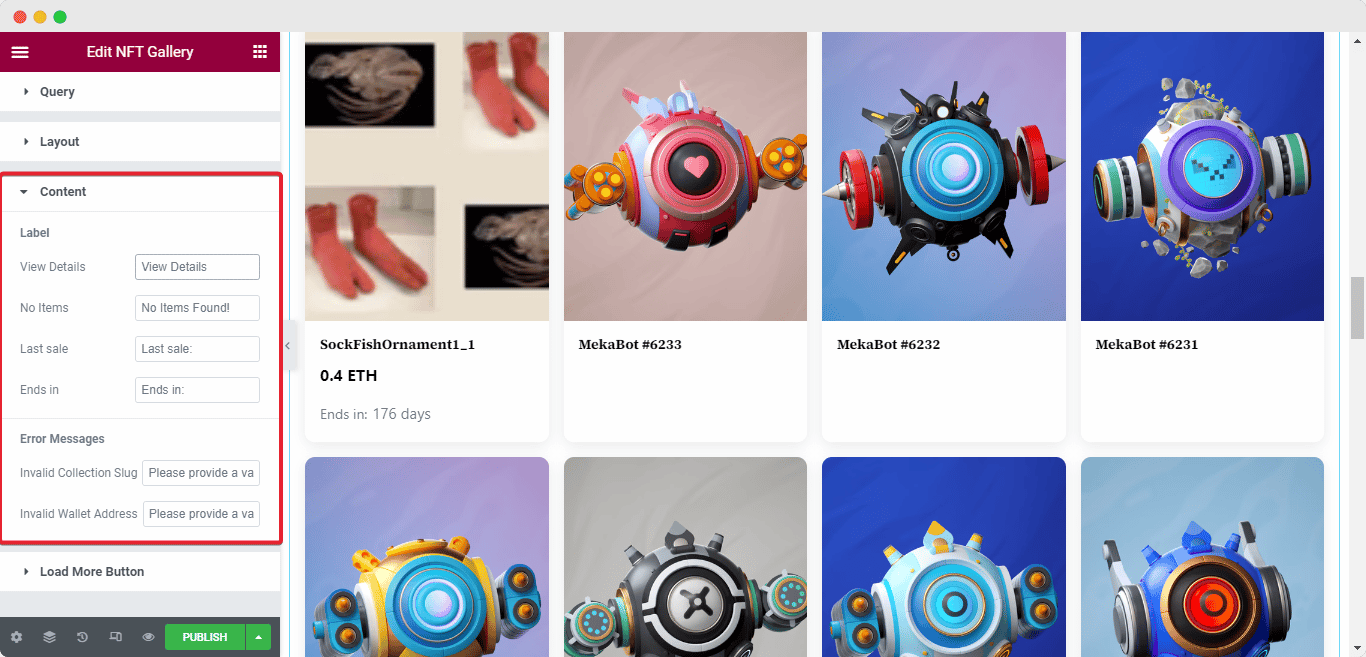 Now, add pagination by enabling the 'Load More Button' option and set 'Button Text', 'Size', and 'Button Icon', as you need. You can also adjust the alignment and positions from there.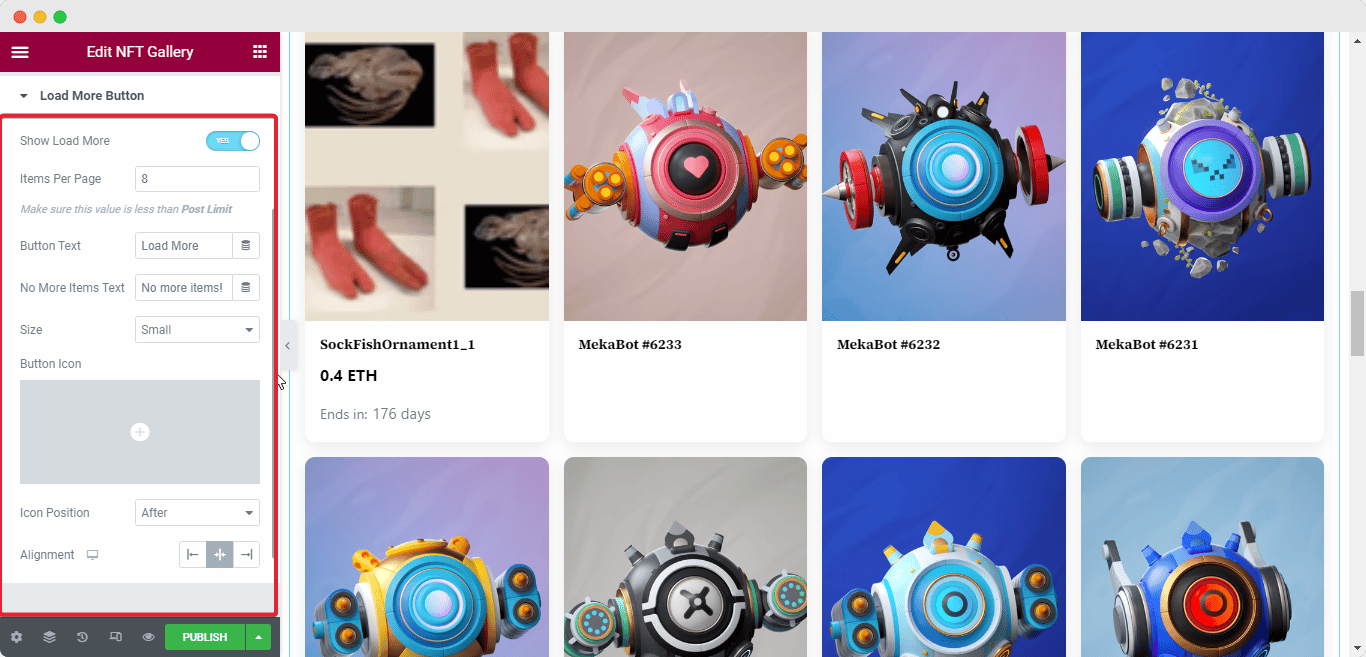 Step 2: Style EA NFT Gallery The Way You Want
Now, navigate to the 'Style' tab and beautify your NFT Gallery with advanced settings. From the 'Gallery' option adjust the 'Margin', 'Padding', and 'Border Radius' of the NFTs as needed. Afterward, you can personalize the 'Background Color', 'Border Type', and 'Box Shadow' to design your NFT gallery as you like.
Go to the 'Image' option and then adjust 'Height', 'Width', 'Margin', and 'Padding' to showcase your NFTs stunningly on your website. Similarly, make changes to the buttons and load more buttons as you want to make your NFT gallery more appealing to visitors.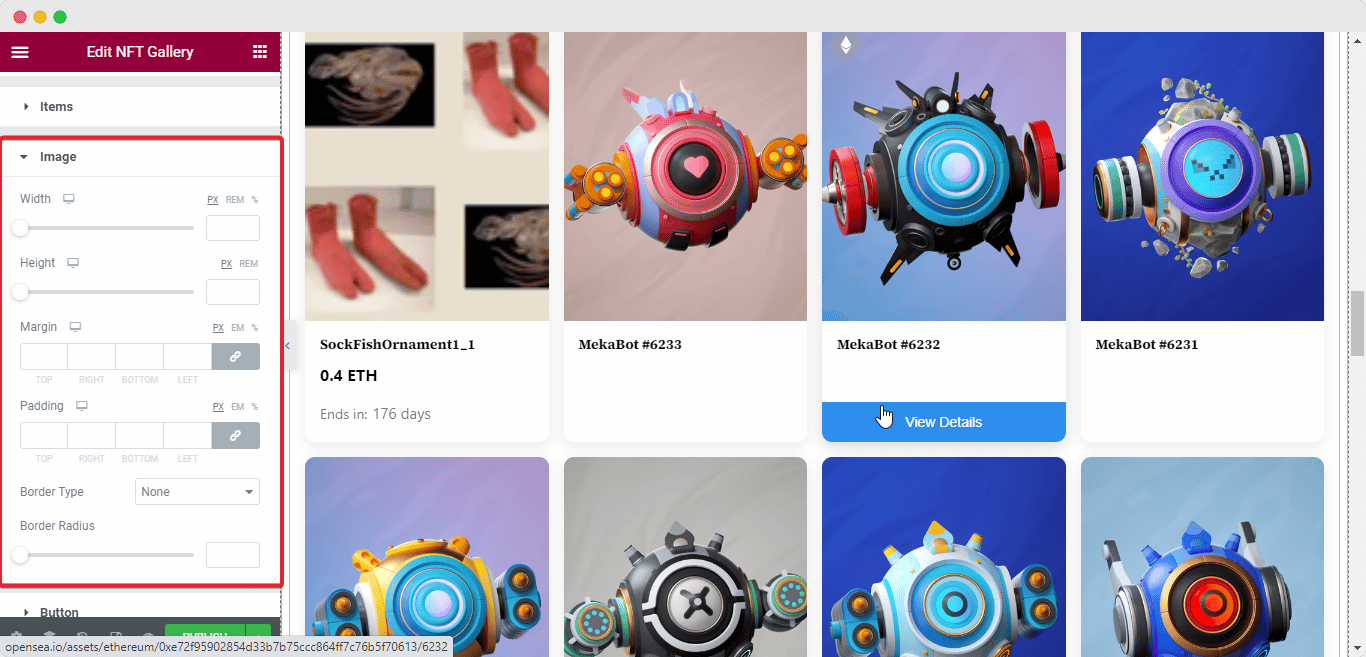 Step 3: Publish Your NFT Gallery
Once you are done with all the customization, you can publish your page and make it live for your visitors. This is how you can easily showcase your NFT gallery on Elementor. You can also follow this documentation to learn more about customizing your NFT Gallery with Essential Blocks.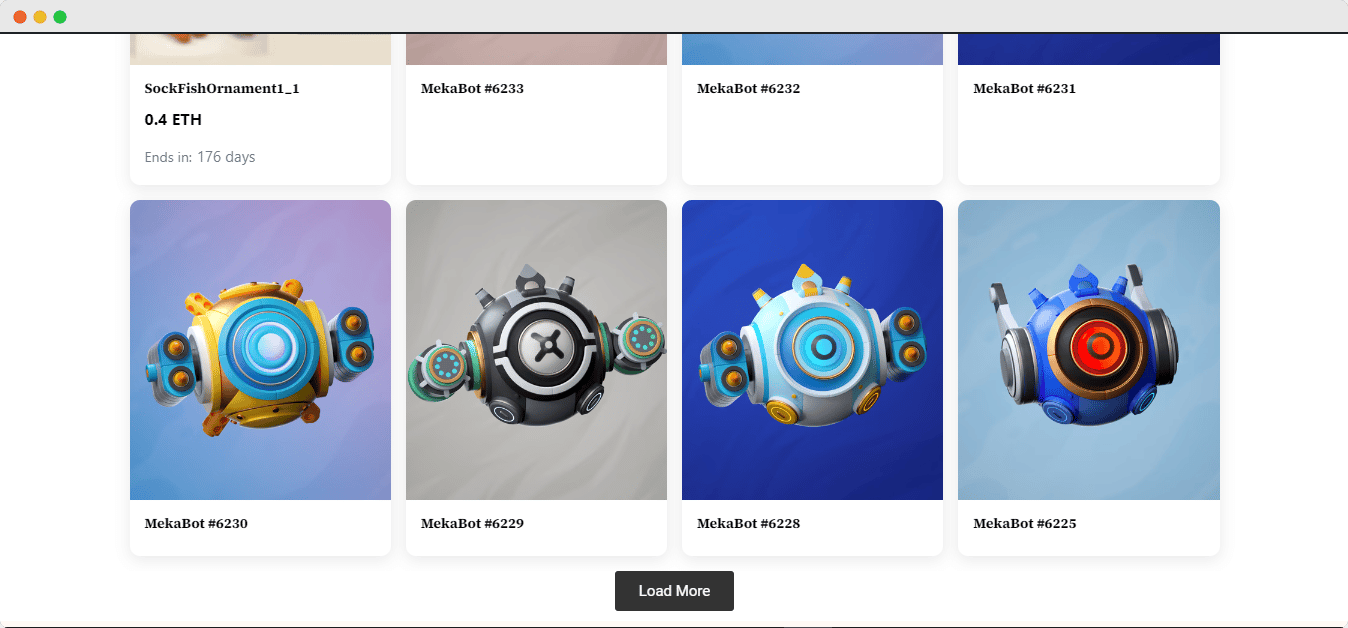 🎁 Bonus: Create Your Own Eye-Catching NFT Marketplace With Templately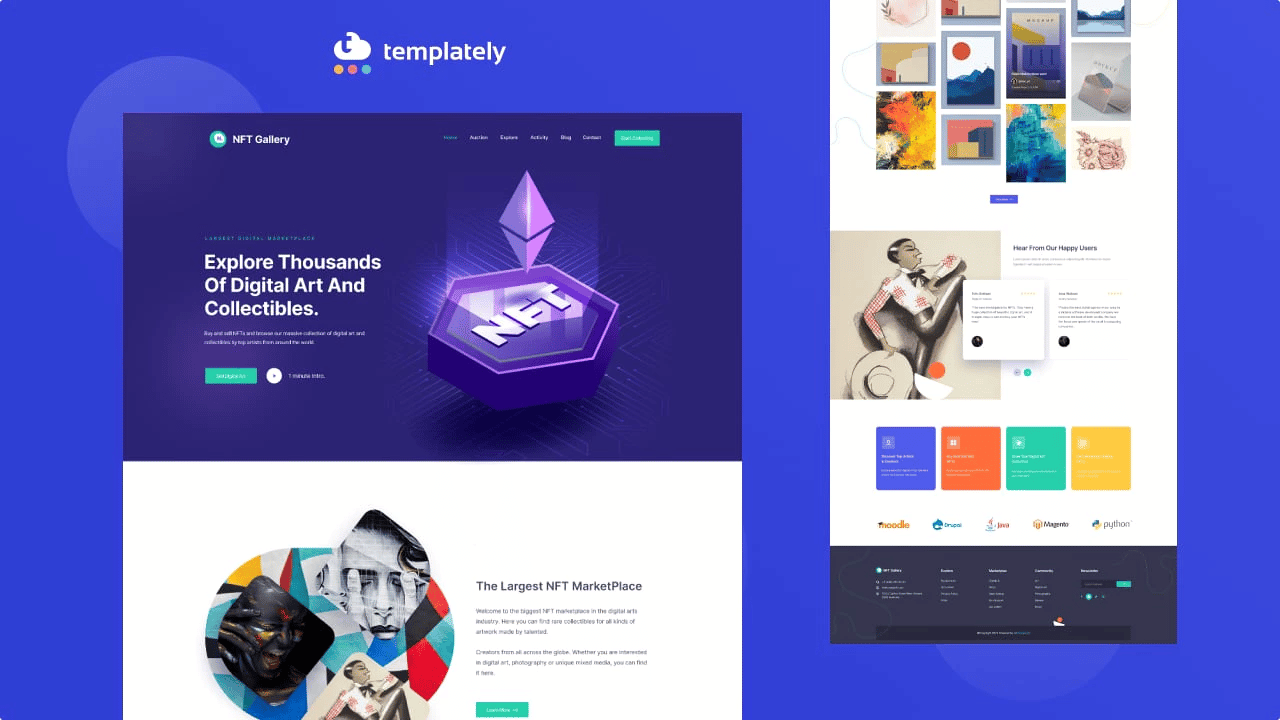 If you want to speed up your web building and design your website in an NFT-themed layout, you can create an NFT marketplace in just a few clicks, we have a simple solution for you.
Templately, the ultimate templates cloud for WordPress, has amazing Elementor templates for NFT that you can use and kick-start your NFT business from today. Read this blog to find out the best NFT templates and learn how to create your NFT websites.
✨ Display Your NFT Gallery Effortlessly On Your Elementor Website
With NFT Gallery for Elementor, now, you can easily showcase your NFTs on your website with absolute ease. So, from now on, you can easily drive more traffic to your marketplace and generate more sales for your NFTs. Try out our new NFT Gallery today and display your NFTs on Elementor websites.
Have you found our blog useful? If you do, then please subscribe to our blog for more useful guides, tips, updates, and more. Also, don't forget to join our Facebook community and share your thoughts.