Do you want to boost your Facebook Feed engagement organically? Or you want to increase your website traffic and don't know the right tactics? In this blog, you will get to know a fully-functional element EA Facebook Feed to display your Facebook page content on your WordPress site instantly. It will help you to accelerate your both site and page visitors naturally and effortlessly. Get connected to this blog till the last to know the full process.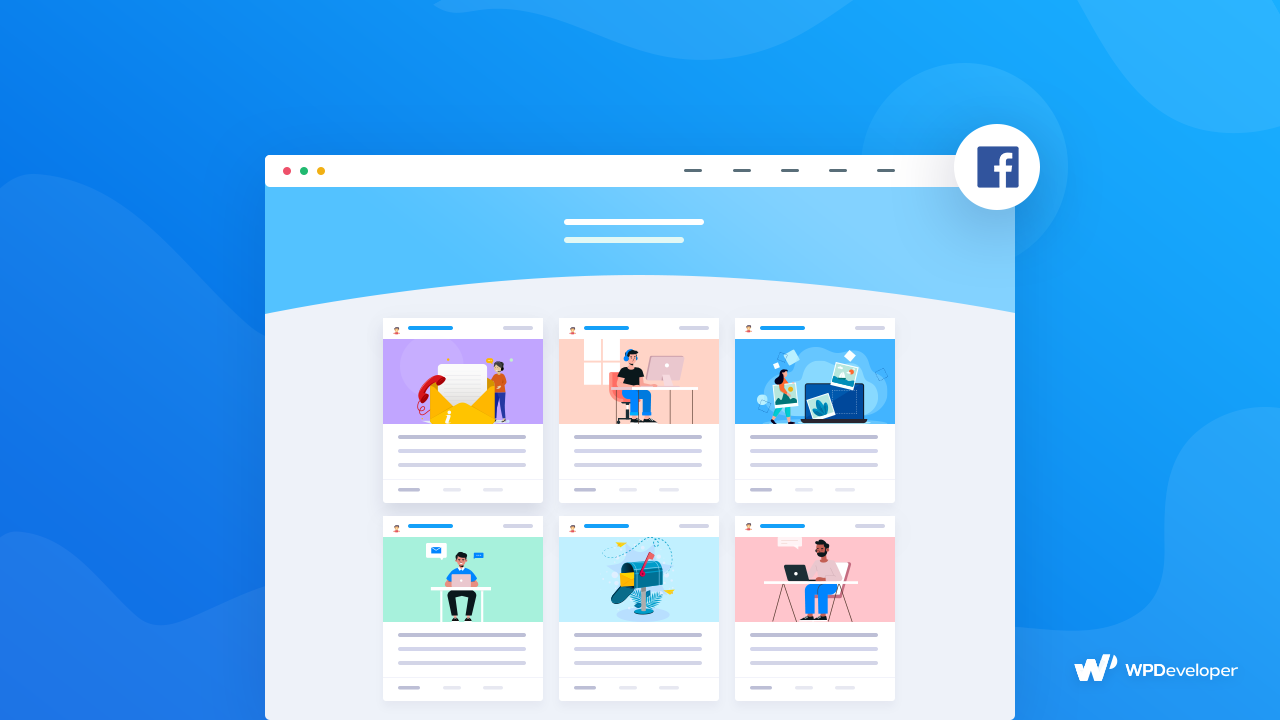 Why Should You Display Facebook Feed On Website?
To reach your targeted audience organically for your Facebook page and website is always being a tough task to accomplish. You have to pay high whatever strategy you may choose, and in most cases, it won't work. So for that, you have to know the right way that will work fast to enrich your page visitors. And to showcase your Facebook feed's latest content on your WordPress site is one of those effective marketing tactics to boost site engagement instantly.
Suppose you are showcasing your site blogs or notices on your Facebook feed in a regular manner. If you can visualize those on your website in an interactive way, you can easily drag your audience's attention and influence them to give a click on the spot. It will lead your website visitors into your Facebook content and boost the site traffic instantly. On the other, it will also work effectively increases your site engagement. In both cases, you will get benefited.
How Can You Showcase Your Facebook Feed On WordPress Site?
EA Facebook Feed comes with this exact solution to boost your site traffic and Facebook page visitors like a booster. You will be able to manage your social media marketing and site engagement at a time. It will add credibility and naturally invite people to get engaged with your Facebook posts. Without any further discussion, let's find out how you will able to showcase your Facebook feed on your Elementor site.
Let's Get Started With EA Facebook Feed 
Before getting started, you have to create an App first from the Facebook developer account to retrieve 'Facebook Page ID' and 'Access Token' to integrate your account with EA Facebook Feed. To do that, you have to check out our detailed documentation and follow the simple steps to configure your Facebook page for using this element and display your page content amazingly on the website.
Now by following the step by step guideline, you will able to display your Facebook page's newest or oldest posts stunningly using EA Facebook Feed. Let's check out the guide below:
Step 1: Activate EA Facebook Feed
To use EA Facebook Feed for your Elementor site, you have to find it from the Search option under the ELEMENTS tab and Drag & Drop the element into the Drag widget here or the '+' section.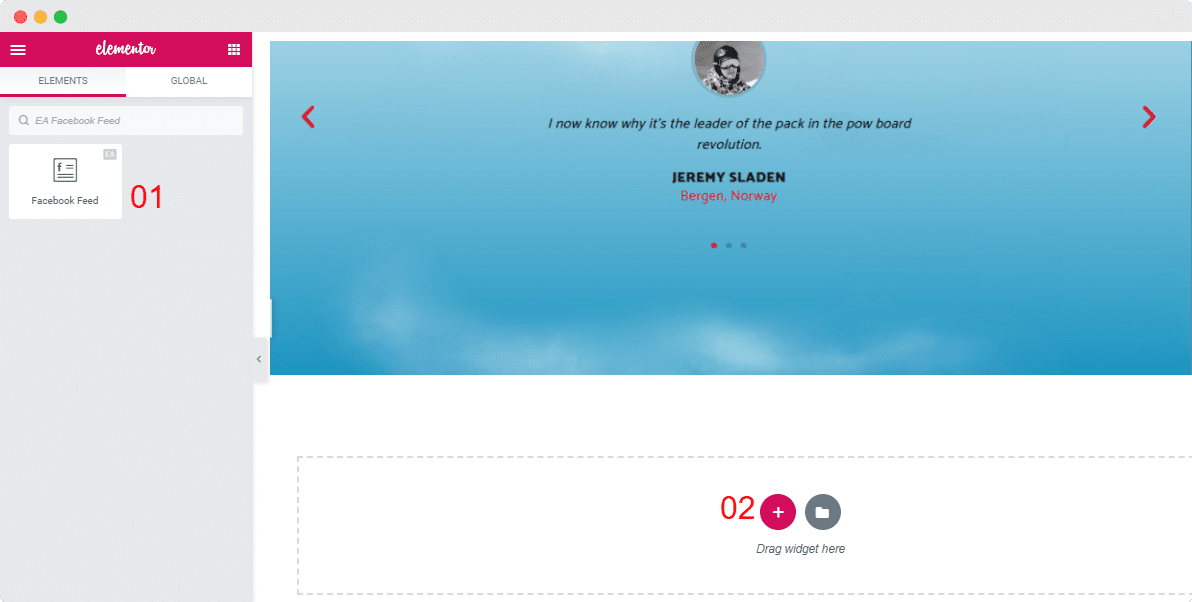 Step 2: Showcase Your Facebook Posts
Now insert the 'Page ID' and 'Access Token' on Facebook Account Settings section to view your recent Facebook posts once the connection is established successfully.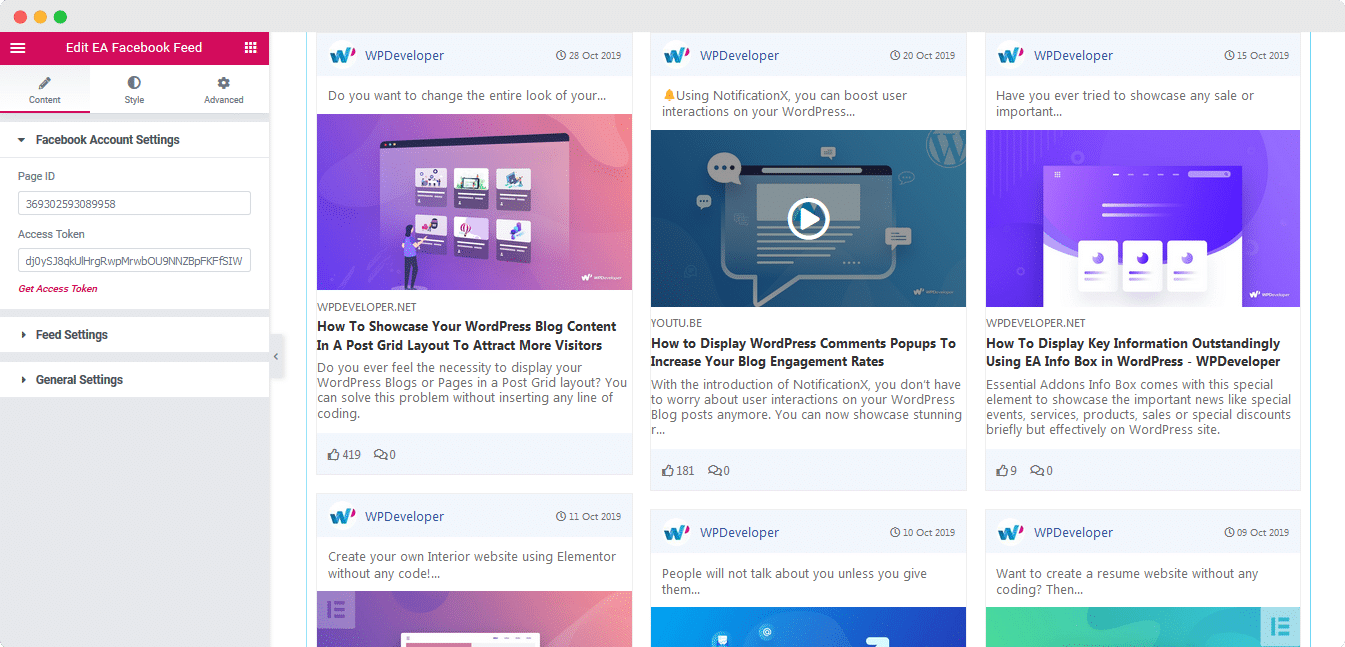 Step 3: Set Your Feed Settings 
From the Feed Settings section, you have the flexibility to use the dropdown Sort By to change in which order you want your Facebook posts to appear. Besides, you can set the Feed number of 'Max Visible Items' as well.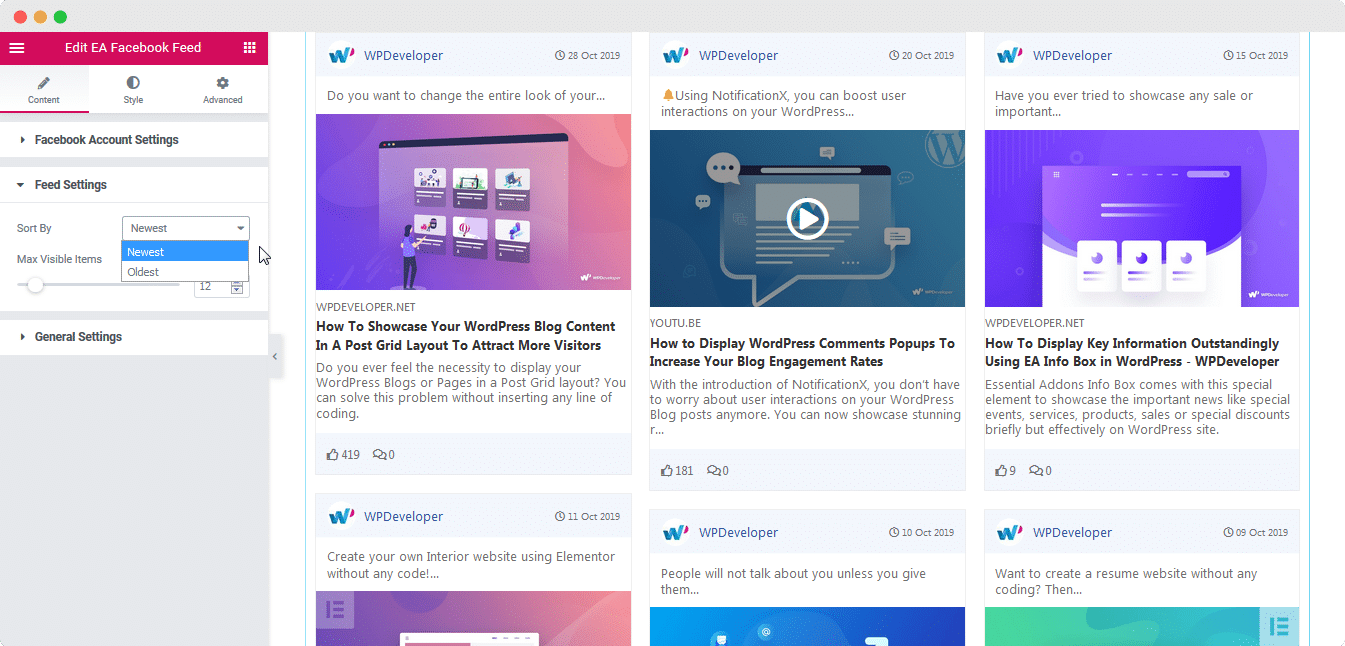 Step 4: Pick Your Favourite Layout
Configuring the 'General Settings' section will help you to display your posts with an Overlay or Card layout to change the outlook of your feed and instantly attract your visitors and make it interactive. Also, you can showcase your posts likes, comments, or add load more buttons to make your feed stand out by engaging with the audience more.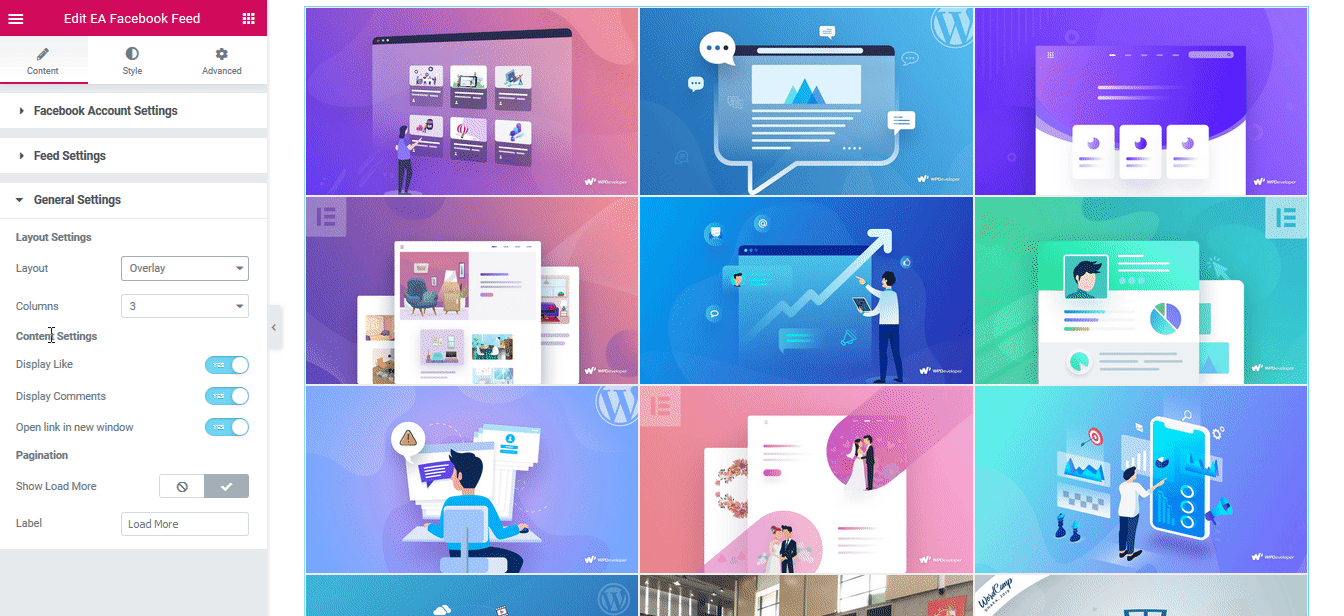 Step 5: Style Your Facebook Feed Instantly
On the other hand, you will able to Style your Facebook feed on your WordPress site to make it look appealing for your visitors to give a click. In this way, you will be able to provide an interactive view of feed content and make it look standout.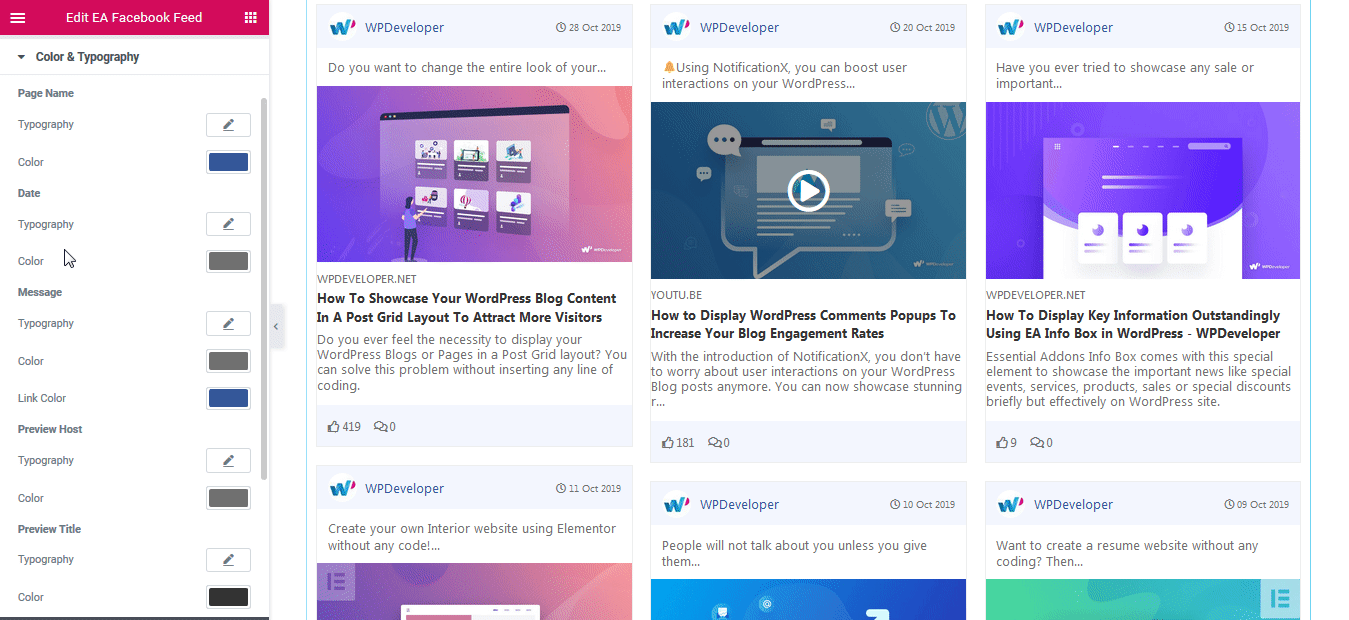 Final Outcome
By following some simple steps and a bit more modifying, you can showcase your Facebook feed instantly and style it as per your preference by using EA Facebook Feed.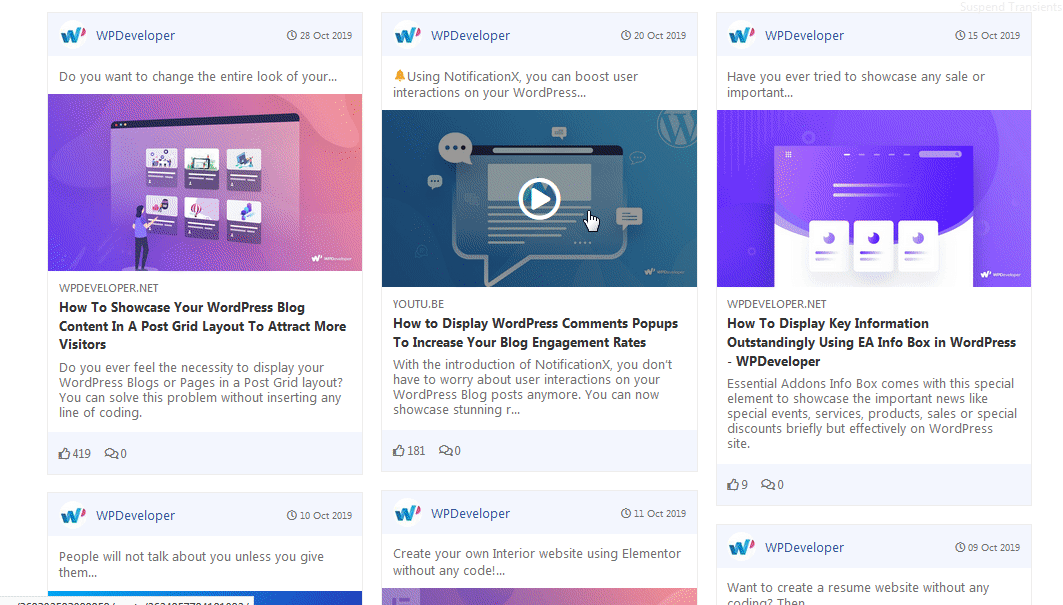 Wrapping Up
Facebook is one of the most popular mediums to display your website content on it and do the vice-versa. In both cases, you will be able to drag your one platform audience to another medium. If you want to boost your Facebook page views and engage audiences more with your interactive content, EA Facebook Feed is the perfect element to accomplish your task with ease.
If you find this blog helpful or you have something new to share, let us know by commenting below.