How to Configure & Style EA BetterDocs Search Form #
EA BetterDocs Search Form lets you add an advanced AJAX search panel for your BetterDocs knowledge base. By using this element, you can customize the look of your search bar just the way you want inside Elementor. It gives complete flexibility to style it any way you want and make your documentation attractive to your WordPress site visitors.
To use this feature, you must have the ultimate knowledge base tool for WordPress, BetterDocs installed on your website. Check out this guideline below to see how to configure & style EA BetterDocs Search Form:
How to Activate EA BetterDocs Search Form #
To use this Essential Addons for Elementor element, find the 'EA BetterDocs Search Form' element from the Search option under the 'ELEMENTS' tab. Simply just Drag & Drop the 'BetterDocs Search Form' into the 'Drag widget here' or the '+' section.

After you are successfully done with step 1, this is how the element is going to look like.

How to Style EA BetterDocs Search Form #
From the 'Content' tab, you can style the EA BetterDocs Search Form anyway you want. You just have to follow some simple step by step guidelines below: 
Search Box  #
The 'Search Box' allows you to add background to the search form layout. If you want, you can add a background image or change its color. Besides, you can change the width of the search form layout as well.

Others #
The 'Search Field' can help you out to change the outlook of your advanced search bar instantly. You can modify the default search background color, field color, typography, adjust the padding and border-radius to give it a compelling look.  

The 'Search Result Box' lets you change the entire appearance of the search form layout. You can fix your search results width, modify the background with color, image, and more as per your wish. Besides, 'Search Results Lists' come with two featured sections, 'Item', and 'Count' that will help you to customize the style of your result list as per your wish. 
Final Outcome #
By following the basic steps and a bit more modifying, you can style your Betterdocs Search Form as per your preference.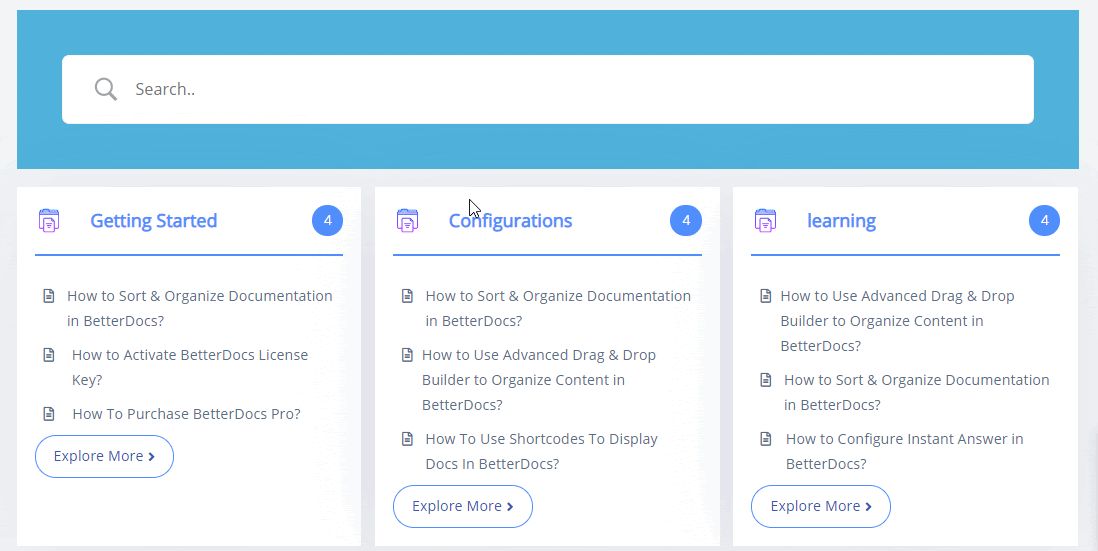 With EA Betterdocs Search Form, this is how you can easily design an amazing search panel to help users find the right documentation at the right time and reduce the pressure on your support.
Getting stuck? Feel free to contact our amazing Support Team for any assistance.